Taxis in Costa Rica are a common transportation option for locals and tourists. There almost 14,000 units in the country and you'll see taxis in Costa Rica almost everywhere you go whether it is a touristic destination or not.
If you don't want to take public transportation which at times can be slow and there aren't routes to everywhere, a taxi can be a good option. It's especially practical if you don't need to go far, if it's raining or if you're feeling a little lazy to walk in the heat.
If you are visiting Costa Rica for the first time, here are our tips for taking taxis in Costa Rica.
Important Things to Know About Taking Taxis in Costa Rica
Always Take an Official Taxi
Official taxis in Costa Rica are red like the one shown below. You will immediately be able to tell the difference between a pirate and real taxi.
Take only RED taxis

In Costa Rica taxis are RED and they have the yellow light on the top and a yellow triangle. Most of the times in the driver and passenger door they will have their plate number which go by provinces.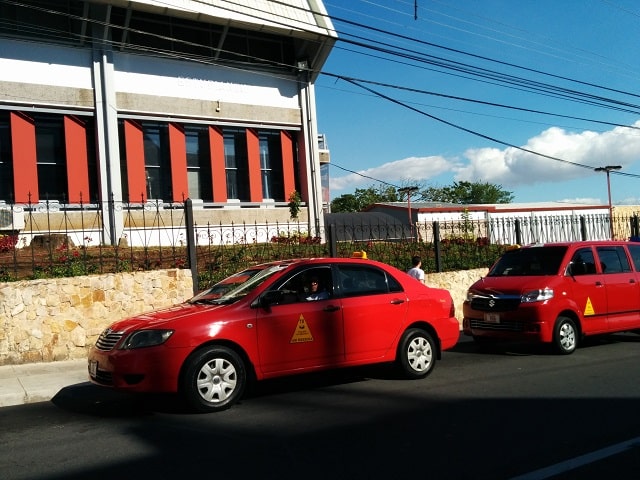 If you are in San Jose you will see something like TSJ001 (TSJ stands for Taxi San Jose and the numbers tells you the taxi number), in Heredia you will see plates TH, in Limon TL, etc.
When you land in the San Jose airport, you might see orange taxis, instead of red. These group of taxis are exclusive for the airport. They charge more than the RED ones but they are just right there outside the arrivals door.
Security Tip: If you are in San Jose and the taxi has a Puntarenas plate, do not take it. Official taxis in Costa Rica can only pick up passengers within their own province.
If you don't need to, don't take a pirate taxi
I am Costa Rican and I always try to avoid non-official taxis. Wherever you go in Costa Rica you can find a line of cabs next to the bus stations, parks, restaurants and they will come to you saying, "taxi, need a taxi?"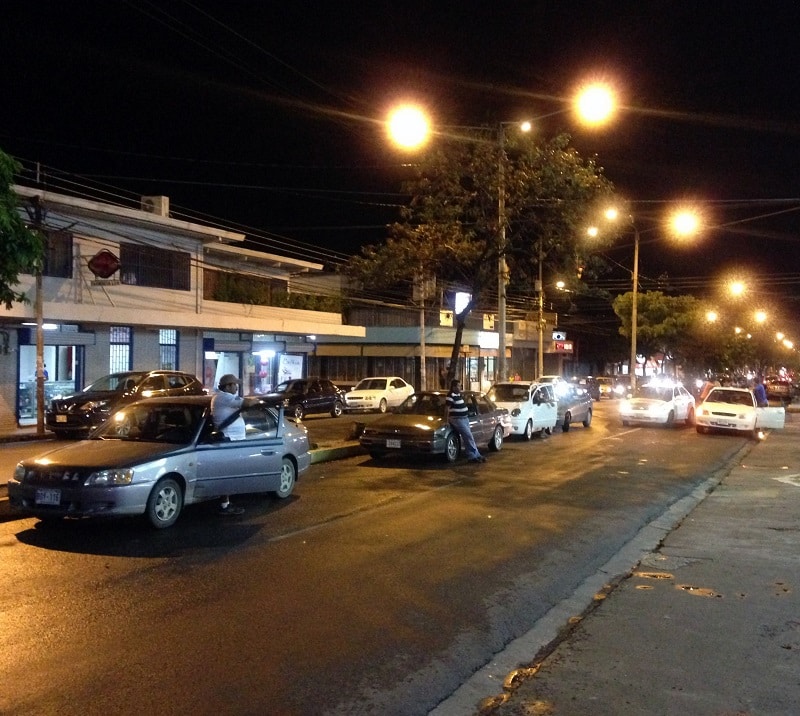 The popular way to call them are "Taxis Piratas" which mean pirate cab drivers. The main reasons why I don't use them are that they can charge whatever they want, they don't have the same insurance as the legal ones and they are aren't as safe. Many times they have a super old car in bad shape.
Turn the meter on
Like in any part of the world, some cab drivers will try to take advantage of tourists or people that they normally don't work with by charging more or denying to use the meter.
According to Costa Rican law, every cab driver must use the meter (Costa Rica name for meter "MARIA"). If you find a cab driver that doesn't want to use it even if you ask, you can get their plate number and report the cab driver to the government.
The rates are regulated by the government. Rates change depending on the area (rural or city) and the automobile capacity.
Ask a Local Before
If you have the opportunity to ask a local before you take a taxi, it will be very useful. Costa Rica has a good public transportation system that might take you for less money where you want to go.
Like any public transportation however, it might take longer and you might have to walk a little bit. Although if you have the chance, try to ask a local like how much would be for a taxi from wherever location to wherever location and what would be the best way to get to wherever you need to go.
Most of the Costa Ricans will help you and you will have a good experience, but always keep your eyes open and use common sense. Avoid these 10 mistakes when traveling in Costa Rica for a safe trip.

More Tips for Taxis in Costa Rica
Costa Rican drivers take care of their cars a lot, so please don't slam the door when you close it. Do it softly and your driver will be happy.
For solo female travelers, it's better if you sit in the backseat.
Always have change with you and small bills (preferably colones). Some cab drivers will tell you that they don't have change and try to take all your cash. Also you don't need to tip the drivers, it is not mandatory (but up to you)
Download maps offline in Google Maps or bring a physical map. This is very useful but we do recommend getting a pre-paid sim card with data so you can follow along the route to make sure they are going the right way.
Some cab drivers may not know the destination you are going to like a hotel or restaurant, so look up some major landmarks close to it.
Uber
Uber in Costa Rica is honestly so much better than taxis. Don't get me wrong, taxis are necessary but like anyone else, we hate the constant taxi badgering when we leave the airport or are walking down the street. Not to mention, Uber is much better for pricing because you can see how much it will be in the app and unlike a taxi driver, it is very difficult for them to try to charge you a higher or ridiculous price.
We always use Uber when we're in San Jose even if we have a car because it's cheap, pricing is automatically in the app and we don't have to drive. Read our tips for using Uber in Costa Rica.
Want to know more about getting around Costa Rica? Check these articles out.
Tips on renting a car in Costa Rica
Tips on driving in Costa Rica part 1
Tips on driving in Costa Rica part 2