Taxis in Costa Rica are a common transportation option for locals and tourists. There almost 14,000 units in the country and you'll see taxis almost everywhere you go in Costa Rica.
If you don't want to take public transportation which at times can be slow and there aren't routes to everywhere, a taxi can be a good option. It's especially practical if you don't need to go far, if it's raining or if you're feeling a little lazy to walk in the heat.
If you are visiting Costa Rica for the first time, here are our tips for taking taxis in Costa Rica from a local.
Always Take an Official Taxi
Official taxis in Costa Rica are red like the one shown below. You will immediately be able to tell the difference between a pirate and real taxi. Official taxis have newer cars, plates and the badge to signify they are official taxis. More on that below.
Take the red taxis

In Costa Rica taxis are RED and they have the yellow light on the top and a yellow triangle. Most of the times in the driver and passenger door they will have their plate number which go by provinces.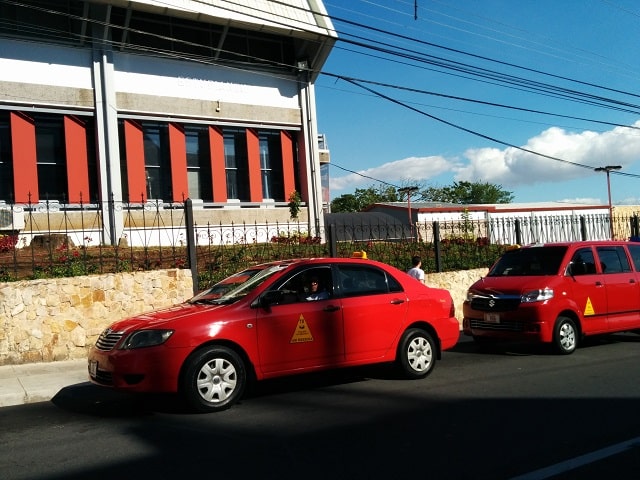 If you are in San Jose, you will see something like TSJ001 (TSJ stands for Taxi San Jose and the numbers tells you the taxi number), in Heredia you will see plates TH, in Limon TL, etc.
Orange Taxis
When you land in the San Jose airport, you might see orange taxis, instead of red. These group of taxis are exclusive for the airport. They charge more than the RED ones but they are just right there outside the arrivals door. Both San Jose and Liberia Airports now have an official taxi stand which is right outside the exit. Go there to call an official taxi.
Security Tip: If you are in San Jose and the taxi has a Puntarenas plate, do not take it. Official taxis in Costa Rica can only pick up passengers within their own province.
If you don't need to, don't take a pirate taxi
I am Costa Rican and I always try to avoid non-official taxis. Wherever you go in Costa Rica you can find a line of cabs next to the bus stations, parks, restaurants and they will come to you saying, "taxi, need a taxi?" These are drivers who are not official taxis or have the taxi medallion license to offer these services. They are just simply normal people with their own personal cars.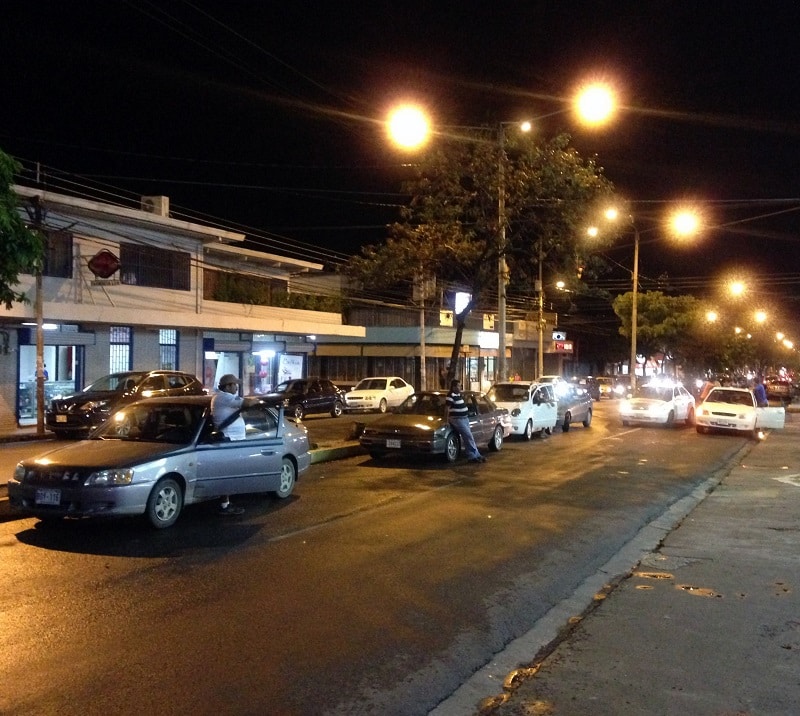 The popular way to call them are "Taxis Piratas" which mean pirate cab drivers. The main reasons why I don't use them are that they can charge whatever they want, they don't have the same insurance as the legal ones and they aren't as safe. Many times they have a super old car in bad shape without insurance so it's a risk if you take one of those.
Unfortunately, there are some destinations where only pirate taxis exist. These are places outside the city in more remote areas such as Tamarindo and Montezuma. If you have to take a taxi and the pirate drivers are your only option, then negotiate a price beforehand, do not go alone if you can help it and get their license plate and name just in case anything happens.
Turn the meter on
Like in any part of the world, some cab drivers will try to take advantage of tourists or people that they normally don't work with by charging more or denying to use the meter. According to Costa Rican law, every cab driver must use the meter (Costa Rica name for the meter is"MARIA"). If you find a cab driver that doesn't want to use it even if you ask, you can get their plate number and report the cab driver to the government. They have to turn it on by law (more on taxi scams below).
As for rates, the rates are regulated by the government. Rates change depending on the area (rural or city) and the automobile capacity.
Tip: Another way to get a rough estimate of how much your taxi would be is to check the fare estimate on the Uber website. Whatever they charge, add a bit more.
Ask a Local Before
If you have the opportunity to ask a local before you take a taxi, it will be very useful. Costa Rica has a good public transportation system that might take you for less money where you want to go.
Like any public transportation however, it might take longer and you might have to walk a little bit. Although if you have the chance, try to ask a local like how much would be for a taxi and what would be the best way to get there. Don't know Spanish? Learn some important Spanish phrases here!
Most of the Costa Ricans will help you and you will have a good experience, but always keep your eyes open and use common sense. Avoid these 10 mistakes when traveling in Costa Rica and read our Costa Rica safety tips to stay safe.

More Tips for Taxis in Costa Rica
Costa Rican drivers take great care of their car as cars and gas are expensive, so please don't slam the door when you close it. Do it softly and your driver will be happy.
For solo female travelers, it's better if you sit in the backseat.
Always have change with you and small bills (preferably local currency, we do not recommend to pay in USD). Some cab drivers will tell you that they don't have change and try to take all your cash.
Costa Rica does not really have addresses so drivers will not know where you are going if your address is Calle 2, Segunda Ave 10. Find a big business close by and use that as your destination.
It is not absolutely mandatory to tip your driver (tipping is not mandatory in Costa Rica) but you may if you want to (10% is standard). Read more about tipping in Costa Rica here.
Scams to Watch Out For
Unfortunately there are some taxi drivers that will try to scam tourists. Look out for these.
The driver tells you that your hotel is not in business anymore and will try to reroute you to a hotel they get commission for and try to charge you a lot more for the extra driving.
If you're taking a taxi to the bus station, the driver may say your bus already left, the route doesn't exist, bus station moved, etc. Do NOT believe them. Tell them to take you to the station and verify the information directly at the station.
Don't take up their offer to go to a "cheaper/better" restaurant/souvenir store/business/whatever. Continue straight to your destination.
Get a prepaid Costa Rica SIM card so you have Internet on your phone and open the route on Google Maps or Waze so you can make sure he's not taking you in the long way around.
Read more about common tourist scams in Costa Rica.
Uber
Uber in Costa Rica is honestly so much better than taxis. Don't get me wrong, taxis are necessary but like anyone else, we hate the constant taxi badgering when we leave the airport or are walking down the street. Not to mention, Uber is much better for pricing because you can see how much it will be in the app and unlike a taxi driver, it is very difficult for them to try to charge you a higher or ridiculous price.
We always use Uber when we're in San Jose even if we have a car because it's cheap, pricing is automatically in the app and we don't have to drive. Read our tips for using Uber in Costa Rica.
Another app for ride share is Didi which is growing in San Jose.
Want to know more about getting around Costa Rica? Check these articles out.