Experience the best of Costa Rica in this 11 day Costa Rica itinerary! Visit La Fortuna for rainforest and volcano, Monteverde for the cloud forest and Manuel Antonio for the beach. This Costa Rica 11 day itinerary offers plenty of adventure, relaxation and fun. You'll experience three of the most popular tourist destinations so this itinerary is ideal for first time visitors.
You can use this exact itinerary or if you have more/less days, I'll tell you how to adjust it. This comprehensive guide will help you plan your dream vacation to Costa Rica.
To turn this into an amazing honeymoon trip, stay at luxury hotels and book private shuttles (or drive if you don't mind driving). You will also find restaurant recommendations for a romantic experience.
There are affiliate links in this post.
Costa Rica 11 Day Itinerary Details
This itinerary includes your travel days and flying in and out days. If your flight lands very late on your first day, you should stay a night by the airport and then depart the next morning for La Fortuna. Likewise, if your flight is super early on Day 11, you should travel back to San Jose and stay the night near the airport on Day 10.
It gets dark by 6 PM everyday in Costa Rica and we do not recommend driving long routes at night (2+ hours).
You will fly in and out of San Jose International Airport. This is the closest international airport for your destinations.
Costa Rica 11 Day Itinerary Transportation
Transportation: This itinerary requires you to rent a car for the most flexibility and to maximize your time in Costa Rica. A high clearance car/4wd is required for this specific itinerary. Get our Costa Rica car rental discount and freebies here.
If you don't want to drive, then book private shuttles. Private shuttles are ideal for groups, families with children/seniors, or those who are not on a strict budget but don't want to drive. Learn more about shuttles in Costa Rica and request a quote.
You can take the public bus but I don't recommend it as there aren't direct routes or frequent schedules. It's cheap cheap but I don't suggest it if you're traveling with infants or seniors with mobility issues. I recommend driving or private shuttles in that case.
Shared shuttles are great for those more on a budget or are solo travelers. The downside to shared shuttles is that they have limited schedules. Many routes have only 1 shuttle in the morning, 1 shuttle in the afternoon. Some routes have just 1 shuttle a day. Additionally, they only pick up/drop off at certain hotels, no Airbnbs, no rentals and no hotels outside their route.
How to Adjust This Costa Rica 11 Days Itinerary
If you have less nights
Remove one night (or two) from Manuel Antonio since this itinerary has 5 nights in Manuel Antonio.
If you have 9 nights, you can do 3 nights La Fortuna, 3 nights Monteverde and 3 nights Manuel Antonio to get a well rounded experience of each place.
For 7 nights, then I recommend 2 nights in La Fortuna, 2 nights in Monteverde and 3 nights in Manuel Antonio.
If you have more nights
To easily turn it into a full 2 week trip, add a night in La Fortuna and a night in Monteverde.
If you want to visit another destination, then I recommend 2 nights in Jaco after Monteverde. Jaco is 1 hour north of Manuel Antonio and a fun, party surf town. However, if you prefer not to stay in big beach town, Hotel Villa Caletas is a beautiful romantic hotel with gorgeous views and luxury rooms, 1.5 hours north of Manuel Antonio.
Day 1: Fly Into SJO, Travel to La Fortuna (~3 Hours Drive)
Welcome to Costa Rica! After you go through immigration and customs, you will then travel onto your first destination in this Costa Rica 11 days itinerary: La Fortuna. This town is the main tourism hub near Arenal volcano and boasts plenty of nature, wildlife, adventure, culture and relaxation activities.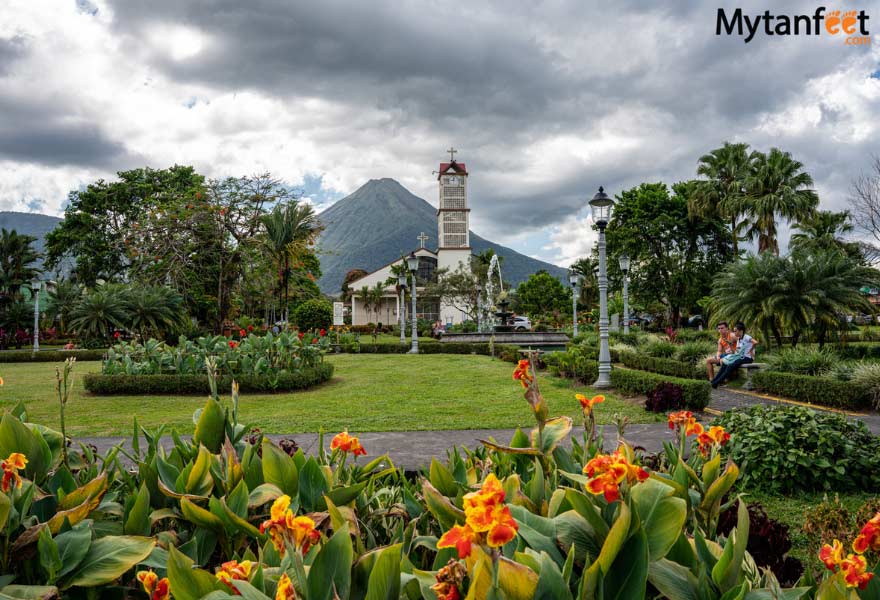 Driving: Pick up your rental car and then drive 3 hours to La Fortuna. If your flight lands after 4 PM, we recommend to stay a night by the airport and then leave for Fortuna next morning so you can drive in the daylight. Read more about the drive from San Jose to La Fortuna!
Shared shuttle: Most shared shuttles have one AM and one PM schedule. You will need to meet your shared shuttle at the Denny's Restaurant or Fiesta Casino a couple miles away (you can call an Uber.) If you cannot catch either of their schedules, then you will need to stay a night in San Jose or book a private shuttle. Here is our list of recommended hotels near SJO Airport.
Private shuttle: Your driver will wait for you directly outside the airport terminal exit to pick you up and take you to La Fortuna straight away. Your service includes a stop along the way for food/bathroom/shopping, etc.
La Fortuna Hotels
There are SO many hotels and vacation rentals to choose from in La Fortuna. Here are some of our picks.
Nearly all hotels include a hot breakfast except hostels and super cheap hotels.
Day 2: La Fortuna (Sloth Trail + Chocolate & Coffee Tour)
In case you don't have a car and need to book tours with transportation included, we offer small discounts for La Fortuna tours here.
In the morning, you'll do an easy sloths and bird watching tour. Give yourself about 2.5 hours for this guided walk and then head into town for lunch. Lunch recommendations: Rainforest Cafe or Soda Garra Pata.
After lunch, grab a coffee, ice cream or dessert at Chocolate Fusion to relax, people watch and sit in the town square. If you're lucky, the cloud may clear up a bit and you can see the classic La Fortuna town scenery with Arenal Volcano in the backdrop of the local church.
Then head to Northfields to do their fun chocolate and coffee tour. They have presentations at 2 and 3 PM in the afternoon. You'll learn about the history and importance of cacao and coffee in Costa Rica, how to process it and the best part – sample it!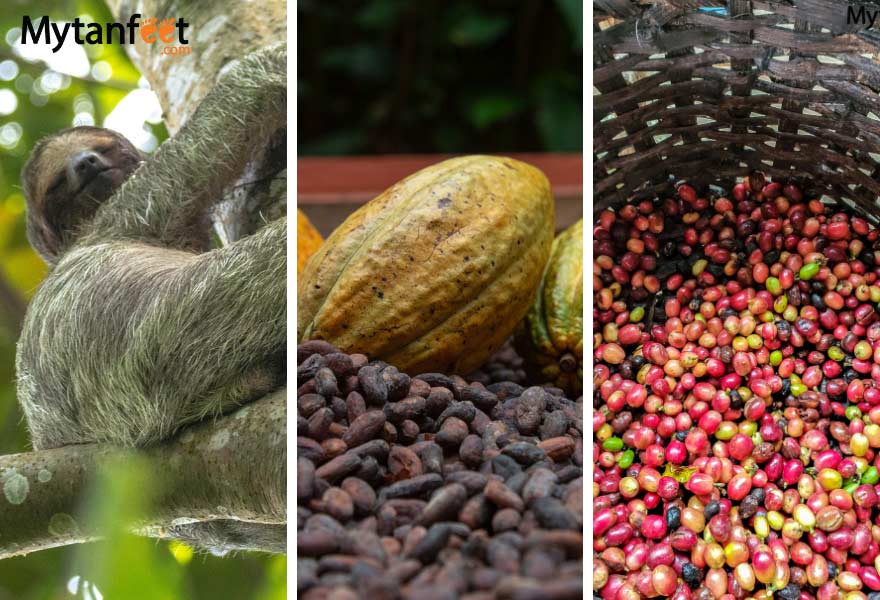 After the 2.5 hour presentation, head back to your hotel to nap and rest. You'll finish the day at the hot springs. If your hotel doesn't have their own hot springs, Paradise, Ecotermales, Tabacon, The Springs and Baldi are the most popular ones. You can also get dinner at the hot spring resorts.
For a romantic experience, Tabacon and The Springs are the best hot spring resorts for couples.
Day 3: La Fortuna (Arenal Volcano National Park and Lake Arenal Sunset Cruise
Today you'll visit Arenal Volcano National Park to hike through the lava fields and the peninsula. There are two sections of the national park and you'll visit both. A guide is not required to visit the national park. The trails are well marked and easy to follow to enjoy beautiful views of the volcano and Lake Arenal!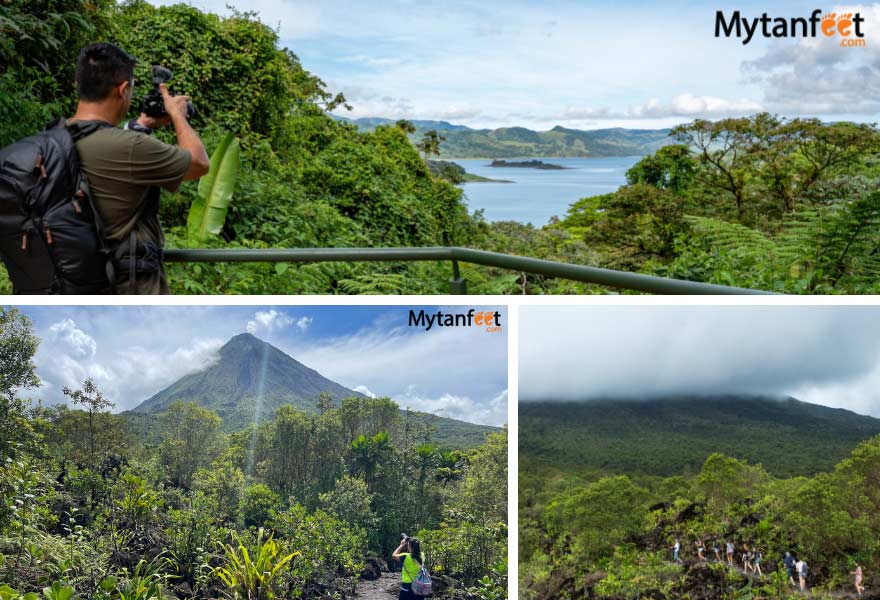 After the hike, head back to your hotel to shower and freshen up. If your hotel has a spa, highly recommend a massage in the rainforest!
Lunch recommendations: Mercadito, La Fortuna pub and Acacia Restaurant.
Then in the afternoon, you'll do a romantic sunset cruise on Lake Arenal with wine and cheese. You'll cruise around on the lake with spectacular views of the volcano and watch the sun go down on the rainforest. Get a discount off this tour here!
Dinner recommendations: Piura or Don Rufinos
More Things to Do in La Fortuna
If you're interested in other activities, please check our things to do in La Fortuna and Arenal post for more ideas! We also have a discount for all the mentioned tours in La Fortuna which you can get in the link (lots of other tours offered).
Day 4: Travel to Monteverde (~3.5 Hr Drive)
Today you'll travel to Monteverde, the town up in the tropical cloud forest. Sleep in and enjoy your last morning in La Fortuna. After you check out, fill up on gas if you're low and pick up some snacks and drinks. There are some gorgeous country views during the drive and you'll want to go slow to enjoy them and also to drive carefully as it's an unpaved windy road.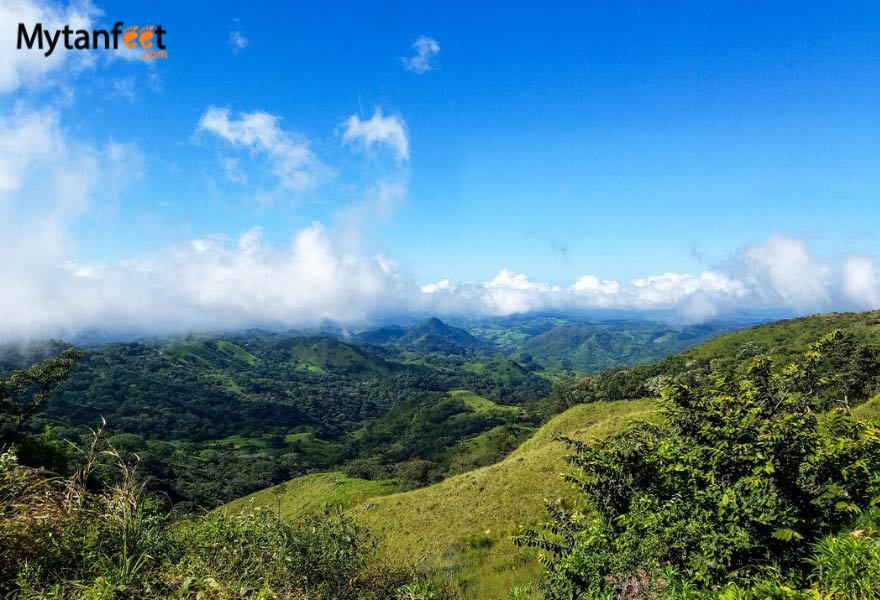 If the weather is good and you leave in the morning, you can stop by Viento Fresco Waterfall on the way. 4×4 access only and must be in decent condition to walk down steps.
You can get lunch along the way, there are several roadside restaurants. Restaurante Brisas del Lago is about halfway and very good.
If you're not renting a car, we highly recommend taking the taxi-car-taxi across Lake Arenal. This service picks you up at your hotel in Fortuna, takes you to Lake Arenal to ride the boat across and then picks you up on the other side to take you to your hotel in Monteverde. Contact us to book this transfer!
Monteverde Hotel Recommendations
Most of the lodging in Monteverde consists of lodges, country inns, cabins, and boutique hotels. Tons of vacation rentals/Airbnbs.
High end: Hotel Belmar (very nice for couples), Senda, El Establo, Ocotea Boutique Hotel, Koora, Chira Glamping
Mid range: Poco a Poco, Monteverde Country Lodge, Scala Monteverde, Monteverde Lodge & Gardens, Bella Vista Lodge Monteverde, Los Pinos Lodge and Gardens, Hotel Arco Iris
Day 5: Monteverde (Cloud Forest Hike)
Today you'll visit the Monteverde Cloud Forest Biologlca Reserve or Santa Elena Cloud Forest Reserve in the morning for a hike. We personally prefer the Santa Elena Cloud Forest Reserve but the Monteverde Reserve is very nice too.
Plan for around 3 hours at the reserves which can be done without a guide as trails are well marked. If you visit the La Reserva Bosque Nuboso Santa Elena, stop by the Hotel Mirador San Gerardo Lodge afterwards for a spectacular view of the cloud forest and Arenal Volcano. You can give them a tip or have lunch at their restaurant if its open (15 minutes driving from the Santa Elena reserve, 4×4 required).
If you are a birder, we recommend a morning birdwatching tour at Curi Cancha Reserve instead.
Have lunch at Orchid Cafe and then visit a super cool spot very close to downtown Santa Elena, the Ficus Root Bridge. Great spot for photos!
Afterwards, you can head to your hotel to rest a bit and then head to the Mirador Valle Escondido Preserve to watch the sunset.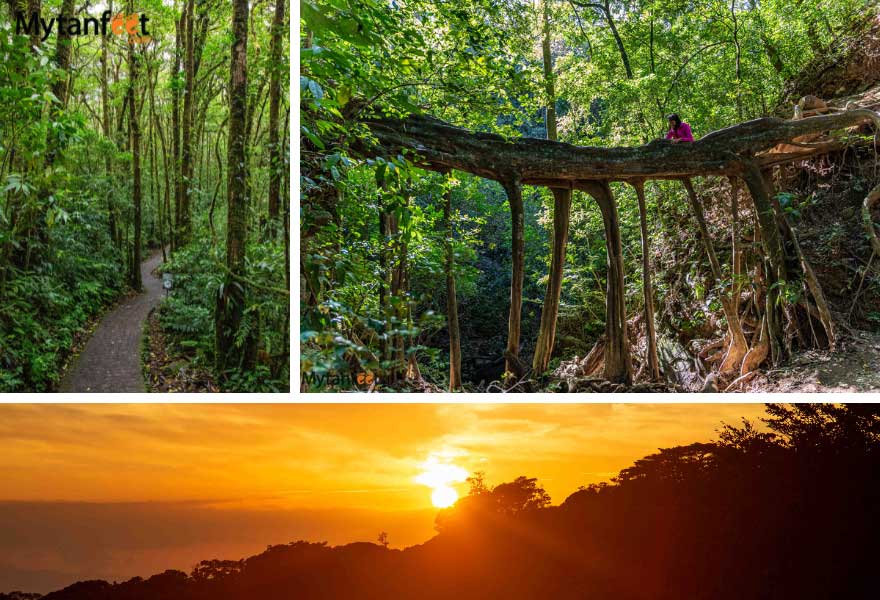 For dinner, we recommend Tramonti for Italian, Toro Tinto for steak or Monteverde Brewing Company for beers and burgers. If you want to do something special for your last night in Monteverde, make a reservation at the San Lucas Treetop Dining Experience.
Day 6: Monteverde Ziplining + Hanging Bridges and Travel to Manuel Antonio (~4 Hour Drive)
Day 6 of your 11 day Costa Rica itinerary is a a very fun and busy day! You'll do the hanging bridges and zipline tour at Selvatura Park or Sky Adventures. Afterwards, you will head straight to Manuel Antonio for beach time.
What's the difference? Sky Trek Monteverde (zipline) includes an 800 meter aerial tram to get to the start of the zipline. Selvatura Park has two optional Superman cables for more adrenaline and a sloth center, butterfly garden and reptile/amphibian exhibit you can add on.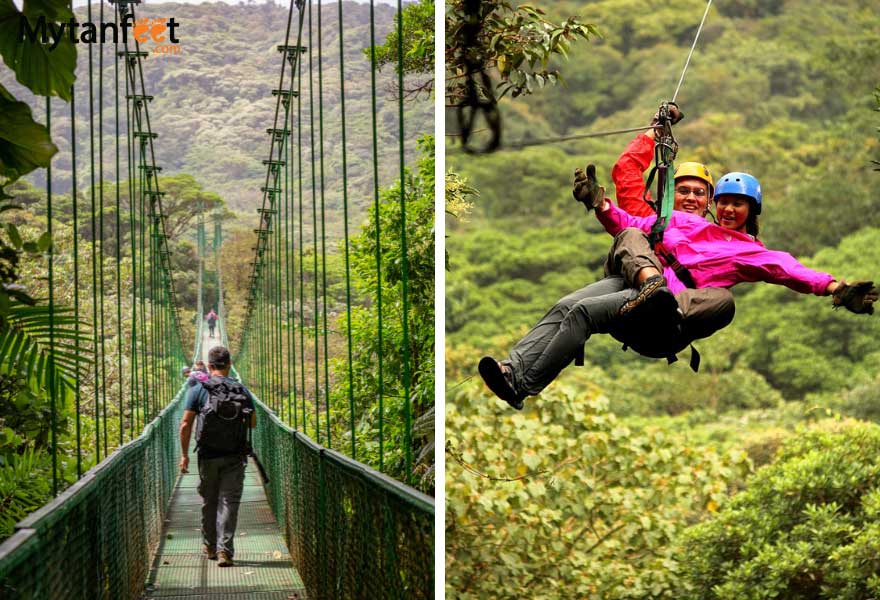 You have to start your activities at 830 AM to finish around noon. Have a quick lunch at the park's restaurant and then plug in your GPS to your hotel in Manuel Antonio!
This drive takes around 3.5 hours and as soon as you get down the mountain from Monteverde, the drive is super easy on a highway all the way down to the south.
Make sure to stop at the Crocodile Bridge to see the giant crocodiles and you can get lunch at one of the roadside restaurants there. Then drive through Jaco to see the biggest beach town in Costa Rica. There are a ton of great places for food in Jaco too.
Manuel Antonio Hotels
There are a TON of hotels and vacation rentals in Manuel Antonio and this area can be pretty pricey. If you're on a strict budget, find a hotel in Quepos or vacation rental outside town as those are usually a bit cheaper.
But if you want to splurge on a nice beach resort, Manuel Antonio is definitely the place to do it in Costa Rica!
Day 7: Manuel Antonio Relax
Now you have 4 full days to enjoy Manuel Antonio, famous for its beautiful white sand beaches and lush rainforest.
Day 7 is your day to just relax. Do nothing. Lay by the pool. Nap. Sleep in. Read a book on the balcony. You can wander down to the beach or wander around town to check out the area. Get a massage, do yoga, meditate, recharge.
If you'd like to do something that day, we highly recommend a night walk to see creatures and critters of the night. Manuel Antonio is a fantastic place to see animals like frogs, snakes, insects, spiders and other nocturnal wildlife. Get a discount for the Manuel Antonio night walk here!
Day 8: Manuel Antonio National Park
On day 8 of your Costa Rica 11 days itinerary, you'll visit Manuel Antonio National Park. We highly recommend hiring a naturalist guide. You can book a tour with transportation (get our Manuel Antonio tours discount here) or go on your own.
If you go on your own, make sure you purchase your park tickets online beforehand. If you drive, drive all the way to the park entrance and park in one of the lots in front of it. You can find a guide at the park entrance (ask for their ICT certification) and I recommend an hour guided walk. No car? Take the public bus that goes from Quepos to the beach every half an hour. You can also call an Uber.
Spend a good few hours at the park to swim, hike, relax, sunbathe, nap and enjoy one of the most beautiful national parks in the world!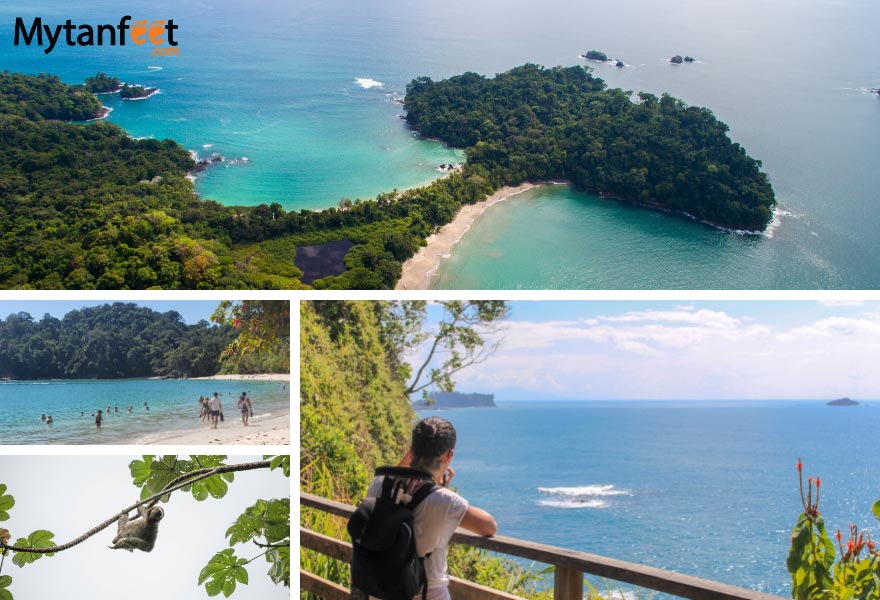 Important: once you leave the park, you cannot go back in so once you are done at the park, you can visit one of the restaurants right outside such as El Chante del Parque (typical food). We also really like Rafaels Las Terrazas, Cafe Agua Azul and El Patio de Cafe Milagro up the hill. Those are great places for happy hour and to watch the sunset.
Day 9: Manuel Antonio (Los Campesinos Ecolodge)
On day 9, you'll experience a bit of rural and local tourism with a visit to the Los Campesinos Ecolodge, an hour outside Manuel Antonio (4×4 required in rainy season, high clearance in dry). This ecolodge is up in the mountains and on the property, it has several waterfalls, thick jungle and suspension bridges.
You'll hike, see the waterfalls and then have lunch at their restaurant before heading back to Manuel Antonio. It's a great place to get off the beaten path and away from the touristy crowds of Manuel Antonio.
Day 10: Manuel Antonio Up to You!
For your last day in Costa Rica, it is up to you what you want to do! I personally recommend just relaxing and enjoying the hotel pool. If anything, end your trip with a bang with a parasailing tour from the beach outside the national park. Though it's a bit expensive, it's absolutely worth it for the killer unforgettable views.
I did this with my parents and it was truly one of the best bonding moments we've ever had! We went with Aguas Azules. It would also be a wonderful activity to do with your new spouse for another romantic experience.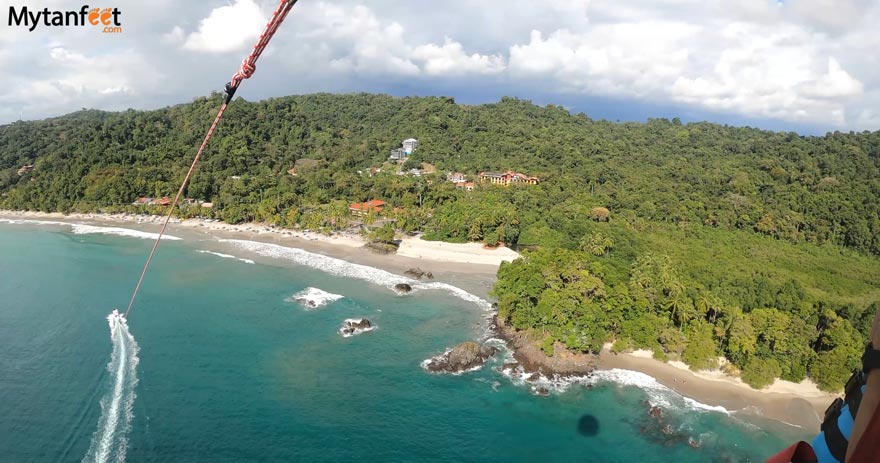 If you do want to add even more adventure, Manuel Antonio has great white water rafting with both Class 2 & 3 or Class 3 & 4. If rafting doesn't float your boat, then perhaps a sunset snorkeling cruise will. Read about things to do in Manuel Antonio and get our Manuel Antonio tours discount!
Day 11: Fly Out of SJO
Today you will fly home! The drive from Manuel Antonio to San Jose International Airport is approximately 3 hours without traffic. I recommend leaving with plenty of time to arrive 2.5-3 hours before your departure flight. That way, you will have enough time to return the rental car and get to the airport and account for any delays along the way.
So if your flight is at 4 PM, I recommend to leave at 9-930 AM in case you run into any traffic or delays.
However, if your flight departs at noon or earlier, I recommend to drive the airport on Day 10, return your rental car and spend your last night nearby. That way, you don't have to worry about any delays on the road, especially if you are visiting during Christmas, Easter or rainy season. Here are our recommendations for hotels near SJO Airport.
Other Costa Rica Itineraries
5 days in San Jose, Costa Rica
5 days in Tamarindo, Costa Rica
10 days Costa Rica itinerary: Bijagua, Bajos del Toro, Manuel Antonio
Read ALL of our Costa Rica itineraries here!