San Jose is an ideal destination if you do not have many days and you are flying into San Jose International Airport. As the capital city is close to many natural landmarks, national parks and attractions, you can get a good taste of the country in this 5 day San Jose, Costa Rica itinerary.
Here are some other reasons to stay in San Jose:
San Jose International Airport (Juan Santamaria) is the main international airport in Costa Rica so there are more flights and prices may be cheaper.
It's pretty easy to get around using public buses and Uber.
San Jose is in a central location in the country.
Many of the attractions in San Jose are cheap.
Best place to experience Costa Rican culture, history and art
Here is a sample 5 full day San Jose, Costa Rica itinerary. You'll get to experience Costa Rican city life, lots of culture, nature and adventure! Perfect for city people who want a sprinkling of nature in their trip.
Things to Know About This San Jose, Costa Rica Itinerary
You don't need to rent a car for this itinerary. Public transportation is very good in San Jose and Uber is available. Driving in San Jose is kinda crazy with awful traffic and not great infrastructure, so if you're worried about driving, don't. For national parks or attractions out of the city, you can book day trips. Read our tips for taking the bus in Costa Rica.
You need to be very careful in San Jose. Unfortunately crime in San Jose is fairly present, theft is the main crime. Don't walk alone at night, avoid walking to places you aren't familiar with and always keep your valuables close to you with both eyes on it at all times. Use your common sense and follow your instincts. (More Costa Rica safety tips here).
Don't expect San Jose to be a huge city like European or American cities.
We recommend using Uber at night. Read our tips for using Uber in Costa Rica or take a taxi for safety. Don't walk, especially alone.
For the last 2 nights, you can stay in Heredia, Alajuela or San Jose. All three of these cities are very close to one another and to the airport.
Where to Stay
For the first 3 nights, you will be staying in the city.
A Few Recommended Hotels in the City
The Gran Hotel: This hotel is across the street from the National Theater so you're super close to all the attractions. It's an older hotel with lots of history, it's actually where John F. Kennedy stayed when he visited Costa Rica. It has been very nicely renovated as part of the Curio Collection by Hilton.
Holiday Inn Aurola: This Holiday Inn is very nice, with a large indoor swimming pool, a restaurant and bar and all rooms have a great view of San Jose. It's near downtown and close to all of the attractions. Rooms start around $80 USD.
Costa Rica Backpackers Hostel in San Jose: This hostel is smack dab in downtown and has an outdoor pool and communal kitchen. It costs around $12 USD a bed in a dorm.
Hotel Casa Colonial: This small hotel is in downtown San Jose, close to the Museum of Jade. Good budget option. Rooms are cozy and simple, starting at $70 USD.
Hotels Outside the City
Then for the last 2 nights, head to the mountains outside the city to experience something different. Since the Central Valley cities of San Jose, Alajuela and Heredia are very close to each other, you can stay around any of those cities. There are some beautiful hotels up in the mountains and thanks to the close proximity of the cities, they're not that far from the airport.
You can take a taxi or Uber to the hotel. Your hotel may be able to offer transportation with a small charge.
San Jose, Costa Rica Itinerary Day 1: Museums and Market
San Jose has many great museums to learn about the history and culture of Costa Rica. Our favorites are the Jade Museum, Gold Museum and the National Museum. You can visit a museum in the morning after breakfast.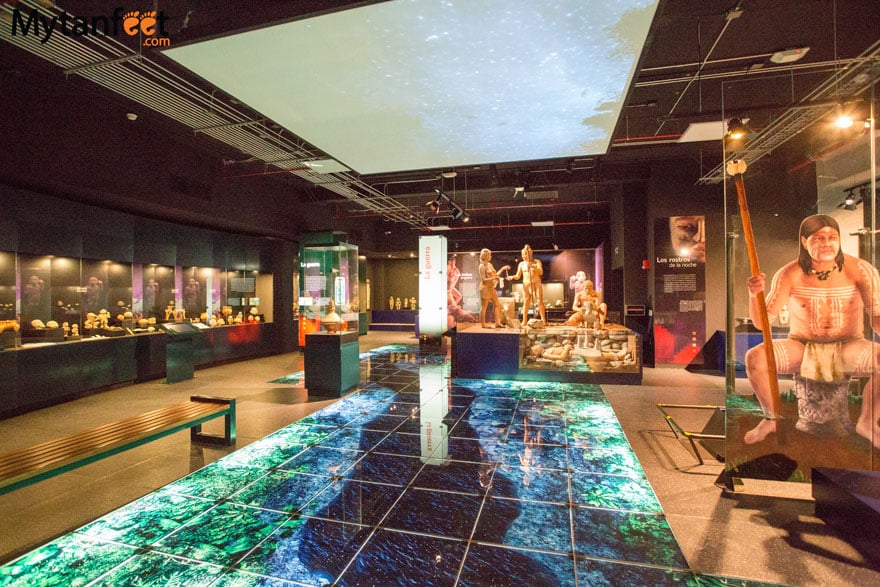 Jade Museum: See the biggest display of American jade in the world at this new museum. There are over 7,000 pieces and artifacts. Located in the Plaza de la Democracia, free for kids under 10. $15 USD for foreigners, open Monday to Sunday 10 AM – 5 PM.
National Museum: This museum used to be a fortress when Costa Rica had a military. $9 USD for foreigners, open Tuesday – Saturday 830AM to 430PM and Sunday 9AM to 4 PM. You can see the museum in about 1 hour.
Gold Museum: Learn about Pre-Colombian gold in this museum, they have pieces dating back to 500 AD. Open Monday – Sunday, 9:15 AM to 5 PM. $11 USD for foreigners in the Plaza de la Cultura. You can see this in 1-2 hours as well.
All these museums are fairly small and can be seen in around 2 hours.
Other options: If you have kids, there is a great Children's Museum in San Jose and an Art Museum.
In the afternoon, we recommend to check out the Central Market and the Municipal Craft Market. The San Jose Central Market is full of history dating back to over 100 years and you can check out some Costa Rican souvenirs. The Municipal Craft Market is full of local craftsmen which is really nice for a unique gift. Another option is to walk through the La Sabana Park before or after lunch.
For lunch, you can eat at one of the local restaurants in the Central Market (Soda Tapia is a favorite) or at the Spoon cafe in downtown.
Another Idea: San Jose City Tour and Dinner Show
If you're interested in learning more about the city, we recommend taking a guided tour of San Jose. With a guide, you'll learn more about the culture and history. You can read more about the San Jose city tour here. As this is an afternoon tour, you'll finish right around dusk (6 PM) and for a full day of Costa Rican culture, we recommend to end the night at a Costa Rican dinner show for more Costa Rican flair and tradition.
There are two popular options both with great views of the city: Mirador Tiquicia and Ram Luna. Ram Luna offers a traditional Costa Rican buffet and dance show on Wednesday and Thursdays, Tiquicia has theirs on Friday. If your dates work out, we personally like Ram Luna a bit more than Tiquicia. But both are great cultural experiences!
Day 2: White Water Rafting Rio Pacuare
Add some excitement to your trip by white water rafting the famous Rio Pacuare! This gorgeous river has Class 3, 4 and 4+ rapids for a full day of fun.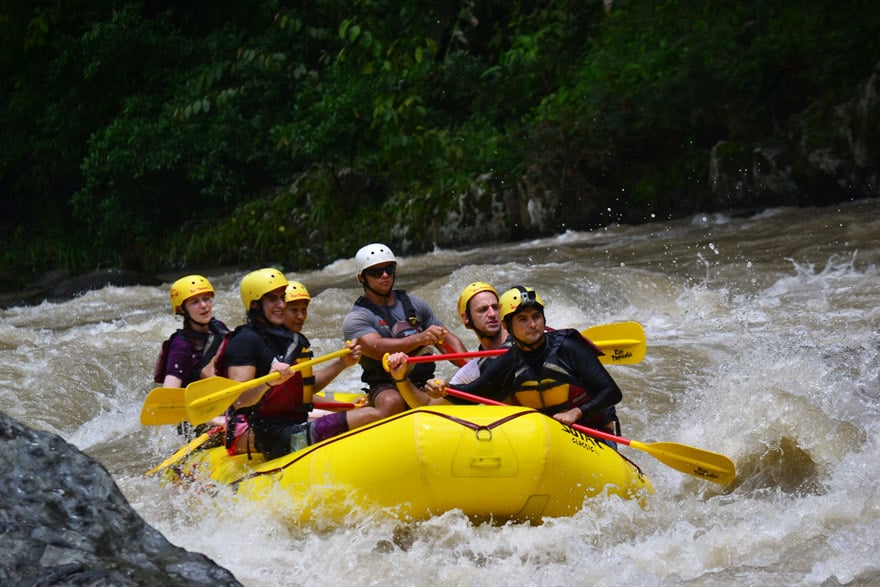 Twist, turn and spin in the river as you pass by beautiful waterfalls. Rio Pacuare looks like Jurassic Park (seriously), surrounded by a verdant jungle on both sides with toucans, kingfishers and herons flying around.
We did the one day Rio Pacuare tour with Rios Tropicales. It includes pick up and drop off at hotels in San Jose, breakfast and lunch. Read about the 1 day Rio Pacure white water rafting here and we also offer an exclusive Rio Pacuare Mytanfeet discount.
Day 3: Manuel Antonio National Park
Now you'll head to Manuel Antonio National Park, one of the most beautiful and popular parks in the country. You will do this as a day tour to hike the trails, see wildlife and enjoy the beautiful white sand beaches.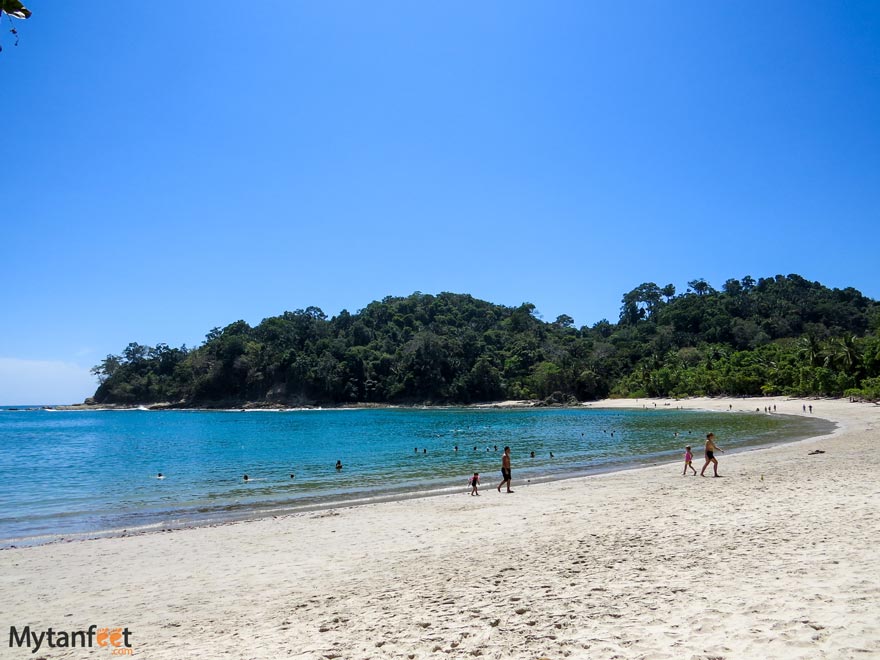 This is a full day tour and it'll be a great day trip for your last full day in Costa Rica!
Other options: Tortuga Island 1 day cruise, Arenal 1 day and Irazu Volcano + Hacienda Orosi.
Day 4: National Theater, Central Market, Move to Hotel in the Hills
Before checking out of the hotel, head to the National Theater in the morning. Take a guided tour or pay a $10 USD entrance fee for a self guided tour. This incredible theater has lavish gold decorations, elaborate statues and detailed paintings depicting local life. It's one of the most beautiful buildings in Costa Rica.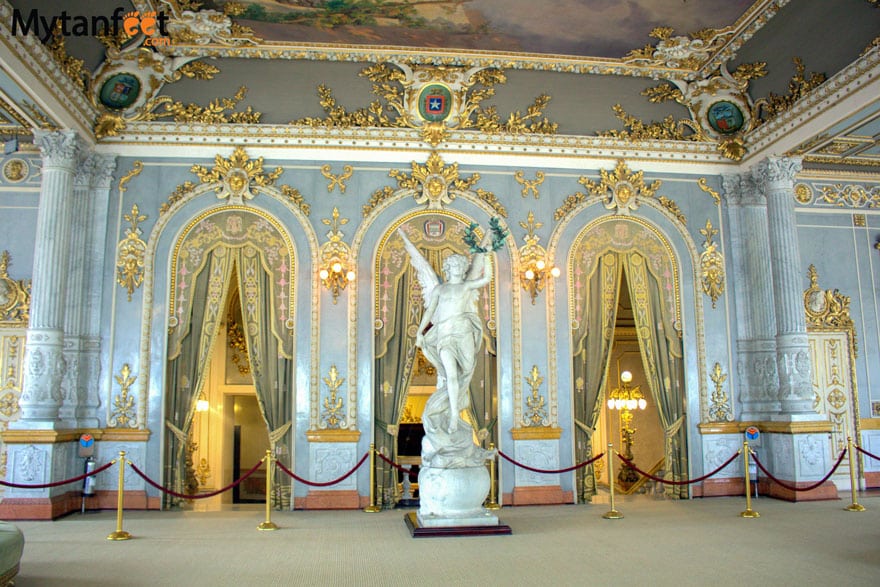 It's about a 1 hour guided tour and you'll have plenty of time to pack up and get ready to move to your next hotel.
Check Out and Move Hotels
After check out, head to your next hotel to relax in the mountains. You'll be amazed at how different it is – you're still close to the city but it feels like you're in a completely different country! Enjoy your last day in Costa Rica surrounded by birds, trees and nature.
If you don't want to move hotels, you don't have to. You can perfectly stay at the same hotel.
Day 5: Day trip to Poas Volcano, Doka Coffee and La Paz waterfalls
Visit three of the most popular natural attractions in Costa Rica: the Poas Volcano National Park, Doka Coffee Estate and La Paz waterfall gardens. You can also visit these on your own if you rented a car.
Poas Volcano National Park is the most popular park in Costa Rica since it's only about 1.5 hours from San Jose. On a clear day, you can see the bright blue water in the crater. It is now reopen as of 2018 and visitors are allowed to be in the park for 40 minutes to see the crater.
Then you'll go to Doka Coffee Estate to learn about how Costa Rican coffee is processed. You'll find out why it's such good quality, about the plants and the different kinds of coffee.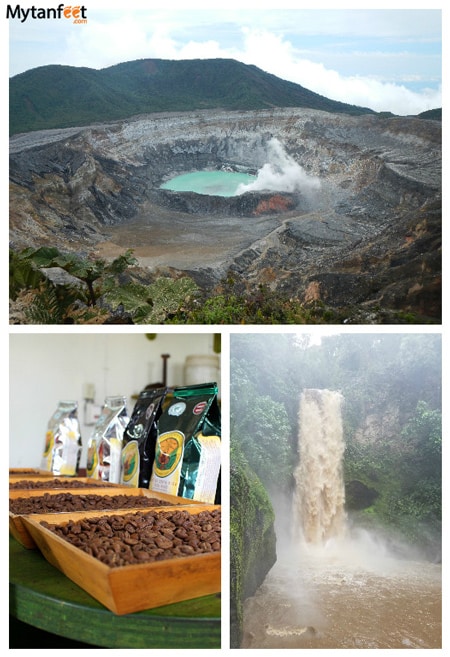 Afterwards, you'll visit the La Paz waterfall gardens. This park has an animal sanctuary and 5 beautiful waterfalls on the property. You'll have lunch at the waterfall gardens, see the animals and experience the stunning waterfalls.
You can also just relax at the hotel and explore their property since many hotels like Finca Rosa Blanca offer on-site activities such as birdwatching and coffee tours.
Another Option (Less Touristy)
You can spend the day at Hacienda La Chimba (no tours offered, must arrive by car on your own or take an Uber). This coffee hacienda offers coffee tours and great hiking trails. Less touristy, more popular with locals.
Tours with Transportation
If you need transportation, we have a partnership with Expediciones Tropicales to give small discounts for one day San Jose tours including the ones mentioned above.
Day 6: Fly Out
Arrange airport transportation with your hotel for the day you fly out of San Jose International Airport.
Tips for This San Jose, Costa Rica Itinerary
San Jose weather is very nice since it's high in elevation (around 1000 – 1500 meters, 3200 to 4900 feet). If you visit during dry season (middle of December to end of April), it is very comfortable with temperatures in the mid 80s F (29 C). If you visit during rainy season (middle of May to beginning of December), make sure to bring long pants, a sweater and rain jacket. September, October and November are quite rainy months so you must come prepared for rain and colder weather. Check our Costa Rica packing list and rainy season packing list here.
When in the city, wear closed toed shoes as the roads and sidewalks have lots of holes. And since you're in the city, long pants are the way to go for both men and women.
Free open Wi-Fi is not that readily available in the city. If you go to a restaurant or cafe and see they have Internet, you can ask for their password if you're a customer.
Want to see other Costa Rica itineraries? Check these out!
10 day itinerary: San Jose, Puerto Viejo and Arenal
1 week itinerary: San Jose, Jaco, Dominical and Uvita
2 week itinerary: Arenal, Monteverde, Nicoya Peninsula and Guanacaste
There are affiliate links in this post.