Many people plan a trip to Costa Rica with certain bucket list goals in mind. Some people want to to visit beaches, some people go for bird watching, some for hiking. Everyone has their own bucket list of things to do and see in Costa Rica and I've met some people who visited for one reason that never really crossed my mind – waterfalls!
Costa Rica has a myriad of beautiful waterfalls throughout the country and you can certainly plan an entire itinerary focused on chasing waterfalls. For this post, I put together an itinerary for 10 days in Costa Rica doing just that – visiting 4 gorgeous waterfalls!
You also get a chance to do some great hiking so you'll get to experience a variety of Costa Rica's beautiful landscapes and scenery.
10 Days in Costa Rica Map
Here is a map of the itinerary.

What to Know About this 10 Day Costa Rica Itinerary
It arrives in LIR Airport, departs from SJO Airport
You will book flights into Liberia and out of San Jose since it ends in Manuel Antonio and that's very far from Liberia. If you have to depart from Liberia, it is about a 5 hour drive so you will need to add another day to this itinerary for a travel day. You can also take a domestic flight from Manuel Antonio to Liberia to save time. Just check your budget as that is more expensive.
There is a good amount of hiking
Some of these waterfalls require a bit of hiking to get to. These are Catarata La Cangreja and Rio Celeste. They are roughly 5-8 kilometers round trip (3.1 to 4.9 miles) but they are completely doable, even if you're not in great shape. The hikes don't have any elevation climbs, scrambling involved or long switchbacks. They are all on flat terrain. The only thing that would make it tough is the humidity and heat.
Catarata del Toro is about a 20 minute walk with a lot of steps and you don't have to hike to Nauyaca waterfalls, you can get there by way of horse or truck.
You need to rent a car

Renting a car is the best option for the most freedom, flexibility and efficiency. You can't take shared shuttles to all the destinations. Hiring private drivers will actually end up being way more expensive.
4×4 highly recommended
Although the roads to all the destinations are mostly on main roads or highways, it will be more comfortable in a higher car to Bajos del Toro. This is a tiny rural town, so roads are steep and curvy. It is highly recommended to rent a 4wd, especially in rainy season.
You can visit all these waterfalls on your own, no guide needed
There is no reason to spend extra money booking guided tours when all these waterfalls and hikes can be done on your own. Since most are fairly popular, you will see plenty of other people and tour groups. The hikes have good signage and are straightforward.
For those with more time, you can also add a visit to Catarata Llanos de Cortes in Liberia.
Day 1: Liberia, Stay in Hacienda Guachipelin
When you arrive at Liberia Airport, get your rental car right away. Then head to Hacienda Guachipelin, an adventure park and ranch close to the entrance of Rincon de la Vieja National Park. It's about a 45 minute drive and you can stop in Liberia city to get some food or supplies.
Once at the lodge, you can relax or check out the property since it's very big. If you're arriving super early, you can check out their reptile exhibit, relax in their hot springs or visit waterfall Oropendola.
Day 2: Catarata la Cangreja
Today you will hike to Catarta La Cangreja, a small but stunning waterfall deep in the Rincon de la Vieja National Park. You will get great views of the changing landscapes.
The entrance fee is $15 per adult.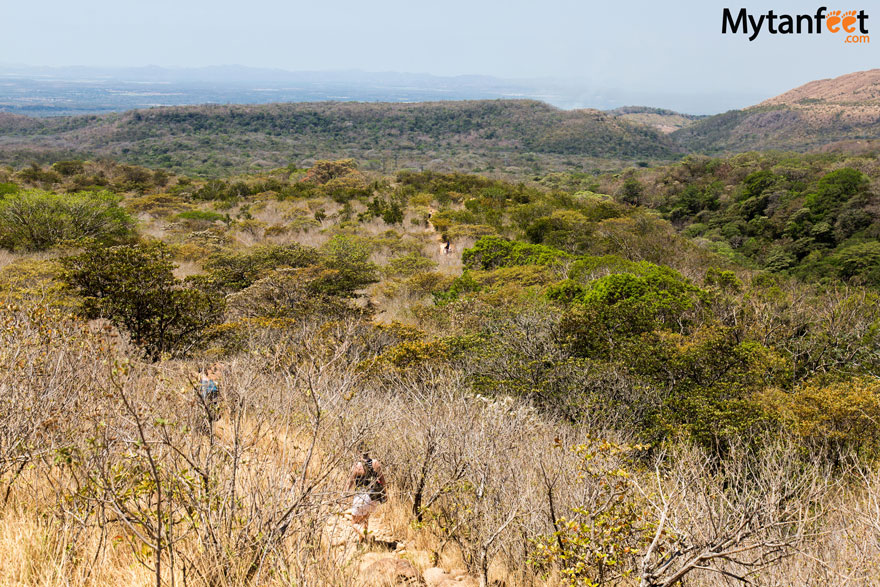 After a couple miles in the hot dry heat, you'll enter a lush forest and come upon a beautiful waterfall. It has a large pool that's shallow enough so you can climb up the rocks in the back and it has lots of big rocks around the pool to lay on and have a picnic.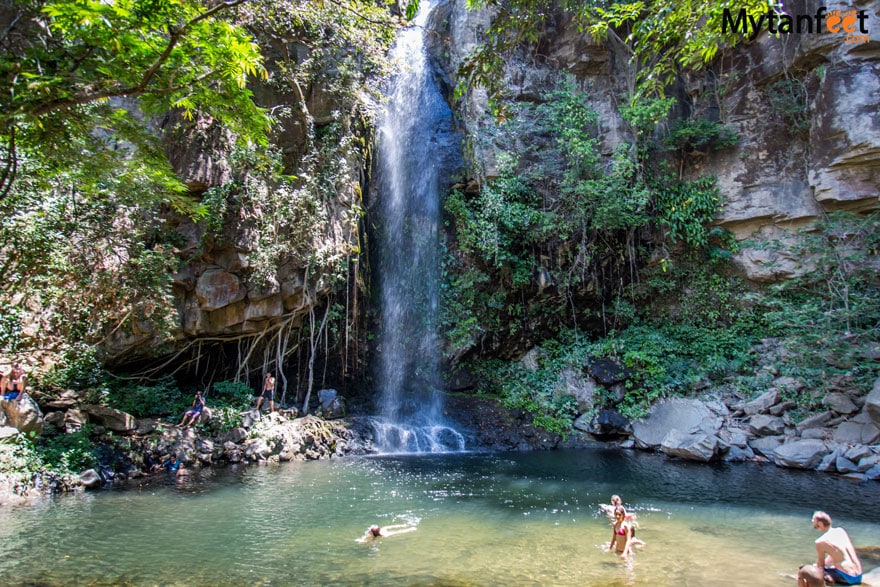 This is one of our favorite hikes and waterfalls in Costa Rica. If you visit in dry season (December – beginning of May), you will feel like you're walking through a desert with such yellow grass and trees. But as you near the waterfall, you'll notice the landscape change from yellow to green due to the many rivers in the area and eventually, you come upon this beautiful oasis.
Give yourself around 4 hours for this hike. It'll take about 1 hour or so to get there and you'll want to spend a lot of time there, trust me!
Top Tips for Catarata del Cangreja:
Make sure to bring at least 2 liters of water and plenty of snacks. It's very hot in this area and there are no facilities once you leave the national park entrance. There is a hose with drinkable water and we recommend bringing an insulated water bottle to keep your water nice and cold.
The trail is fairly flat the entire way, there is a short section where you need to walk a little bit on some rocks and tree roots but that's it. You can wear sneakers but we like our closed toed hiking sandals so we didn't need to wear socks.
Day 3: Travel to Bijagua
Today you'll travel to Bijagua, a very small rural town close to Tenorio Volcano National Park where Rio Celeste is. It's about a 1.5 hour drive. Stay in Casitas Tenorio B&B and spend the rest of the day wandering their trails, spotting sloths with the owners and relaxing.
Day 4: Rio Celeste

Wake up bright and early to start the Rio Celeste hike before all the tour groups get there. The park opens at 8 AM and it is best to go early in the morning as this area tends to rain more. Entrance fee is $12 per adult.
The hike is fairly easy and after about 30 minutes you will reach the incredible waterfall. You need to walk down some steps to the platform.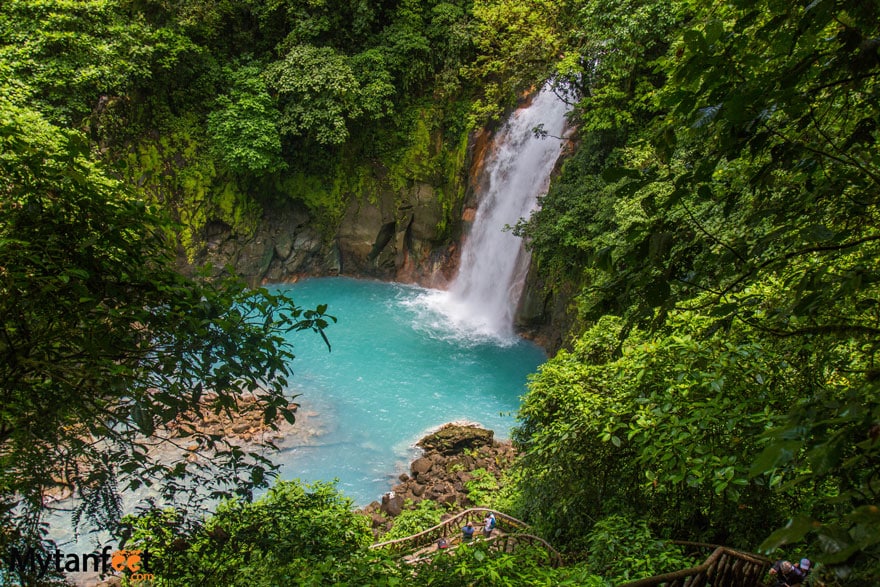 Then continue on to see the rest of the sky blue river. It's about 8 kilometers roundtrip (5 miles) and it's worth going to the very end where you can see the two rivers come together to create this amazing blue color. There are various view points and bridges that make for excellent photo opportunities.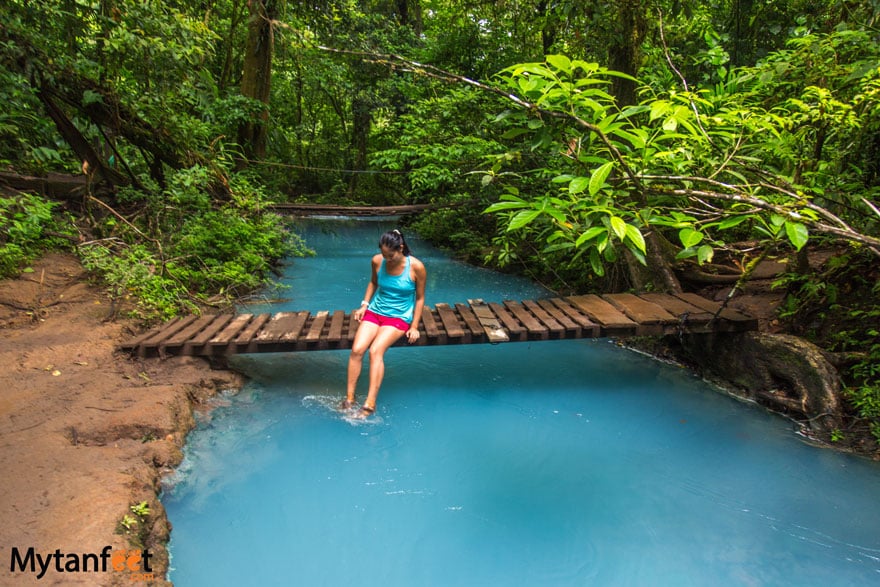 Top tips for Rio Celeste: Bring a waterproof rain jacket and waterproof backpack, especially if you have cameras. You can rent rain boots for $5 at the entrance or wear shorts and hiking sandals/waterproof hiking shoes because this area gets very muddy when it rains.
Do note that if you are visiting in the rainiest months of September – beginning of November, the river may not be *quite* as blue due to the sediment and run off. If you visit during the months of January through April, it gets very crowded which is why we recommend going early. This place has become very popular and its so crowded, people have to wait in line to cross the bridge or go down to the waterfall.
Give yourself at least 3-4 hours for this hike, especially if you're visiting in the high season months and if the trails are muddy.
Day 5: Travel to Bajos del Toro

Today is a travel day. From Bijagua to Bajos del Toro is about a 3.5 hour drive. You can book an Airbnb, the cabinas at the Catarata del Toro park or splurge on El Silencio Lodge & Spa. If you stay at El Silencio, they have 3 waterfalls on their property!
Day 6: Catarata del Toro
Today you will visit one of the tallest waterfalls in Costa Rica, Catarata del Toro. Standing at an astonishing 270 feet in an extinct volcano crater, it's also one of the most unique. It sits in a private reserved owned by a Dutch and Costa Rican couple tucked away in a mountainous, unexplored area of the Central Valley.
Once you arrive at the reserve, pay the $10 entrance fee and head down to the waterfall is about 20-30 minutes. You can't swim in this waterfall since it's too tall but you can walk all the way down to the bottom, making you feel very small next to this giant natural beauty.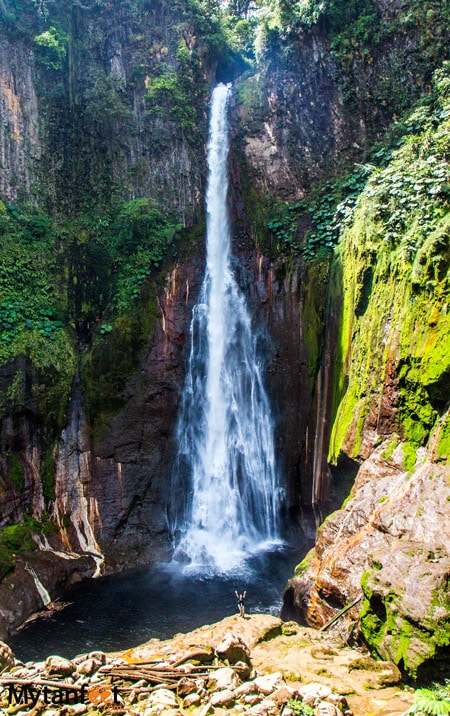 This private reserve also has a hummingbird garden and trails as well as a small cafeteria so you can spend a good chunk of the day there. This is especially a great spot for photographers since there are lots of birds and the waterfall is absolutely picturesque.
Top tips for Catarata del Toro: Bring a camera, sunscreen and a hat. They have a cafeteria with food and drinks but still bring lots of water. You don't need to make reservations but we do recommend going early. It's not a super popular waterfall but if you are interested in getting nice pictures, it's best to go early when there aren't many people. Don't forget to visit their blue rivers!
The walk down has many steps so take your time and go slow walking back up. There are a lot of nice view points of the waterfall from the top so take all day to enjoy this gorgeous area in Costa Rica.
If you want to hike a little bit more, definitely check out the Blue Falls of Costa Rica. It is owned by the same people of Catarata del Toro so you can see both in one day!
Day 7: Travel to Manuel Antonio
On day 7, you'll travel to Manuel Antonio. The drive is around 4 hours and you'll finally get some beach time! Manuel Antonio is a very touristic area of Costa Rica because of the national park and beaches. Here you have a ton of hotels to choose from and this is the best place to splurge since Manuel Antonio has some of the nicest hotels in Costa Rica.
A few recommendations are Hotel La Mariposa, Parador, La Mansion Inn and Arenas del Mar. If you want something more budget, there are plenty of hostels and budget hotels such as Selina Manuel Antonio.
Day 8: Nauyaca Waterfalls

Today you will visit the Nauyaca Waterfalls, one of the most impressive waterfalls in Costa Rica. The waterfall entrance is about a 40 minute drive from Manuel Antonio.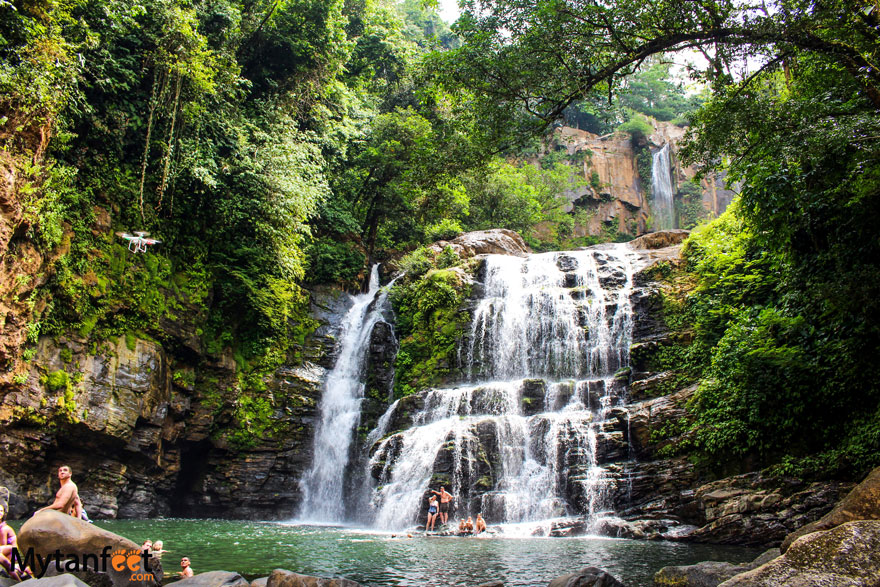 You have 3 ways to get to the waterfall. If you still have energy, you can hike it. It's 8 kilometers round trip (around 5 miles) through a hot and humid jungle. The entrance fee for hiking is $8.
You can also take a horseback riding tour which is $75 per person and includes breakfast and lunch. You must make reservations beforehand on the Don Lulo Nauyaca waterfall tours website or you can take a truck for $30 per person. Contact us if you'd like to do the horseback riding!
Day 9: Rest
Today is your last full day in Costa Rica before going home so relax and enjoy! You can visit Manuel Antonio National Park to see wildlife, go ziplining or just chill at the beach/hotel.
Day 10: Travel to San Jose/Fly Out

Depending on your flight departure time, it's time to travel back to San Jose or fly out. Manuel Antonio to San Jose is about 2 hours and you need to give yourself at least 3 hours for traffic if you are driving to SJO Airport.
There you have it. 10 days in Costa Rica chasing waterfalls! And you get a little bit of beach time in there too!
For more Costa Rica itinerary ideas, check the posts below!
2 week Costa Rica itinerary: Tortuguero, San Jose, Arenal, Monteverde and Guanacaste
1 week Costa Rica itinerary: Jaco, Manuel Antonio and Uvita
There are affiliate links in this post