Our Costa Rica 13 days itinerary is perfect for anyone who wants to see beaches, wildlife, volcano, nature and rainforest. This itinerary is specifically for those who do not plan to rent a car and more for leisurely backpackers on a moderate budget. However, I will give tips on how to turn this itinerary into a mid-range and luxury trip.
This Costa Rica 13 days itinerary goes to San Jose, Puerto Viejo, La Fortuna and Monteverde, flying in and out of San Jose International Airport (airport code SJO). Click here to see the destinations on a map.
La Fortuna is the main tourism hub close to the towering Arenal Volcano, surrounded by rainforest and nature with plenty of outdoor adventure for every traveler.
Puerto Viejo is an incredible beach town on the Caribbean coast. It has a low key vibe and beautiful beaches with abundant wildlife.
Monteverde has excellent hiking in the cloud forests. Home to the most adrenaline ziplining tours.
If you would like us to help you book your excursions and transportation, please contact us and let us know you are interested in this itinerary!
How to Get Around This 13 Day Costa Rica Itinerary
Main Option: Public Buses and Interconnections
As this 13 days Costa Rica itinerary is more for those on a budget, you will get around by public transportation, a taxi boat and a tour interconnection. Cross country routes on public transportation cost approximately 5000 CRC per person (~$8 USD).
San Jose – Puerto Viejo
San Jose to Puerto Viejo bus times 6 AM, 8 AM, 10 AM, 12 PM, 2 PM, 4 PM and 6 PM. This bus takes about 5.5 hours with one stop halfway. The bus's final destination is the Puerto Viejo bus terminal. From there, you can grab a taxi to your hotel.
The bus terminal in San Jose is called Terminal Atlantico Norte, which is where you need to purchase tickets and board the bus. If you're coming from SJO Airport, you can take an Uber or taxi to this bus station (30 minute drive).
If your taxi driver tries to tell you that the bus station is no longer there, bus is full or route is not available, ignore them. This is a tourist scam in Costa Rica as the driver will try to convince you to hire him to drive you all the way to Puerto Viejo and over charge you.
Puerto Viejo – La Fortuna
For this transfer, you will do an adventure interconnection on a white water rafting tour. The tour operator will pick you up in Puerto Viejo, take you to do the Pacuare river white water rafting tour and then drop you off at your hotel in La Fortuna after the tour.
The Pacuare white water rafting tour is one of the BEST things to do in Costa Rica for outdoor adventure lovers. It's one of the top 5 rivers in the world with epic Class 3, 4 and 4+ rapids! Way more fun than sitting on a bus!
Save money: We offer a $5 USD discount per person for the Pacuare rafting tour!
La Fortuna – Monteverde
For this transfer, you will take the taxi-boat-taxi across Lake Arenal. The tour operator will pick you up at your hotel in La Fortuna, bring you to Lake Arenal to boat across the lake and then pick you up via taxi on the other side to bring you to your hotel in Monteverde.
This costs around ~$45 USD per person and takes 3 hours. There is one schedule in the morning and one schedule in the afternoon.
Please contact us to book this transfer.
Monteverde – San Jose
You will take the public bus from Monteverde – San Jose. Bus tickets cost 2840 CRC per person and takes around 4 hours. The bus company name is Transmonteverde and the terminal is in the Centro Comercial. Make sure to buy tickets beforehand.
Monday, Tuesday and Wednesday: 530 AM
Thursday, Friday, Saturday and Sunday: 530 AM and 230 PM
San Jose – SJO Airport
To get to the airport, you can Uber or taxi. We recommend Uber, it's very convenient and you can find Ubers even in the early mornings.
Option 2: Shared Shuttles and Tour Interconnection
Shared shuttles cost around $59 USD per person with companies like Interbus, Caribe Shuttle and Easy Ride CR. There is usually one schedule in the AM and one in the PM so you will need to check schedules to see if it works for you as they will not wait for you if you're late.
If you are taking a shared shuttle after you land at SJO Airport, shared shuttles will normally have you go to the Denny's Restaurant down the street for pick up as they cannot pick up directly from the airport terminal exit. Same goes for vacation rentals – you will have to go to the closest hotel within their transportation zone to meet the shuttle.
Option 3: Private Shuttles and Tour Interconnection
You can do private shuttles instead of shared shuttles or public transportation. Private shuttles will pick you up directly at the airport/hotel, provide stop(s) along the way and you have the entire vehicle for your group. You can also choose your pick up time.
They are more expensive but the prices become reasonable for bigger groups as shuttles normally hold up to 8 people. Example of rates are San Jose – Puerto Viejo is approximately $315 USD one way, Monteverde to San Jose approximately $190 USD one way.
Read more about shuttles in Costa Rica here.
Extra tip: If you decide to book shuttles (shared or private), you can rent a car for the days you are in Puerto Viejo/La Fortuna if you want to.
Option 4: Driving the Entire Time (Most Expensive Option)
This option gives you the most flexibility and freedom, but car rental prices are not cheap in Costa Rica.
A high clearance car is the best option for this itinerary. Approximate cost of a 4×2 compact SUV for 14 days is $1800 USD with mandatory insurance in high season.
If you are renting a car for your entire trip and your flight lands after 3 PM, we do not recommend driving to Puerto Viejo, especially in the rainy season due to route and road conditions. This is around a 5 hour drive (can be longer due to traffic or road conditions). It's better to stay a night by the airport and leave early the next morning. Check out our recommended San Jose Airport hotels.
Read more about driving in Costa Rica, renting a car in Costa Rica and get our car rental discount for more information.
Budget For This Costa Rica 13 Days Trip
Your budget will depend completely on where you stay, where you eat, who you're traveling with and what tours you do.
Something you should know is that even though this itinerary is budget friendly, Costa Rica is NOT cheap. Do not expect similar prices as you would in Nicaragua, SE Asia, etc. Just because Costa Rica is in Central America, that does not mean that it is cheap. Read about other things to know about Costa Rica before you go!
If you do the option 1 (public transportation, taxi boat taxi and interconnection), stay at budget lodging, eat and drink at cheap-moderate and book a few tours, an approximate cost per person can be $1800 USD for 13 – 14 days. This does not include flights.
You can travel cheaper if you are stricter about staying at only the cheapest places, eating more frugally and not doing any tours at all.
Unfortunately, there are not a ton of cheap or free things to do but you can find some. For example, nearly every single national park, reserve, waterfall and wildlife refuge will charge a fee (max usually around $25 USD per person) and some places have a free public entrance that you can go to instead.
Day 1: Land in San Jose, Travel to Puerto Viejo
Welcome to Costa Rica! After passing through immigration and customs, you will now travel to your first destination, Puerto Viejo de Talamanca to have a few days at the beach.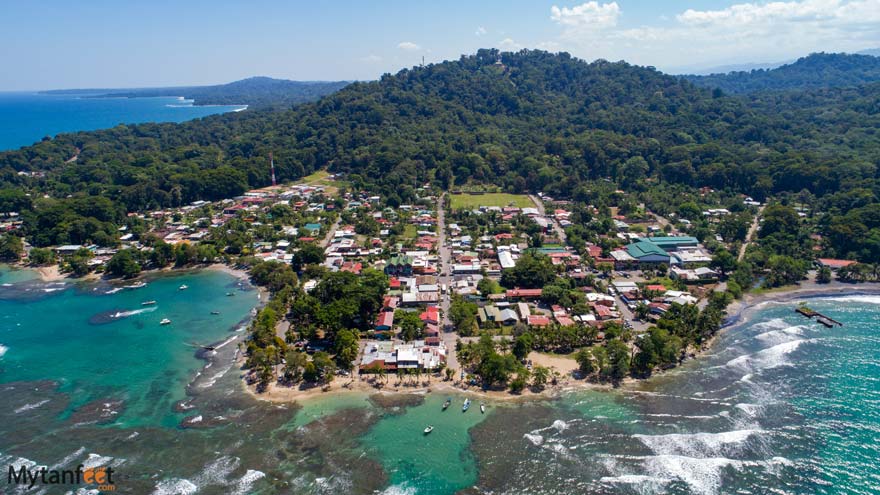 **If your flight lands in the late afternoon or after 6 PM, you will have to stay a night in San Jose to catch the bus the next morning. There are plenty of budget hotels in San Jose near the bus terminal and near SJO Airport. To get from SJO Airport to your hotel, the best option is Uber.**
Where to Stay in Puerto Viejo
Without a car, it's best to stay in Puerto Viejo town or Playa Cocles as you will be close to everything. Then you can rent a bike or scooter to get around. If you have a car, you can venture out further to the communities of Playa Negra, Playa Chiquita or Punta Uva.
Budget <~$50 USD
There are many hostels in Puerto Viejo such as Selina, Lion Fish, Hotel Puerto Viejo, Hostel Mar Caribe, Pagalu Hostel and Roots Family Hostel. In Playa Cocles, Playa 506 and Tasty Dayz are popular hostels.
Mid Range – High End
Something to know: Hotels in Costa Rica normally include a hot breakfast in their rate but many hostels do not.
Day 2, 3, and 4: Puerto Viejo
For your days in Puerto Viejo during your Costa Rica 13 days itinerary, here are our recommendations on how to spend them.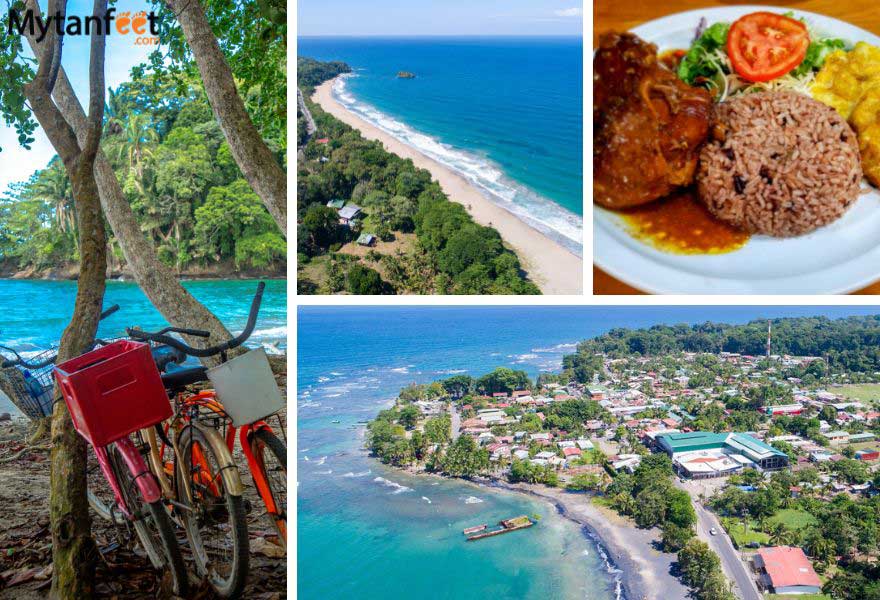 Day 2: Walk Around Town, Rent Bikes to Bike to Playa Cocles
Wake up early to check out the area on your first day. You can rent bikes ($~6 USD for 5 hours) to ride around town and the beach.
Breakfast: Bread and Chocolate in Puerto Viejo
Lunch: Restaurante Lidia's Place (Local food in Puerto Viejo)
Dinner: Sol del Caribe (local food in Playa Cocles)
At night, you can wander around the street vendors and have some drinks at Tasty Waves or see if there are any beach bonfires or parties going on. Selina often has night time events.
Day 3: Cahuita National Park
Today you will spend the day at Cahuita National Park, a 20 minute drive away. We recommend to get there around 9 AM so take the 830 AM bus (there are many public buses during the day). But first, grab some pastries at De Gustibus Bakery.
Cahuita National Park entrance fee is by donation. This national park is beautiful and the locals have done a wonderful job maintaining it so definitely give them something.
You'll hike a couple hours through the park to Punta Vargas and get some nice views along the way. Afterwards, have lunch at El Rincon del Amor near the park entrance. Also pick up some local pastries from Delrita Patty. To learn more about the flora and fauna, you can hire a naturalist guide at the park entrance but it's not mandatory.
Alternative option: if you want to snorkel and you are visiting during optimal conditions, you can take a snorkeling tour in Cahuita instead. Cahuita has one of the longest coral reefs in Central America but conditions can be finicky and you can only snorkel on a guided tour.
Then you'll grab the bus back to Puerto Viejo and go back to your hotel to freshen up and nap. For dinner, head to Koki Beach Restaurant Bar Lounge for yummy drinks and a nice dinner out.
Day 4: Playa Chiquita and Punta Uva
Sleep in and then pick up some pastries and goodies at Panaderia Frances (French Bakery). Then take the bus to Playa Chiquita. This beach is not very big but it's gorgeous for pictures. When you're done, grab the bus to your next destination, Punta Uva.
Punta Uva's main beach, Playa Punta Uva has an outcropping of rocks that you can walk on for views of neighboring beaches. Then you can spend the rest of the afternoon at the beach. If you look up in the trees, there are many resident sloths around!
Lunch or Dinner: Selvin (Punta Uva).
Take a taxi back to Puerto Viejo if you miss the bus. Don't walk in the dark.
Day 5: Pacuare White Water Rafting – Drop off at La Fortuna
Day 5 of your Costa Rica 13 days trip is long but FUN! You will get picked up around 6 AM to go white water rafting down the Pacuare River. Breakfast and lunch are included. After the rafting, you will get dropped off at La Fortuna (arrival time approximately 5 PM).
Cost of white water rafting tour: ~$106.92 USD per person, we offer a $5 USD discount per person.
Budget Hotels in La Fortuna
There are a ton of hotels in Fortuna at different price points from a $20 bed in a dorm to $900 a night in a luxury resort. You can find a ton of vacation rentals in La Fortuna as well.
Selina Fortuna, Arenal Poshpacker, Arenal Hostel Resort, Hostel Arenal Traveller's Inn.
Mid Range and Luxury Options
Hotel Magic Mountain, Los Lagos Hotel, Arenal Paraiso, Amor Arenal, Arenal History Inn, Kokoro, Volcano Lodge and Springs, Tabacon, Nayara Gardens, The Springs Resort & Spa, Moñtana de Fuego, Arenal Kioro
For a more nature stay, we absolutely love Arenal Observatory Lodge.
Day 6, 7, and 8: La Fortuna
Here are some ideas for you to spend your time in La Fortuna. If you decide to do any tours in La Fortuna, we offer a small discount for many different excursions. The advantage to booking tours is they include roundtrip transportation and a bilingual guide.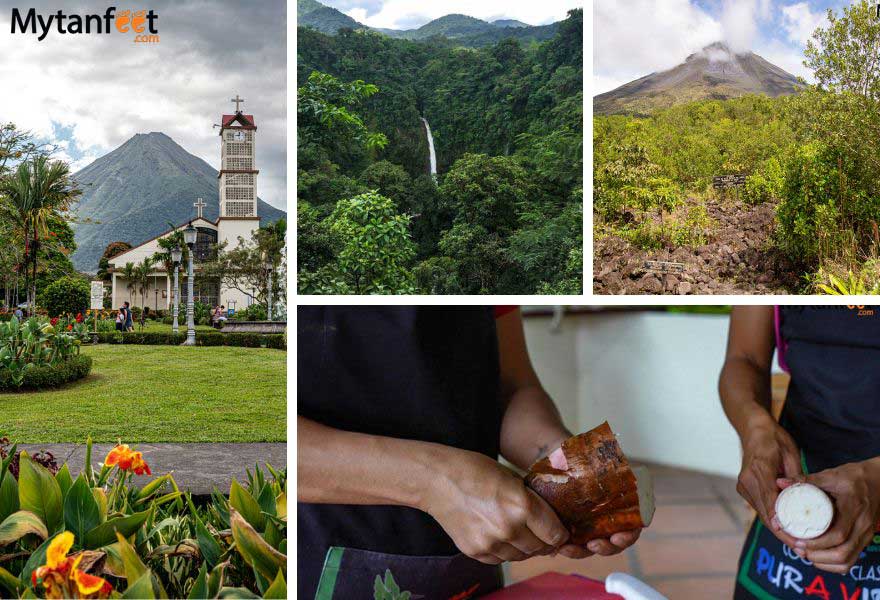 Day 6: Sleep in, Walk Around Town, Free Hot Springs
Today just sleep in and enjoy a lazy morning. Then head to downtown La Fortuna to check out the town and get some nice photos of the town church and volcano. Then grab some brunch/lunch at Chocolate Fusion. You can do some souvenir shopping too.
After food, stop by your hotel quickly to change and grab an Uber or taxi to the El Chollin free hot spring river near Tabacon. Please make sure you keep your belongings safe with you and do NOT bring any valuables like your passport. I personally recommend to bring a waterproof phone pouch or a small dry bag so you keep your phone, keys and money with you when you're at the river.
After the river, taxi/Uber back to your hotel, freshen up and go to dinner at Pollo Fortueño or La Fortuna Pub.
Day 7: Sloth Walk, El Salto Swimming Hole
Today you'll wake up earlier to visit the Bogarin Trail right in town to do a short sloth walk. Definitely go with their guide so they can point out sloths and other animals. We recommend to get there around 9 AM and it's about a 1 – 1.5 hour activity. ~$45 USD per adult
For brunch/lunch, grab an empanada, pastries and coffee from Rainforest Cafe.
After food, head to your hotel to rest a bit and then change into your swimming suit to visit El Salto, a free local swimming hole. Again, make sure not to leave any valuables alone and we recommend to bring the dry bag with you to keep your phone and other things with you at all times.
For dinner, we recommend Soda Viquez for local food or Spectacolar Cantina for Mexican.
Day 8: Morning Cooking Class, Afternoon Arenal Volcano Walk
On Day 9 of your Costa Rica 13 days itinerary, you will do a couple of guided tours. In the morning, you'll do a Costa Rican farm tour and cooking class. You'll go out into the fields, pick your ingredients, cook your breakfast and then eat it. After the tour, they will drop you off back at your hotel to freshen up for your afternoon tour. ~$65 USD per adult
For the afternoon, you'll hike through the forests and lava fields of the Arenal Volcano 1968 Reserve on a tour. You'll learn about the devastating 1968 eruption, the surrounding rainforests and the volcano on the tour and get up close views as you hike to a lookout point. ~$70 USD per adult
After the tour, go back to your hotel to freshen up and relax.
Dinner: Soda Nene or Mercadito (food court)
Day 9: Travel to Monteverde
On day 9 of your Costa Rica 13 days trip, you will take the taxi-boat-taxi across Lake Arenal to get to Monteverde! You'll take the morning one (~830 AM) and arrive in Monteverde around noon or so. ~$45 USD per person
If you can't check into your hotel yet, you can ask them to hold your luggage so you can walk around town, get lunch and then come back at check in time.
Budget Options
Monteverde has plenty of budget options. You will want to stay in Santa Elena downtown for those without a car.
Selina Monteverde, Pension Santa Elena Monteverde Hostel, Sleepers Sleep Cheapers Hostel, Cabinas Vista Al Golfo
Mid Range to High End
Hotel Poco a Poco, Hotel Belmar, Senda, Monteverde Country Lodge, Chira Glamping Monteverde, El Establo Mountain, Los Pinos, Hotel Ficus Sunset Suites
Day 10 and 11: Monteverde
Here are our ideas for how to spend 2 days in Monteverde.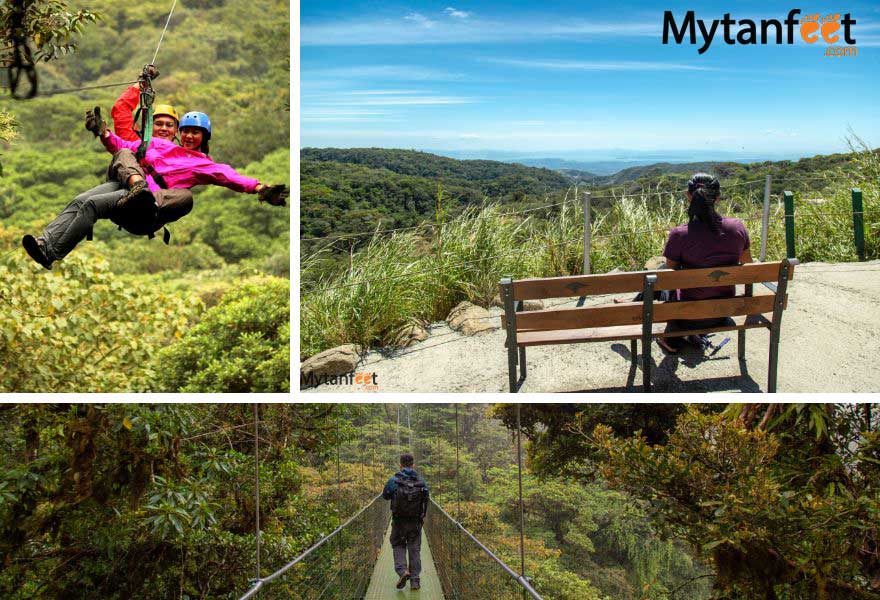 Day 10: Santa Elena Cloud Forest Reserve
Take the bus to the La Reserva Bosque Nuboso Santa Elena to hike the trails. We recommend to go early in the morning and come back around noon or early afternoon. $16 USD per adult entrance fee
Breakfast: Panaderia Jimenez Santa Elena
Lunch: Sabor Tico, then coffee at Orchid Coffee
Afterwards, go back to your hotel to freshen up or you can walk around town to browse some souvenir stores. We recommend to walk to the Mirador Valle Escondido Preserve lookout point at 5 PM to watch the sunset.
Dinner: Gusticos
Day 11: Selvatura Park Hanging Bridges + Ziplining
Today is a day of adventure! Your Selvatura Park tickets include transportation from hotels in Santa Elena. At the park, you will walk the amazing hanging bridges for an experience in the cloud forest and then zipline over the trees. We recommend to go early in the morning for their 830 AM zipline so you can finish around early afternoon. Approximate cost $102 USD per person
After the park, head back into town to get a coffee and lunch at Choco Cafe Restaurante and Coffee Shop. Then take a nap, rest and walk over to the Ficus La Raiz to see a very cool ficus tree bridge. Do NOT go to the one on Google Maps that is in English (Ficus Root Bridge Free Trailhead).
Dinner: Taco Taco Taqueria, Restaurante Tico y Rico, Toro Tinto Pizza and Grill, Tramonti,
Day 12: Travel to San Jose
Depending on which day you're traveling, you'll have to take the 530 AM bus if it's Monday, Tuesday or Wednesday. Thursday through Sunday have a 230 PM bus.
You'll get off at the TransMonteverde bus station and from there, call an Uber to your hotel. Do not take a taxi.
Just relax the rest of the day. If you want to go out for a nice dinner on your last night in Costa Rica, we recommend Mirador Tiquicia or Ram Luna for a romantic dinner with a beautiful city view. Or head over to the trendy neighborhood Barrio Esclanate for some hip fusion food and drinks. If you're too tired, just order Ubereats.
Budget Hotels
Stray Cat Hostel, Aldea Hostel San Jose, Fleur De Lys Hotel, Cando Living 1333, Selina San Jose, Casa del Parque
Mid Range to High End
Gran Hotel, Hotel Presidente, Hotel Balmoral, Hilton Garden Inn La Sabana, KC Hotel, Barcelo San Jose, Park Inn San Jose by Radisson
There are also a ton of Airbnbs at condo complexes such as Secrt Sabana, URBN Escalante and Cosmopolitan.
Day 13: Fly Out
Today you go home after an epic Costa Rica 13 days trip! Call an Uber to get to the San Jose International Airport and get there at least 2-2.5 hours before your flight departure time.
We hope this Costa Rica 13 days itinerary for backpackers and those on a budget was helpful!
There are affiliate links in this post.
More Costa Rica Itineraries
Check out other itineraries we have written!
2 week itinerary: La Fortuna, Monteverde, Santa Teresa, Playas del Coco
1 week Central and South Pacific itinerary: Jaco, Manuel Antonio, Uvita
2 week coast to coast itinerary: Tortuguero, La Fortuna, Monteverde, Manuel Antonio, San Jose