Since San Jose International Airport is the bigger of the two international airports in Costa Rica, there's a good chance that you'll be flying in and out of there. Whether you're staying in San Jose for a couple days or just passing through, you might need to stay there for at least the night before your flight out or the night you land.
You can choose to stay in San Jose or Alajuela but the airport is about a 30 minute drive from downtown San Jose. If you don't plan to actually see San Jose, it's better to stay by the airport. If you want to make your last night in Costa Rica just as special as the rest of your vacation, there is one hotel in particular that keeps the pura vida spirit alive and well.
Make sure to use our 10% promo code to get a discount off your booking! Our promo code is mytanfeet and you can make your reservation at the Adventure Inn here!
Adventure Inn Property and Rooms
The hotel is located in a quiet part of San Jose near Los Arcos and about a 10-15 minute drive to the airport. From first glance, the hotel doesn't look very big from the outside but as soon as you step in, you'll be surprised.
With a large pool, restaurant & bar, garden/pond area, business space, sitting area and a gym, this hotel has all the amenities and features of a high end resort without the feel of one.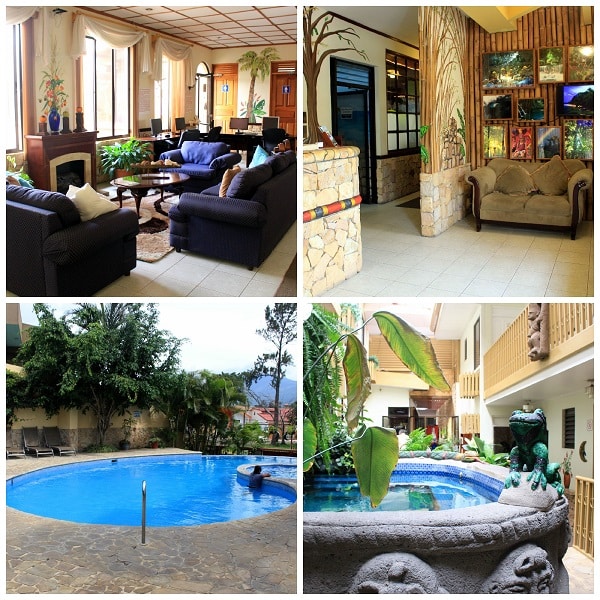 Instead, it feels like a charming and cozy local hotel decorated to the teeth with Costa Rican paintings and photographs. All the rooms were painted by a local artist depicting some aspect of the country such as wildlife or local life.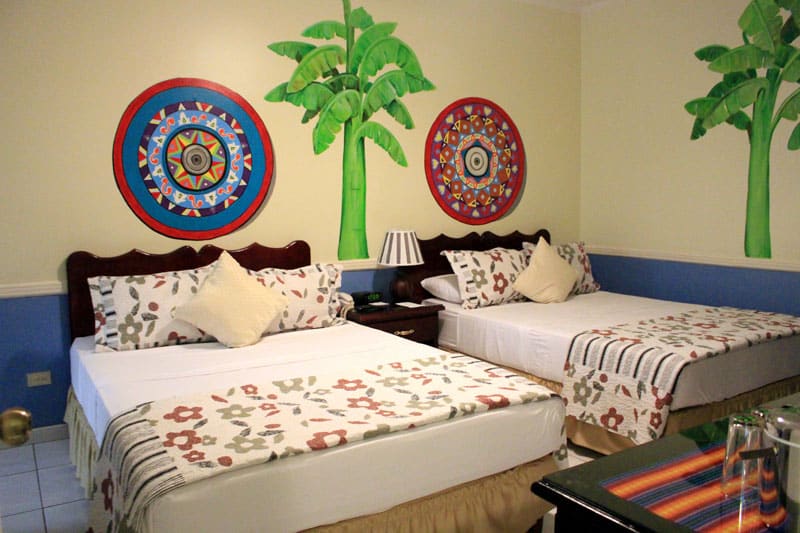 We stayed in a standard room which came with two queen beds, a coffee maker, TV, free wireless Internet, a writing desk and chairs. Their beds were incredibly comfortable and room felt so fresh and spacious, perfect after a long drive coming from La Fortuna.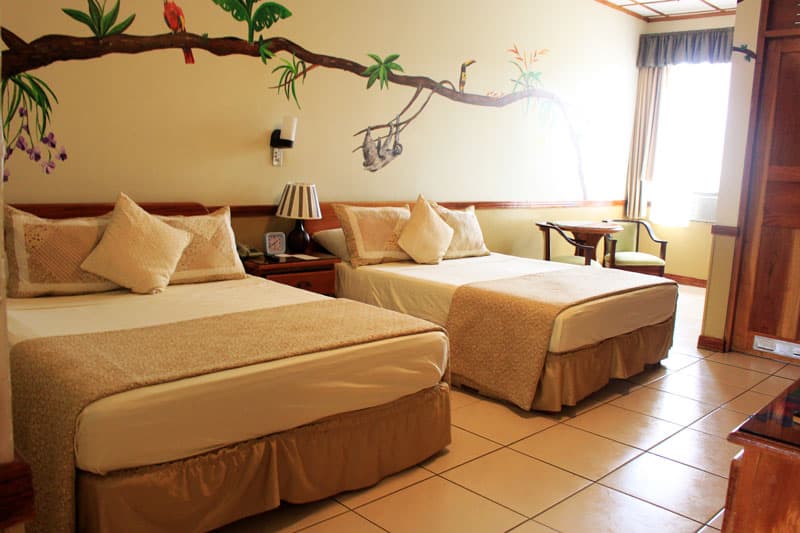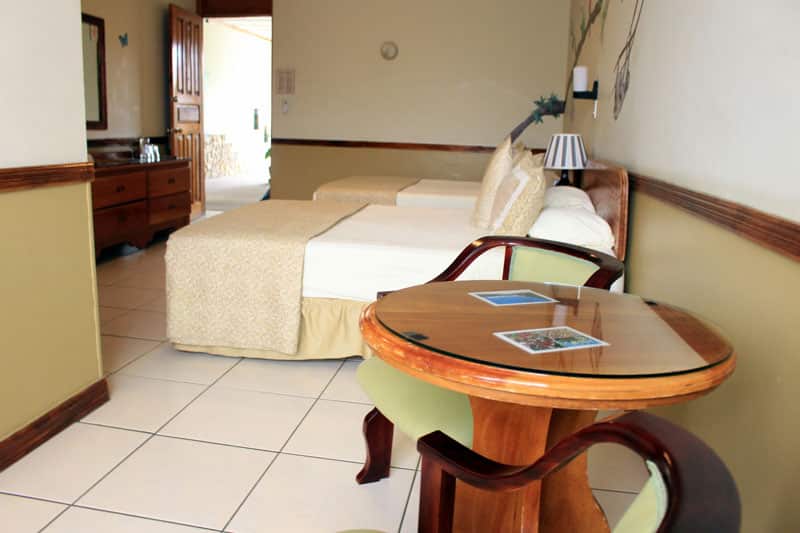 We've stayed at Adventure Inn several times. Once with my parents. Second on our own. Third with two of my friends. Each time has been excellent and super comfortable.
Adventure Inn is an excellent choice if you're not on a strict budget as it's such a cute boutique hotel with excellent amenities and service.
Hot Breakfast
One of the best parts about Adventure Inn that makes it a really nice place to stay and good value for the price is their hot breakfast. They have an extensive breakfast spread with all sorts of fruits, pastries and main breakfast dishes.
We even had a really early flight one morning and they packed a breakfast for us to go.
Overall Thoughts about the Adventure Inn in San Jose
We absolutely adored Adventure Inn. Not only were the rooms comfortable, but the decor of the hotel made our stay that much cozier and enjoyable. It was much more pleasant and fun to stay somewhere with more character than a chain hotel. I had a great time wandering around the hotel, looking at all the pictures.
If you need a hotel in San Jose close to the airport or the city, this hotel has everything you need and more for a wonderful stay. You'll get your last dose of pura vida before you leave Costa Rica at the Adventure Inn!
They have free shuttles to the airport, they can book tours for you, they offer American style breakfast and their restaurant is excellent. We ate dinner there on my parent's last night and it was delicious. Their breakfast was one of the best we've ever had for a boutique style hotel with more fruits than I can recognize!
Staying at Adventure Inn when you arrive to Costa Rica
You can also stay at Adventure Inn the first night you land in Costa Rica. Since many flights land in the late afternoon or evening, it's better to stay a night by the airport and then leave the next morning for your next destination.
In this case, you can easily arrange your airport transfer in with Adventure Inn. Then if you are renting a car, our partner Adobe Rent a Car offers free deliveries to Adventure Inn. Get our Costa Rica car rental discount and have your car delivered for free to Adventure Inn.
Save 10% off your booking using the promo code: mytanfeet on their website
Make your reservation at the Adventure Inn! Our Mytanfeet promo code should be automatically entered in that link. If not, please enter "MYTANFEET"
Read about some things to do in and around San Jose here