If you're irying to figure out where to eat in Jaco, then this post will help. Below you can find our recommended Jaco restaurants. There's a lot of options which we're slowly making our through! You will also find a map of the restaurants below.
Where to Eat in Jaco
Graffiti Restro Cafe
For high end dining or a romantic dinner, Graffiti Cafe is your place to go. This seafood steak cafe does not hold back on portion size and they use very high quality meat for their steaks and burgers. We've had their fish tacos, burger and chocolate and cacao steak – a very unique dish that seemed like an odd combination but it was downright amazing.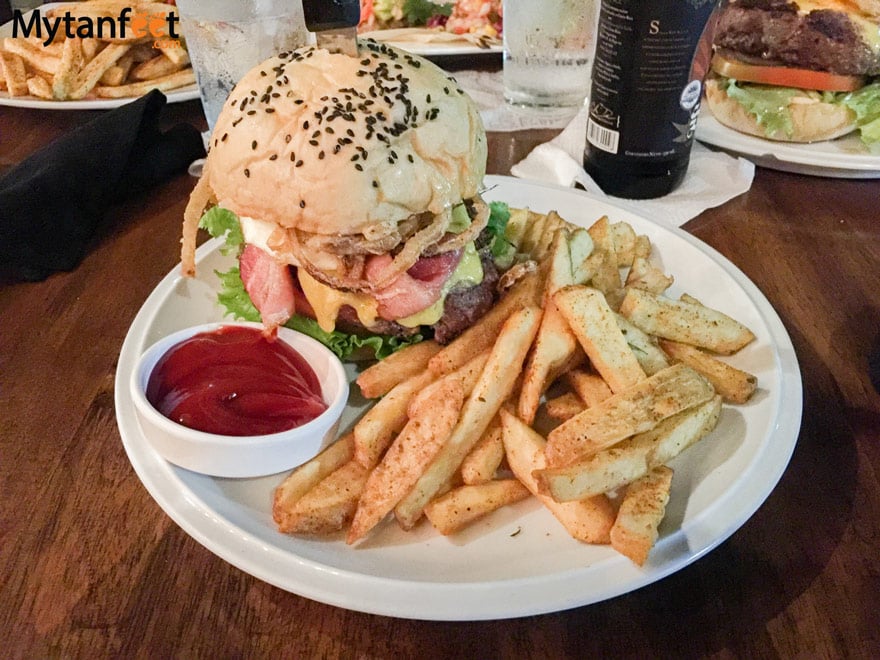 It's best to make a reservation especially during high season and they open at 5 PM.They have other dishes like Tuna tar tar tower, pork chops, veggie plates and have a good variety of wine and cocktails. In our opinion, Graffiti is one of the best restaurants in Jaco and we like to go there for a special night. Prices start at $11 USD and main courses around $15 USD.
PuddleFish Brewery
PuddleFish Brewery is right next to Graffit and you can order from both menus from either restaurant. They have gourmet pub fare such as nachos, wraps, burgers, fish sandwiches with happy hour from Mon – Thurs 4 to 6 PM and Friday 4 to 7 PM.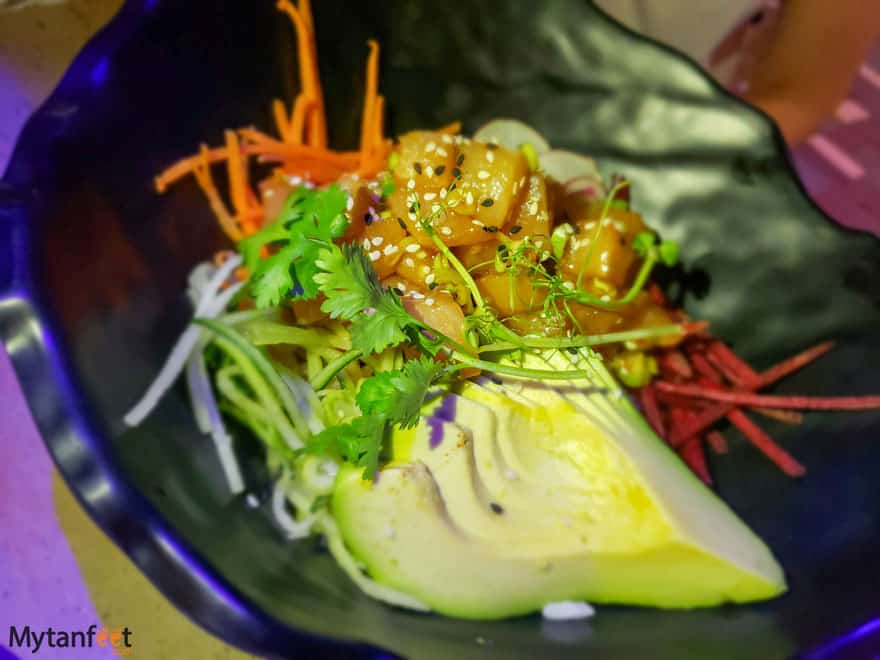 We sat at Puddlefish Brewery (they have a more chill, bar atmosphere) and ordered their chicken wing starters, tuna tataki and fish tacos which were all delicious. They also have craft beer and yummy drinks.
Soda Jaco Rustico
For traditional Costa Rican food, Soda Rustico is one of the best restaurants in Jaco, if not the very best. It's popular among locals since their prices are pretty cheap for such a touristic area. You can get a normal casado (rice, beans, meat and salad) with a drink for about $6-7 USD. It's buffet style and they have different options every day.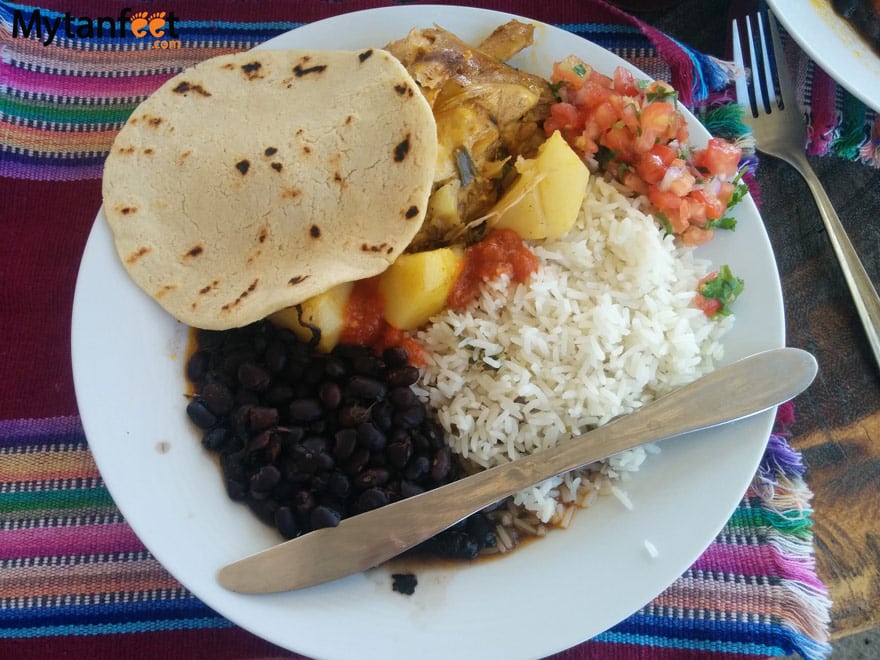 On some days they have soup like olla de carne or seafood soup and it gets super popular for lunch. This is an excellent option for vegetarians because it is buffet style so they can pick and choose whatever they want.
Amancio's
Awesome place for Italian food and it's right off the main drag downtown. A bit more on the pricey side but worth it. Big portions, homemade bread, pizza and pasta. One of our favorites for Italian food in Costa Rica.
KoKo Gastro Bar
Fantastic restaurant on the beach with delicious drinks and a fun vibe. Their tuna dishes are the highlight but burgers and everything else are excellent. One of our favorite places. They also offer breakfast.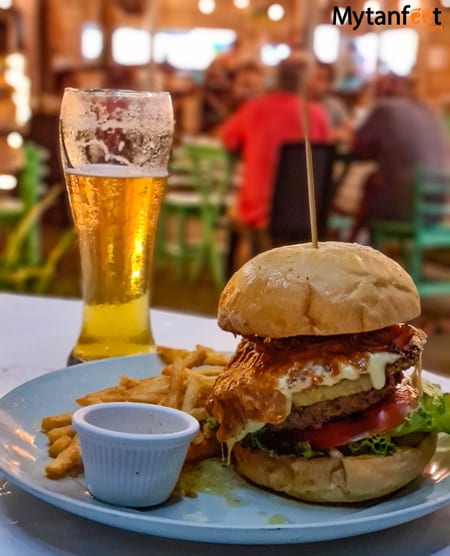 Green Room
Great place for healthy breakfast and lunch. Really enjoyed their coffee and sandwiches and it's in a very nice garden setting.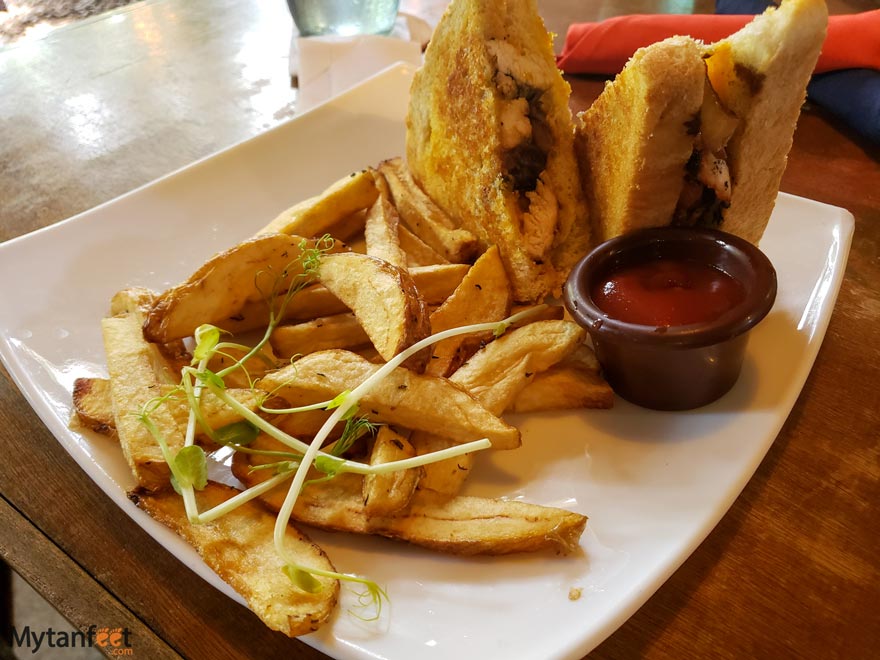 Also a great place for vegetarians and vegans.
The Pizza Shop and Pizza Pata
The Pizza Shop is one of my favorite pizza places in town. They make New York style pizza which is my favorite style of pizza. They also deliver and their sandwiches are really good too.
For Yeison, he really likes Pizza Pata. They're a bit cheaper and have really good pizza too!
Soda Garabito
This soda is another excellent cheap place to eat typical Costa Rican food. They are cash only but you can get breakfast for as cheap as $4 USD with coffee. Their gallo pinto is in my opinion, actually one of the better ones in Jaco. This soda is also buffet style, they don't have quite as many options as Soda Rustico but it's pretty cheap and good.
Tacobar
For yummy fish tacos, burritos and salads, head to Tacobar. They have an all you can eat salad bar and even dessert. Their fish tacos are so good!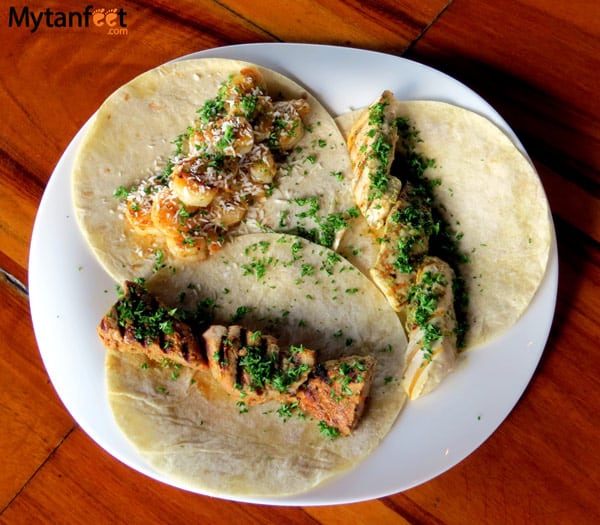 They also have $3 USD breakfast which is great if you're staying somewhere that doesn't include breakfast.
Pachi's Pan
Pachi's Pan is a very old bakery with excellent sweet pastries and treats. They also offer sandwiches, enchiladas and empanadas (Costa Rican style).
I love their pañuelos, empanadas and cakes.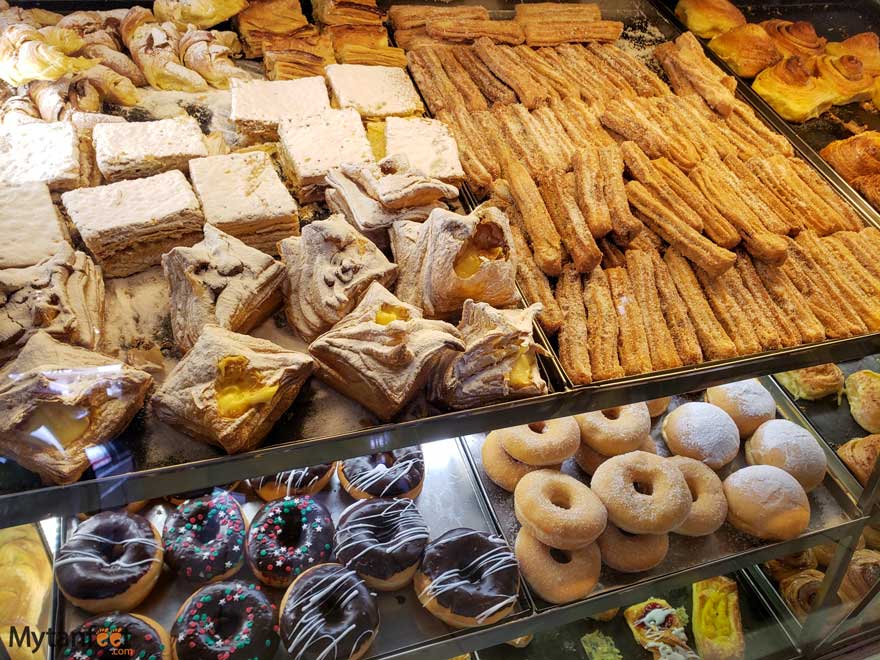 Pachi's Pan is in downtown across from the Banco Nacional.
Isaga Bar and Restaurant
For good food and a fun night out at a more local place, head to Isaga Bar and Restaurant. Here you'll experience the typical Costa Rican bar night life. They serve typical food, cheap beer and savory chiliguaro!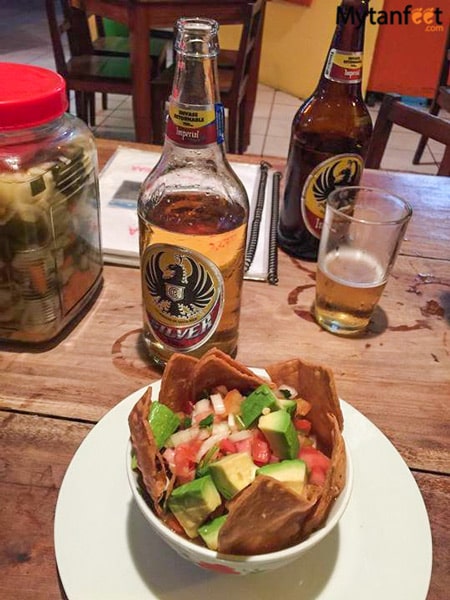 Our two favorite things to order for a fun night out is a chifrijo (dish of chips, rice, beans, pico de gallo, avocado and fried pork) and Imperial beer, two super Costa Rican things to get at a bar. We loved bringing our friends here for a more Costa Rican bar experience.
El Barco
Craving dessert? El Barco has a lot of gelato flavors as well as typical Costa Rican sweets like churchills. Great place for ice cream right in town.
Soda Marea Baja
This soda is a little outside Jaco. It's open 24 hours, buffet style and cheap! For $6 USD, you can get a full lunch/dinner with a drink and all you can eat salad bar.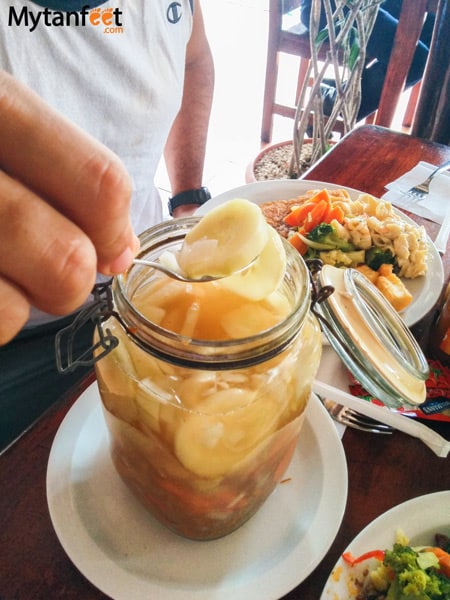 This was the best place when it was late at night and we didn't want to go to a bar to eat.
Chinita Pacifica
This place is just one lady cooking. Her menu usually only has 2 items (whatever is freshest that day) and it changes every day. The gallo pinto is delicious and we had a chicken pasta dish once that was yummy.
Tsunami Sushi
Awesome sushi place in Jaco with 2 for 1 Wednesdays and buy one get one half off for lunch on weekdays. Big portions and one of our favorite places for sushi in Costa Rica with friends.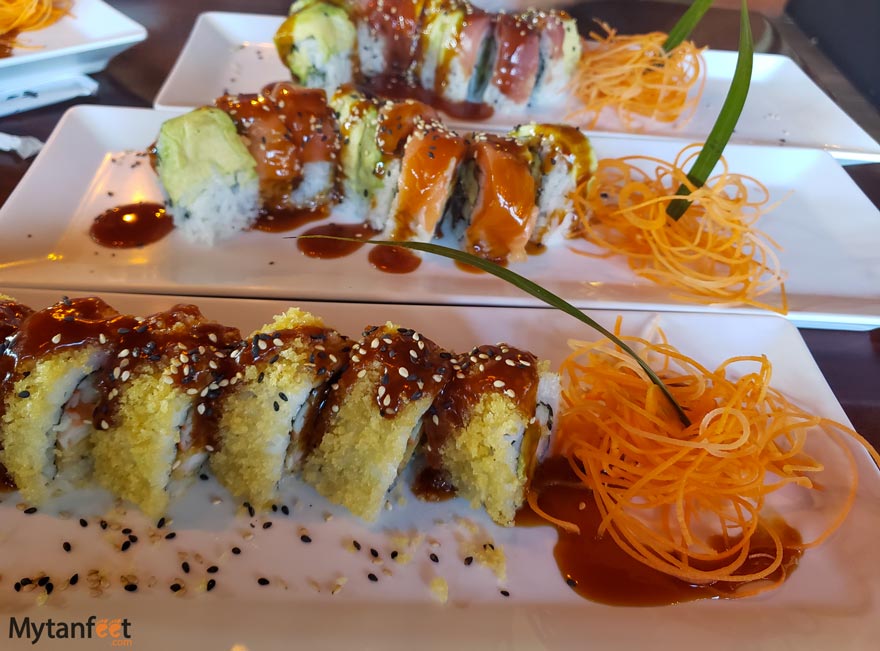 They are on the second level in Jaco Walk.
Arigato's is another excellent place for sushi by a Japanese guy – more authentic style.
Croc's Resort & Casino
The hotel has an excellent cafe with coffee and cakes. They have very fast Wi-fi so sometimes we'll go in their cafe to work a bit or get dessert after dinner with friends.
Where to Eat in Jaco: Map of Restaurants
These are just a small sampling of the awesome places to eat in Jaco, but there are a ton more excellent restaurants in Jaco. One of our favorite places for a relaxing night out is Jaco Walk as there are a bunch of restaurants and shops there, live music on some nights and it's very family friendly.
Click here to go to our Jaco restaurants interactive map.
Jaco travel tips
We have written a few posts about Jaco. These posts below will help you decide if you want to visit Jaco, where to stay, what to do and more! If you're thinking about living in Jaco, I have a post on that too.
What it's like to live in Jaco
Differences between Tamarindo and Jaco for surfing
And you can see what the town looks like in our driving video!