Being a travel blogger always requires us to be on the go all the time so when it comes to travel gear, we're always looking for the best. since our work tools are laptops, cameras, lenses and other small electronics, we need to have a reliable backpack that can keep all the equipment safe and at the same time, comfortable to wear.
A few months ago my old backpack reached it's time. After countless adventures together, I noticed that my gear was not protected it as it should be. I also just bought some new lenses so not everything fit comfortably so I started looking for a new backpack.
I was looking for 3 characteristics:
Durability
Protection of all my gear and easily accessible
Comfortable to wear in all weather conditions and situations
After a few days researching online, I found a Kickstarter that caught my attention. The company, WANDRD was promoting a duffel bag but their main product is a backpack designed for photographers and videographers, the PRVKE.
I usually don't spend too much time "shopping" and I only need 10 minutes to know what I want so I watched the video and placed my order. A couple days later, my WANDRD PRVKE 31 liters backpack showed up, right in time for our month long Europe trip.
WANDRD PRVKE Review
For our one month trip to Iceland, London, Manchester and Ireland, I was really going to be able to put the backpack to the test. Here are my thoughts below.
WANDRD PRVKE 31 Capacity
As a blogger, my backpack is pretty much my portable office so I have to have everything I need to run our business from any part of the world. So as you can see in the picture below I was able to fit all my gear and still have space to put my jacket inside the backpack.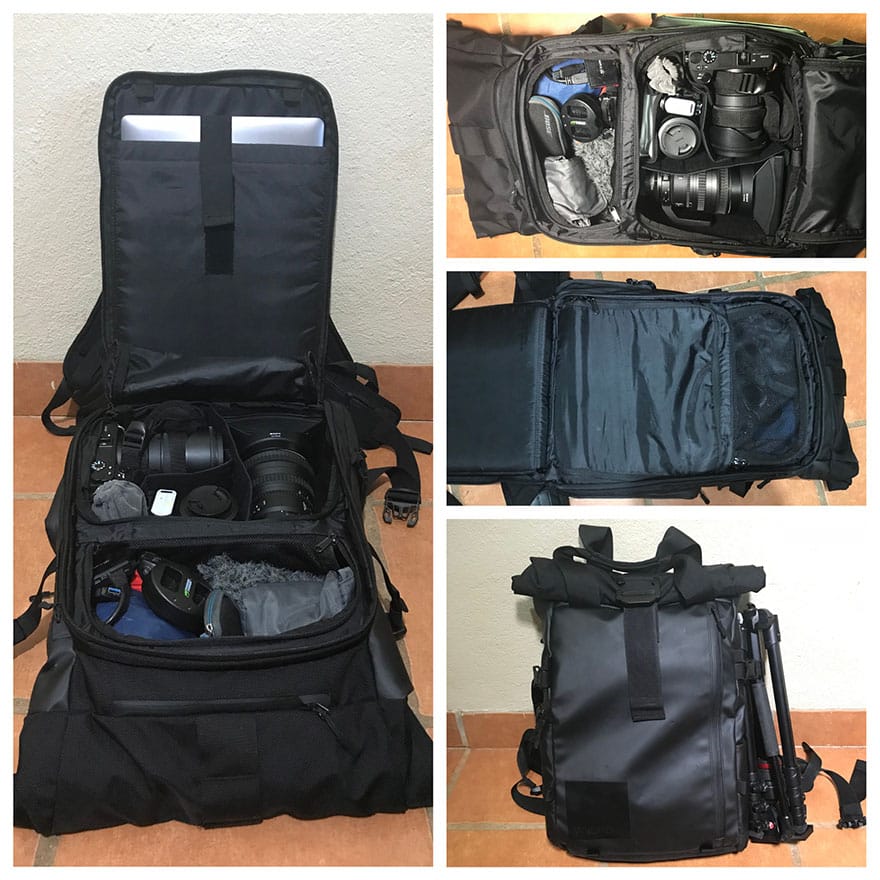 I was able to perfectly fit my 15 inches laptop, 3 lenses (including a cinema lens), 360 camera, Sony Action cam, microphone, cables, adapters and my rain jacket in the main compartment. The WANDRD PRVKE 31L has a rolling top expansion and you can fit more stuff if you can deal with the weight, in my case I put another jacket.
Traveling with the WANDRD PRVKE 31L Backpack

The PRVKE is a very conformable backpack to carry around as the support on the back and the waist strap make it very easy to carry. I used it on different airlines from all ranges and it fit perfectly on the cabin either on the top compartments or below the front seat. If it's super full, it's not very comfortable to put the backpack under the seat in front of you though.
I walked for several kilometers with this backpack and I love how everything was always in the right place and most importantly, protected. I even rode a bike in Ireland with the backpack on and I had no problems.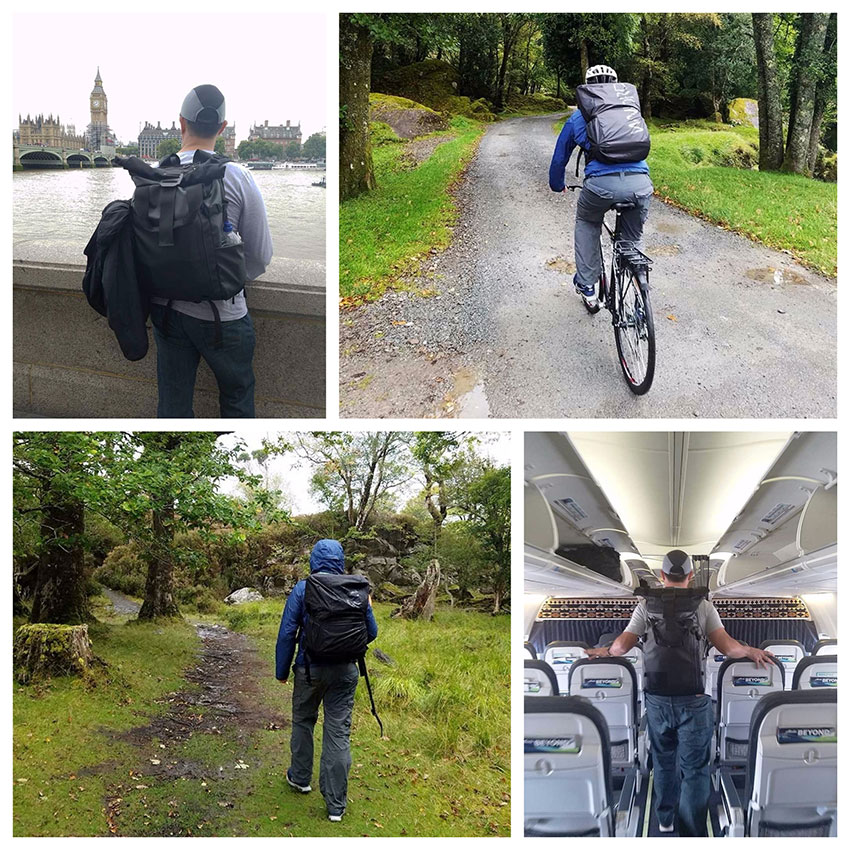 Working with the WANDRD PRVKE Backpack

Having your camera accessible all the time is so important when you are a blogger/photographer. You never know when the perfect moment will happen and with this backpack, you can save some seconds with the side access to the main compartment or camera cube it comes with. It's a lot more comfortable than having to take off your backpack every single time you want to get something like with a normal backpack.
You can easily take your camera out with going through all your equipment you can even prearrange everything and take advantage of the Velcro walls in the camera compartment.
With the extra straps, I was able to attach my Manfrotto be free tripod and have it ready in seconds.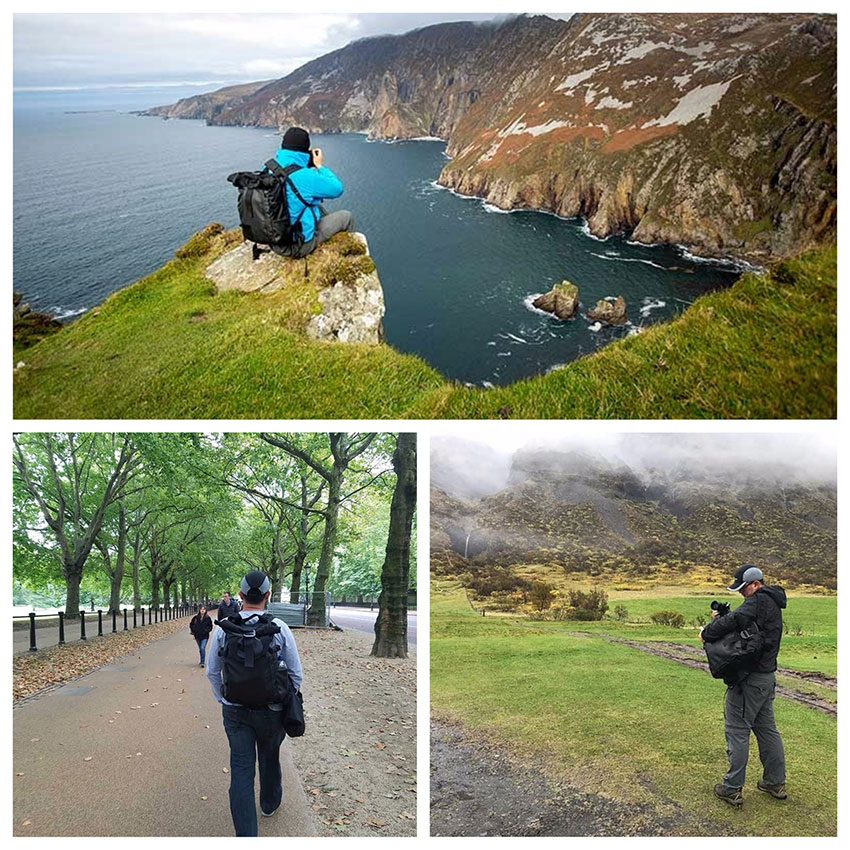 Final thoughts about the WANDRD PRVKE 31L Backpack
After using this backpack for over 2 months, I am very happy. I can see that it was well build with high quality materials and the rain fly it came with was great since it rained in Iceland and Ireland. The front part already has some minor scratches from all of the traveling but nothing major.
Due to the size of the backpack (31 liters), I have to be careful about how much I put inside. It fits so much stuff that when you're packing, sometimes I forget how heavy it will get so just keep that in mind when you're putting stuff inside. Sometimes I pack so much stuff in it that Samantha has a hard time carrying it.
If you are not using the waist and chest traps, it will be better if you keep them attached, especially when you put your backpack through security at the airport. One of mine got loose but thankfully I had them attached otherwise I would've lost it.
Something else I love about the backpack is that they thought about security as there is a passport compartment on the back end of the backpack so it's safe from pickpocketers.
Overall, I would recommend this backpack to any photographer/videographer. With high quality material, a carefully thought out design and plenty of space inside, the WANDRD PRVKE is perfect for anyone who needs to bring their office with them wherever they go, like we do. The 31L is the perfect size for all the equipment I have.
For more information or to get your own WANDRD PRVKE 31l backpack, you can check the WANDRD website.
I was given this backpack for a discounted price in exchange for a review. All thoughts and opinions are my own. The link above is an affiliate link.