If you plan on visiting Costa Rica during COVID-19, here is what you need to know. Read all about Costa Rica COVID-19 travel, Costa Rica COVID entry requirements and where to get a COVID test in Costa Rica.
Click the section to skip to it. This post is updated often to reflect latest changes.
Current Costa Rica Coronavirus Situation
Please click on this link, Costa Rica coronavirus to read the latest updates and statistics.
Costa Rica COVID Travel Restrictions and Border Opening
On November 1, 2020, Costa Rica opened their borders to all countries in the world via air.
Via sea, passengers fulfilling the entry requirements can enter Costa Rica at five marinas: Los Sueños, Papagayo, Bahia Golfito, Pez vela and Bahia Banana.
On April 5, 2021, Costa Rica opened the land borders between Nicaragua and Panama.
Costa Rica Entry Requirements (COVID-19)
Costa Rica entry requirements are that every unvaccinated and partially vaccinated COVID-19 tourist over the age of 18 must complete a health pass, get the QR code generated from the health pass and purchase a travel insurance that covers a minimum of $50,000 USD for medical expenses and a minimum of $2,000 USD for extended lodging expenses.
For those who are fully vaccinated against COVID-19, the only requirement is to complete the health pass and get the QR code. Minors under the age of 18 do not need to purchase the travel insurance either. Their only requirement is to fill out the health pass and get the QR code.
More details on this below.
Do I have to be vaccinated to go to Costa Rica?
No. You do not have to be vaccinated against COVID-19 for Costa Rica. Costa Rica is not requiring tourists to be vaccinated against COVID. Fully vaccinated, partially vaccinated and unvaccinated people can go to Costa Rica.
>> Get Exclusive Costa Rica Travel Tips and our Free Travel Guide Straight to You! <<
Do Fully Vaccinated People Need to Buy the Costa Rica Health Insurance?
No. As of August 1, 2021, fully vaccinated COVID-19 tourists over the age of 18 do NOT need to purchase any travel insurance. Minors under 18 years of age regardless of vaccination status do not need to purchase the travel insurance either.
For the fully vaccinated, vaccines accepted are Moderna, Pfizer-BioNTech, AstraZeneca and Johnson and Johnson. The last dose must have been administered at least 14 days before entering Costa Rica. This includes the one dose Johnson and Johnson vaccine, it must have been administered 14 days before entering Costa Rica.
For vaccination proof, they will require full name of the fully vaccinated person, date of each applied dose, lot number, formula and which vaccine it is (Moderna, Pfizer-BioNTech, AstraZeneca and Johnson & Johnson). Mixed doses are accepted as long as both doses are one of the four accepted vaccines. You will attach a photo vaccination certificate to the health pass. For the United States, the COVID-19 vaccination card fulfills this requirement.
Unvaccinated and partially vaccinated COVID-19 tourists must purchase the travel insurance covering their entire time in Costa Rica.
International and Costa Rican Insurance Policies for Unvaccinated and Partially Vaccinated COVID-19 Tourists
Unvaccinated and partially vaccinated COVID-19 tourists can purchase their own international insurance or from these approved Costa Rican companies: Blue Cross Blue Shield CR, INS and Sagicor. The Costa Rican insurances are pre-approved policies that are guaranteed to fulfill requirements and are accepted with a minimum of $20,000 USD for medical. International policies require $50,000 USD minimum for medical.
If you already have your own medical insurance but need the accommodation portion, Sagicor sells insurance covering just the accommodation.
The Travel Insurance I Bought for Costa Rica
I purchased Trawick International for my first entry back in December 2020. They offer travel insurance plans specifically for Costa Rica and is much cheaper than the Costa Rican policies.
The one I got, Safe Travelers Voyager is available only to US citizens and residents but they do offer an international option for those who aren't US citizens/residents.
After purchase, they emailed a visa letter, certificate and ID card once you purchase the insurance. You upload the visa letter to the health pass. Can be in English.
Click here to check a Safe Travelers Voyager Quote with Trawick (Click on "Insurance Plans" and then "Trip Insurance." Then select Safe Travels Voyager).
Health Pass and QR Code
Every passenger must fill out the health pass and get the QR code.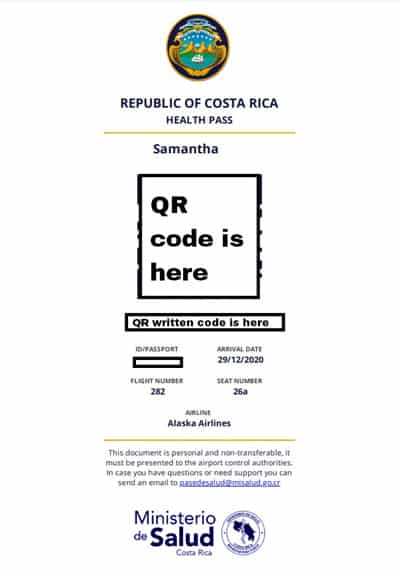 This health pass will open 72 hours before your flight.
Once you complete it, you will be given a QR code. They will also email you a PDF with your QR code. This is a screenshot of my QR code.
You do not need to print it out, a screenshot on your phone works fine. Make sure it is clear and has the entire code.
Our tip: Fill out the health pass BEFORE you get to the airport, especially if you are doing it for a multiple people as it has to be filled out per person.
Airlines will check your QR code BEFORE boarding the flight to Costa Rica. If you do not have the QR code and don't verify it at the gate, the airline will not let you board the flight.
For the fully vaccinated, you'll enter the details of your vaccine (date of each dose and brand) and take a photo of your vaccination card. If you are not fully vaccinated, they will have you upload your travel insurance.
My Experience Flying into Liberia International Airport and San Jose International Airport
I flew into Liberia International Airport in September 2021 with Alaska Airlines. My flight was Seattle – LA – Liberia. Checking in at SeaTac was super easy like pre-COVID times and the Alaska Airlines agent didn't ask me about the Costa Rican insurance or QR code at SeaTac.
When I got to LAX, 1 hour before departure time, the Alaska Airlines' agents had every passenger go up to the counter to check their QR code. After verifying our QR code, they stamped our boarding pass and made us show the boarding code and QR code when we boarded the plane.
Arriving at Liberia International Airport
When we landed, a Costa Rican Alaska Airlines agent made an announcement over the plane loudspeaker that every single passenger needed to show proof of a flight out of Costa Rica within 90 days. When we got off the plane, there were several agents who checked our boarding pass and asked if we had an exit flight ticket out of Costa Rica (before immigration).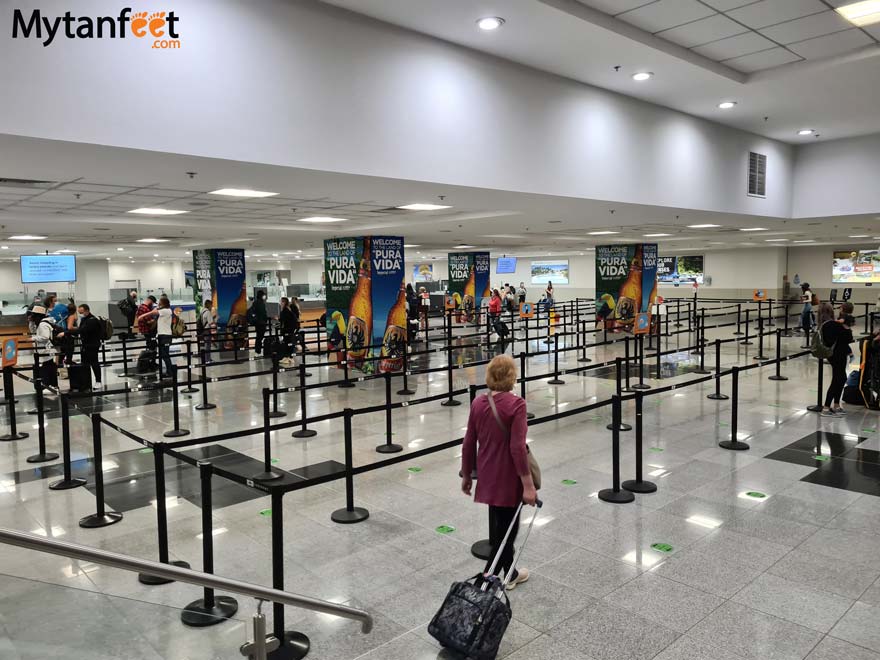 At immigration, they first scanned my QR code, asked me for my occupation and my first destination/hotel. He also had me show him my flight ticket out of Costa Rica on my 90th day as I was staying for 90 days.
Afterwards, I picked up my luggage, put it through the custom scanner and then left the airport. It took me about 25 minutes to get through immigration and customs at Liberia International Airport. My flight was the only one.
At 730 PM, the duty free store and money exchange was still open. No SIM card stand.
Flying into San Jose International Airport Immigration and Customs
We flew into San Jose International Airport in March 2021. San Jose International Airport was not as organized as Liberia in our experience. We arrived on a weekend around 1 PM with several other flights.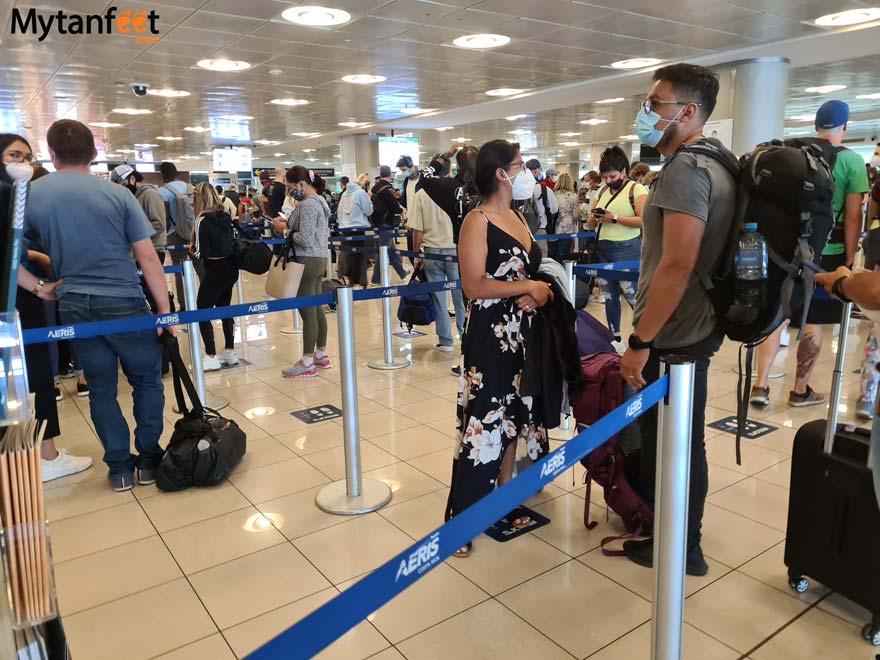 Because there were several flights arriving at the same time, it took us around 1 hour to get through immigration and customs at San Jose International Airport.
The immigration officer scanned my QR code, asked my profession, where I was going and how long I was staying in Costa Rica. I also had to show him my flight ticket out of Costa Rica.
There is a Claro SIM card stand by baggage claim 5 that is open from 6 AM to 11 PM. Money exchange, car rentals and duty free were all open at 1 PM.
Departure and Checking the Negative COVID Test
Flying out is the same as before COVID times except they will take your temperature when entering the airport and you must wear your face mask at all times.
Additionally, if you are flying to the US, they will make you fill out a form stating you have either a negative 3 calendar day COVID test result or had COVID and recovered in the last 90 days and are cleared for travel by your doctor or public health official.
When you check in, the airline agent will ask for the form and verify your test result/doctor's note.
Where to Get a COVID test in Costa Rica
For the US: The US requires a negative COVID test result within 3 days of the flight or proof of recovery within 90 days. Antibody tests are not accepted. It must be a viral test (PCR or antigen). For proof of COVID-19 recovery, it must be documentation of a recent positive viral test and a letter from your doctor or a public health official declaring you are clear to travel.
The Costa Rican Ministry of Tourism has put together a super handy PDF of the approved labs to do COVID tests. It's in Spanish but has phone numbers, location, Whatsapp and social media.
Everyone, regardless of vaccination status needs a negative COVID test result to re-enter the USA (citizens, residents and foreigners). Please check your home country requirements to see what is required for your re-entry. Also note that the USA accepts antigen tests but many other countries do not.
COVID tests in Costa Rica are done via a nasal swab.
Cost and Turnaround Time
The cost of a COVID test in Costa Rica varies between $60-300 USD per test. Most places are guaranteeing a 24-72 hour turnaround. Some places can do same day. Results will be emailed in English or Spanish.
If you test positive for COVID-19 in Costa Rica
The lab/hospital that took your test will send the official report to the Ministry of Health of Costa Rica and you will be issued a mandatory health order where you cannot leave the country for minimum 10 days. You will have to quarantine and if you stay in a hotel, you cannot leave your room until the end of quarantine period.
San Jose International Airport COVID Test
Laboratorio Echandi offers rapid COVID antigen testing at San Jose International Airport. Use your phone to scan this QR code of the photo below or go directly to their website covid.morphotr.com to make an appointment online.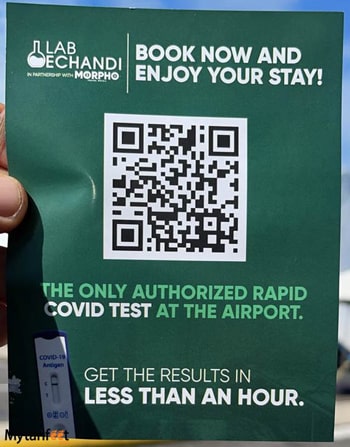 Their testing space is 600 meters northeast of the international departures terminal. The antigen test is $65 USD plus tax.
You must arrive at the airport 4 hours before your flight and the results are given in maximum of one hour. They also offer PCR with test results within 3 hours for $240 USD.
They have a designated parking lot or for those without a car, they offer an airport shuttle. It is a 24 hour testing facility.
For changes, cancellations or questions,, contact them at morpho@labechandi.com, travelsafety@labechandi.com or WhatsApp +506 6223-2290.
Liberia Airport COVID Test
Laboratorio Echandi also offers rapid antigen testing at the Liberia International Airport.
Testing hours are 7 AM to 430 PM Monday through Friday and 7 AM and 12 PM on Saturday and Sundays. They have a huge station with a tent in the parking lot, you can't miss it.
San Jose COVID Test
COVID-19 testing is available at many hospitals, labs and clinics in San Jose. Below are the main ones.
Hospital La Católica: Phone 506 2246 3129.
Cima Hospital (506) 2208-1000.
Hospital Metropolitano: phone 506 2521-9595.
Hospital Clinica Biblica: Phone (506) 8529 2100 and 2522-1000. Has a drive through testing site in the main location.
LABIN: 506 2586 7000. They have a drive through center in Barrio Pinto, Zapote and can provide same day results there.
Laboratorio Páez: Phone 4000 0667.
Lab Echandi: They have several locations and also offer a drive through testing center in Escazu. 30,000 CRC plus tax for antigen and they also offer PCR. We did the drive through antigen test in Escazu and got results in one hour.
Laboratorios San José: 506 4055 4141.
Liberia COVID Test
Hospital Metropolitano: Phone +506 2521 9595.
Laboratorios Paez: 506 4000 0667
Hospital San Rafael Arcangel:: 506 2690 550 or 2666 1717. mercadeo@hcsanrafael.com.
Laboratorio Clinico Vidalab: Phone 4700 9131. WhatsApp 8733-3475
COVID Test Tamarindo/Flamingo/Conchal/Grande/Brasilito/Langosta/Potrero
Beachside Clinic in Huacas. Phone 506 2653 9911 or 506 2653 5053. Email covidtest@beachsidecliniccr.com
Lab Medical Huacas: in Villarreal. Phone 506 2653 3131
Diria Medical Clinic: 506 6325 7355
Clinica Medical Dental Villarreal: Call 26534141 to make an appointment. They offer antigen testing for 37,000 CRC. Results in less than 8 hours. I will go to them from now on as they were super fast and are only 5 minutes from where I live.
For Tamarindo and Langosta, ReNu Vitamin IV Therapy offers house calls. Cost is $125 USD plus tax, turnaround time is 48 hours via email. Phone 8327-4188.
Hospital Metropolitano (Huacas)
I did my first COVID-19 test at Hospital Metropolitano in Huacas (Cabo Velas). To make an appointment, I first filled out www.mipruebacovid.com.
Then I Whatsapped them at 506 8465-7484 with my full name, passport number, date of flight, the code from Mipruebacovid, appointment time and date. They confirmed the appointment but did not respond quickly. I texted them at noon and they got back to me at 830 PM.
I got a PCR test which costs 68,000 CRC ($120 USD) but they also offer antigen for 33,000 CRC ($60 USD). PCR tests give results within 48 hours, antigen is within 8 hours. You can pay in cash or credit card. I got my PCR test results in 26 hours via email.
Westin Conchal
For those who are guests at the Westin Conchal, they offer on-site testing for $150 USD + tax for a PCR and $85 USD + tax for an antigen test.
Playas del Coco (Gulf of Papagayo, Ocotal, Hermosa, Panama) COVID Test
Coco Medical and Dental Center: Phone 506 2670 1234. $160 USD PCR. Also offer antigen for $90 USD.
Nicoya COVID Test
Laboratorio Clinico Ricardo Cerdas: WhatsApp number 506 8589 3682 or office phone 2685 5175. Can go to your hotel. They can go to Samara, Nicoya and nearby locations.
Samara COVID Test
Centro Medico Dr. Freddy Soto, 506 2656 0992. Heard his test is more expensive though.
Nosara COVID Test
Paradise Medical Services: (takes 72 business hours, not including Sundays) 506 2682 1212. PCR and antigen tests available.
Medklined Bioanálisis Laboratory: Whatsapp +506 8976-6458, phone 4703-6007 / 2100-4810, or email infomedklined@gmail.com. Offers PCR, antibodies and antigen.
Montezuma COVID Test
Montezuma doesn't offer COVID testing but clinics in the nearby town of Cobano does. You can arrange for the local doctor to come to your place of lodging to administer your test. Costs around $150-180 USD per test and results are within 72 hours. Check Cobano Medical Center (Whatsapp 506 8940 0087)
Quepos COVID Test
Hospital Metropolitano: Phone 506 2519 9733. PCR and antigen.
Quepos Urgent Care 506 2777 1727
Jaco COVID Test
Laboratorio Clinico Jaco: 506 2643 2118. In Jaco Walk Plaza. Can go to your hotel. Whatsapp +506 8531 3838. Offers antigen testing
Private clinic MMI: +506 4020 2200
Rush Urgent Care: 506 8454 8543
Uvita/Dominical/Ojochal COVID Test
Dra. Mariam Vargas at Consultario Medico Vargas. Must make appointment via Whatsapp + 506 8750 9118. Costs $180 USD for PCR and $110 USD for antigen (cash only). Results in 48 hours.
San Isidro del General COVID Test
Laboratorio Biotest: (48 hours results) 506 2772 0909
Lab. Calderon Gonzalez: Phone 506 2771 2030 and 2772 4897.
Puerto Jimenez COVID Test
Laboratorio Clinico Puerto Jimenez. Phone 506 8820 2457.
Puerto Viejo de Talamanca (Limon) COVID Test
Laboratorio Bioclinic: Cost is 80,000 CRC + tax. 48 hour turnaround. Email: laboratoriobioclinic@yahoo.com or Whatsapp 506 8950 9101
Laboratorio Dr. Eric Casto: In Limon, phone 506 2785 3106.
La Fortuna COVID Test
Unimed Urgent Care: Takes 48 hours, +506 2479 1903
Lab Echandi in Ciudad Quesada (1 hour from La Fortuna).506 2250 1871. Offer antigen and PCR.
Monteverde COVID Test
Centro de Salud – Dr. Hernandez: Located downtown Santa Elena in the Mega Super grocery store. Whatsapp 506 8589 8227, office 506 2645 6065 or email centrosaludhernandez@gmail.com
Costa Rica COVID-19 Travel Restrictions Tourists Need to Know About
There is a driving restriction from 10 PM to 5 AM.
Rental cars are exempt from nation wide driving restrictions as well as those driving to/from airports and hotels with a paid and confirmed reservation and those driving to/from work.
There is also a nationwide curfew from 10 PM to 5 AM. Businesses and establishments must close at 10 PM.
Please check our post Costa Rica COVID to see details about restrictions.
December 1, 2021 COVID-19 Requirement to Enter Establishments
On October 13th, the Costa Rican government announced that beginning on December 1, 2021, proof of COVID-19 vaccination will be required to enter certain establishments and public activities. Here is what we know SO FAR (there likely may be some changes or more detailed explanations coming soon).
Proof of vaccination will be shown via a QR code which will be generated by filling out this website: https://usuarios.ministeriodesalud.go.cr (available November8, 2021).
The QR code will be required for everyone 12 years and older for the following:
Restaurants, sodas, cafeterias, food courts and food trucks
Bars and casinos
General stores, department stores and shopping centers
Museums
Spas
Gyms and fitness centers
Hotels, cabins or hospitality establishments.
Activities, organizations or congregations in places of worship
Business, academic or social activity event rooms
Adventure tourism
Theaters, cinemas, dance and art academies and artistic activity establishments
Sports establishments
When more details are announced, we will update this section.
Do I Need to Wear a Mask in Costa Rica?
Yes, masks are required in Costa Rica for citizens and tourists. Fully vaccinated people need to wear a face mask in Costa Rica when required.
Masks are required when indoors (except at home or hotel room), at the supermarket, convenience store, malls, pharmacies, clinics, hospitals, stores, airports, theaters, movie theaters, churches, banks, offices and for all public and commercial workers. You also need to wear a mask in trains, shuttles, public buses and taxis and at the bus stop. Persons with certain disabilities and infants do not need to wear a mask.
Establishments may prohibit anyone from entering if not wearing a mask. You don't have to wear a mask when walking outside on the street as long as you are 1.8 meters (6 feet) apart from other people.
What Is Open in Costa Rica Right Now During COVID-19?
Businesses
Businesses have to close at 10 PM. Banks are open and ATM's are available. Delivery is allowed 24 hours.
Accommodation and Lodging
All hotels can operate at 100% with a 50% maximum capacity in common areas like restaurants and swimming pool. (Exception are the hotels with more than 100 rooms. They are only at 75%).
Restaurants and Bars
Restaurants are all allowed to open seven days a week. Some places may still only offer take out or delivery, it varies from establishment to establishment but majority are open for dining in.
Bars are open with a maximum capacity of 25%. Only casinos located inside hotels may re-open and guests have to pass a temperature check. Alcoholic beverages won't be allowed.
For bars, they won't be allowed to play music above a certain decimal level and dancing is not permitted.
Supermarkets, Grocery Stores, Convenience Stores
All supermarkets, grocery stores, convenience stores and pharmacies are open as normal hours, closing by 10 PM.
Renting a Car
As mentioned earlier, rental cars are exempt from driving restrictions. Most car rental agencies are operating. Our partner, Adobe Rent a Car is operating (get our car rental discount and reader benefits in the link). Some agencies may only be operating select office locations.
Public Transportation
Public buses are running throughout the country and masks are required at all times when inside the bus and when waiting at a bus stop. All long routes are operating like normal.
Private shuttles with tourism licenses and taxis are allowed to operate. Uber and Didi can also operate. Masks must be worn by the driver and passengers inside Ubers, shuttles and taxis at all times.
Tours and Activities
All open air activities are allowed to operate including activities like ziplining, hiking and horseback riding. However, not all private reserves or parks may have opened all their trails or activities. Some places are only opening one trail or certain parts of the property. Additionally, places must follow maximum capacity rules.
Be aware that some establishments may require previous reservations or pre-purchased tickets. Some tours may only operate on certain days so it is important to contact tour companies for the latest information to plan your trip.
Since most tour companies in Costa Rica rely on international tourism which is quite low, they may not be operating all tours yet, or only certain tours on some days with a minimum amount of people. You should inquire with the tour company regarding availability before coming, never assume there will be tours available.
Beaches, Lakes and National Parks
Beaches are open 5 AM to 8 PM everyday. All activities permitted.
All national parks can have 100% maximum capacity.
What Happens If I Get Coronavirus in Costa Rica as a Tourist?
First, isolate yourself and call 1322 (English options available and available 24 hours) if you believe you have coronavirus or exhibit any symptoms. You will be placed under a minimum 10 day quarantine if you test positive or are suspected of having it.
This quarantine period is an isolated quarantine period (exceptions for minors, seniors, persons with disabilities).
If you need hospitalization, you will be taken to a hospital and placed under medical care. Costa Rica will not refuse anyone who requires COVID-19 hospital care.
Our Personal Tips for Visiting Costa Rica During COVID-19
Avoid hand shaking and cheek kisses (cheek kisses are the normal form of greeting in Costa Rica).
Please be kind to locals. They are eager to receive tourists again and are trying their best to work with the restrictions, regulations and low volume. You may need to be a bit more patient as things are taking longer than usual.
Always check what are the COVID protocols for wherever you want to go.
Don't rely on only booking tours or getting around with shared shuttles. Things are still changing in a blink of an eye.
For everything you prepay, ask for the cancellation policy and COVID protocols.
Don't expect super crazy discounted prices. Prices have not really changed for international tourists. In fact, some (such as car rentals) are super expensive. Read our Costa Rica cost of traveling post for more information
Had to Reschedule Your Trip? Here Are Some Helpful Resources
Costa Rica destinations guide (Best places to visit)
Mytanfeet Costa Rica destination map
How to avoid crowds in Costa Rica
Disclaimer: Costa Rica border openings, travel restrictions and entry requirements are ever changing. We do our best to update this post with the latest information as much as possible. Please remember that the decision to travel is up to you and it is your responsibility to stay safe. Make sure to check the recommendations of your country when it comes to international travel. There are also affiliate links in this post.