If you plan on visiting Costa Rica, here is what you need to know about visiting during COVID-19. Read all about Costa Rica COVID travel, Costa Rica entry requirements, where to get a COVID test in Costa Rica and what happens if you test positive for COVID in Costa Rica.
This post is updated often to reflect the most recent changes.
Current Costa Rica Coronavirus Situation
Please click on this link, Costa Rica coronavirus to read the latest updates and statistics.
Costa Rica COVID Travel Restrictions and Border Opening
Costa Rica closed their borders beginning of March 2020.
On November 1, 2020, Costa Rica opened their borders to all countries in the world via air. On April 5, 2021, Costa Rica opened the land borders between Nicaragua and Panama.
Costa Rica Entry Requirements (COVID-19)
**As of April 1, 2022, all previous COVID entry requirements have been removed.** Costa Rica does not require quarantine, a health pass, travel insurance, QR code or a negative COVID-19 test to enter. There are no COVID-19 sanitary requirements to enter Costa Rica. Entering Costa Rica is exactly how it used to be before the pandemic.
The only sanitary measures and requirements for tourists is when they are in the country and that includes wearing face masks, hand washing and temperature taking when required.
Traveling around Costa Rica is nearly exactly how it used to be before COVID. There are nearly zero restrictions.
*These are current statuses as of November 2022*
Do I have to be vaccinated to go to Costa Rica?
No. You do not have to be vaccinated against COVID-19 for Costa Rica. Costa Rica is not requiring tourists to be vaccinated against COVID. Fully vaccinated, partially vaccinated and unvaccinated people can enter Costa Rica. You don't need to have any booster shots to enter Costa Rica.
Costa Rica will not ask you for any COVID-19 vaccination information when you enter the country.
>> Get Exclusive Costa Rica Travel Tips and our Free Travel Guide Straight to You! <<
Costa Rica COVID-19 Travel Restrictions Tourists Need to Know About
When it comes to COVID restrictions in Costa Rica, the only ones pertaining to tourists are hand washing and temperature taking when required. Face mask wearing is 100% optional in all places except required in medical and health facilities.
There are no other restrictions – no driving restrictions, no curfew, etc. Costa Rican establishments do not require any proof of vaccination to enter.
Please check our post Costa Rica COVID to see details.
Do I Need to Wear a Mask in Costa Rica?
As of May 11, 2022, face masks in public spaces, open spaces and indoors have no longer been mandatory in Costa Rica except for health officials. However, individual establishments may still require them for their guests and people can still wear them if they wish.
Likewise, the face mask mandate may be reinstated at any point, particularly indoors and public transportation settings, so please be aware of this and bring at least one mask with you still.
My Experience Flying into Costa Rica
I flew into Liberia (Guanacaste) International Airport in October 2022 and into San Jose International Airport in June 2022. Since the previous COVID entry requirements were removed on April 1st, flying into Costa Rica was exactly like how it was pre-COVID. No negative test required, no quarantine, no health pass, no insurance, nothing was checked.
At immigration, the officer will ask how many days you are in Costa Rica, your first destination and occupation.
Then after passing immigration, it is normal procedure. Pick up luggage, go through customs and then exit airport. See what it's like to go through customs and immigration in Costa Rica in our post.
**Please note due to lack of staff and increase of flights arriving at the same time, immigration and customs has been taking much longer. We have known people to take a couple hours at SJO Airport and LIR Airport in the high tourism season, so please take that into consideration for your transportation plans when you land**
Where to Get a COVID test in Costa Rica
In case you need to get a COVID test in Costa Rica whether you are feeling sick or if you need one to re-enter your home country, nearly all labs, clinics and hospitals can administer COVID tests.
Please check your home country requirements to see what they require for re-entry. **The United States has removed its COVID test requirement on June 12, 2022. That means that air travelers entering the United States from abroad will no longer need to produce a 24 hour negative COVID test result.***
COVID tests in Costa Rica are done via a nasal swab.
Cost and Turnaround Time
The cost of a COVID test in Costa Rica varies between $55-300 USD per test. Antigen tests have an average of 1-8 hour turnaround time and are cheaper ~$50 USD. A PCR test is around $150 USD with a turnaround time of around 24-72 hours. Some labs may offer same day PCR tests for ~$300 and at home tests are now available. Results will be emailed in English or Spanish.
What Happens If You Test Positive for COVID in Costa Rica?
First, if you are feeling sick or believe you have COVID-19, isolate yourself and go to a clinic or lab to get tested.
If you need hospitalization, you will be taken to a hospital and placed under medical care. Costa Rica will not refuse anyone who requires COVID-19 hospital care regardless of their immigration and vaccination status. 911 works in Costa Rica and they have an English speaking option.
Then if you are taking the test to re-enter your home country, airlines will not let you board with a positive test result. If your home country requires a negative test and you test positive, you will have to quarantine a given amount of days (usually 5- 14), which is determined by the doctor who attended you and the severity of the disease. You will have to comply with the entire duration of your stay at home order – even if you test negative during that period of time.
Tourists won't be penalized if they overstay their tourist visa due to a stay at home quarantine order.
This is one of the reasons why we highly tourists to purchase a travel insurance, even though it is not mandatory. Many travel insurances will now cover COVID costs and it is especially important now since travel is still very messy with lots of flight delays and cancellations. Check our post for travel insurance recommendations for Costa Rica here.
San Jose International Airport COVID Test
Laboratorio Echandi offers rapid COVID antigen testing at San Jose International Airport. Use your phone to scan this QR code of the photo below or go directly to their website covid.morphotr.com to make an appointment online.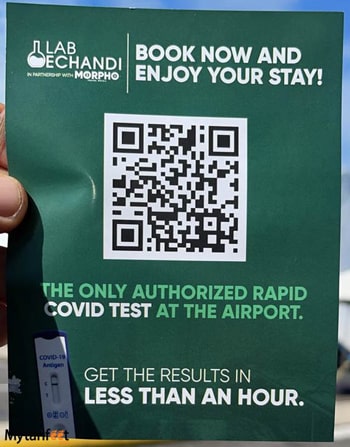 Their testing space is 600 meters northeast of the international departures terminal. The antigen test is $65 USD plus tax. You must arrive at the airport 4 hours before your flight and the results are given in maximum of one hour. They also offer PCR with test results within 3 hours for $240 USD. It is a 24 hour testing facility.
Liberia Airport COVID Test
Laboratorio Echandi also offers rapid antigen testing at the Liberia International Airport. You can go to the same website as above to schedule your Liberia Airport test. The testing site has a huge station with a tent in the parking lot.
What Is Open in Costa Rica Right Now During COVID-19?
Everything. It is exactly how it used to be pre-COVID.
All establishments are open and operating. Our partner, Adobe Rent a Car is operating (get our car rental discount and reader benefits in the link). Public buses are running throughout the country. All routes are operating like normal. Taxis and rideshares (Uber and Didi) are also available.
All open air activities are allowed to operate at 100% capacity with no restrictions.
Beaches are open everyday with all activities permitted. All national parks can have 100% maximum capacity.
Had to Reschedule Your Trip? Here Are Some Helpful Resources
Costa Rica destinations guide (Best places to visit)
Mytanfeet Costa Rica destination map
How to avoid crowds in Costa Rica
Disclaimer: Costa Rica border openings, travel restrictions and entry requirements are ever changing. We do our best to update this post with the latest information as much as possible. Please remember that the decision to travel is up to you and it is your responsibility to stay safe. Make sure to check the recommendations of your country when it comes to international travel.