Now that Costa Rica opened their borders on August 2, it was time to write a post about Costa Rica COVID-19 travel. So if you plan on visiting Costa Rica during COVID-19, here is what you need to know. Please keep in mind that Costa Rica is not coronavirus free but they have implemented many safety arotocols specifically for tourists and are happily welcoming tourists back.
Also, please be respectful of all laws, rules and regulations that Costa Rica has placed, regardless if you agree with them or not. As a guest in another country, it is necessary to be responsible travelers and tourists especially during a pandemic.

Current Costa Rica Coronavirus Situation
Please click on this link, Costa Rica coronavirus to read the latest updates and statistics. Currently, the area with the most cases is the Greater Metropolitan Area (GAM) which includes San Jose, Alajuela, Cartago and Heredia.
Covid-19 Costa Rica Travel: Current Authorized Countries to Enter Costa Rica
These are the following countries authorized to enter Costa Rica including the list of authorized US states.
On November 1, all countries in the world are welcome to enter Costa Rica via air. *This is the latest information as of October 18, 2020.*
Austria
Australia
Belgium
Belize
Bulgaria
Canada
China
Croatia
Cyprus
Czech Republic
Denmark
El Salvador
Estonia
Finland
France
Germany
Guatemala
Greece
Honduras
Hungary
Iceland
Ireland
Italy
Jamaica
Japan
Latvia
Liechtenstein
Lithuania
Luxembourg
Malta
Mexico
Monaco
Nicaragua (air only)
Spain
Netherlands
New Zealand
Norway
Panama (air only)
Poland
Portugal
Romania
San Marino
Singapore
Slovakia
Slovenia
South Korea
Sweden
Switzerland
Thailand
United Kingdom of Great Britain and Northern Ireland
United States:

On Sept 1, New York, New Jersey, New Hampshire, Maine, Virginia, Maryland, Washington D.C., Vermont and Connecticut.
On Sept 15: Colorado, Pennsylvania, Washington, Oregon, Michigan, Rhode Island, Wyoming, Arizona, New Mexico and Massachusetts.
October 1st: California and Ohio.
October 15, Florida, Georgia and Texas
On November 1, all of the United States is authorized to enter Costa Rica.

Uruguay
Vatican State
Costa Rica COVID-19 Entry Requirements
Costa Rica requires every tourist to complete a health pass, bring proof of a negative RT-PCR COVID-19 test result within 72 hours prior of the flight and purchase a travel insurance that covers a minimum of $50,000 USD for medical expenses and a minimum of $2,000 USD for extended lodging expenses.
For US tourists: Costa Rica requires a drivers license or equivalent of a state issued ID proving they are a resident of one of the authorized states. Minors are exempt from this requirement if traveling with a parent. This rule will be taken out on November 1st.
The Costa Rica COVID entry requirements are strict. They will check for all of them at immigration and turn people away who do not fulfill them so please be thorough. Airlines will check as well before boarding.
Health Pass
The health pass will be available for you to fill out 48 hours prior to your flight. Once you finish filling the health pass, you will be given a QR code that Costa Rica will require at immigration. The Costa Rican immigration official will scan the QR code as it will have all your ID, insurance and test information.
Travel Insurance
Tourists can purchase their own international insurance or from either of these two Costa Rican companies: INS and Sagicor.
When you fill out the health pass, it will present you an option to purchase health insurance through the Costa Rican companies if you haven't already. As for the insurance, the tourists I know who have entered Costa Rica have purchased it directly from INS or from a Costa Rican broker due to the accommodation requirement which not all insurances cover.
If you purchase international insurance, you must have a certification from the company issued in English or Spanish.
The airline will ask for your insurance certificate before boarding.
RT-PCR COVID-19 Test
Your RT-PCR COVID-19 test has to be taken within 72 hours of your departure flight to Costa Rica and you need your negative test result to board. Schedule the time of your test appropriately!
There are now COVID-19 test kits that you can self swab and send for a result such as LetsGetChecked which says they get results in 24-72 hours. For US, use the site https://rapidtesttravel.com to see where in your state offers PCR testing. To get test results in time, the best option may be to go to a private clinic/GP and pay out of pocket for the test since insurance may not cover it if it's for travel. Make sure to verify these details.
I know someone who used LetsGetChecked and got their results back in 48 hours.
One of my family members got their RT-PCR test result within 48 hours from their private general practitioner in Washington state.
The airline will ask for your test result at the airport.
Additionally, American Airlines is offering preflight COVID-19 tests, please click here to read more details.
A COVID-19 rapid test is not accepted for Costa Rica, it has to be a PCR.
Important Things to Know About the Costa Rica COVID-19 Travel Entry Requirements
Tourists can layover from a non-authorized US state.

For example, a Vermont resident can fly to Miami, have a layover and then fly to Costa Rica as long as they do not leave the airport. The longest they can layover is 18 hours.

Bring a hard copy of your COVID-19 test result, driver's license and insurance. Airlines will look at your test result and insurance.

Highlight names of passengers and dates on the documents for ease at airport.

You will scan your driver's license/state ID (if necessary), test result and insurance to the health pass website to get the QR code.

QR code: The Costa Rican immigration officials will ask for the QR code. Make sure to fill out the health pass and get the QR code before you depart to save time at immigration. Otherwise, you'll have to do all of it at the Costa Rican immigration in the airport, this will hold up the line and take you longer to get through immigration.
Airports
The San Jose International Airport and government made a super useful video for what visitors should expect when going through San Jose Airport and Liberia International Airport. You can see what safety protocols they've implemented and what checks they will do such as temperature, hand washing and more.
It has been taking on average around 45 minutes to pass through immigration and customs at San Jose International Airport for those with all their paperwork ready. Of course, this could change depending on flights, passengers, your paperwork, etc.
How Do Locals Feels About Tourists During COVID-19 in Costa Rica?
As the tourism industry has suffered greatly due to the 5 month border closure, the locals are eager to reactivate the tourism sector again. In touristic areas such as the Guanacaste coast, unemployment has climbed up to 30% at one point. Once the government announced the country re-opening, they began emphasizing and promoting local tourism since they know it will be awhile for international tourism to come back strong again (not just in Costa Rica but the world).
The government also changed the law so that all the paid holidays will fall on a Monday so all holidays will be 3 day weekend to promote local tourism. I will say that that was an excellent idea as Costa Rica has many holidays. Since they implemented this new law back in June/July, there have been at least one to two 3 day weekends a month which has helped reactivate the economy on the coasts.
But when it comes down to it, international tourism is the key although local tourism has helped greatly. The Minister of Tourism strongly advocated for the border opening back in June/July and repeatedly implored the government to open the border to the entire US instead of by individual states.  So I would say that the tourism sector is very excited about the border opening since the majority of the international tourists Costa Rica receives are from the USA.
However, as much as we want international tourists again, we hope that they follow all the rules and respect the sanitary measures. And there are of course some locals who aren't that keen on the border opening completely on November 1st, especially now seeing how many countries are seeing another COVID surge.
But the Costa Rican government is working hard to promote international tourism again. They've put up billboards and ads in Europe and North America to promote Costa Rica as a safe country to visit during COVID.
Do I Need to Wear a Mask in Costa Rica?
Yes, masks are required in Costa Rica for citizens and tourists. You must wear a mask when indoors (except at home or hotel room), at the supermarket, convenience store, malls, pharmacies, clinics, hospitals, stores, airports, theaters, movie theaters, churches, banks, offices and for all public and commercial workers. You also need to wear a mask in trains, shuttles, public buses and taxis and at the bus stop. Persons with certain disabilities and infants do not need to wear a mask.
Establishments may prohibit anyone from entering if not wearing a masks. You don't have to wear a mask when walking outside on the street as long as you are 1.8 meters (6 feet) apart from other people. Face shields are no longer accepted as the only form of indoor protection and if a face shield is used, a mask must also be used.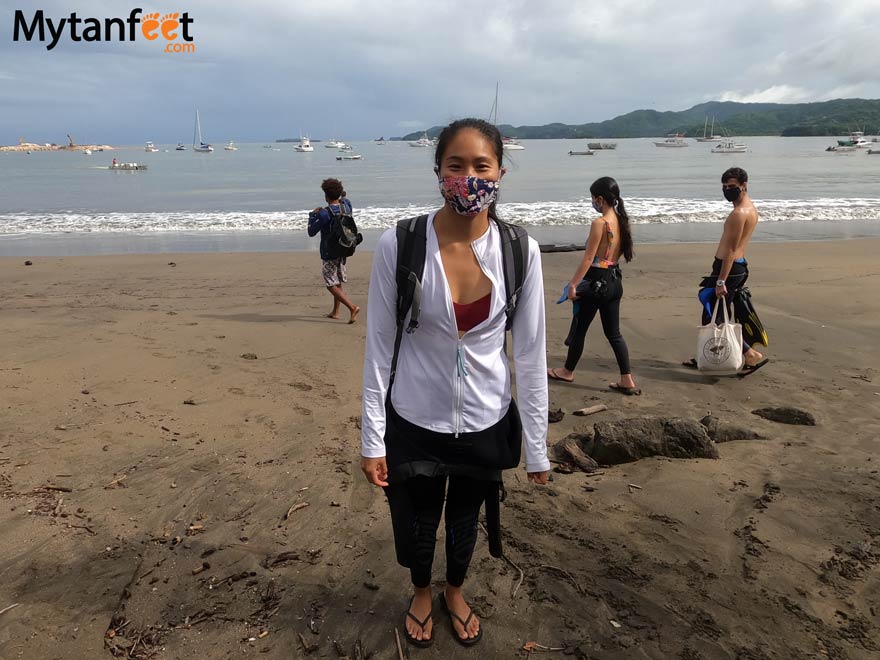 They allow surgical masks and homemade cloth masks. The masks with filters and valves should not be used.
Other Costa Rica COVID-19 Restrictions Tourists Need to Know About

There are driving restrictions throughout the country but rental cars are exempt from Costa Rica driving restrictions during COVID-19. There are also exemptions for those driving to/from airports and to/from hotels and non traditional lodging like Airbnb. It is recommended to always have a printed copy of your flight ticket itinerary and hotel reservation with you when driving just in case.

Driving is restricted to 5 AM to 10 PM Mon – Fri and 5 AM to 9 PM Saturday and Sunday. No restrictions on weekends. On weekdays, there are license plate restrictions.

All tourists must follow sanitary measures and regulations including but not limited to mask wearing, hand washing, social distancing, etc.
Masks are required as mentioned above and establishments may prohibit anyone from entering if not wearing a mask. Some establishments may also do a temperature check and/or require hand washing or use of hand sanitizer before entering.
Tourists must stay in their "social bubble" and stay at least 6 feet (1.8 meters) apart from others social bubbles.
What Is Open in Costa Rica Right Now During COVID-19?

Please note that things can change in two seconds in Costa Rica during COVID. Right now, this is what is allowed to open in Costa Rica but that doesn't mean everything is. Some restaurants are still closed, some hotels plan to open November 1st, etc.
Businesses
Due to the driving restrictions, most businesses close at 10 PM on weekdays and 8-9 PM on the weekends. Banks are open and ATM's are available. Stores like clothing, souvenirs and shoes are open with maximum 50% capacity.
Costa Rica has divided the country up in two areas: Orange and Yellow Alert. Orange is for areas with more confirmed coronavirus cases. To see which areas are under which zone, check our Costa Rica coronavirus post.
Accommodation and Lodging
All hotels may now operate at 100% with a 50% maximum capacity in common areas like restaurants and swimming pool. Most hotels are open now and the bigger hotels and resorts plan to open in November if they haven't already.
Restaurants and Bars

Restaurants are all allowed to operate at a 50% maximum capacity seven days a week. Some places may still only offer take out or delivery, it varies from establishment to establishment but majority are open for dining in.
Bars and casinos are now allowed to open with strict protocols, regulations and a maximum capacity of 50%. Only casinos located inside hotels may re-open and guests have to pass a temperature check. Alcoholic beverages won't be allowed.
For bars, they won't be allowed to play music above a certain decimal level and dancing is not permitted. They must close at 10 PM on weekdays and 9 PM on weekends in accordance to the driving restrictions.
Supermarkets, Grocery Stores, Convenience Stores
All supermarkets, grocery stores, convenience stores (called pulperia in Costa Rica) and pharmacies are open as normal hours. Some supermarket parking lots may only allow every other space and some supermarkets may allow just 1 person per household to enter (minors can go with a parent).
Renting a Car
Rental cars are exempt from Costa Rica COVID-19 driving restrictions and most car rental agencies are operating. Our partner, Adobe Rent a Car is operating (get our car rental discount and reader benefits in the link). Some agencies may only be operating select office locations.
Public Transportation
Public buses are running throughout the country and masks are required at all times when inside the bus and when waiting at a bus stop. All long routes are operating like normal. Buses are not allowed to have passengers on foot, they only allow seated passengers.
Private shuttles with tourism licenses and taxis are allowed to operate. Uber can also operate. Masks must be worn by driver and passengers inside Ubers and taxis at all times.
Tours and Activities

All open air activities are allowed to operate including activities like ziplining, hiking and horseback riding. However, not all private reserves or parks may have opened all their trails or activities. Some places are only opening one trail or certain parts of the property. Additionally, places must follow maximum capacity rules.
Be aware that some establishments may require previous reservations or pre-purchased tickets. Some tours may only operate on certain days so it is important to contact tour companies for the latest information to plan your trip.
Since most tour companies in Costa Rica rely on international tourism which is quite low, they may not be operating all tours yet, or only certain tours on some days with a minimum amount of people. You should inquire with the tour company regarding availability before coming, never assume there will be tours available.
Beaches, Lakes and National Parks
Starting October 15th, all beaches in Costa Rica are open 5 AM to 10 PM Monday through Friday and 5 AM to 8 PM Saturday and Sunday. Individual municipalities have the power to open and close beaches as they see fit.
As for national parks, all parks may open regardless of location. However, not all national parks are open fully. Some national parks have only opened one sector or a select number of trails or beaches for visitors.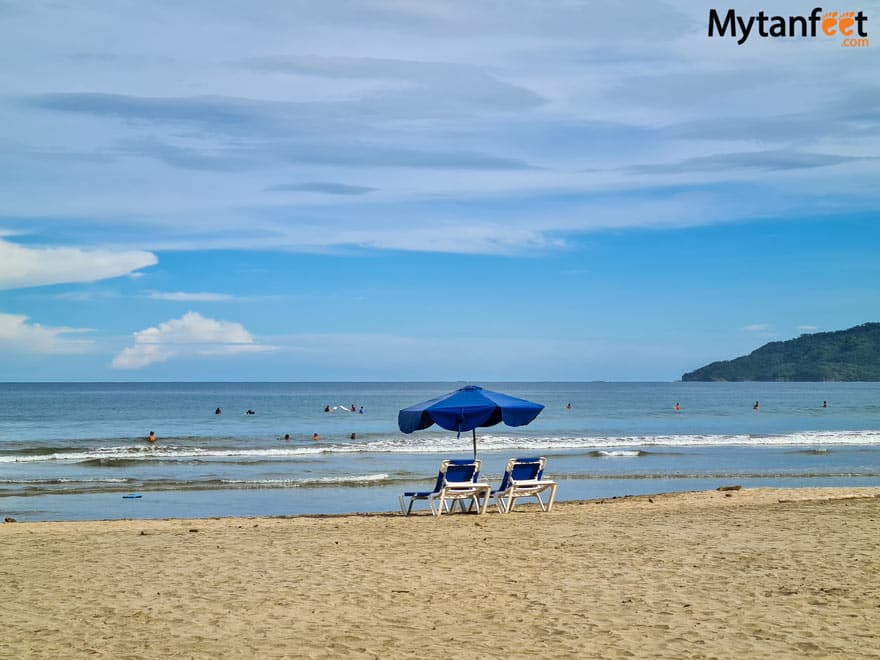 At the beach, visitors must stick to their social bubble and be at least 1.8 meters (6 feet) apart from other bubbles. You can surf, walk, run, play volleyball, walk dogs, swim, sunbathe and stay on the beach.
What is Closed in Costa Rica Right Now During COVID-19?

Mass gathering events like concerts, sports with an audience, night clubs and Parque Diversion Theme Park are not open yet in Costa Rica during COVID-19. Here is the full list on the government site.
What Happens If I Get Coronavirus in Costa Rica as a Tourist?
First, isolate yourself and call 1322 (English options available and available 24 hours) if you believe you have coronavirus or exhibit any symptoms. You will be placed under a 14 day quarantine if you test positive or are suspected of having it. This 14 day quarantine period is an isolated quarantine period (exceptions for minors, seniors, persons with disabilities). If you need hospitalization, you will be taken to a hospital and placed under medical care. Costa Rica has not yet had to deny any COVID-19 patient a hospital or ICU bed.
Remember, all tourists must purchase a travel health insurance to cover medical costs and accommodation due to COVID-19 to enter Costa Rica.
Our Personal Tips for Traveling Costa Rica During COVID-19

Avoid hand shaking and cheek kisses (cheek kisses are the normal form of greeting in Costa Rica).
We do not recommend "winging it". Create an itinerary, make reservations and check entrance requirements for every place you want to visit before you arrive. Many, if not most places are not allowing walk-ins.
Be aware that things may change. Although beaches are open, individual municipalities may restrict or close as they see fit. Some national parks may close or limit hours on their own accord.
Some tour companies are still not operating or they are only operating certain tours on specific days. They require a minimum number of people so this is not a good time to be a solo traveler relying only on public transportation and tours.
For everything you prepay, ask for the cancellation policy in case anything changes with the pandemic.
Don't expect super crazy discounts and cheap prices. Prices have not really changed for international tourists despite the border closure but some hotels, stores, tours and attractions are offering limited time promos until November or so (but some may only be for Costa Rican nationals). To find them, check the Instagram account of the hotel/tour company.
Bring as much of your own gear you can. These are face masks, hand sanitizer, cleaning wipes, water bottle, reusable shopping bags, rash guards, binoculars, beach towels. To go even further as a sustainable traveler, bring your own cutlery and reusable straws.
If you a person of high risk, avoid activities and places that put you in close direct contact with others.
Had to Reschedule Your Trip? Here Are Some Helpful Resources
Costa Rica destinations guide (Best places to visit)
Mytanfeet Costa Rica destination map

Disclaimer: Costa Rica border openings, travel restrictions and entry requirements are ever changing. We do our best to update this post with the latest information as much as possible. Please remember that the decision to travel is up to you and it is your responsibility to stay safe. Make sure to check the recommendations of your country when it comes to international travel.