One of the most talked about relocation topics is what to bring to Costa Rica when you move. Specifically, what to bring to Costa Rica when you move, what not to bring to Costa Rica and what are things you didn't bring that you wish you brought. This is because some items are much more expensive in Costa Rica or are difficult and/or complicated to find.
Most likely you will probably still go back to the US or Canada to visit, so don't be too worried about getting everything in the first go unless you never ever plan to go back or leave Costa Rica ever. Then there are other options.
If you've already done some research about living in Costa Rica as a foreigner, I'm sure you are thinking about is what you should bring with you when you move, what things you can find in Costa Rica, what things you should leave home.
In this post I highlight some of the specific things I brought to Costa Rica when I moved, things I've brought during my 11+ years here, things I did not need to bring and things I purchased in Costa Rica. I hope it will be helpful for you to see what kind of items you can or can't find in Costa Rica and the cost of some things in Costa Rica compared to the US. Read more about Mytanfeet and how I ended up in Costa Rica.
There are Amazon affiliate links in this post.
What I Brought to Costa Rica From the USA
When I first moved to Costa Rica by myself at the age of 23, I only brought two check in luggage of mostly my favorite clothes and some household goods. Over the last 11 years, I've made multiple trips back to the US to visit family and each time I go back, I fill up at least 2 check in luggage, 1 carry on and backpack.
When Yeison and I go back together, we have 4 check in luggage, 2 carry on and 2 backpacks between the two of us. Thanks to my Alaska Airlines Credit Card, I get a free check in and with MVP status, I get two free check ins. We visit the US enough that I have never needed to buy anything online and ship to Costa Rica – that topic I will save for another blog post on how to do so.
The main reason why so many expats and immigrants purchase things from the US to bring to Costa Rica is the Costa Rican import tax. Import taxes in Costa Rica can be anywhere from 5% – 80% depending on the item which hikes up the price tremendously.
Another reason why we bring things down is because we live in Guanacaste on the coast. Even if the item we need is in Costa Rica, it's most likely in San Jose, the capital city. We don't have the time to drive all the way to San Jose whenever we need something because Tamarindo to San Jose is roughly a 5 hour drive one way. And for very specific items or brands, it may not even be sold in Costa Rica at all.
Related: find out how I got my Costa Rican residency via marriage to a Costa Rican.
Bringing Stuff Into Costa Rica
Custom officers are not just looking items that cannot be brought into Costa Rica but also for people bringing in merchandise to sell.
When you bring stuff into Costa Rica, to avoid getting stopped at customs at SJO and LIR International Airport, remove the tags and take it out of the box. I have personally been stopped three times in 11+ years. One time they asked me why I had two computer monitors and I told them that it is for my job. Everything we bring in are all personal items that we use ourselves and for work which is what I tell them.
Since most people who live in Costa Rica are technically tourists, aka perpetual tourists (they leave the country to renew their tourist visa and do not have residency, a work visa or citizenship), customs agents don't really heed foreigners too much attention unless they see something really weird in the scanner that stands out…
Below are the things I've brought to Costa Rica over the years.
iRobot Products
iRobot is expensive in Costa Rica but there are other cheaper knock off brands available. However, if you want the original iRobots, they are $$$$$ in Costa Rica. With four dogs, I wanted a high quality robot vacuum cleaner!
At Pricemart (Costa Rican version of Costco), sometimes they will have one iRobot product for a limited time. I recently saw the Roomba i1 at Pricemart for 249, 995 CRC (~$466 USD). On Amazon, the i1 costs ~$229 USD.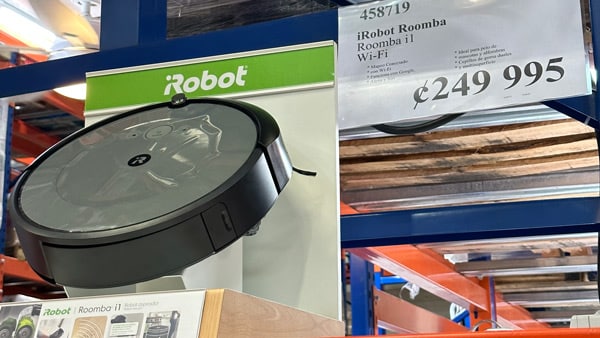 In San Jose, there is one main store that sells iRobot products called German-Tec. They sell the Roomba i3 for 359,900 CRC (~$670 USD). On Amazon, the Roomba i3 is around $300 USD.
I brought down two iRobot products. I brought the Roomba 694 and the Braava Jet m6 mop. The mop cost me $299 USD. The same mop in Costa Rica costs 465,900 CRC (~$870 USD). I paid $179 USD for the Roomba 694 (this one is not available in Costa Rica).
More stores in Costa Rica are now offering Black Friday deals so if you can, wait until Black Friday and even though they're still more expensive on sale, you can save a good chunk.
Apple Products
Yeison recently switched to Macbook. He got a custom 16 inch MacBook Pro (Apple M2 Max with 12 core-CPU, 38-core GPU, 16 core neural engine, 1 tb SSD, 96 GB unified memory) cost $4,299 USD from the Apple Store.
In Costa Rica, the MacBook Pro 16 inch M2 Max 1tb SSD, 32 GB unified memory, 38 core GPU, 16 core neural engine, costs $4,599 USD with tax included from iCon, an Apple reseller store. They didn't have the option with the 96 GB unified memory so I'm not sure how much the exact same laptop would have been but you can get a good idea with this one.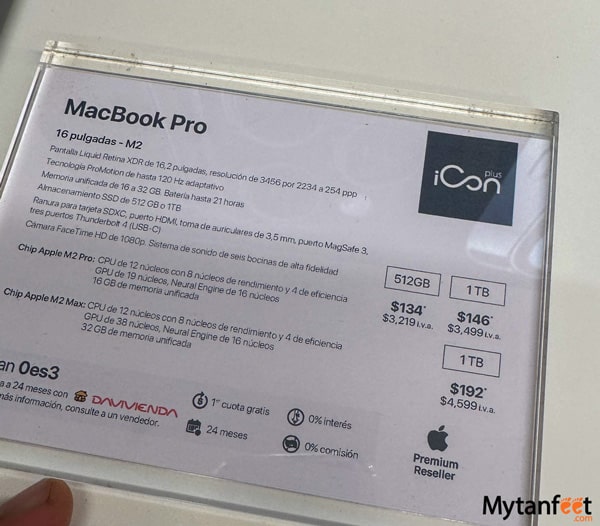 Other Apple products have brought down are Airtags, Apple watches, Ipads and Airpods from the US. I bought an Apple Watch Series 8 (31 mm) for $329 USD. In Costa Rica, it costs $559 USD.
Camera Gear and Video Equipment
All our camera and video gear we buy in the US. We use a variety of gear such as the Sony a7R III, Sony a7S, Sony 200-600 mm lens, Sony 70-200 mm lens, Sony 50 mm lens, Rode Shotgun Microphone, Deadcat Microphone, Insta360 X3, GoPro, DJI Mavic and Sony 28-135 mm lens. We also buy extra batteries, chargers, SD cards, card readers and external hard drives in the US.
Creating content is our job so we need higher end, durable equipment which is not really found in Costa Rica, even in San Jose. We have to purchase rugged external hard drives often and we need tough SD cards to capture all the content efficiently.
Backpacks
Having high quality durable backpacks is extremely important to us. They have to protect our expensive camera gear. We both have a Shimoda backpack each for our camera gear, North Face travel backpacks and a WANDRD backpack, which would not have been possible to find here.
Dog Stuff
Dog stuff is expensive in Costa Rica. The selection is not great either. It's getting better but it's still nothing compared to what you can find at Chewy.com, Petsmart, Petco or Amazon. We have two mixed rescues and two Belgian Malinois that we often take with us on our travels, so we have to buy a LOT of dog gear like tactical collars with handles, bite pillows, tug toys, rope leashes, dog life jackets, dog goggles and dog beds.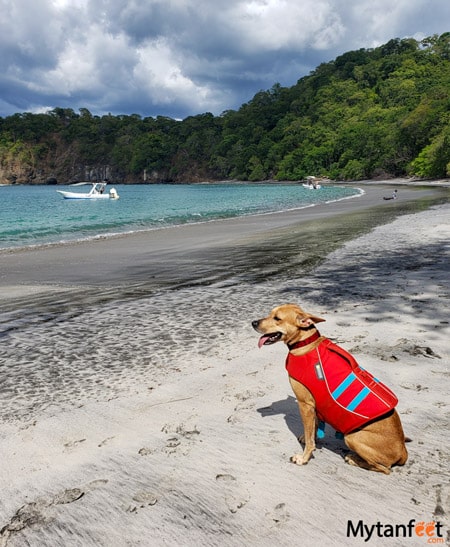 Also ChuckIt balls are SO expensive in Costa Rica. At EPA, a sort of Home Depot store in Costa Rica, we bought a two Chuckit Ultra ball set for 8,195 CRC (~$15 USD). On Amazon, they are $6! The shepherds are obsessed with Chuckit Balls so I've brought down a bunch.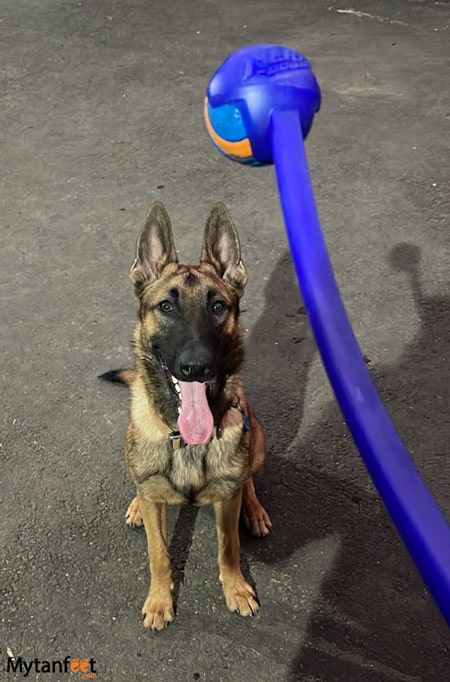 I also buy flea and tick medicine online. Flea/tick/heartworm medicine is quite costly in Costa Rica. I used to spend around $300 USD every 3 months for the four pups at a vet clinic in Tamarindo. On Sierra Pet Meds, I bought a year supply for $600 USD.
Kitchenware
For high quality kitchen items, they are hard to find in Costa Rica and are also more expensive. As I tend to cook more Asian style, I brought down mostly Asian cookware. These are things like a CUCKOO 6 Cup Rice Cooker, Asian Collection Chinese Chef's Knife, Deep Frying Japanese Style Tempura Pot, Korean Ramen Pot, noodle bowls, Bamboo steamer baskets and a Tamagoyaki Japanese Omelette Pan.
We have also brought the following items.
Kitchen ware I have bought in Costa Rica: Normal 12 cup coffee makers, slow cookers, a 12 pot and pan set, microwave, toaster oven, kitchen towels and drink ware. Reasonable, not outrageous prices, mostly from Gollo and Pricemart. Gollo is an appliance store in Costa Rica.
For professional cooking tools, baking ware or kitchen stuff, especially knives, bring your own.
Bedding
I have brought down a ton of bedding like ultra soft cooling sheets, quilts, duvets/comforters, cooling blankets, satin silk pillowcases and memory foam cooling pillows. High thread count linens are a big deal in Costa Rica…after my first set of sheets from Epa that ripped in the same week, I stopped buying bedding from anywhere that doesn't have high quality linens.
Now with Pricemart in Liberia which is just an hour from us, we have more access to better quality, though limited in choice, bedding. But I have still brought bedding down.
Bath
We just completed building our home and some things we knew we were going to bring form the US were shower heads and faucets from brands like Moen. Choices are limited in Costa Rica and again, more expensive and more expensive to the point where it's worth bringing down in checked luggage.
House Stuff
As for other house stuff, we didn't bring that much from the US for our new house. But I know people who have brought things like ceiling fans, lamps, mirrors, mini pizza ovens, lazy Susans, pizza stones and rugs.
We did buy Phillip Hue light bulbs in the US. They have smart light bulbs in Costa Rica but I haven't found this brand. Something else we brought down was solar powered motion sensor outdoor lights.
Electronics
Besides camera and computer gear and equipment, some electronics we have brought down are Nintendo Switch, Playstation 5, Sony Headphones, Bose Headphones, Bose earbuds, travel adapters, battery packs, 4k computer monitors, Ring, Arlo, mag cases, mag car cell phone holder and USB C hubs.
This is basically because these items are more expensive in Costa Rica or you cannot easily find them where we live.
Other Things I Bring to Costa Rica Instead of Buying Here
Clothes: Especially outdoor/exercise/yoga/hiking clothes. Brands like Columbia, Nike, Adidas and The North Face are way more expensive. I have a pair of Columbia Saturday Trail II Stretch Convertible Pants I bought for $44.99 USD. At Multiplaza Escazu, a mall in San Jose, it is 52,900 CRC with taxes which is ~$98 USD.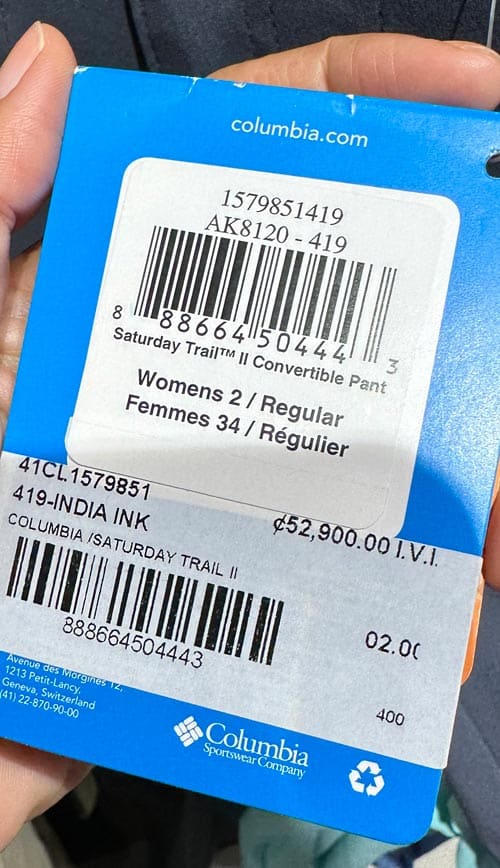 Korean skincare/Asian beauty products: I use only Asian hair and skincare products such as Cosrx, BANILA, Neogen, SRB, NatureLab Tokyo, Atomy and Daeng Gi Meo Ri Ki which are not available in Costa Rica. I have seen some Innisfree products at pharmacies but it's overpriced.
Female hygiene products: Reusable pads, period panties, tampons. I have seen menstrual cups in organic/wellness stores and Auto Mercado supermarket. Tampons can be scarce.
Makeup: High end makeup is hard to find here or quite expensive.
Flashlights: Never underestimate the power of a high powered flashlight or a good headlight. Especially since we like to camp and we own properties in rural areas. Much more reasonably priced on Amazon with more selection.
Related: Read our Costa Rica packing list if you are visiting on vacation to find out what essential things to bring for your trip!
Living in Costa Rica
I hope this post helped you get an idea of what to bring to Costa Rica when you move and what not to bring. As Yeison and I work from home as travel bloggers and content creators with four dogs and no kids, just remember that your list may look very different if you have kids, are seniors, are younger, are single, have cats instead of dogs, are retired, are a digital nomad or just have different tastes and standards than us.
Feel free to browse through other living in Costa Rica posts below!
Living in Costa Rica for $1500 USD a month: A short breakdown of how Yeison and I lived on $1500 USD a month for two people, back when we lived in Playas del Coco
Getting laser eye surgery in Costa Rica: My experience getting SMILE (a type of laser eye surgery)
How I got my Costa Rican drivers license: My experience homologating my US drivers license to Costa Rican drivers license – step by step guide to help you do it too. Only for residents and citizens. Tourists cannot get a Costa Rican drivers license.