Coronavirus – COVID-19. The virus that was declared a global pandemic on March 11, 2020 by the World Health Organization has rapidly reached all corners of the world, including Costa Rica.
On March 6, 2020, Costa Rica confirmed their first case of COVID-19. It was an imported case by an American woman who had previously visited Italy and Tunisia before entering Costa Rica on February 29th, 2020. On March 7, 2020, Costa Rica had a total of 5 confirmed cases.
Here is what you need to know about the Costa Rica coronavirus situation.
Costa Rica COVID-19 Confirmed Cases
As of October 20, 2020, Costa Rica has 97,922 cases of COVID-19 (14,025 of those are Por Nexo). Por Nexo is Costa Rica's new method of counting cases. They count people as confirmed cases if a person living in the same household of someone else who has tested positive starts experiencing symptoms. Por Nexo is without a test.
847 new cases today, 315 of those are Por Nexo
1222 fatalities
757 fatalities were men and 465 were woman, ages 9 – 100
542 people hospitalized, 215 of those in ICU
36,591 active cases
60,109 recovered
16,127 foreigners and 81,795 Costa Ricans
Age range of a newborn baby to 100 years of total cases
The first fatality was on March 18, 2020
When Will Costa Rica Open Their Borders and Costa Rica Travel Restrictions

Costa Rica closed their borders on March 18, 2020. The Costa Rican border opened on August 1, 2020 at 11:59 PM via air only.
Costa Rica's border is open to the following countries before November 1st. On November 1st, Costa Rica will welcome all countries in the world via air.

Austria
Australia
Belgium
Belize
Bulgaria
Canada
China
Croatia
Cyprus
Czech Republic
Denmark
El Salvador
Estonia
Finland
France
Germany
Guatemala
Greece
Honduras
Hungary
Iceland
Ireland
Italy
Jamaica
Japan
Latvia
Liechtenstein
Lithuania
Luxembourg
Malta
Mexico
Monaco
Spain
Nicaragua (Air only)
Netherlands
New Zealand
Norway
Panama (air only)
Poland
Portugal
Romania
San Marino
Singapore
Slovakia
Slovenia
South Korea
Sweden
Switzerland
Thailand
United Kingdom of Great Britain and Northern Ireland
Uruguay
Vatican State
USA
US citizens who are residents of New York, New Jersey, New Hampshire, Maine, Vermont, Maryland, Virginia, Washington DC and Connecticut have been authorized to enter Costa Rica as of September 1st. On September 15, Colorado, Pennsylvania, Washington state, Oregon, Wyoming, Arizona, Rhode Island, Michigan, New Mexico and Massachusetts may enter Costa Rica and on October 1st, California and Ohio are authorized to enter Costa Rica.
On October 15, Florida, Georgia and Texas are authorized and on November 1, all of the United States are authorized to enter Costa Rica.
All passengers must show they are residents of one of those states with their drivers license or equivalent state issued ID and fulfill all other requirements to enter.
Private flights and yachts from the US may resume September 1st with all passengers subject to the above requirements on a case by case basis.
Costa Rica Coronavirus Requirements to Enter the Country for Tourists

Please read our Costa Rica COVID-19 Travel so you know what the situation is like for tourists. Find out what's open, what's closed, restrictions, etc. There are more details in that post regarding Costa Rica COVID-19 entry requirements as well.
Costa Rica requires every visitor to complete an epidemiological survey, bring proof of a negative RT-PCR COVID-19 test result within 72 hours prior to the trip and it will be mandatory to purchase a travel insurance that will cover medical care for acute illness and accommodation in case of quarantine. Additionally, all tourists must follow all sanitary measures for the airport and in the country including mask wearing, hand washing and social distancing.
For tourists flying in from the US, they must present their drivers license or equivalent of a state issued ID proving they are a resident of one of the authorized states. Minors are exempt from this requirement if traveling with a parent.
Tourists do not need to do a 14 day quarantine after arriving in Costa Rica and fulfilling all requirements.
You have to upload your driver's license/state ID, COVID-19 test and the travel insurance online 48 hours before your trip via the health pass website.
Health Pass Survey

The health pass survey is required for all tourists.
Negative COVID-19 test
A negative RT-PCR COVID-19 test result is required within 72 hours (max) of the trip.
Insurance
Requirements: The travel insurance must cover a minimum of $50,000 USD for medical expenses in cases of COVID-19 in Costa Rica and a minimum of $2,000 USD for extended lodging expenses due to the pandemic.
Tourists have two options for international travel insurance.
They may purchase a travel insurance policy from INS or Sagicor, two insurances approved by the General Superintendence of Insurance (SUGESE) that covers hospitalizations in a hospital for required time and a minimum of 14 days of lodging.
They may use their own international travel insurance as long as it covers the requirements.
For Those Who Plan to Visit…
If you plan to travel to Costa Rica when the border is open again, please check the recommendations for international travel of your home country. Be respectful of all laws, regulations and rules Costa Rica has put in place whether you agree with it or not as you are a guest in the country. It is a privilege to travel during the pandemic, not a right and you have to be a responsible traveler to protect yourself and others.
Commercial Flights
Starting September 13, United Airlines will have daily flights from Houston, Texas to San Jose International Airport and three times a week to Liberia International Airport. They also plan to have daily flights from Newark to San Jose and Saturday to Liberia. United also hopes to start flights from Denver, Colorado around end of October.
Delta plans to resume commercial flights between SJO and Atlanta and LIR and Atlanta on October 1st. American Airlines will resume flights from Dallas to SJO Airport. They plan to have daily flights from Dallas to SJO, Miami to SJO and Miami to LIR (Starting October). Jetblue will resume flights October 17th between SJO and Fort Lauderdale and at the end of the month, SJO and New York and SJO and Orlando. They will also begin Boston to LIR in October and in November, LIR to New York. **Make sure to check airline websites for schedules, prices and changes**
AeroMexico has resumed flights mid-October and KLM palns to do the same. There are about 5 flights a week from Madrid, Spain and Frankfurt Germany to SJO Airport.
Additionally, tourists can now enter Costa Rica via a flight laying over in a non-authorized state. For example, a Maine resident can fly to Houston, layover, then fly from Houston to Costa Rica as long as they do not leave the airport. The longest they can layover is 18 hours.
Citizens

Citizens only need to complete the epidemiological form and quarantine for 14 days. They don't need to purchase the health insurance or bring proof of the negative test but they must quarantine. However, this quarantine can be waived if the citizen flies in from one of the authorized countries, has stayed in the authorized country for at least 14 days, shows proof of a negative coronavirus RT-PCR test within 72 hours of the flight and completes the health form.
Entry for Costa Rican Residents
Costa Rica has changed their entry requirements to now allow Costa Rican residents who left the country after March 25, 2020 to return.
That means Costa Rican residents can enter from any country via air now and they will be required to quarantine 14 days. If the residents enters from an authorized country, the quarantine requirement is waived as long as they have a negative PCR coronavirus test within 72 hours of the flight and have been in the departing country for at least 14 days without showing symptoms. They also must fulfill the following requirements:
A valid original passport
DIMEX card
Completed health form
Proof of current CAJA payments OR a travel insurance covering COVID-19 for at least a minimum of 22 days. During these 22 days, the resident must complete any missing payments.
If the resident arrives from a non-authorized country or state, they must quarantine for 14 days upon arrival.
Rescheduling Your Trip
If you had to reschedule your trip but not sure for when, the following posts will help you decide.
Orange Alert areas
Currently, Costa Rica is classifying areas as Orange or Yellow Alert areas according to the number of confirmed cases. Orange Alert are areas with a high number of confirmed cases.
Orange Alert Areas are:
San José: Alajuelita, Desamparados (except districts of Frailes and San Cristóbal), San José, Santa Ana
Puntarenas: Garabito, Montes de Oro, Puntarenas (districts of Barranca, Chacarita, El Roble and Puntarenas)
Heredia: Belen,  the districts of Heredia (Heredia, Mercedes, San Francisco, Ulloa), San Isidro, San Pablo and Santa Barbara
Alajuela: Alajuela (except Sarapiqui district), San Carlos
Cartago: La Union and Oreamuno
Limón Limón, Matina, Talamanca
Guanacaste: La Cruz
Everywhere else is under Yellow Alert.
October Restrictions
The same restrictions in September will continue through October. Weekend driving hours are 5 AM to 9 PM. Weekday driving hours are 5 AM to 10 PM. The driving hours are for the whole country.
Most commercial establishments with permits may open in the Orange Alert areas with maximum capacity and seating limitations. Events such as weddings and baby showers up to 30 people maximum are allowed during the open phase. Event halls can host up to 75 people with distancing.
All beaches open 5 AM to 10 PM Monday through Friday and 5 AM to 8 PM Saturday and Sunday regardless of location starting October 15th. However, individual municipalities may open/close as they see fit.
National Parks continue to open throughout the country regardless of zones. All outside, open air activities are allowed. Rental cars are exempt from driving restrictions. Hotels can operate at 100% but only 50% in common areas.
Mass gathering events are still not allowed in October. Casinos inside hotels and bars are allowed to open starting October 9th with regulations and following protocols.
Costa Rica Coronavirus Driving Restrictions
Costa Rica has instated driving restrictions since end of March. Essential workers with a letter from their employer are exempt from driving restrictions. Those driving to/from health services, hotels/Airbnbs and airports are exempt.
Rental cars are exempt from Costa Rica's driving restrictions.
If caught driving on restricted days, they will issue a fine.
Driving Restrictions (all October)

Driving is permitted 5 AM to 10 PM Monday through Friday and 5 AM to 9 PM on Saturday and Sunday with the following restrictions:
Monday – Vehicles with last license plate digit ending in 1 and 2 can't drive.
Tuesday: Vehicles with last license plate digit ending in 3 and 4 can't drive.
Wednesday: Vehicles with last license plate digit ending in 5 and 6 can't drive.
Thursday: Vehicles with last license plate digit ending in 7 and 8 can't drive.
Friday: Vehicles with last license plate digit ending in 9 and 0 can't drive.
There are no more license plate restrictions for Saturday and Sunday as of October 15th so any license plate can drive.
Costa Rica Coronavirus Cases Locations
There are confirmed coronavirus cases in all seven provinces in Costa Rica, the most being in the San Jose province.
Costa Rica has a population of roughly 5.09 million.
Costa Rica Coronavirus Timeline

The first confirmed coronavirus case in Costa Rica was on March 6.
Costa Rica declared a state of emergency on March 16, 2020.
The first coronavirus fatality was on March 18th.
On March 18, 2020, Costa Rica closed their borders to all foreigners, applying to land, sea and air. Only citizens and residents were allowed to enter.
On August 2, 2020, Costa Rica opened their international borders via air to certain authorized countries.
Costa Rica implemented a 24/7 coronavirus hot line.
Costa Rica created a hospital called CEACO specifically for COVID-19 patients a couple weeks after the first confirmed case.
Is There a Lockdown or Mandatory Quarantine in Costa Rica?
No. Since the beginning, there has never been a country wide lock down in Costa Rica. Costa Rica can't put something like that in place so the government implements driving restrictions, closures and sanitary measures instead. They also stressed the importance of staying at home and social distancing in the beginning.
Police will give tickets for breaking any sanitary restriction.
Where to Get Information About Coronavirus in Costa Rica
The government gives a press conferences everyday except Sundays with the Minister of Health reporting new number of cases and giving new information about COVID-19.
Please check the Ministerio de Salud's (ministry of health) website for the latest up to date information about coronavirus in Costa Rica. For news, check Teletica, the main local news channel in Costa Rica. Both in Spanish, so if you need to, you can use Google Translate. They have also created a website specifically for COVID-19 in Costa Rica (covid19.go.cr). For news updates and reports in English, check Tico TImes.
We also update this post frequently to reflect new major changes and statistics.
Do You Need to Wear a Mask in Costa Rica?
Yes. Costa Rica requires masks for the general public when inside closed spaces (except at home or in hotel room), in supermarkets, convenience stores, stores, airports, public buses, shuttles, trains, theaters, movie theaters, churches, banks, offices and for all public and commercial workers. You also need to wear a mask inside public buses, taxis and at the bus stop.
Likewise, establishments may prohibit anyone from entering if not wearing a masks. You don't have to wear a mask when walking outside on the street as long as you are 1.8 meters (6 feet) apart from other people but if you are waiting at a bus stop, you do need to wear a mask.
This applies to everyone in Costa Rica, tourist or local.
Face shields are no longer accepted as the only form for indoor protection. If a face shield is worn, a mask must also be worn.
Is Costa Rica Flattening the Curve?
Costa Rica has focused on prevention since the very beginning. Costa Rica has flattened the curve for the most part for the first wave, preventing the overwhelming of the health care system in the country since the virus entered the country.
Even though we've been in the peak of the second wave for some time, the healthcare system has not yet had to turn away any patients an ICU or hospital bed.
What It's Been Like Where We Live (Tamarindo area)

We live in Guanacaste in the Tamarindo area. Since this area depends pretty much purely on tourism for its livelihood and has a huge mix of foreigners and locals, Tamarindo is nothing like it would look like in normal times. However, we are very lucky that this area hasn't had an outbreak or many cases. Our canton, Santa Cruz, has never been in Orange Alert. We feel very fortunate to live somewhere with plenty of open spaces and no crowds.
Due to the border closure, many businesses closed their doors at the end of March. Now with the opening phases, many businesses have reopened. We recently went for lunch at Witch's Rock beach front restaurant and there were many tables. Stores are open and many of them are offering promos to celebrate their reopening.
I went shopping in town on a Friday afternoon back in August and nearly all stores were open. However, 3 out of the 4 stores we visited required us to wear masks (the owner wasn't even wearing a mask) and only 1 offered hand sanitizer. (I wore my mask at all stores and used my own hand sanitizer).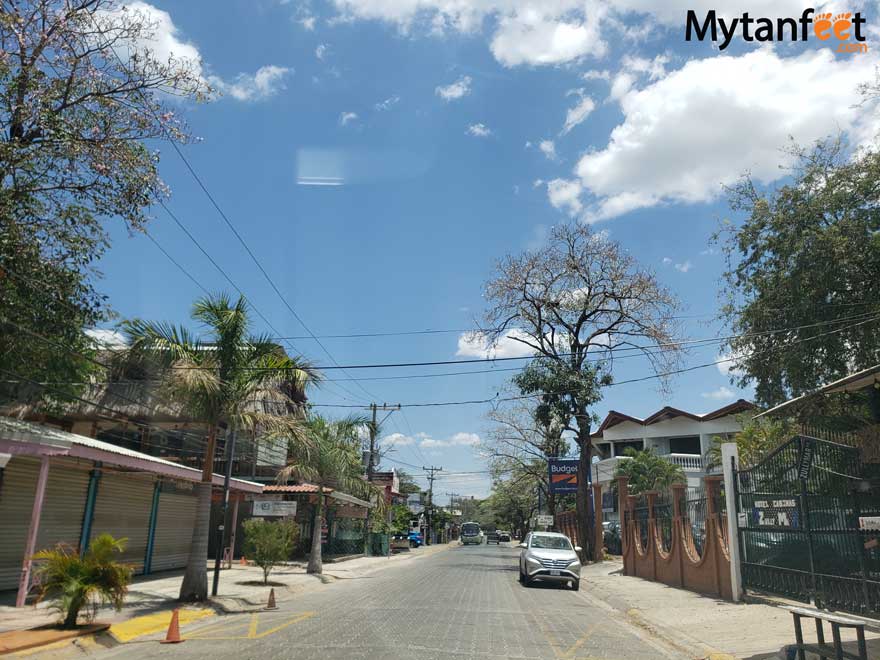 Although businesses are allowed to open, some restaurants are open with certain days and hours or are still only doing take out only. Not all hotels are open yet but plan to reopen this month or in November.
Local Tourism
At night, Tamarindo is getting more lively but is still quiet during the week. We have been to Mercadito, the open air food market a couple times and both times, have been the only guests there. Nowadays, there are many more local tourists thanks to the government's new 3 day weekend law (vacation days for holidays will now be on Monday so that people have 3 day weekends) to promote local tourism. For this reason, the weekends have been especially busy.
That brings in at least a little something for the businesses here which is great. August and September had many holidays and at the beach, it looks like a normal day with many surf lessons and visitors. For the local economy here, it's sorely needed. The only thing is that I would say maybe half the people are wearing masks (mostly the young people are not) and not all establishments respect the 50% maximum capacity rule, masks or social distancing. Although it does seem that the visiting families are at least trying to stay in their bubble.
Even though the beach is technically closed at 230 PM, we'll still see people walking on the beach, surfing and playing volleyball. To be honest, the police seems to have stopped trying to kick people off the beach, especially on weekends. On October 15, beaches will be open all day so that won't be an issue anymore.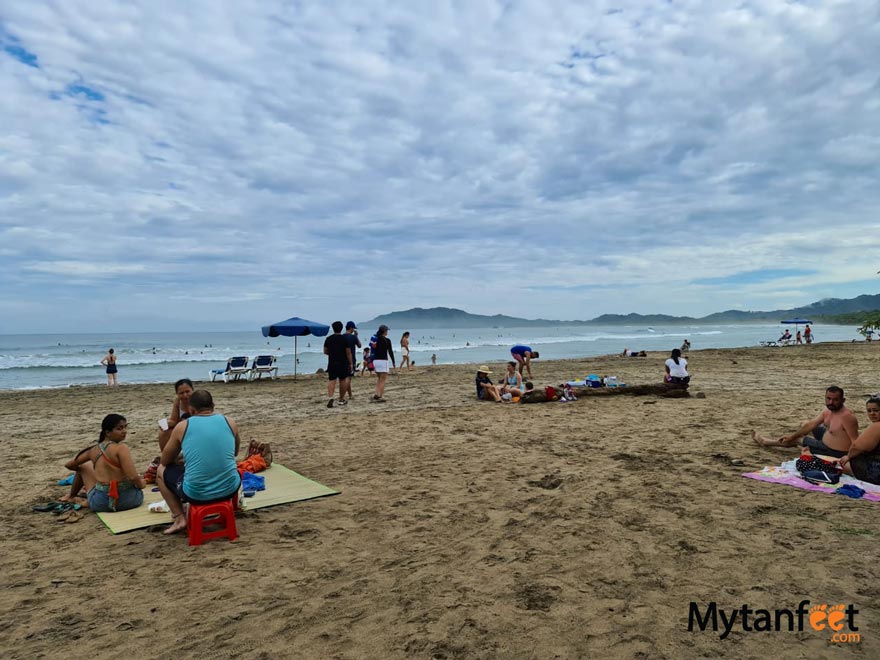 Independence day (Sept 15) weekend was very busy and it looked like it was Christmas or Easter on the beach. But on a weekday morning, the beach isn't crowded. It's mostly locals surfing or walking their dogs and some surf lessons going on.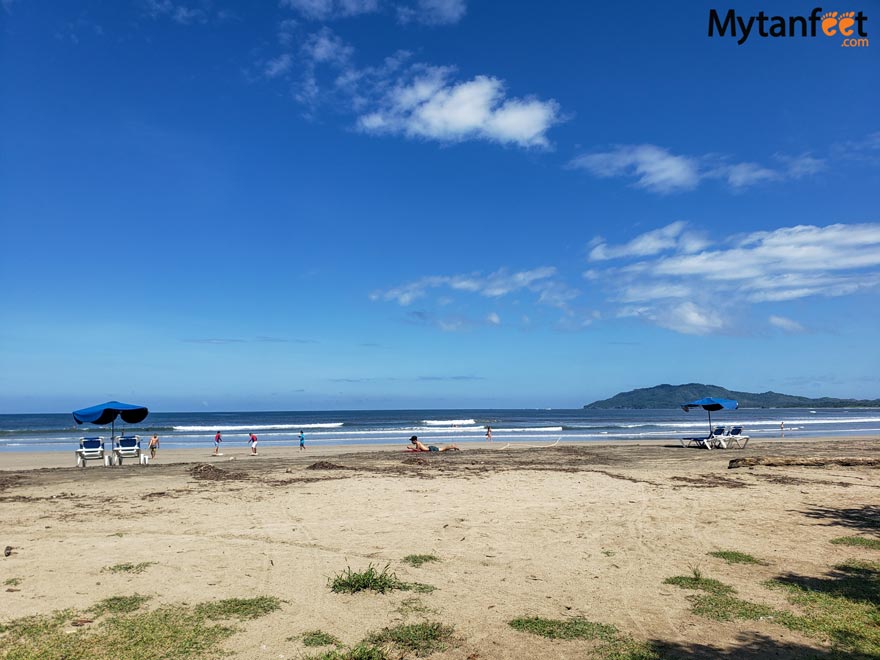 I have to say that surfing in Tamarindo has been awesome. Not many people, the beach is finally open all day and even in the rain the surf is good!
Protests in Costa Rica

There have been many more protests in Costa Rica in September and October. However, they aren't specifically about the pandemic, it's about the economy and the new taxes, mostly about the $1.75 USD billion loan Costa Rica has requested from the IMF (International Monetary Fund). During the 2 weeks of October, people protested, held strikes and blocked roads in over 20 parts of the country. There are still some blocks going on right now in small areas. On October 12th, there was a large protest in San Jose which unfortunately did result in some violence and arrests.
The Impact on Tourism in Costa Rica
As the border closed for almost 5 months, tourism companies have not fared well during that time.
Now that the government has opened their borders to many countries, the tourism sector is up and running again. They are still focusing strongly on local tourism but with the border completely opening on November 1st, they are eager and ready to receive tourists again. But it will be a long and slow road to recovery for the Costa Rican tourism industry.
What Have We Been Up To?
Since end of March, Yeison and I had a lot of time on our hands since the border was closed for 6 months. It was very quiet on the blog but we have been working hard still on it, updating posts and going through content. Now that the border will open completely on November 1st, it's definitely got a little bit busier which we're thankful for. So we want to say a big thank you for those who have kept with us this entire time!
Additionally, we've been surfing as much as possible, especially now that beaches are open all day which has been great. We've been doing some day trips to explore beaches we haven't been to yet which has been really fun. And we finally finished equipping our truck for overlanding! Yeison has gone on two overlanding trips, I've been on one.
Overlanding is 4×4 driving and camping and it's the perfect social distancing trip for us since everyone's in their own car and we all have our own camp area. It's been so much fun and we've gotten to see parts of Costa Rica we've never seen before.
I also got my PADI open water scuba diving certification in September which I'm stoked about. Can't wait to explore the underwater world!
We'll be writing posts about scuba diving and overlanding and you can follow our Facebook and Instagram to see photos and videos. In November, we'll start going on more overnight trips to get more content for the blog to help you plan a fun and safe trip to Costa Rica.
Let's All Do Our Part to Stay Safe and Healthy
Wherever you are in the world, let's all do our part to stay safe and healthy. We hope to see you in Costa Rica soon though and we greatly appreciate everyone who has rescheduled their trip.