Coronavirus – COVID-19. The virus that was declared a global pandemic on March 11, 2020 by the World Health Organization has rapidly reached all corners of the world, including Costa Rica.
On March 6, 2020, Costa Rica confirmed their first case of COVID-19. It was an imported case by an American woman who had previously visited Italy and Tunisia before entering Costa Rica on February 29th, 2020. She tested positive as well as her husband who was asymptomatic and both were put into isolation. On March 7, 2020, Costa Rica had a total of 5 confirmed cases.
Here is what you need to know about the Costa Rica coronavirus situation.
Costa Rica COVID-19 Confirmed Cases

As of August 3, 2020, Costa Rica has 19,402 confirmed cases of COVID-19.
427 new cases today
171 fatalities (9 today)
14,542 active cases
4688 recovered
8330 women, 10,572 men
393 people hospitalized, 97 of those in ICU
62,566 discarded tests
94,512 total tests
Age range of a newborn baby to 100 years of total cases
The first fatality was on March 18, 2020
108 fatalities were men and 63 were woman, ages 23 – 99
5288 foreigners and 14,113 Costa Ricans
This post is updated every 24 hours in the afternoon after the nation wide press conference.
When Will Costa Rica Open Their Borders and Costa Rica Travel Restrictions

Costa Rica closed their borders on March 18, 2020. The Costa Rican border is now opening August 1, 2020 at 11:59 PM via air only. On August 2nd, Canada, European Union and UK are allowed to enter Costa Rica. Flights will first be from Madrid, Spain and Frankfurt, Germany into San Jose International Airport which is around 5 flights a week. Then they will have flights from Canada and UK the following weeks after.
The EU countries Costa Rica will be open to beginning August 2 are Germany, Austria, Belgium, Canada, Denmark, Slovakia, Slovenia, Spain, Estonia, Finland, France, Greece, Hungary, Iceland, Italy, Lithuania, Liechtenstein, Latvia, Luxembourg, Malta, Norway, Netherlands, Poland, Portugal, United Kingdom, Czech Republic, Sweden, Switzerland. The Costa Rican government will analyze and update the country list every two weeks.
Costa Rica Coronavirus Requirements to Enter the Country
Costa Rica will require every visitor to complete an epidemiological survey, bring proof of a negative RT-PCR COVID-19 test result within 48 hours prior to the trip and it will be mandatory to purchase a travel insurance that will cover medical care for acute illness and accommodation in case of quarantine. Additionally, all tourists must follow all sanitary measures for the airport and in the country.
If any tourist does not fulfill these requirements, they will not be allowed to board the plane to Costa Rica. Tourists do not need to do a 14 day quarantine after arriving in Costa Rica and fulfilling all requirements.
Official information is found here on the Costa Rican consulate in Miami Facebook page (Spanish).
Survey (Pase de Salud)

The epidemiological survey is required for all tourists.
Negative COVID-19 test
A negative RT-PCR COVID-19 test result is required within 48 hours (max) of the trip. So if your flight is on November 30 at 12 PM, you must have taken the test after November 28 at 12 PM. A negative test result is required for those 12 and older (English or Spanish).
Insurance
This insurance has to cover a minimum $20,000 USD medical care costs, at least $4,000 USD housing costs and must cover COVID-19 associated medical expenses. The only accepted insurance for foreigners to enter Costa Rica is through a Costa Rican insurer, INS (National Insurance Institute). Even if the tourist has insurance from their home country, they will still be required to purchase the INS insurance from Costa Rica.
The price of this insurance depends on your age, length of stay and other factors. For example, if you are a 30 year old healthy tourist and you will be in Costa Rica vacationing for 2 weeks, the policy will cost $279.48 USD.
If you are from the US…
The United States is not on this list of countries allowed on August 2nd. This means that all flights from the US to Costa Rica will still continue to be ONLY repatriation flights for citizens until the United States is on the list of authorized countries to enter Costa Rica.
And in case you're wondering…
How to enter Costa Rica if you're a US citizen right now? A US citizen can fly to an authorized country (like Canada), quarantine for 14 days in Canada without developing symptoms and then take a flight to Costa Rica from Canada (when operating). They will be required to fulfill all requirements (health survey, negative PCR COVID-19 test result, health insurance).
Canadians, UK and EU citizens (or other nationalities) cannot fly to the US, layover in the US and then fly to Costa Rica. This is because all flights from US –> Costa Rica are repatriation flights only so they will have to fly into Costa Rica via a direct flight from an authorized country.
Costa Rica Repatriation Flights
Citizens and residents only need to complete the epidemiological form and quarantine for 14 days. They don't need to purchase the health insurance or bring proof of the negative test.
Other Things to Note
If you plan to travel to Costa Rica when the border is open again, please follow the regulations of Costa Rica which includes mask wearing, social distancing, washing hands, etc. Please also check the recommendations for international travel of your home country.
On August 1, Yellow Alert areas can open beaches from 5 AM to 230 PM (previously until 930 AM) and all outside, open air activities are allowed. Rental cars are exempt from driving restrictions.
Rescheduling Your Trip
If you had to reschedule your trip but not sure for when, the following posts will help you decide.
May 16, 2020 Phase 1 Regulations
Driving allowed 5 AM to 10 PM Mon – Fri. 5 AM to 7 PM on weekends.
Beaches open 5-8 AM Mon – Fri. Closed on weekends.
National parks can open with 50% maximum capacity and tickets must be purchased beforehand. These are national parks Poas, Rincon de la Vieja, Arenal, Cahuita, Guayabo, Braulio Carrillo, Carara, Corcovado, Manuel Antonio, Los Quetzales, Tapanti and Monteverde reserves.
Recreational physical activity without contact allowed
High performance contact sports without spectators allowed
Hotels of maximum 20 rooms can operate with 50% maximum capacity
June 1 – 19, 2020 Phase 2 Regulations

Restaurants allowed 50% maximum capacity now also on weekends
Rest of the hotels 50% maximum capacity
Museums 50% with pre-purchased tickets
Events with less than 30 people (capacity 50% max)
Gyms and swim schools at 50%
Art schools without contact 50%
15 more national parks and reserves
June 27 – July 10, 2020 Phase 3 Regulations
Phase 3 is allowed only for areas that are not in Alerta Naranja (Orange Alert).
Stores can open to 50% maximum capacity
Cinemas and theaters open to 50% capacity with pre-purchased tickets
Bars 50%
Religious centers like churches can open with maximum of 75 occupants (respecting the 1.8 meter distancing)
Sport centers without contact 50%
Beaches open 5 AM to 930 AM, seven days a week
August New Regulations
The government has decided to put new regulations for August. Below is the calendar.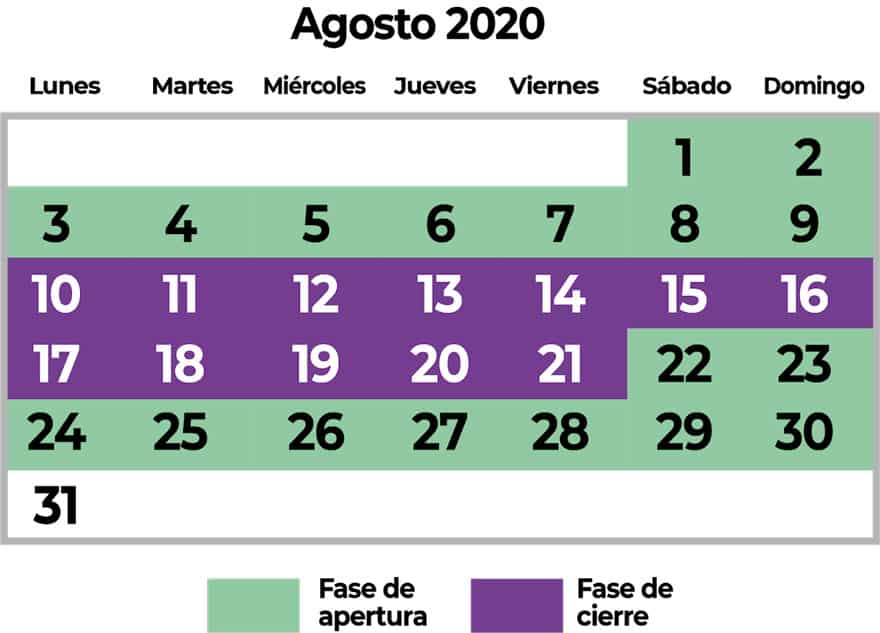 Fase de apertura (opening phase) is August 1 – 9 and 22-31. Fase de cierre (closing phase) is August 10-21.
The opening phase means that commercial businesses including non-essential businesses can operate with sanitary permits throughout the country. Still subject to driving restrictions.
Currently, Costa Rica is classifying areas as Orange or Yellow Alert areas according to the number of confirmed cases.
The closing phase means that in the Orange Alert areas, all businesses will close except for essential ones like supermarkets and pharmacies, health and financial services. Yellow Alert areas continue to operate normally during this time.
Orange Alert areas
Orange Alert areas are under stricter restrictions. These are:
San José: Alajuelita, Aserrí, Curridabat, Desamparados, Escazú, Goicoechea, Montes de Oca, Mora, Moravia, San José, Santa Ana, Tibás, Vázquez de Coronado
Puntarenas: Corredores, Coto Brus (districts of Agua Buena and Sabalito), Golfito (district of Pavón), Puntarenas (districts of Barranca and Chacarita)
Heredia: Barva, Flores, Heredia, San Isidro, San Pablo, San Rafael, Santo Domingo
Alajuela: Alajuela, Naranjo, Poás
Cartago: La Unión
Everywhere else is under Yellow Alert. In Yellow Alert areas, beaches and lakes are open daily from 5 AM to 230 PM. Orange Alert beaches and lakes are open 5 AM to 930 AM daily. National Parks continue to operate in Yellow and Orange areas throughout the month.
Costa Rica Coronavirus Driving Restrictions
Costa Rica has instated driving restrictions since end of March and alloww driving during certain hours for certain vehicles. Essential workers with a letter from their employer are exempt from driving restrictions. Those driving to health services are also permitted.
If caught driving outside permitted hours, they issue you a ticket, write demerits on your record and remove your license plates. Rental cars are now exempt from the driving restrictions.
Driving restrictions for Yellow Alert (all August)

Driving in Yellow alert is permitted 5 AM to 10 PM Monday through Friday and 5 AM to 7 PM on Saturday and Sunday with the following restrictions:
Monday – Vehicles with last license plate digit ending in 1 and 2 can't drive.
Tuesday: Vehicles with last license plate digit ending in 3 and 4 can't drive.
Wednesday: Vehicles with last license plate digit ending in 5 and 6 can't drive.
Thursday: Vehicles with last license plate digit ending in 7 and 8 can't drive.
Friday: Vehicles with last license plate digit ending in 9 and 0 can't drive.
Saturday: Vehicles with last license plate digit ending in an even number can't drive
Sunday: Vehicles with last license plate digit ending in an odd number can't drive.
For Orange Alert areas, they have two sets of regulations for the "opening" and closing" phases
Driving is allowed from 5 AM to 5 PM during August 1-9 and 22-31 (opening phase) with the following restrictions:
Mondays: Vehicles with the last digit of the license plate ending in 1 and 2 cannot drive.
Tuesdays: Vehicles with the last digit of the license plate ending in 3 and 4 cannot drive.
Wednesdays: Vehicles with the last digit of the license plate ending in 5 and 6 cannot drive.
Thursdays: Vehicles with the last digit of the license plate ending in 7 and 8 cannot drive.
Fridays: Vehicles with the last digit of the license plate ending in 9 and 0 cannot drive.
Saturdays: Vehicles with the last digit of the license plate ending in an even number cannot drive.
Sundays: Vehicles with the last digit of the license plate ending in an odd number cannot drive.
For the closing phase of August 10 – 21, driving is allowed 5 AM to 5 PM with the following restrictions:
Mondays: Vehicles with the last digit of the license plate ending in 1 and 2 can drive.
Tuesdays: Vehicles with the last digit of the license plate ending in 3 and 4 can drive.
Wednesdays: Vehicles with the last digit of the license plate ending in 5 and 6 can drive.
Thursdays: Vehicles with the last digit of the license plate ending in 7 and 8 can drive.
Fridays: Vehicles with the last digit of the license plate ending in 9 and 0 can drive.
Saturdays: Vehicles with the last digit of the license plate ending in an odd number can drive.
Sundays: Vehicles with the last digit of the license plate ending in an even number can drive.
Costa Rica Coronavirus Cases Locations
There are confirmed coronavirus cases in all seven provinces in Costa Rica, the most being in the San Jose province.
Costa Rica has a population of roughly 5.09 million.
Measures Costa Rica Has Taken Against Coronavirus
On March 9, 2020, Costa Rica suspended all large gatherings and started encouraging working from home.
Costa Rica declared a state of emergency on March 16, 2020.
On March 18, 2020, Costa Rica closed their borders to all foreigners, applying to land, sea and air. Only citizens and residents are allowed to enter.
On the weekend of March 21, 2020, all beaches, national parks and public spaces closed. All in person schools closed.
Driving restrictions were put in place beginning of April.
The government plays informative ads on TV for proper social distancing and public hygiene practices.
Costa Rica implemented a 24/7 coronavirus hot line.
Costa Rica created a hospital called CEACO specifically for COVID-19 patients a couple weeks after the first confirmed case.
The CAJA (Costa Rica's social security system) does majority of the testing. They will also provide treatment to uninsured Costa Ricans and foreigners.
Costa Rica will start trying to make their own testing kits so they don't need to purchase or rely on other countries.
The government gives a press conferences everyday with the Minister of Health, Daniel Salas, reporting new number of cases and giving new information about COVID-19. The president, Carlos Alvarado sometimes joins when he announces major news and regulations (like border closing, etc.).
Is There a Lockdown or Mandatory Quarantine in Costa Rica?
No. Since the beginning, there has never been a country wide lock down in Costa Rica. Costa Rica can't put something like that in place so the government puts in restrictions and sanitary measures instead. They also stress the importance of staying at home and social distancing.
People can still go outside as they please with proper social distancing. Police won't give you a ticket for being outside but they will give you a ticket for breaking any sanitary restriction.
Where to Get Information About Coronavirus in Costa Rica
Please check the Ministerio de Salud's (ministry of health) website for the latest up to date information about coronavirus in Costa Rica. For news, check Teletica, the main local news channel in Costa Rica. Both in Spanish, so if you need to, you can use Google Translate. They have also created a website specifically for COVID-19 in Costa Rica (covid19.go.cr) including sanitary measures, news and more.
Please only use these credible sites for information (I know it's a little ironic since I'm writing a blog post about it but we only check those sites and we watch the press conference everyday. All information I have gathered on this blog post is straight from the Ministry of Health's website.) The Ministerio de Salud and Teletica also post constantly on their Facebook page and do live videos of their press conferences. For news updates and reports in English, check Tico TImes.
Do You Need to Wear a Mask in Costa Rica?
Yes. Costa Rica requires masks for the general public when inside closed spaces except at home, in supermarkets, convenience stores, stores, airports, public buses, shuttles, trains, theaters, movie theaters, churches, banks, offices and for all public and commercial workers. You also need to wear a mask inside public buses, taxis and at the bus stop.
Likewise, establishments may prohibit anyone from entering if not wearing a masks. You don't have to wear a mask when walking outside on the street as long as you are 1.8 meters (6 feet) apart from other people but if you are waiting at a bus stop, you do need to wear a mask or face shield.
This applies for everyone in Costa Rica, tourist or local.
Is Costa Rica Flattening the Curve?
Costa Rica has focused on prevention since the very beginning. Looking at this graph, Costa Rica flattened the curve for the most part for the first wave, preventing the overwhelming of the health care system in the country since the virus entered the country.
In April, Costa Rica saw mostly a daily increase of single digit confirmed cases in Costa Rica. For example, on April 19, Costa Rica received 5 more confirmed cases. On April 27, 2020, Costa Rica received only 2 more confirmed cases. On May 4, 2020, Costa Rica confirmed just 3 more cases.
However, since around mid May, the cases have started going up in great amounts. At the end of July, we hit the highest number of daily confirmed cases at nearly 1000. The death rate from mid-end of July has been 5-11 a day. We are now, according to the government in the second wave which is considerably stronger than the first one and community transmission is now present.
Unfortunately even with the closing of the border, there are many problems with the neighboring country up north, Nicaragua, which is now only beginning to report confirmed cases. Sadly, their government has not put in any measures to contain the virus and they do have community transmission with thousands of cases (no one really knows how many Nicaragua has exactly since they never tracked it). Despite the border closure, they have continued to enter Costa Rica as it is impossible to cover the 300 something kilometers of border.
What It's Been Like Where We Live
We live in Guanacaste in the Tamarindo area. Since this area depends pretty much purely on tourism for its livelihood and has a huge mix of foreigners and locals, Tamarindo is empty.
Many businesses closed their doors back end of March and April since there are no tourists. Now that restaurants can open 7 days a week with 50% maximum capacity and social distancing (as we are in Phase 3), some but not all are open for dine in. We just recently went for lunch at Witch's Rock beach front restaurant and there were 3 other tables. It was the first time we ate out in 3 months!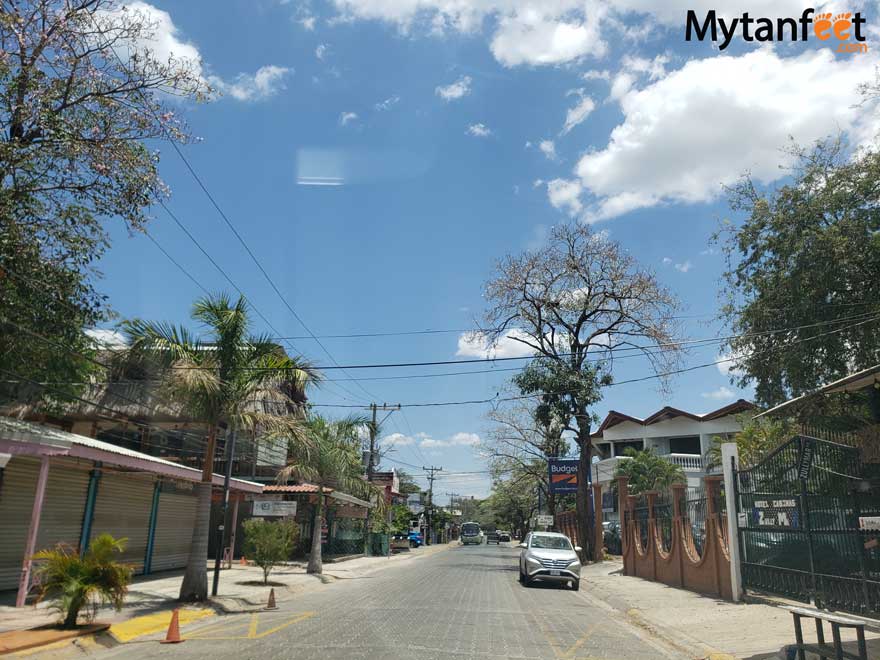 However, Tamarindo is still very empty and at night, it still looks like a ghost town. Some places are open such as Mercadito and a few restaurants for dine-in. We went to Mercadito last week and were the only guests there. There are some local tourists here and there however, and with the recent holidays in July, it was much more lively with lots of city Costa Ricans vacationing at the beach.
That brings in at least a little something for the businesses here and there's definitely more movement. In August, there are also two more holidays so we expect it to continue being a bit more lively. At the beach, it almost looks like a normal low season day with surf lessons and visitors.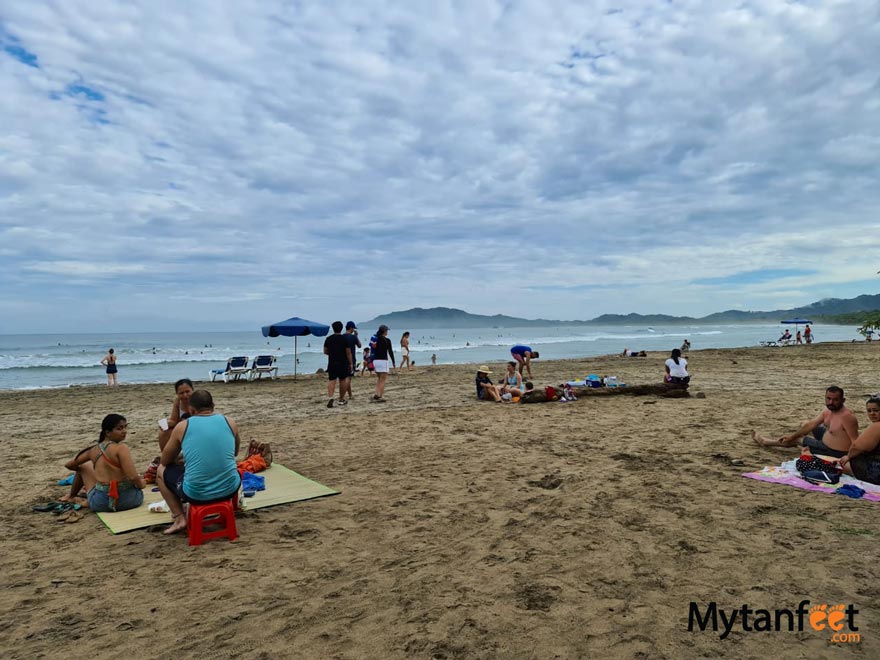 In Villarreal, the small local town outside of Tamarindo, it's more lively. Locals are still out and about, going to work, walking to the supermarket. Social distancing is not that well practiced but nearly everyone is wearing a mask. You'll see groups of people hanging out and talking on the street corners, friends walking their dogs together or having a beer in the parking lot.
Huacas, the town at the intersection between Conchal and Tamarindo is also just as lively with barber shops, bakeries, local restaurants and fried chicken places full of people.
Other Places in Costa Rica
We have friends and family throughout Costa Rica. Yeison's brother lives in Playas del Coco and the town is empty as well since it also depends heavily on tourism. There are still people out and about but for the most part, it's very quiet.
Jobs in Costa Rica
Some Costa Ricans who live and work in tourism on the coasts have had to go back to San Jose to find jobs. The reason they go back to San Jose is that you can find all the call centers of big companies like Amazon. Customer service call centers are a huge part of Costa Rica's economy and Amazon has actually been hiring a lot of people lately because they're getting a lot of demand for customer service. There have been a couple of other companies opening up positions for call center agents in the city.
I have also seen on the news that some companies that began making masks and hand sanitizer have started hiring people as there is a high demand for these products. Something else that has come up is the need for coffee pickers. Since many coffee plantations depend on Nicaraguan workers, there is now a shortage and there are ads on the radio and TV for coffee pickers.
We watch the news every night as they do reports on the situation in various parts of the country. Quepos, Monteverde and La Fortuna are very similar to Tamarindo with empty streets and boarded up businesses as they depend on international tourism for their economy.
Farmers have also been impacted by the border closure. Places like Poas and Poasito, famous for their delicious strawberries are now selling them super cheap because there are no tourists or restaurants to sell to and there is an excess of produce. Fishermen are having an especially rough time as they mostly sell their catch to restaurants and hotels. Thankfully, many restaurants and individuals have come together to create food banks, helping those that have lost their jobs and live in poverty. The government also gives free food packets and small stipends for those who qualify.
Toilet Paper Hoarding?
No. Thankfully in Costa Rica, we do not have a shortage of toilet paper and we haven't had any fights breaking out in the supermarket. Supermarkets are full of food and supplies and the government has been assuring the public that there won't be a food shortage. We haven't had to worry about running out of meat, toilet paper or Lysol wipes.
Protests?
There have lately been a few more protests. A few weeks ago, there was an organized protest in the touristic coastal beach towns Tamarindo and Quepos. They wanted the government to open the beaches since these areas depend heavily on tourism which has stopped back in March when the borders closed. There are now more protests in the Orange Alert areas for the government to allow them to open more businesses and remove the Orange Alert on their district.
Additionally, there are now small groups of people protesting the government saying "no hay pandemia" (there is no pandemic).
There have also been groups of people protesting that the government isn't taking care of people diagnosed with COVID-19. In Cañas, there was a large group of people blocking the roads, protesting that the government hasn't come to inspect or take care of the confirmed COVID-19 cases in their area. Some other groups are protesting to move their district into Yellow Alert so businesses can open for more hours.
After 4 months of restrictions and closures, new taxes, growing unemployment, the confirmation of community transmission and increase of confirmed cases and fatalities, the people are getting frustrated with the government and the restrictions.
The Impact on Tourism in Costa Rica
As the border has now been closed since mid March, the businesses that depend purely on international tourism are not doing well. We know companies who have laid off everyone. We know companies who kept one or two employees. There are businesses who closed almost all offices. The government has put in some regulations to help businesses but of course it's nothing compared to how it would be in normal situations.
Now that the government will be permitting visitors from Canada, EU and UK in August, the tourism sector is looking forward to reactivate tourism again, even just for a little bit. However, we know it will be a very gradual process for international travel to return in the whole world.
If you'd like to help the Costa Rican tourism economy, you can do a few things if it's possible in your situation (we know that everyone has been affected greatly by COVID-19 one way or another).
1. You can postpone/reschedule your trip instead of asking for a refund.
2. Ask for a partial refund.
3. Buy gift cards or donate.
We too have been greatly impacted by the border closure since our blog focuses on international tourism. If you'd like to support our blog, an easy way is by purchasing your next Amazon order through our Amazon affiliate link. We receive a small commission if you purchase through our link at no extra cost to you. Thank you 🙂
What Have We Been Up To?
Since end of March, Yeison and I have been staying at home as much as possible. It's been very quiet for us with no tourists but we are making the best out of the situation. We are healthy which is the most important thing. Our dogs have been very happy as now we're taking them out way more than usual for walks and car rides. We have also been gardening a lot as we live on a large property. I got Animal Crossing New Horizons which has been taking up a loooot of my time 😀
We go to the beach occasionally to surf and walk the dogs in the morning. It's been nice to get out of the house and feel the sand between our toes again. We make sure to stay 6 feet apart from others which is easy to do since it's not that crowded. We are definitely looking forward to the beaches opening until 230 PM on Aug 1 since that will mean we will always have a good tide to go surf. In August, we're also hoping to travel throughout Costa Rica a bit more to get content for the blog.
However, we are being even more extra cautious now that there are much more cases throughout the country. I was planning to visit my family in the US this month but not anymore. Until international travel is open and safe again, Yeison and I will be hunkering down in our home with our two dogs, going to the beach in the mornings, putting together some home DIY projects and of course, working hard on the blog.
Let's All Do Our Part to Stay Safe and Healthy
Wherever you are in the world, let's all do our part to stay safe and healthy. We hope to see you in Costa Rica when travel reopens and the world has healed itself.