On March 6, 2020, Costa Rica confirmed their first case of COVID-19. Here is what you need to know about the Costa Rica coronavirus situation.
Costa Rica COVID-19 Confirmed Cases
The Ministry of Health reports a weekly total but they don't really post about it much anymore. To see official statistics, please check the COVID-19 page on the Ministerio de Salud's website.
Costa Rica COVID-19 Vaccinations
Costa Rica is vaccinating with Pfizer-BioNTech and AstraZeneca. They have begun third and fourth booster shots and opened their vaccinations to anyone in the country. Please check the Costa Rican Seguro Social to see their vaccination statistics.
Border Opening and Closing
Costa Rica closed their borders on March 18, 2020. On November 1, 2020, Costa Rica opened to all countries in the world via air. On April 5, 2021, Costa Rica opened the land borders to Nicaragua and Panama.
Please read our Costa Rica COVID-19 Travel for more important tourist information.
Costa Rica Coronavirus Requirements to Enter the Country for Tourists
As of April 1, 2022, Costa Rica does not require any type of COVID-19 specific requirement to enter the country. No negative test, no quarantine, no travel insurance nor health pass.
However, tourists must follow all sanitary measures for the airport and in the country such as hand washing and temperature taking.
Costa Rica DOES NOT require a negative COVID-19 test or quarantine. **The insurance requirement has been removed on April 1, 2022 (unvaccinated tourists will not need to purchase the insurance anymore) and the health pass has not been mandatory since April 1.
*This is still valid November 2022*
Costa Rica COVID Restrictions
There are currently no COVID-19 restrictions *current conditions as of November 2022*
Costa Rica COVID-19 Timeline
The first confirmed COVID-19 case in Costa Rica was on March 6, 2020. Costa Rica declared a state of emergency on March 16, 2020. The first COVID-19 fatality was on March 18th, 2020.
Do You Need a COVID Test to Exit Costa Rica?
No. A COVID test is not required to enter or exit Costa Rica.
The United States removed the 24 hour negative COVID test requirement for international travelers via air on June 12, 2022. Therefore, a negative COVID test is not required to enter the United States by air from abroad anymore.
For other countries, make sure to check their entry requirements for international travelers by air.
Do You Need to Wear a Face Mask in Costa Rica?
As of May 11, 2022, wearing face masks indoors and in public spaces is not a mandatory requirement. Face masks will still be in place for health officials. However, some establishments may still require them and people can still wear them if they wish.
Likewise, face mask mandates may be reinstated at any time, especially for indoors and public settings such as transportation. Please be aware of this and still bring a mask with you just in case.
What It's Been Like Where We Live (Tamarindo area)
Tamarindo is normal. Tourists everywhere, everything's open, no social distancing. It is how it is used to be pre-COVID.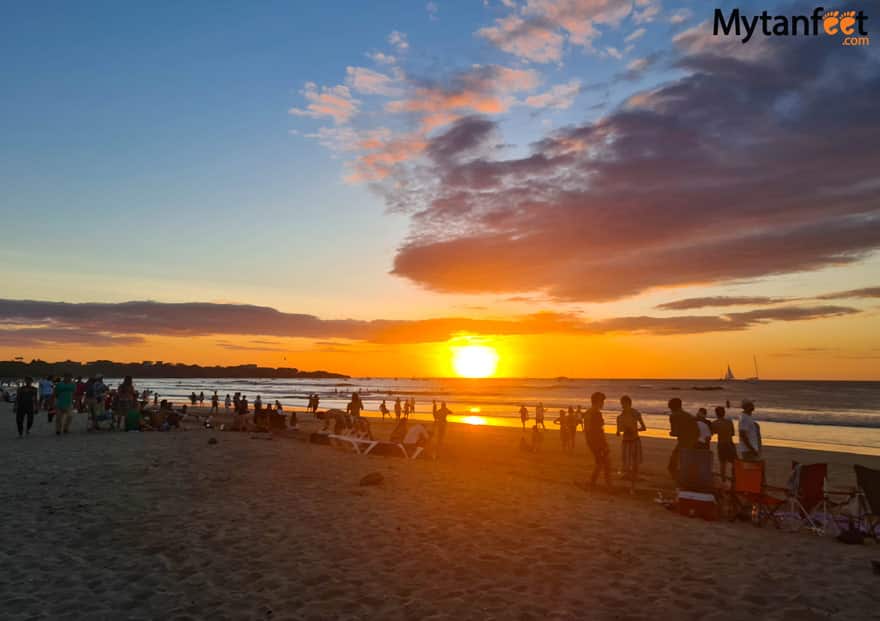 For Those Who Plan to Visit…
If you plan to travel to Costa Rica, please check the recommendations for international travel of your home country. Be respectful of all laws, regulations and rules Costa Rica has put in place whether you agree with it or not as you are a guest in the country.
Please check our Costa Rica COVID travel post for more details on COVID testing, entry requirements, etc.
If you had to reschedule your trip but not sure for when, the following posts will help you decide.
Wherever you are in the world, let's all do our part to stay safe and healthy. Have fun but be a responsible traveler.