Coronavirus – COVID-19. The virus that was declared a global pandemic on March 11, 2020 by the World Health Organization has rapidly reached all corners of the world, including Costa Rica.
On March 6, 2020, Costa Rica confirmed their first case of COVID-19. It was an imported case by an American woman who had previously visited Italy and Tunisia before entering Costa Rica on February 29th, 2020. On March 7, 2020, Costa Rica had a total of 5 confirmed cases.
Here is what you need to know about the Costa Rica coronavirus situation.
Costa Rica COVID-19 Confirmed Cases
As of September 22, 2020, Costa Rica has 66,689 cases of COVID-19 (7989 of those are Por Nexo). Por Nexo is Costa Rica's new method of counting cases. They began counting people as confirmed cases if a person living in the same household of someone else who has tested positive starts experiencing symptoms. Por Nexo is without a test.
1087 new cases today, 219 of those are Por Nexo
760 fatalities (15 today)
470 fatalities were men and 290 were woman, ages 19 – 100
637 people hospitalized, 260 of those in ICU
40,223 active cases
25,706 recovered
125,212 discarded tests
206,812 total tests
12,777 foreigners and 53,912 Costa Ricans
Age range of a newborn baby to 100 years of total cases
The first fatality was on March 18, 2020
When Will Costa Rica Open Their Borders and Costa Rica Travel Restrictions

Costa Rica closed their borders on March 18, 2020. The Costa Rican border opened on August 1, 2020 at 11:59 PM via air only.
Costa Rica's border is now open to the following countries. The Costa Rican government will analyze and update the country list every two weeks.

Austria
Australia
Belgium
Bulgaria
Canada
China
Croatia
Cyprus
Czech Republic
Denmark
Estonia
Finland
France
Germany
Greece
Hungary
Iceland
Ireland
Italy
Japan
Latvia
Liechtenstein
Lithuania
Luxembourg
Malta
Monaco
Spain
Netherlands
New Zealand
Norway
Poland
Portugal
Romania
San Marino
Singapore
Slovakia
Slovenia
South Korea
Sweden
Switzerland
Thailand
United Kingdom of Great Britain and Northern Ireland
Uruguay
Vatican State
USA
US citizens who are residents of New York, New Jersey, New Hampshire, Maine, Vermont, Maryland, Virginia, Washington DC and Connecticut have been authorized to enter Costa Rica as of September 1st. On September 15, Colorado, Pennsylvania, Washington state, Oregon, Wyoming, Arizona, Rhode Island, Michigan, New Mexico and Massachusetts may enter Costa Rica. On October 1st, California is authorized to enter Costa Rica.
All passengers must show they are residents of one of those states with their drivers license or equivalent state issued ID (ID requirement exempt for minors if traveling with parent) and fulfill all other requirements to enter.
Flights: Starting September 13, United Airlines will have daily flights from Houston, Texas to San Jose International Airport and three times a week to Liberia International Airport. They also plan to have daily flights from Newark to San Jose and Saturday to Liberia (projected, not confirmed yet). United also hopes to start flights from Denver, Colorado around end of October.
Delta plans to resume commercial flights between SJO and Atlanta and LIR and Atlanta on October 1st. American Airlines will resume flights from Dallas to SJO Airport. They plan to have daily flights from Dallas to SJO, Miami to SJO and Miami to LIR (Starting October). Jetblue will resume flights October 17th between SJO and Fort Lauderdale and at the end of the month, SJO and New York and SJO and Orlando. They will also begin Boston to LIR in October and in November, LIR to New York. **Make sure to check airline websites for schedules, prices and changes**
Additionally, tourists can now enter Costa Rica via a flight laying over in a non-authorized state. For example, a Maine resident can fly to Houston, layover, then fly from Houston to Costa Rica as long as they do not leave the airport. The longest they can layover is 18 hours.
Private flights and yachts from the US may resume September 1st with all passengers subject to the above requirements on a case by case basis.
Costa Rica Coronavirus Requirements to Enter the Country for Tourists

Costa Rica requires every visitor to complete an epidemiological survey, bring proof of a negative RT-PCR COVID-19 test result within 72 hours prior to the trip and it will be mandatory to purchase a travel insurance that will cover medical care for acute illness and accommodation in case of quarantine. Additionally, all tourists must follow all sanitary measures for the airport and in the country including mask wearing, hand washing and social distancing.
For tourists flying in from the US, they must present their drivers license or equivalent of a state issued ID proving they are a resident of one of the authorized states. Minors are exempt from this requirement if traveling with a parent.
Tourists do not need to do a 14 day quarantine after arriving in Costa Rica and fulfilling all requirements.
You can now upload your driver's license/state ID and the travel insurance online before your trip via the epidemiological survey.
Survey (Pase de Salud)

The epidemiological survey is required for all tourists.
Negative COVID-19 test
A negative RT-PCR COVID-19 test result is required within 72 hours (max) of the trip. So if your flight is on November 30 at 12 PM, you have to take the test after November 27th at 12 PM and show that negative test result to board.
Insurance
As of August 6, the government has changed its requirements regarding travel insurance. Previously, tourists had to purchase insurance through INS, a Costa Rican insurance provider only. Now, tourists have two options to get insurance.
Tourists may purchase a travel insurance policy from INS or Sagicor, two insurances approved by the General Superintendence of Insurance (SUGESE) that covers hospitalizations in a hospital for required time and a minimum of 14 days of lodging
Tourists may use their own international travel insurance as long as it covers the following requirements.
Requirements: The travel insurance must cover a minimum of $50,000 USD for medical expenses in cases of COVID-19 in Costa Rica and a minimum of $2,000 USD for extended lodging expenses due to the pandemic.
The Costa Rican Tourism Institute (ICT) will be in charge of verifying travel insurance for tourists. The ICT will confirm the insurance upon arrival at the airport and it is recommended to get the QR code beforehand. They will have all the details on the visitcostarica.com website.
If the purchased international travel insurance doesn't meet the requirements, the tourist then must purchase travel insurance offered by one of the authorized Costa Rican insurers: INS and Sagicor.
For Those Who Plan to Visit…
If you plan to travel to Costa Rica when the border is open again, please check the recommendations for international travel of your home country. Be respectful of all laws, regulations and rules Costa Rica has put in place whether you agree with it or not as you are a guest in the country. It is a privilege to travel during the pandemic, not a right and we all have to be responsible travelers to protect yourself and others.
Also, here is our post on visiting Costa Rica during the pandemic so you know what the situation is like for tourists. Find out what's open, what's closed, restrictions, etc. in this post.
Costa Rica Repatriation Flights
Citizens and residents only need to complete the epidemiological form and quarantine for 14 days. They don't need to purchase the health insurance or bring proof of the negative test but they must quarantine.
Entry for Costa Rican Residents
Costa Rica has changed their entry requirements to now allow Costa Rican residents who left the country after March 25, 2020 to return.
That means Costa Rican residents can enter from any country via air now and they will be required to quarantine 14 days. If the residents enters from an authorized country, the quarantine requirement is waived as long as they have a negative PCR coronavirus test within 72 hours of the flight and have been in the departing country for at least 14 days without showing symptoms. They also must fulfill the following requirements:
A valid original passport
DIMEX card
Completed health form
Proof of current CAJA payments OR a travel insurance covering COVID-19 for at least a minimum of 22 days. During these 22 days, the resident must complete any missing payments.
If the resident arrives from a non-authorized country or state, they must quarantine for 14 days upon arrival.
Costa Rican Citizens
All citizens flying into Costa Rican have to do a 14 day quarantine. However, this quarantine can be waived if the citizen flies in from one of the authorized countries, has stayed in the authorized country for at least 14 days, shows proof of a negative coronavirus PCR test within 72 of the flight and completes the health form.
Rescheduling Your Trip
If you had to reschedule your trip but not sure for when, the following posts will help you decide.
Orange Alert areas
Currently, Costa Rica is classifying areas as Orange or Yellow Alert areas according to the number of confirmed cases.
Orange Alert Areas are:
San José: Acosta, Alajuelita, Curridabat, Desamparados (except districts of Frailes and San Cristóbal), San José, Santa Ana, Tibás, Vasquez de Coronado
Puntarenas: Montes de Oro, Puntarenas (districts of Barranca, Chacarita, El Roble and Puntarena)
Heredia: Barva, the districts of Heredia (Heredia, Mercedes, San Francisco, Ulloa), San Isidro, San Pablo, Santo Domingo
Alajuela: Alajuela (except Sarapiqui district), Zarcero, Rio Cuarto and district of Pital in San Carlos
Cartago: La Unión
Limón Limón, Matina, Siquirres, Talamanca
Everywhere else is under Yellow Alert.
September Restrictions
August 31 through September 8 will be a transition phase and September 9 through 30th will be the open phase with same restrictions including the driving. Weekend driving hours are now extended to 5 AM to 8 PM. Weekday driving hours are extended to 5 AM to 10 PM. The driving hours are now for the whole country regardless of alert areas.
Transition phase means in the Orange Alert areas, operating businesses with health permits must close except for places like supermarkets, mechanics, hardware stores, restaurants, beauty salons, pharmacies and others on the exception list. In the open phase, most commercial establishments may open in the Orange Alert areas. Additionally, events such as weddings and baby showers up to 30 people maximum are allowed during the open phase. Event halls can host up to 75 people with distancing.
All beaches open 5 AM to 230 PM daily regardless of location. However, the central canton of Limon has decided to close its beaches until Sept 29th (municipal governments can choose to open/close their beaches). In the Caribbean South (Puerto Viejo), beaches are open 5 to 10 AM now. Wildlife Refuge Manzanillo and Cahuita National Park beaches are open 8 AM to 10 AM with limited capacity.
National Parks continue to operate in Yellow and Orange areas throughout the month. All outside, open air activities are allowed. Rental cars are exempt from driving restrictions. Hotels can operate at 100% but only 50% in common areas.
There are no changes for Yellow Alert during open and transition phases as Yellow Alert can operate normally throughout the month.
Mass gathering events such as concerts, casinos and others are not allowed still.
Costa Rica Coronavirus Driving Restrictions
Costa Rica has instated driving restrictions since end of March. Essential workers with a letter from their employer are exempt from driving restrictions. Those driving to/from health services, hotels and airports are exempt. Rental cars are also exempt.
If caught driving outside permitted hours, they issue you a ticket, write demerits on your record and remove your license plates.
Driving Restrictions for Yellow Alert (all September)

Driving in Yellow alert is permitted 5 AM to 10 PM Monday through Friday and 5 AM to 8 PM on Saturday and Sunday with the following restrictions:
Monday – Vehicles with last license plate digit ending in 1 and 2 can't drive.
Tuesday: Vehicles with last license plate digit ending in 3 and 4 can't drive.
Wednesday: Vehicles with last license plate digit ending in 5 and 6 can't drive.
Thursday: Vehicles with last license plate digit ending in 7 and 8 can't drive.
Friday: Vehicles with last license plate digit ending in 9 and 0 can't drive.
Saturday: Vehicles with last license plate digit ending in an even number can't drive
Sunday: Vehicles with last license plate digit ending in an odd number can't drive.
Costa Rica Coronavirus Cases Locations
There are confirmed coronavirus cases in all seven provinces in Costa Rica, the most being in the San Jose province.
Costa Rica has a population of roughly 5.09 million.
Measures Costa Rica Has Taken Against Coronavirus
Costa Rica declared a state of emergency on March 16, 2020.
On March 18, 2020, Costa Rica closed their borders to all foreigners, applying to land, sea and air. Only citizens and residents are allowed to enter.
On August 2, 2020, Costa Rica opened their international borders via air to certain authorized countries.
Costa Rica implemented a 24/7 coronavirus hot line.
Costa Rica created a hospital called CEACO specifically for COVID-19 patients a couple weeks after the first confirmed case.
The government gives a press conferences everyday except Sundays with the Minister of Health reporting new number of cases and giving new information about COVID-19. The president, Carlos Alvarado sometimes joins when he announces major news and regulations (like border closing, etc.).
Is There a Lockdown or Mandatory Quarantine in Costa Rica?
No. Since the beginning, there has never been a country wide lock down in Costa Rica. Costa Rica can't put something like that in place so the government implements driving restrictions, closures and sanitary measures instead. They also stress the importance of staying at home and social distancing.
Police will give tickets for breaking any sanitary restriction.
Where to Get Information About Coronavirus in Costa Rica
Please check the Ministerio de Salud's (ministry of health) website for the latest up to date information about coronavirus in Costa Rica. For news, check Teletica, the main local news channel in Costa Rica. Both in Spanish, so if you need to, you can use Google Translate. They have also created a website specifically for COVID-19 in Costa Rica (covid19.go.cr) including sanitary measures, news and more.
Please only use these credible sites for information (I know it's a little ironic since I'm writing a blog post about it but we only check those sites and we watch the press conference everyday. All information I have gathered on this blog post is straight from the Ministry of Health's website.) For news updates and reports in English, check Tico TImes.
Do You Need to Wear a Mask in Costa Rica?
Yes. Costa Rica requires masks for the general public when inside closed spaces (except at home or in hotel room), in supermarkets, convenience stores, stores, airports, public buses, shuttles, trains, theaters, movie theaters, churches, banks, offices and for all public and commercial workers. You also need to wear a mask inside public buses, taxis and at the bus stop.
Likewise, establishments may prohibit anyone from entering if not wearing a masks. You don't have to wear a mask when walking outside on the street as long as you are 1.8 meters (6 feet) apart from other people but if you are waiting at a bus stop, you do need to wear a mask.
This applies to everyone in Costa Rica, tourist or local.
Face shields are no longer accepted as the only form for indoor protection. If a face shield is worn, a mask must also be worn.
Is Costa Rica Flattening the Curve?
Costa Rica has focused on prevention since the very beginning. Looking at this graph, Costa Rica flattened the curve for the most part for the first wave, preventing the overwhelming of the health care system in the country since the virus entered the country.
In April, Costa Rica saw mostly a daily increase of single digit confirmed cases in Costa Rica. For example, on April 19, Costa Rica received 5 more confirmed cases. On April 27, 2020, Costa Rica received only 2 more confirmed cases. On May 4, 2020, Costa Rica confirmed just 3 more cases.
However, since around mid May, the cases have started going up in great amounts. The highest number of confirmed cases is over 1300. The death rate from mid-end of July has been on average around 7-20 a day and more people are hospitalized and in the ICU everyday. This second wave has been considerably stronger than the first.
What It's Been Like Where We Live
We live in Guanacaste in the Tamarindo area. Since this area depends pretty much purely on tourism for its livelihood and has a huge mix of foreigners and locals, Tamarindo is nothing like it would look like in normal times. However, we are very lucky that this area hasn't had an outbreak or many cases. Our canton, Santa Cruz, has never been in Orange Alert. We feel very fortunate to live somewhere that doesn't have a lot of cases.
Due to the border closure, many businesses closed their doors at the end of March. Now with the opening phases, many businesses have reopened such as restaurants, hotels and stores. We just recently went for lunch at Witch's Rock beach front restaurant and there were many tables. Stores are open and many of them are offering promos to celebrate their reopening.
I went shopping in town on a Friday afternoon and nearly all stores were open. However, 3 out of the 4 stores we visited required us to wear masks (the owner wasn't even wearing a mask) and only 1 offered hand sanitizer. (I wore my mask at all stores and used my own hand sanitizer).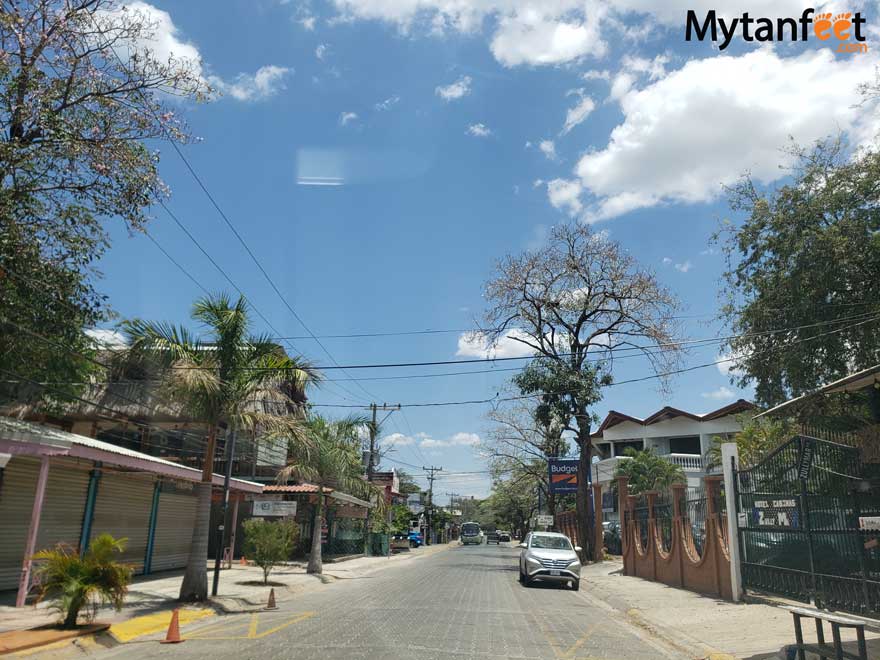 Local Tourism
At night, Tamarindo is getting more lively but is still quiet during the week. We have been to Mercadito, the open air food market a couple times and both times, have been the only guests there. Nowadays, there are many more local tourists thanks to the government's new 3 day weekend law (vacation days for holidays will now be on Monday so that people have 3 day weekends) to promote local tourism. For this reason, the weekends have been especially busy.
That brings in at least a little something for the businesses here which is great. We had two holidays in August and at the beach, it looks like a normal low season day with many surf lessons and visitors. For the local economy here, we're happy to see many city locals vacationing in the Tamarindo area. The only thing is that I would say maybe half the people are wearing masks (mostly the young people are not).
Even though the beach is technically closed at 230 PM, we'll still see people walking on the beach, surfing and playing volleyball. To be honest, the police seems to have stopped trying to kick people off the beach. Social distancing is not really that practiced although it seems people are trying to stay in their bubble (families at least). Young people don't really have much regard for that though.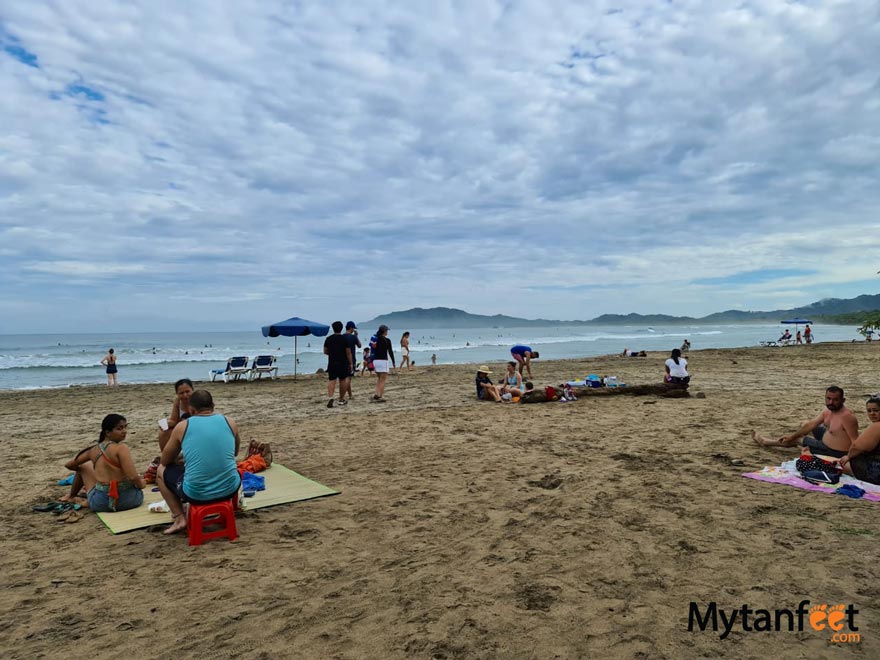 In Villarreal, the small local town outside of Tamarindo, it's very lively. Locals are still out and about, going to work, walking to the supermarket. Social distancing is not well practiced and I would say like 70% of people are wearing masks. You'll see groups of people hanging out and talking on the street corners, friends walking their dogs together or having a beer in the parking lot.
Protests in Costa Rica

There have lately been a few more protests. Mostly, now the protests are from Orange Alert areas for the government to allow them to open more businesses and remove the Orange Alert on their district. Some touristic coastal towns held protests against the government for the high rate of unemployment.
Additionally, there are now small groups of people protesting the government saying "no hay pandemia" (there is no pandemic).
The Impact on Tourism in Costa Rica
As the border closed for almost 5 months, tourism companies have not fared well during that time.
Now that the government is allowing more countries to enter and many more activities and places can open, the tourism sector is up and running again. They are still focusing on local tourism but with some US states allowed to enter, they are hoping for even more movement starting in September.
If you'd like to help the Costa Rican tourism economy, you can do a few things if it's possible in your situation (we know that everyone has been affected greatly by COVID-19 one way or another).
You can postpone/reschedule your trip instead of asking for a refund.
Ask for a partial refund.
Buy gift cards or donate.
We too have been greatly impacted by the border closure since our blog focuses on international tourism. If you'd like to support our blog, an easy way is by purchasing your next Amazon order through our Amazon affiliate link. We receive a small commission if you purchase through our link at no extra cost to you. Thank you 🙂
What Have We Been Up To?
Since end of March, Yeison and I have been staying at home as much as possible. It's been very quiet for us with no tourists but we are making the best out of the situation. We are healthy which is the most important thing. Our dogs have been very happy as now we're taking them out way more than usual for walks and car rides. We have also been gardening a lot, surfing and working on some home DIY projects.
However, we are being even more extra cautious now that there are much more cases throughout the country. We were hoping to do some local travel but the rainy season has been very strong this year and with the rising number of cases in San Jose, we have postponed those. So since March, Yeison and I have been exploring our backyard and hunkering down in our home with our two dogs, surfing, cooking and of course, working hard on the blog. Hopefully when the weather gets better, we'll start going out in Costa Rica again (safely and responsibly).
Let's All Do Our Part to Stay Safe and Healthy
Wherever you are in the world, let's all do our part to stay safe and healthy. We hope to see you in Costa Rica when travel reopens and the world has healed itself.
Official Costa Rican Ministry of Health COVID-19 Chart
The following infographic from the Costa Rican Ministry of Health updates automatically when they release the daily information.