Arenal and Monteverde are two of the most popular destinations in Costa Rica but visitors are often confused as to which one to visit as they seem similar. These are the questions we get all the time about Arenal and Monteverde.
Should I visit Monteverde or Arenal? Is Monteverde worth it? What's the difference between Monteverde and Arenal?
In this post, I'll explain the differences between the two, a estimated budget, top things to do and other details to help you decide which one to visit.
And if you can, we highly recommend visiting both!
Monteverde or Arenal? A Detailed Look
At a glance, here are the reasons why to visit Monteverde or Arenal. Below we will go into detail.
Monteverde: Better birdwatching, better hiking, less touristic, requires a 4×4, cheaper, unique cloud forests, more extreme ziplining, hanging bridges, limited lodging options.
Arenal: More luxury hotels, more mammals and reptiles, more touristic, doesn't require a 4×4, more adventure, hot springs, easier to get to.
When it comes down to it, both offer excellent outdoor adventure and experiences and are great destinations for first time Costa Rica travelers.
Location of Monteverde and Arenal
Here is a map with the locations of both places.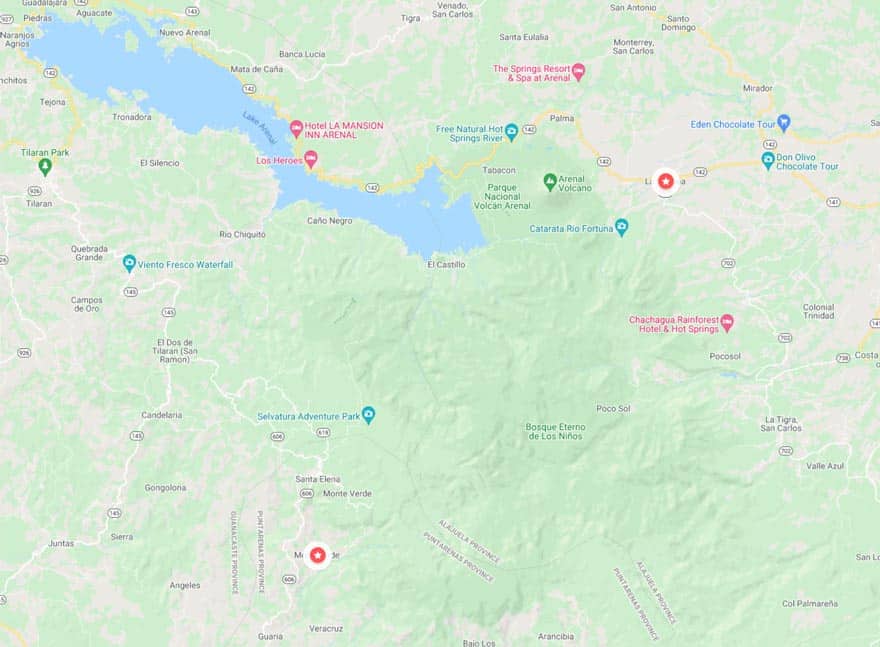 Monteverde
Monteverde sits in the Tilaran mountain rage, about 1300 meters (~4000 feet) in elevation. As of Augsut 2021, it is now officialyl it's own canton.
Santa Elena is the main town and tourism hub in Monteverde. It is where the bus station, banks, restaurants, hostels and tour operator offices are located.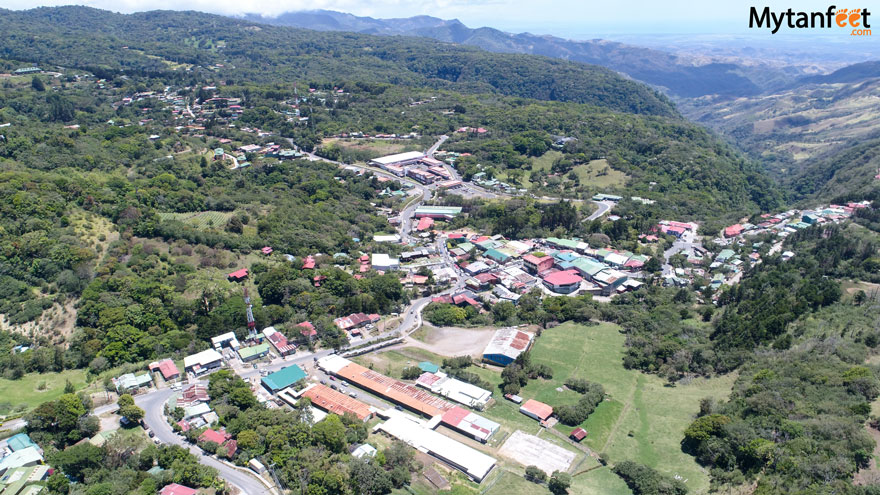 Monteverde is most famous for cloud forests, birdwatching and ziplining.
Arenal
Arenal is what majority tourists call the area of Arenal Volcano and La Fortuna. La Fortuna is the main tourism hub and town, just 20 minutes away from the famous Arenal Volcano.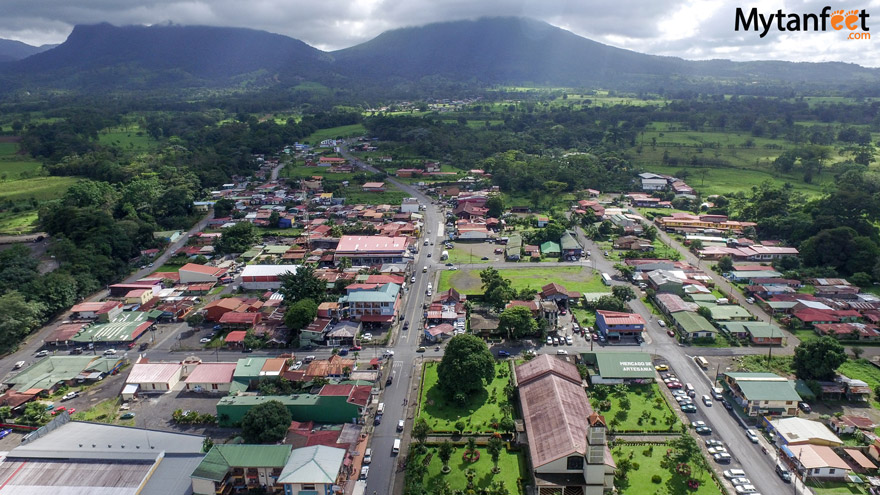 This area is known as the Northern Lowlands. Elevation at La Fortuna is around 200 meters (650 feet).
Driving Times from the Airport
Both Monteverde and Arenal are about a 3-3.5 hour drive from the Liberia (Guanacaste) International Airport and the San Jose International Airport.
Road Conditions
Monteverde
The roads in and around Monteverde are not in the best shape and not as good as the roads to Arenal. For the most comfort and safety, you should rent a 4×4 or 4wd for Monteverde.
There are a few ways to get to Monteverde from San Jose and Liberia. The two main routes are Route 145 (Las Juntas) which is closer to Guanacaste and Route 606 (Sardinal) closer to San Jose. Both roads are steep, curvy and narrow.
You can check our Monteverde road conditions post for photos and information on both.
There is one paved road through Santa Elena town but all roads to the cloud forest, wildlife reserves and outside the center of town are unpaved and have lots of potholes.
Arenal
Arenal has for the most part, all paved roads. The only unpaved roads are to the national park and some hotels but it is nothing bad. You do not need a 4×4 or4wd for Arenal.
You can see what the route from Guanacaste to Arenal and San Jose to Arenal is like in our post.
Renting a car for your Costa Rica trip? Get our car rental discount!
How to Get There
Monteverde
You can drive, take a shuttle or a public bus to Monteverde. Monteverde does not have a local airport or car rental offices so you need to rent your car before Monteverde or pay a hefty delivery charge (~$175-200) from the closest office which is in La Fortuna.
Shuttle: Shared shuttles from San Jose and Liberia are around $59 USD per person. Private shuttles are around $200-250 USD for 1-4 people from San Jose and Liberia.
Bus: There are direct buses from San Jose to Monteverde, leaving at 6:30 AM and 2:30 PM from Transportes Tilaran bus station, 12 Ave 7-9. It takes about 5 hours and costs 2,680 colones.
From Liberia, you will need to take a bus from Liberia to Canas, Canas to Tilaran, Tilaran to Monteverde. The bus from Liberia to Canas takes 2 hours and there is one every half an hour from 8:30 – 3 PM. The bus from Canas to Tilaran leave at 6, 730, 815, 9, 1030, 12, 1 PM, 1:50 PM, 2:35 PM, 3:15 PM, 4PM and 6 PM. From Tilaran to Monteverde there are buses at 4 AM, 8:30 AM, 12:30 PM and 5 PM for 1500 colones.
Arenal
You can drive, fly, take a shuttle or the public bus to Arenal.
Shuttle: Shared shuttles from San Jose and Liberia are around $59 USD per person. Private shuttles are around $220 USD for 1-6 people from both San Jose and Liberia.
Public Bus: There is a bus from San Jose to Arenal at 6:15 AM, 8:40 AM and 11:30 AM leaving from Ave 7-9, calle 12 with San Carlos Auto Transportes, it costs around 2,500 colones and takes 4 hours. From Liberia, you will need to take the bus to Cañas, Tilaran and then to La Fortuna.
Flying: Book a local flight to fly to the La Fortuna airport. A one way ticket from San Jose to Fortuna is around $80 USD per passenger depending on the season.
Interconnections
You can also book some tours as an interconnection. For example, the company we work with for the Pacuare white water rafting tours offer transportation from San Jose, La Fortuna and Puerto Viejo.
So that means you can get picked up in one place and get dropped off in one of the other three destinations. Instead of sitting on a bus all day, why not get picked up in San Jose, go white water rafting and then get dropped off in La Fortuna! Book your Pacuare rafting tour and get a discount here!
La Fortuna to Monteverde by Car and Vice Versa
You can drive from Arenal to Monteverde and vice versa. This road is mostly gravel with some paved sections. In rainy season, it can have a lot of pot holes.
La Fortuna to Monteverde Jeep Boat Taxi
A fun way to get from La Fortuna to Monteverde and vice versa is by the taxi-boat-taxi. You will get picked at your hotel, take a 2 hour boat ride across Lake Arenal and get dropped off at your hotel. This costs around $60 USD per person and takes 3 hours. They have one in the morning and in the afternoon. Contact us to book your taxi boat taxi from La Fortuna – Monteverde or vice versa.
Weather
Monteverde
Since Monteverde is in high elevation, it is much colder and rains often. It does experience the dry and rainy season though. Dry season is about December – April and rainy is May to November. However, it can still rain during dry season!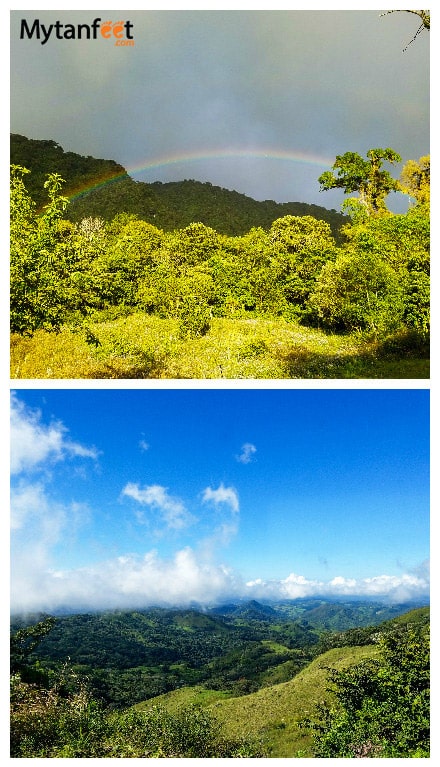 Monteverde average temperature is around 25 Celsius (77 F) in the dry season during the day. At night, it goes down to around 16-8 C (60 F). In rainy season, the average temperature is around 22 Celsius (low 70s) during the day. It can get chilly at night if it's raining hard and windy. It is very normal in the dry season to get light sprinkles in the morning and afternoons.
Arenal
Arenal is hotter, more humid and experiences typical dry and rainy climate. Average daytime temperature in dry season are around 29 C (84 F). The hottest months are March and April.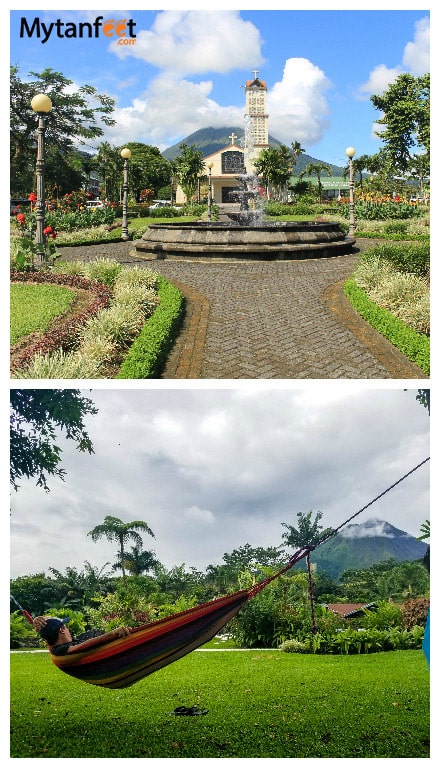 It can rain very hard in La Fortuna during rainy season, especially September and October. The temperature doesn't vary too much between dry and rainy season in Arenal.
What to Bring
Monteverde
Long pants, a sweater and rain jacket are necessary for Monteverde, no matter what time of year you visit. Closed toed hiking shoes are also highly recommended. There are many clothing stores in Santa Elena if you forgot a jacket.
Arenal
For dry season, you can wear shorts and short sleeve shirts. A rain jacket and waterproof backpack are necessary for rainy season. You will need to bring sunscreen and mosquito repellent for Arenal.
Hiking sandals are the best for Arenal since those shoes are great for activities such as ziplining, hiking, rafting, hanging bridges, etc.
For more in-depth tips, check out our Costa Rica packing list.
Personal tip: We always bring our waterproof backpacks and a rainjacket shell for both destinations no matter the time of year.
Type of Forest
Monteverde
Monteverde has tropical cloud forests due to the high elevation. This type of forest is characterized by persistent cloud cover, normally at canopy level. They are extremely vulnerable to climate change and it is said that cloud forests will disappear. Costa Rica is one of the countries in the world that still has healthy protected cloud forests.
Monteverde has 3 cloud forest reserves: Monteverde Cloud Forest Biological Reserve, Santa Elena Cloud Forest Reserve and the Children's Eternal Rain Forest. Not sure which one to visit? Check our guide to the Monteverde Cloud Forests.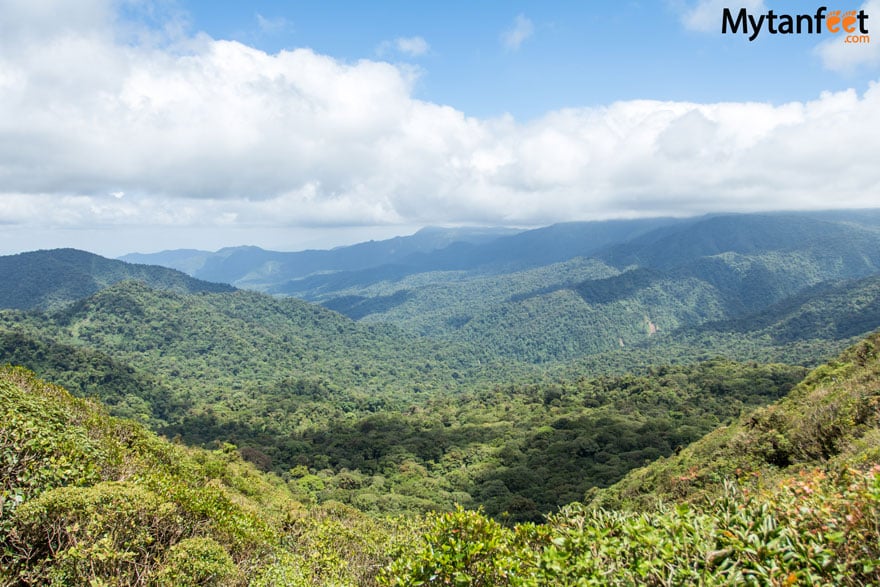 Cloud forests are incredibly important because they are home to many birds and plants that are only found in this type of ecosystem. Monteverde has been named one of the best places in the world to see the Resplendant Quetzal because of the abundance of protected cloud forest.
Arenal
Arenal has both tropical primary and secondary rain forest.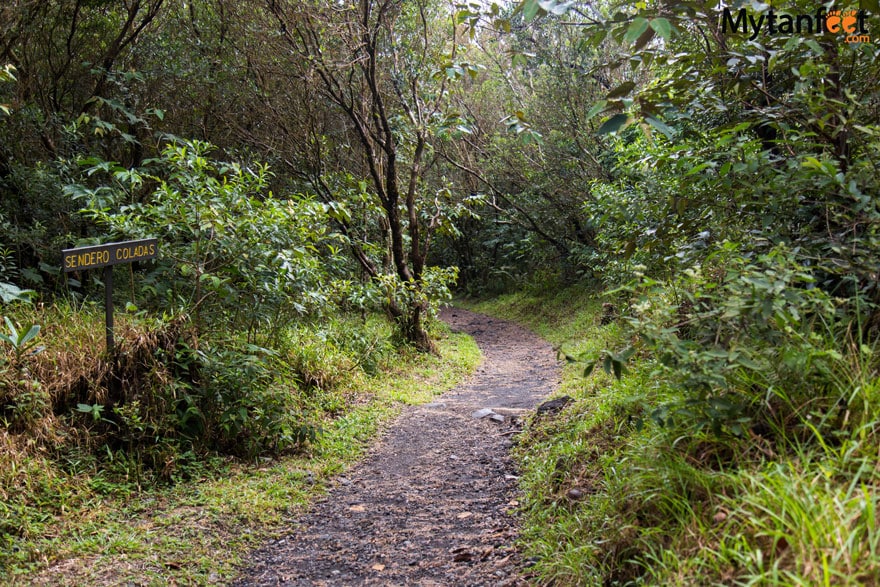 Most of the forest in the national park is restored secondary forest as it was destroyed by the 1968 eruption.
Tourist Services
Monteverde
Though smaller, Monteverde has everything for tourists except car rental companies and a local airport. Since roads are not paved and it is still considered a rural part of Costa Rica, it has not developed too much beyond that.
Arenal
Arenal is one of the most visited places in Costa Rica and it has everything. Though this area is very touristy, majority of the businesses in this area are owned by Costa Ricans and you can still get a good feel of a local town.
Estimated Cost for Visiting
Monteverde
You can travel cheap in Monteverde. There are many hostels and the bus is easily accessible. A bed in a dorm is around $15 USD a night and there are more cheap eats in downtown. A luxury hotel room can cost around $300 USD a night for two people.
The most expensive thing about Monteverde is the adventure park passes. The passes can run up to $190 USD per adult for an all day combo tour. Entrance fees to the cloud forests are around $25 USD per person.
If you're on a budget, make sure to read our post "5 free things to do in Monteverde" for free spots!
Arenal
Arenal can be a lot more expensive. It has everything from $10 USD a night per bed to $850 USD a night for 2 people! So how much you spend depends on what kind of vacation you are looking for.
As for tours, guided tours run from $45-289 USD per person. Since there are more things to do in Arenal, you'll most likely be booking more tours. There are some free spots though and cheap activities such as the free swimming holes in La Fortuna.
Things to do/Top Attractions
Monteverde
Ziplining: Monteverde is famous for their ziplining. The best ones are SkyTrek and Selvatura Park as those are the only two that actually go over the cloud forest. Xtremo and 100% Aventura have more extreme ziplines with tarzan swing and bungee jumping.
Monteverde does not have as many ziplining tours as Arenal but the ones they have are more extreme.
Hiking: The cloud forests were nominated as one of the wonders of Costa Rica and is a must do. The most popular cloud forest hikes are in the Monteverde and Santa Elena Cloud Forest Reserves.
Birdwatching: Named as the best place in the world to see Resplendant Quezals, this is a must for bird lovers. During the months of February – Julyish, it is common to see Quetzals in one tree as it is their mating season. Visit Curi-Cancha Wildlife Refuge for the best birding.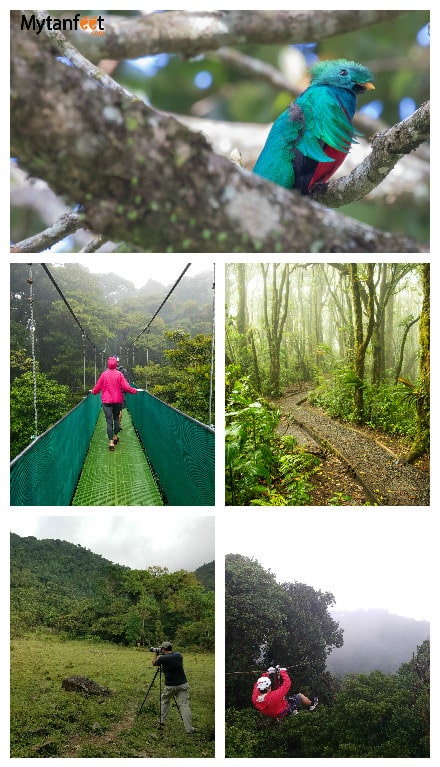 You can read about other things to do in Monteverde here.
Arenal
Ziplining: Our favorite ziplining tour is Sky Adventures in Arenal. You get an amazing view of the volcano, lake and rain forest! Another fun one is Arenal Mundo Aventura as their zipline tour goes over La Fortuna waterfall. La Fortuna has many more ziplining tours of various levels than Monteverde.
Canyoning: Canyoning in Arenal is the best because you go deep into the rain forest. The water temperature is not that cold.
Hot springs: Take a dip in the natural volcanic water in the many hot spring facilities in Arenal. You can read about the various Arenal hot springs here.
Arenal Volcano National Park: Hike the lava trails in the national park to see the remnants of the 1968 eruption and views of the volcano and lake.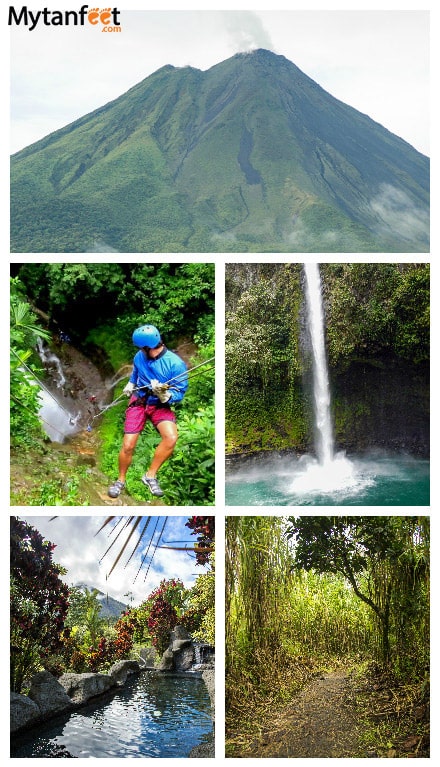 Since Arenal has more activities with the lake, rain forest and volcano, there are so many fun things to do nearby. We personally love the Rio Frio safari float, La Fortuna waterfall and hanging bridges. Read more about our favorite things to do in Arenal here.
We also have a discount for tours in La Fortuna! Get the La Fortuna tour discount here.
Wildlife
Monteverde
Monteverde is best for bird watching. There are mammals in Monteverde but less than Arenal due to the colder climate. For example, only 2-fingered sloths live in Monteverde, no 3-fingered sloths.
For birding, there are a lot of unique birds in Monteverde that only live in high elevations.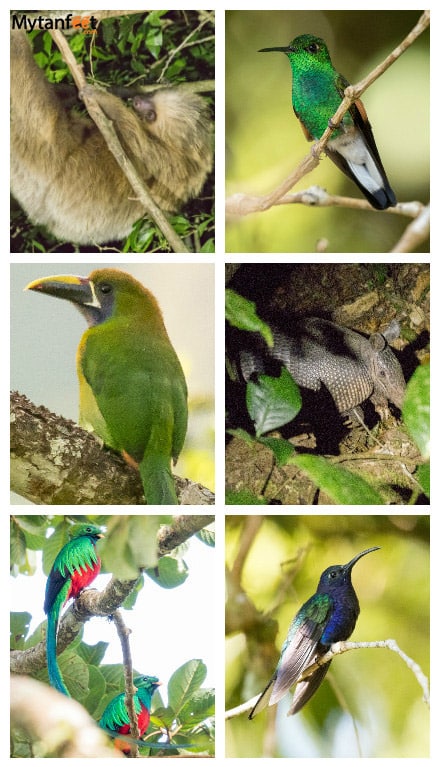 There are also less snakes and frogs in Monteverde because of the colder climate.
Arenal
Since Arenal is lower in elevation, has rain forest and is more humid, you will find more mammals, birds and amphibians.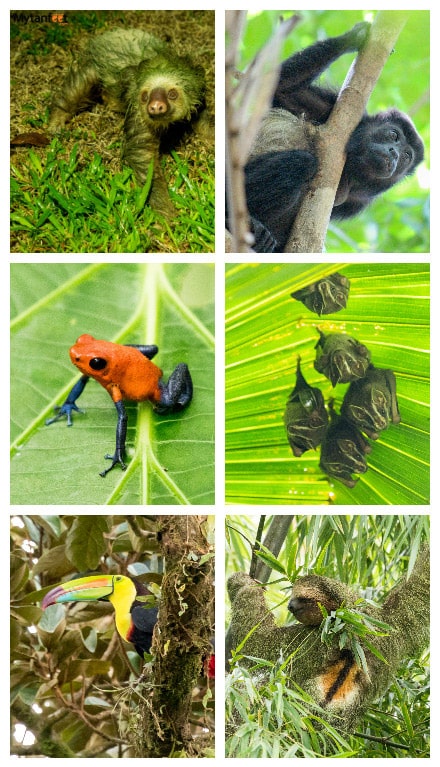 In the national park and hanging bridges, you can see more frogs, pit viper snakes.
Hotels
Monteverde
Monteverde has around 50+ hotels in the area with more rustic lodges, country inns and family run B&Bs. You will find just a few luxury hotels in Monteverde.
Some of the nicer hotels are Hotel Belmar, Monteverde Lodge & Gardens, Senda Monteverde, the El Establo Hotel and Hotel Poco a Poco. For budget, there are a bunch of hostels in Santa Elena town for cheap lodging like Selina Monteverde, Sleepers Sleep and Pension Santa Elena.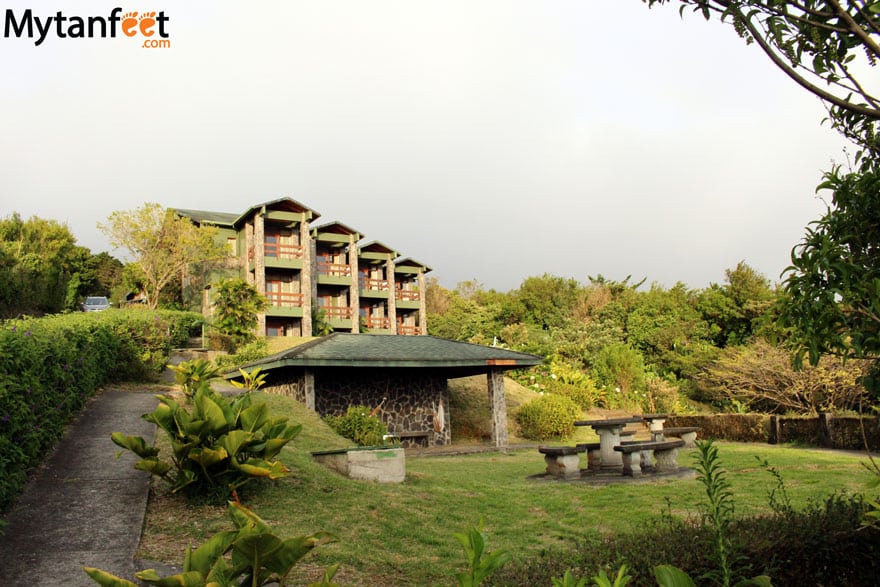 Monteverde hotels are generally cheaper than the La Fortuna hotels. There are also many Airbnbs and vacation rentals.
Arenal
Arenal has around 100 hotels in the entire area. With some of the most luxurious hotels in Costa Rica, it's perfect for luxury travelers or honeymooners.
The most high end hotels in this area are the Springs Resort, Tabacon, Nayara and Kioro which are anywhere from $300-900 USD a night. Many of these luxury hotels around the volcano are tailored towards romantic getaways.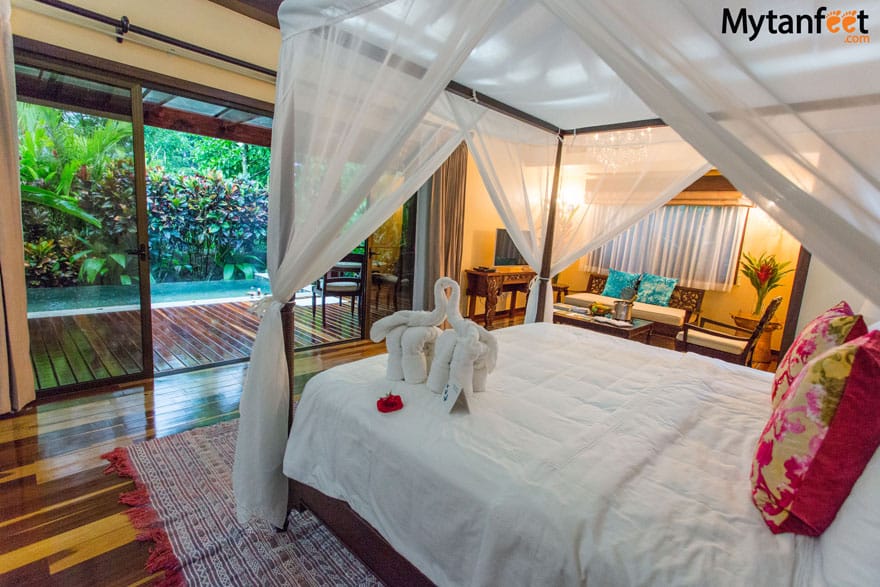 Then there are cheap hostels in La Fortuna town like Selina La Fortuna or Arenal Container Hostel. Around the Arenal Volcano, you'll find mid to high range hotels.
If you're on a strict budget, pick a hotel in La Fortuna town as those are cheaper. Some good ones are Hotel Las Colinas and Secreto La Fortuna.
You can also find lodges in Arenal. Our favorite is the Arenal Observatory Lodge which is the closest hotel to the volcano.
Additionally, there are many vacation rentals and Airbnbs in the area.
Food
Both Monteverde and La Fortuna have excellent restaurants. La Fortuna definitely has more variety, Monteverde has better coffee. You can find cheap eats and fine dining in both places.
Sample Itinerary
Typically, people spend 1-2 nights in Monteverde and 2-3 nights in La Fortuna. This is simply because Arenal is a bigger area and has more things to do. Most people go to Arenal first and then make their way to Monteverde. You can check out our 5 day Monteverde and Arenal itinerary here for more ideas.
Day 1-4: Arenal
Spend 3 days in La Fortuna, embarking on various adventures, seeing wildlife and enjoying the hot springs. Since many activities are half day activities, take advantage of your time in La Fortuna to experience as much as possible. An idea for activities can be like this:
Day 1: Canyoning in the morning, safari float in the afternoon.
Day 2: Relax at the hotel or check out La Fortuna town. Hot springs at night.
Day 3: Hanging bridges, La Fortuna waterfall, Volcano hike.
Day 5 and 6: Monteverde
If you have only one full day in Monteverde, most people go to the parks to do ziplining, hanging bridges or horseback riding. For us, the perfect way to experience Monteverde is do to a birdwatching guided tour at Curi Cancha Reserve in the morning and hike Santa Elena Cloud Forest in the afternoon.
Then if you want the best of Monteverde in one day, Selvatura Park is the best! Get the all day pass to zipline, walk their hanging bridges, visit their hummingbird garden, learn about sloths and see the reptiles.
Who Should Visit?
Monteverde
If you love birds, hiking and cool weather, Monteverde is for you.
But keep in mind that you will probably need a 4×4 or 4wd which is more expensive to rent. So if you're on a budget, consider taking a shared shuttle/bus and do the taxi-boat-taxi from Arenal instead.
Although some people don't have the time to visit both, Monteverde is absolutely worth it, even for two nights. The cloud forests are incredibly unique and may disappear in this century so it's worth making the trip to see the cloud forests. Monteverde is popular with Europeans, Asians, birders, seniors, school groups and backpackers.
Arenal
If you're looking for a romance and luxury, Arenal is the better choice. If you love adventure and don't mind touristic destinations, then Arenal is also the better choice. Arenal is also better for families since there are more accommodation options, more amenities and family friendly activities.
Arenal is popular with Americans and Canadians and you will see lots of school groups in La Fortuna.
Thanks to its easy access and very good tourist infrastructure, Arenal is one of the best places for first time visitors to Costa Rica. You'll find it on nearly the planned tour groups.
Looking for itineraries that have Arenal and Monteverde? Check these out!
2 week Costa Rica itinerary Caribbean and Pacific: Visits Tortuguero, Arenal, Monteverde and Guanacaste.
Two week Costa Ricaitinerary: Visits Arenal, Monteverde, Santa Teresa and Playas del Coco
This post has affiliate links.