When the sun goes down, the jungles of Costa Rica awakens with the creatures of the night beginning their day. Many tropical animals are nocturnal and one of the best ways to experience the Costa Rican rainforest to its fullest is to take a night walk.
A guided night walk in Costa Rica will allow you to observe these night time creatures as they go about their day in the dark. We did a night walk in La Fortuna where we saw a handful of these animals. You can read more about it below!
La Fortuna Night Walk
We did the night walk with a tour operator who has their own private forest reserve outside of town. The property has very nice trails, gardens, ponds and a small outdoor eating area as they offer snacks and refreshments after the walk.
Interested in doing this night walk? Book it with our tour discount here!
The tour also included roundtrip transportation, flashlights and a bilingual guide.
As soon as we arrived at the property, our guide, Jairo, gave us our flashlights and explained to us what the night walk will be like. He warned us not to touch anything and to always follow him because there are creatures like snakes and spiders out there in the forest we don't want to inadvertently run our hands over or step on!
As soon as his talk was over, we set off into the forest. I was so excited! I would never explore the jungle on my own in the dark and I couldn't wait to see what we would find!
La Fortuna/Arenal Night Walk Animals
As La Fortuna is in the Northern Lowlands full of primary and secondary rainforest, the animals we could see were mostly snakes, frogs, insects and arachnids. I was especially looking forward to seeing frogs which I love.
We've had Jairo as a guide for many other tours before such as the Mistico Hanging Bridges, Arenal Volcano 1968 and the La Fortuna waterfall and he is hands down one of the best guides we know. Although he was disappointed that we didn't see any snakes, we were plenty happy with the animals we did see that night which were many frogs, insects and a really cool reptile called Helmeted Basilisk.
We had never seen one of those before so it was very cool to see as it was perching on a branch right above our heads!
Here are some photos of the animals we saw. I didn't take too many but we got a lot of video footage so I recommend to watch the video below 🙂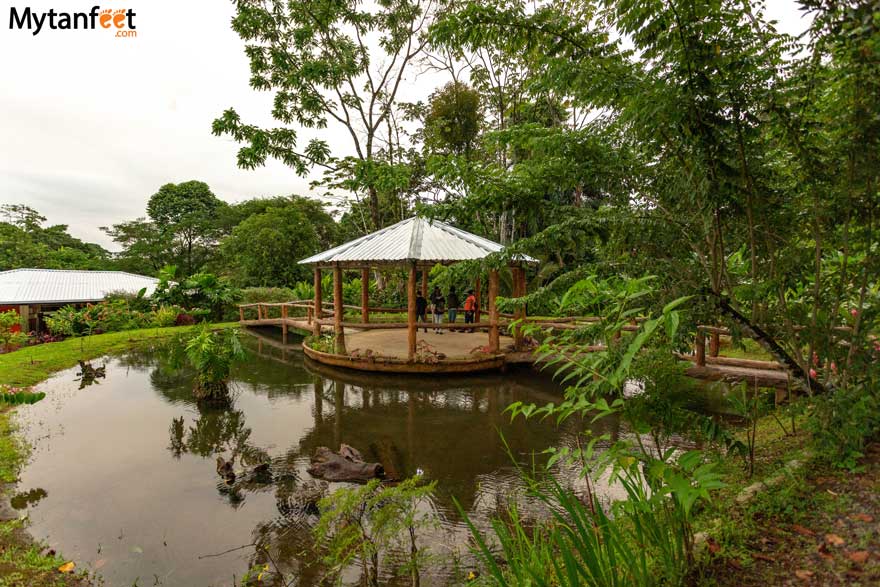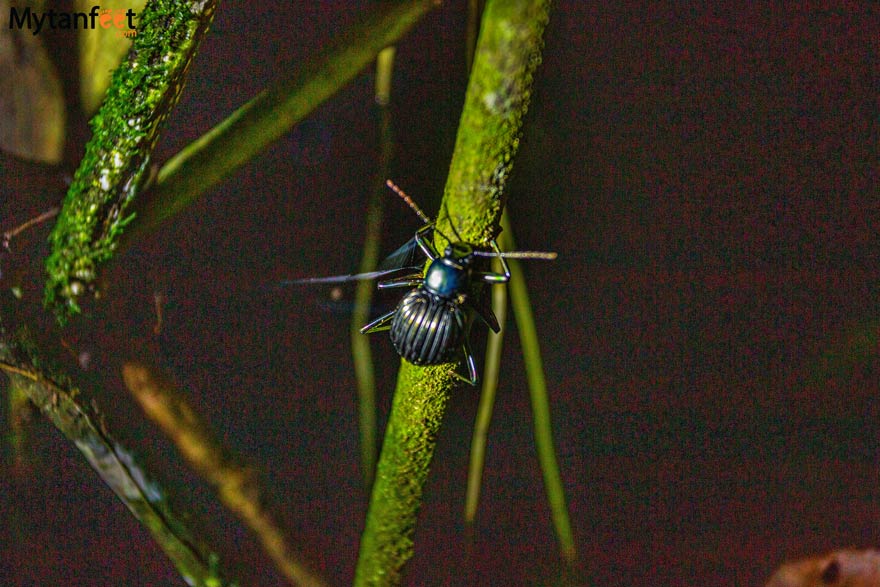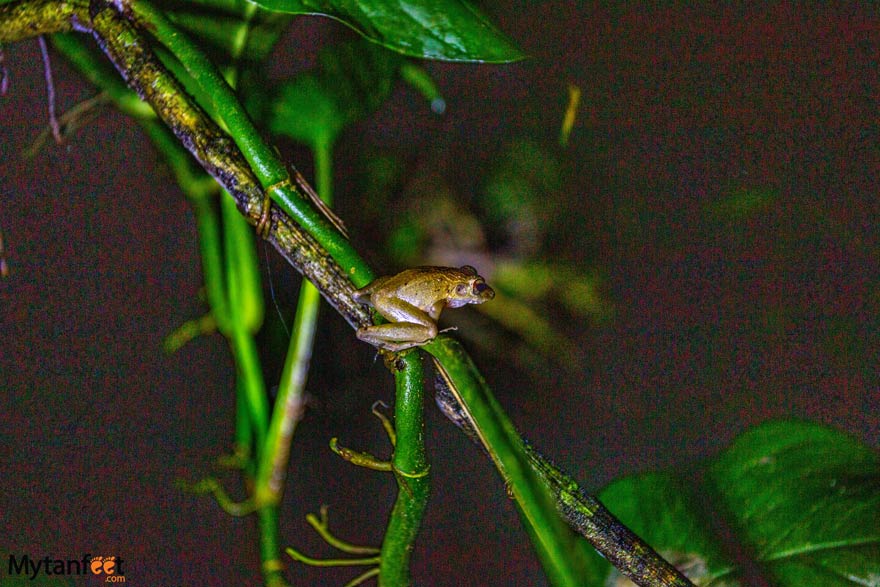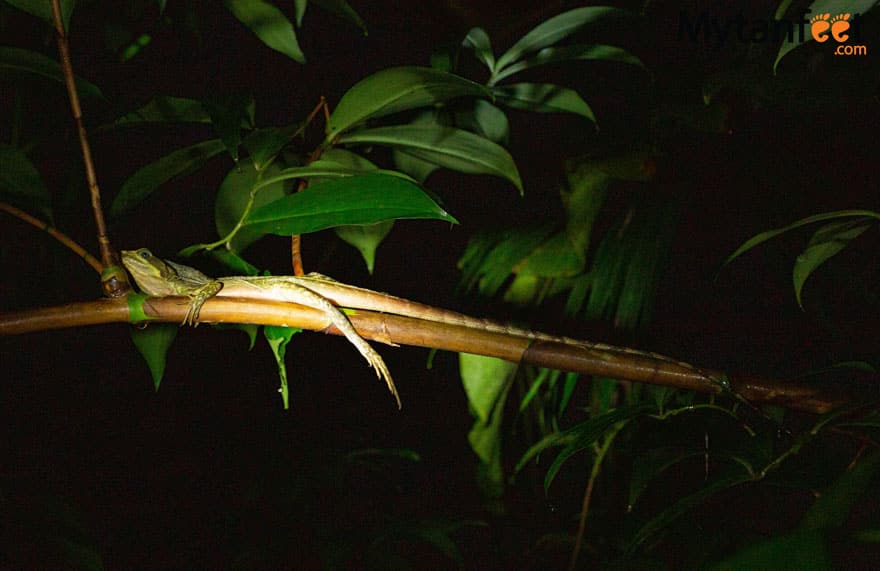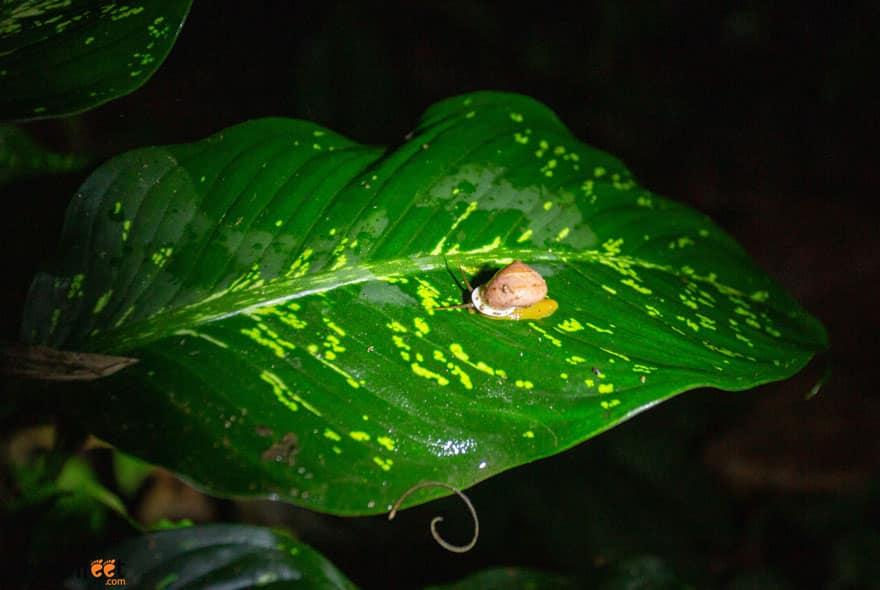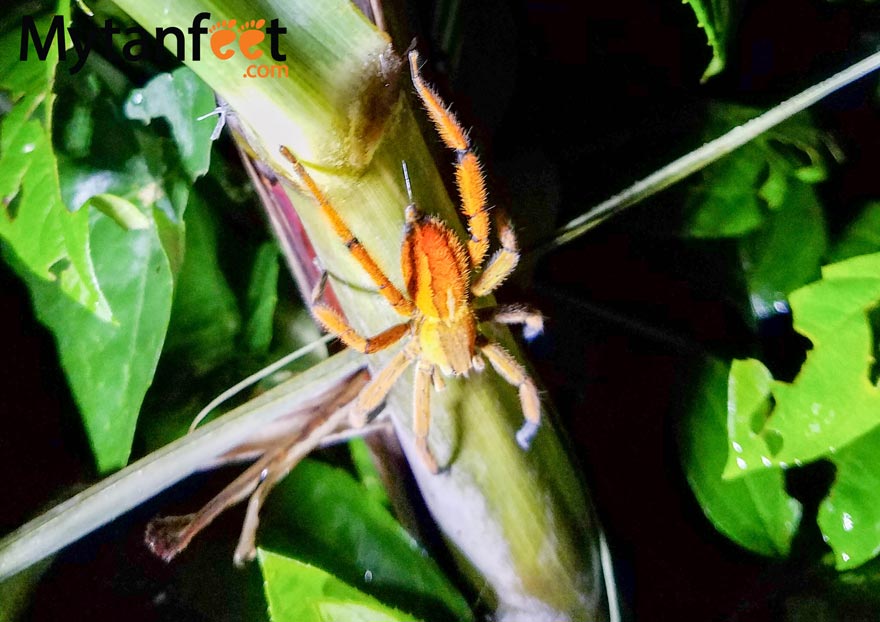 Video of the Arenal Night Walk Tour
Here is our short video.
We've done several nights walks in Costa Rica and the night walk in La Fortuna is a great one. Jairo is an excellent guide and we loved that he not only wanted to show us the animals, but he shared with us information about each one and their role in the ecosystem as he likes to emphasis on conservation and the importance of preservation of the rainforest.
Although our entire group adults, a night walk in La Fortuna would be an excellent activity for families in Costa Rica, especially with kids who love animals. This is a wonderful opportunity for the kids to learn more about nature, animals and rainforests and why protecting nature is so important. Plus they'll get to see neat creatures like spiders, grasshoppers, walking sticks and other critters up close!
La Fortuna Night Walk Cost and Details
The cost of this La Fortuna night walk is $61 USD per adult and $52 USD per children up to 12 years of age. It includes roundtrip transportation, bilingual guide, flashlights and juice, coffee and snacks.
You will get picked up around 430 PM and return around 8 PM. The walk is a couple of hours long total but is an easy walk on a flat path. Closed toed shoes only, long pants and shirt recommended because there are a lot of mosquitoes.
Sample Itineraries Including the Arenal Night Walk
Since the night walk starts around 430 PM, you can definitely do other activities during the day.
For a full day of nature, wildlife and hiking, you can visit Mistico Hanging Bridges in the morning, have lunch afterwards, do a sloth and bird watching tour after lunch and then do the night walk.
Nature and wildlife: Safari float in the morning, lunch, rest and then night walk.
For a combination of adventure and wildlife, you can go ziplining or canyoning in the morning, have lunch, rest at your hotel and then go on the night walk.
If you want to do any of these tours, we have a La Fortuna tours discount which you can get here!