If you're looking for a cozy, upscale and romantic lodge in Costa Rica, then you need to stay at El Silencio Lodge and Spa in Bajos del Toro. This gorgeous cloud forest lodge is perfect for honeymooners, couples and families, looking for a unique experience in a remote part of the country. Read our review to find out why we highly recommend this eco-lodge and why we loved it so much!
Location
El Silencio Lodge is 64 kilometers (40 miles) and a 2 hour drive from San Jose. It is located in the town of Bajos del Toro which is over 1000 meters (3000 feet) in elevation. The surrounding forests of Bajos del Toro is known as the cloud forest.
Property
El Silencio Lodge and Spa sits deep up in the cloud forest in the province of Alajuela next to Poas Volcano National Park and Juan Castro Blanco National Park. The secluded 500 acre property offers spectacular cloud forest and mountain views, providing the best setting for an eco-luxury lodge.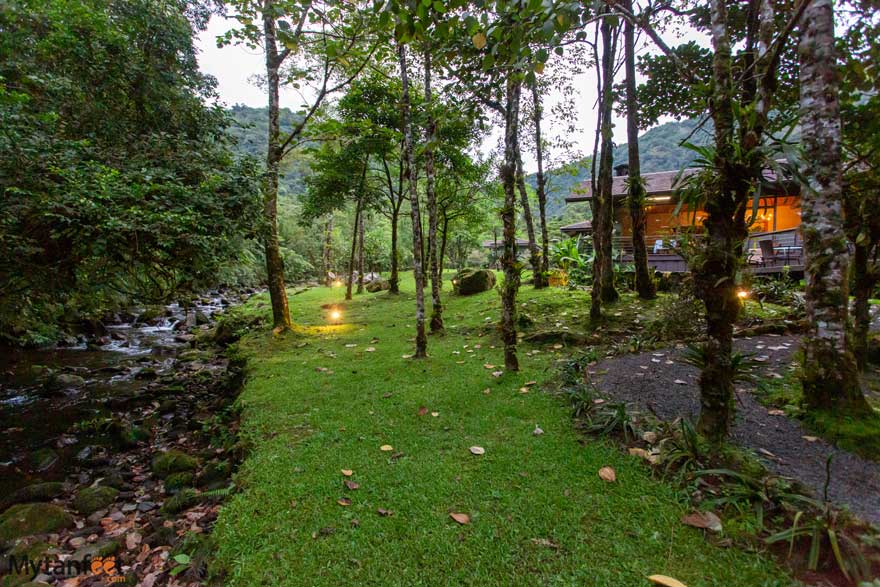 In addition to the lobby, restaurant, spa and rooms, they also have a trout pond, zipline, yoga retreats, horse ranch, trails and 3 waterfalls. We walked the waterfall trails which was one of the highlights of our stay at El Silencio Lodge.
El Silencio Waterfalls Trails

The on-site trail takes about 1 hour to finish and is on a well maintained path with viewpoints at 3 different waterfalls.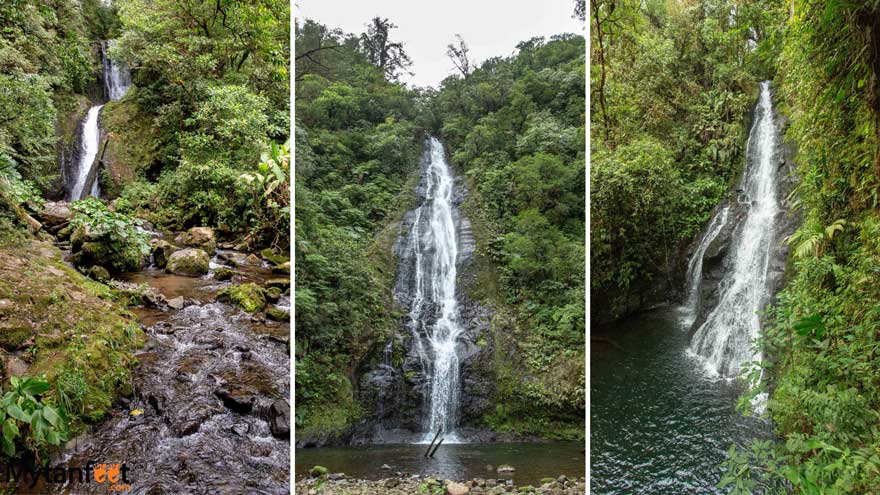 You can swim in the waterfall in the middle, the other two waterfalls don't offer access, only observation platforms. It's a bit cold but very refreshing on a hot day!
Rooms
We stayed in a 2 bedroom suite which had a terrace, outdoor Jacuzzi, king bed in master bedroom, two queens in second room and large bathroom. It was more than enough room for 2 people and would be perfect for a family or a group of friends.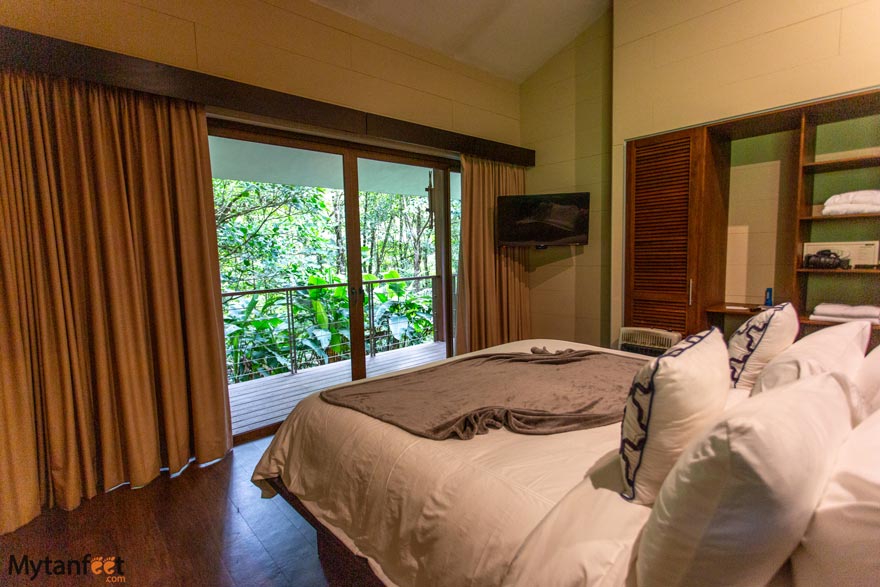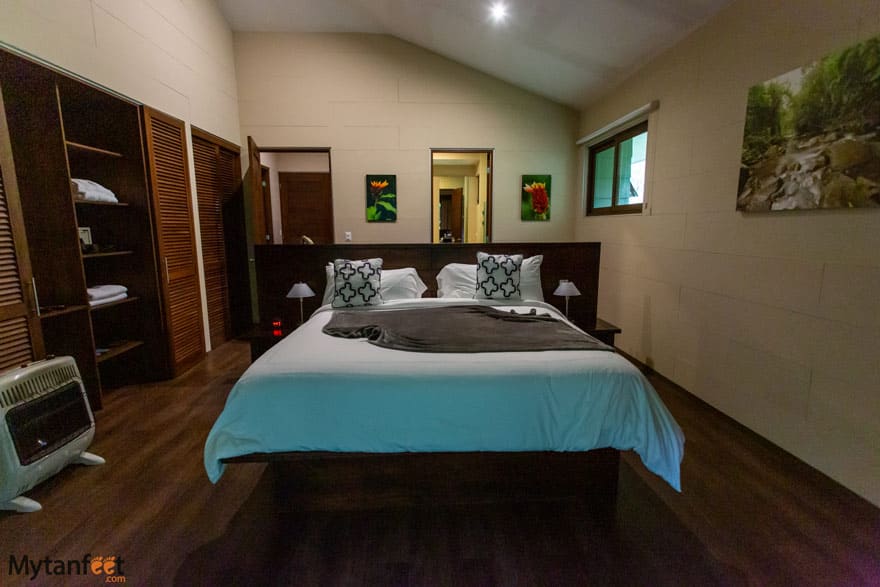 The master bedroom looks out into a beautiful garden with the river right below so if you open the doors, you can hear the sounds of the river running. The outdoor whirlpool offers a relaxing experience with a view of the cloud forest.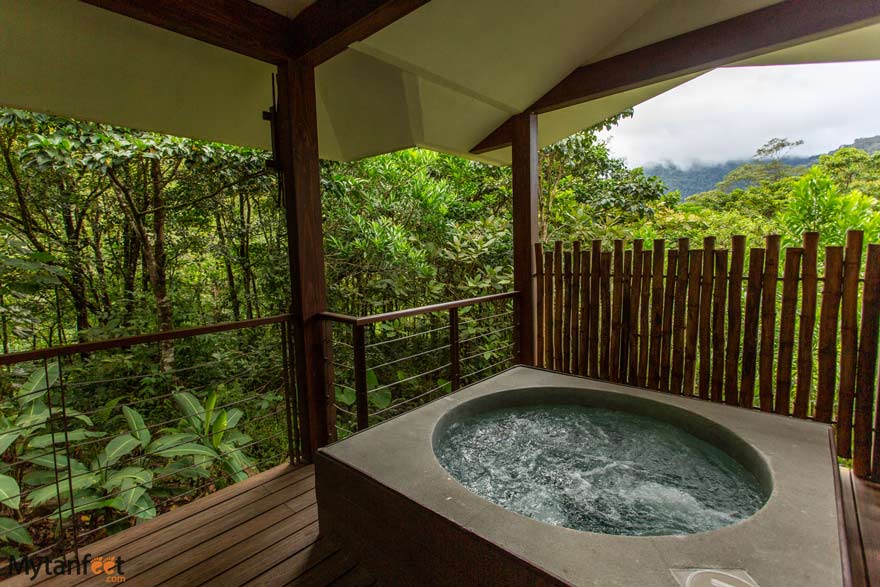 Some extra complimentary features they offer are nightly turn down service and a morning juice. We've never stayed at another hotel in Costa Rica that had the morning juice service! The juice was different every morning and it came with a little note which was very sweet.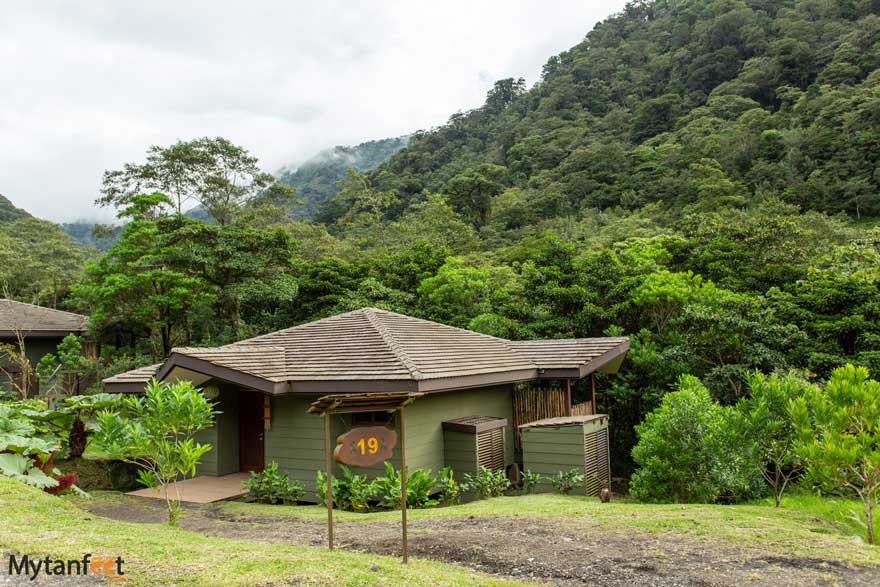 Our suite was a little ways away from the main building and restaurant, about a 8 minute walk. They also have one bedroom suites and two bedroom villas, all built and designed with intimacy, privacy and tranquility in mind.
Food and Restaurant

El Silencio has a full service restaurant with breakfast, lunch, dinner. We ate there for each meal and it was excellent with plenty of vegetarian and healthy options. Their breakfast buffet was one of the best we had in Costa Rica! It changed every morning which was very nice.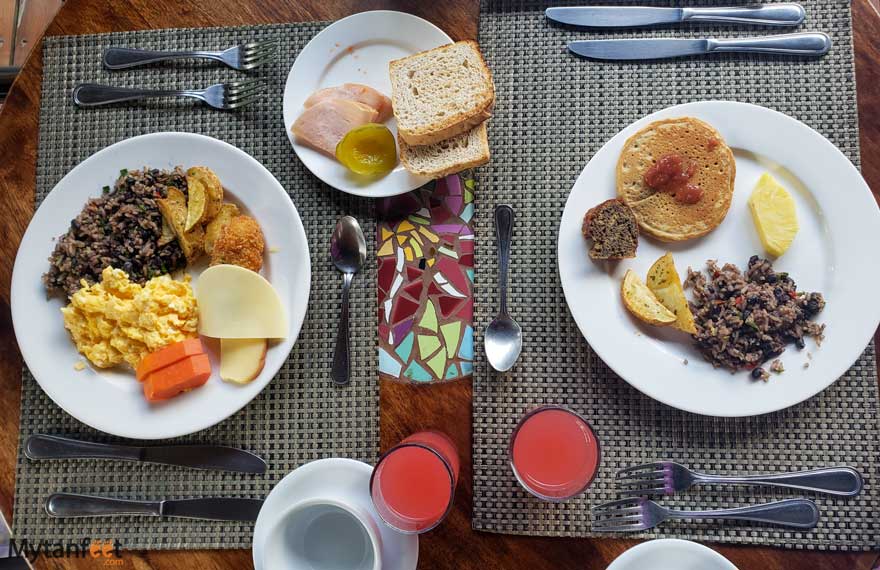 If you're there with your special someone and want a romantic night, they can set up a private candlelight dinner by the river. The dining area has its own covered seating with a view of the river. Super romantic to celebrate a birthday or anniversary, or just an intimate dinner.
Although their food was excellent, the waiters were the cherry on top of the cake when it came to the dining experience. They were all super nice and funny and you could tell how much they enjoyed working there. They also gave us great recommendations as to what to order and which ingredients were the freshest for that day.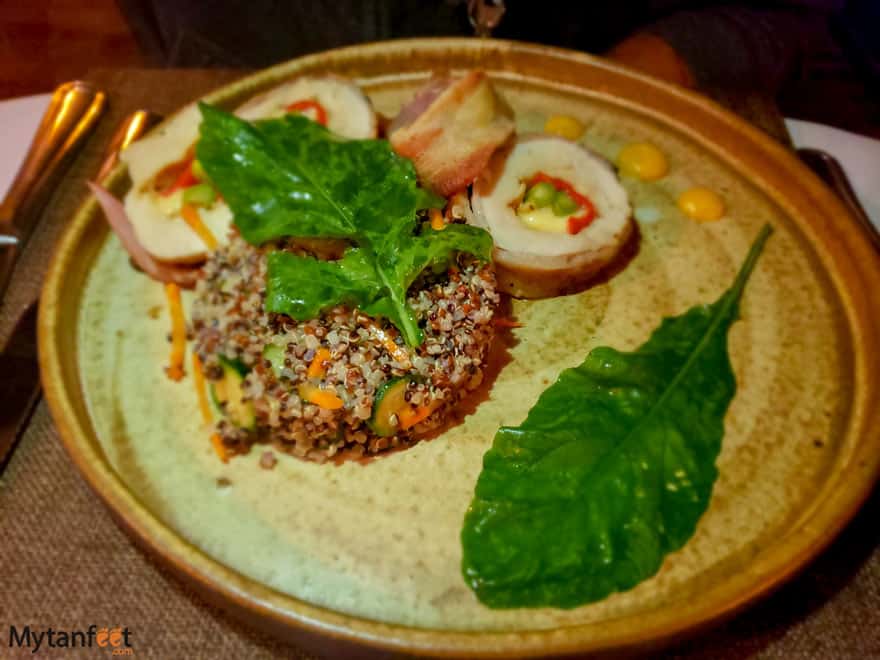 As El Silencio Lodge focuses on wellness, they offer plenty of vegetarian and vegan options which was really nice. I appreciated the fact that they recommended them to us but still had meat and seafood to choose from. All the dishes we had were delicious, especially the soups.
Services and Tours
Everyday El Silencio has a list of activities they're offering for the day. Their on-site activities include ox cart painting, horseback riding, tree planting, guided walk through their trails and their adventure park. If you want to explore the area, they offer excursions for hikes and waterfalls in the Bajos del Toro area. They also offer a day trip to Arenal.
If you don't have a car, I highly recommend a waterfall hike in Bajos del Toro, particularly the Blue Falls.
Who Should Stay at El Silencio Lodge?
Anyone looking for a unique, relaxing and refreshing luxury eco-lodge in a gorgeous, mountainous area of Costa Rica, particularly honeymooners, couples and older families. They allow children however they must be at least 8 years old and can only stay at either the private villa or master suite.
Bajos del Toro is also one of the more "off the beaten path" destination for tourists so it is not like staying in a luxury hotel in a popular beach town at all. You won't find pool parties or swim up bars. Instead, you'll get more personalized service, a tranquil and intimate atmosphere and breathtaking forest views.
The staff treats you like family the moment you get to the hotel, working hard to make your experience as special as possible and to make you feel like this beautiful lodge is just for you. This is why it's one of the top hotels for honeymooners in Costa Rica!
It's not for those on a budget though. In high season the suite is around $475 USD a night. If you travel in low season (May – November), the rates are lower. All rates include Wi-Fi and breakfast. Definitely worth a splurge and most people stay 1 – 3 nights instead of using it as a homebase since it is in a remote area.
Sample Itineraries that Include El Silencio
Stay in San Jose for a night – El Silencio – La Fortuna (most popular)
San Jose – Peace Lodge – El Silencio – La Fortuna – Manuel Antonio/Puerto Viejo
A sample luxury honeymoon vacation itinerary is Guanacaste (Westin/W/Casa Chameleon Las Catalinas/Four Seasons) – La Fortuna (Nayara/Tabacon/Royal Corin) – El Silencio – Peace Lodge – San Jose. Or if you have to fly out of Liberia, then you could go from El Silencio – Monteverde (Hotel Belmar/Senda) – Liberia.
Overall Thoughts
We loved El Silencio Lodge so much with its incredible mountain views, excellent food, extremely kind staff, large property and comfortable rooms. Additionally, Bajos del Toro is an amazing destination in Costa Rica for mountain lovers and we could not get enough of the gorgeous views!
We stayed for 3 nights and we can't recommend this lodge enough! If I were visiting Costa Rica for my honeymoon, I would definitely choose this hotel. If my parents were visiting me, I would bring them here no doubt!
Our stay was sponsored by El Silencio Lodge. All thoughts and opinions are our own.