Costa Rica's well established reputation as a dreamy tropical paradise makes it one of the top honeymoon destinations in the world. With a wide variety of places to see and things to do, couples can create that perfect trip to celebrate their love. And for those couples who aren't interested in exerting too much energy on their Costa Rica honeymoon, there are plenty of romantic destinations in Costa Rica to fulfill that ultimate relaxing and exotic vacay.
One of those destinations is Uvita, a small town in the Costa Ballena (South Pacific) that's been making headlines lately with their picturesque dark sand beaches, welcoming lush jungles and easy going atmosphere. Though Uvita has been developing quickly in the past couple years, you won't find all-inclusive resorts or 100 room hotels in the area. Instead, you'll find a small handful of charming lodges, quaint inns and high end boutique hotels catering to visitors who want to avoid the tourist traps while still enjoying Costa Rica's nature.
We recently visited one of those hotels, Oxygen Jungle Villas for a quick getaway and we left feeling extremely relaxed and refreshed. Focusing on honeymoons and couples, Oxygen Jungle Villas is a top hotel in Uvita for those in love and here are 5 reasons why.
It's an Adult Only Boutique with 12 Villas
Probably the last thing you want disturbing your honeymoon is a handful of loud screaming children, splashing water on you while trying to enjoy the pool with your loved one. Oxygen Jungle Villas is an adult only hotel so you won't have any of that during your stay.
Since there are only 12 villas, each surrounded by jungle and flourishing gardens, you have the utmost privacy including your own outdoor sofa and terrace. Even with the glass walls, you won't hear or see your neighbors. Your views are simply the jungle or ocean depending on which villa you choose.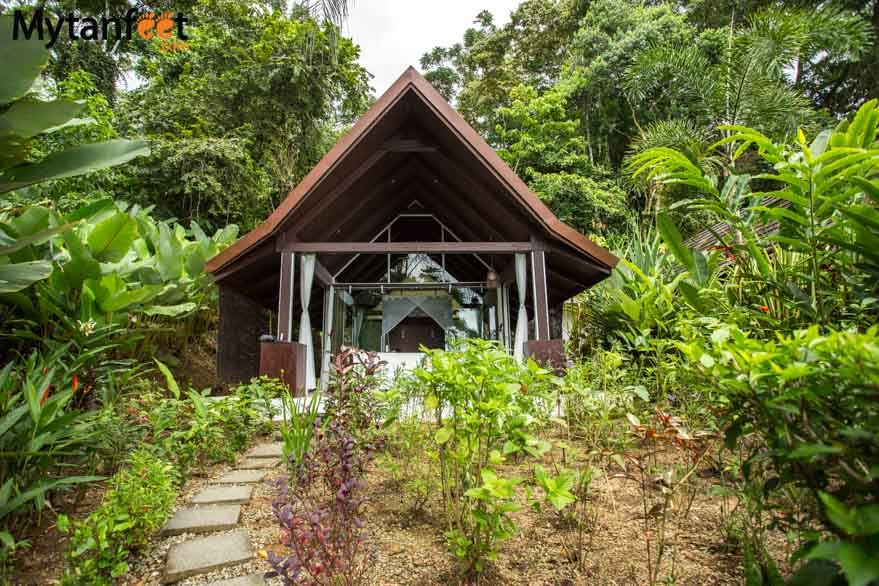 Both ocean and jungle view villas have complete privacy but the jungle villas gives more of the sense of being the only ones in the hotel. You can hear the howler monkeys and birds much closer, sometimes they are right above your villa! The ocean view villas are a little bit closer together and aren't as deep in the forest.
However, with only 12 villas you still feel like you have a little piece of the tropical paradise all to yourself whichever villa you choose.
The Pool at Oxygen Jungle Villas
The highlight of Oxygen Jungle Villas is the infinity pool. Look out into the ocean or float in the serene pool while toucans fly around in the surrounding trees.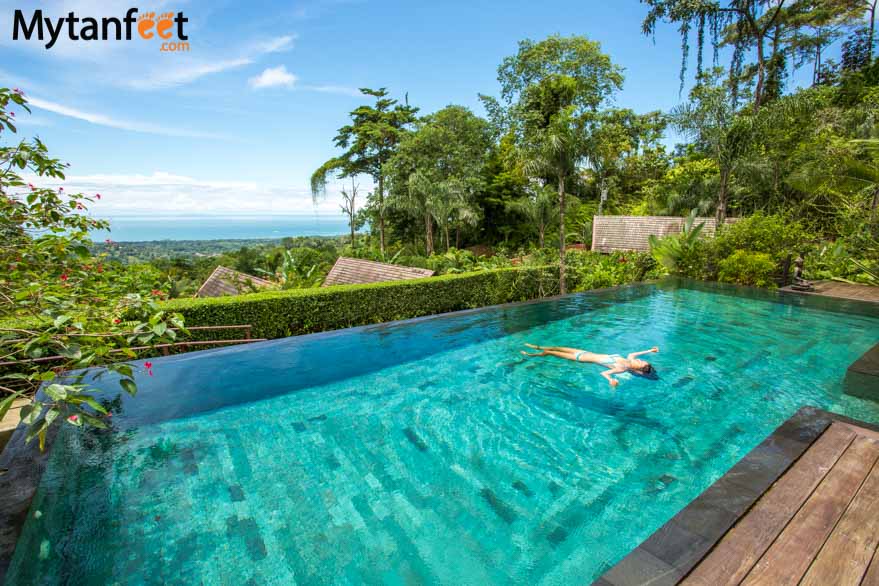 The infinity pool also has a view of Marino Ballena National Park and the whale's tail the most cherished area in Uvita. Loved ones can easily spend days snuggling up in the pool or enjoying cocktails on the lounge chairs, relishing in the stunning views of the jungle meeting the ocean.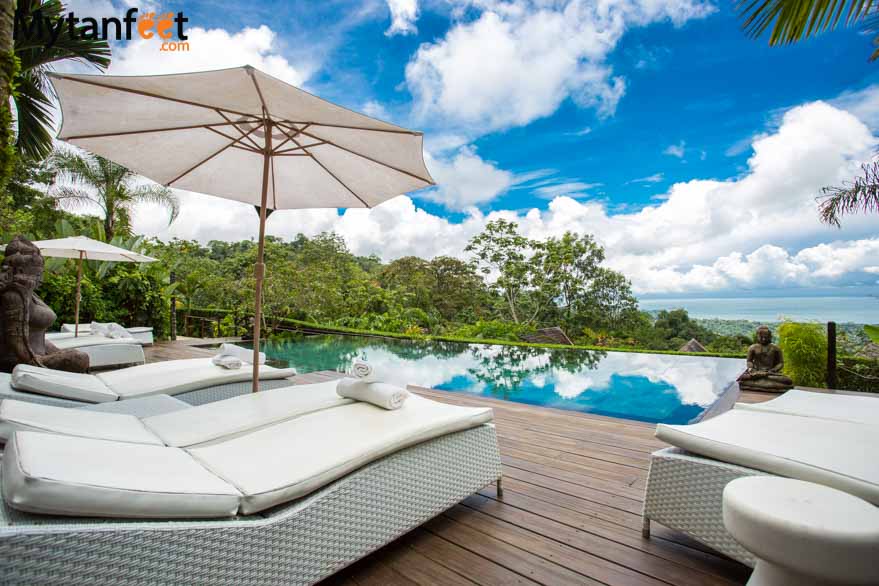 With Balinese inspired architecture and design and wooden deck, the pool is the most photogenic part of the property.
On Site Waterfall
Oxygen Jungle Villa's 5 acre property boasts a small waterfall just a short hike down from the jungle villas. The waterfall pool is big enough to take a refreshing dip and is a fun way to spend the morning or afternoon.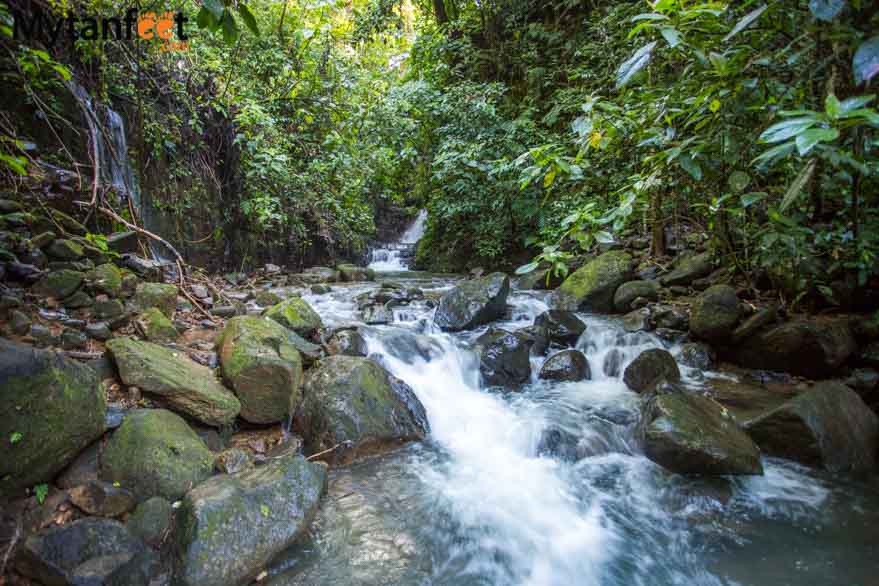 When we went in September, there was only one other couple there and we had the waterfall and pool all to ourselves for a whole day. Nothing more romantic than exploring the jungle with your loved one!
The Location
The hotel sits in the mountains outside of Uvita, creating the most peaceful and tranquil atmosphere for couples. You'll hear nothing but the sounds of nature to comfort and lull you to sleep.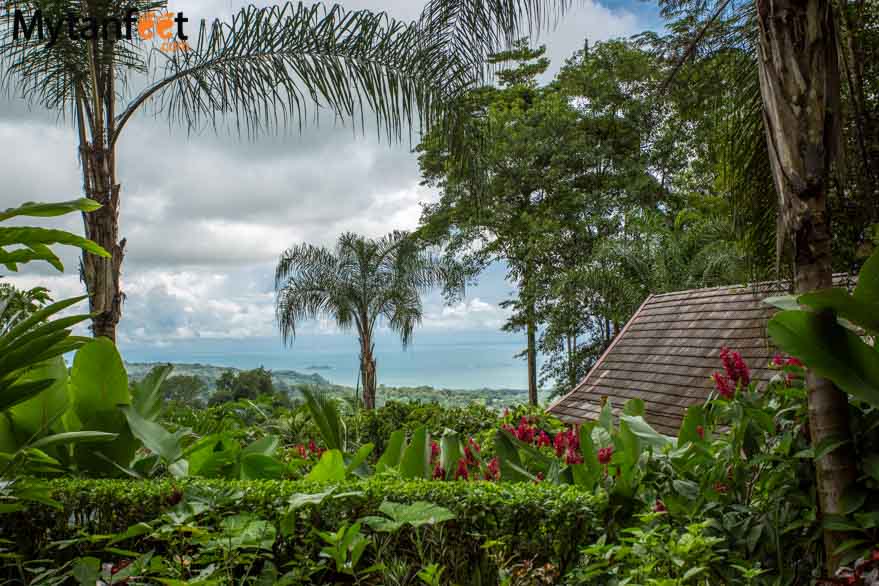 Since Uvita is still a fairly undeveloped touristic destination in Costa Rica, it attracts those that prefer it that way. Town is never crowded nor is it lined with bars and clubs, blasting loud music late into the night.
But when it comes to nature and adventure, Uvita has plenty, perfect for couples who want to add a bit of excitement to their honeymoon.
Activities
One of the best things about Uvita is the plethora of nearby natural attractions and things to do such as the national park, snorkeling and whale watching. There are many fun activities for every couple whether they want an adventure of a lifetime or something more easy going.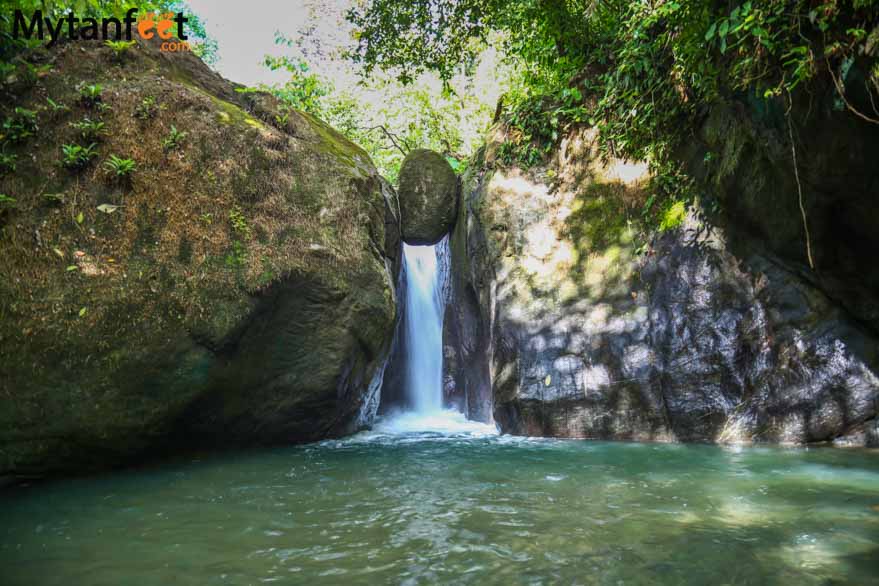 The beauty about Uvita is due to the fact much of the area has yet to be explored, there are many little known spots that visitors can have all to themselves. Read this post for 10 things to do in Dominical and Uvita for more ideas.
Between the impressive infinity pool, killer ocean and jungle views and calming Balinese inspired design, Oxygen Jungle Villas is a premiere hotel for couples and honeymooners.