If you have a day or two in San Jose and want to see something besides the classic city tourist spots, then you should plan a trip to Hacienda La Chimba, just 30 minutes from downtown.
Hacienda La Chimba is a locally run private coffee farm of 65 hectares in Santa Ana. They offer several activities: hiking trails, coffee tour, ziplining and a high rope course. Their most popular activity is their hiking trail which offers fantastic city views, with a key highlight called the La Mano de Mantra, a large Mantra hand structure overlooking the mountains. This park is very popular among city Costa Ricans so it's a fantastic local spot to experience.
Plan your trip to Hacienda La Chimba with our guide!
There are affiliate links in this post.
How to Get to Hacienda La Chimba With and Without a Car
Hacienda La Chimba is only a 30 minute drive from downtown San Jose. There are no public buses that go directly to the hacienda. The best way to get there is to drive, take a taxi or Uber.
Driving: If you rented a car, you can easily drive to Hacienda La Chimba, found on both Waze and Google Maps. You do not need a 4×4 for Hacienda La Chimba. They have a large parking lot free of charge for guests. Read what it's like to drive in Costa Rica here and get our Costa Rica car rental discount!
Taxi and Uber: You can grab a red taxi but you would need to coordinate with the driver to wait for you. In this case, I would recommend Uber as I saw several Ubers a couple blocks from the entrance so that would be easier.
If you want to take the public bus, the best option is to grab a local city bus to Santa Ana downtown. Then from there, get an Uber or taxi.
Hours and Fee
Hacienda La Chimba is open 7 days a week from 8 AM to 5 PM. For hiking, the Mano de Mantra trail is open 5 AM to 2 PM. The Mantra Trail entrance fee is $13 USD for foreigners. Coffee tour is $32 USD per adult for foreigners, $65 USD for adult foreigners for their zipline and $54 USD per person for the high ropes.
Their coffee tour, zipline tour and high ropes must be reserved in advance. Their phone number is +506 40527200 and Whatsapp: +506 84523838. They have English speaking staff.
Other Important Things to Know
Since the hacienda is very popular among city Costa Ricans, it gets incredibly busy during holidays and long weekends. If you're visiting during Christmas and New Years, Holy Week or any long weekend in Costa Rica, get there early!
Pet friendly with leash. If your pet is reactive and can display aggressive behaviors, they are allowed with a muzzle.
You don't need a guide to visit La Chimba. You can perfectly visit on your own. The trail is one way with lots of signage so you can't get lost. For the zipline, coffee and high ropes, reservations required. (To be honest, we don't recommend their zipline as there are better ziplines in other places in Costa Rica like La Fortuna, Monteverde, Manuel Antonio and Guanacaste).
No bathrooms on the hiking trail so go before you begin your walk.
What to bring: Comfortable clothes, closed toed running shoes/trail running shoes or hiking shoes. Hat, sunglasses, sunscreen. Camera. Rain gear if visiting during rainy season (find out what to pack for rainy season in Costa Rica here). Plenty of water. They do sell water, ponchos, and snacks at the convenience store by the ticket office. Insect repellent but I didn't feel like there were any mosquitoes. Get our full Costa Rica packing list here!
I wore Hoka running shoes, Lululemon crop leggings, a visor, Humps Optics sunglasses, REI 30 L backpack and brought a Sony 6500 camera and a Hydroflask water bottle. (Our visit was beginning of April).
Hacienda La Chimba Hiking Trails and Tiny Mantra Tour
They offer 2 hiking options: a 5 kilometer trail (3.11 miles) and a 9 kilometer trail (5.59 miles) which is an extension of the 5 km trail. The most popular one is the 5 kilometer trail.
Minimum age of 7, maximum age of 65.
Difficulty: Moderately difficult. You do need to be in fairly decent shape to hike the trails. You need to be able to walk on dirt paths and uneven surfaces, walk up and down steep steps and be able to handle elevation changes. The trail is not allowed for seniors with limited mobility, pregnant women, anyone with respiratory or cardiac problems, anyone who has recently undergone recent major surgery, or anyone with limited mobility.
They offer hiking sticks but there is no handicap or universal access trail.
If you aren't able to hike, they offer a tour called Tiny Mantra. It includes a 4×4 drive to the Buddha statue and Mantra hand, a short coffee tour and entrance for a self guided visit to their museum. Minimal walking necessary. Cost is $81 USD per person with tax.
5 KM Hike
We did their 5 kilometer trail at the beginning of April on a Tuesday morning. It was quite empty, we only saw 5 other people there during our time. On the trails, they also have a section for mountain bikers which I thought was very cool.
The trail goes through the coffee fields and goes slightly higher and higher for more views of the city below. I was incredibly impressed with how well their signage was on the trail, I very much appreciated it! They had signs for hard uphill and downhill sections, name tags for the trees so you knew what you were walking by, and distances.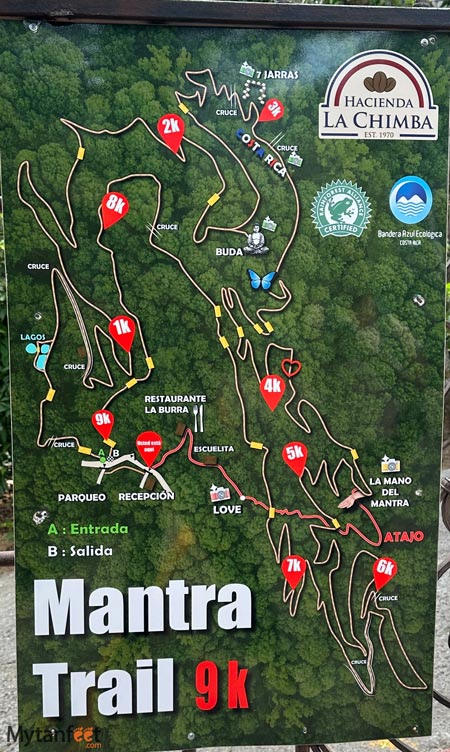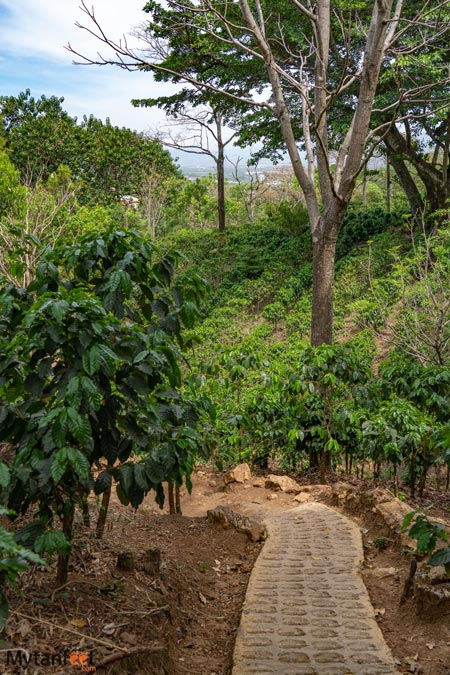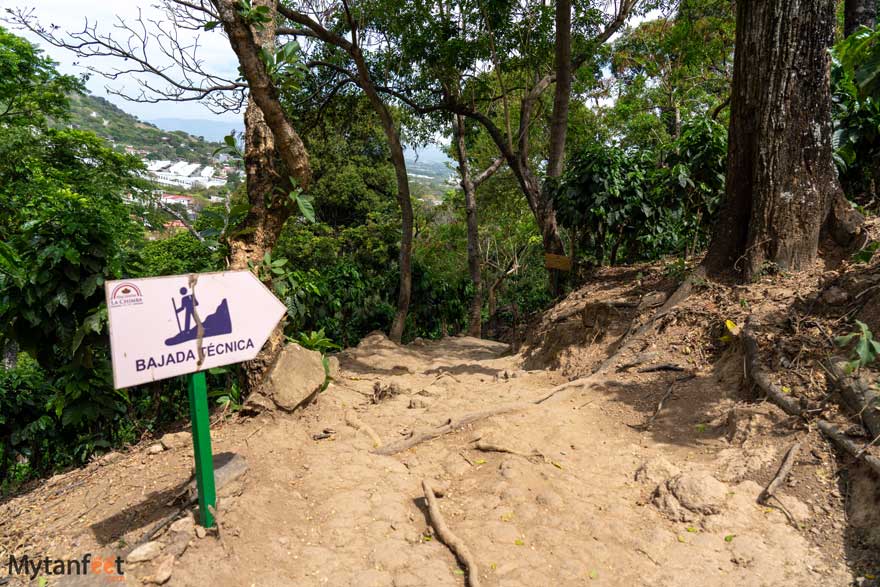 The entire 5 kilometer hike took Yeison and I around 1 hour and 45 minutes. We worked up a good sweat as we hiked through the fields and forests, taking the appropriate pictures at the photo spots.
As we visited during the beginning of April which is still dry season, it was hot and very sunny at around 80 F (27 C) during the peak of the day. Read more about Costa Rica weather here.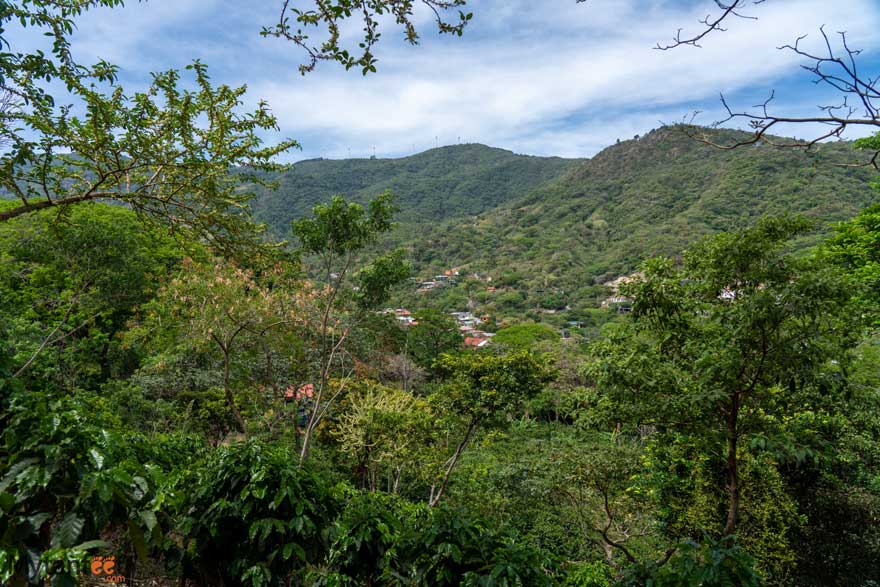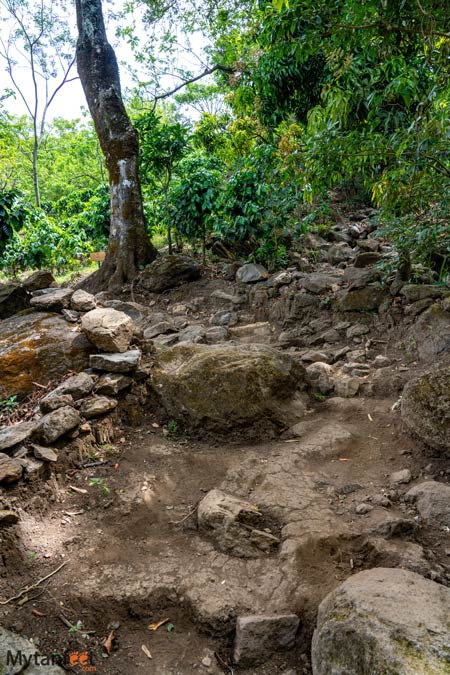 Along this 5 kilometer trail, they strategically placed some very fun statues for photo spots. Otherwise you would just be walking through coffee fields which is cool, but it would soon get a bit redundant.
Photo Spots
At kilometer 2.5, there is the Buddha statue. Kilometer 3 is the Costa Rica sign with a viewpoint. Kilometer 3.5 has a blue morpho butterfly, kilometer 4 is a heart sign. La Mano del Mantra is at kilometer 4.5 and then kilometer 5 takes you back to reception.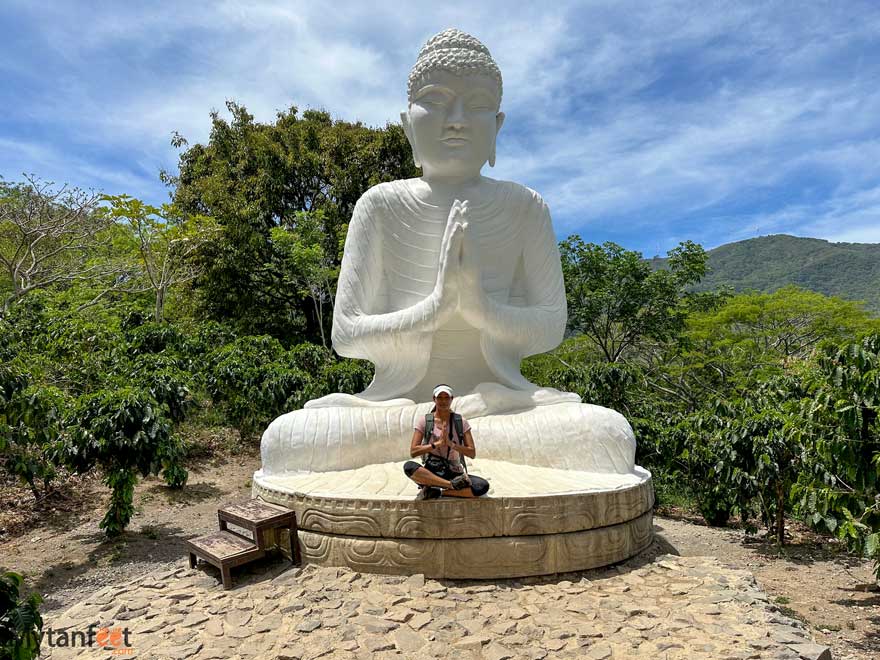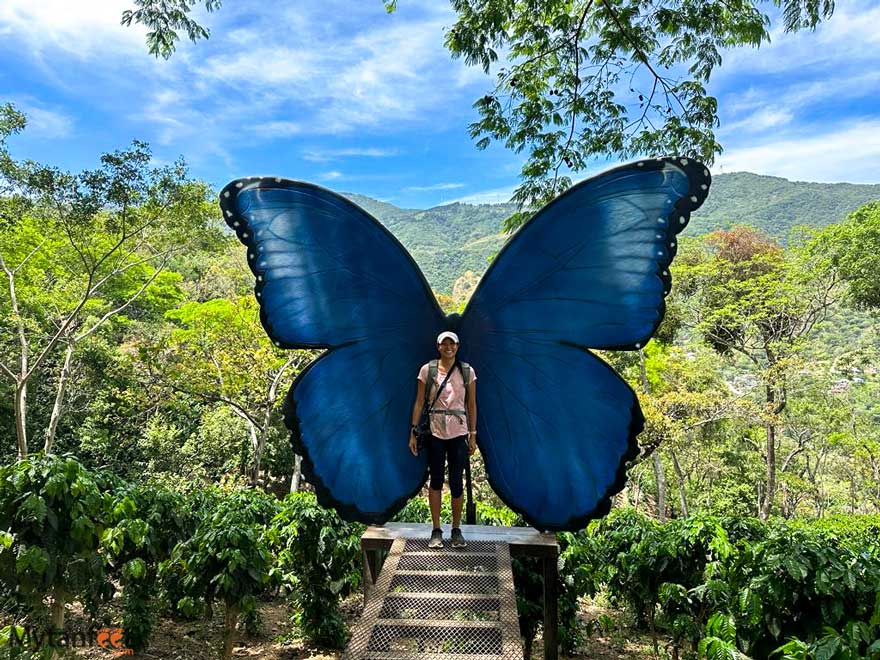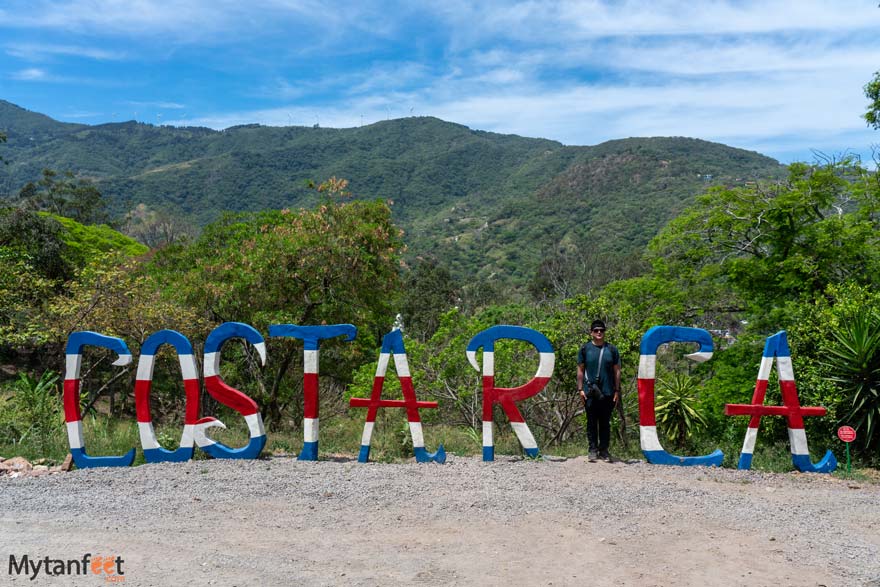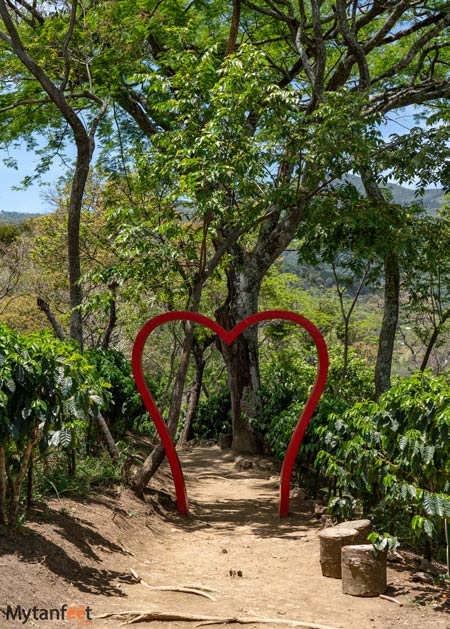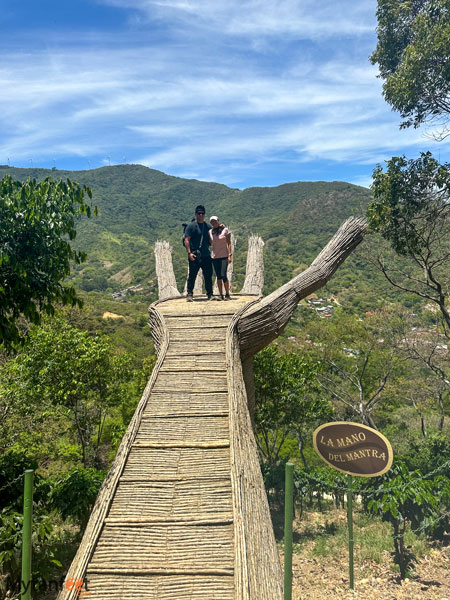 The photo spots are super fun and at the hand, there is a bench with shade if you want to rest. We sat there for about 10 minutes, just us, to enjoy the views.
The rest of the 500 meters back to reception went down through some steep steps and passed by the bar (open 1230 PM to 12 midnight Tuesday to Friday, Saturdays from 10 AM to 12 midnight and Sundays 10 AM to 5 PM).
Hacienda La Chimba Restaurant
We decided to get lunch at their restaurant which was fairly good, all typical Costa Rican food. I had a vegetarian casado (rice, beans, eggs, salad, plantains) and a natural fruit juice. The casado was good but the fruit juice drink was way overpriced for what it was (3500 CRC which is around $6.50 USD).
Hacienda La Chimba – A Great Day Trip in San Jose
For being just 30 minutes from the city center, I can see why Hacienda La Chimba is such a great day trip in San Jose. It's not just close to the city but it offers everything for a fantastic day out in nature with beautiful views, great hiking trails, tasty food, tons of Costa Rican culture and delicious coffee, all at very reasonable prices.
The infrastructure of the entire property is very well maintained and set up. Their staff is very very friendly!
We didn't do the coffee tour but I'd like to go back and experience it. The Hacienda La Chimba coffee tour would be a wonderful one for those who don't want to experience the more commercial coffee tours in Costa Rica.
We 100% recommend Hacienda La Chimba for a fun trip from San Jose for hiking, coffee and culture!
Itinerary Ideas to Visit Hacienda La Chimba
If you do just the 5 km hike, this can perfectly be a half day trip. Here are some ideas on how to visit.
Option 1: If your flight lands early in the morning and you are renting a car, you can drive straight to the Hacienda to hike and/or do the coffee tour. They do have their own secure parking lot in case you aren't able to check into your hotel yet. Click to get our Costa Rica car rental discount and freebies!
Option 2: If you have one full day in San Jose before your flight out and want to do a last activity, La Chimba is a great option.
Option 3: On the day you check out of your San Jose hotel at the beginning of your trip, you can stop by Hacienda La Chimba before you head to your next destination. Just keep in mind that it gets dark by 6 PM everyday and we don't recommend to drive long distances (+2 hours) at night, so its best to get to the Hacienda early to do your activities.
Check out all of our Costa Rica itineraries here!
Where to Stay in San Jose
Here are some of our recommended hotels in San Jose.
Hotel Barcelo San Jose, KC Hotel, Suites Cristina Apart-Hotel, Park Inn by Radisson, Hotel Aranjuez. All in and around downtown San Jose and La Sabana and all about a 30 minute drive from SJO International Airport.
Costa Rica Vacation Checklist
Plan your trip to San Jose with our blog posts below!
How to Spend 1 or 2 days in San Jose
How to spend 5 days in San Jose