One of the coolest things to do in Monteverde is to climb the ficus root bridge, otherwise known as the Ficus La Raiz. It's a hidden spot very close to downtown Santa Elena that makes for great photos so if you have an hour to kill in between the Monteverde guided hikes and tours, definitely check out this spot!
In this post you'll find out exactly how to get there because it's a little tricky.
Monteverde Ficus Root Bridge Map
On Google Maps, it is called "Ficus La Raiz."
What to Know About the Monteverde Ficus La Raiz (Monteverde Ficus Root Bridge Tree)
*They're fixing up the entrance so it might look a bit different from our photos/video as we visited January 2021.*
It's free! It's one of the best free things to do in Monteverde. (However, the owner is asking for donations as he is trying to fix up the entrance, feel free to give him some CRC or USD if you wish)
It's a short walk (only like 5 minutes from the entrance) BUT it's on an all natural path going down a hill with rocks, tree roots and branches. You also need to walk across the river. So I don't recommend it for anyone who has knee/ankle problems and cannot walk on these kinds of paths. You will see more photos of the path in this post.
We went in January 2021, the beginning of dry season. It was completely dry when we went and it was very sunny and hot. If you visit during rainy season, this trail may be super muddy so be careful!
Flip flops not recommended.
We brought our two very athletic dogs and they loved it.
Video
In the video below, you can watch our video for "5 free things to do in Monteverde" with the Ficus Root Bridge included.
How to Find the Ficus La Raiz (Ficus Root Bridge)
*We have heard an update November 2021 that the owner is trying to fix up the entrance so hopefully it'll be easier to find and easier to park in the future as this bridge is getting extremely popular. It's not much of a local secret anymore but still worth seeing.*
You can walk or drive as it's close to Santa Elena downtown. As we were staying in an Airbnb outside Santa Elena, we drove and parked on the main road outside the Restaurante El Jardin. From our car, we walked up the hill around the curve and the entrance is to the right.
*In this post, I'm going to have a lot of photos so you can see what the path is like and know exactly what to look for to find this ficus root bridge.*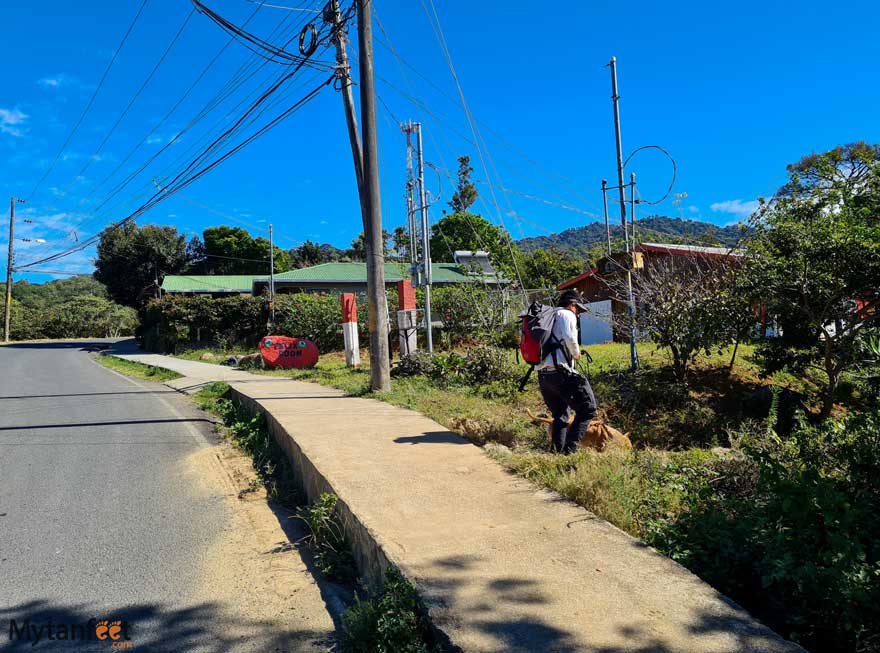 You'll see a sort of natural path going down and just follow it to the bottom and then stick to the right. You'll see the river right ahead of you.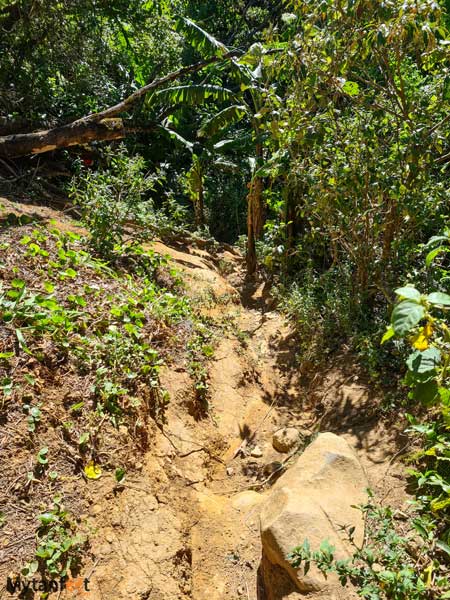 Follow the path to the right and you'll also see this very large piece of concrete but go behind it and around, don't try to walk on it.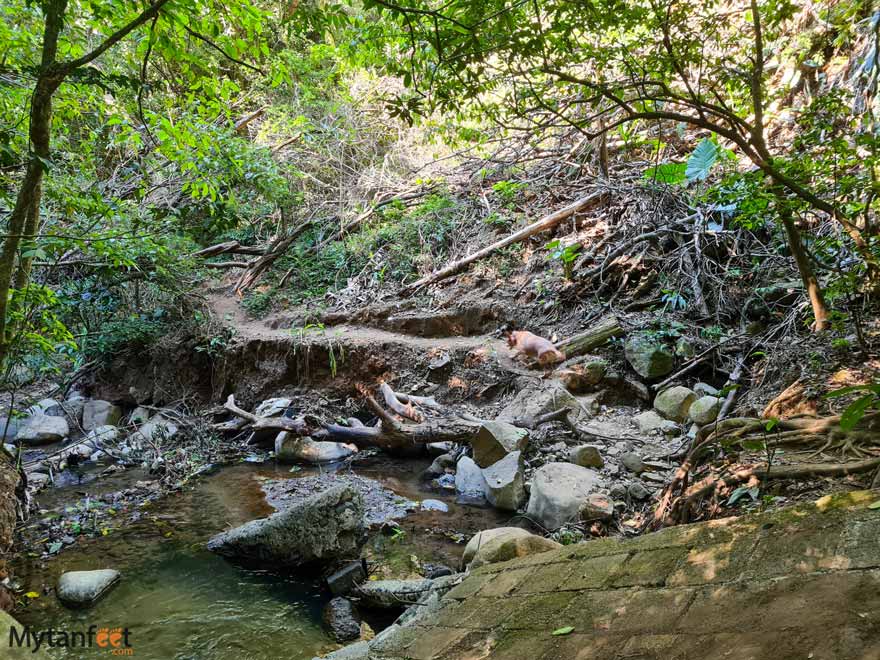 Keep going on the path and very soon you'll see the ficus root bridge right in front of you across the river.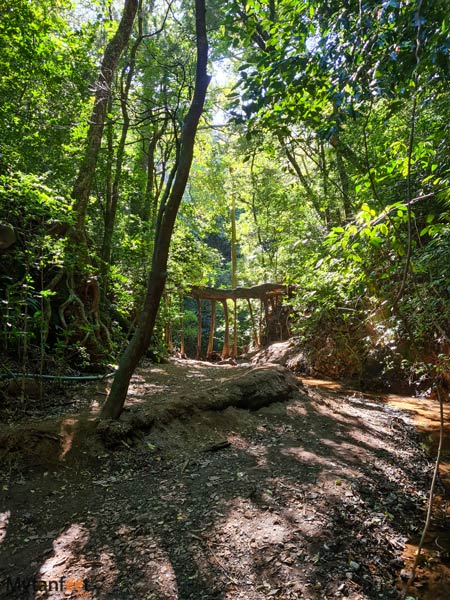 You can't miss it, it's right in front! Make sure not to walk to the left when you first go down the path and you'll be fine.
Climbing Up The Bridge
This bridge is super interesting but it's really a great photo spot, especially for Instagram. to make it even more fun, you can climb up the bridge!
On the right hand side of the bridge, you can climb up the dirt and go across the bridge. I'm not scared of heights but it's not exactly a well groomed bridge so I got on my hands and knees and kind of crawled across. Then I just popped up for the photo and then climbed back down.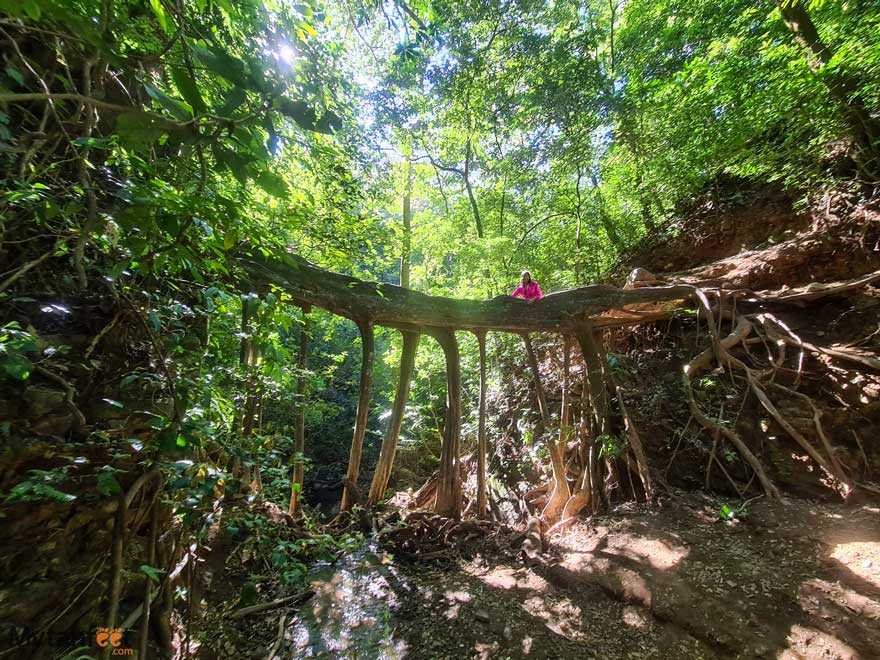 You can also look on the other side of the bridge to see the rest of the rivers. You can also see a bunch of the rest of the roots!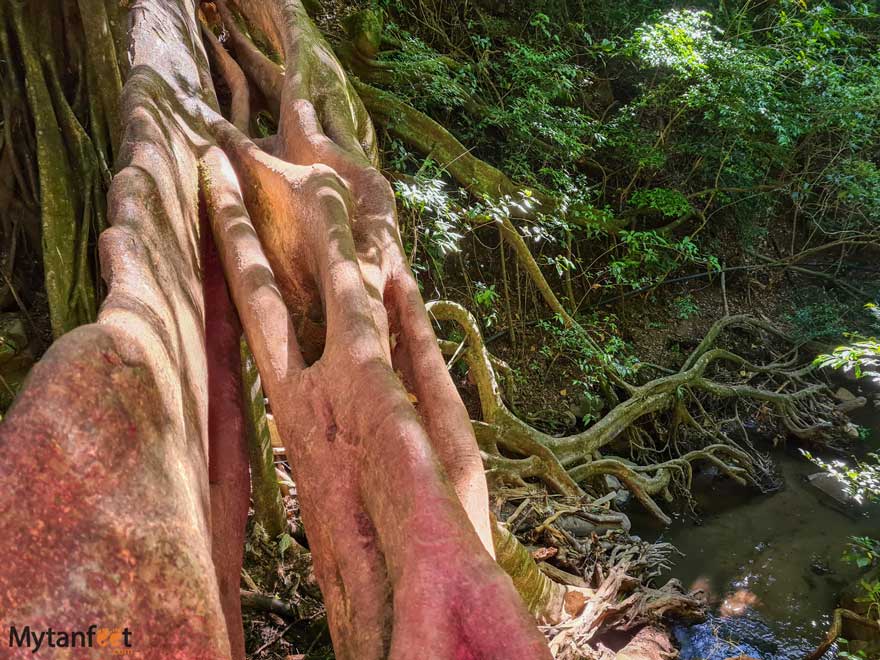 It's not terribly high but I don't recommend it for anyone scared of heights! It's maybe like 20 feet up I would guess.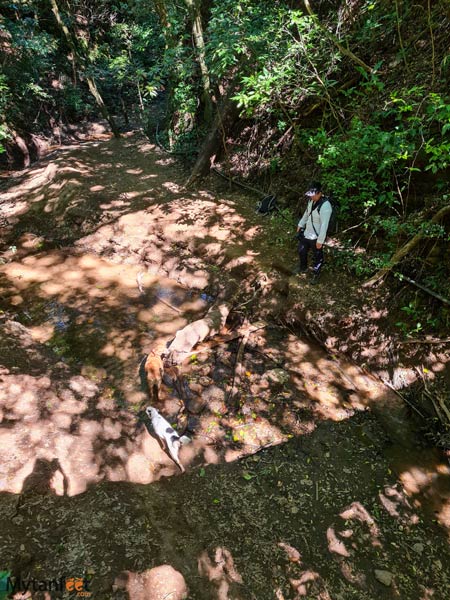 Going Back
We spent maybe about 20/30 minutes here with our dogs and then headed back. We were the only ones there and didn't see anyone else on the way going down. It might get more busy on the weekends but we went on a weekday morning and it was empty.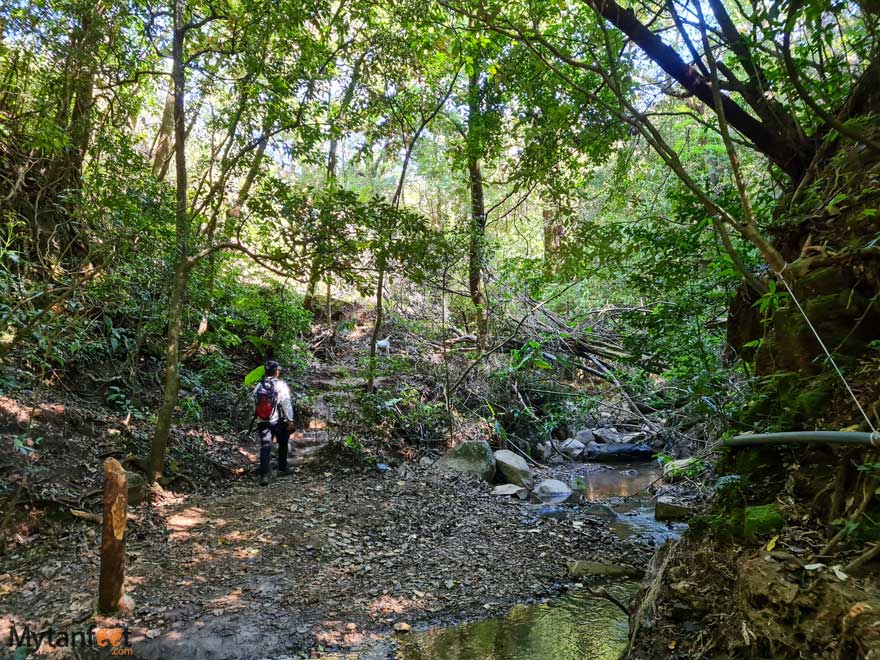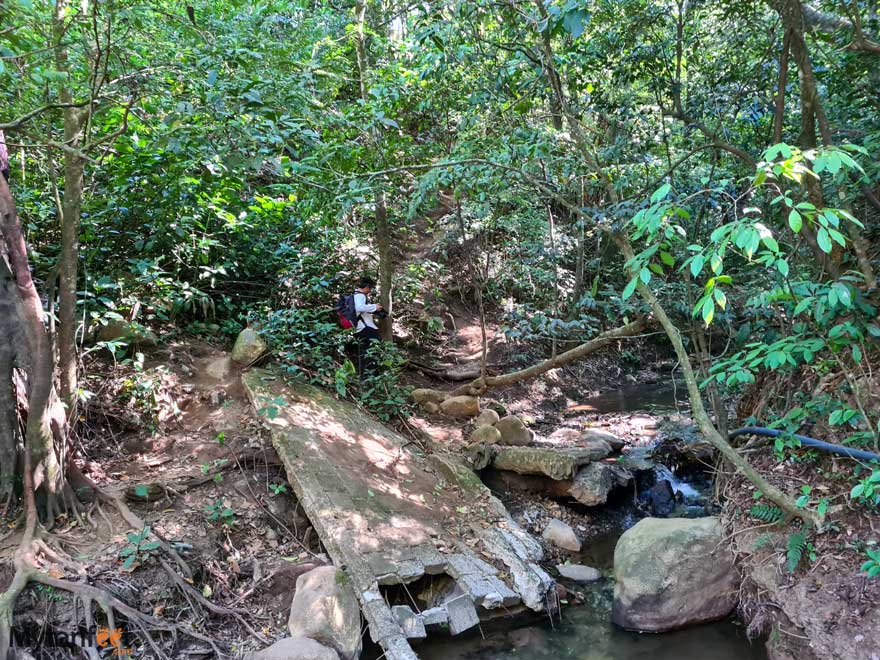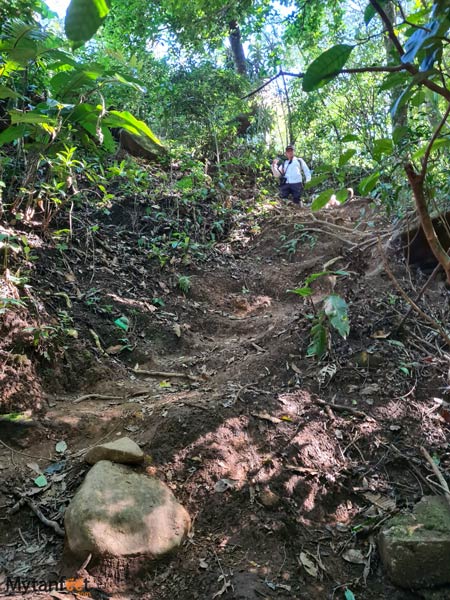 We hope you can visit this awesome ficus root bridge and get some great photos!
Read About Other Fun Things to do in Costa Rica below!