Coffee tours are one of the most popular cultural activities to do in Costa Rica and if you love coffee, then you have to do one. Although the best Costa Rica coffee tours are in the Central Valley and Monteverde, you can also do tours in other parts of the country such as La Fortuna. We did a La Fortuna coffee tour on a small local farm called Arenal Vida Campesina and had a brilliant time.
For those interested in adding a splash of culture in their trip, this Arenal farm tour is an excellent option!
Arenal Vida Campesina: Arenal Farm Tour

Arenal Vida Campesina offers more than just coffee tours in La Fortuna, they offer full farm tours! They are a small local family, working on their farm to produce 80% of what they sell in their restaurant. Our tour took us through their farm to learn about their local crops, medicinal plants, chocolate, sugar cane and coffee.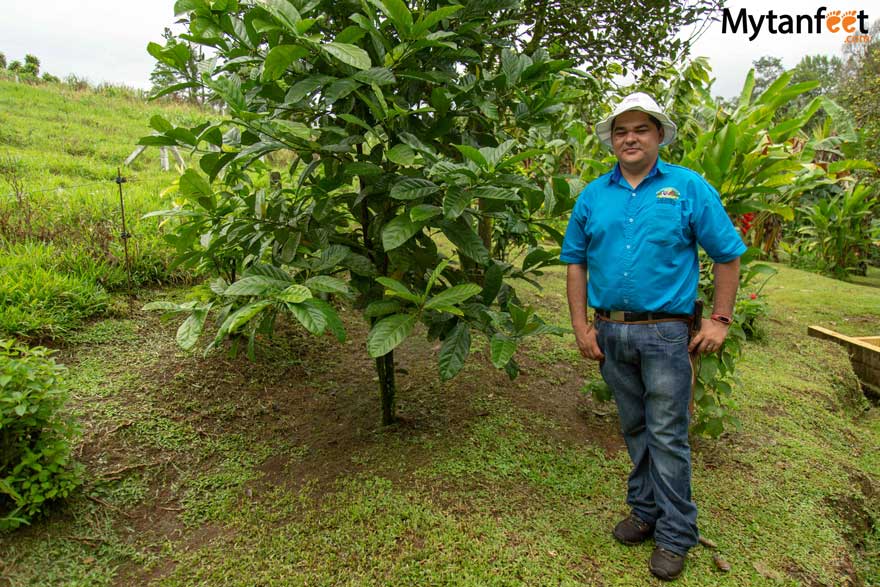 One of the things we loved the most about this tour is how local it is. The entire family are La Fortuna natives working on the farm and generations of their family have worked on the farm.
Additionally, it's not commercial at all since it's a small scale farm. Their goal is to give visitors the experience of what it's like to work on a Costa Rican farm that's still living off the land as much as possible. It's very educational and fascinating to learn about, especially for anyone who doesn't know anything about farming.
Farm and Local Crops
Our La Fortuna coffee and chocolate tour started off in their garden. Our guide showed us various medicinal plants like citronella (good for warding off mosquitoes) and local crops like oregano, pepper and fruits.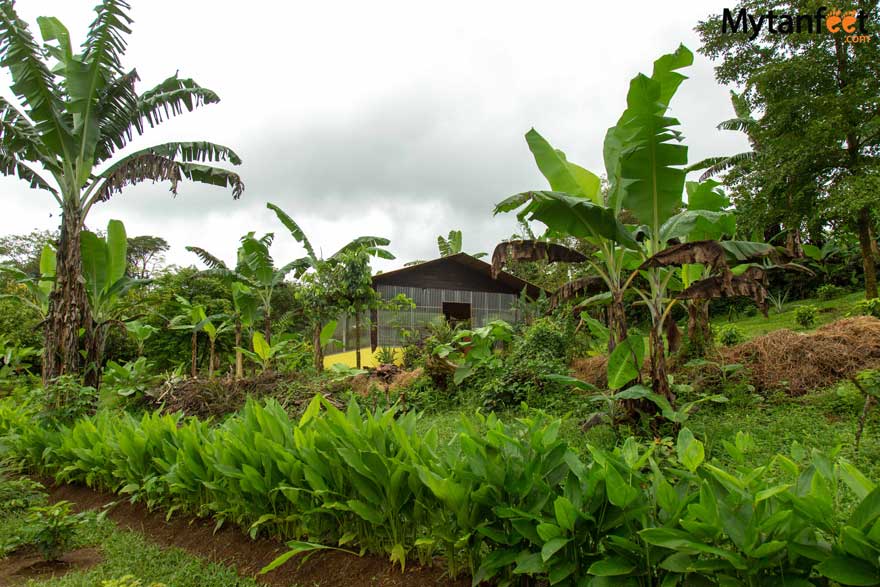 I got to try raw pepper (did you know the pod can be black, white or green?), learned that lemongrass and citronella are cousins and saw pineapples growing in the ground and sourop in the trees.
From there, we made our way to their chocolate and coffee garden.
Chocolate
Although the chocolate part didn't show the full process, we got to see the cacao trees, cacao pods and the seeds that turn into what the modern world knows as chocolate.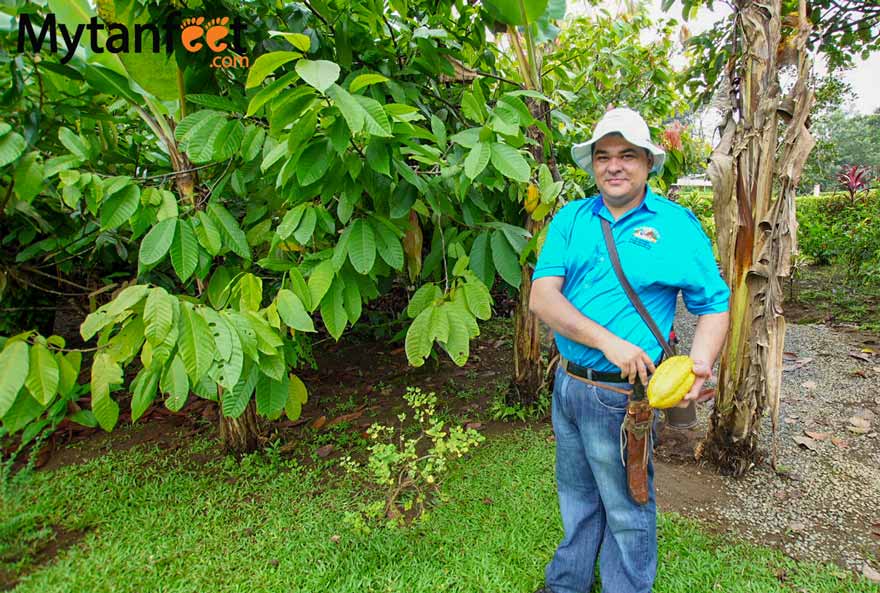 Our guide picked a ripe cacao pod, cut it open and let me try the seeds. He told us that the seeds are toasted, ground and made into chocolate candy, bars, lotion or other products.
Sugar Cane
Next we learned about sugar cane. Sugar cane is a big crop in Costa Rica and many farms grow and process lots of sugar cane. We used a trapiche (the Costa Rican machinery to press the sugar cane) and drank the juice. And we even got to try guaro which is the Costa Rican alcohol made of sugar cane.
La Fortuna Coffee Tour

Now came the coffee part of the tour. Since this farm is on the small scale and La Fortuna is not at the best elevation to grow coffee (the optimal elevation is around 1200 meters, around 4000 feet), they grow second grade coffee (second quality). Places like Monteverde, San Jose and Heredia grow first grade coffee.
Even though their coffee wasn't first grade, theirs is organic and 100% local so it was still very interesting to learn about their process. They grow their own plants (Arabic only by law in Costa Rica) and use a certain hybrid that is disease resistant.
Picking coffee
Another thing we really liked about this tour is that it's very interactive. You don't just learn about the cherry to cup process, you get to be part of it!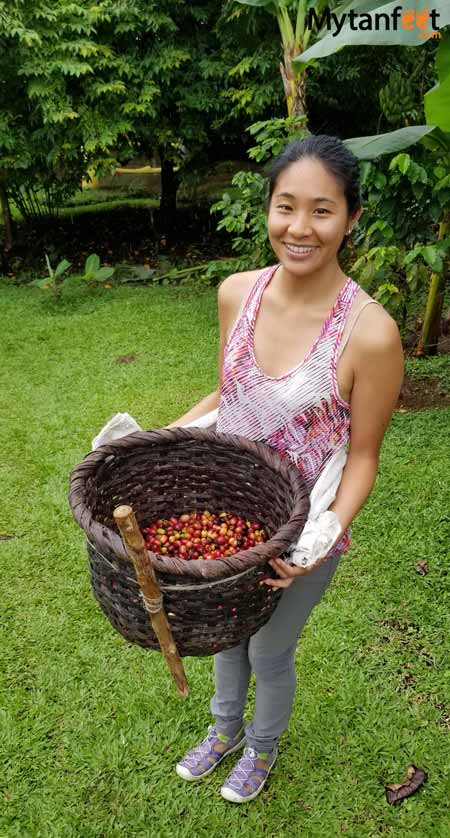 I got to suit up and pick coffee the traditional Costa Rican way! Coffee picking in Costa Rica is a serious business, they don't use any type of machines! Everything is by hand. Coffee picking used to be one of the most common professions back in the day since coffee was (and still is) one of the biggest exports. Everyone and their family picked coffee.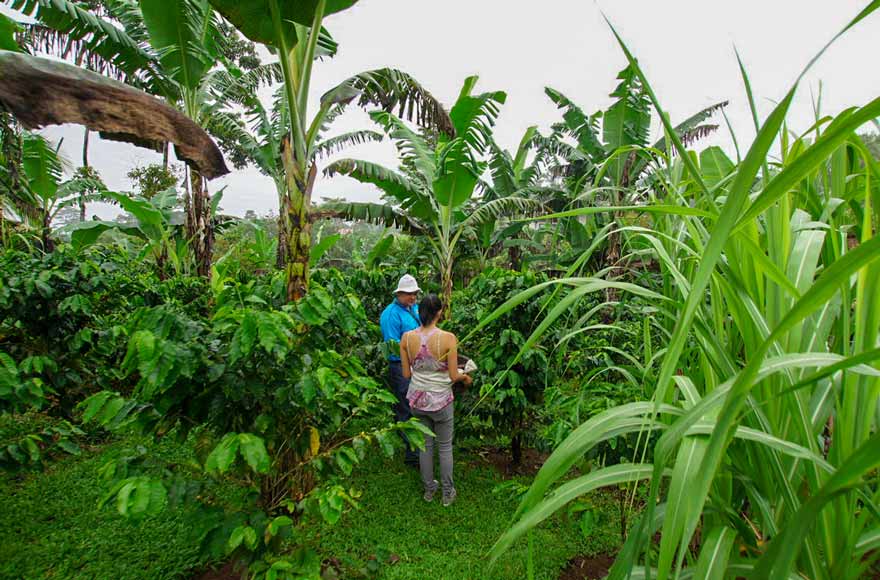 It was a lot harder than it looks and thankfully they only let me do it for a little bit! It made me really appreciate my cup of coffee in the morning, knowing all the hard work it goes into picking those little cherries.
Peeling
The next step is peeling. They have a little machine that peels the outer layer off and it operates by hand. So of course, I got to peel coffee!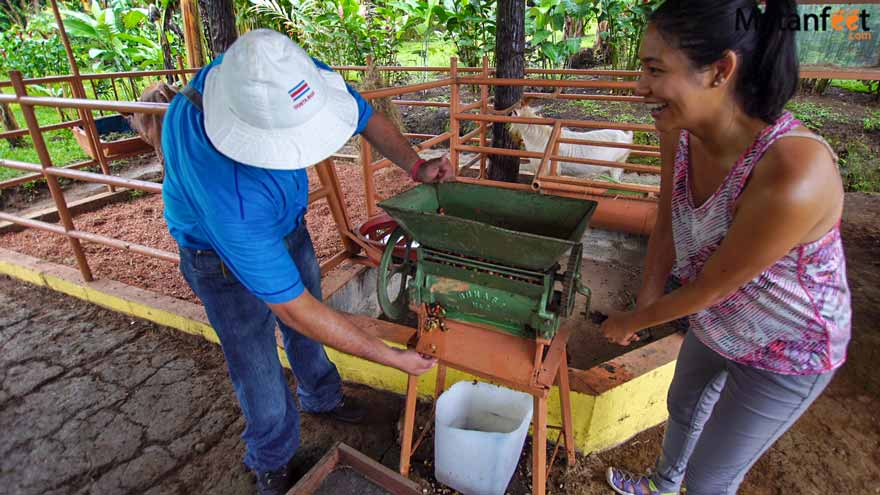 Something super interesting I learned was something called honey coffee. Honey coffee is when they leave the slimy outer layer of the coffee on as it gives it a sweeter flavor.
After peeling, we went to the next steps of coffee – drying.
Drying and Roasting
Lastly, we saw how they dried their coffee (by sun) and roasted it. On this plantation, they roast their own coffee since they don't sell or export it. This part really enriched our La Fortuna coffee tour experience.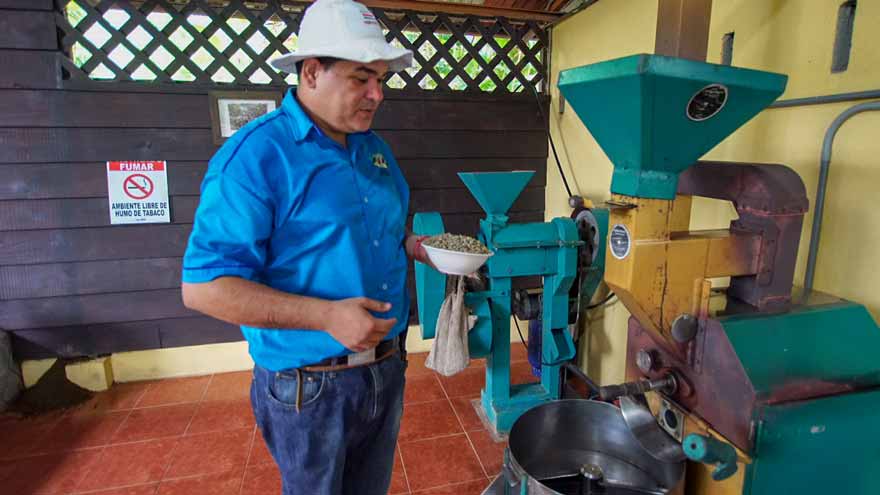 Using their own machine, our guide shared with us how the roast light, medium or dark coffee. Surprisingly, it smells like burnt popcorn!
Roasting coffee was something unique for us even though we have done a handful of coffee tours in Costa Rica. Since the tours we've done were on the big plantations, they export the majority of their coffee beans to various countries. Each country likes to roast their own coffee to suit their people's tastes so we don't really get to see or experience it.
On this tour though, w really got to see and experience the entire coffee process from cherry to cup on this La Fortuna coffee tour.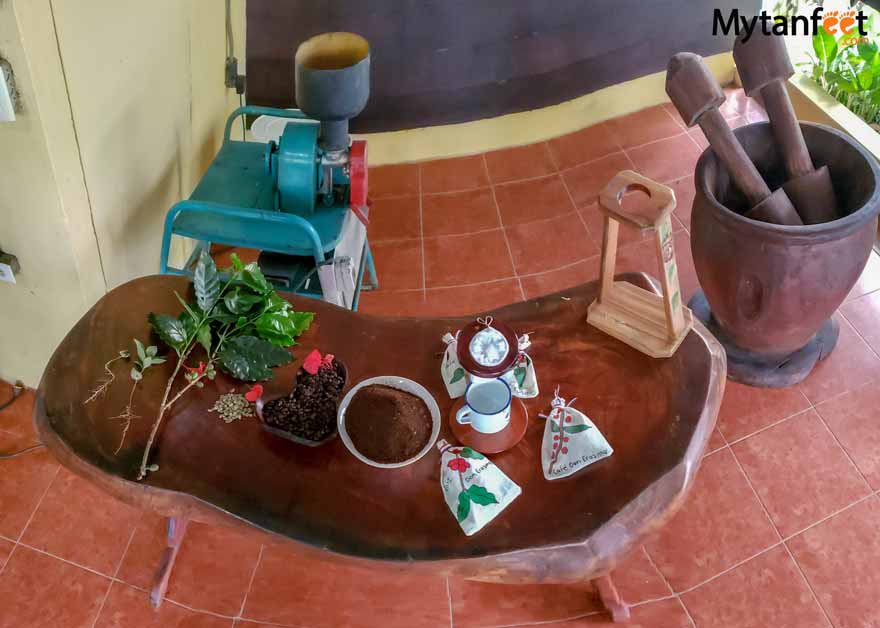 After we finished roasting the coffee, we got to drink it in their restaurant. It was the perfect way to end the tour – drinking the coffee that we saw from start to finish!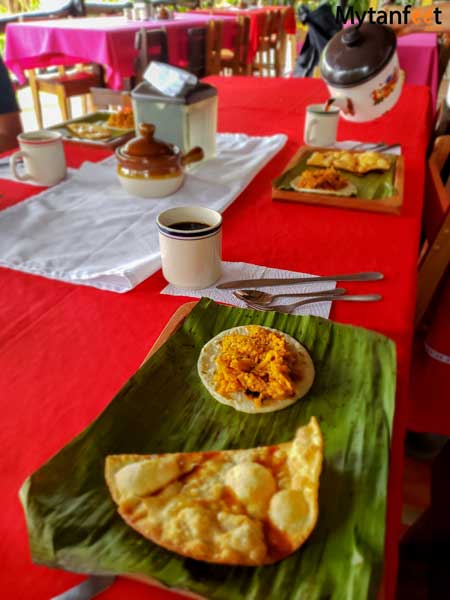 Arenal Farm Tour Discount
Overall, we had a great time on this La Fortuna coffee tour. We also loved that it was much more than coffee. It was a wonderful Costa Rican farm tour with chocolate, sugar cane and coffee. It really gives you a great experience of what traditional farm life is like and makes you appreciate the little things that are for us so easy to buy. And you'll be supporting rural/agro-tourism in Costa Rica!
You can check out Arenal Vida Campesina and make reservations to do the tour on your own as they have English speaking guides. If you don't have a car, you can book a tour with transportation (get a discount on the tour here).
This is a great tour for all ages and they also have a handicap friendly path. It lasts a couple hours so as a half day tour, you have enough time during the day to do another activity. You can read our post things to do in La Fortuna for ideas.