Here are the best hiking sandals for men that you will ever need for Costa Rica: the KEEN Newport H2 sandal. I have used them on land and in water and I couldn't ask for anything more. These sandals are the best for Costa Rica weather: rain, sun, and thunderstorms and even better for outdoor activities: hiking, river tubing, ziplining, and river rafting.
In Costa Rica, there are many hikes that have waterfalls to jump in or rivers to cross so I needed a shoe that could get wet but still was good for hiking.
The KEEN hiking sandals are sturdy, have a closed toe for more protection and very strong. Here is our KEEN Newport H2 review to help you decide to get them or not. You don't have to get them just for Costa Rica – you can wear them anywhere!
Newports vs other KEEN sandals
I tried on almost all of the KEEN sandal versions and this is what I found.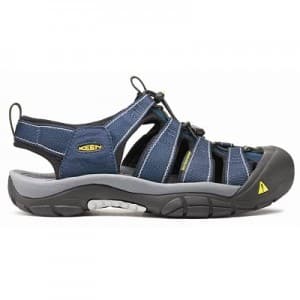 The Newport H2 sandal have a thicker and wide toe bumper than the Kanyon and Clearwater and covers more of the ankle. It also has smaller slits than the other sandals so it offers a bit more protection. These ones are better for me because I do more hiking, especially at volcanoes and rocky places.
You can keep reading our KEEN Newport H2 review to see why they are the perfect hiking sandals for Costa Rica!
Perfect all-terrain sandals
Since it is so hot where we live, I don't like to wear sneakers or tennis shoes and these sandals let my feet breathe. They don't get that humid and they are very easy to clean. They are odor-proof and even after 2 straight months of wearing them, they have not smelled bad for me. I just throw them in the wash once a week or so.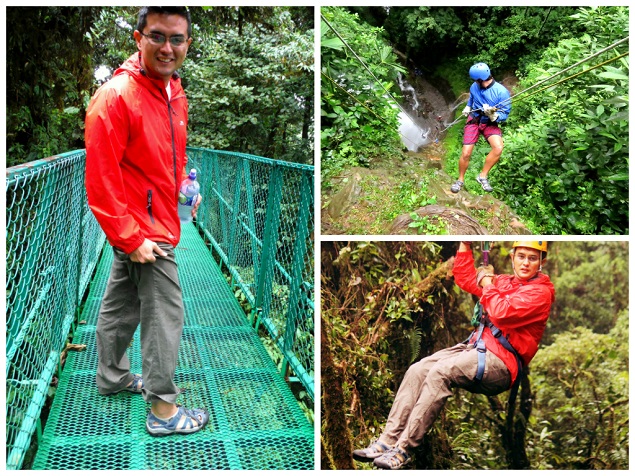 I wear them almost all the time now, they are my go to shoe and they have gone through waterfalls, rivers, volcanoes, the beach, mountains, mud, sand, rocks and gravel. They are still in good shape, no tearing or loosening of stitches.
The sandals also look good with pants or shorts for any non formal occasion. My brother has a pair that he wears to work at the hospital since they are very comfortable and he is on his feet all day.
Once you adjust the straps to how you like, you don't have to keep adjusting it throughout the day. Even through intense hiking, I've never had to fix them and they always feel very sturdy on my feet.
What I like
Very good traction
Super comfortable, like wearing a very supportive hiking shoe
Great ventilation
No blisters even when wet
Can go from land to water very easily and fast, dries fairly fast
Extra toe protection with the toe bumper
Lots of bungee straps for adjustment and solid footing
No stretching, no loosening of the shoe
Very good arch support
Suitable for professional wear and for play
Easy to take on/off
What I don't like
They stretch out more than I thought they would
Rocks and sand gets trapped in the shoe, the only way to remove is to take off the shoe, you can't shake it out
It's a bit pricey for sandals
Great hiking sandals for Costa Rica
The price seems a little much for sandals but these are all terrain sandals that will last a long time. If you are an outdoorsy person or someone who needs a quality shoe with lots of support, these are the ones for you. They come in lots of different colors and styles and are the best hiking sandals for men for traveling in Costa Rica.
Also for women
They also have these hiking sandals for women. Samantha has a pair, size 6 color purple and loves them.
Here are her thoughts:
The KEEN sandals are perfect for sightseeing, hiking, any water activity and traveling. Although I don't wear mine as much as Yeison does since the purple stands out a bit, I put them on whenever we're going to do an outdoor activity. Mine are also waterproof and very comfortable.
Compared to my Hi-Tec sandals, the KEENs are like a dream outdoor sandal. I never have to keep adjusting the straps since it stays put all day, it's incredibly sturdy and I haven't had any problem with them in the 6 months I've had them.They've gone all over Asia, the United States and Costa Rica with me!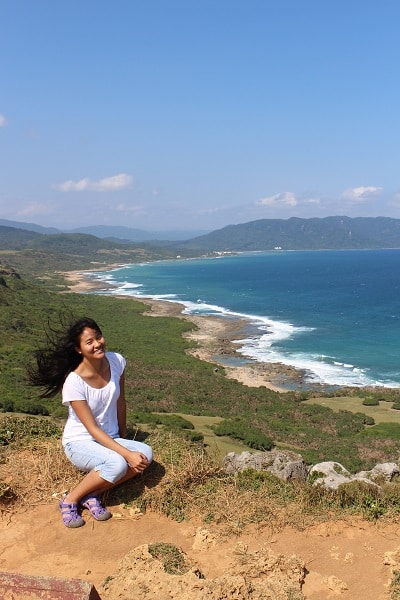 Though they're definitely not what some would call "fashionable" for women, I'd rather wear these shoes than some other flimsy pair that might be considered more trendy. Just make sure to get one that fits snug because they do stretch out. I got a 6 and I probably could have gotten away with a 5.5 since they've stretched a bit.
You can get the women KEEN sandals here.
Samantha also has a pair of the KEEN Ambler Mesh hiking shoes which she loves. She's had them for several years and still uses them.
There are Amazon affiliate links in this post.