One of the most asked questions we get from travelers is what Costa Rica travel gear they should bring. Many travelers are concerned about type of clothing, shoes and things like that and I completely understand. As it is a tropical country with 26 micro-climates, you need to be dressed appropriately and come prepared for all of the elements!
We have a complete packing list for Costa Rica but I'm going to detail everything you will find in our personal backpacks. After living and traveling in Costa Rica for the past 3 years, we've gotten pretty good at finding out exactly which items we love and what we don't.
So here it is, our favorite Costa Rica travel gear that always bring with us when we're hiking in the jungle, wildlife watching or having a relaxing beach day.
This post has Amazon affiliate links.
Our Favorite Costa Rica Travel Gear
Backpack
When it comes to backpacks, Yeison and I have a few for different occasions. I'm a little obsessed with backpacks as you can see!
High Sierra 65: We've backpacked a couple times and this is the one we use. It's comfortable and has lasted Yeison nearly 5 years (I think we will upgrade soon though). Straps are still intact, material hasn't ripped and it hasn't worn out. He can fit all his clothes, bathroom accessories and gadgets.
Deuter 45 +10: This is my backpack. It's designed for women so it fits my back a lot better and you can adjust it every single way you can imagine. It is 45 L with an extra 10 in case which is super handy. It's not as big as Yeison's but my items are smaller and it makes me pack smarter and more efficient. Mine is dark red, which I love!
The PACK: This one item has changed the way we pack and has made our packing so much easier. It's an organizer with 4 compartments that you can easily put in and pull out of your backpack or suitcase. Use the code TanFeet20 at checkout to get 20% off.
Osprey Day Lite: My go to day lite backpack. It's super comfortable, water resistant and has an H2O pack. However, it is a bit small so it's a little hard to get your things if you pack a lot of stuff. I can fit my rain jacket, Canon T5i plus my 250 mm lens, water bottle, rain cover, mosquito repellent, sunscreen, sarong and food but it is a bit tight. Ideal for short hikes, but not long ones when you need more items.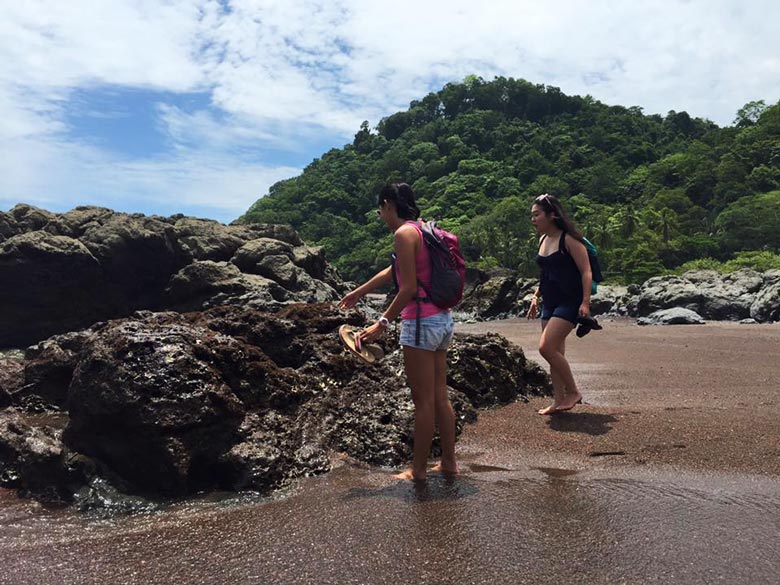 Aqua Quest Stylin: When it comes to 100% waterproof backpacks, this is our favorite for day trips. It has the roll top so your items stay nice and dry, it's comfortable to wear with the air mesh back panel and it has reflectors which are incredibly useful here. It's bigger than my Osprey so I use this one for longer hikes/day trips.
I also have a North Face Overhaul 40 Travel Backpack when we travel internationally. It's big enough to fit my 15 inch laptop and Canon 5d Mark III with a standard lens and 100-400 zoom lens or my Canon T5i with a standard and zoom lens. I can also put water bottles, towels, change of clothing, food and swimsuit with no problem.
Camelbak Rain Cover: I never leave home without this cover during rainy season. You never know when it'll start raining in Costa Rica and this cover has saved my backpack so many times, it is 100% waterproof. I love that it's bright yellow so you can see it at night and is easily noticeable. Also handy to protect your belongings on boat rides.
Clothing and Shoes
The North Face Venture jacket: Best rain jacket for rainy season. I've worn it hiking, boating, horseback riding and other activities in the rain and it's kept me perfectly dry. It's light and breathable with zip pockets on the side.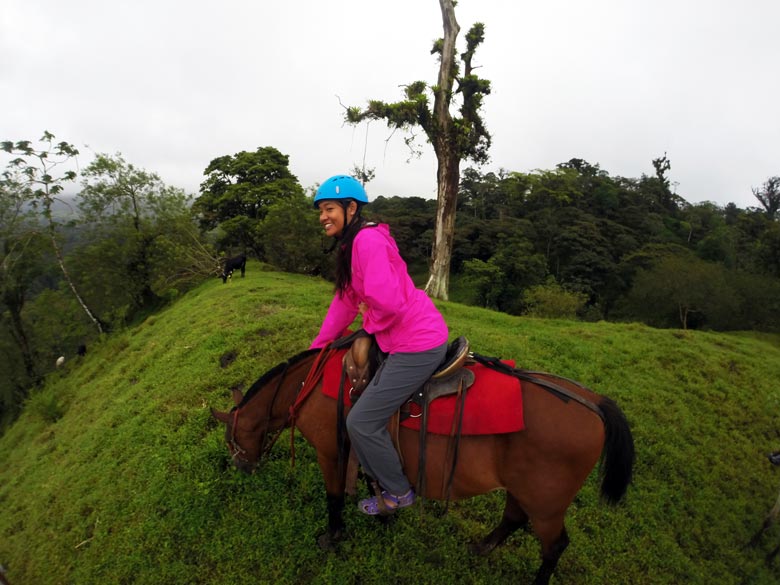 Marmot visor: This one has SPF 50 built in and is super breathable, I wear it every time we go out (even walking on the beach) to protect my face. Yeison has an REI visor with SPF 50 and a Columbia hat. A hat is essential in Costa Rica, whether it's a beach hat or Indiana Jones style.
KEEN sandals and shoes: I know we always talk about how much we love our KEEN sandals, but honestly they are the best thing for Costa Rica. Go from water to land without worrying about getting your socks/shoes wet and let your feet breathe. We both have a pair of KEEN Newport H2 sandals, I have a pair of KEEN Ambler mesh hiking shoes and Yeison has the KEEN Targhee Waterproof Hiking Boots.
You can read our post on the best shoes for Costa Rica and what we recommend.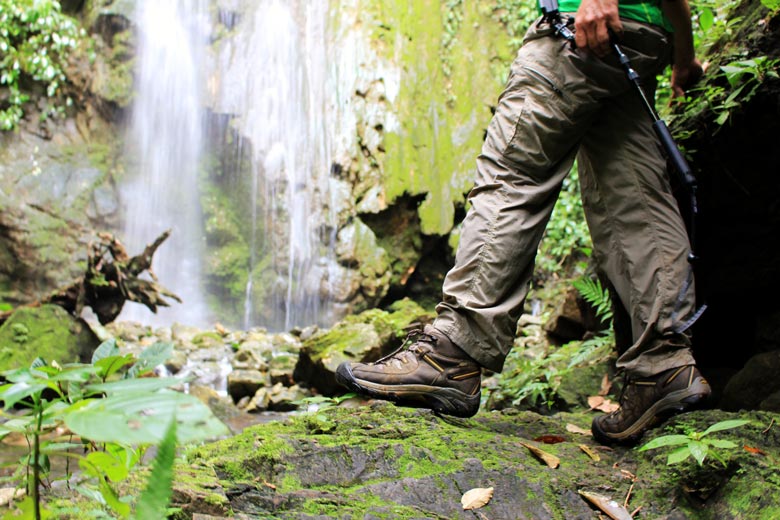 O'Neil rash guard: I love this rash guard when I'm surfing, snorkeling and boating. It has UPF 50+ in it so it protects my skin from the board and the sun. Really handy when snorkeling to protect against the annoying jellyfish that sting you.
Cameras/Electronics
Battery pack: I never leave the house without this thing. When fully charged, I can get 2X the charge to my Samsung Galaxy and Yeison's iPhone 7 Plus. It's slim, charges fast and the pink is easy to spot so you won't forget it.
Sony Action Cam: We've switched from GoPro to Sony for action cams and we couldn't be happier. It also comes with a watch so you can see what you're recording on the screen, it's waterproof, has built in stabilization and shoots in 4k.
Canon 5d Mark III: For beautiful photos of the stunning Costa Rica landscapes and scenery, we always have our Canon 5D Mark III. Pair that with the 100-400 mm zoom lens and 1.4 extender and you can get awesome wildlife photos.
Sony a6500: The newest edition to our gear team. This mirrorless camera is amazing for videos and so much lighter than my Canon. But for nature and wildlife photos, we still stick to the Canon. But for videos and portraits, the Sony is incredible.
Phantom 4 Pro Drone: We use this drone for our media since the camera is amazing. But for travel, the Mavic is a lot more popular since it's more compact but when it comes to control over exposure, stabilization and camera quality, the phantom 4 pro is way better.
Misc Items
Hydroflask water bottle: We love love this water bottle. We both got the 40 ounces (1.18 L) and it keeps our water nice and cold for 24 hours. It's a bit big but so worth carrying for nice cold water out at the beach or in the humid jungle.
Microfiber towel: This towel is a great replacement for the huge cotton beach towels which are super bulky. Dries fast and the x-large is big enough to lie down on. They have different sizes so you can always get a small one which is great for wiping sweat off the face.
Other items we always bring are mosquito repellent, sunscreen, chapstick with SPF, a waterproof watch, extra camera batteries, a travel first aid kit and a small flashlight.
We hope this list of our favorite Costa Rica travel gear will help you decide what to bring for your own trip!
Read more Costa Rica travel tips here!