Miravalles Volcano is the tallest volcano in the Guanacaste mountain range (600 meters or 1969 feet) and surprisingly, the least visited. The volcano's high activity powers a large geothermal plant, contributing to Costa Rica's high percentage use of renewable energy and also offers visitors an interesting volcano experience.
The other sister volcanoes, such as Rincon de la Vieja and Tenorio Volcano are more developed as they're home to popular national parks. If you want to visit the lesser known volcano of this group, then use our guide below to plan your visit to Miravalles Volcano which has equally beautiful natural attractions.
You can visit Miravalles Volacno on a day excursion from Guanacaste, stop over on your way from La Fortuna/Bijagua to Guanacaste or stay a night or two in the surrounding lodges. More information below.
Location
Miravalles Volcano is in the Guanacaste province, 65 kilometers (40 miles) from Liberia International Airport.
How to Get to Miravalles Volcano
Renting a car and driving is the best way to get to Miravalles Volcano since there is no "town center" and the attractions are spread out. There are no public buses that go directly to this area and shared shuttles do not go here.
A 4×4 is not absolutely required to visit Miravalles Volcano but a high clearance car is recommended for the most safety and comfort due to some roads being gravel with potholes in the area if you are visiting during rainy season (May through November). You can enter from either via Bijagua de Upala or from Bagaces. Get our Costa Rica car rental discount here!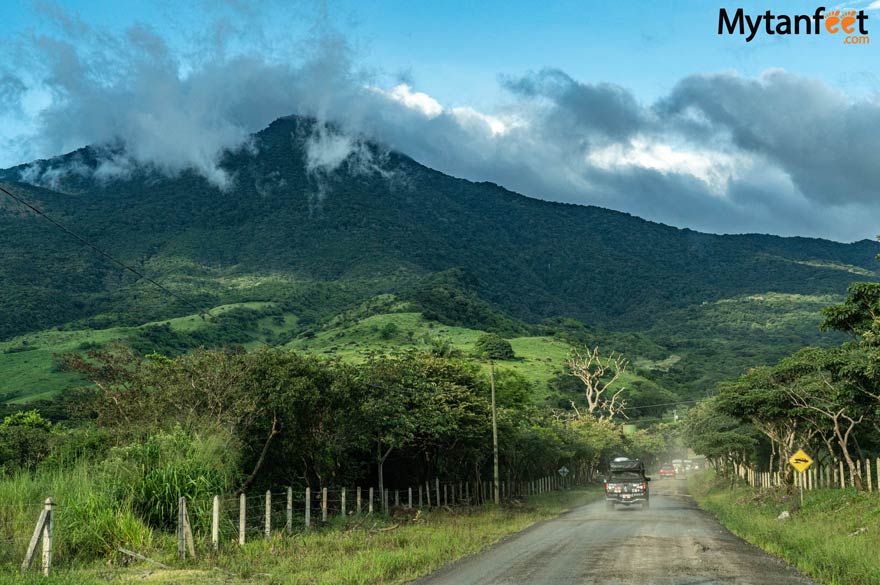 If you do plan to stay overnight in Miravalles, then a car is required. Like mentioned earlier, there is no town center so you will need to drive at least 30 minutes to Bagaces or 1 hour to Liberia to go to the bank, pharmacy, get groceries, etc. This is why most people visit Miravalles Volcano on a day excursion or stay just 1 night.
If you don't have a car and are not planing to stay overnight in Miravalles, then the best way to visit is via a day excursion which we'll talk more about below. Also if you want to do the Miravalles volcano day trip, we have a small discount for it!
Additionally, if you are planning to stay a night or two in Miravalles Volcano area and do not plan to rent a car, you will have to book a private shuttle. Read more about booking private shuttles and request a quote!
What to Do at Miravalles Volcano
The activities at Miravalles Volcano are in private reserves and hotels.
Miravalles Volcano Hike: Hike around the base of the volcano through the rainforest for beautiful views. There is a trail near Thermomania that goes up to nearly 2000 meters. Rio Perdido and Las Hornillas also have hiking trails. Las Hornillas goes to 2 waterfalls.
Mountain Biking/Ziplining/Tubing: Rio Perdido Resort has a huge property with hiking trails, their own ziplining tour, white water tubing down the river and mountain biking trails.
Miravalles Volcano Hot Springs and Mud Baths
Thanks to high volcanic activity, visitors can enjoy hot springs and mud baths at the base of the volcano. There are a few hot spring resorts such as Yoko Termales, Thermomania, Las Hornillas, Las Colinas del Miravalles and Rio Perdido.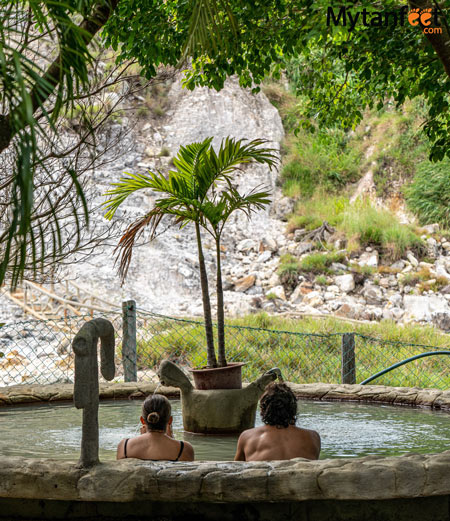 We really enjoyed Rio Perdido hot springs and mud baths, they were more natural and tranquil. Thermomania is a popular one in the area but it's more like a waterpark and is very busy on weekends and holidays with locals. Yoko Termales is another popular one.
Miravalles Volcano Tour
If you don't have a car, you can book a tour with transportation. The typical Miravalles Volcano Tour goes to Las Hornillas and consists of hiking, horseback riding, lunch and hot springs. Get a discount off this day excursion from Guanacaste! The Miravalles Volcano tour includes roundtrip transportation from Northern Guanacaste towns, bilingual guide, entrance fees, activities and lunch.
DIY One Day Trip – Visiting Miravalles Volcano On Your Own
Here is a sample itinerary for a 1 day trip to Miravalles Volcano from Tamarindo (how we did it). Can be applied from other Guanacaste beaches like Playas del Coco, Flamingo and the Papagayo Peninsula.
Driving time from Tamarindo: 2.5 hours approximately
8 AM: Left Tamarindo, grabbed coffee on the way at the Do-It Center. Stopped by the Llanos de Cortes waterfall on the way in Bagaces and picked up some snacks in Liberia
11 AM: Drove up to the Miravalles Volcano to check out the views and the geothermal plants around
12 PM: Went to Rio Perdido to spend the rest of the day. We went white water tubing, had lunch and then relaxed in their hot springs for the rest of the day. They have an area with natural pools and mud baths that we loved. Their property is gorgeous and food is fantastic.
5 PM: Drove back to Tamarindo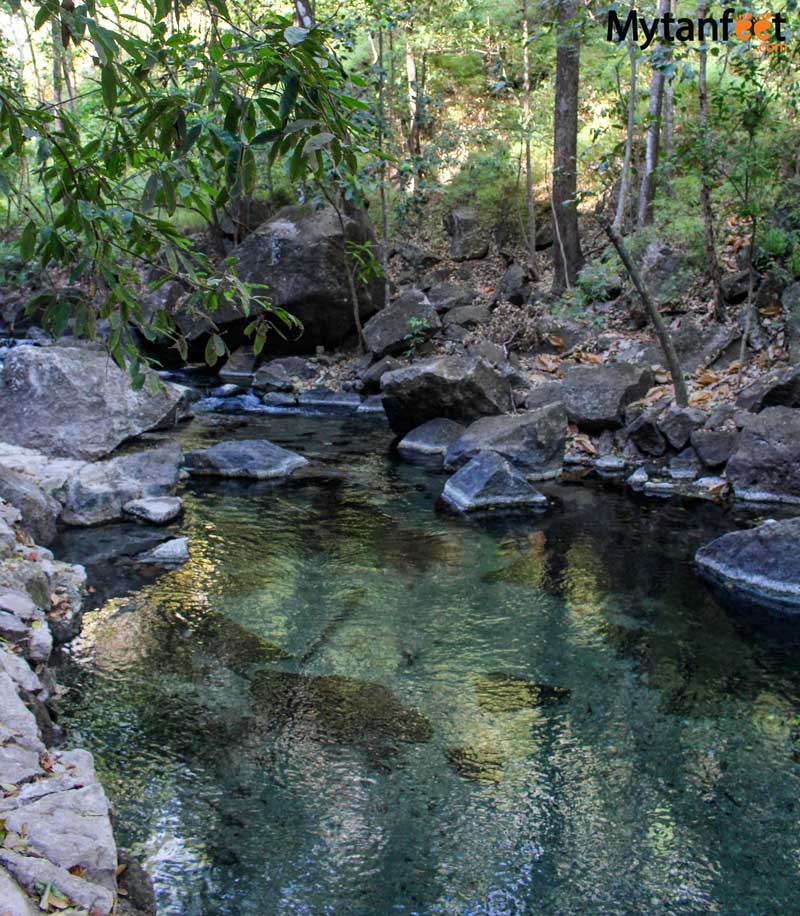 Another place you can visit instead of Rio Perdido is Las Hornillas. They have a hiking trail to waterfalls, their own volcanic boiling mud pots and hot springs. We have camped overnight there before and really enjoyed walking through their boiling mud pots trail.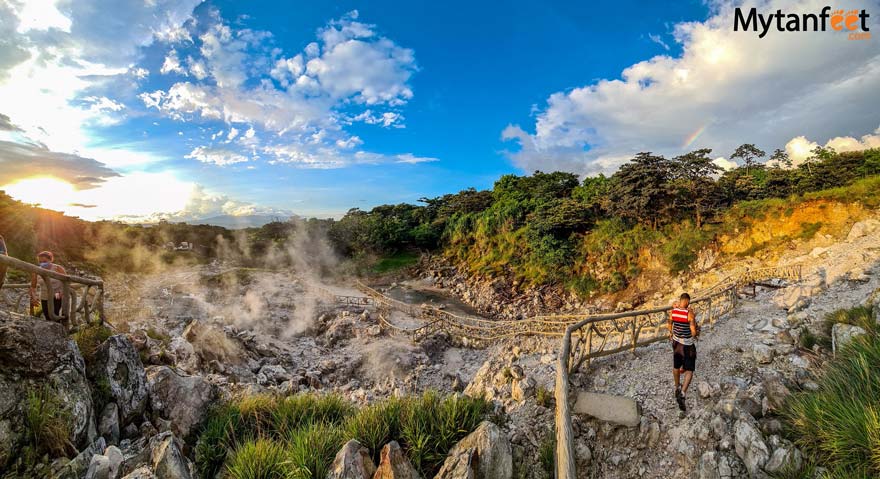 You can spend a day at Las Hornillas to hike and enjoy their hot springs.
Where to Stay in the Area
There are a handful of small local lodges and accommodation options in the area.
Rio Perdido: This is the biggest hotel in the area and it is not just a luxury hot spring resort, but they also have their own adventure park with tubing, hot springs, mud baths, ziplining, mountain biking and yoga decks. One of our favorite mountain resorts in Guanacaste.
Las Hornillas: This is a small, family owned and run property that has waterfalls, trails and an active crater with bubbling mud pots and fumaroles. They have a few small cabins for guests as well as a camping area.
Hotel Colinas del Miravalles: Family run hotel with seven thermal pools, restaurant with home cooked meals and modest rustic cabins.
Sample Itinerary If You Want to Stay Overnight in Miravalles
Here's a quick sample itinerary for those flying in and out of Liberia International Airport. this itinerary is geared for those who really want to hike. It has a mix of the mountain, forest, volcano and beach.
Day 1: Fly into LIR Airport, pick up rental car, head to Bijagua de Upala. Stay in Rio Celeste Hideaway Hotel, La Carolina Lodge or Casitas Tenorio (get 10% off in the link). 1 5 hour drive
Day 2: Hike to Rio Celeste in Tenorio Volcano National Park.
Day 3: Go birdwatching or see sloths at one of the private reserves in the morning. Then drive to Miravalles Volcano (Rio Perdido/Las Colinas del Miravalles or an Airbnb). Relax in hot springs at night. ~1 hour drive.
Day 4: Hike, zipline, hot springs, mud baths, etc. at your place in Miravalles
Day 5: Drive to Hacienda Hotel Guachipelin, check in and hike to the Las Chorreadas waterfalls on the property in the afternoon. Watch the sunset from their observation area. Drive ~1.5 hour
Day 6: Visit the La Leona waterfall park (~10 minute drive) to do the hike and relax in the beautiful blue pools. Stay at Hacienda Guachipelin that night again and visit the Oropendola waterfall in the afternoon when you get back from the La Leona hike.
Day 7: Drive to the beach! Check out beach towns like Playas del Coco, Ocotal, Papagayo Peninsula, Flamingo, Tamarindo or Potrero. 1.5 hour-2.5 hour drive depending which beach you go to