If you're planning your first trip to Costa Rica, we highly recommend getting a Costa Rica map to help you get around and orient yourself. Getting a map is one of the first things we do when we book a trip. It makes travel planning much easier!
Here are our recommended Costa Rica maps and guides to help plan your trip. Even though most of the Costa Rica maps on this list are for purchase, I'm including a local tip for you to get free maps.
National Geographic Costa Rica Map
The National Geographic Adventure Costa Rica map is excellent. I have also used their Iceland map and they have a ton of information geared towards adventurers such as road conditions, campsites, hiking trails, etc.
If you like nature and wildlife, I also recommend you to get the National Geographic Adventure + Naturalist Set. You get the map and the naturalist guides so you can read about the different flora and fauna in Costa Rica. It's a lot lighter than carrying the heavy books!
ICT Visit Costa Rica Tourist Map and Brochures (free)
And here are the free Costa Rica maps you can get when you are in the country.
In both San Jose Airport and Liberia International Airport, there is a Visit Costa Rica/ICT (Instituto Costarricense de Turismo) office where they have free maps and brochures. The maps are in both English and Spanish. The office is right next to where you exit customs in the airport.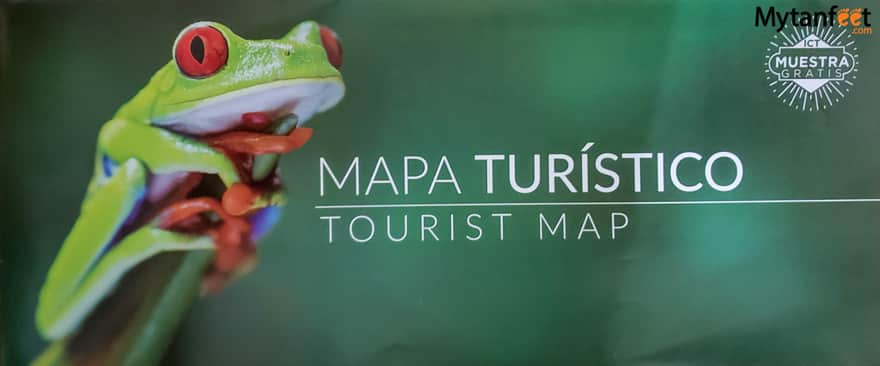 They have one main Costa Rica map with cities, national parks, beaches, volcanoes, wildlife refuges, museums, highways, provinces and more. It even includes all the roads, separated out by highways, paved roads, lastre (gravel), 4×4 only and concrete. Additionally, it has the distances in kilometers between major cities.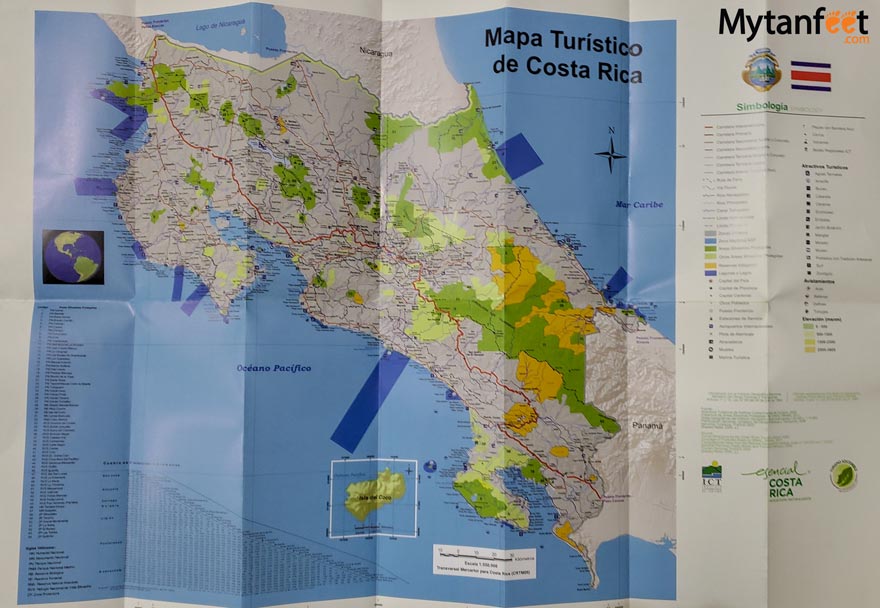 On the other side, it has a zoomed in map of San Jose and the main metropolitan area (Central Valley). It also has the downtown map of Heredia, Alajuela, Cartago, San Isidro de El General, Liberia, Ciudad Quesada, Limon, Puntarenas and Ciudad Quesada.
For a free map, this one is very detailed and informative. If all you want is a map to use once in awhile or as a Costa Rica souvenir, this is an excellent option (plus it's free).
Brochures
They also offer many free brochures and informational guides to national parks and cities in Costa Rica.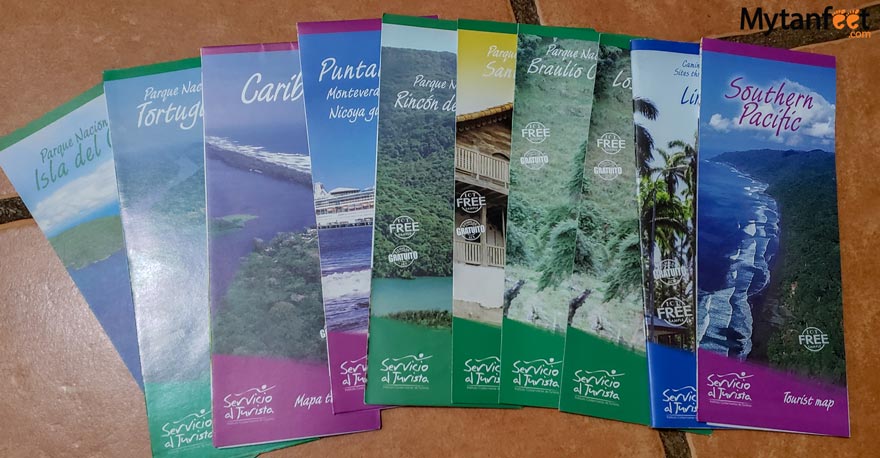 All of them have information about the place such as how to get there, what to do, a map, and photos.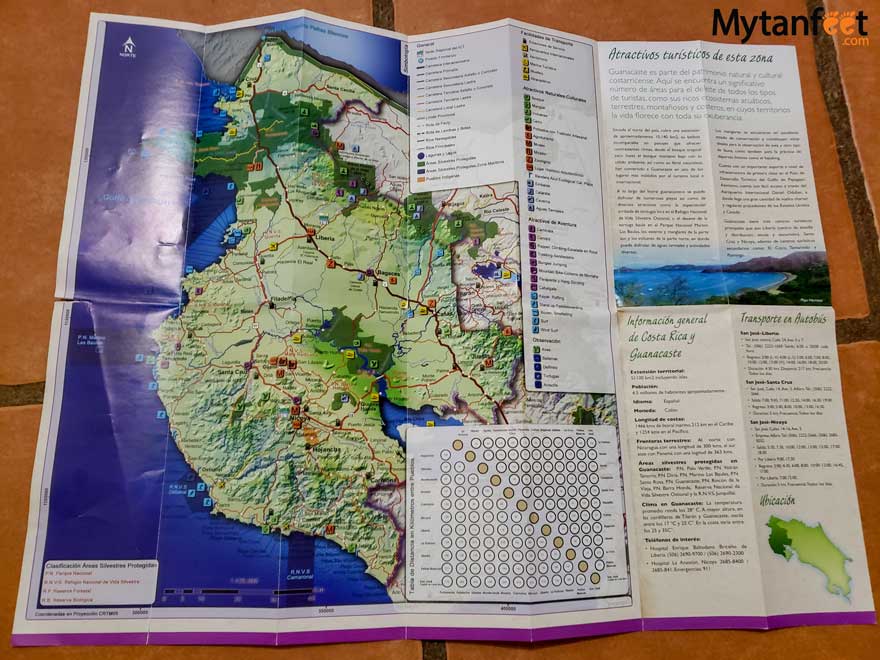 Even though we live in Costa Rica, we grabbed a bunch because they have a ton of handy information for places we haven't been to yet.
CRMaps (Free)

CRMaps produces excellent cartoon maps of Costa Rica beaches, beach towns and main tourist destinations. They are free and you can find them in most supermarkets or tour desks. We always grab them from the supermarkets.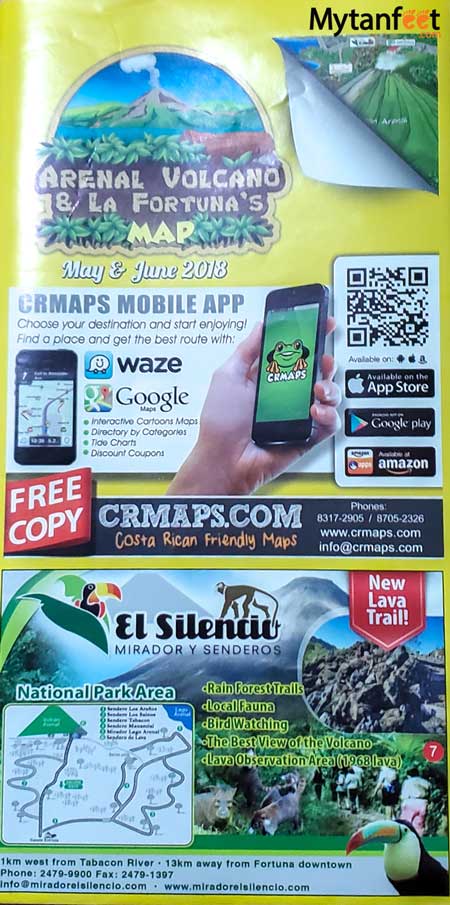 They also have a free app you can download and it's one of the best apps for Costa Rica. CRMAPS has maps for Jaco, La Fortuna and Arenal Volcano, Manuel Antonio and Quepos, Tamarindo, Playas del Coco and Hermosa, Dominical and Uvita and Herradura so far.
Free Maps You Can Find at Hotels, Supermarkets, Tour Desks, Etc.
You can also find a lot of destination specific maps at hotels, supermarkets, tour desks, car rental offices, info centers, etc. Here are a few that we have grabbed.
iPuraVida
We got this one at the Monteverde info center in Santa Elena.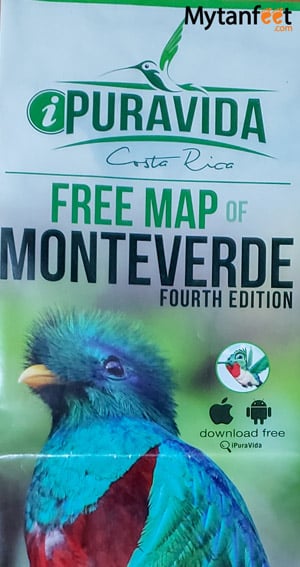 It's pretty useful with a zoomed in map of Santa Elena downtown, the roads and Monteverde.
It also lists hotels, tours, restaurants, shopping, transportation and services phone numbers and contact information.
I tried to find the app but their website is down and I couldn't find it in the app store. Because of that, I'm not sure if they have maps for other destinations since we haven't seen other iPuraVida maps around. But the one I found for Monteverde was nice and easy to read.
Hopefully they continue making them!
Costa Rica Road Map
We have found a couple Costa Rica road maps. If you're renting a car, we found Costa Rica road maps by the ACAR (Costa Rican car rental association) and Adventure Hotels of Costa Rica. The ACAR map has the whole country and San Jose with distances and points of interest.
I will say that for the ACAR map, it wasn't as detailed as I thought it would be for roads. The free one by the ICT is more detailed as it has all the different roads (official, gravel, concrete, 4×4) whereas the ACAR doesn't. All it has is roads, seasonal roads and main roads.
The Adventure Hotels map is much more detailed and it also has elevation. Additionally, it lists all of the hotels that participate in Adventure Hotels of Costa Rica (nonprofit organization of small, eco-friendly hotels). This costs $3 but we found it for free at one of their hotels.
Nicoya Peninsula
At our Airbnb in Montezuma, we got a free map of Nicoya Peninsula that was extremely helpful.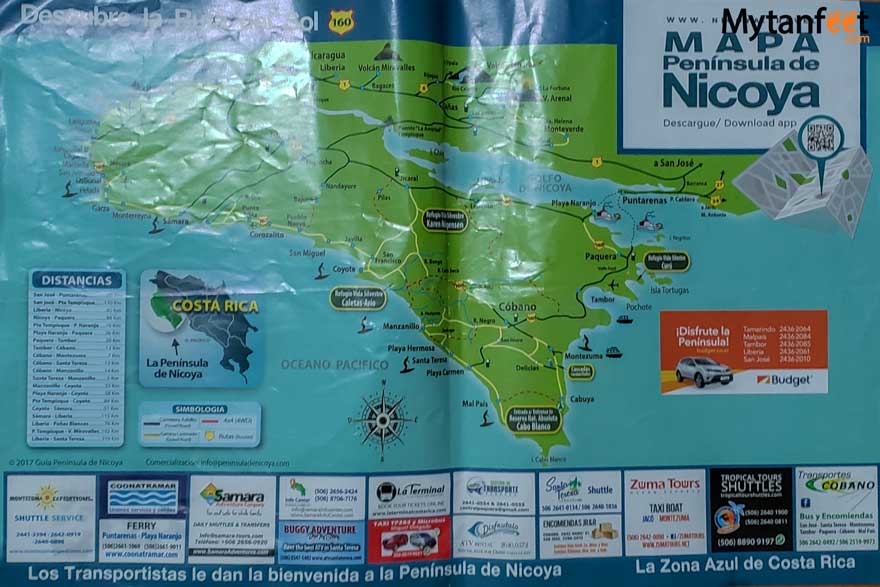 Costa Rica Bird Guide
If you're an avid birdwatcher, then you'll want to come prepared with a thorough bird guide. I have this bird guide in particular and carry it with me whenever we go birdwatching so I can tick the ones off I've seen.
Costa Rica Wildlife Guide
To learn about all wildlife in Costa Rica, get the Costa Rica wildlife guide. One of the author's is the same as who wrote the bird guide and it's just as informative and helpful.
If you don't want to bring a whole book, you can get a small laminated field guide. Not as much information of course but way lighter and easier to carry!
Mytanfeet Destination Map
For an extra, make sure to check out our online destination map! We put this map together that separates all the articles we've written by beach, city, activities, hotels, national park/reserve, things to do and more.
Read other Costa Rica travel tips below!
17 things to know about Costa Rica before you go
10 mistakes to avoid making in Costa Rica
Common Costa Rica tourist scams