Rio Celeste is undoubtedly one of the most incredible places in Costa Rica. This sky blue river in the Tenorio Volcano National Park enchants visitors with its stunning color and beautiful waterfall, making it a must see.
If you're planning on witnessing the magic of Rio Celeste with your own eyes, you'll be happy to know that the road to the national park entrance is now concreted over. The road from Bijagua to the park entrance has been re-done since it got damaged from Hurricane Otto in 2017 so it's no longer a hilly dirt road.
Below you will find how to get to Rio Celeste from Bijagua, how to get to Rio Celeste from Liberia and how to get to Rio Celeste from La Fortuna. I also added Playas del Coco and Tamarindo since I know a lot of people are interested in doing a day trip from those destinations. This is for people who are renting a car which is the best way to visit Rio Celeste on your own as there are no public buses or shuttles directly to the national park entrance.
Click the section to skip to it.
What Car to Rent and Tips for Driving to Rio Celeste
In the dry season, you could get to Rio Celeste with a sedan. However, even though the road is concreted over the whole way, in rainy season we highly recommend a 4wd. This is because when it rains, the road does get slippery since it's concrete and there are some narrow curves and steep hills.
Make sure to drive extremely carefully on this road no matter what time of year you visit. Locals drive fast and will tailgate so don't feel pressured or stress out if that happens to you. Just go slow and they'll pass you on their own accord.
Note that this road does not have painted lanes, stop signs, traffic flights, speed bumps or signs so go slow!
Rio Celeste Parking Lot (Tenorio Volcano National Park Parking)
There is a large parking lot at the entrance of Tenorio Volcano National Park. As soon as you park, someone will come collect 2000 colones per car. They'll give you a parking slip, please place this ticket on the dashboard of your car so it's visible.
Although this is a "secure" parking lot in that there is a "guard" and it's at the park entrance, don't leave any valuables visible in your car, make sure to lock your doors and roll up windows. There aren't any security cameras and the national park/local community won't take responsibility for any damage to cars or theft. There is a lot of traffic through this area and you will see many tour shuttles and vans.
If you have luggage in the car, I recommend to get there earlier and park as close as you can to the office and entrance where there are more people. Keep your luggage in the trunk (or covered if you have an open trunk in an SUV) and don't leave any valuables visible.

What to Put in Your GPS
On Google Maps, put in "Parqueo del Parque Nacional Tenorio" as your destination. Don't put in Tenorio Volcano National Park or just Rio Celeste as it won't take you to the parking lot or it'll say "route not found." You can also put "Soda y Cabinas El Parque" as your destination, as that restaurant is literally right in front of the national park parking lot.
If you're using Waze, enter "Rio Celeste catarata waterfall official parking."
Renting a car? Get our Costa Rica car rental discount and extra freebies!

How to get to Rio Celeste from Bijagua
In the video below, you can see how to get to Rio Celeste from Bijagua and how the road is. Bijagua is the main town near Tenorio Volcano National Park and it's about a 25-30 minute drive from the town center to the park entrance. As you can see, it's a very easy drive! From Bijagua, there is only one turn.
This video was taken January 2018. The road is now completely paved in March 2019!

We took this video by strapping our Sony Action Cam to the top of our car so that we can show you what the route looks like. We saw a few sedans on this road so if you're worried that you can't make it in a sedan, don't! You can definitely drive a sedan to Rio Celeste. Just make sure to drive slow and carefully because the road is narrow and windy.

How to get to Rio Celeste from Liberia
If you're coming from Liberia International Airport, turn left onto the main road towards Liberia on Route 21. Then turn left onto the InterAmericana highway 1 for about 40 kilometers (25 miles) and then exit left off the highway towards Upala (Route 6). You'll continue on this road for another 33 kilometers (20 miles) until you reach Bijagua.
Once you get to Bijagua, you'll turn right about 1 kilometer (.6 mile) north of Pizza Barrigon. Continue on this road for about 25 minutes. This drive takes about 1.5 hours.
Below is the map. You'll notice I put as the destination "Soda y Cabinas El Parque."
This route is on all well paved roads and is a very easy drive.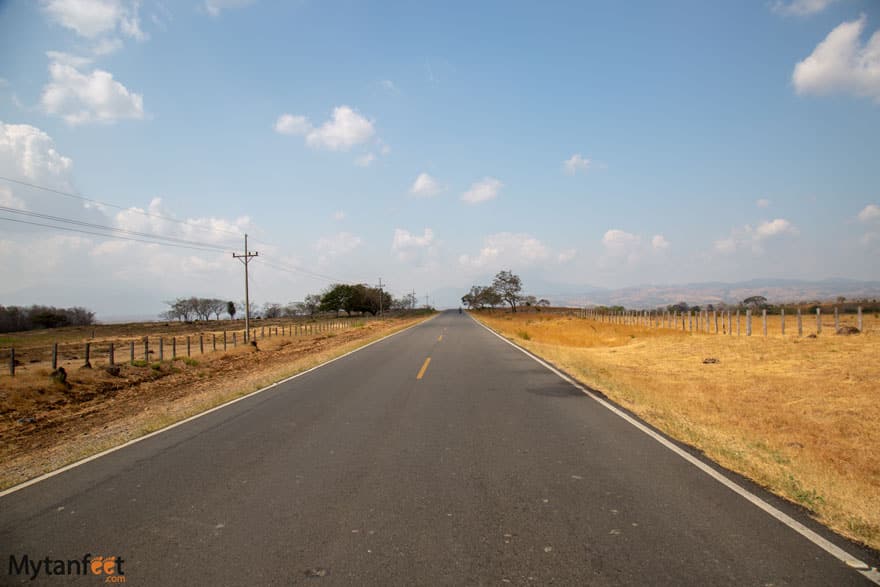 How to get to Rio Celeste from La Fortuna
There is a newish road connecting La Fortuna to Tenorio Volcano National Park making it really easy to go from La Fortuna – Rio Celeste – Guanacaste. This road takes about 1.5 hours on a nice, paved road through small towns and farmland with scenic views.
Here is the map:
You will need to head east out of La Fortuna on Route 142, and then turn left onto Route 4. This road has a lot of signs so make sure you follow the signs. At first, follow the ones to Upala and then you will start seeing Tenorio Volcano National Park, Rio Celeste and Bijagua. This is one of the few routes where I recommend to follow the road signs instead of Waze. Waze kept trying to turn us onto the old road, which is on a not so good road and took much longer.
Here are some photos of this route.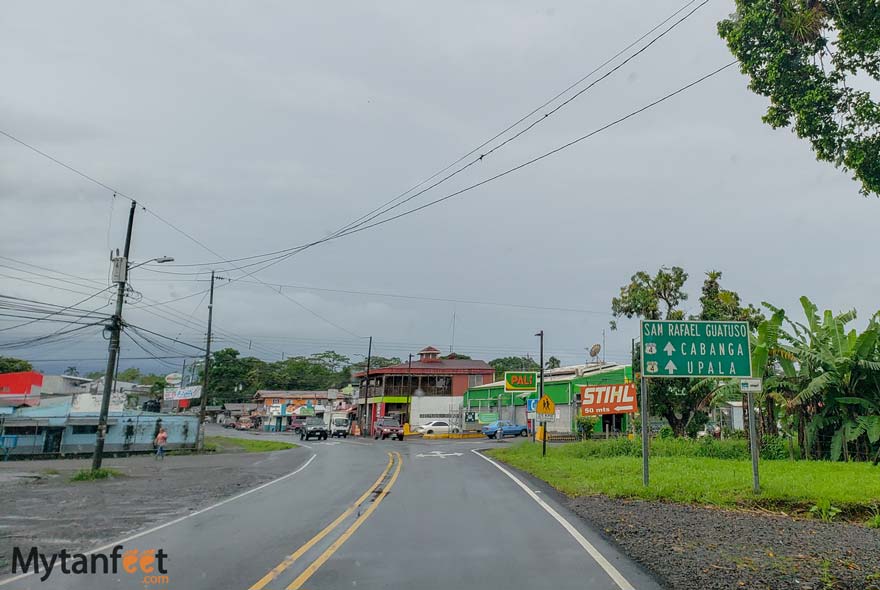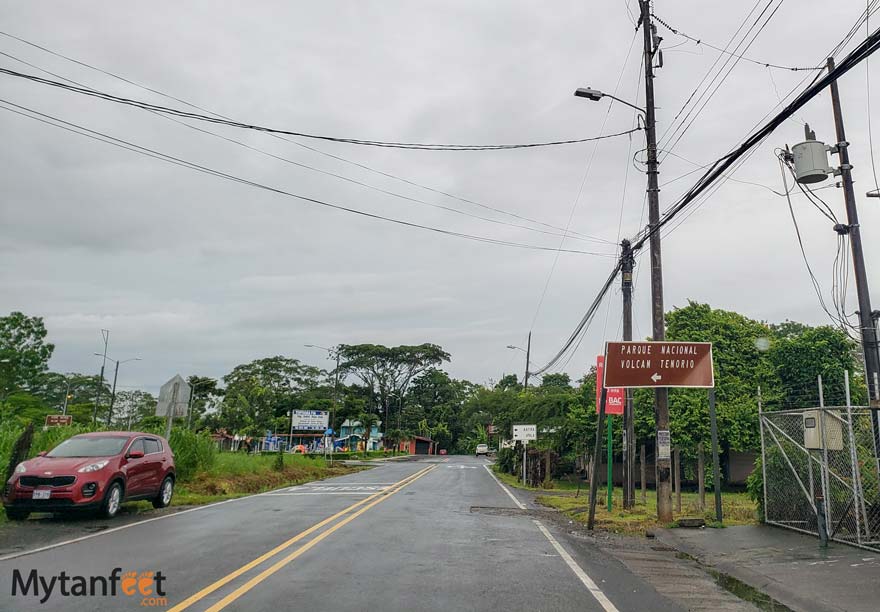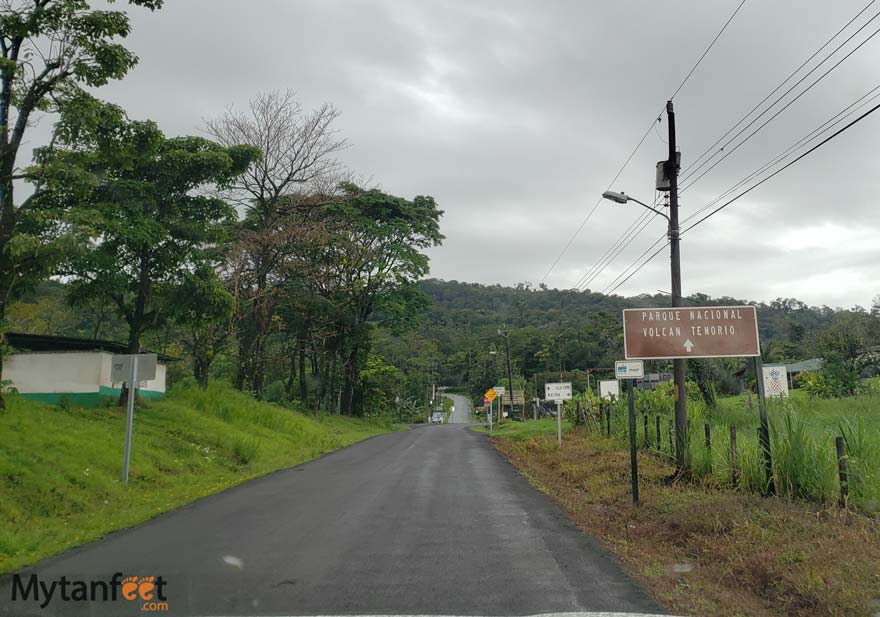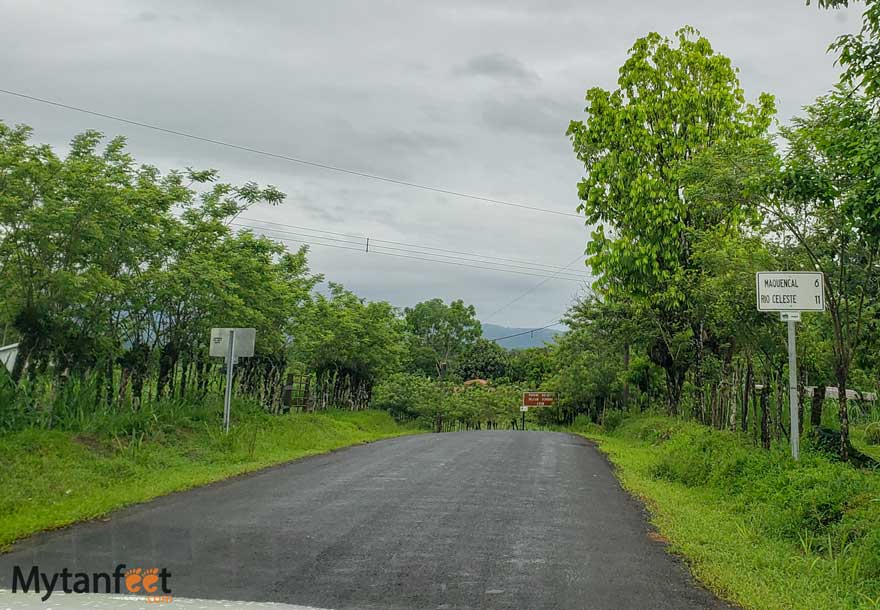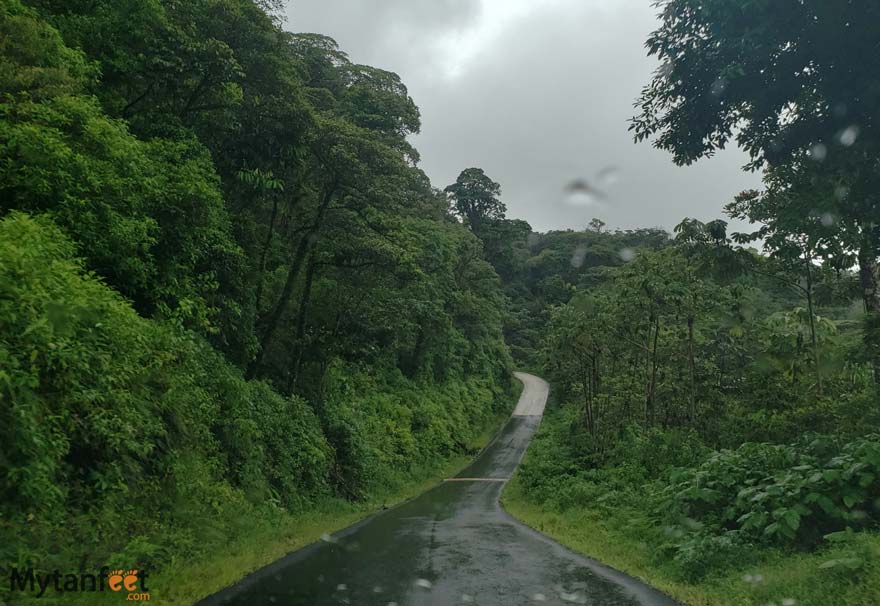 How to get to Rio Celeste from Playas del Coco
This route is very easy. All you have to do is drive from Playas del Coco to Liberia and then follow the same directions from Liberia. Playas del Coco to Liberia is about a 40 minute drive on an easy route.
Playas del Coco to Rio Celeste is about 2 hours.

How to get to Rio Celeste from Tamarindo
From Tamarindo, you will need to go back out the way you came from Liberia Airport and follow the same directions. Good road, easy route.
It's about a 2.5 hour drive from Tamarindo to Rio Celeste.
How to Get to the Free Rio Celeste Swimming Pool
Click here to go to our guide to the Rio Celeste Free Pool so you can swim in the sky blue river!
Find out how to get to other places in Costa Rica!
How to get to Playas del Coco/Gulf of Papagayo