Are you looking for an Airbnb in Playas del Coco? Here is our review of one run by our friend Marcy who built a guest house on the second floor of his home. Playas del Coco can feel very Westernized with signs in English and prices in USD so if you are looking for an authentic Costa Rican experience, check out Marcy's Airbnb.
About Marcy
Marcy is a Costa Rican and he lives with his family in Playas del Coco. They have lived there for many years, in fact most of his life! His family is originally from San Jose but they visited Coco every break they had ever since he was a child and they have seen Coco turn from a rural fishing village to a popular touristic town.
He's a surfer at heart but he also loves to fish, snorkel and have a great time. He's one of our best friends and he's done a wonderful job with his Airbnb. He speaks English, has worked in the USA and abroad in Europe so he's got some great stories to tell. If you've ever wanted to really get to know how Ticos live and their culture/lifestyle, he is one of the best guys to stay with in the otherwise Americanized Coco beach town.
Location of Airbnb in Playas del Coco
Marcy's house is in a neighborhood in Coco called "Los Canales." This is an authentic Costa Rican neighborhood where the locals live. Other neighborhoods in Playas del Coco are run by US/Canadians since there are many them living in Coco. Nothing wrong with that of course, but if you are looking for a place with more of a Costa Rican vibe, this is the best neighborhood to experience it.
His place is about a 15 minute walk to the beach and downtown, it's close to the Auto Mercado supermarket and it is in a safe area. He has plenty of parking spaces for your car on his house property.
Marcy's Guest House
The second floor of Marcy's home consists of 4 separate guest rooms, each with their own bathroom and kitchen. You can comfortable sleep up to 5 -6 people in the rooms so this is a great option for groups and families. There is also a shared common area with tables, chairs and a hammock outside on the second floor.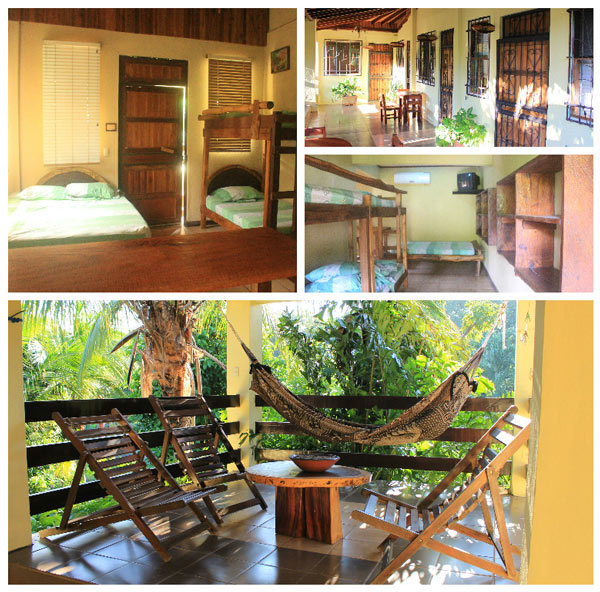 The second floor has its own private stair entrance outside so you don't need to go inside the house as Marcy and his family live on the first floor.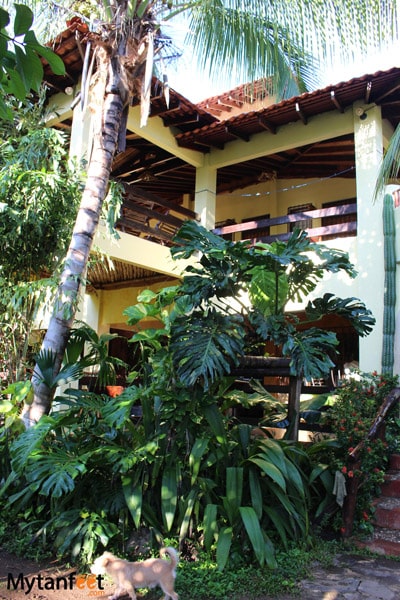 He currently has four listings up on Airbnb. One is for a private room, another a 4 person private room, a 2 person private room and one is for a shared room. We also have a guide to using Airbnb in Costa Rica.
Pros
I highly recommend Marcy's place if you:
Want to experience local life. His home is located in the Tico neighborhood of Playas del Coco so there are only local families around. It's on the 2nd floor of his home so you'll meet his incredibly sweet family and they'll tell you stories about Costa Rica 30 years ago.
Want to stay out of noisy downtown. The area his house is located is quiet (save for the roosters) and peaceful. We spent a weekend there, laying on the hammock listening to the birds and rain.
Are on a budget. His place is super affordable for Coco at $60 for the private room that holds up to 4 people or $5o for a 2 person private room. It's also convenient since it has a kitchen and fridge so you don't have to eat out all the time. If you're a solo traveler, he charges $22 for a shared room with a fully furnished kitchen and fridge.
Want to be close to town but not too close. It's a 10 minute walk to Automercado and 15 to the bars and restaurants on main street.
This isn't a place for someone who wants room service, daily housekeeping, to party, full concierge service, etc. If you want full hotel services and amenities, then you should book a hotel, not an Airbnb. Marcy's place is comfortable, modest and an excellent option for budget travelers.
We like to try to experience as much local life as we can when we travel and Marcy's place is an excellent way to live the Costa Rican life in Playas del Coco. His house isn't too far from the beach, supermarkets and town and he and his family are extremely welcoming and hospitable as they wish for all their visitors to get to know the Costa Rican culture a little bit more.
Read about other Airbnbs we have stayed at in Costa Rica below!