Taking the bus is a cheap way to get around Costa Rica and it can be kinda fun sometimes. Even though taking the bus here isn't the most straightforward thing, there are some major routes where it is actually pretty simple. Unfortunately bus information isn't always readily available online since it's common for the companies to change the times and don't update their website.
I recently took the bus from San Jose to Playas del Coco which I know is a common route to take for visitors so if this is in your travel plans, this article will show you step by step how to successfully take this bus. I know it can be kinda nerve wracking riding the bus in a foreign country especially if you don't speak the language so I'm here to help you out!
Don't forget to read our tips for taking public transportation in Costa Rica.
Taking the bus from San Jose to Playas del Coco (and vice versa)
Pulmitan Terminal in San Jose
First, you need to get to the Pulmitan Terminal in San Jose at least half an hour before the hour of departure. (During holiday times I'd go at least an hour). As you may know addresses and directions in Costa Rica are kind of non existent and go something like "500 meters north of the church" so I'll do my best to describe where the station is.
On Google Maps…As you can see on the Google maps, the bus stop is close to the Kids Hospital so if you're going by taxi you can tell the bus driver "Terminal de Pulmitan de Liberia, Del hospital de niños 300 al norte."
The taxi driver should know where this bus terminal is since it's a fairly big one but just in case they don't, tell them that or write it down and show it to them.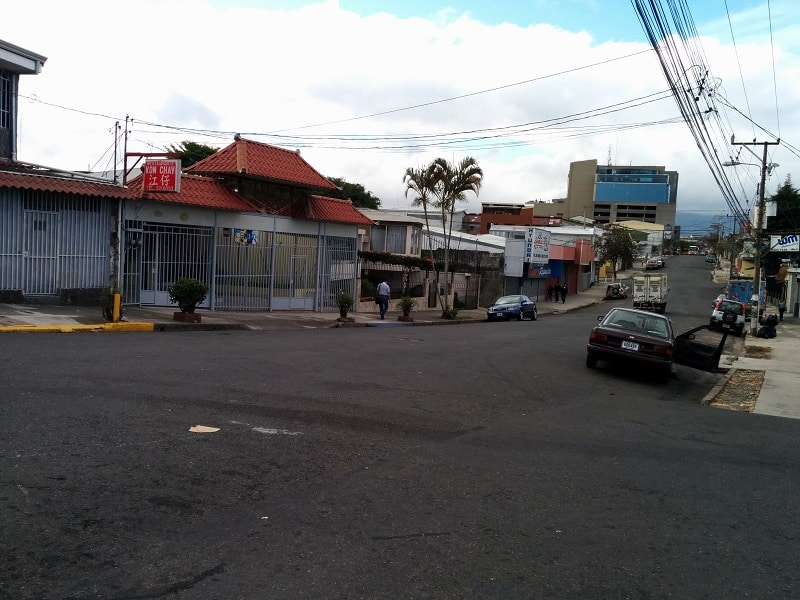 You can't miss it. The bus station looks like this: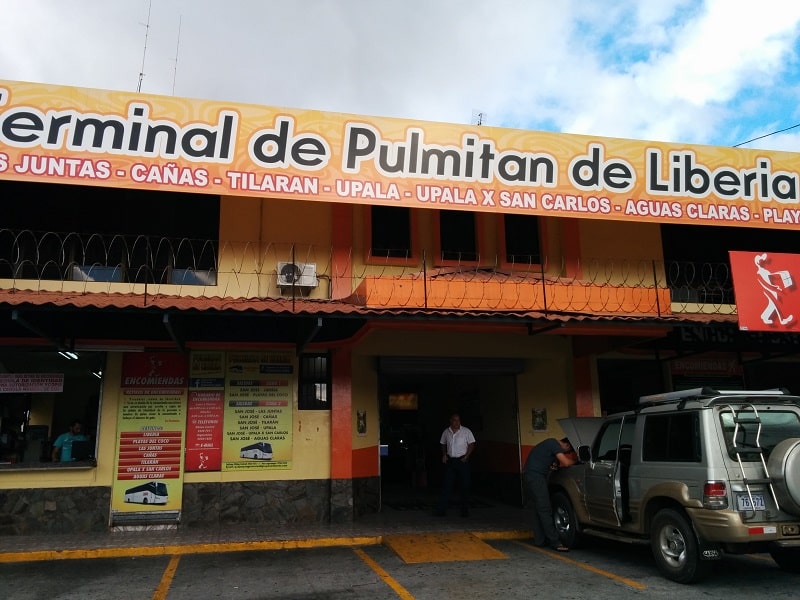 The ticket window is right around the corner to the left when you enter the station. There is a pulperia and small soda to buy food along with bathrooms and lots of seats for waiting.
Bus Times
I took the bus back in March 2015 and this is the schedule they had inside the terminal. A bus ticket costs about $9 or around 4,500 colones one way. You can pay using colones or credit card.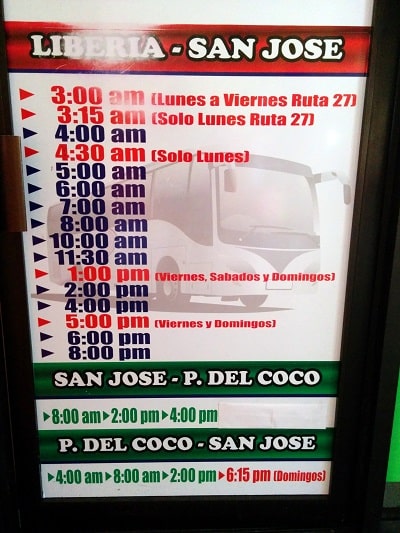 If you don't make it in time to catch the buses from San Jose to Coco, you can take one to Liberia. From Liberia there are buses to Playas del Coco about every hour until nighttime. I know many people who do this and it's not difficult. You do spend a bit more time waiting but with only three times of departure to Coco from San Jose, it doesn't leave a lot of choices.
The Bus
Some of the buses are double decker which is the one I took back to Coco. They're quite comfortable, have AC and foot rests. If you have extra luggage, you can put it in the compartment below and keep the ticket the bus driver gives you.
Make sure you board the bus in the correct zone which is written on your ticket. Keep your ticket and give it to the bus driver when you get on.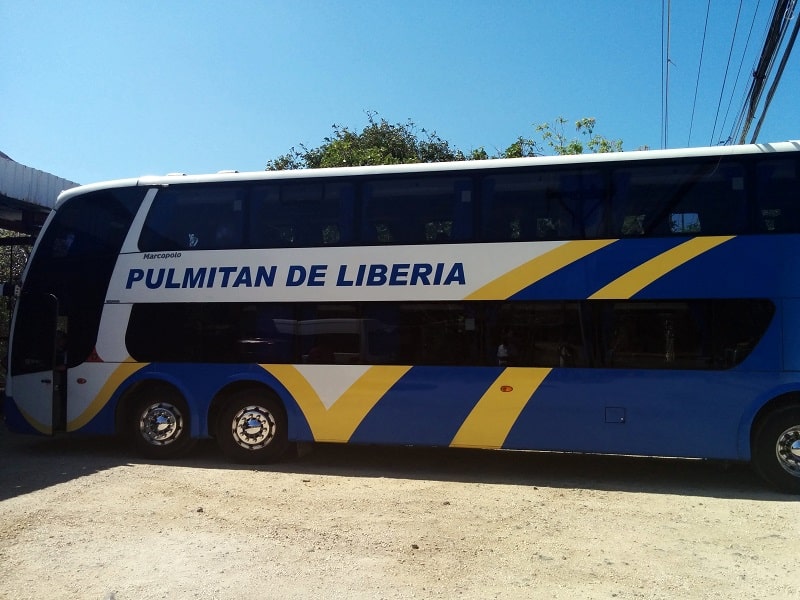 You are assigned a seat number so make sure you sit in the appropriate seat.
The Ride
This is a fairly long bus ride. If you drive from San Jose to Coco, it'll take you around 4 hours depending on traffic. With the bus, it takes about a total of 6 hours. The bus makes quite a few stops including one about halfway at a service station where you can use the bathroom and buy food. Then it makes stops through Sardinal, Nacazcol and in Liberia for a bit to pick up passengers.
There is also a lot of construction going on at InterAmerica Highway 1 which slows down the ride so be prepared.
Reaching Playas del Coco
The last stop for this bus is in Playas del Coco at the Pulmitan station. If you take the Liberia to Coco bus, it will continue on and drop you off at the main cross section of downtown (in front of Pollo Crispy). This one does not so you have to get off here.
The Pulmitan station is about a 5 minute walk to the center of town and 10 to the beach. Just go out and start walking left. There will also be taxis around too if you want to grab one.
The bus ride from Coco to San Jose is the same procedure. Go to this bus station at least half an hour before (you can buy tickets the day before if you want), it'll make the same stops and end up at the Pulmitan bus station in San Jose. It does make several stops once you reach the city like the SJO airport since you can press a button for stops.
If you want to catch the bus to Liberia first, the bus stop is right next to Los Pelones near Tico's bakery. You don't have to buy a ticket before, you can pay when you get on (colones only)
Other Bus Schedules
I took some pictures of other bus schedules and useful information I saw around the terminal just in case.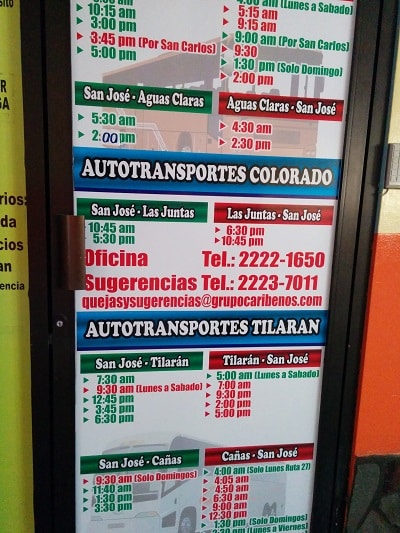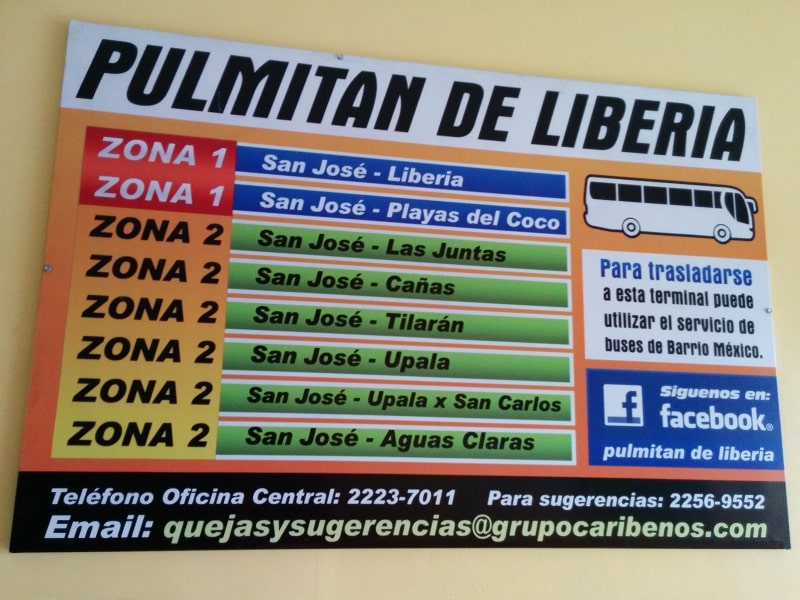 And there you go! Don't stress out about taking the bus and you can always ask the locals if you need help. Remember, just smile and say "pura vida!" first 😉
You can learn some basic and important words and phrases in Spanish including directions. We also have a pocket guide for you to download and print so you can take it with you on your trip. It's always handy to know a few words or have them with you! Get our Spanish guide here.
You can also find out how to take the bus from San Jose to Playa Jaco.
More information about getting around Costa Rica
Tips for renting a car in Costa Rica
Tips for driving in Costa Rica