Playa Pelada's white sand, half moon shaped bay and rocky formations make it one of the most beautiful beaches in Nosara. It's an up and coming neighborhood that still boasts an authentic Costa Rican vibe and laid back atmnoosphere.
If you're visiting Nosara, we highly recommend taking a day to enjoy Playa Pelada and its beauty.
Location
Playa Pelada map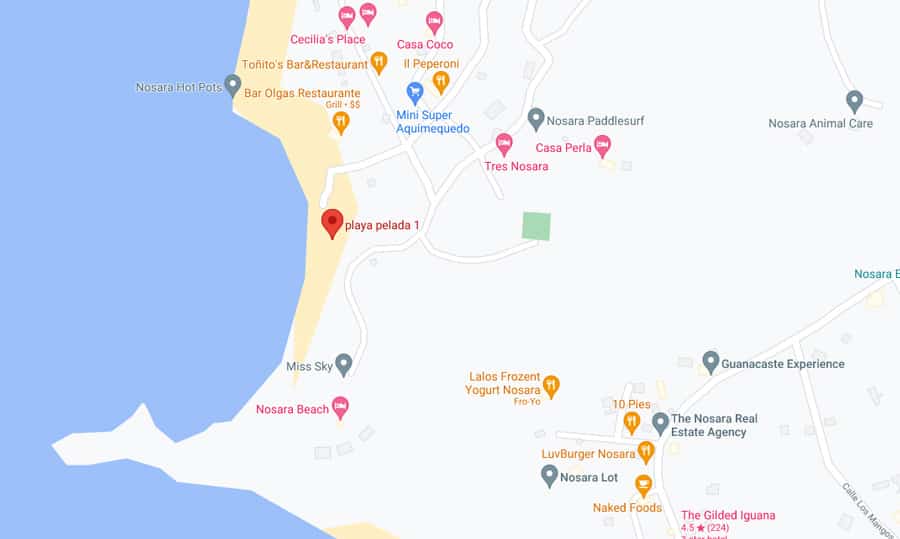 Playa Pelada is in the Guanacaste province, 120 kilometers (75 miles) from Liberia International Airport.
How to Get to Playa Pelada
Driving
From Liberia International Airport, it is about a 3 hour drive and you do need a 4wd/4×4 for Nosara. Especially in rainy season it is an absolute must.
We made a video of the drive from Tamarindo to Nosara via Route 160 you can watch below.
Parking
Playa Pelada sits between Playa Nosara and Playa Guiones. La Luna restaurant has a small parking lot with a short path to walk to the beach. If you use Waze and choose the first "Playa Pelada" it will take you to a small local access towards the middle of the beach.
We recommend to choose the beach access next to La Luna restaurant as it's bigger and safer since there are more people. On Waze, it is "Playa Pelada 1."
4×4 required?
Yes, Nosara and the surrounding areas will require a 4×4. Roads in this area are in rough shape, especially rainy season.
Bus
From Liberia, you can take the bus to Nicoya (3:30 AM – 7 PM every 30 minutes, 8:30 PM and 9 PM). Then from Nicoya you can take a bus to Nosara (4:45 AM, 10 AM, 12:30 PM, 3 PM, 5:30 PM). Then to get to Pelada, you can walk or bike since it's close.
Pelada Beach
Pelada has white sand, bright blue waters and the occasional swaying palm tree. There aren't really any developments on the beach so it is a local favorite and a nice escape from busy Guiones.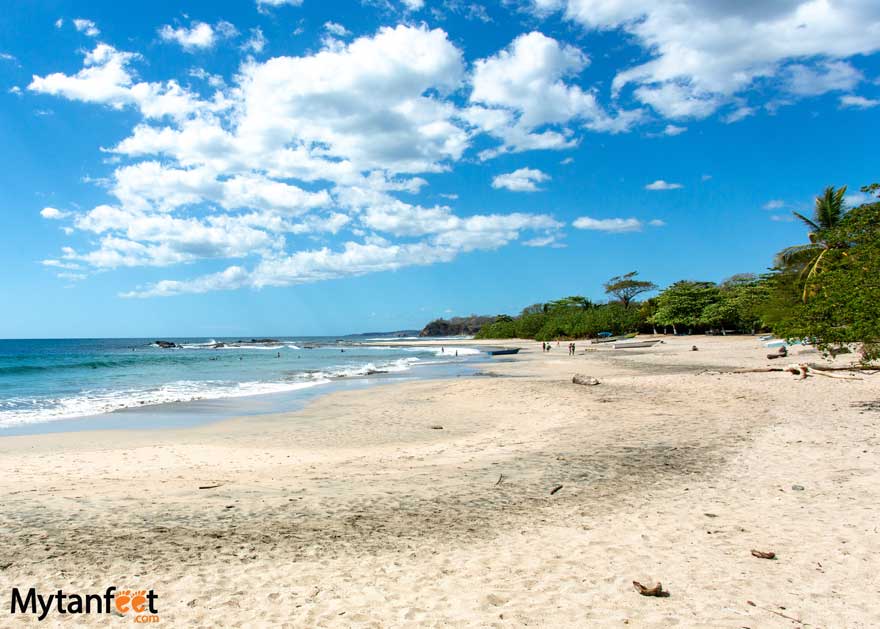 Pelada has a surf break towards the northern end, dominated by local surfers. On the weekends, it gets crowded with local families enjoying their day off.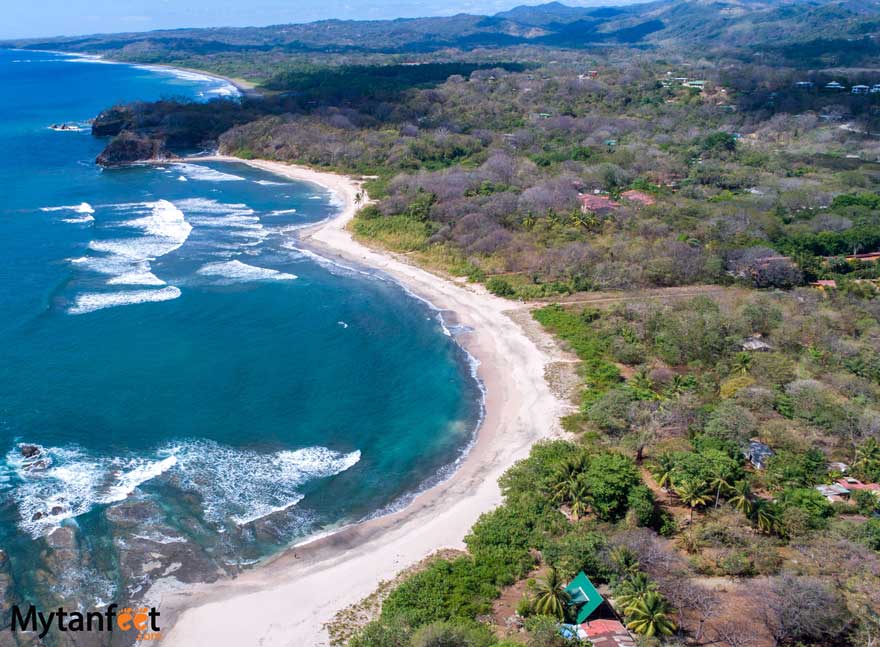 Towards the southern end of the beach lies a "geyser", a blowhole that will shoot up water when the tide is right. The northern end of the beach meets Punta Nosara and continues to the Nosara Rivermouth.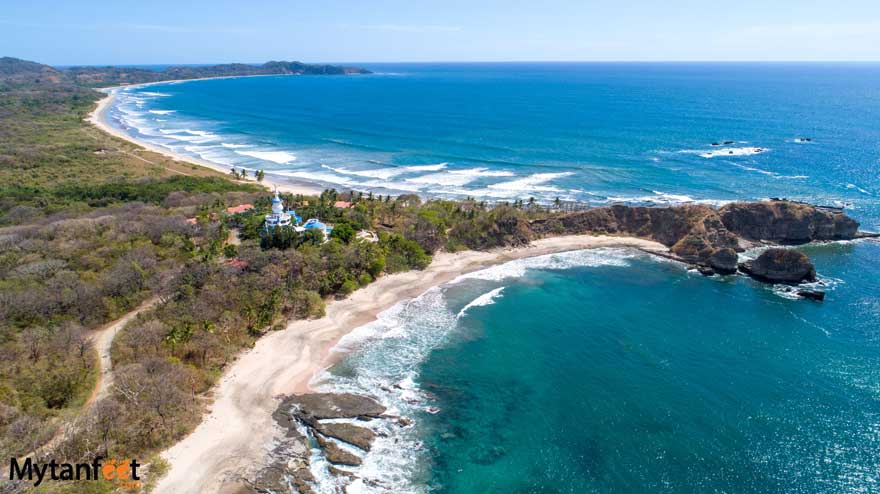 What to Do
There isn't much to do at Pelada except relax, swim, sunbathe and surf if you're good. Walk along the beach to see the interesting tide pools and rock formations and take an outdoor shower in the blowhole during the right tide!
There are two restaurants at Pelada, La Luna and Olga's. Olga's is one of the oldest bars in the area, popular among locals for cheap beer and a fun vibe. La Luna is a high end, more romantic restaurant.
Nosara is known for surf and yoga so you can take a surf lesson at Guiones, do yoga on the beach, watch the sunset on the beach or explore the Nosara coastline. This area is not very developed and still considered off the beaten path so you may never know what hidden gem you can stumble upon! You can also drive over to Ostional to see turtles during the turtle nesting season.
Swimmable?
This is a surfing beach and it's not nice for swimming. It's also very rocky and waves get strong. Be careful if you go in the water!
Where to Stay
You won't find too many hotels in Pelada. Some recommendations are Nosara B&B Retreat, Villa Mango, Teak Pacific Hotel or Nosara Sunrise B&B but you can find plenty more in Guiones. There's also a really unique hotel called Nosara Satori Bubbles that has glamping bubble tents!
Read about other beaches in Costa Rica with a similar vibe below!
Carrillo: Near Samara
Coyote: Dark sand beach in Nicoya Peninsula
Barrigona: Beautiful remote beach by Samara
San Juanillo: Gorgeous white sand beach by Ostional
Marbella: Remote surfing beach in Guanacaste
Playa Negra: Dark sand surfing beach in Guanacaste