One of the coolest beaches in the Santa Teresa and Mal Pais is appropriately called "the secret beach," Playa Cuevas or Playa Los Suecos.
In this guide you will find out how to get there, what the beach is like and more.
Location
Playa Cuevas Costa Rica map (If you look on Google Maps, it is marked as Playa Cuevas).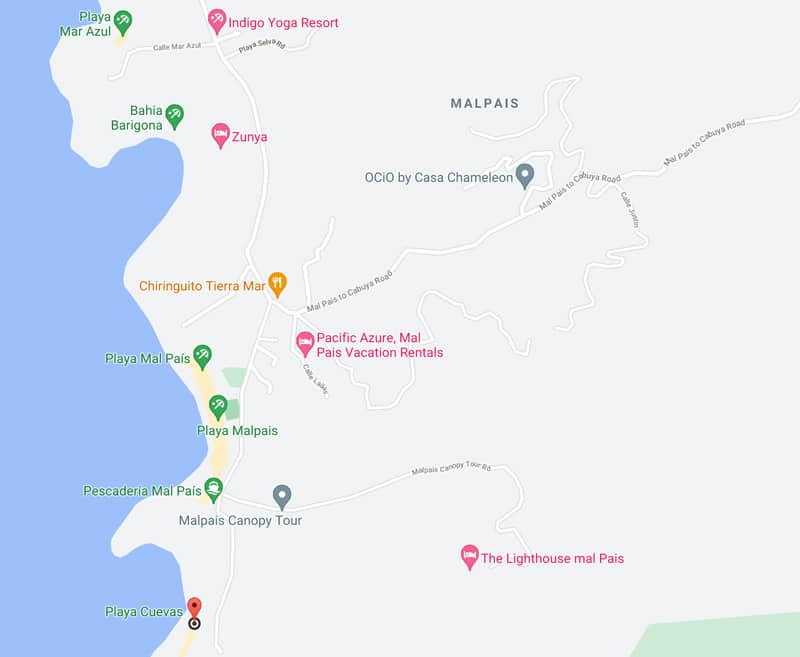 Playa Cuevas, or Playa Los Suecos is south of Playa Mal Pais, bordering the Cabo Blanco Nature Reserve and is part of the Refugio de Vida Silvestre Cueva Murcielago (Bat Caves Wildlife Refuge).
How to Get to Playa Cuevas Costa Rica / Parking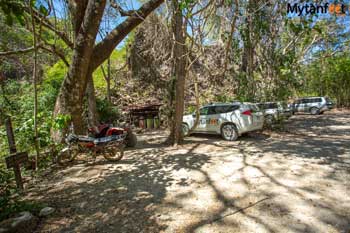 From Playa Mal Pais, head south (left) from the beach towards the main fishing port (the pescaderia) away from town.
You'll run into what seems like a dead end with boats and fishermen around but there is a small narrow path to the left. Take this path and continue for a minute or two until you reach a parking lot. From the parking lot, there is a short trail to the beach.
You'll see a chained fence and a walking path, go on the walking path to get to the beach. It's a very short walk, about 2 minutes.
The fence goes into Cabo Blanco Nature Reserve which isn't allowed for outside visitors.
From San Jose
The best route is by taking the Puntarenas ferry over to Paquera and then going to Mal Pais/Santa Teresa.
4×4 required?
It is highly recommended to rent a high car or 4×4 for the Nicoya Peninsula due to the road conditions. They are mostly unpaved with potholes.
Camping
Not allowed. There is a sign that says no camping.
Playa Los Suecos Mal Pais Beach
As you walk down the path, you'll see a large rock and the beach up ahead. There were 3 cars including ours in the parking lot when we visited in February 2018 and there were no more than 5 of us on the beach!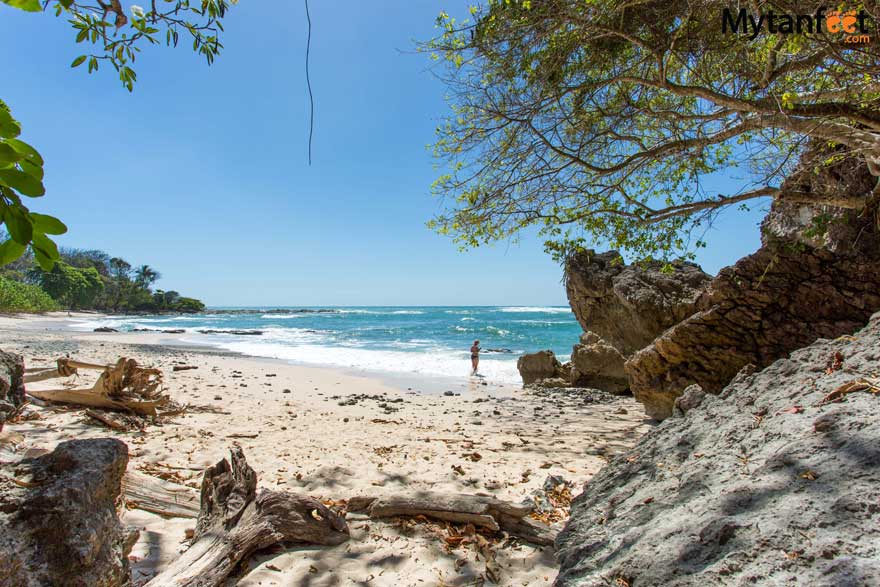 The beach is not too big and you can walk from end to end in around 10-15 minutes. The sand is soft and tan/white and the water is a bright blue color.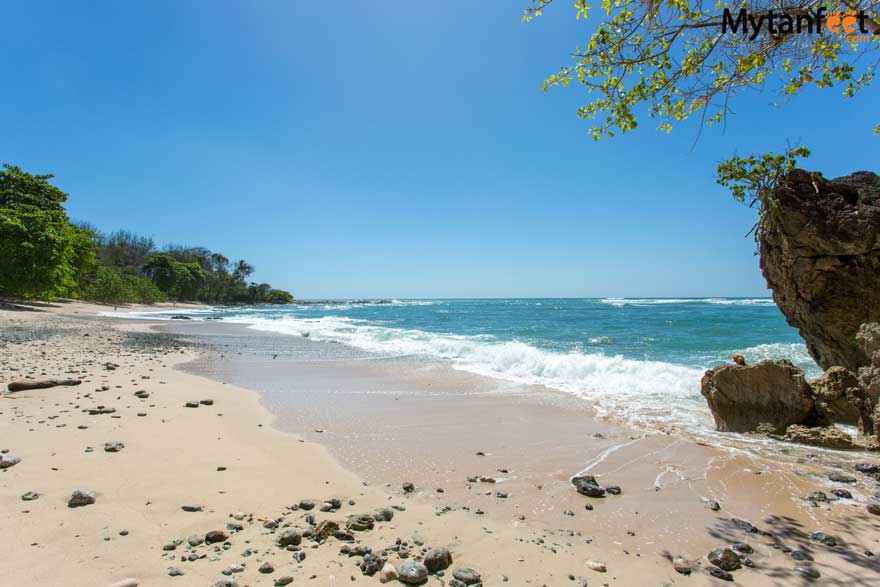 It's one of the prettiest beaches we've seen in Costa Rica and it's a nice escape from Santa Teresa since all the beaches there are extremely vast and open. Playa Cuevas is like it's own little oasis with great snorkeling, lots of wildlife and lush jungle.
Wildlife and Snorkeling
The big rock is actually home to hundreds of bats which is why this area is called the Refugio de Vida Silvestre Cueva Murcielago or Bat Cave Wildlife Refuge.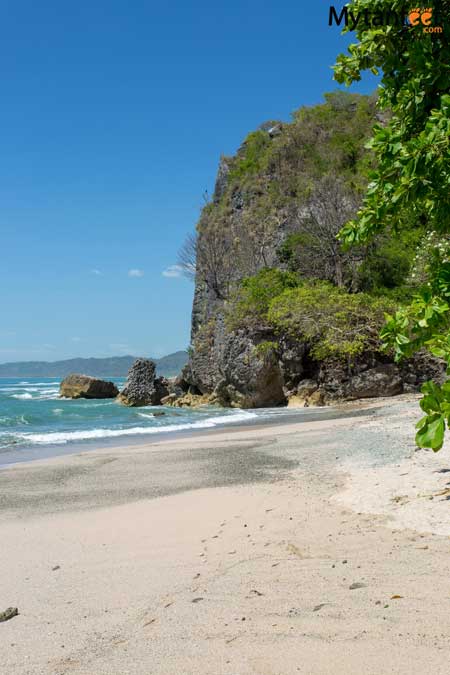 It's appropriately named Punta Murcielago (Bat Point) and you can walk around into the cave during low tide to see the bats. Be very careful because there are a lot of rocks and it has to be in low tide.
Snorkeling at Playa Cuevas is actually the best in the area since snorkeling in Santa Teresa isn't good. Since Cuevas beach is right next to the Cabo Blanco Nature Reserve, you can see lots of animals there as they are protected.
When it's clear, you can see colorful tropical fish, eels, hermit crabs, lobsters, rays and sea stars. You'll need to bring your own snorkel equipment. The other end of the beach is good for snorkeling too since it also has some rocky reefs.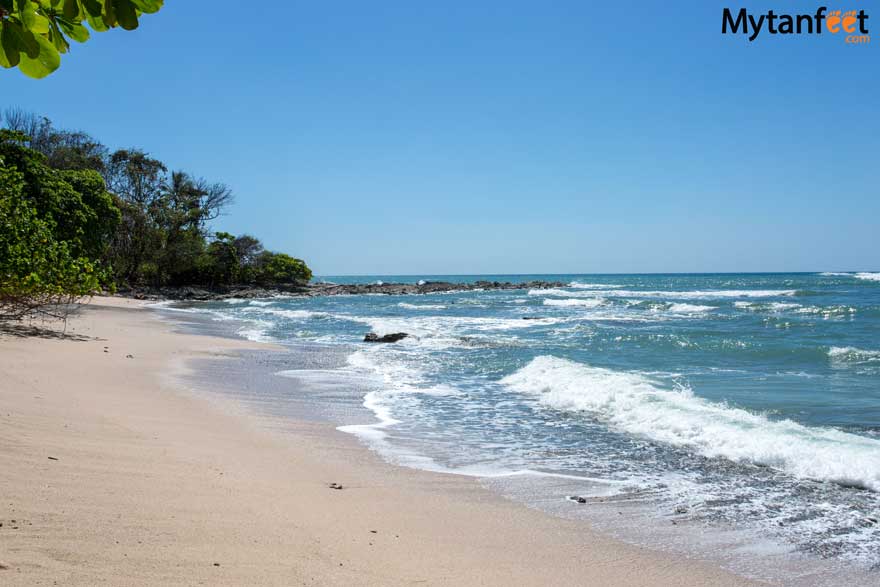 This beach also gets lots of little tide pools which you can see in low tide. You can also see little fish and other critters in the tide pools.
You may see some local fishermen spearfishing at Playa Cuevas. Though it's part of the wildlife refuge, many locals still fish here because there are schools of groupers and snappers. We don't recommend fishing here, you can take a dedicated fishing trip outside the reserve instead.
For another hidden beach like Playa Cuevas in the Nicoya Peninsula, we recommend Playa Cocolito by Montezuma. It's a foot access only beach with a waterfall!
Read about other beaches in Costa Rica below!
Playa Coyote: Long dark sand beach in Nicoya Peninsula
San Juanillo: White sand beach made up of two beaches coming together
Playa Mina: Beautiful white sand beach in Matapalo, south of Conchal
Playa Penca: Small white sand beach with clear waters near Playas del Coco
Lagartillo: Small beach with clear waters near Avellanas