Playas del Coco is one of the best places in Costa Rica for ocean activities like snorkeling, scuba diving and fishing and is a very family friendly beach town. If you're visiting Coco for a couple days or as your home base for your Costa Rica vacation, check out this itinerary we created for our friends and family.
For just 4 days, you get lots of beach and adventure in this fun itinerary.
4 Day Playas del Coco Itinerary Map

Here is a tourist map of Coco that includes our favorite hotels, restaurants, things to do and other points of interest.
How to Get Around
Recently, we did this very itinerary with my friends. We had a car which is the best way to get around Guanacaste because we wanted to take more flexibility and convenience to take them to our favorite places.
I highly recommend renting a car in Costa Rica if you're staying in Guanacaste. It's the best way to explore and get around because the bus system is not good and taxis add up. You can get away without a car if you like however. The only downside is you won't be able to explore and see more of the area. For activities, you can book tours with transportation.
For just a few days in Coco, a car is the best way to go so you can maximize your time and see more of the area especially if you want to explore. (Get our Costa Rica car rental discount here and save up to 20%).
Where to Stay
There are not too many hotels in Playas del Coco but there are a lot of vacation rentals. The most popular neighborhood for Airbnbs and condo rentals is Las Palmas and Pacifico.
For hotels, Toro Blanco, Hotel Colono, Coco Beach Hotel and Hotel Puerta del Sol are good options for ones right in town. If you want something upscale and luxury (perfect for honeymooners), check out Villa Buena Onda.
Where to Eat
Our favorite restaurants in Coco are El Coq, Zi Lounge, Cafe la Playa, Claudio y Glorias, Soda Los Pelones, Johann Bistro, Coco beach Hotel Restaurant and Coconutz. Zi Lounge, Coconutz, Bambu Beach Bar and El Ancla are bars that have a great happy hour.
Day 1: Arrive
Whether you're driving from another destination or flying into Costa Rica that day, the first day is for relaxing and settling in. Playas del Coco is only 25 minutes from Liberia International Airport so you can go from touchdown to beach in no time.
For your first day, we recommend walking around town, checking out the beach and taking advantage of the happy hours. Make sure to walk go to the beach for the sunset!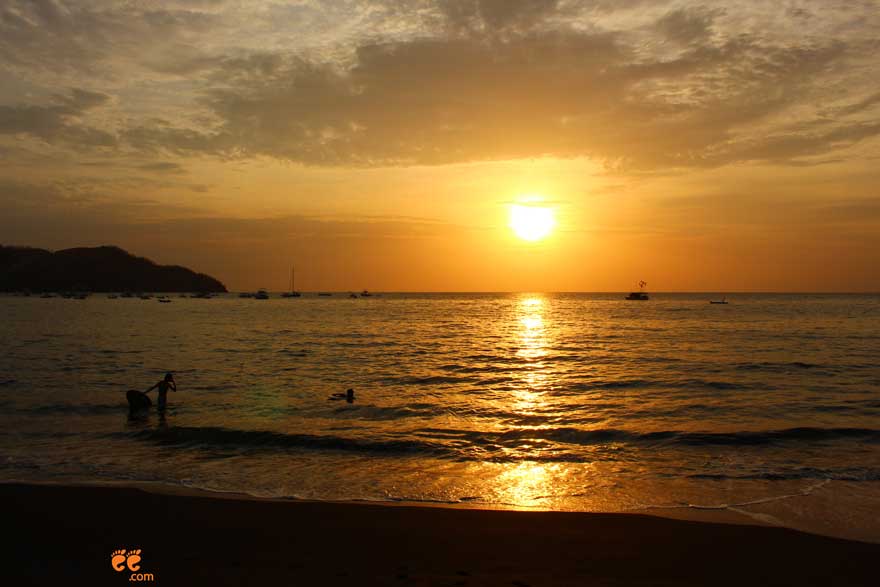 Day 2
On Day 2, head to one of the nearby beaches for a relaxing beach day. You can visit Ocotal which has decent snorkeling, Hermosa or Panama. But if you really want to explore, head to the local hidden gems of Penca or Buena.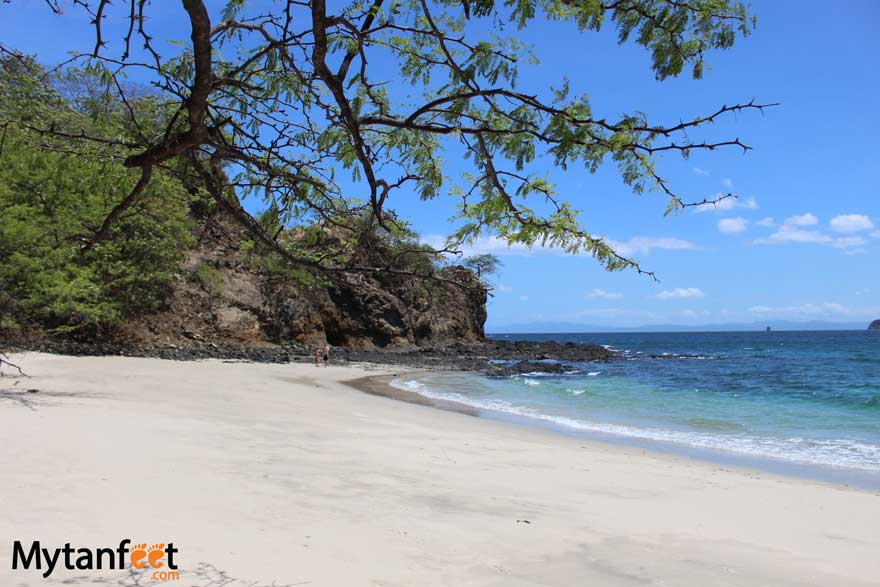 If you want some adventure, we recommend going to Hacienda Guachipelin. They have a one day adventure tour that is super fun and is one of our favorites. The Guachipelin adventure tour is ziplining, horseback riding, white water tubing, mud baths and hot springs. It's in Rincon de la Vieja, about a 1 hour drive from Coco.
Day 3
For Day 3, you'll go on a beach hopping tour around the Gulf of Papagayo. Boating from Playas del Coco is the best way to experience and see all the beautiful hidden beaches in this area.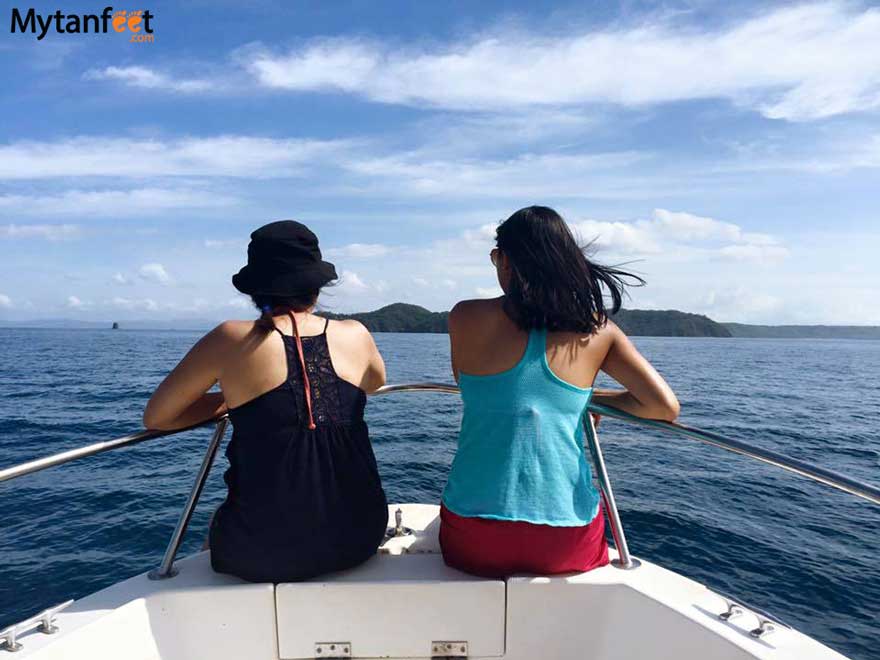 Since the Gulf of Papagayo is made up of many little bays, there are a plethora of excellent snorkel spots and boat access only white sand beaches.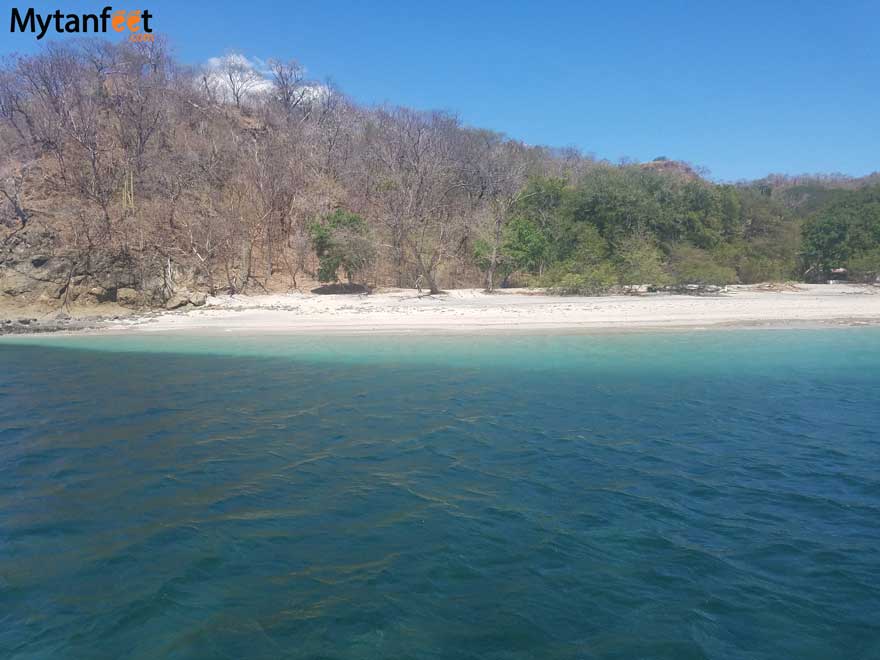 You can do a half or full day tour which will come back right around sunset.
Day 4 (Last day)
For your last day, head to Catarata Llanos de Cortes. This is a gorgeous waterfall near Liberia that is easily accessible and a fun way to cool off from the Guanacaste heat.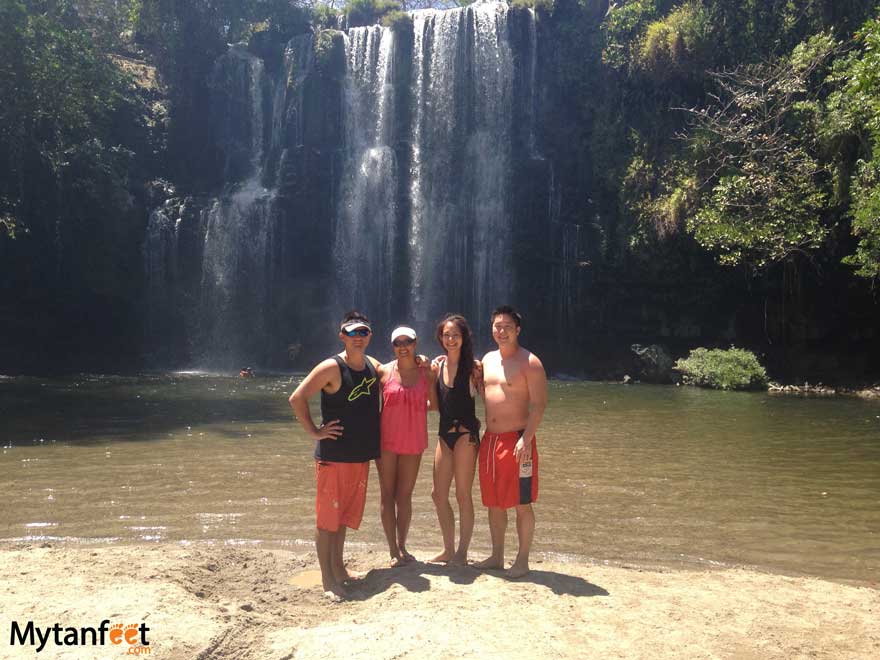 It is about a 1 hour and 15 minute drive from Coco and you spend a good half day there. We recommend going in the morning to take advantage of the day.
Then if you're up for more adventure, you can stop by the Diamante Eco Adventure Park (get 10% off!) in the afternoon. You can do their ziplining tour which has the longest superman ocean view cable or you can visit their animal sanctuary to see jungle cats, monkeys and sloths.
A fun filled long weekend
For 4 days in Playas del Coco, you can see that there are a lot of fun things to do and you can be very busy every day. We did this itinerary with some friends and they had a blast even though it was a short trip. They got adventure, beach, snorkeling, sunsets and nature.
Alternative Activities for Your Playas del Coco Itinerary
There are a lot of day trips from Playas del Coco you can swap out or add if you have more time. Here are some popular ideas.
Read about other Costa Rica itineraries below!
If you have more time, you can combine Playas del Coco and La Fortuna. Read this 8 days Costa Rica itinerary here.
2 week Costa Rica itinerary: La Fortuna, Monteverde, Santa Teresa and Playas del Coco
1 week Costa Rica itinerary: San Jose, Jaco, Manuel Antonio and Uvita
5 day Arenal and Monteverde itinerary
This post has affiliate links.