If you're staying in Potrero or Las Catalinas, a visit to Sugar Beach (Playa Azucar) is a must for those looking for a quiet, low key beach. Due to the access, you'll need to plan a bit to visit this beach but it's worth it!
Sugar Beach Costa Rica Map and Location
Sugar Beach is in the Guanacaste province, a 1 hour drive from Liberia International Airport and 50 minutes from Tamarindo. Playa Azucar is right next to Las Catalinas.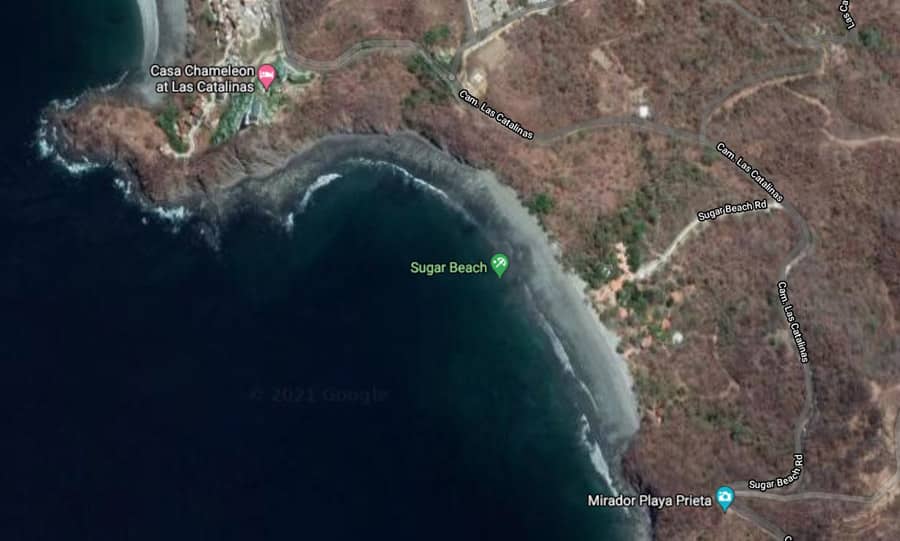 How to Get to Sugar Beach, Costa Rica
There is one hotel on the beach called Sugar Beach Hotel that has their own beach access. (All beaches in Costa Rica are public.)
Previously, the Hotel Sugar Beach allowed non-hotel guests to park outside their gate and walk through their property to get to the beach. The hotel was sold in 2020 and undergoing renovations and when the day we visited, there wasn't anyone there so we went to the public access.
My recommendation would be to first drive to the hotel's gate and see if anyone is there to let you in. If not, then there are two public accesses to Sugar Beach but it is a bit complicated.
Sugar Beach Public Access
Neither of these public accesses require a 4wd or 4×4, you can get there in any type of car.
Playa Prieta Trails
Playa Prieta is the beach right next to Sugar Beach and you can walk through the natural trails from Playa Prieta to Sugar Beach. There is a lookout point called "Mirador Playa Prieta" on Google Maps where you can park your car and walk down to Sugar Beach.
The trail is not that easy as it's natural and not maintained, so if you go in the rainy season, it will be really overgrown and difficult to see. In dry season, I was able to walk all the way down but it was a bit steep and it was a very hot and sweaty hike. It took me around 20 minutes to get down. You do get some nice coastal views on the way.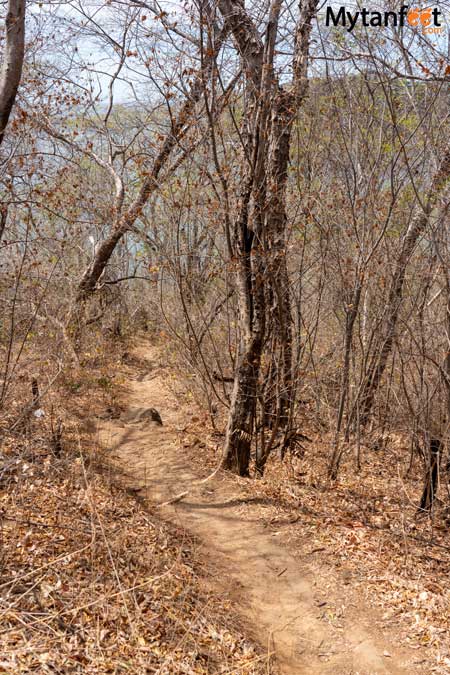 Something important to note is that the parking is not secure, it's right off the main road so there is no security. Don't leave any valuables in your car if you park here.
You can also walk across Playa Prieta in low tide to Sugar Beach, going around the rock outcropping.
Second Sugar Beach Public Access
This second public access is another one that's right off the street so the parking is not great. In fact, it's not as nice as the Playa Prieta lookout point since it's literally right off the street. The Playa Prieta lookout point has a bigger space to park.
However, the walk is a lot shorter, it is only a few minutes to the beach. You'll see a fence with an opening, you can park in front of it and then walk down to the beach. Look for the Sugar Beach sign.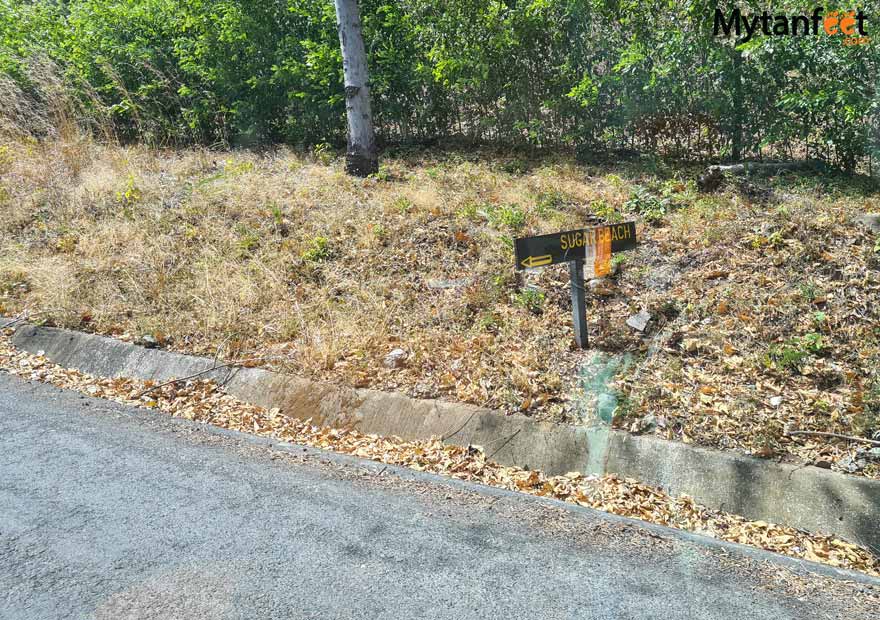 The entrance is right around here: https://goo.gl/maps/8Y8D2GzSFo26FeBo6
If you're staying in Las Catalinas, you can also walk there. It's hot and sweaty but it'll be a great way to get your steps in for the day!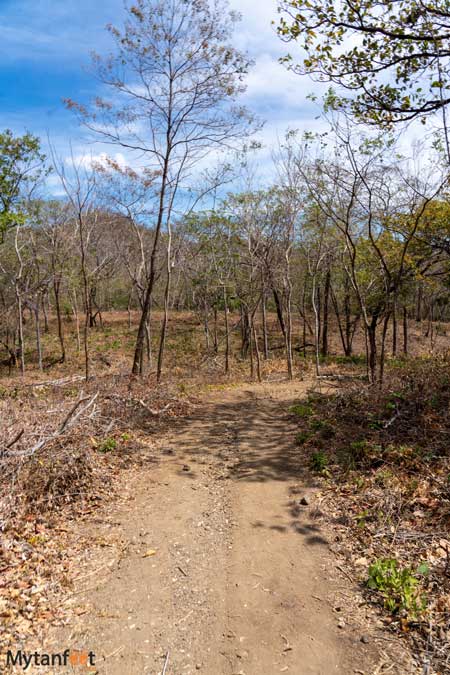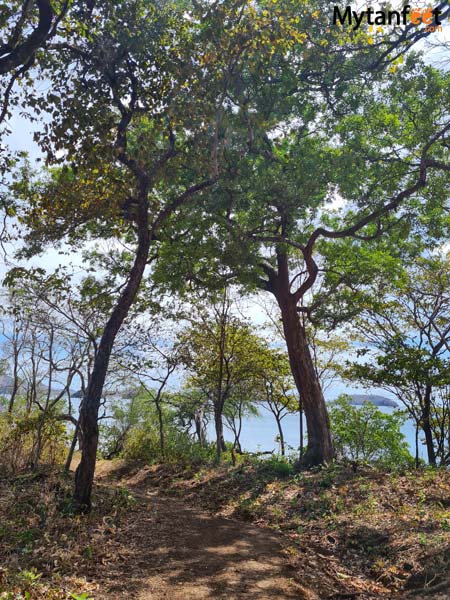 When we visited, there was one other car there and we saw the couple at the beach. Again, don't leave anything in your car, roll up your windows and lock the doors. This "parking spot" is small and only fits 1-2 cars.
Services
None. No bathrooms, no showers. You will need to bring food, towels, water, drinks, etc.
Sugar Beach, Costa Rica
Sugar Beach has some rocks but waves are good for swimming, snorkeling and sometimes boogie boarding. It's very quiet since it's a secluded beach, making it a great beach to explore and get away from crowds.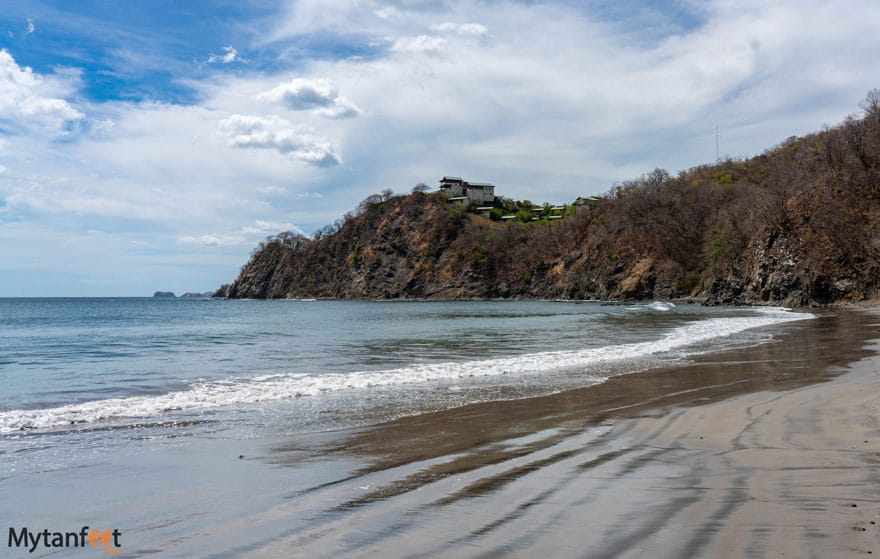 During the holidays, there may be some more locals at this beach but normally it's empty or just a few people.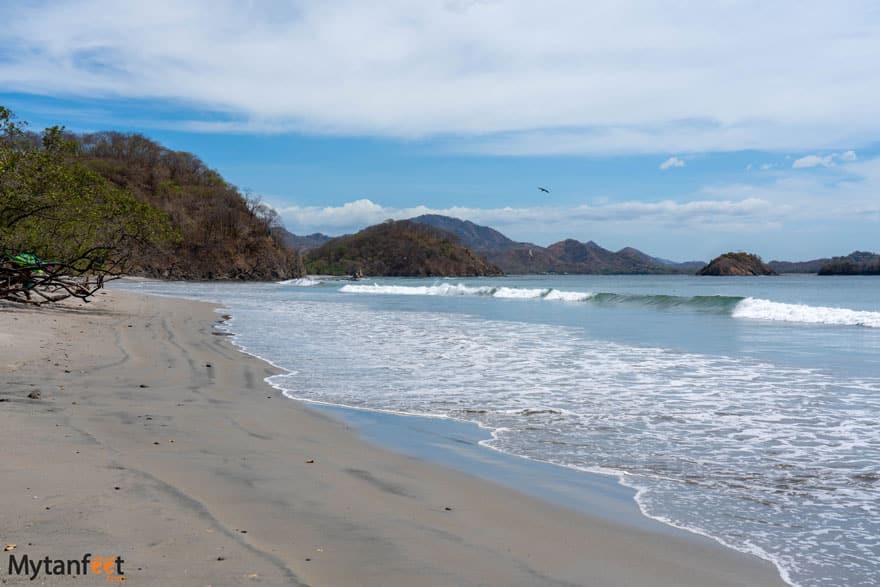 Sugar Beach isn't that big but it's a clean beach and a nice spot to relax, get away from crowds, swim in warm waters and watch a beautiful sunset.
We actually included Sugar Beach in our video "5 beaches to visit in Potrero and Las Catalinas." You can see more of Sugar Beach and the other 4 beaches in the video.
Read About Other Similar Beaches in Guanacaste Below!