Due to Costa Rica's excellent reputation as an eco-friendly country, nature lovers and environmental enthusiasts pick it as their next vacation destination. Sustainable tourism is becoming widely common throughout the country, with more hotels and tour companies earning a strong standing for their eco-conscious practices.
For the travelers who are especially concerned about their carbon footprint, they should seek out businesses that have earned five leaves in the Sustainable Tourism Certification program, the highest rank possible. This means they utilize 100% sustainable methods.
One of the very few hotels in Costa Rica that has been awarded five leaves is Finca Rosa Blanca, a coffee plantation and inn up in the mountains of Santa Barbara, Heredia. We stayed there for 3 nights, learning about the finca's eco-friendly operation and how a luxury inn can be completely sustainable. Don't underestimate "green" businesses, Finca Rosa Blanca's suites were some of the most luxurious and comfortable we've ever stayed in!
Even though the finca is only a 15 minute drive from the San Jose Airport and up in the mountains of Heredia, we felt a world's away. Tucked in the mountains of Santa Barbara, the inn has beautiful views of the city and surrounding hills. The large property has its own trails, a pool, coffee plantation and restaurant.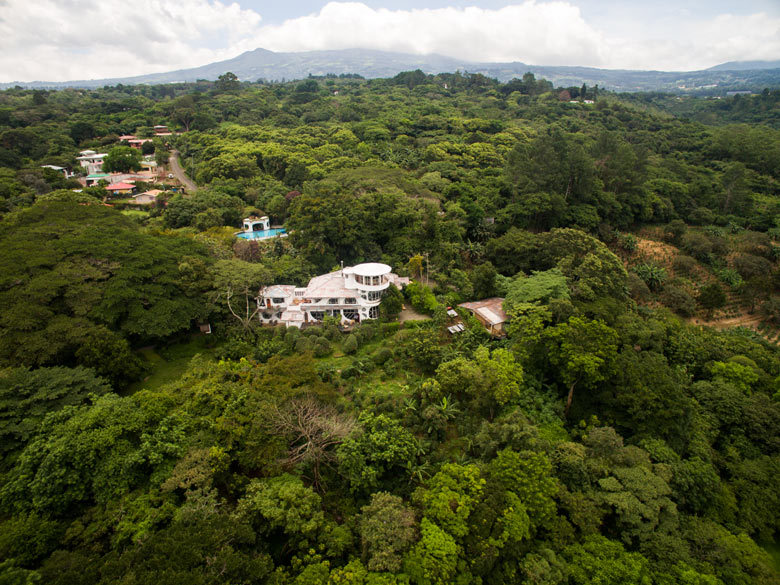 From the moment we stepped into the lobby, we could feel our city woes slipping away. We were in Heredia for work which meant driving through crazy San Jose traffic every day. We aren't city people at heart so it was very exhausting for us to be there for a whole week, dealing with all the traffic, crowds and clutter. But when we arrived at the Finca, we felt like we had escaped to a remote mountain paradise.
Our 2 story suite was even more breathtaking. Every room: the living room, bathroom and balcony had a beautiful city and mountain view but the best part was the bedroom upstairs. We had a 180 degree view of the city, so every night the lights twinkled at us as we fell asleep. We woke up to the sounds of birds and the soft sunlight on our faces as the city greeted us in the morning.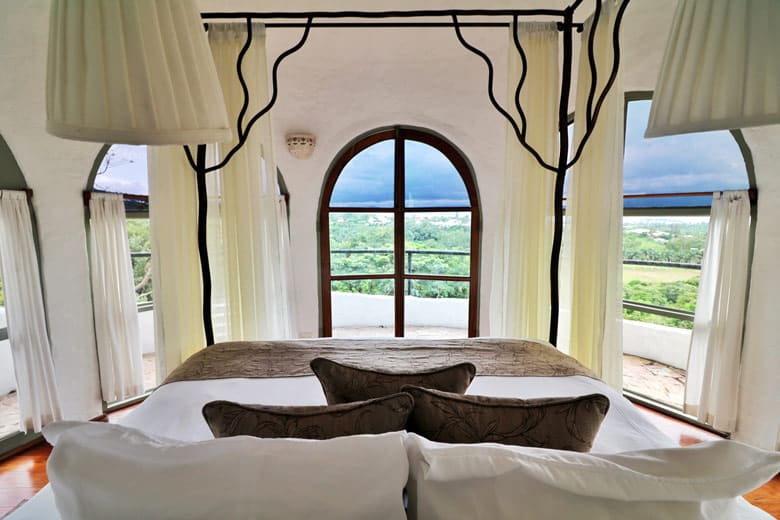 I can't forget the downstairs bathroom. This was one of the most unique bathrooms we've ever had, the bathtub had a city view and the water came down in a waterfall! It was incredibly relaxing to take a hot bath at night with that incredible view and yummy smelling soaps.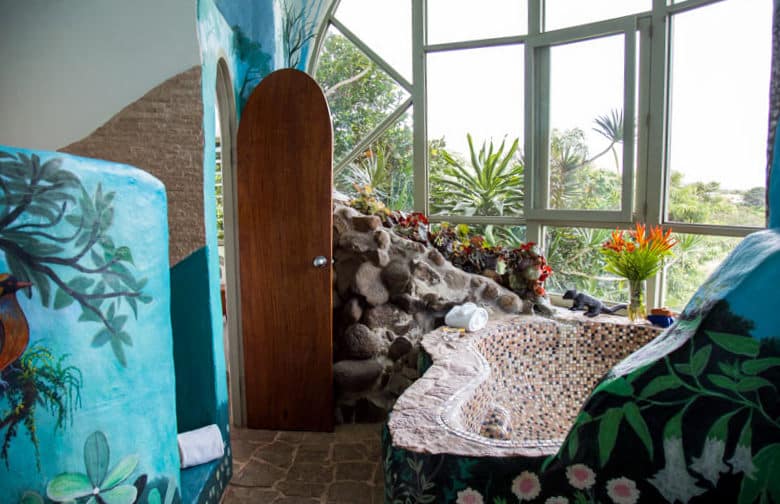 Coffee, Birdwatching Tour and Culture
We did three tours offered by Finca Rosa Blanca, coffee, cultural and birdwatching. As the finca sits in the mountains, there are many birds around the property and we got up bright and early at 5:30 AM to see some of them. Our guide, Manolo pointed out birds such as Blue-Crowned Motmots, Montezuma Oropendolas and tanagers.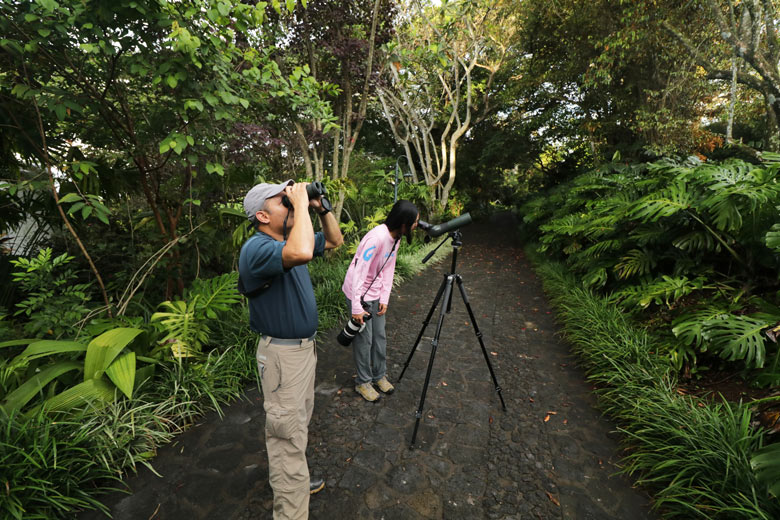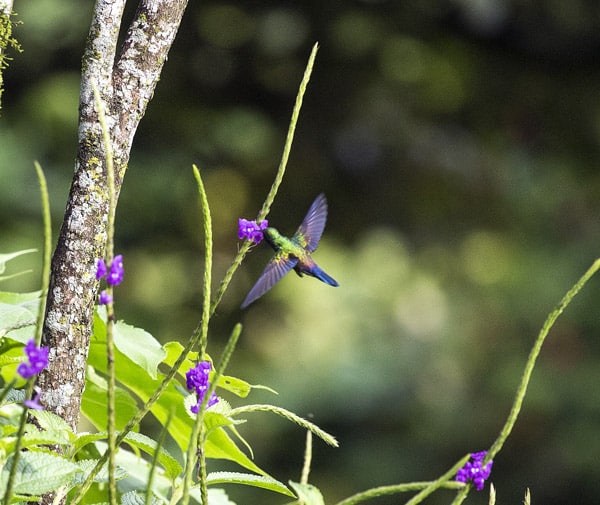 The coffee tour was especially interesting as our guide taught us about the sustainable plantation. We learned about shade grown coffee, how the plantation keeps their plants watered in dry season by using banana plants and how they use specific plants to prevent erosion.
We also did a tasting to learn how to distinguish between high and low quality coffee. It's amazing the different flavors and smells your tongue can pick out by slurping coffee!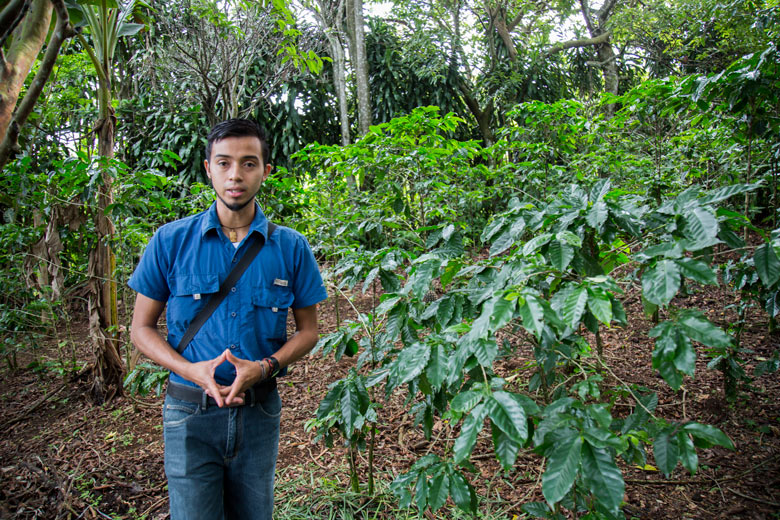 The cultural tour was fascinating, as we were taken around Heredia province to learn about the history of the cities and province. You can read about it here.
Stay at Finca Rosa Blanca for an educational, relaxing and inspiring time
Finca Rosa Blanca is much more than "just" a hotel. Their commitment to sustainability and conservation education is absolutely inspiring. The owners, Teri and Glenn worked incredibly hard to create a special place that stands out in Costa Rica, being one of the very few companies with five leaves. They prove that you can indeed run an eco-friendly hotel while still providing luxury!
Finca Rosa Blanca isn't only for those who are concerned about their carbon footprint (though that is a huge plus), but it's also for those who want to stay in luxury, learn about conservation and be close to all the Central Valley gems.
Watch our video of the finca!
For more information or book a room, check their rates here. (Affiliate link).
Huge thanks to Finca Rosa Blanca for hosting us!