When it comes to best secret beaches in Costa Rica, Playa Lagartillo is one of them. Even though it's just a few minutes drive from the popular Playa Avellanas, it normally doesn't have more than a handful of visitors, even during the holidays. If you're exploring this area of Guanacaste, then you definitely need to visit Playa Lagartillo!
How to get to Playa Lagartillo
You can find Playa Lagartillo on both Google Maps and Waze. Although it looks like Avellanas and Lagartillo is one beach, they're separated by the rocky reefs so you will need to go to the Lagartillo entrance.
There are signs for Playa Lagartillo and the area at the beach entrances.
Parking
There isn't a dedicated parking lot but you can park anywhere once you turn to the beach.
Just be careful because there isn't any security or guards. Make sure to roll up your windows and lock your doors.
4×4 required?
In dry season, no necessarily. A car like Mitsubishi ASX or Hyundai Creta will work. But in rainy season, yes. The road to Lagartillo is completely unpaved and the last kilometer or so has huge potholes so a 4×4 is highly recommended.
If you plan to explore this part of Guanacaste, a 4×4 is highly recommended because this area is quite rural.
It's a 5 minute drive from Playa Avellanas.
Playa Lagartillo – The Beach
This beach is not very big and you can walk end to end in a less than 1 minutes. The sand is tan color and the water is a grey-blue.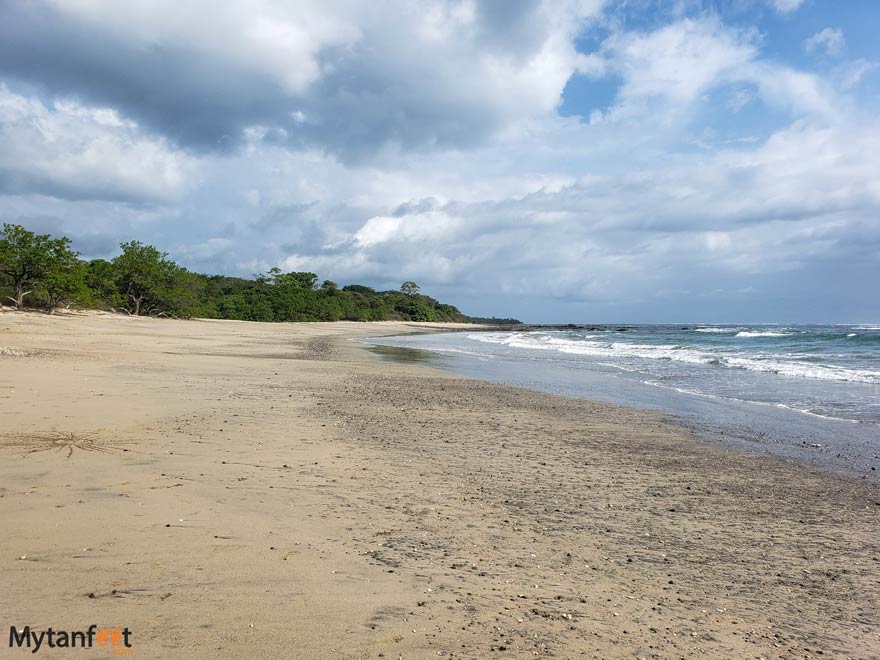 It's a lot of fun to walk on this beach, play with the hermit crabs and check out the sea shells. When we visited the first time, we were the only ones there!
There is also plenty of shade under the trees to lay down a towel and relax.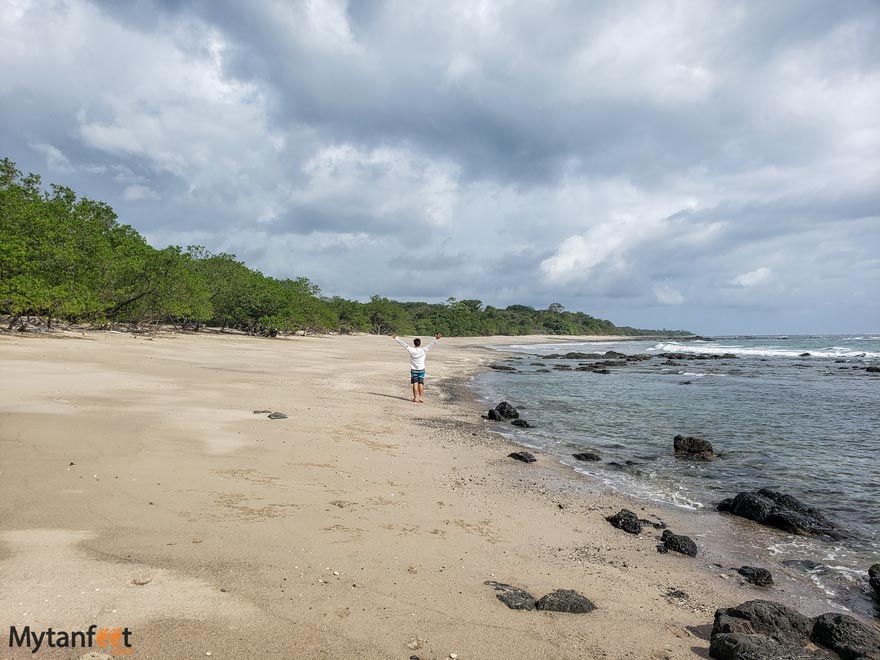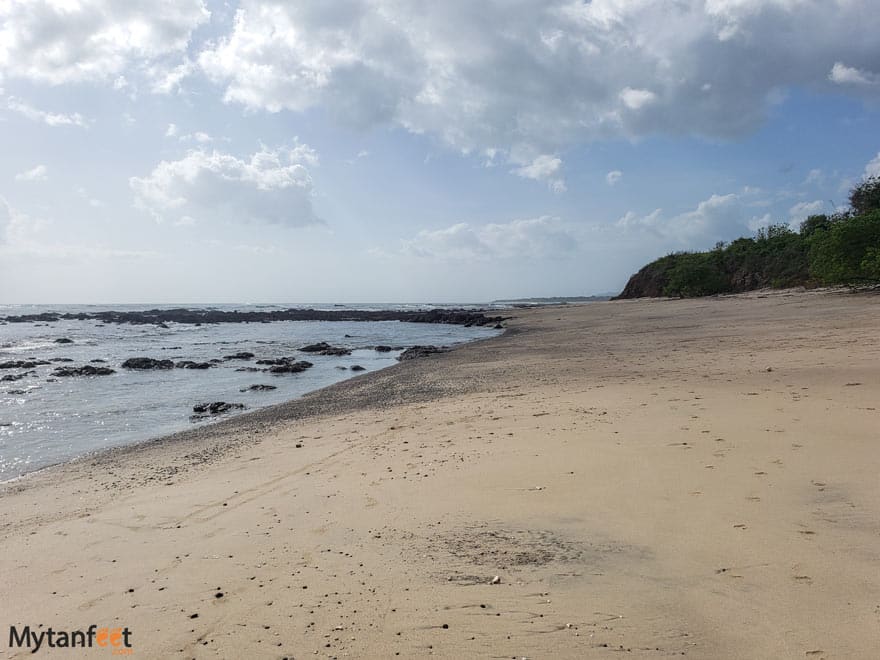 In the picture above, if you keep walking you will reach Avellanas but it's a bit far. You can probably get there during low tide when the rocks are exposed but careful, it's slippery and there are a lot of rocks!
Swimmable?
Lagartillo beach is not the best for swimming but you can dip your toes with a bit of caution. It is quite rocky and the waves can get a bit rough. We don't recommend it for kids or little ones.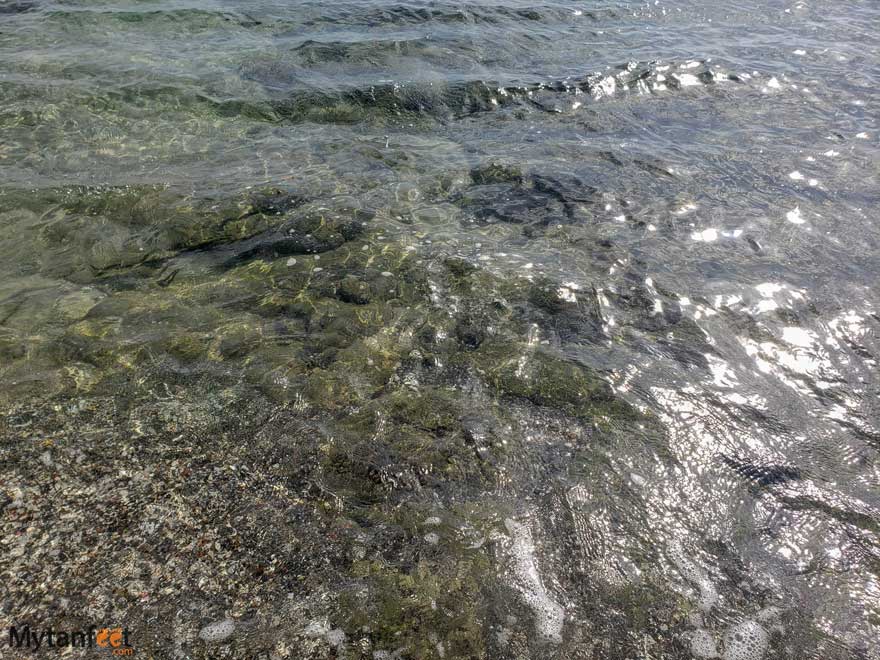 Although the water was super clear, we didn't go in due to the rocks. It was also very windy so waves were choppier than normal (we visited in June). I'm not sure if surfing is possible here since waves didn't look very consistent or big enough for surfing.
Although this beach isn't super nice for swimming, we loved how it was completely empty! We had it all to ourselves and had a lot of fun checking out the rocks in low tide, walking from end to end and letting our dogs run around.
If you're looking for an empty, off the beaten path, non touristy beach in Guanacaste, Lagartillo fits all those requirements!
Map
Playa Lagartillo map

Playa Lagartillo is 83 kilometers (51 miles), a 1.5 hour drive from Liberia International Airport. It is a 40 minute drive from Tamarindo. You can find it on Google Maps and Waze.
Hotels
Although Playa Lagartillo is in a more rural part of Guanacaste, you can find a couple of places to stay in the area. way Eco Lodge is a nice hotel in the area with a pool, juice bar, villas and rooms and yoga. It's right in front of the entrance to Lagartillo and only a 5 minute drive to Avellanas, making it an excellent place to stay to explore the area.
Other Things to Know
It is best to visit this beach with a car or ATV (4×4 in rainy season).
You can stay at Drift Away for a few days and use it as a homebase to explore this area. Likewise, if you're there to surf and want a nicer hotel, this is a great option.
If you're staying in the area, there are a few restaurants in Avellanas and Playa Negra.
Read About Other Similar Beaches!
Playa Chiquita (Puerto Viejo Caribbean side)
Hermosa (by Uvita)
Playa Bonita (between Hermosa and Panama in Guanacaste)
Pelada (in Nosara)
Marbella (Guanacaste, a little further south of Lagartillo)