Who doesn't love a beautiful white sand beach? There's something about a beach with sparkling white sand and clear turquoise water that warms the heart and in Costa Rica, there are several stunning white sand beaches that will take your breath away.
In this post, I'm going to go over some of the white sand beaches in Costa Rica. and below you will see a map of them so you can see which ones you can add to your itinerary!
Costa Rica white sand beaches map
You can click here to go to our interactive map to see where the beaches are. Just a note that some of these beaches are like white-ish/tan-ish. Costa Rica doesn't have quite as many white sand beaches as the Caribbean island countries but there are some very nice ones.
Gulf of Papagayo, Guanacaste
The Gulf of Papagayo has the most amount of white sand beaches in Costa Rica since the Gulf is made up of many little bays. The main beaches in the Gulf such as Coco, Hermosa and Panama all have dark black sand but go around the corner and you will find a stunning white sand boat access only beach.
Playa Bonita, Playa Jicaro and Playa Penca are three of our favorite white sand beaches in the Papagayo Gulf. They also have excellent snorkeling and the water is super calm, like a pool.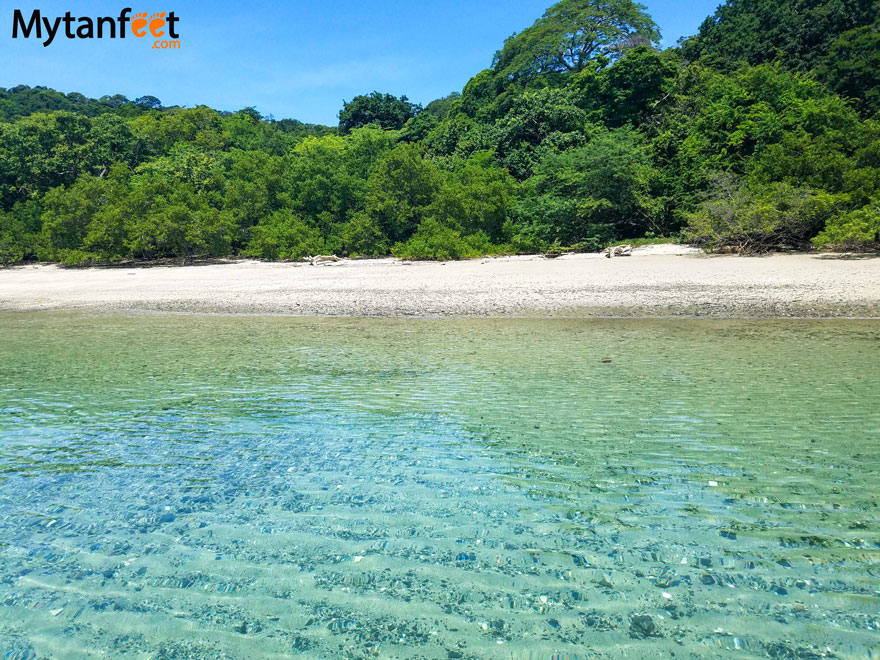 Playa Blanca and Virador are two other beautiful white sand beaches where the Four Seasons Resort is. As all beaches in Costa Rica are public, anyone can visit by land. The Four Seasons actually has a shuttle from their entrance down to the beach access, open to anyone.
Playa Cabuyal is another whiteish sand beach in the Gulf of Papagayo that we love. You can drive there (on the way to Four Seasons) and there is a nice little picnic area with tables. Waves are super calm and we saw a huge family of rays when we were there. Not a lot of people go there since it's a far drive and it's not very well known.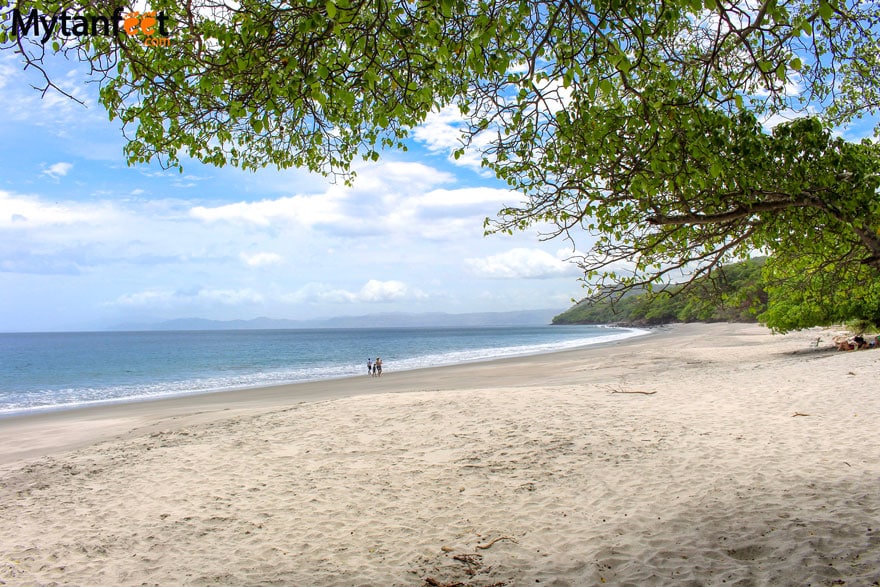 The best way to experience these beaches is to take a private boat tour. We always go with our friend Macy who owns a private boat company and he takes us to these beaches to snorkel. You can read more about boating in the Gulf of Papagayo (Coco, Hermosa, Ocotal, Panama) or contact us for more information.
Playa San Juanillo
This is one of our favorite beaches in Costa Rica since it is very unique in that two beaches come together to make one!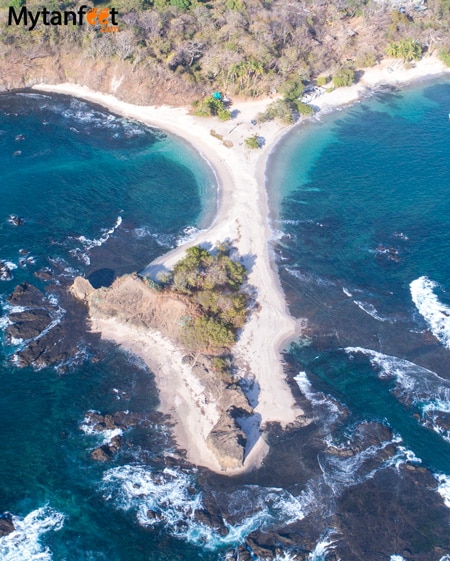 Playa San Juanillo is a local favorite and not many people visit this beach because it requires a 4×4 to get there. You can walk all the way to the end of where the two beaches meet and get an awesome view. Make sure to go in high tide so you can see the white shore or else in low tide, all you'll see are rocks!
This beach is on the way to Ostional and you will need to rent a car to get there since it's a bit out of the way and does require a high car. Actually, many of the prettiest beaches in Guanacaste require either a high car or are boat access only, which makes them all the more special! If you're renting a car, you can check out our Costa Rica car rental discount to save $$.
Playa Conchal, Guanacaste
You will see Playa Conchal on every list of "beautiful beaches in Costa Rica" and for a very good reason why. Not only is Conchal absolutely gorgeous, but this beach's shore is made up of pieces of white shells instead of sand, something extremely unique in Costa Rica (and where the name Conchal has from, since it means shell in Spanish).
This beach is in Northern Guanacaste, near Tamarindo beach and only 1 hour away from LIR Airport.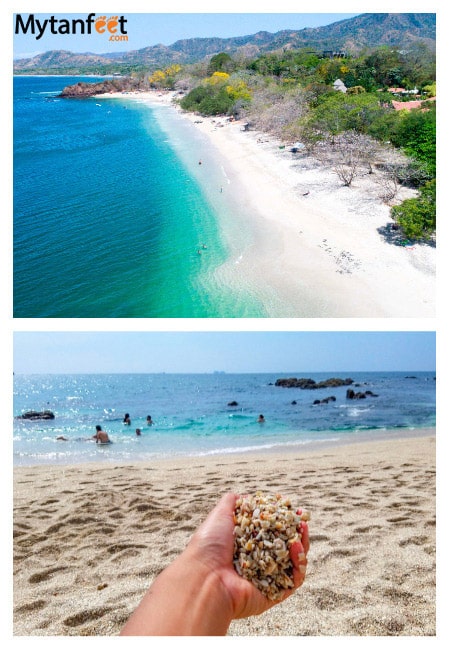 The waves are a bit strong for swimming but you can snorkel at the north end, where most of the shells are. You can rent beach chairs and umbrellas at the north end and there is a nice rocky spot which is good for snorkeling.
Conchal can get very crowded on weekends or holidays so if it feels too busy, walk to the south end where the private reserve is. You'll see an estuary connecting to the beach which is part of the reserve.
You can read our detailed guide to Playa Conchal here for more information on visiting.
Playa Flamingo, Guanacaste
Playa Flamingo is another white sand beach in Guanacaste that is only a 10 minute drive to Conchal. It's a little smaller than Conchal, has a marina and is famous for great fishing and scuba diving.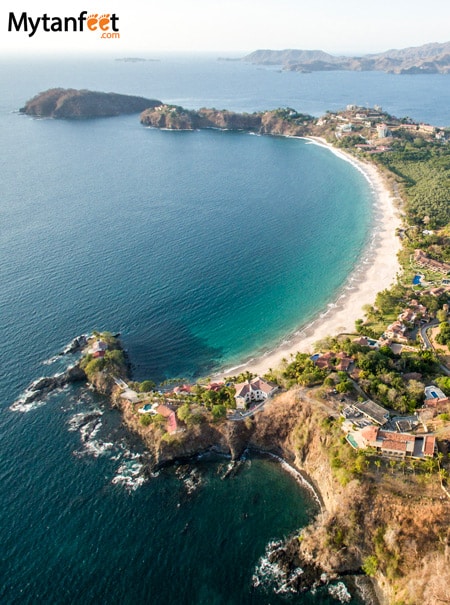 Flamingo is not just a white sand beach however, it actually turns a light pink during certain times of the year which is where the name Flamingo comes from.
Since Flamingo has a main road and small town center, most of the people who live there are wealthy expats and immigrants. There you will find mansions, high end hotels and luxury condominiums, all with a stunning ocean view.
Playa Cocles, Puerto Viejo
On the Caribbean side, there are many stunning white sand beaches and Playa Cocles is one of them. It's only a couple kilometers from town and easily accessible. With soft white/tanish sand, palm trees and surfing waves, it is one of the best beaches near Puerto Viejo.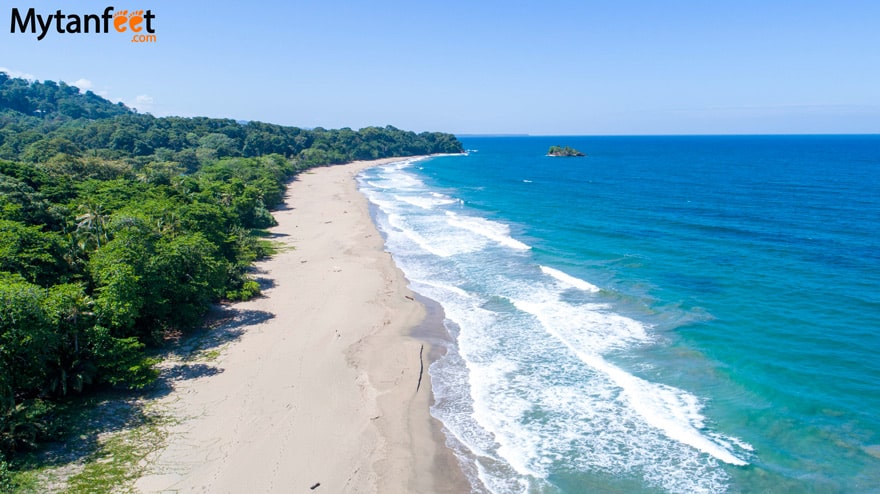 The beach is fairly long and even though it can get crowded during summertime on the Caribbean side (September and October), you can walk towards the south end to find a nice spot to yourself.
There are many hotels and restaurants at Cocles and it's an excellent beach to stay during your trip to Puerto Viejo.
Playa Vargas and Playa Blanca, Cahuita National Park
Two other stunning white sand beaches on the Caribbean side are inside Cahuita National Park, Playa Vargas and Playa Blanca. The park is not very far from Puerto Viejo and is one of the absolute must-visits in the area.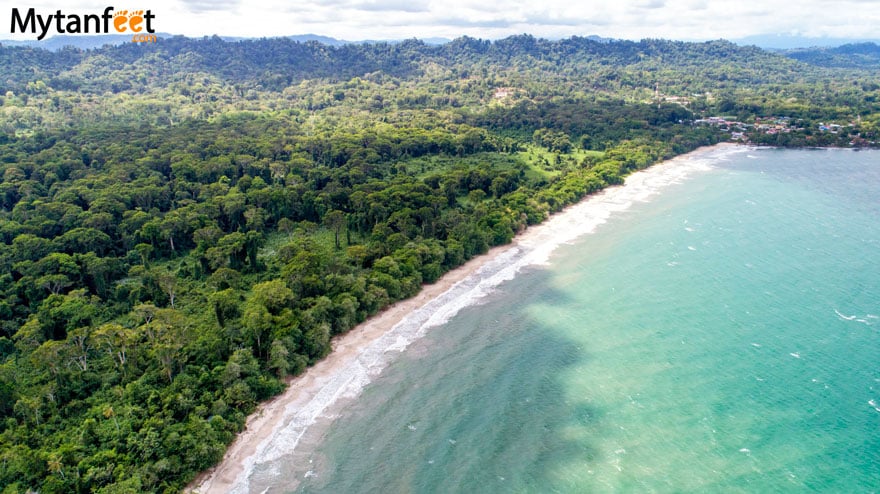 Besides being downright gorgeous beaches, they also house one of the biggest and most important coral reefs in Costa Rica. You can hike, swim in the water, go snorkeling and see tons of wildlife in Cahuita. It has a little of everything that everyone wants to experience in Costa Rica!
Playa Punta Uva Arrecife, Punta Uva
Our personal favorite white sand beach on the Caribbean side is Playa Punta Uva Arrecife at Punta Uva.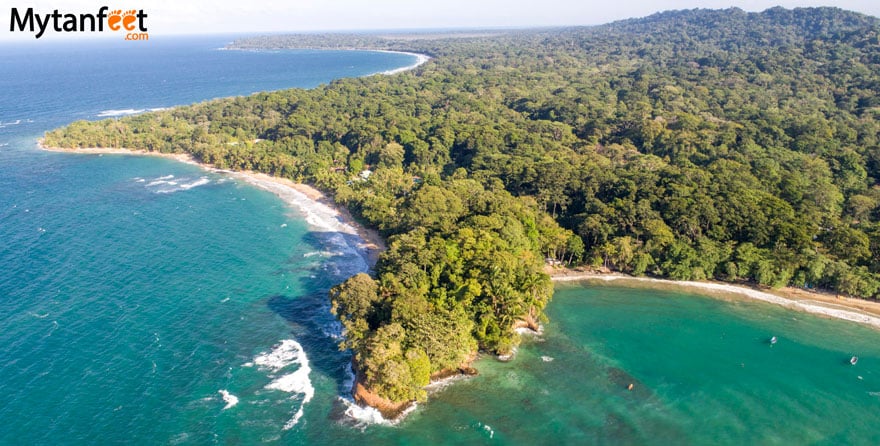 There is another beach at Punta Uva called Playa Punta Uva but that one has darker tan sand, Arrecife has more white/tan sand. We spent two whole days at Arrecife laying in our hammocks under the palm trees. The water is a bit rough for swimming but we saw a lot of people having a picnic at the beach and laying in hammocks.
For us, this was our favorite beach near Puerto Viejo and it wasn't nearly as crowded as Cocles.
Another beautiful beach near Puerto Viejo is Playa Chiquita. It has more tan sand but it's absolutely stunning!
Playa Blanca, Puntarenas, Central Pacific
The Central and South Pacific coast of Costa Rica doesn't have many white sand beaches compared to the Caribbean and North Pacific. However, there is a dazzling white sand beach near Jaco called Playa Blanca.
There are only two ways to get to Playa Blanca: through the Punta Leona resort or crossing Playa Mantas. The Punta Leona resort has their own access to the beach but it is closed to outside visitors so if you're not a guest at the hotel, you will need to go through Playa Mantas.
Playa Mantas is a small beach next to Playa Blanca and you must go during low tide or it will be too hard to walk on the rocks across Mantas to Blanca. It's well worth the bit of work to get to Blanca though because the beach is beautiful with palm trees and soft sand.
Isla Tortuga
Tortuga Island is one of the several islands in the Gulf of Nicoya and it has a stunning white sand beach. Tourists can take a one day cruise to enjoy Tortuga Island and it's one of the best things to do from San Jose and Jaco.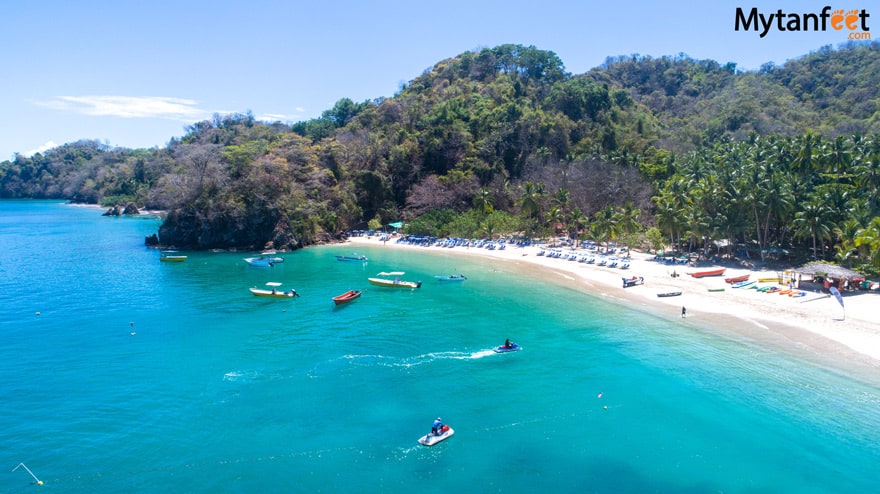 For the one day trip, the tour company takes guests on a 1.5 hour cruise through the Gulf of Nicoya to the island. On the island, they can snorkel, swim, kayak, jet ski, hike or relax on the beautiful white sand beach. You can read more about the Tortuga Island one day cruise in this post and get $10 off!
Manuel Antonio, Playa Espadilla, Gemelas, Manuel Antonio
The other white sand beaches in Costa Rica that are in the Central pacific are at Manuel Antonio. There are several beaches inside Manuel Antonio National Park and one outside the park that has whitish/tanish sand.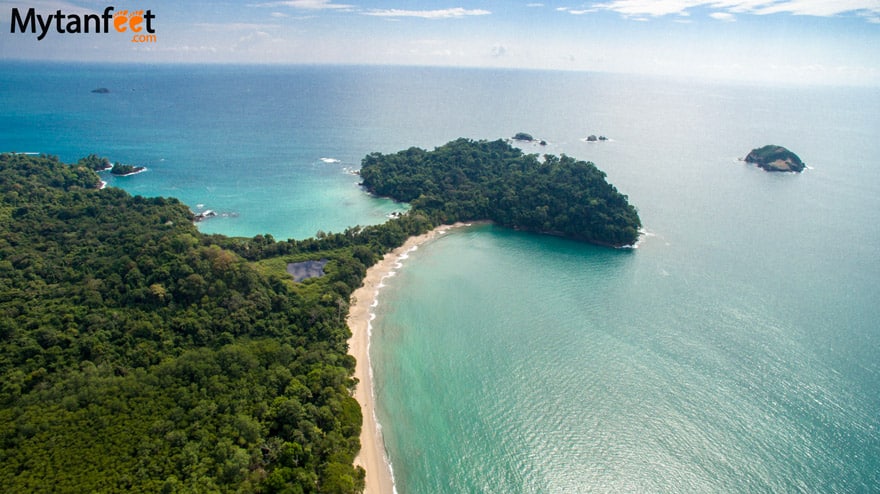 You can hike the national park for breathtaking ocean views or you can swim in Playa Gemelas, Playa Espadilla Sur and Playa Manuel Antonio. Outside the park is Playa Espadilla Norte which has surfing waves and parasailing.
Manuel Antonio is one of the most popular tourist destinations in Costa Rica because of their white sand beaches enveloped by a lush jungle. Many of the luxury hotels in this area such as Hotel La Mariposa, Parador and Arenas del Mar have a wonderful view of the beaches and national park.
Playa Cuevas, Mal Pais
Although all the beaches in Santa Teresa are beautiful, Playa Cuevas, Mal Pais is especially nice. It has whiter sand than the other beaches and is part of the Bat Caves Wildlife Refuge.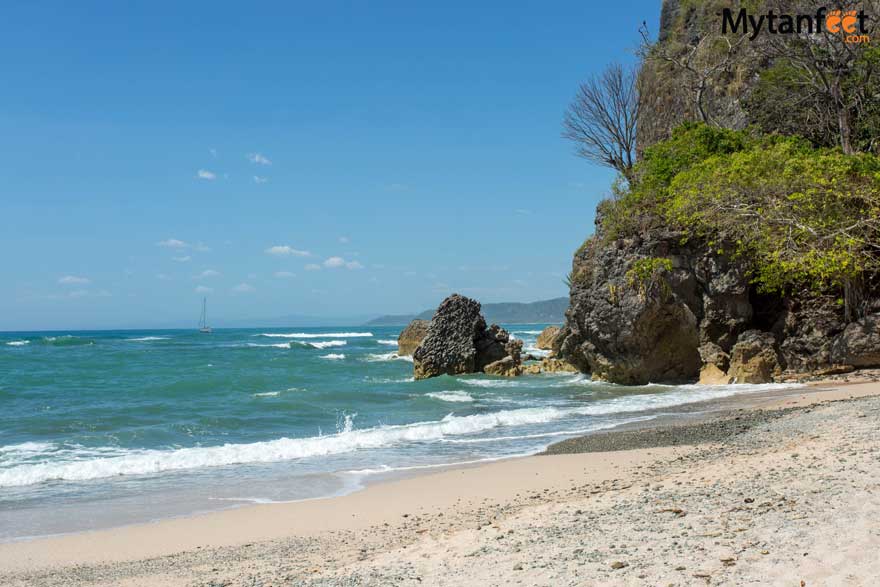 It's also known as the secret beach because it's tucked away in the corner of Mal Pais and doesn't see as many visitors as Santa Teresa. It's a nice little escape from the crowds.
There are affiliate links in this post.