Visiting Guanacaste and want to explore the coast? Head up north to Playa Iguanita and find some lovely lesser known beaches where you can enjoy crystal clear waters and soft sand to lay in all to yourself.
One such beach in particular is Playa Iguanita, a lovely beach inside the Iguanita Wildlife Refuge in the Gulf of Papagayo. This is a great beach to visit from Playas del Coco (45 minutes) and Tamarindo (1.5 hours) for those looking to adventure around the coast.
Map
Playa Iguanita map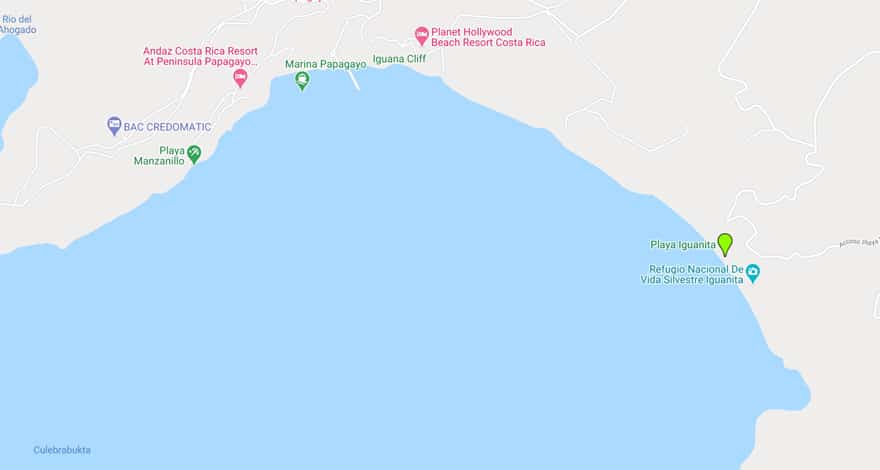 Playa Iguanita is 23 kilometers (14 miles) from Liberia International Airport. It is part of the Refugio Nacional de Vida Silvestre Iguanita (Iguanita Wildlife Refuge).
How to Get To Playa Iguanita
The only way to Playa Iguanita is to drive. There are no buses or shuttles that go to Iguanita. You can use Google Maps or Waze as your GPS and you will need a GPS because there aren't many signs, just a few on Route 253.
Get our Costa Rica car rental discount and save $$ on your 4×4 car rental!
4×4 Required?
Ye, even the signs say 4×4 required. However, if you are visiting in dry season like January through April, you can get by with a car with high clearance and a decent enough engine to make it up the unpaved hills.
Then in the rainy season months, you will need a 4wd, especially in the rainiest months like September through November. During those rainy months, it gets VERY muddy and the road conditions gets worse due to all the rains.
This road has no street lights or anything so we don't recommend to drive in the dark.
The Road
June 2020: The road was in bad shape with lots of puddles, mud and even a fallen tree branch in the middle of the road which we cleared out with our machete. This was in 2020, that year's rainy season was very strong. When we got to Iguanita in the afternoon, it started pouring buckets and it was intense drive back as we left at sunset.
July 2020: Road was just as bad as June 2020 and we actually ran into someone who got stuck on the road. He went down a hill but couldn't make it back up as his engine was not strong enough. It had poured rained the night before so the road was very muddy. We had to call the SINAC (national park rangers) for him since he didn't have a phone and they had to tow him out.
December 2020: We tried to go again but we called the park rangers first to check. They said that even with a 4×4, they don't recommend to drive there due to the bridge and overflow of water as it was the end of the rainy season.
2022
Now in 2022, due to the huge increase of tourists to Iguanita, the road condition is a bit better during dry season. A high clearance car is still recommended in the dry season however for the most comfort and security and 4wd in rainy season.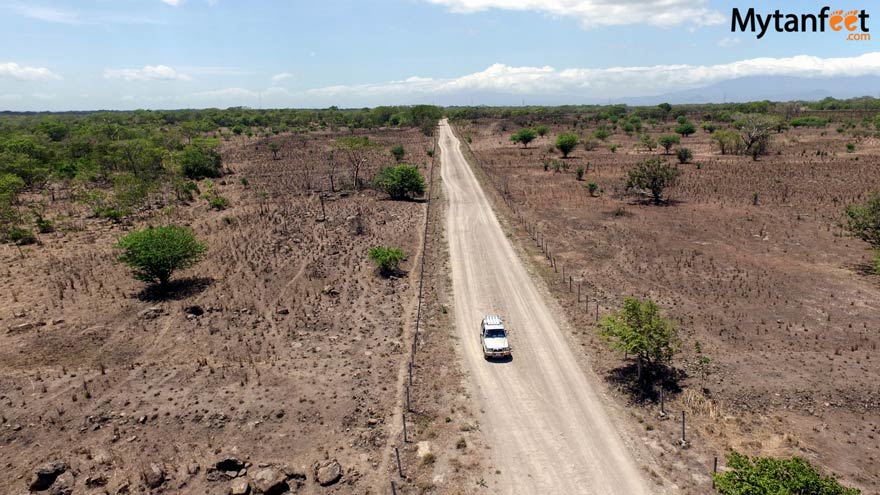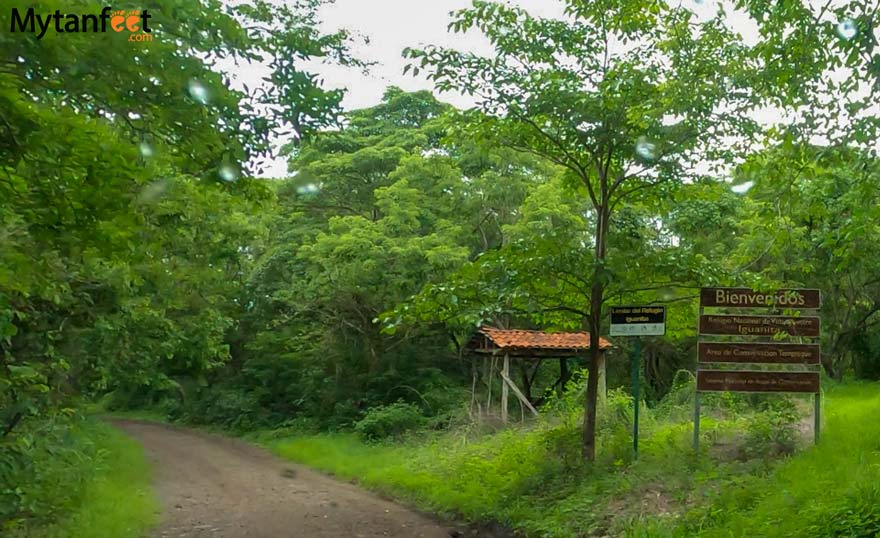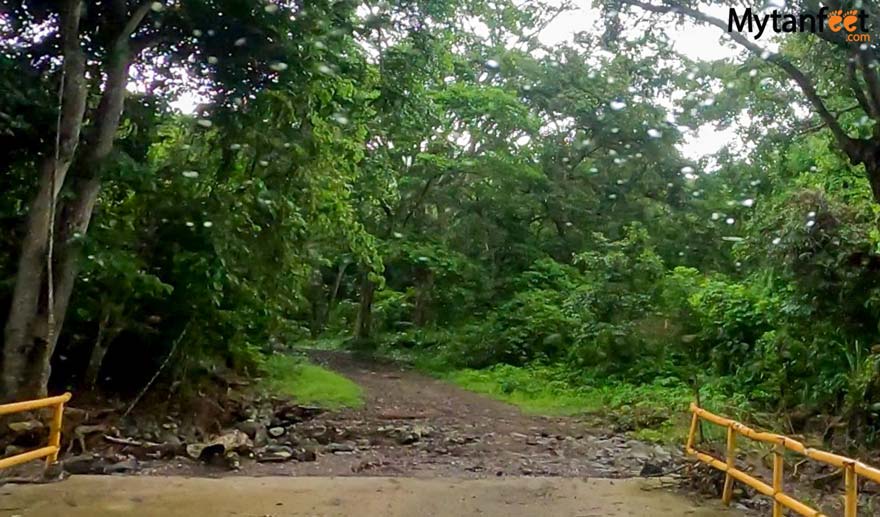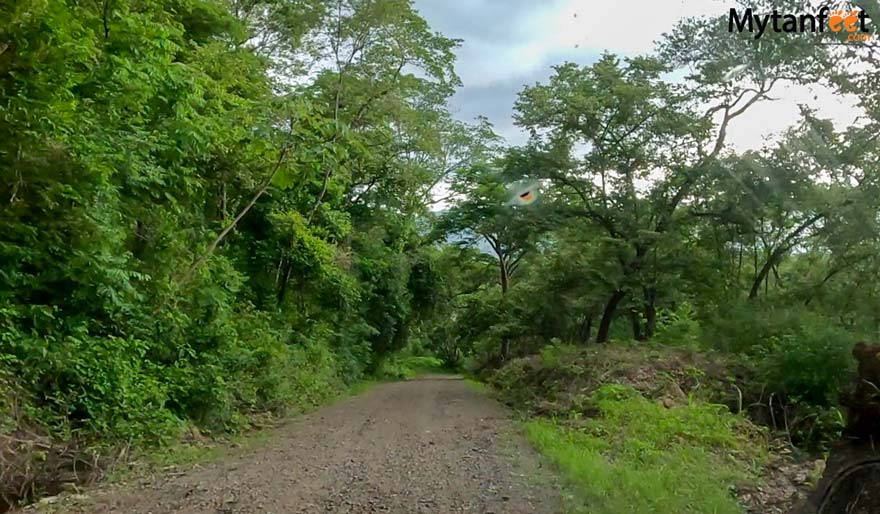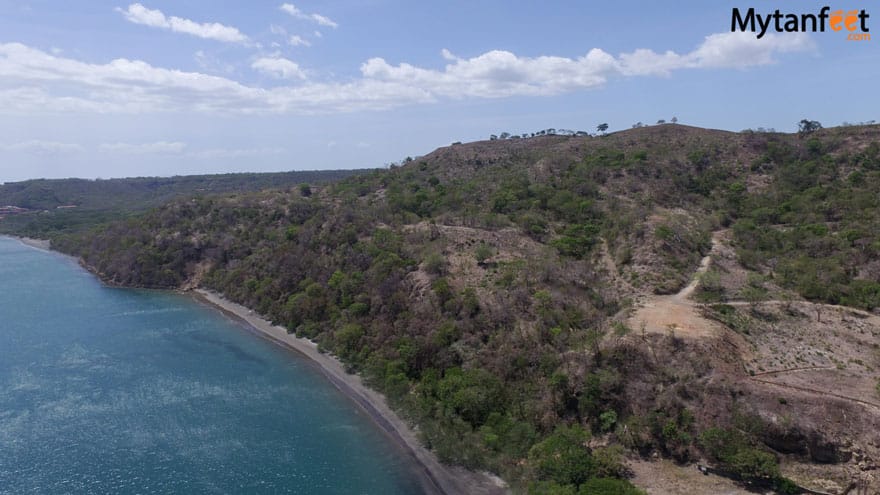 Parking
When you get to the bottom of the mountain, you'll see a road to your left and one to the right. The one to the right leads to a parking lot on the beach outside the ranger station, no fee.
The one to the left is to the ranger station and they do have a parking lot inside their property which opens at 8 AM.
Services, Camping, Dog Friendly?
The ranger station has bathrooms and showers. They do allow camping at the beach.
Dogs are not allowed inside the wildlife refuge but they can go on the beach.
What Else to Know About Playa Iguanita
There is an estuary on the south end of the beach so snorkeling is not really good at Playa Iguanita.
Be very careful of your belongings. There is no security so don't leave any valuables visible in your car, roll up your windows and lock your doors. We don't recommend to leave your belongings unattended at the beach either. Always try to have someone stay with your things. Unfortunately, there have been more car break ins and thefts due to the increasing popularity of this beach.
Speaking of that, Playa Iguanita used to be more of a secret beach but unfortunately it is not so anymore, mainly due to the COVID-19 pandemic. Lots of city locals, looking for beaches like this one, have discovered Iguanita so if you go on the weekend or during a holiday, it gets extremely crazy crowded (especially Easter Week and Christmas). Tons of people camp there during those times. So if you want the beach with less people, go on a weekday and do not going during Christmas, New Year and Easter Week. And please take your garbage with you!
The Iguanita park ranger phone number is 506 8330 4863. We highly recommend to get a prepaid Costa Rican SIM card so you have a local number to call in case of emergencies. The park rangers aren't always at the beach either.
Another way to get to Playa Iguanita is by boat. You have to book a private boat charter to get there.
Playa Iguanita beach
Iguanita beach is beautiful and it is a beautiful dark sand beach. In the rainy season, the enveloping mountains were lush and green. If you visit during dry season (January – April), they would be yellow and bare.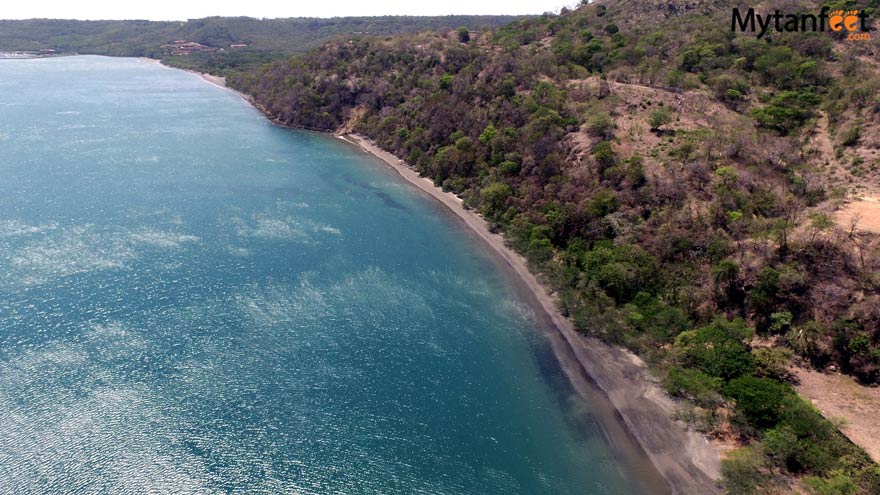 There are many trees, the water is crazy clear and the waves are incredibly gentle and calm. This beach is perfect for families with little ones since the water was so gentle and clear! I could see all the way down to my toes and spot some fish swimming around.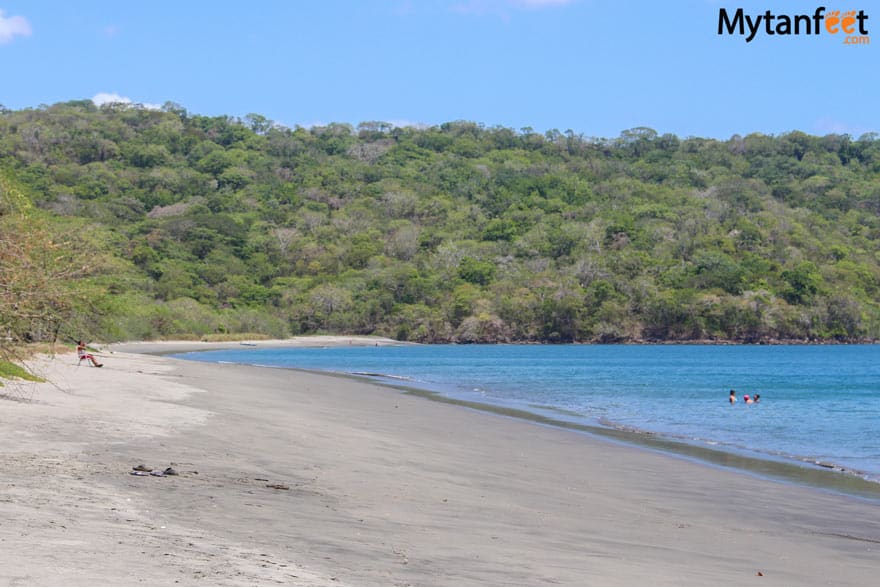 However, as there is an estuary, the beach isn't good for snorkeling despite the clear waters. It is perfect for swimming though!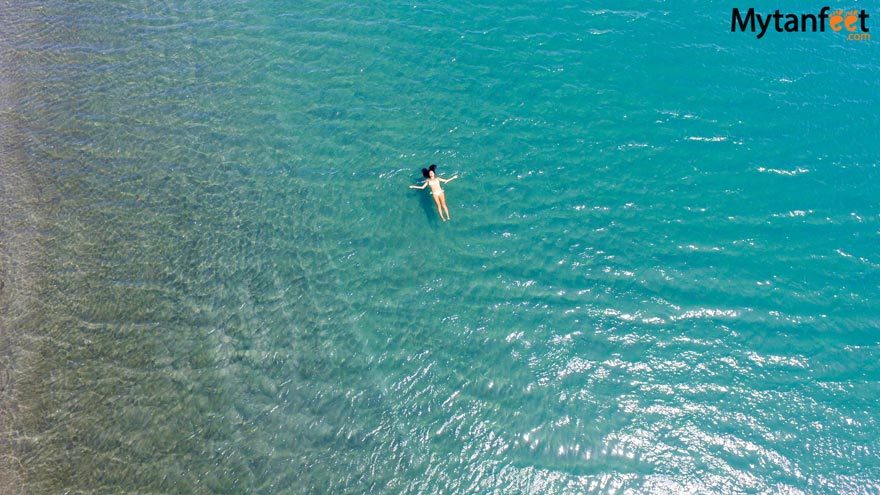 Playa Iguanita is much bigger than I thought it was, so you can walk up and down the shore to find the perfect spot.
For our first visit, we spent the day swimming at the beach. Then for our second and third visit, we went surfing!
Surfing Playa Iguanita
When there's a big swell with wind coming from the right direction, you can surf at Playa Iguanita on the very south end in front of the rivermouth. The waves are small, fun and long, perfect for longboarding.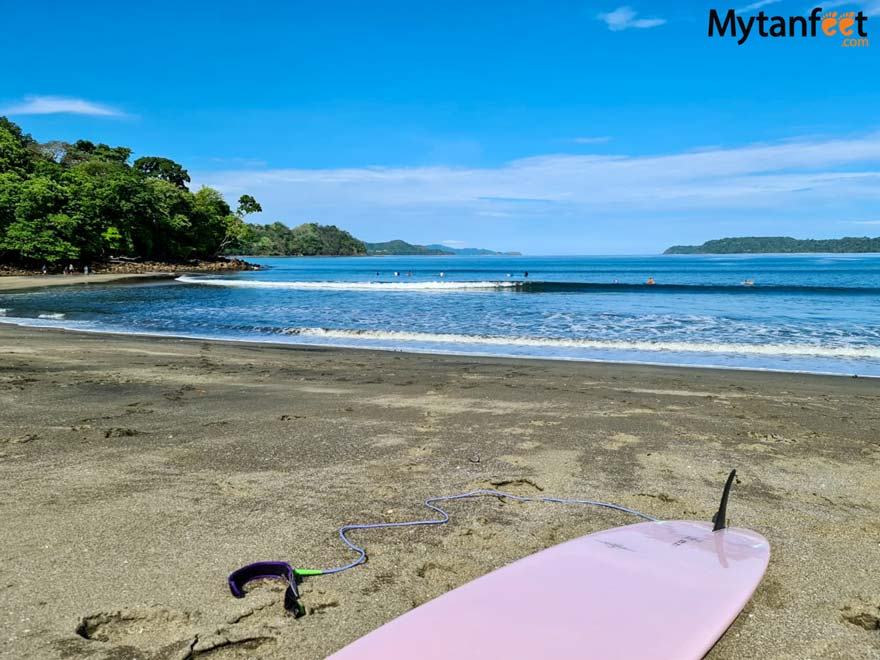 However, the wave only activates when the swell comes from the south/southwest direction and it is best in pure low tide.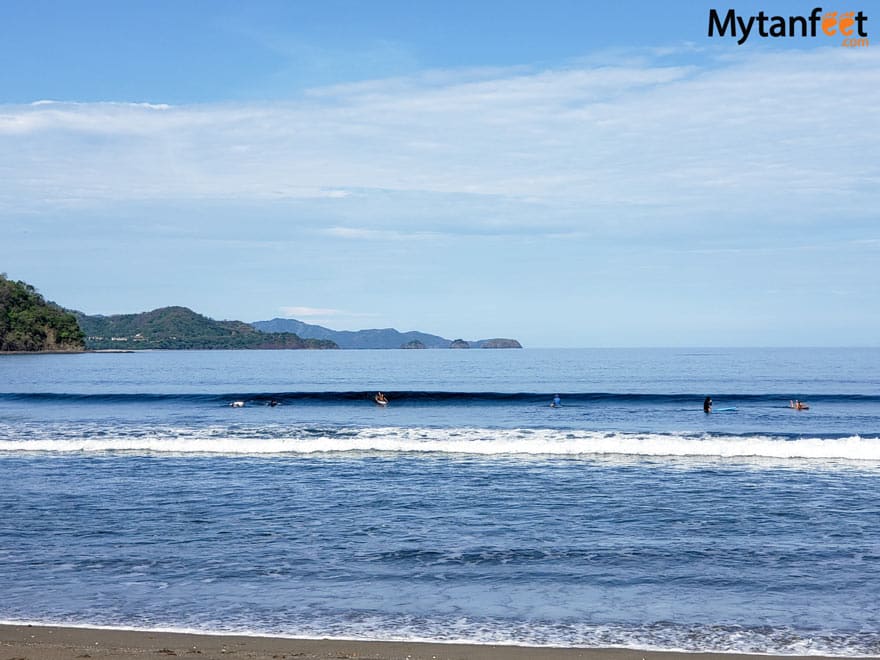 The swells are more common in the rainy season, months May – November. It's a very gentle wave and only gets to about 1-2 feet, so not good for shortboards.
Surfing at Iguanita used to be more of a secret but sadly now it's pretty crowded especially since there is only one break and one wave. A lot of people from the nearby resorts like Four Seasons and Andaz Papagayo go there for surf lessons so it's no longer a secret.
Visit Playa Iguanita Beach
We hope that this post helps you plan your visit to Playa Iguanita. The main thing to know is about the access, especially if you want to visit in the rainy season. But in dry season, the road is much better and it's a wonderful area to explore.
Check Out Other Beaches Like This One!
Playa Mina: Near Conchal and Tamarindo
Playa Cabuyal: Also in the Gulf of Papagayo, a bit further up north than Iguanita
Pelada beach: White sand surf beach down in Nosara
Playa Junquillal: long, dark sand beach in South Guanacaste