Playa Penca in Guanacaste, Costa Rica has become one of our new favorite beaches but this isn't the one near Playa Potrero. This is a little hidden beach that we found when Yeison and I went kayaking around the Gulf of Papagayo.
It's actually quite close to Playas del Coco and it's a beach in Costa Rica that not a lot of people know about. The characteristics are the exact opposite of Coco beach: white-ish sand, clear turquoise water and no rocks. It looks straight from a Caribbean postcard!
If you're looking for a hidden beach gem with white sand near Playas del Coco, then you must go to Playa Penca. Here is our guide to visiting this beautiful white sand beach.
This post was updated February 2018.
Location
Playa Penca, Guanacaste map
Playa Penca is on the peninsula between Playas del Coco and Playa Hermosa. This beach is also known to locals as Playa Penca Punta Cacique.
How to Get to Playa Penca
Playa Penca is a bit tricky to get to but you can get there by boat or car.
Kayak: It only takes about 20 to 30 minutes kayaking from Playas del Coco. You want to kayak around the peninsula north of Coco and it is around the corner to the right. Cafe de Playa used to rent kayaks, worth checking with them if they still do.
Boat: You can also take a boating tour from Playas del Coco. We love going beach hopping and snorkeling in the Gulf of Papagayo and we sometimes stop by Penca. Also check out Coco Water Taxi if you just want the boat transportation instead of a tour.
Driving: From Coco, drive out of town onto the main road towards the intersection where it splits to Hermosa. Turn left onto the road towards Hermosa and about 300 meters down, there will be an entrance in the gate on your left. Tell the guard that you're going to the beach and he'll let you through.
Continue driving and you will notice that the road has disappeared and it's just a badly maintained dirt path. Keep going down and follow the tracks until you reach a parking lot. You will see a trail on your right which leads to Playa Calzon de Pobre but continue down to the parking lot. Park and walk the rest of the way down to Playa Penca.
Taxi: You can call a taxi from Coco or Hermosa and they will most likely let you off at the entrance from the main road. You still need to walk about 20 minutes down the hill to get to the beach. The only problem would be getting a taxi back so if you can, try to coordinate with your taxi driver to pick you up at a certain time or get a prepaid SIM card and his phone number to call him.
Parking Lot
For those driving, you will drive down the hill and continue until you see a parking area. You'll see two actually, one for Playa Calzon de Pobre. If you have a sedan, I recommend to park at that one and then walk down to the left.
If you have a high car, you can continue down the hill a little bit to reach the closer parking lot. From there, you will need to walk about 5 minutes down to the beach.
This isn't a secure parking lot (no cameras, guards, etc.) so make sure to lock your doors and don't leave valuables visible.
4×4 required?
Yes and no. No in dry season, but in the rainiest months of October and November, it will be helpful to have one. The road that you turn onto is unpaved, has pot holes and gets steep from the first parking lot. The first time we visited this beach, we drove a sedan all the way to the bottom and had to have our friends push it out (visited in October) because the pot holes were so big. We should not have parked at the bottom!
The Beach
From the parking lot, you need to walk down another 10 minutes or so down the hill.
Walking down the path to Playa Penca makes you feel like you're in the middle of the true unspoiled Costa Rican jungle. There's no paved road, there are no facilities or anything on the beach. The views are beautiful, especially in rainy season when the hills turn an intense lush green!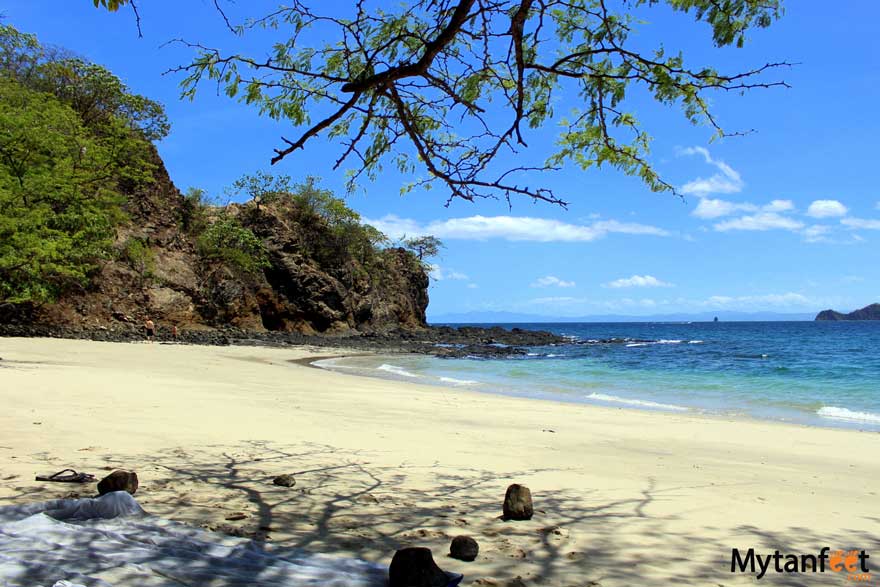 We like to put up a hammock, bring some cold drinks and lay down towels for a relaxing beach day at Penca. We always bring our friends and family here and they love it! This is one of my favorite beaches in Guanacaste hands down and one of my favorite hidden beaches in Guanacaste!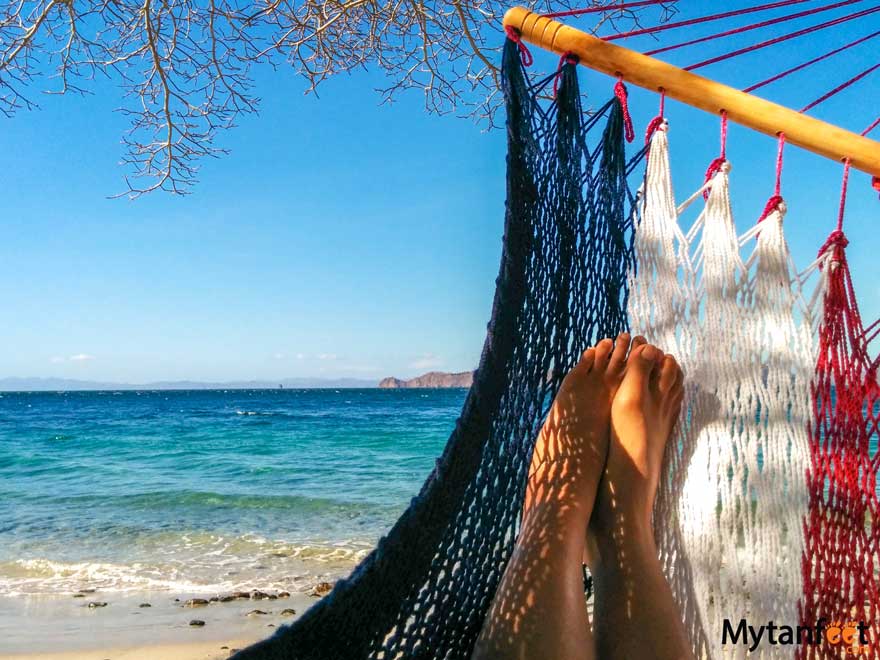 The last time we visited in 2017, we noticed that they have zoned it a little bit. So far in 2020, nothing has been built and it seems they stopped zoning it. This beach has gotten more popular with Costa Ricans so if you visit on the weekend or during the Christmas/Easter holiday, it may be packed.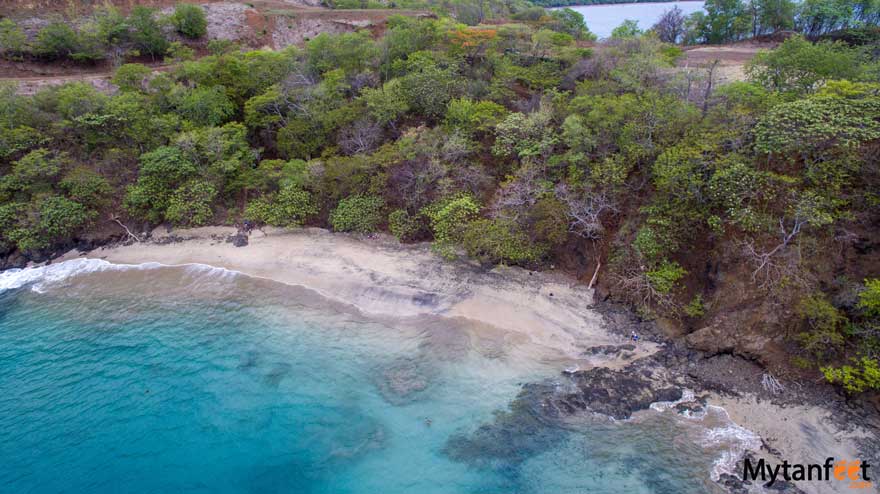 I'm a little bummed they're building on that beach since it's such a wonderful hidden gem in the area. But over the past few years, a lot more people have discovered this beach so I'm not totally surprised someone wants to develop it, especially since the beach is so beautiful.
The entire hill has actually been owned by someone for many years (rumor is Bill Gates) but nothing has ever been built so we will see!
Video of Playa Penca in Guanacaste

Here's an aerial video we took of Playa Penca. This was taken in July in rainy season so it's so green. If you visit January – May, it will be yellow and dry.
Read about other beaches in Costa Rica below!
Playa Real and Bahia de los Piratas