If you're looking for a unique and adventurous waterfall hike in Costa Rica, then you have to visit Catarata La Leona. La Leona waterfall is a small blue waterfall hidden deep in the canyons and caves of the a gorgeous blue river. I don't want to give away too much right away so read on in our post!
First, let's go over the important details and then we'll jump into the adventure. If you'd like to book this as a tour with roundtrip transportation, please scroll to the bottom of this post to book your tour.
There are Amazon affiliate links in this post.
Catarata La Leona Video
Here is a video we did of our time at Catarata La Leona. I highly recommend watching our video to see what the guided hike is like since we weren't able to take photos the entire time.
Arriving at the Finca
We started off our day arriving at Finca Don Rafa around 930 AM. The drive from Tamarindo was about 1 hour and 50 minutes.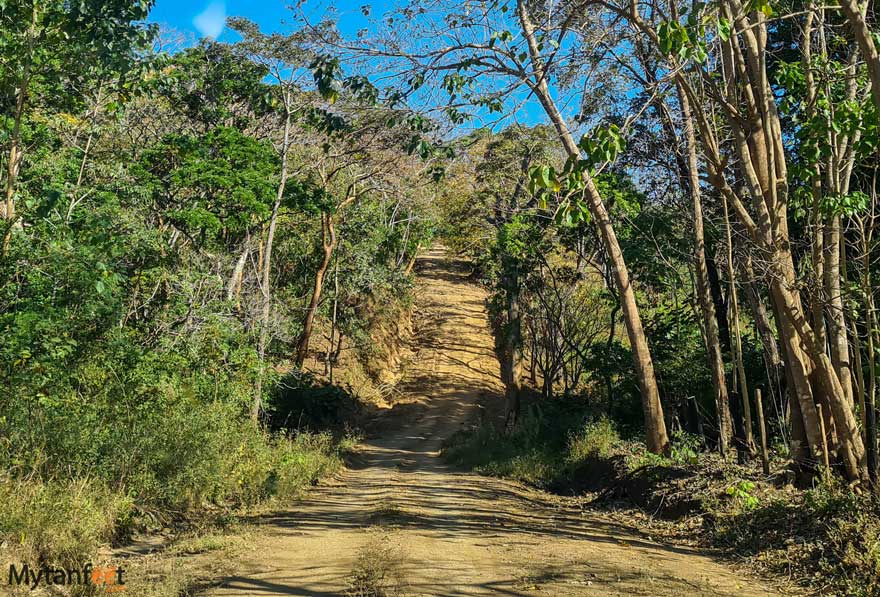 As soon as we arrived, we were greeted by one of the owners.
Something that Yeison and I absolutely love doing when we visit projects like these is to meet the families that run it. Many of them, including this one, started with nothing, just a piece of land handed down by a grandparent/ great-grandparent. Knowing what natural gems they have, they decided to turn it into a tourist attraction to welcome visitors to their beautiful property.
After we geared up, changed and used the bathroom, we headed off into the forest with our guide. One of the dogs that live on the property joined us!
Start of the Catarata La Leona Hike
We decided to take the moderate hike to the waterfall, as we had our two dogs. There are a few trails: easy, moderate and difficult.
Our hike started off easy. For the first part, our guide showed us the various river pools for bathing.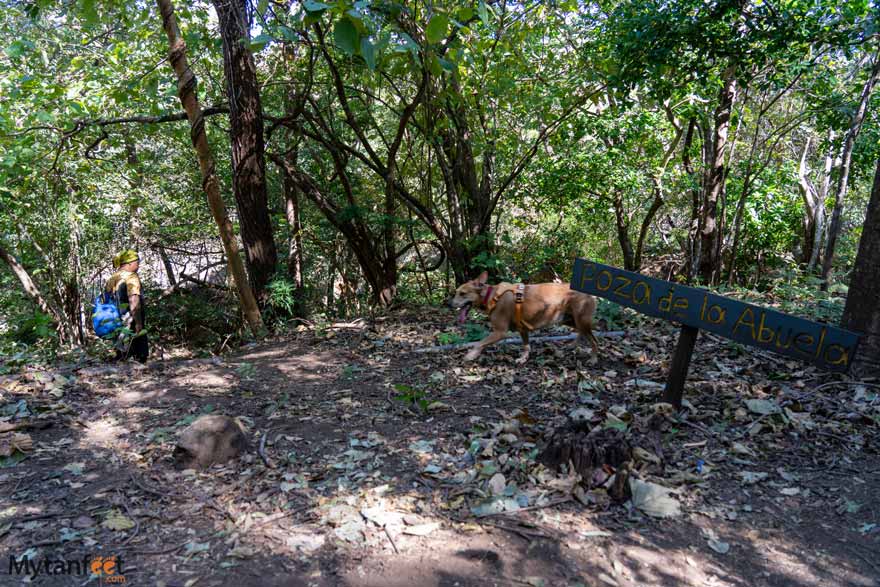 As this river originates from the Rincon de la Vieja volcano, it has this amazing blue color.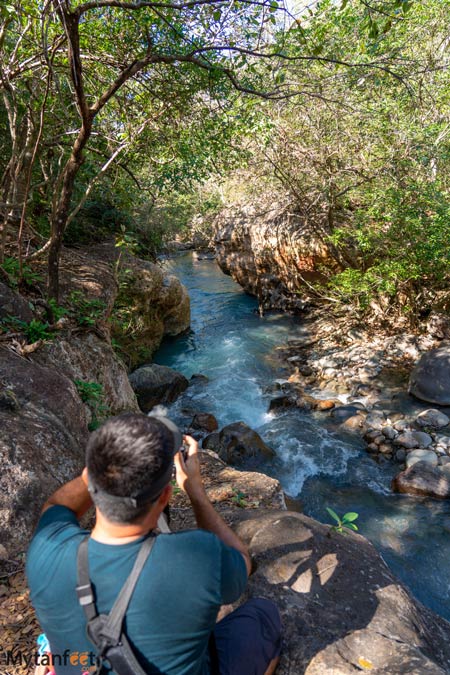 During our hike, our guide shared facts about the unique tropical dry forest and pointed out interesting trees and plants. He also told us the legends behind the name "Curubande" and "Rincon de la Vieja."
Rincon de la Vieja means the old woman's corner in Spanish and Curubande is the name of the village chief's daughter. In the legend, Curubande fell in love with the son of the rival tribe's chief. They had a tragic love story so whenever the locals heard loud howling wind at night, they would say she was still up there in the canyons, crying and grieving over her long lost love and son.
Hearing these stories as we crossed the blue rivers and pools made the place feel even more magical.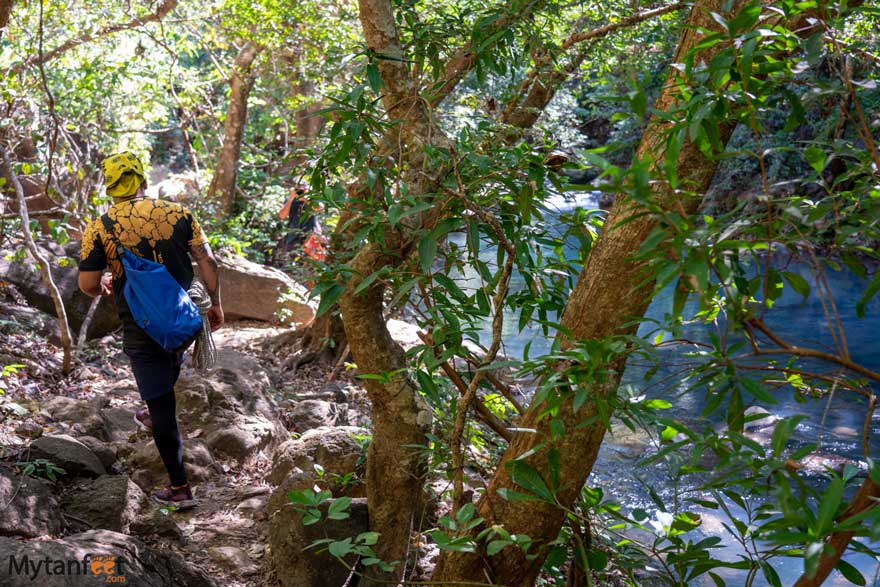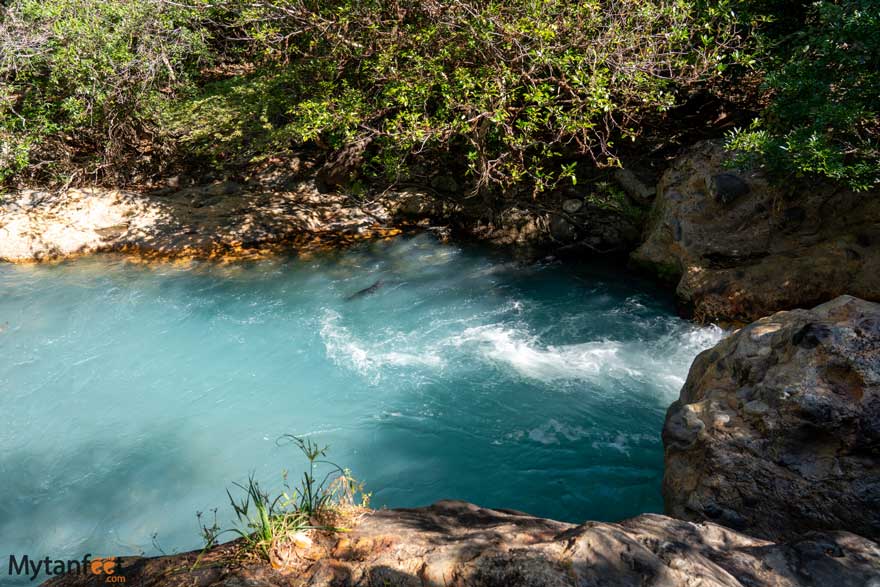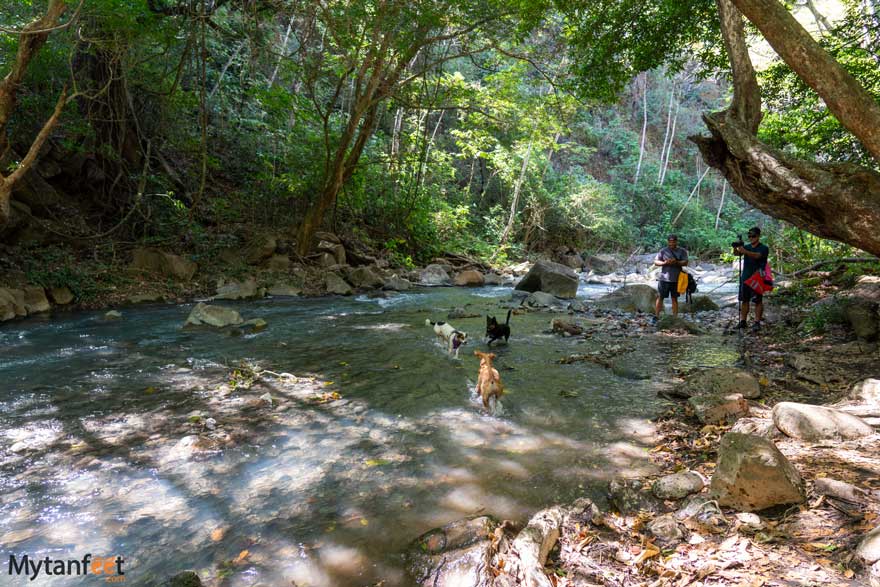 After we crossed the river for the last time, our guide told us that it was time to explore the canyons. He started walking up a hill full of rocks and tree branches. Although it didn't look like much of a path, we followed him up.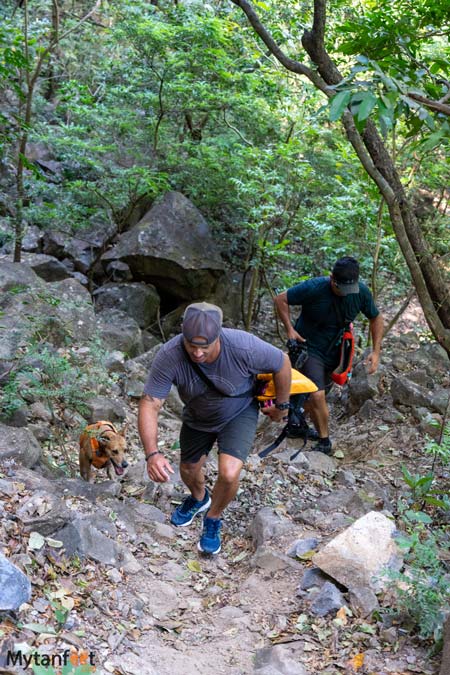 The Caves and Canyons
We emerged on the other side of this hill to an open canyon and caves. Our guide explained to us that the rock formation came from the last volcanic eruption many years ago and now during certain months of the year, it's home to lechuzas, or little owls. Hence the name, Cañon La Lechuza.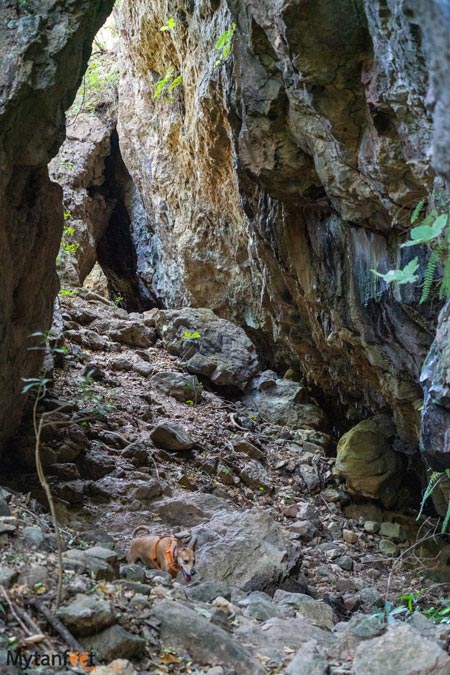 As we walked through the cave, I looked up and could see little furry faces peering down on us. They weren't owls but bats and they were just hanging up there, napping and checking us out.
At one point, I felt like the hike turned into a caving tour as our guide led through more caves and canyons. And every time I came out the other side of a cave, I felt like I had just passed into another world!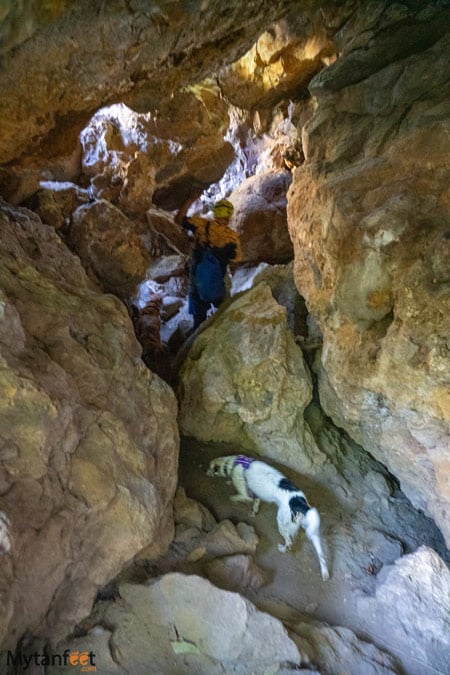 After what felt like the 5th or 6th cave, we came upon a calm section of the river. This pool was completely tranquil and quiet with a brilliant blue color. We were hot and sweaty from walking so we jumped in right away!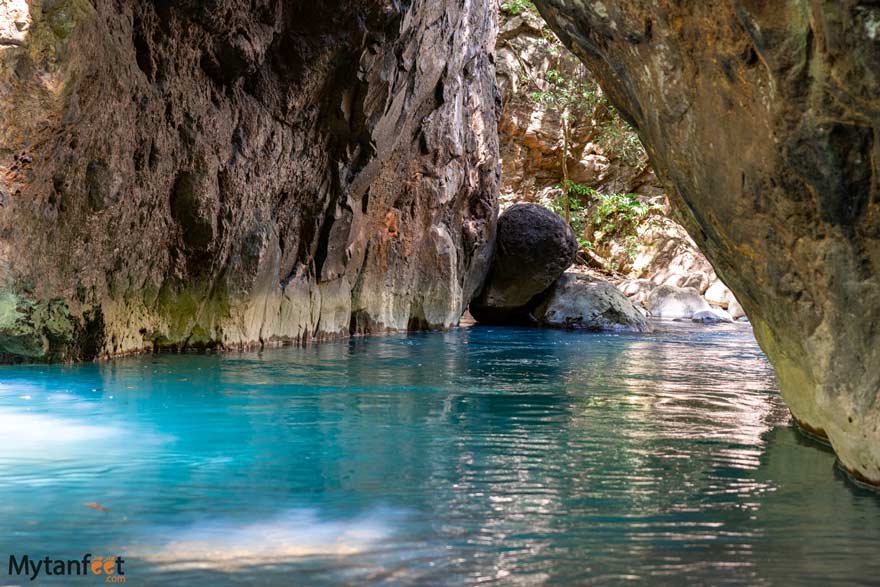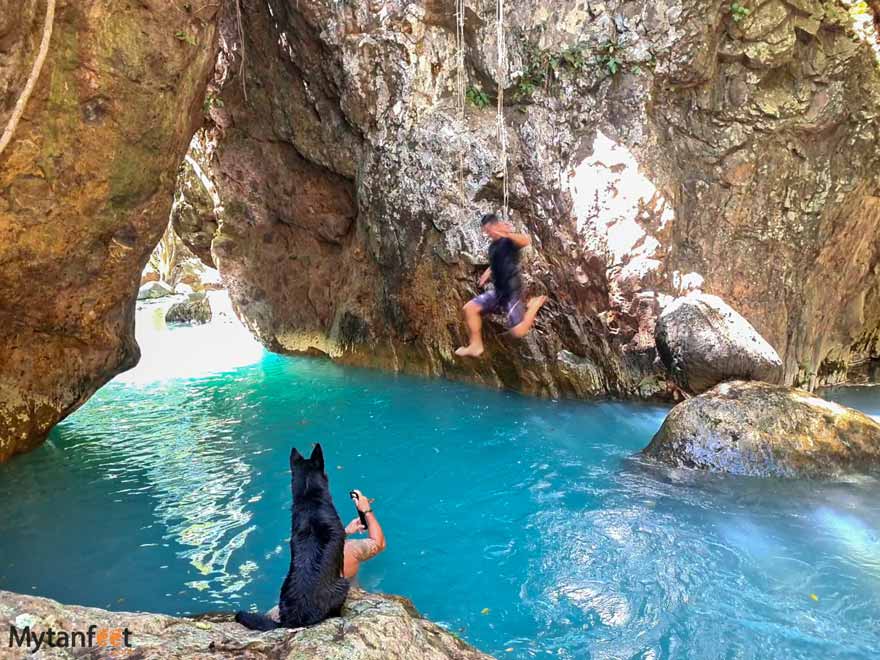 Even though we were having a ton of fun swimming and jumping into the pool at this spot, our guide soon said Vamos! And we looked at him like, what already? Si, he said with a large smile on his face. Esto no es el parte lo más bonito del río (This isn't the most beautiful part of the river).
So we put our shoes back on and followed him a little bit further down the river until we finally reached the actual entrance to the Catarata La Leona. We realized exactly why before our guide said we hadn't reached the nicest part of the river yet!
Arriving at Catarata La Leona – the Last Stretch
A large and calm blue pool emerged before us and I saw a rope in the water, stretched towards the cave in the back. I could faintly hear a roar of crashing water coming from the cave and my excitement level peaked again as our guide explained to us the next step.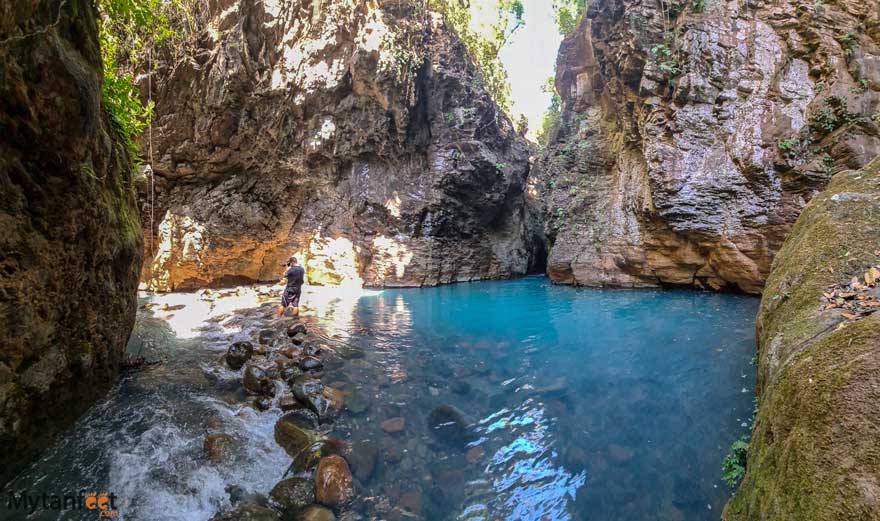 We had to swim through the canyon into the cave, using the rope to pull us along and in the cave, was the waterfall. Todo bien? he asked.
As soon as we said yes, he jumped into the water right away and motioned us to follow him.
Luckily the water level was not too deep and the current was not that strong so it was easy to swim to the cave. When I reached the cave, he lifted me up out of the water, hoisted me onto the rocks and told me to turn around.
As soon as I turned around, the incredible Catarata La Leona waterfall appeared before my eyes. We finally made it to the waterfall after trekking up rocky hills, climbing through caves and swimming through river pools!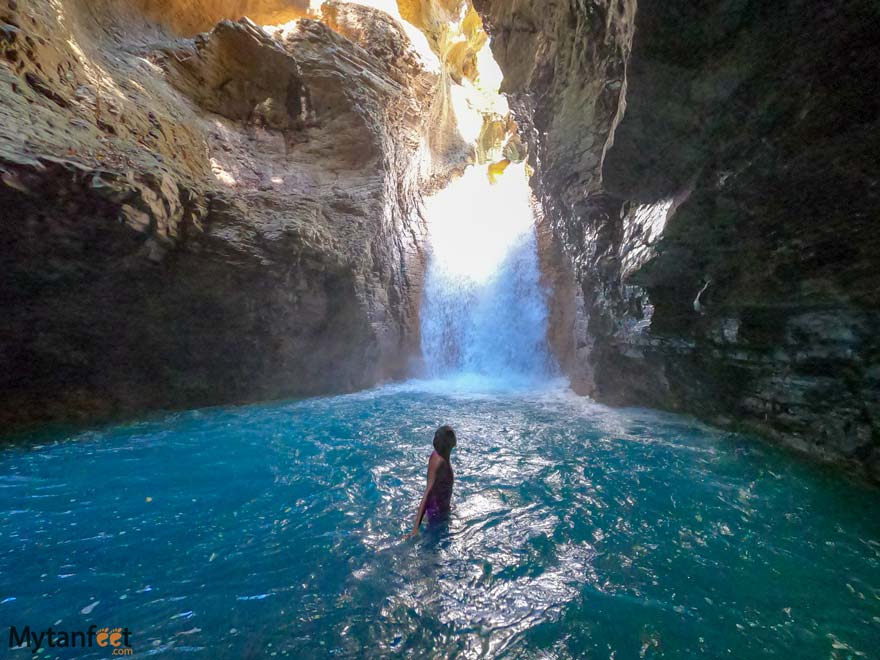 Catarata La Leona is not big but being hidden inside a cave made it all more special, especially considering we had to swim, climb and trek through the forest and rivers to get there!
Tips for Visiting
What to wear: Swim suit, clothes that can get wet and dry fast (I wore Roxy board shorts and a Nike dri fit shirt) and closed toed shoes.
You must have closed toed shoes because of all the rocks. Yeison and I both wore closed toed KEEN hiking sandals which are great for water and land. If you wear tennis shoes and socks, your socks will get soaking wet. I hate the feeling of wet socks so I love my hiking sandals.
Ladies, you can wear your swimsuit when it's swimming time but I do not recommend wearing JUST a bikini. Our guide told me about many ladies who wore only a bikini which literally got washed away down the river due to the strong current. Yikes!
If you want to wear just your swimsuit during the swimming part, wear a one piece.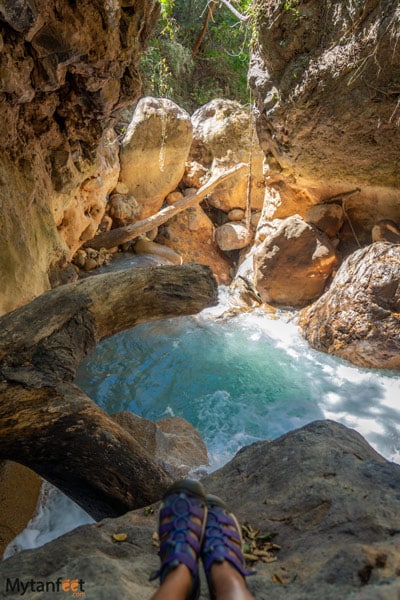 What to bring: Change of clothes, towel, sunscreen, hat, waterproof camera (we used our GoPro 8) and waterproof backpacks and dry bags.
The guide did provide us with their own dry bag but unfortunately it had a hole so Yeison's phone got wet and it died 🙁 So bring your own and make sure it is waterproof and in good condition because it will get wet!
My Aqua Quest backpack and dry bags worked perfect and didn't get wet at all. I also highly recommend a waterproof phone pouch.
The finca has changing rooms, a bathroom and a small picnic area.
Tour Length and Difficulty
The Catarata La Leona hike takes around 3 hours total.
The difficulty depends on which trail you take but it is easy to moderate. They will normally go on the easy trail.
Best Time to Go
Peak dry season (January through April). The paths are dry, there isn't any mud and no real strong river current. If you go during rainy season, you have to be more prepared for mud and a stronger current. We went end of January 2021 and the water level never went over our heads and the current wasn't strong.
One of our friends went beginning of December, right at the end of the rainy season and she said the road was in awful conditions and the current was incredibly strong. They had a harder time getting into the cave since they had to swim a lot harder against the current. The water levels of the rivers were also much higher.
Also keep in mind that Rincon de la Vieja, the active volcano is not very far away. As it is active, if it erupts (which it does once in awhile), the ash may affect the water and the tour cannot run if there is a lot of debris, run off and ash. However, when an active volcano erupts is impossible to predict but it's just something to be aware of.
Who Can Do The Catarata La Leona Hike?
Anyone with a sense of adventure! There are a few trails of varying difficulty so you do not have to go through canyons or climb up rocks like we did. However, you do need to be able to walk at least 1 hour with no problems and you cannot have a fear of deep water. You do need to know how to swim.
You can ask your guide to take you through the adventure trail or the easy trail. The easy trail is very straightforward – it's just from the entrance to the La Leona waterfall cave directly.
The trail we went on was the more adventurous one and our guide said if we didn't have the dogs, there is even a more adventurous trail to take.
If anyone in your group does not want to do this hike, they can hang out in the calm river pools by the parking lot.
More Photos of Our Experience
We took our two dogs back in February 2021, here are some photos. They had a blast and slept the entire next day!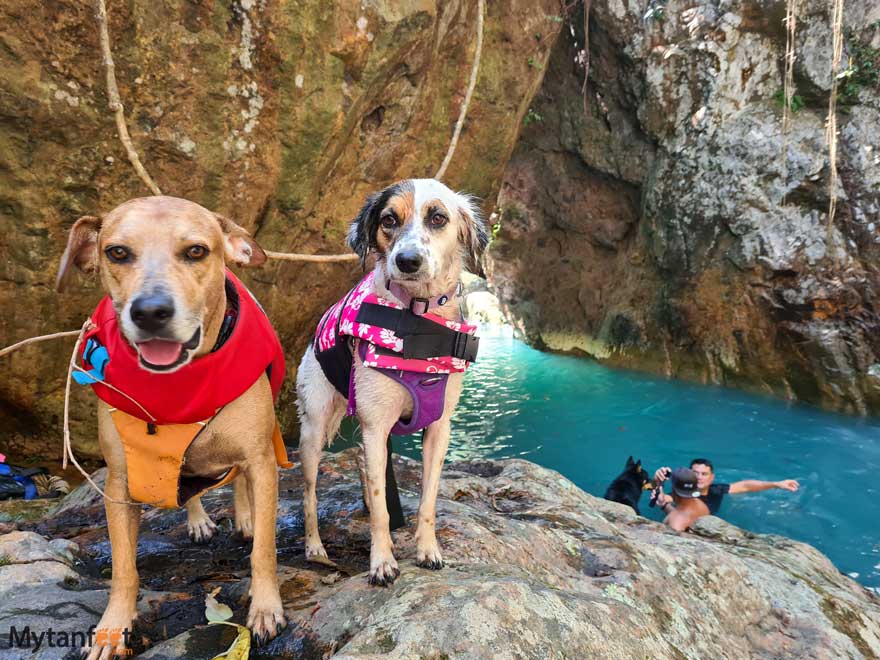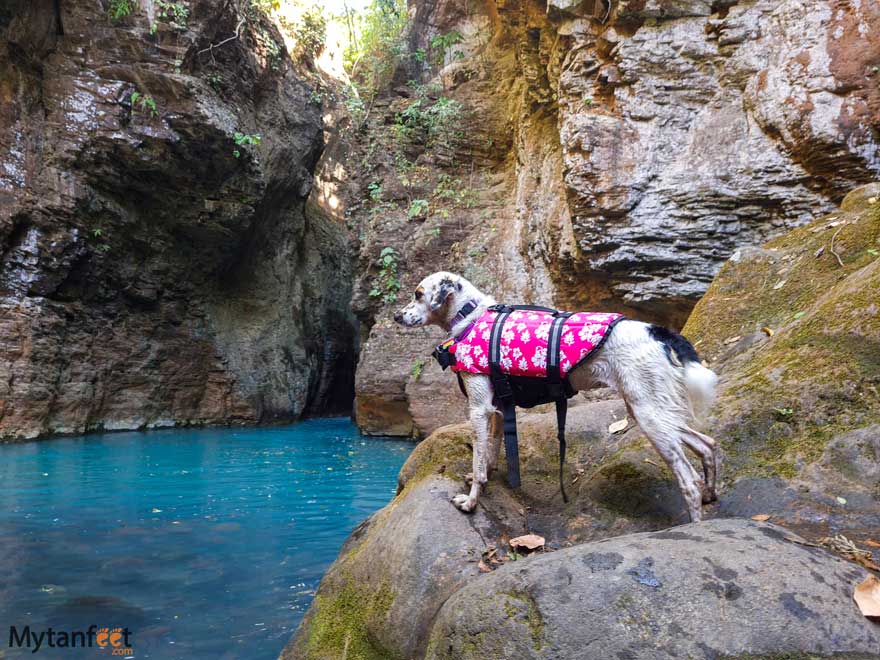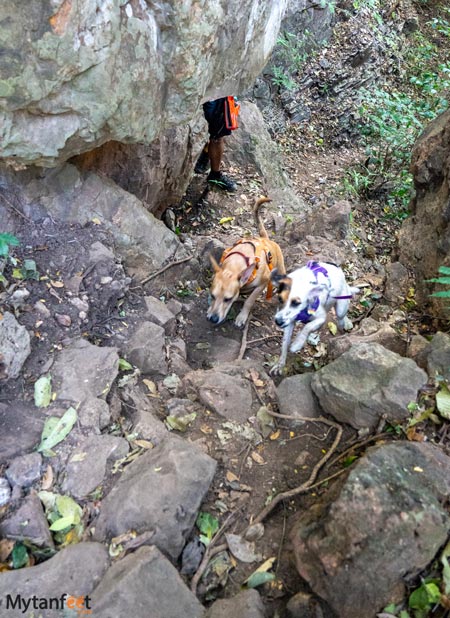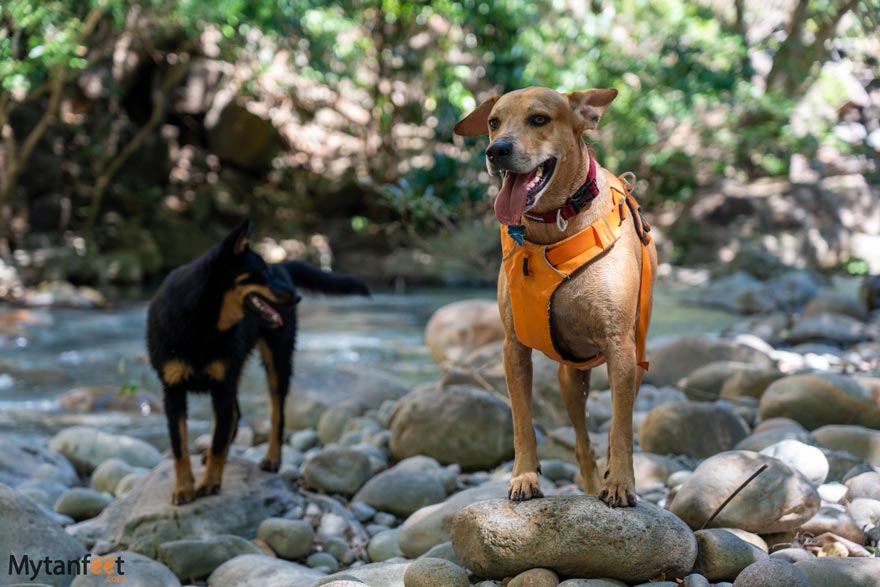 Plan Your Visit to Catarata La Leona
You can visit Catarata La Leona as a day trip from the Guanacaste coast. It is about one hour from Playas del Coco and the Papagayo Peninsula and about 2 hours from Tamarindo and Flamingo. It is only a 30 minute drive from Liberia and a 1 hour drive from La Cruz.
You can also do it as a stop over if you're driving from Guanacaste to La Fortuna. It's a little bit of a detour but if you do the tour early and get a good nights sleep, it will be a fun travel day.
The park we visited also offered entrances to the river pools and a white water tubing tour for an extra charge.
Location
Catarata La Leona is in Guanacaste, specifically in the small town of Curubande. It is about a 30 minute drive from Liberia International Airport.
How to Get There and the Different Parks
There are several parks in Curubande that offer tours and entrances to La Leona waterfall.
Finca Don Rafa (the one we did) and La Leona Waterfall Tours park have direct entrances to the waterfall. If you have a car, you can contact either of them to make reservations and drive there yourself. Finca Don Rafa does have an unpaved road for the last stretch so go slowly and get a 4wd in rainy season.
The best way to get there if you do not book a tour is to drive there on your own. There aren't common buses or shared shuttles so either drive or book a tour. In dry season (December – April), you don't need a 4×4 to get there. In rainy season, it is recommended to have a car with 4wd or at least high clearance.
Get our Costa Rica car rental discount and extra freebies here!
Please note this waterfall is very popular now so reservations in high tourism season (December through April) are required.
If you do not have a car and want to book this as a full tour (roundtrip transportation from your hotel and bilingual guide), please fill out the form below to book a tour. We work with a guide who provides roundtrip transportation from the Northern Guanacaste coast, bilingual guide, safety equipment, entrance fees and lunch.
Book the Catarata La Leona Tour Below!
Please fill out the booking form below if you would like to do this tour. This is for those who do not have their own transportation and need to book this as a tour.
There are affiliate links in this post.