The province of Guanacaste is full of amazing beaches and it's one of the best places in Costa Rica for a beach vacation. Even though Guanacaste is touristy, you can still find plenty of undiscovered beaches. Many are boat access only or require a 4×4 which makes it all the more special!
Here is one of our all time favorite beaches in Costa Rica, Playa Bonita. It's a gorgeous white sand beach with turquoise water which we randomly found when driving. We got lost and ended up at this beach! It's one of my favorite memories of Costa Rica and it's still one of our favorite beaches in the country.
***This post was first published in 2013. *
Playa Bonita Costa Rica
That day we were heading to the Hotel Occidental Grand Papagayo beach (Playa Buena), we decided to drive a little bit further. It was about 1 km NW on a pretty crappy road and when we got to the end, we saw a security guard with run down buildings behind him.
We asked him what this property was and he told us it used to be a hotel and that there was actually a beach down at the bottom of the cliff. He gave us permission to go and off we went, not knowing what to expect. We learned that this property used to be a hotel named Costa Blanca but they demolished it when it went out of business.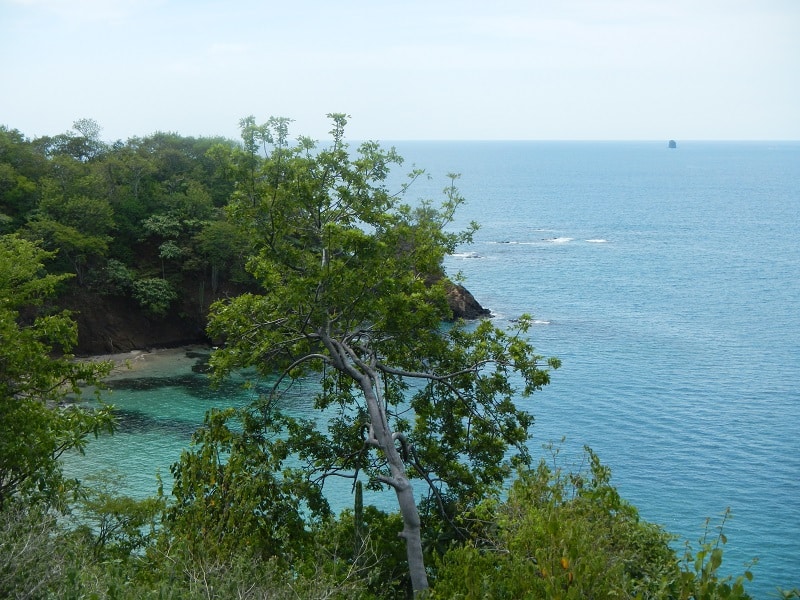 On the way down to the beach, we saw nothing but trees and glimpses of the water and heard nothing but birds and the ocean. This is what I really like about this beach. There is nothing around besides trees, cliffs, the sound of the ocean and wildlife.
After passing this viewpoint (150 meters), you will find a path to your right side. Walk down the hill and you will find yourself stumbling onto a gorgeous beach. Also, at the entrance of the path you can walk out over the cliff and get a breathtaking panoramic view of the ocean.
The Beach
As soon as you step in the white sand, you can tell that not many people go there. Your feet sinks in the sand a little bit but it's so soft it just hugs your feet. You will find a lot of hermit crabs and howler monkeys around and the view is spectacular.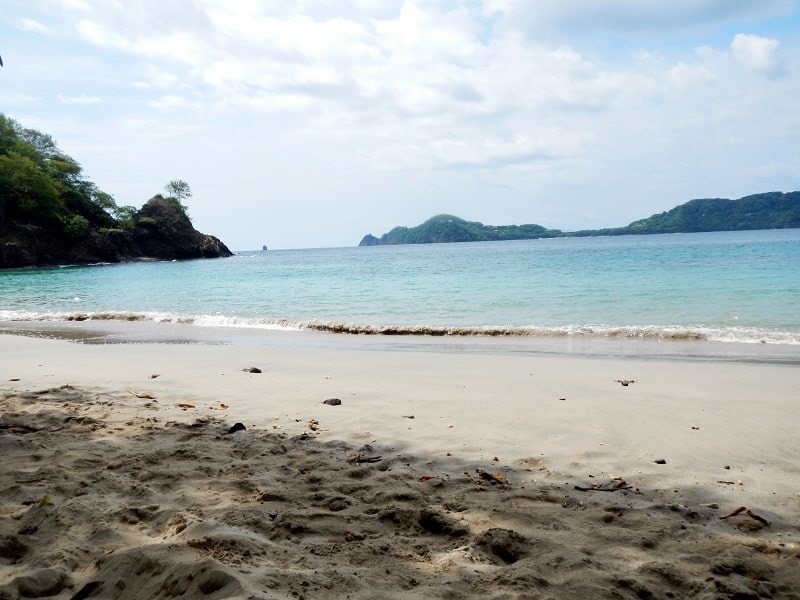 The water is very clear and if you go a little deeper you will be able to see sting rays, octopus and different kind of fish. We met a man who was harpoon fishing and he caught 3 octopuses and a bunch of huge lobsters. He told us this is one of the best spots to hunt for these animals.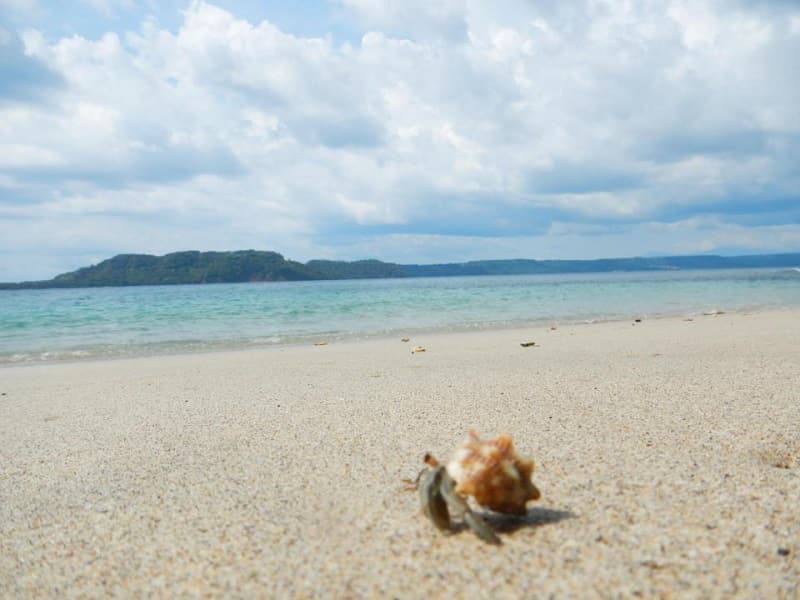 Swimmable?
This beach is not very big and the waves are so calm! It basically feels like a huge pool with warm water. It's perfect for bathing and snorkeling and the bottom is not rocky at all.
There are lots of trees around so it's perfect to lay down a towel and take a nap, sunbathe or read a book. If you want to come really prepared, you can bring a hammock and just swing to the sounds of nature.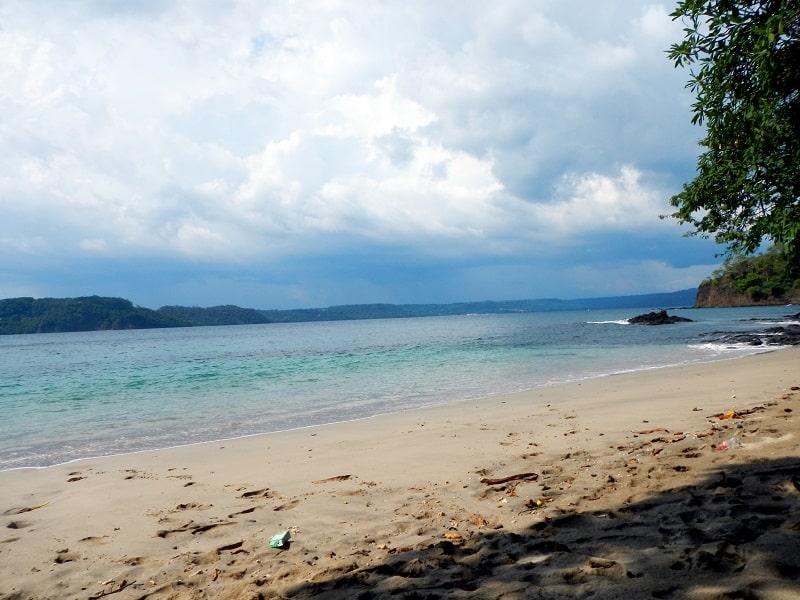 During low tide, you can walk to the neighboring beach on the rocks and swim in the tide pools.
How to Get There
We discovered that there are two ways to get to the entrance of the beach but I don't suggest taking the road when you see the first sign for Playa Arenilla, Buena and Panama. It was obviously built before the main road since it goes through the mountains and is very dangerous (tons of curves) especially when it rains.
Instead, take the left when you see the second sign for Playa Arenilla, Bonita and Panama. This is usually the first beach we take our family and friends to and is one of our favorites when we don't want to be around a lot of people at the beach.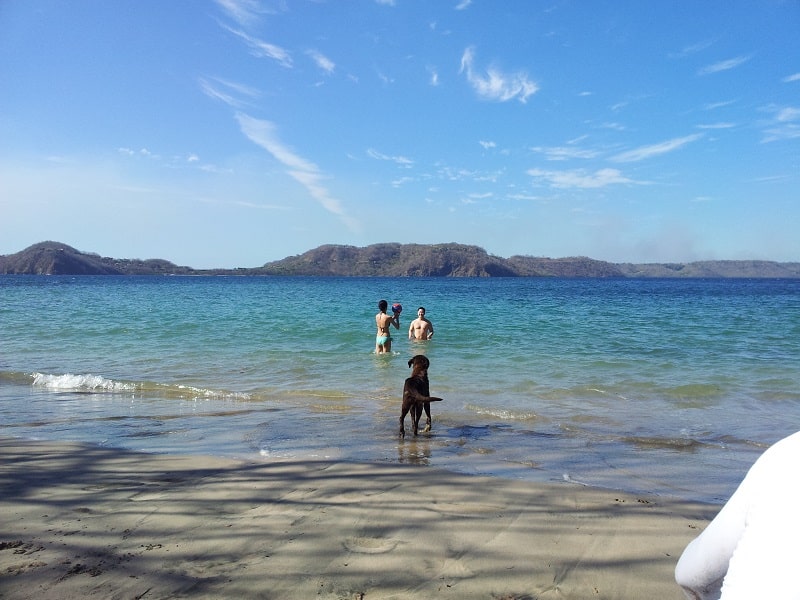 Parking
Since there is now construction going on at the beach, you have to park at the entrance and then walk down. There is usually a guard and last time we went, we had to pay him 1000 colones to park and have him "watch" the car.
4×4 required?
Nope! It is off a paved road so a 4×4 or 4wd is not required. You can get there with a sedan, like we did.
Facilities
None right now but it will change when the hotel is done.
Read about more beaches in Costa Rica here!
Some other beaches similar to this one in the Gulf of Papagayo are Playa Penca and Playa Calzon de Pobre which has similar characteristics and it's right next to Penca. Another similar beach in the area is Playa Cabuyal.