If you are looking for a pre-set one week itinerary in Costa Rica, this article is for you. This one week itinerary is perfect for families on spring break and takes you to national parks, cloud forest and beaches.
Costa Rica Monkey Tours created this itinerary and sponsored us for this tour.
Have more time in Costa Rica? Check out the Costa Rica Monkey Tours 11 days Coast to Coast tour!
One Week Costa Rica Itinerary
This one week itinerary cannot be changed or customized. All you have to do is book and go.
What is Included
All ground transportation starting from when you land to when you fly out unless you decide to stay longer or arrive earlier
Hotels
All meals except if you go somewhere not on the itinerary
All tours and entrance fees
Bilingual guide and driver
What is not included
Souvenirs
Tips
Drinks
Optional add on activities
Flights
Video
You can watch our video of the tour here. See the places we go, all the activities we do, the hotels we stayed at and the beach we visited!
Below you will read all about our one week trip with Costa Rica Monkey Tours.
Map
Map of destinations in this one week Costa Rica itinerary. This is exactly where we went in this itinerary.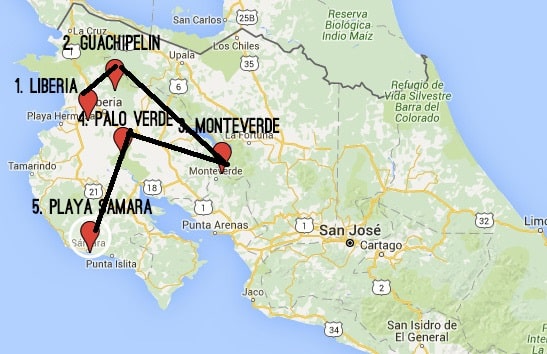 Day 1
Day 1 is mostly a rest day but if you land in the morning, you can grab a cab and explore Liberia or relax at the hotel. We stayed at the Hilton Inn Guanacaste Airport Hotel via complimentary shuttle.
Day 2
After breakfast we headed off for our first day of adventure at Hacienda Guachipelin. This exciting day consists of a full day of fun ziplining, horseback riding, white water tubing, and waterfalls.
This canopy tour has 12 zipline cables and there's also an optional part where you can rappel down into a canyon, rock climb up and then tarzan swing over.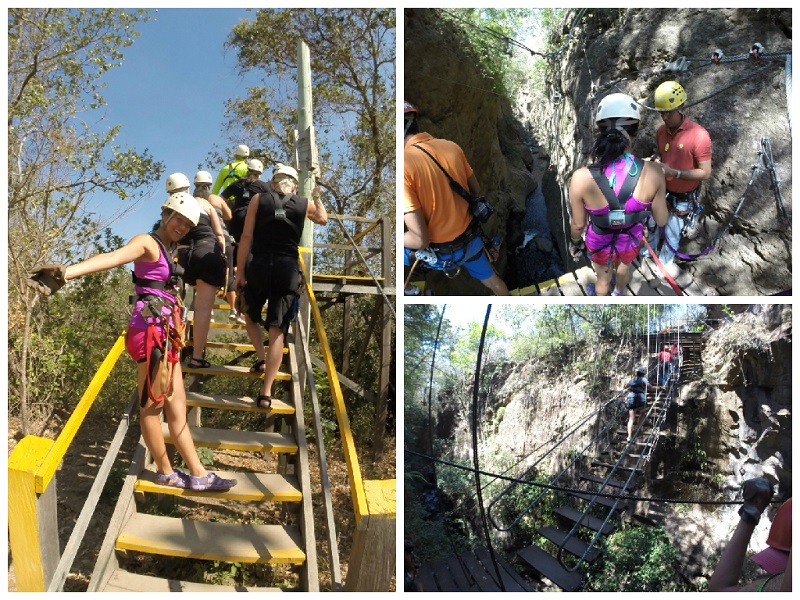 After ziplining, we went down to the stables to horseback ride to our next activity: white water tubing. During our horseback ride, we stopped briefly at a small waterfall.
Then we went white water tubing down a 2.5 kilometer long river with small rapids, so you spin and turn in your tube all while in the middle of the beautiful Costa Rican forest.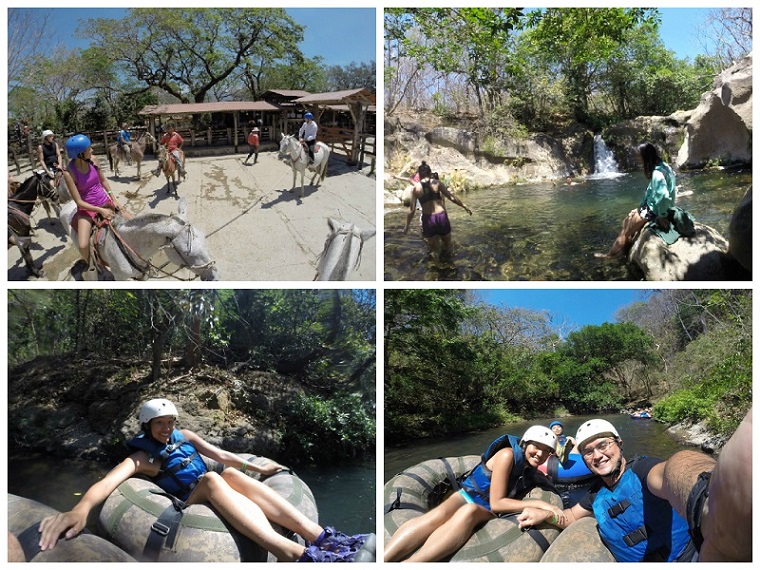 When we reached the end of the river, we loaded back into the truck to have lunch at the restaurant, buffet style with typical food with salad and dessert. At this point our guide decided to take us to our hotel for the night so we can enjoy the hot springs and hot baths there.
We stayed at Hotel Borinquen Mountain Resort in the Rincon de la Vieja National Park with villas and bungalows, each offering exquisite views in a rustic setting.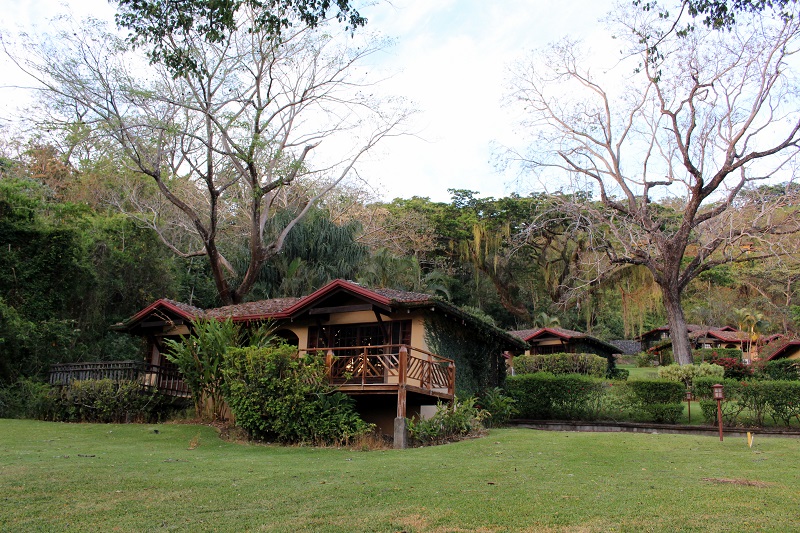 Hotel Borinquen has their own spa, mud baths, hot springs and pool so we ventured down there in the evening before dinner to enjoy the natural hot springs and slather mud on ourselves.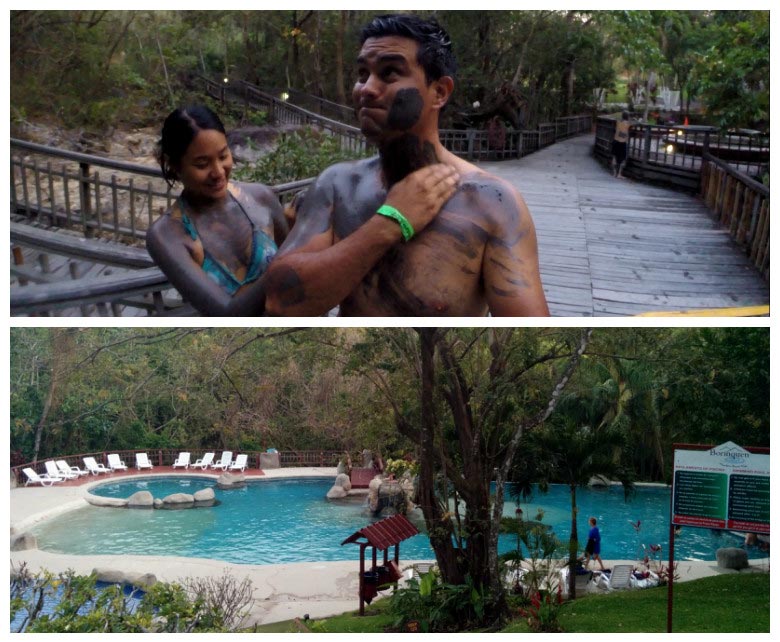 Day 3
After a buffet breakfast, we set off for Monteverde. We arrived at Sky Adventures to walk the hanging bridges. With the help of our guide, we saw birds and a snake.
Monteverde is one of the most beautiful places in Costa Rica with dense, lush forest filled with all sorts of wildlife. After our walk, we boarded the aerial tram to ride to the top of the cloud forest where we got an amazing birds eye view. On a clear day you could see Arenal Volcano on one side and the ocean on the other.
Read more about the Sky Trek, Walk and Tram in Monteverde.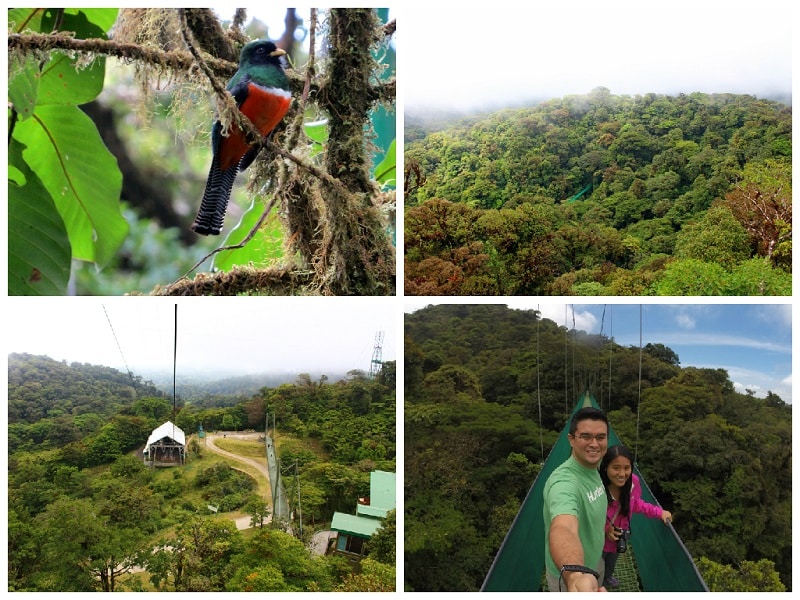 We headed to our next hotel, Hotel El Establo which we absolutely loved. This beautiful hotel has gorgeous views of the cloud forest! Our room had two floors with a balcony, a large bathroom, a sitting area upstairs and the most comfortable bed I've ever slept in.
With the rest of the evening to ourselves, we wandered into town to eat at one of our favorite sodas and enjoyed the fresh cloud forest weather.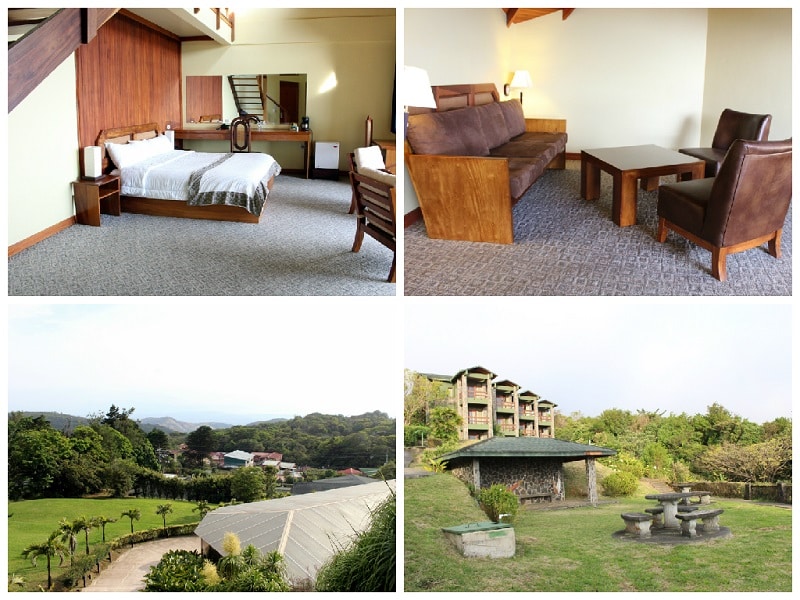 If you want, you can take a night walk in Monteverde. They charge extra for this but it's an excellent opportunity to see wildlife.
Day 4
After a buffet breakfast, we headed back to Guanacaste to go wildlife watching at Palo Verde National Park. This river is one of the most sacred ecosystems in the country as it houses hundreds of animals.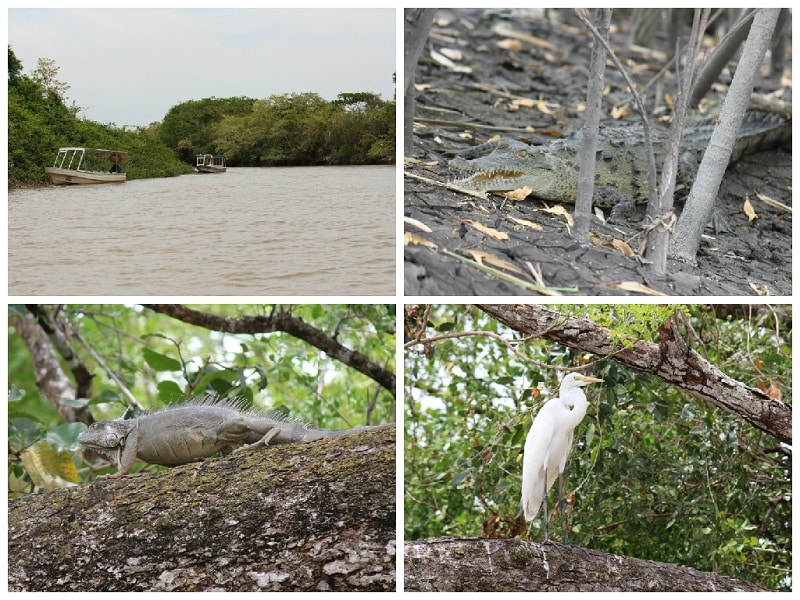 We saw howler and white face monkeys, crocodiles, iguanas, migratory birds and bats. After the boat ride we enjoyed a hearty traditional lunch. Our next stop was to Samara to enjoy the beach for our last few days.
Playa Samara did not disappoint. We were granted with a stunning pink and red sunset that took over the entire sky and shore.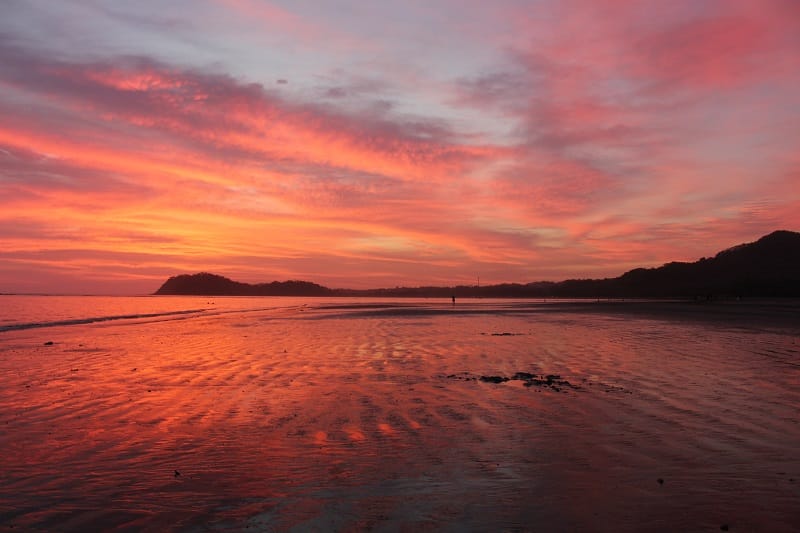 We stayed at Hotel Villas Playa Samara which is a resort style hotel with a big pool, restaurant and various bungalows and villas. Our room was a modern villa with an outside patio area and  nicely decorated bathroom.
The resort is a a little far from downtown so we decided to eat at the restaurant for dinner.
Day 5-8
The next morning we enjoyed another tasty breakfast buffet and relaxed at the pool. After lunch we signed up for the kayak and snorkel tour.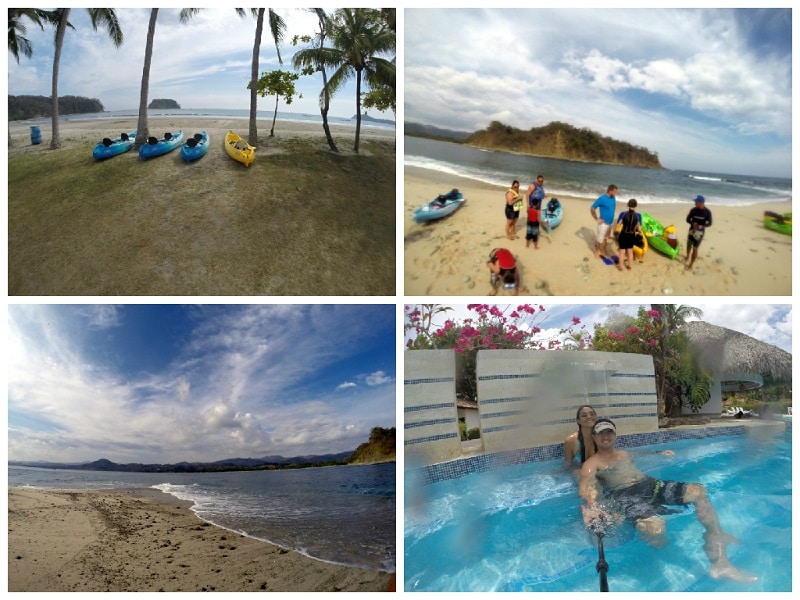 For the rest of the days, you get to enjoy Samara. You can sign up to do other tours, explore the town or the nearby beaches. Samara is a beautiful beach that has plenty to do, perfect way to end your Costa Rica trip!
Our Thoughts
This particular one week trip is a quick one. It's perfect for families who are on spring break and don't have time to plan, first time Costa Rica visitors or first time international visitors.
However, you move from place to place almost everyday so you don't get the best well rounded experience of each destination but you can experience a highlight of it. It's good for anyone who just wants a taste of Costa Rica. I can see why families with younger kids choose this tour as it's just so convenient. You literally don't need to worry about a thing!
Want more ideas? Check out this Central and South Pacific 1 week Costa Rica itinerary!
Staying for more than a week in Costa Rica? Check these articles out!
10 mistakes to avoid in Costa Rica
Best placesin Costa Rica for first timers
We were sponsored by Costa Rica Monkey Tours and as always, all thoughts and opinions remain our own.