Costa Rica is a country for everybody: kids, families, solo travelers, backpackers, seniors, couples and honeymooners. It is especially great for couples as they can spend their vacation in tropical paradise.
It doesn't matter if you've been married for 10 years, 50 years or even one day. With endless things to do, couples will be able to fulfill their desire for a romantic and exotic trip. If you're coming for your honeymoon in Costa Rica, you will make sweet memories to last you a lifetime.
Here are our recommendations for the best romantic things to do in Costa Rica! (You can read our post on planning the perfect Costa Rica honeymoon for more ideas!)
Sail Under the Sunset

Nothing says romance more than laying in each others arms underneath a brilliant night sky. Watch the sunset, see the stars and enjoy delicious cocktails with your loved one.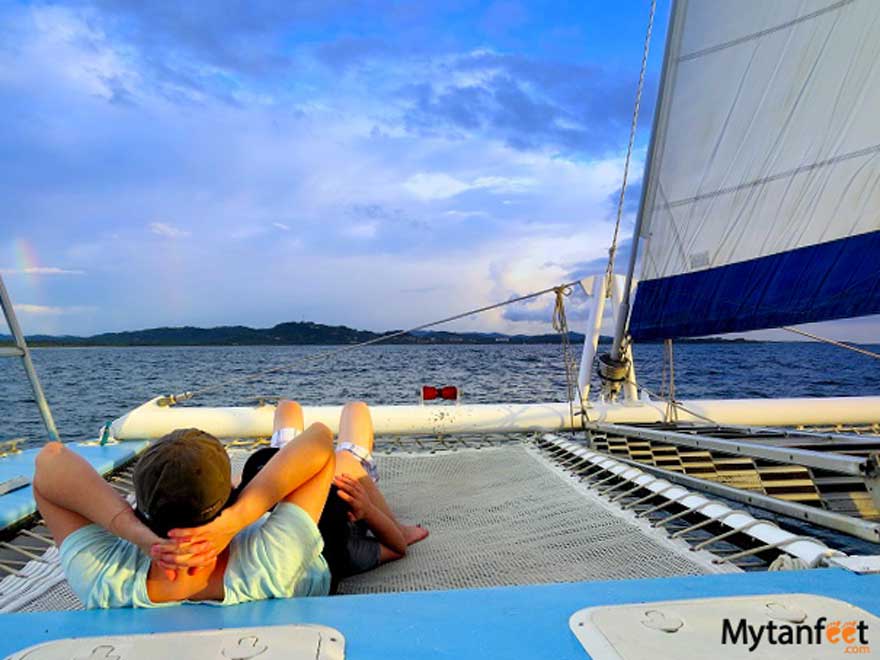 With the soft caress of the wind on your face and a glowing sun to stare at while cuddling your loved one, there's no better way to feel absolute calm, peace and happiness in the embrace of your significant other. This is one of our favorite things to do together that makes for a romantic evening together.
Snorkel in Crystal Clear Waters

Grab your S.O's hand and dive deep in the water together! Whether you are scuba diving or snorkeling if you don't have the certification, this is an exciting activity for couples.
Enjoy seeing various marine life in the beautiful waters of Costa Rica and relish in the excitement of seeing brightly colored tropical fish, manta rays and even sea turtles.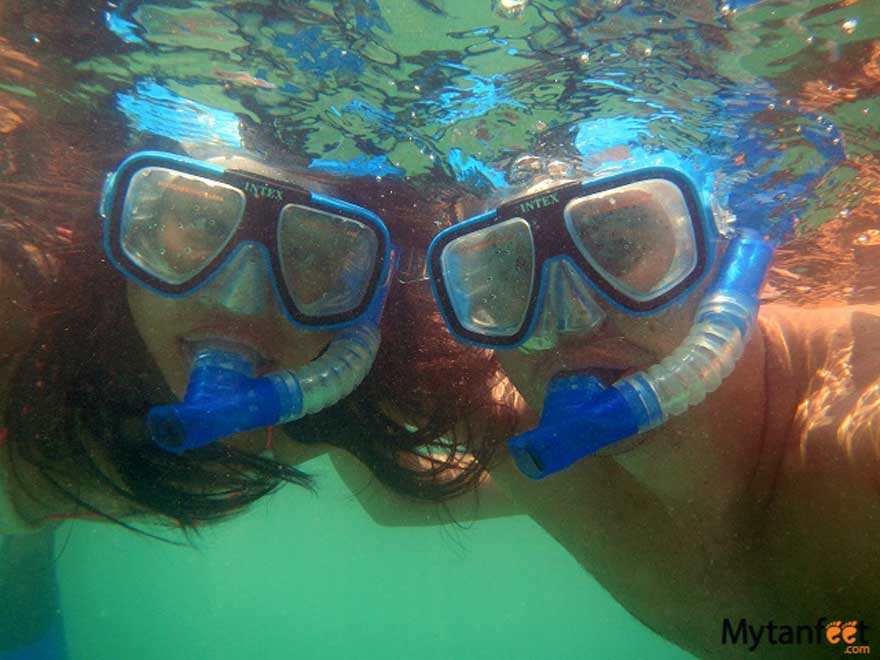 For experienced divers, you can head to some famous islands like the Catalinas or Coco's for world class diving to see hammerhead sharks, sting rays and other wildlife of the bigger size. It's an activity that will create many cherished memories that you can share together for years to come.
Romantic Sunset Dinner
Many resorts offer private sunset dinners on the beach or in an intimate corner of their property. JW Marriott Guanacaste offers sunset dinners on the beach, the Nayara Springs offers breakfast by your own hot spring! Enjoy a delicious meal by candlelight in the rain forest or beach.
You can also have a romantic dinner cruise on Lake Arenal. Jacamar Naturalist Tours offers sunset cruises on the lake with dinner for 2.
Soak in the Hot Springs of La Fortuna

La Fortuna is the best place in Costa Rica for hot springs. For the ultimate relaxation getaway, soak in the natural hot waters with your loved one and enjoy the refreshing feeling together. Take a minute to feel the power of the water on your shoulders and sink into the wonder of nature.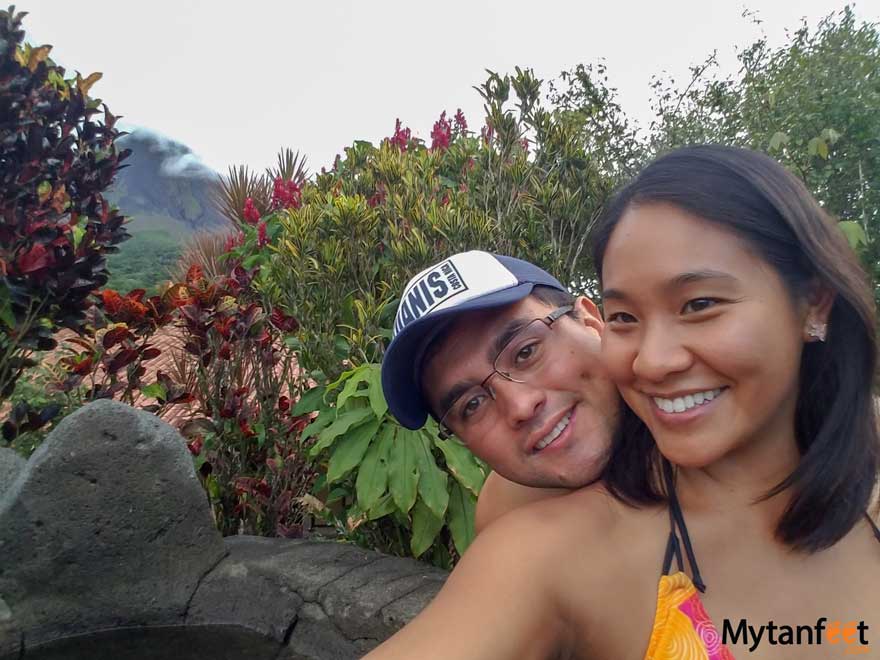 Afterwards, you'll be feeling so fresh and soothed from the natural benefits of the thermal springs that you'll be wanting nothing more than to have some snuggle time and a bottle of wine with your loved one.
Some of the nicest hotels in Costa Rica are in La Fortuna so splurge and stay at a luxury hotel! All of them have their own hot springs and some have their own Jacuzzi or pool such as Arenal Kioro and Nayara Springs.
Ziplining
For the thrill seeking couple, bungee jumping is high on the list of ways to get adrenaline rushes. There are several bungee jumps in Costa Rica, with the highest in Central America (143 meters) at Monteverde.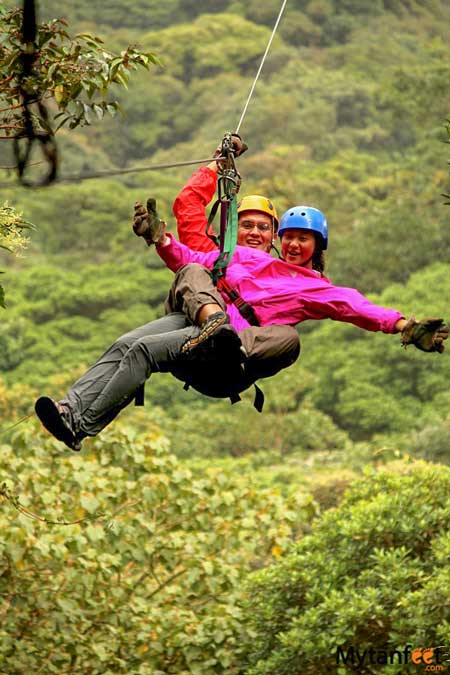 Hug your partner, bend your knees and sail off into the jungle below together! This will be something to show off to your family and friend for sure. The photo above was taken at Selvatura Park in Monteverde where they had a double person zipline!
Find a Beach All to Yourselves
There's nothing better than having a beautiful beach all to you and your loved one. Tropical paradise indeed!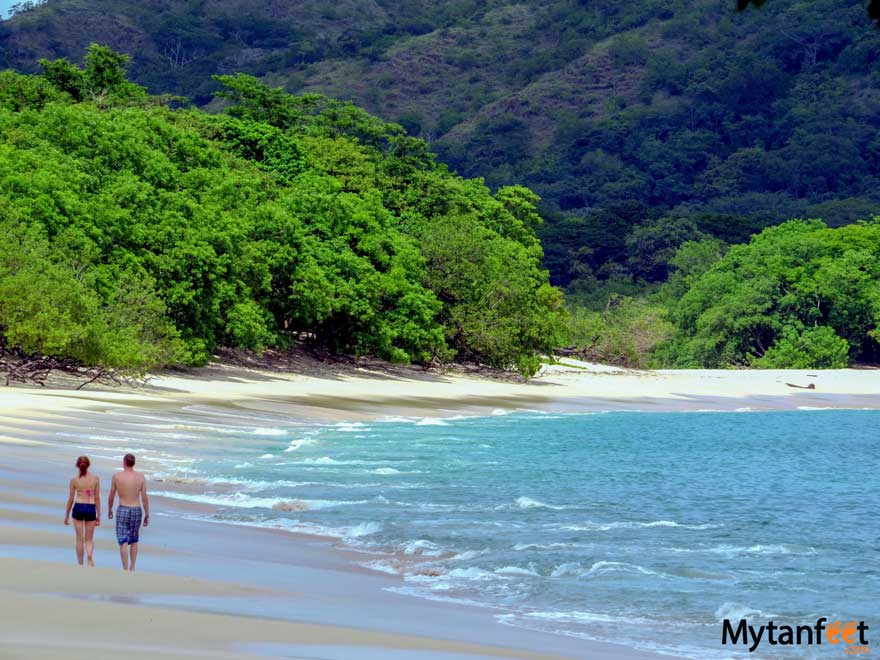 Tip: The best way to find a hidden beach is to rent a car in Costa Rica. That way you can explore on your own and go where buses, taxis and shuttles don't!
Couples Massage
For some extra fun *sexy* time, book a spa day for the both of you. Many spas have couple or honeymoon packages so you can both delight in deep tissue massages together.
Take Couples Portraits
Look back on your romantic getaway or honeymoon in Costa Rica by taking professional portraits. Get your pictures taken at the beach or in the rainforest!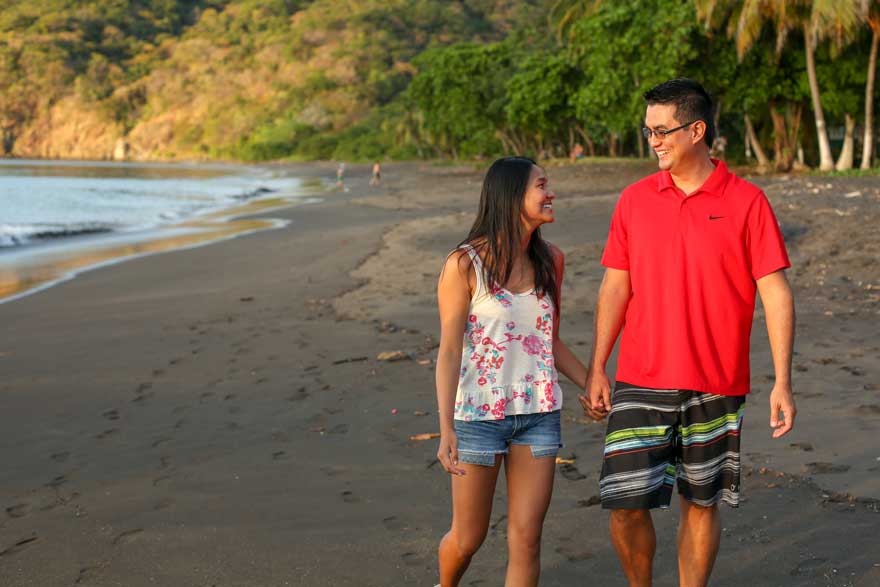 There are some foreigners who live or work temporarily in Costa Rica as professional photographers and are always looking for people to take photos of. You can find them at the popular beach towns like Tamarindo, Santa Teresa and Playas del Coco.
Waterfall Hike
Hike through the jungle to a beautiful waterfall together. It's a great bonding experience and it'll feel so good to swim and cool off in the water.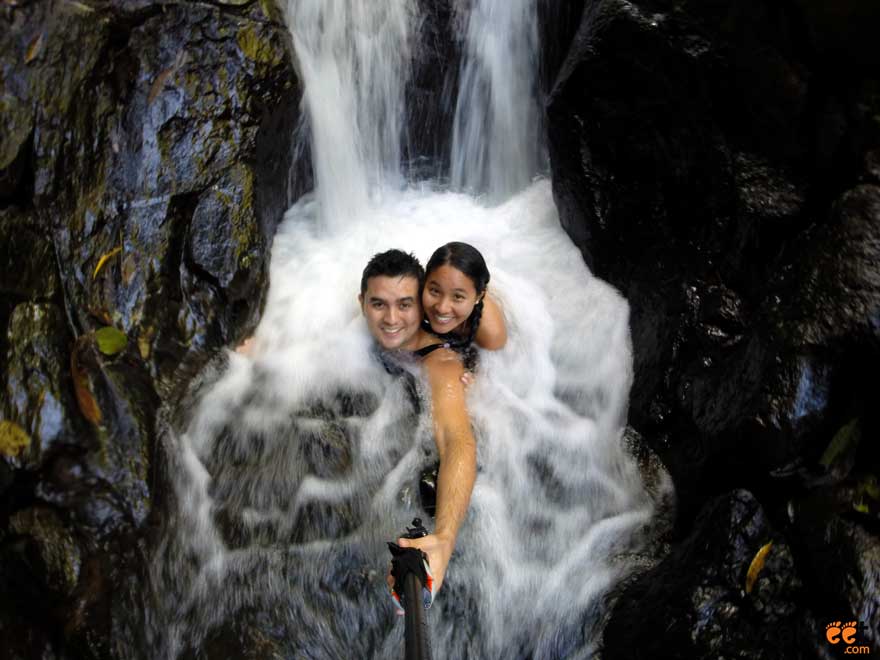 Some of our favorite waterfalls are Nauyaca Waterfalls, Uvita waterfall, Catarata La Cangreja, Catarata Llanos de Cortes and the Jaco waterfalls. You can swim in all of these!
Tip: Go as early as you can in the morning so you can have the waterfalls all to yourself!
Watch the Sunset on the Beach
And of course you can't forget long walks on the beach and watching the sunset!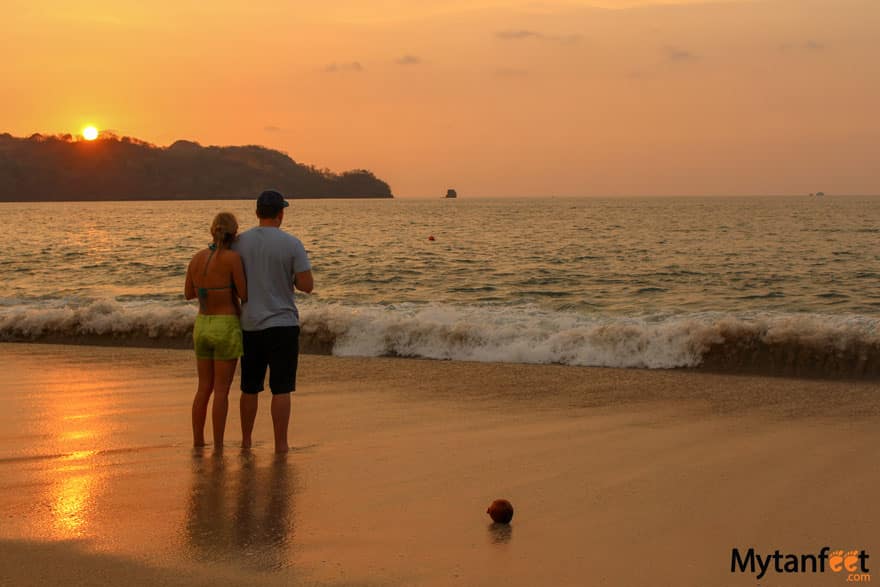 This is one of the most romantic things to do in Costa Rica (and cheap) with your loved one.
Lounge in Your Private Pool in an Adult Only Hotel
There are a handful of ultra luxurious and romantic hotels in Costa Rica designed specifically for couples. We highly recommend splurging on one, especially for your honeymoon because they give the utmost privacy and amenities. So much that you won't even want to leave your room for a day!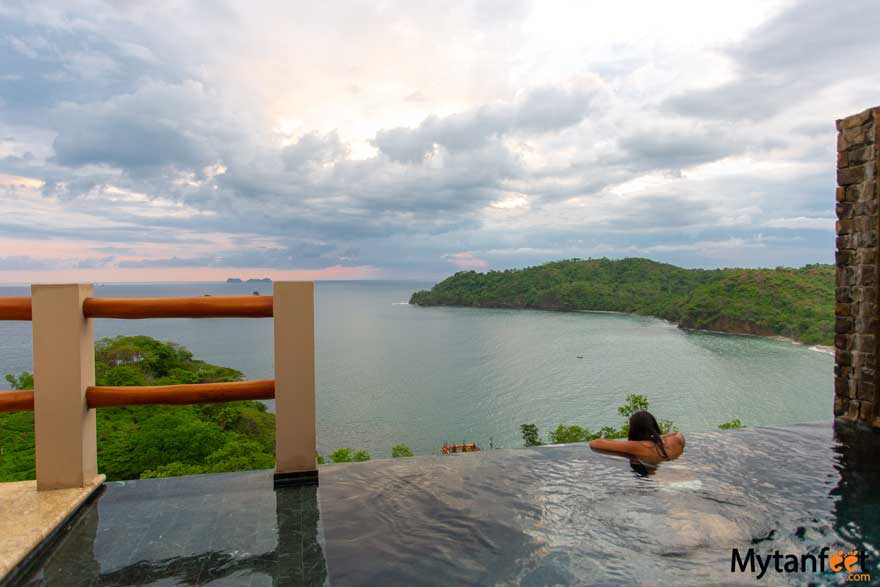 You will also want to choose an adult only hotel which there are plenty of. Some of our favorite adult only hotels are the Nayara Springs, Oxygen Jungle Villas (get 15% off!), Casa Chameleon Las Catalinas (this one has infinity pools overlooking the ocean in each room), Casa Chamelon Mal Pais, Villa Buena Onda, Makanda by the Sea and Royal Beach Club at the Westin Resort Conchal.
More Articles About Romantic Things to do in Costa Rica
Don't know where to go in Costa Rica with your loved one? Check our romantic destinations in Costa Rica post. Want more ideas of fun things to do? Here are the top ten adventure activities in Costa Rica and 50 things to do in Costa Rica post.
This post has affiliate links.