**NEW UPDATE: The Costa Rican government has opened the land borders to Nicaragua and Panama on April 5, 2021 for tourists. Please note that Costa Rica, Nicaragua and Panama all have different entry requirements and you NEED to fulfill each one for land crossings. We hope to do crossing the border between Costa Rica and Nicaragua trip and will update this post when we do**
Please read our Costa Rican COVID entry requirements post to find out more.

Costa Rica Nicaragua Penas Blancas Border Crossing Guide
In this guide, I'll take you through the entire process of crossing the border from Costa Rica to Nicaragua, Penas Blancas border by foot. You will find everything you need to know about exiting Costa Rica, entering Nicaragua, exiting Nicaragua and entering Costa Rica at the Penas Blancas border. Updated April 2021.
Click on the section to skip to it.
What You Need for Crossing the Border Between Costa Rica and Nicaragua
A valid passport that is not within 6 months of expiring (Nicaragua is strict about this)
Costa Rica Exit Tax Receipt (if you are leaving Costa Rica)
You must not have overstayed your tourist visa for either Costa Rica and Nicaragua
Check if you need a visa to enter Nicaragua. USA and Canada does not
A printed plane ticket out of Costa Rica if you are entering Costa Rica
Small USD bills. All taxes are paid in USD.
Your negative COVID test result for Nicaragua (taken within 72 hours and has to be PCR)
Travel insurance and QR code required by Costa Rica (if entering Costa Rica)
How to get to the Penas Blancas Border Crossing in Costa Rica
Car – You can drive your car to the border but that is as far as you can go. Costa Rican rental cars are not allowed to cross land borders. In this case, you will need to leave it at the house in the front. The family that lives there will watch it for you for a ~$3-5 a day. Do not leave any valuables inside!

You'll start seeing a huge line of trucks when you get close to the border. Don't stay in this line. Keep going and you'll be able to cross the over and park by the Costa Rica exit office.

Private shuttle or taxi – You can book a private shuttle in Costa Rica to take you to the border. Depending on where you are traveling from, this can be an expensive transfer (~$150 USD from the Guanacaste beaches). You will need to cross the border on your own.
Bus – You can take the public bus to the Penas Blancas border from Liberia (5 AM – 6:30 PM every 45 minutes with Grupo Transbasa) or San Jose (3:20 AM – 7 PM every hour with Caribenos), get off and cross the border by foot. You can also take a bus like Ticabus that goes from San Jose to Managua and to the rest of Central America. You will do the border crossing with Ticabus.
Leaving Costa Rica
To leave Costa Rica, you first need to pay the exit tax. You can easily do this at the border, you don't have to do it before you arrive.
Costa Rica Exit Tax
Costa Rica charges an $10 USD exit tax for all land crossings. There are buildings right when you enter at the border to pay your exit tax with lots of signs. With the Costa Rica exit office ahead of you, all the exit tax offices are to the right.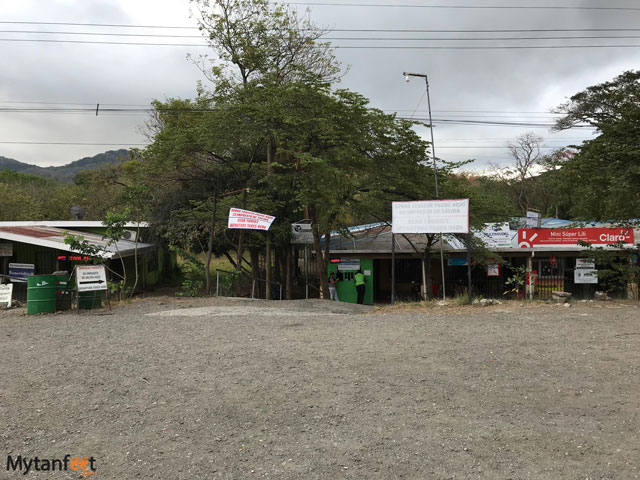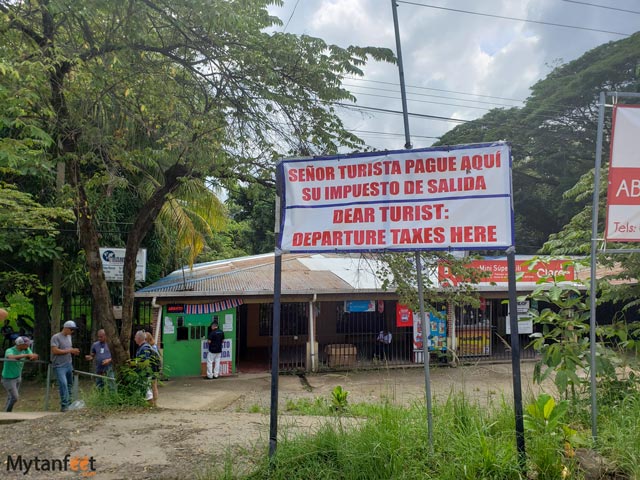 You must pay this before you get in line at the Costa Rican exit office. Keep the receipt for the exit tax. I always pay in USD cash.

Costa Rican Exit Office
As you walk towards the border, you'll see lots of trucks. Costa Rica is the only country who didn't sign the Central America Marchamo so you will see tons of big rig trucks waiting in line to cross. If you're driving, you can go around them. Every time I've been to the Costa Rican exit office, it's fairly empty with no line.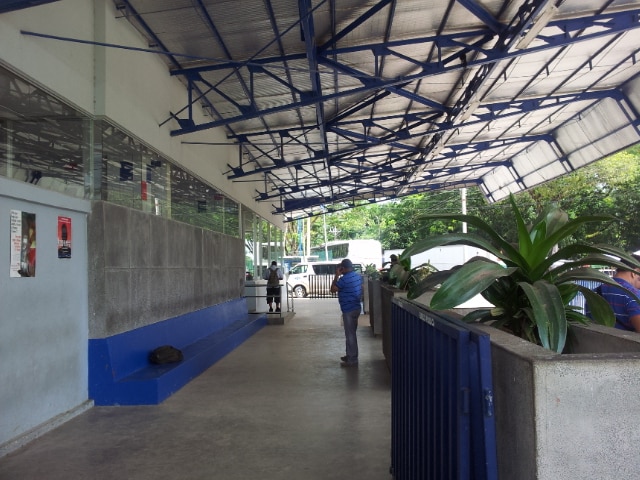 Go inside with your passport and exit tax receipt and hand your passport to the officer who will check it. They didn't ask me any questions but they asked the lady in front of me where in Costa Rica they were staying before they left.
There is a bathroom outside to the left of the exit office (free).
Entering Nicaragua
*A negative PCR COVID-19 test result within 72 hours is required to enter Nicaragua*
Now, walk outside and follow the buses and groups of people towards Nicaragua.
After a few hundred meters, you'll reach the office to enter Nicaragua. You'll go through one main check point at the border where they will check for your Costa Rican exit stamp. However, any officer can stop you on the road to check your stamp and your negative COVID test result.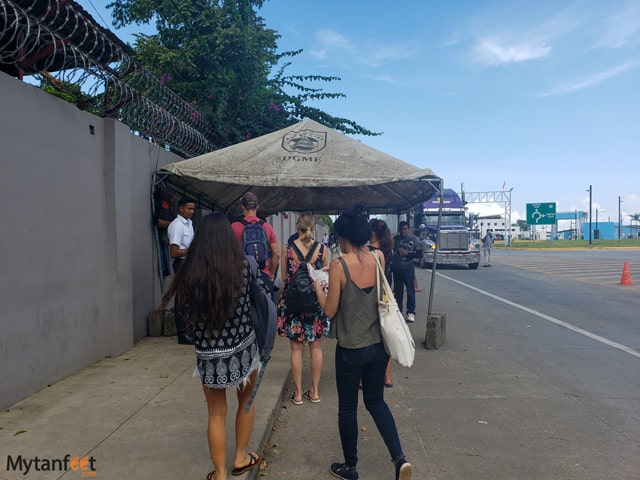 Sometimes the officers will ask questions, sometimes not. They're pretty friendly in all my experiences and don't worry if you don't know Spanish. Just show them your passport if they ask for it.
Nicaragua Entrance Office
Continue after this checkpoint and follow the signs to the Nicaraguan immigration office. You'll see lots of people selling souvenirs, clothes, food and asking if you need change.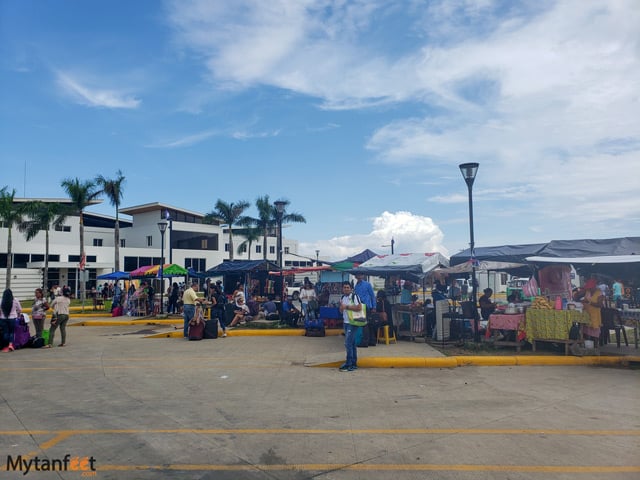 The Nicaragua immigration office is quite new and very nice with air conditioning. When you get inside (look for Entrada), get in line.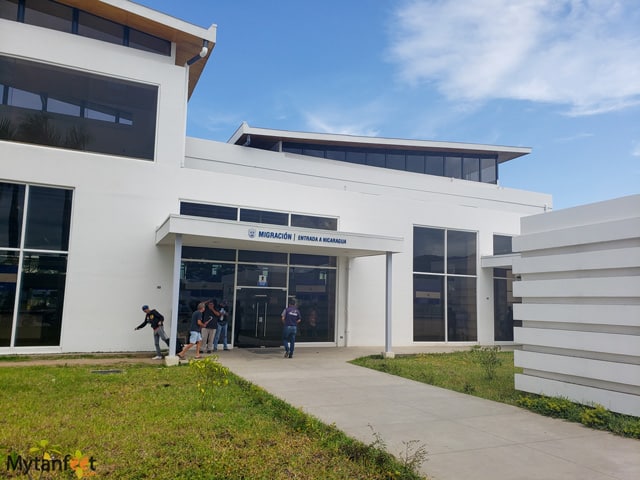 They also now have a window for you to get a "COVID" stamp to prove you presented the negative PCR test.
Then after, you will get in the entrance line and pay a $12 USD tax to the immigration officer who takes your passport. When he has stamped it, he will write out a large receipt which you can keep. He will normally ask you where you are going in Nicaragua. Let him know the city and if you booked a hotel, tell him the first hotel you're staying at in Nicaragua.
Then put any luggage or belongings through the scanner.
After that, you are now officially in Nicaragua!
If you continue walking outside, there are some restaurants and taxis if you need one. It's about a thirty minute taxi ride to San Juan del Sur which costs around $25 USD. Also just in case, here is the bus schedule to Rivas and Managua below.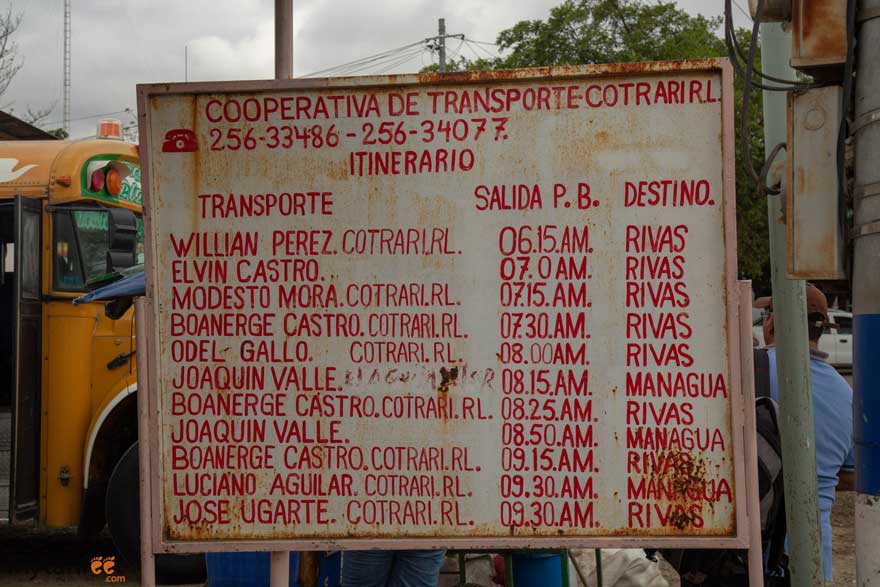 Leaving Nicaragua
Leaving Nicaragua is about the same process. The exit office is the same office as the entrance, just on the other side.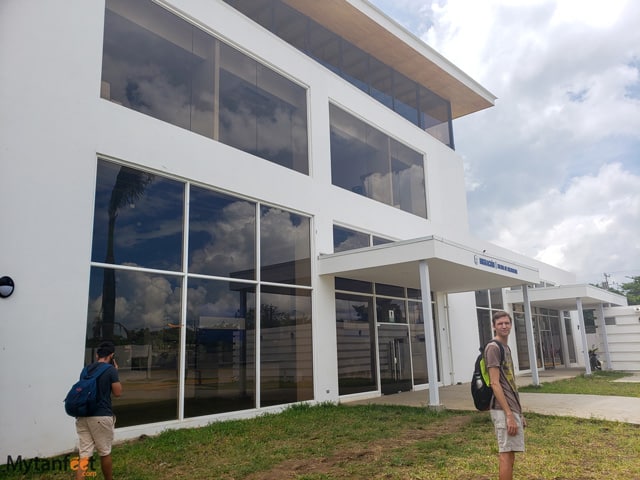 When you get inside, you have to pay another $1 USD municipality tax (to the small booth to the right) and $3 USD to exit to the officer who takes your passport. Put the location as your first hotel/hostel and town in Costa Rica. If you need the bathroom, it is to the left of the immigration office building and costs $1 USD.
After you get your Nicaraguan exit stamp, walk back on the main road towards the Costa Rican side. Like before, you'll be stopped a couple times by officers to check your passport. Once you reach the Costa Rican side, head to the right side of the building to go through immigration to enter Costa Rica.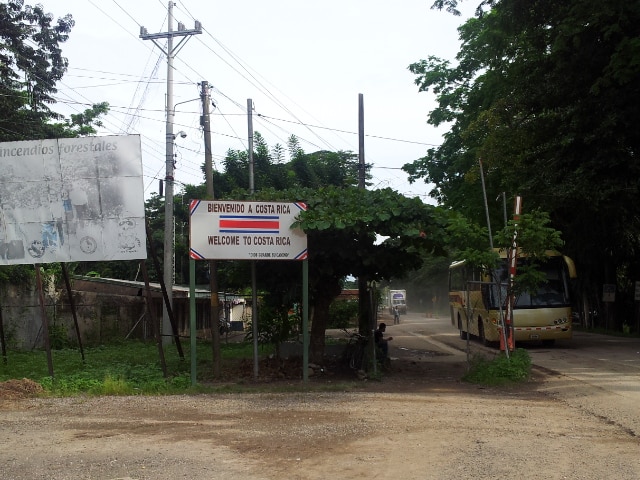 Entering Costa Rica
*I will talk about entry requirements below*
You'll see a bunch of orange blocks making a line for the entrance. Try to get in line as fast as you can and while you are in line, get all your documents ready to present to the officer.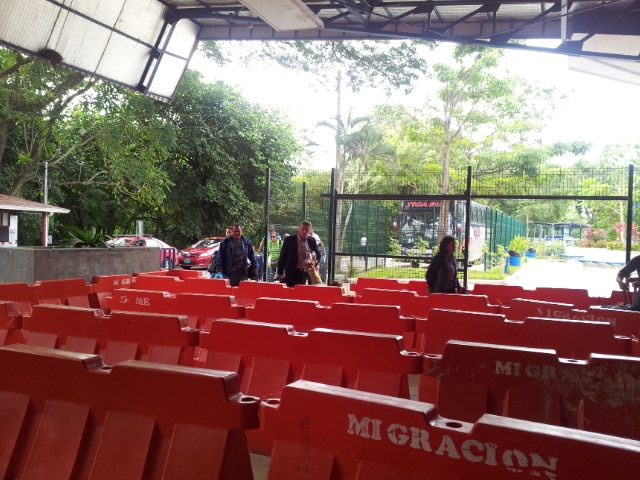 The next part is very important for foreigners when it comes to Costa Rica land entry requirements. You will present to the Costa Rican immigration officer your QR code and ticket out of Costa Rica.
Costa Rica Entry Requirements
Costa Rica entry requirements are that every unvaccinated and partially vaccinated COVID-19 tourist over the age of 18 must complete a health pass, get the QR code generated from the health pass and purchase a travel insurance that covers a minimum of $50,000 USD for medical expenses and a minimum of $2,000 USD for extended lodging expenses.
For all fully vaccinated tourists and minors under the age of 18, they do not have to purchase the travel insurance. They only need to fill out the health pass.
Please read our Costa Rica COVID entry requirement post to find out more.
Your Ticket Out of Costa Rica
Second, every foreigner must present a return ticket home or a ticket out of the country. Costa Rica is fairly strict about this in all of my experiences. Of all the times I have crossed the border, I've been asked for my flight out every single time.
Getting Your New Costa Rica Stamp
Go up to the window and give the officer your passport first. He will have you scan your QR code and they may ask you where you're going, your occupation, and how long you are in Costa Rica for.
Once approved, they will stamp your passport with your tourist stamp and write in how many days your tourist visa is valid for.
And there you go! Exit the building, put your luggage or backpack if you have any through the machine and you are good to go! That is the complete guide to crossing the border between Costa Rica and Nicaragua at Penas Blancas.
Penas Blancas Border Crossing Fees
To sum up, here are all the fees you need to pay when you are crossing the border between Costa Rica and Nicaragua. These prices are quoted in USD so pay in dollars but bring small bills.
Please note that Costa Rican currency is not accepted in Nicaragua and Nicaraguan currency is not accepted in Costa Rica. USD works in both countries and since prices are quoted in USD, pay in USD.
$10 Costa Rica exit tax (this can be paid at the border)
$12 Nicaragua entrance fee (to the entrance immigration official)
$1 Nicaragua entrance municipality tax
$1 Nicaragua exit municipality tax (in the small booth of the exit office)
$3 Nicaragua exit tax (to the exit immigration official)
Safety Tips for Crossing the Penas Blancas Border
I've heard about some people having trouble or being scared at the border but I, as a young Asian-American female have never had a major problem. You will need to be super aware of your belongings. It is true however, that as a foreigner, you might run into some people who will target you and try to scam you. Here are our tips and things to watch out for.
Do not accept any offers from people trying to help you
These people will pretend to help you for free and then try to charge you something ridiculous when you've crossed over. They are persistent and will follow you too.
Also do not accept any offers from someone claiming they can do the border crossing for you. It's tempting but never let anyone walk away with your passport. You don't know what condition it will be when it comes back or what they did with it meanwhile.
If you have questions or are lost, ask the Costa Rican immigration officers or the police.
If you're a solo traveler, look for other travelers and talk to them to see if you can cross together. You may need to write down some Spanish phrases because not all the officers speak English, especially on the Nicaraguan side. Check our Costa Rican Spanish guide for travelers to learn them.
No more custom forms
Some people might try to sell you these so walk away and find an immigration officer. I stopped a woman once who was about to pay $20 for a form! That is one of the common Costa Rica tourist scams.
Bring small USD bills
It will be very hard to find change so when you are paying your fees and taxes, it is better to have small bills ($1 and $5). Never pull out a huge wad of cash either.
Do not leave your passport hanging out of your backpack
You do need to show it several times when crossing to the officers, but always put it away in a safe secure spot each time.
If you're a solo traveler, try to find another group of travelers to join
Usually officers will bother you less if you're in a group. If you go by yourself, they tend to bother the solo travelers more.
What to do if you overstay your visa
If you overstay, your passport will be marked and you will need to talk to your country's embassy to figure out what to do. Usually if this is a one time occurrence, you have no plans to return and the overstayed time wasn't very long, they can help you sort things out.
However, if you overstay for a long time or multiple times, don't think you will go undiscovered. Immigration will find out. Once immigration finds out, you will be kicked out of the country and be denied entry for an undisclosed period of time (depends on your situation). We recommend to contact your country's embassy/consulate in Costa Rica ASAP.
Do not overstay your visa, Costa Rica and Nicaragua does take this seriously, especially even more with COVID. Nicaragua especially is very strict.
Read more Costa Rica travel tips below!
Driving in Costa Rica: In depth guide with tips and advice for driving in Costa Rica. Includes safety tips, information about how Costa Ricans drive, road sides, and more.
Renting a car in Costa Rica: Tips for renting a car in Costa Rica. What you need to know about car rental insurance, reputable companies, recommendations if you should or shouldn't rent a car and more. You can also get our Costa Rica car rental discount.