If you're renting a car in Costa Rica, the most confusing thing is the car rental insurance. In this post, we are going to breakdown Adobe Rent a Car's car rental insurances as we have a partnership with them to offer our readers a Costa Rica car rental discount and extra benefits (click the link to get our discount).
In this post, I'm going to break down how Adobe Rent a Car's insurance works.
Adobe Rent a Car Insurance
Read our experience with Adobe Rent a Car to see why we partnered with them!
Liability Protection (PLI)
The Liability Protection is what most car rental companies call their mandatory insurance.
What it covers:
Coverage up to $20,000 USD in 3rd party damages with a 20% deductible*. It also has a coverage of 3rd parties not in the car (i.e pedestrian) up to $100,000 USD with 0 deductible.
Liability Protection does not cover vehicle damage.
* All Mytanfeet readers have 0% deductible on Liability, up to $20,000 USD as one of our benefits.*
This insurance costs from $13.50 – $25 USD + tax a day depending on the vehicle.
Car Protection (LDW)
This insurance covers damages of the rented car in an accident, collision or roll over. In case of total or partial theft of the rented car, the Car Protection also covers any financial losses due to the theft.
You can use your credit card car rental insurance to decline this insurance. In order to decline, you need to request and present a letter from your credit card company stating that the credit card will cover the damages. The letter needs to have the credit card company logo letterhead, the last four digits of the credit card being used and the name of the credit card holder.
Make sure to check with your credit card company to see if they will cover this insurance including but not limited to factors such as number of passengers, type of car and number of rental days.
For example, my Chase Sapphire credit card offers car rental insurance and I can use it to decline the Car Protection insurance for up to 30 days per contract.
Important: Car Protection does NOT cover vandalism, road side assistance or towing. The deductible is $1000 USD (+13% tax) and does NOT cover any 3rd party damages.
If you decline Car Protection insurance and use your credit card insurance and get involved in an incident, Adobe will charge you and then provide all the paperwork you might need in order to get reimbursed by your insurance company.
**Please note that as of October 1, 2021, VISA will not offer this credit card car rental insurance benefit to its Gold and Platinum card members.**
Extended Protection
The third option, the Extended Protection is 100% optional. The Adobe representative will ask you once if you wish to get Extended Protection but you are completely free to decline it. You can decide to add it when you make the reservation but you can decide not to get it when you collect the car. Or you do not have to get it now, and you can decide later when you collect the car if you want it.
The Extended Protection Insurance covers:
The 20% deductible of the Liability Protection so your deductible is 0.
Covers vandalism, windows, damaged tires (FLAT TIRES NOT INCLUDED), road assistance 24/7 and tow truck.
100% of damages including 3rd party up to $4 million.
This costs around $20.50 USD with tax included a day depending on the vehicle.
TPW (Third Party Waiver)
If you decline the Car Protection insurance and the Extended Protection Insurance and are purchasing ONLY Liability Insurance, the Adobe agent will ask you if you would like to purchase an insurance called the TPW. This TPW insurance is 100% optional. This insurance is offered ONLY by the Adobe agent in person – not online.
The TPW insurance increases your third party (Liability) coverage to $4 million USD from $20,000 USD. The Liability deductible goes down to $0 USD from 20%.
It is $9.99 USD a day, 100% optional and only offered in person by the Adobe agent when you collect the car. This insurance will be offered only to clients who decline the Car Protection and Extended Protection and are purchasing ONLY Liability insurance.
Situations Where Adobe Rent a Car Insurance Does Not Cover the Rental
Driving under the influence of drugs and/or alcohol.
Failure to immediately report a car accident that you are involved in.
Damages to the car in situations when the driver is not authorized.
Damages due to driving through rivers, on beaches, through lakes, mangroves and flooded roads (anywhere through water). Anywhere that an official road does not exist.
Failure to comply with the legal procedure with the insurance company. This includes but is not limited to failure to report the accident to transit police, failure to report the accident and filling out the insurance claim and non-compliance with other legal process requirements.
Flat tires are not covered under any of the insurances. Adobe will give you the necessary tools to change the flat tire. Then you can go to any one of their offices in the country to get a new tire.
Why Rent With Adobe Rent a Car?
Insurance is Easy to Understand
Like I mentioned earlier, Adobe Rent a Car's insurances are easy to understand.
Some other car rental companies can have 5, 6, 7 different insurances. That makes it really difficult to understand! And they make seem like the car rental is super cheap. What you don't know is that they slyly add the insurance later when you're about to pick up the car. Which brings me to my next point.
Full transparency
Since Adobe Rent a Car is a Costa Rican company, they don't want their clients to have a bad experience with car hires. Unfortunately car rentals have a bad reputation in Costa Rica due to the insurances and "hidden fees" by international companies. Adobe Rent a Car does not add on any last minute taxes, fees or insurances. Their pricing is all-inclusive.
Peace of mind
Adobe Rent a Car is a 100% Costa Rican company meaning they know the Costa Rican laws inside and out. As they have been operating for over 25 years, they know how the system works through and through.
As Costa Ricans, they want every visitor to have a great time in Costa Rica.
I hope this posts clears up any questions you have any Adobe Rent a Car insurance. Don't forget to get our Costa Rica car rental discount and extra benefits!
You can read this post "Costa Rica car rental insurance" to see how several car rental companies' insurance policy works if you are comparing other companies.
Read these post below for more tips on driving/renting a car in Costa Rica.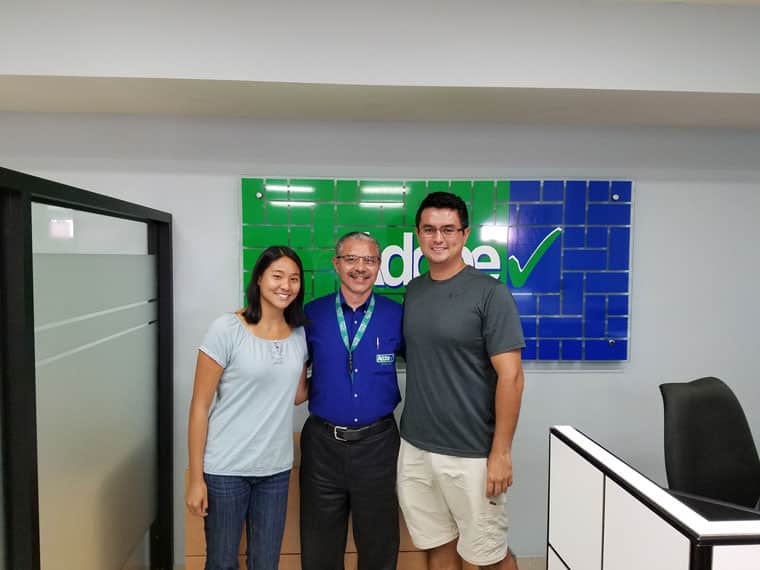 Costa Rica Vacation Checklist