I have a confession to make.
I'm addicted to flying.
After our first local flight from Tamarindo to San Jose, the idea of driving 5 hours one way makes my shoulders slump in despair. It's a lot of time in the car to travel 258 kilometers (160 miles)!
That's why when we went on our first local flight to San Jose that took only 30 minutes, we couldn't how believe how much time we saved. If we could always fly, we would! Flying is a great way to get around Costa Rica if budget is not a huge factor for your trip. You save a ton of time, get incredible views and it is quite an experience! So if you're visiting for a short trip, definitely consider flying to your destinations.
You can read about our experience flying from San Jose to Quepos airport (Manuel Antonio) below.
Flight Time
The flight from San Jose to Quepos is 17 minutes. Driving time is around 3 hours so this saves a whole lot of time. Since we had passengers on our flight who were going to Drake Bay and Puerto Jimenez, the route wasn't direct from San Jose to Quepos. We went San Jose –> Puerto Jimenez –> Drake Bay –> Quepos. It actually worked out for us because we got to see the whole Osa Peninsula and South Pacific coast from the air!
Because we had to make two extra stops, the entire flight took roughly 1.5 hours since they had to land, deplane, board and take off. However, it didn't take longer than 10 minutes at each airport so we weren't waiting around very long.
Here are some of the photos from the flights. This route of the South Pacific and Osa Peninsula has some gorgeous views of the coastline and jungle!
San Jose to Puerto Jimenez
This flight takes about 45 minutes. We flew in September so we couldn't get a clear view the entire time but we did get to see a lot. Thankfully, it wasn't raining (September is one of the rainiest months) but it was pretty cloudy.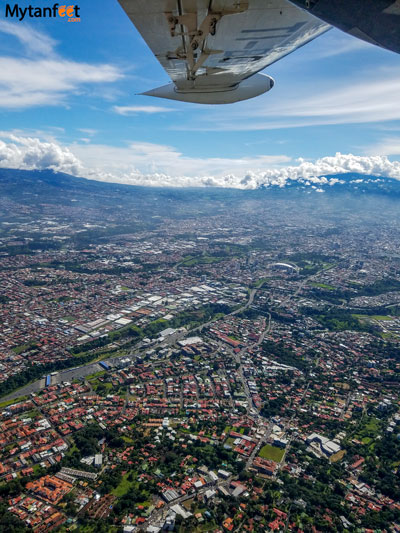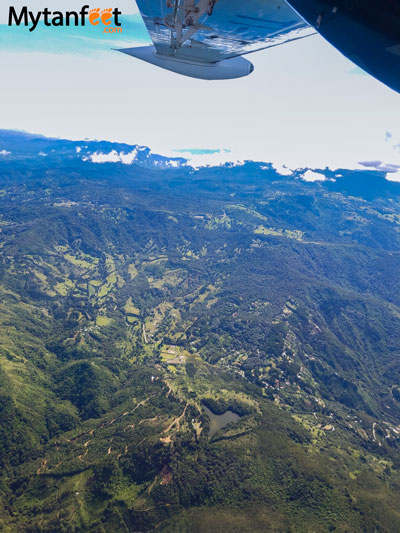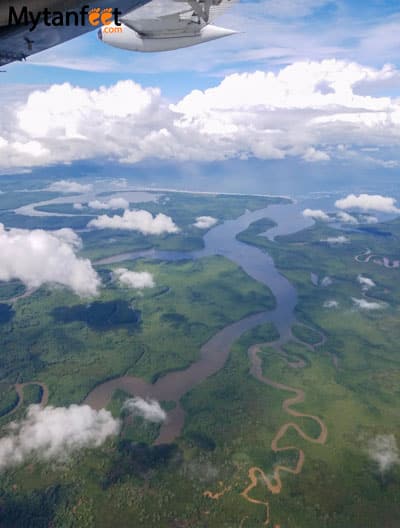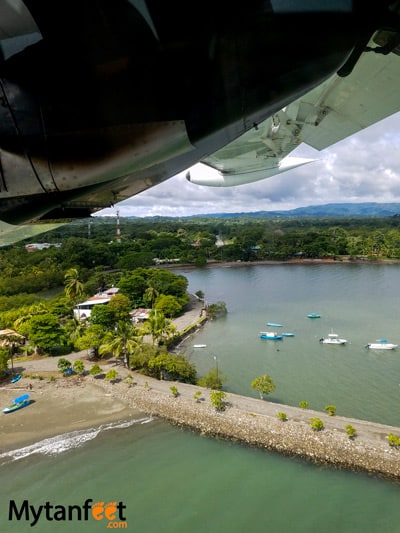 Puerto Jimenez to Drake Bay
This flight took about 15-20 minutes and we crossed the entire Osa Peninsula, just north of Corcovado National Park. Unfortunately it was cloudy for most of our flight but we did get to see some of the rain forest.
Something to note about the Drake Bay airport is that it's seriously in the middle of the jungle and since it had been raining so hard, the rivers were extremely full. In fact, there was a huge river right next to the airstrip!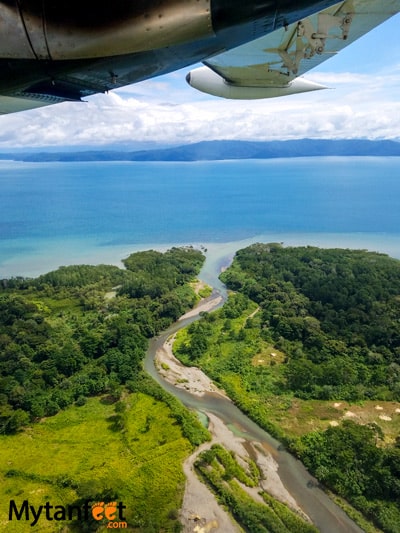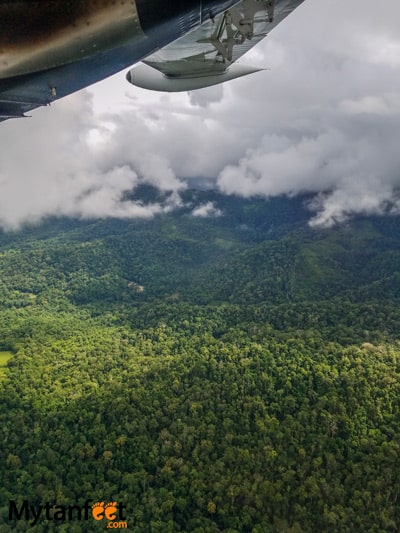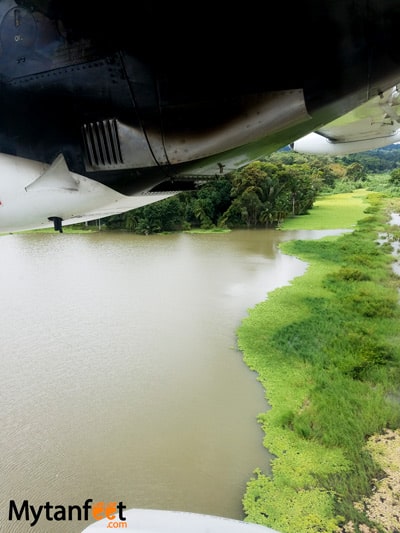 Drake Bay to Quepos
This leg of the flight was my favorite because you go up the coastline the entire time. If the time is right, you can even get a view of the whale's tail at Marino Ballena National Park! Many of the beaches you see during this flight are not accessible by car or foot, only by boat so you can really see how untouched this part of Costa Rica is with miles of beaches completely undisturbed.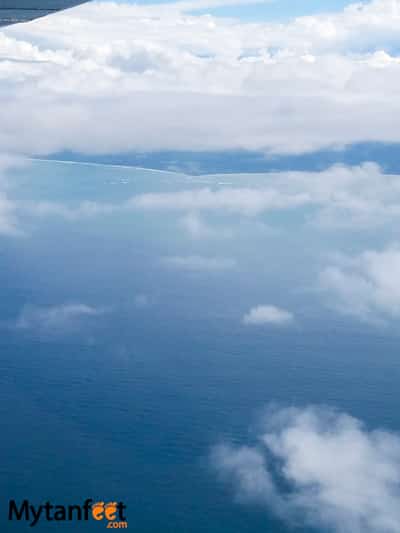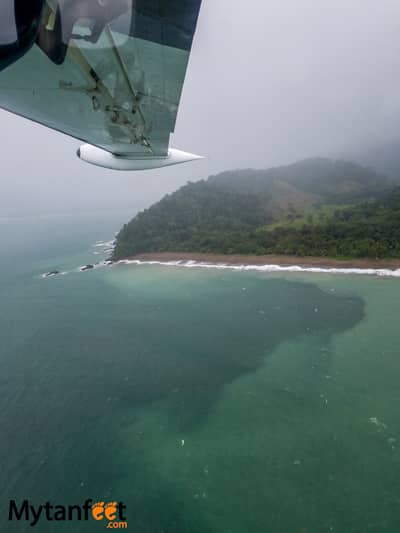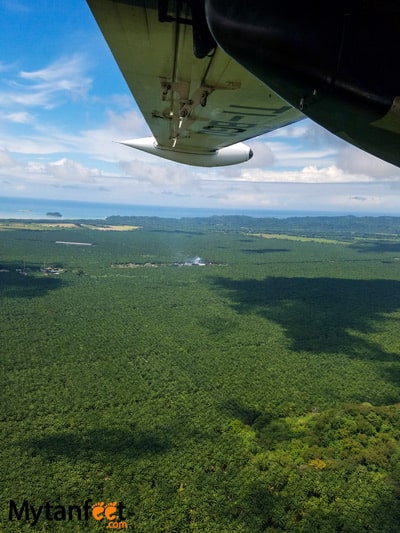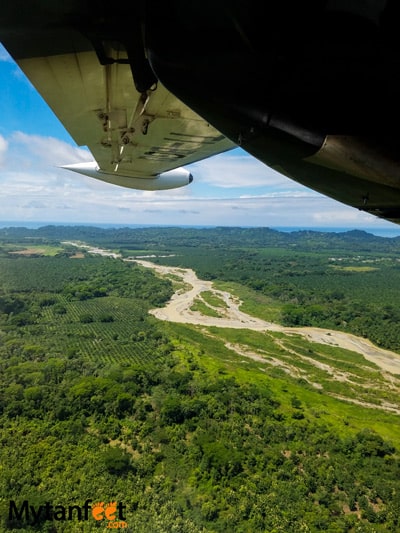 Landing in Quepos
We landed in Quepos Airport, which is 5 minutes driving from Manuel Antonio. There is an extra $5 fee USD each passenger has to pay to the airport once you land (and you pay this if you're flying out of the airport too).
Once you get to Quepos, you pick up your rent a car (companies can deliver the car to the airport) when you arrive or take a taxi to your hotel. So you can skip driving the long, bumpy routes and enjoy the short scenic drives in Costa Rica!