Due to the 2020 pandemic, travel has changed quite a bit, especially the way people travel. The new trend in travel will be visiting lesser known and less crowded places and Costa Rica is one of the best countries in the world for a socially distant vacation.
Avoiding crowds in Costa Rica is much easier than people imagine and if you're dreaming of being surrounded by monkeys and birds instead of humans, Costa Rica is the place to go.
Though this doesn't say you don't need to do any planning and research so here are our tips to avoid crowds in Costa Rica for a socially distant trip.
*Please check our Costa Rica COVID-19 travel post for more information on entry requirements, restrictions and more.
Rent a Car and Drive!

Renting a car is the best way to have a socially distance vacation and avoid crowds in Costa Rica. With a car, you can literally go where you want, whenever you want!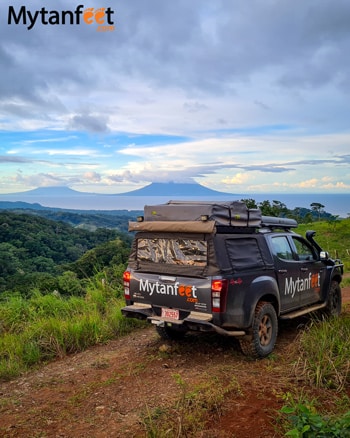 You don't have to go just to where all the tour companies go or the typical tourist stops. You'll be able to visit places less known, visit during off hours, stay anywhere and explore more.
Renting a car, road trips and DIY trips are going to be the way to travel now because of the pandemic and there's no better way to explore and discover Costa Rica than by car.
Not sure about driving? Check out our driving in Costa Rica for more tips!
Additionally, you won't have to worry about sharing vehicles in a shared shuttle or riding public transportation which does have more exposure.
If planning a roadtrip sounds like a lot of work, we can help! (Because let's be honest, it is). We have written several Costa Rica itineraries focused on driving and road trips for 5 days, 1 week, 2 week and up to a month. And we also have an exclusive Costa Rica car rental discount to offer 10-20% off the car rental rate and extra freebies for our readers.
Book a Hotel Outside Town

Instead of booking that hotel right in the town center, look for a place outside the town which will be way nicer if you're renting a car. It'll be quieter and more peaceful and you'll be surrounded by more nature. And since you have a rental car, you don't have to worry about getting around.
For example, instead of staying in Jaco downtown, stay at Hotel Doce Lunas. It's right outside the town but in a really quiet setting. Or go a bit further and stay at Villa Caletas, the beautiful ocean view hotel 20 minutes away. Instead of staying in Tamarindo downtown, check out Hotel Los Altos de los Eros, a gorgeous romantic boutique hotel 20 minutes outside town in the mountains.
Book a Vacation Rental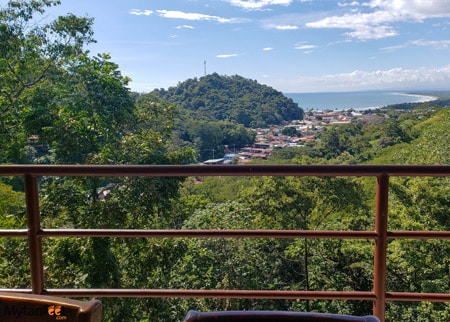 And adding onto the point above, another way to avoid crowds is to book a vacation rental. Boutique hotels are excellent but vacation rentals give you the "home away from home" experience with a kitchen, living room and all the other comforts of home.
Cook your own meals, do your own laundry, etc. Many of them have beautiful views, private parking and security.
Airbnb is our favorite vacation rental site but VRBO and other private property management companies also offer vacation rentals.
Cook Your Own Meals
Avoid eating out at packed restaurants and cook your own food instead at your vacation rental. We actually prefer doing this when we travel and you can save some money. If you book a vacation rental with a nice fully furnished kitchen, why not use it?
Don't forget to go check out the local feria, or Costa Rican farmer's market in the morning to look for fresh produce to cook with! And we do recommend to eat out at a local restaurant a couple times to try typical Costa Rican food.
Skip San Jose to Avoid Crowds in Costa Rica

As the capital city of Costa Rica with over 1 million Ticos out of a population of 5 going in and out everyday, San Jose is busy and crowded like any other capital city. So avoid those city crowds by skipping San Jose.
If you're landing at San Jose International Airport, you can pick up your rental car and head off right away. If you booked a private shuttle, you'll leave immediately to your next destination.
Normally we try to encourage people to spend at least 1 day in San Jose to get the taste of the city but in these times of avoiding large crowds, skipping the city is the best way to do that.
Go for a Hike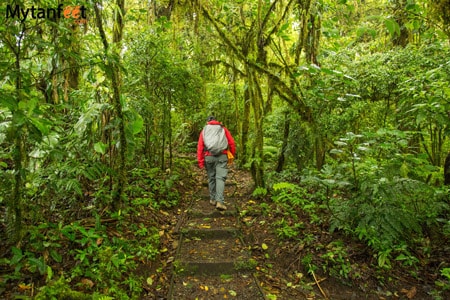 Hiking is one of the best social distancing activities in Costa Rica. With so many national parks, private reserves and nature trails, you can explore nature and venture into the rainforest without running into many other people at all!
Some of our favorite places for hiking is the Arenal 1968 Reserve in La Fortuna, Rincon de la Vieja National Park, Barra Honda National Park, Bajos del Toro, Hacienda Baru in Dominical, Heliconias Rainforest Lodge & Reserve in Bijagua and Santa Elena Cloud Forest Reserve in Monteverde.
Breathe in fresh, pure air, surround yourself with tropical flora and fauna and enjoy the great outdoors by going on a hike.
Another great social distancing activity is surfing. Even at the more "crowded" surfing beaches like Tamarindo or Jaco, you can always find a spot to catch waves.
Book Private Tours/Hire Private Guides
We highly recommend to do at least one guided walk in Costa Rica so you can learn more about the country, the flora and fauna and the nature. Although there are open tours running, a private tour gives you the most exclusive experience. You will have the guide for just your group!
You can ask as many questions as you like, take more time to find animals and not have to worry about being on anyone's schedules or sharing binoculars/telescopes. Whenever our friends and family visit, we like to hire a private guide for them. That way, they get personalized service and a more private experience.
Pick "Off the Beaten Path" Places to Avoid Crowds in Costa Rica

Go there, not here. For every "touristic" destination there is Costa Rica, there are a handful of the opposite offering the same things. Here are some of our recommendations of "go there, not here."
Skip Jaco, Go to Esterillos

Jaco is the biggest and most developed beach town in Costa Rica. As it's only 1.5 hours from San Jose, it's more like a city beach. Jaco has many tall beachfront condo towers, resorts and a large strip. So instead of visiting this immensely popular beach town, head to Esterillos instead, just a 20 minute drive south of Jaco!
Esterillos has Esterillos Oeste beach and Esterillos Este beach. They are two different beaches with surfing waves and beautiful sunsets but way less developed than Jaco. There is barely a town in Esterillos but there are a handful of restaurants and small vacation rentals and hotels. You'll need a car to get around but it'll be worth it for the wild and empty shores.
Skip Tamarindo, Go to Nosara
Tamarindo is the bustling surf town in Guanacaste and main beach town on the North Pacific. It's full of hotels, hostels, condos, bars, clubs, parties, resorts, restaurants and small businesses so it can get very crowded, especially on weekends and holidays when locals visit. So skip Tamarindo and head down south another hour and a half to the quiet surfing village of Nosara.
Nosara is well known in Costa Rica as a small surfing and yoga coastal town with a focus on wellness and health. It doesn't have the big party scene like Tamarindo but it does have gorgeous, emptier beaches, excellent surfing and good food. Well worth the drive on the unpaved road down there!
Skip La Fortuna, Go to Sarapiqui
Although we love La Fortuna with all our hearts, it is touristy. It's one of the most popular destinations in Costa Rica with hundreds of hotels and tons of tour companies all going to the same handful of places. So instead of La Fortuna, head to Sarapiqui canton in Heredia which offers very similar activities.
Additionally, Sarapiqui is one of the two destinations in Costa Rica to receive a sustainability award from companies in Germany. And since there are several cities you can visit in the Sarapiqui canton, everything is very spread out, reducing the chances of running into crowds.
You can go rafting, ziplining, hiking and birdwatching and take a chocolate, pineapple or cooking class in Sarapiqui.
However, one thing to note about Sarapiqui is that it's very popular with school groups. Avoid visiting the months of May – September for this reason.
Skip Manuel Antonio, Go to Osa Peninsula
Manuel Antonio's white sand beaches and plethora of wildlife makes it another top destination and the Manuel Antonio National Park is the most visited in Costa Rica. So instead of going to Manuel Antonio, keep going down south to the Osa Peninsula instead!
You can stay in Drake Bay, Puerto Jimenez or Matapalo in the Osa Peninsula and they all offer similar things: beautiful beaches (however the Osa Peninsula really only has dark sand beaches), tons of wildlife, nature and rainforest. You can visit Corcovado National Park which is even more biologically diverse than Manuel Antonio and it's much bigger so you won't be squeezing in with the Manuel Antonio National Park crowds.
Rural Tourism: Another Way to Avoid Crowds in Costa Rica
Another way to avoid crowds in Costa Rica is to experience rural tourism. This type of tourism specifically focuses on rural communities in Costa Rica. There are some places that are set up for it such as Bijagua, Sarapiqui, Mollejones, San Vito, Lepanto and Puriscal.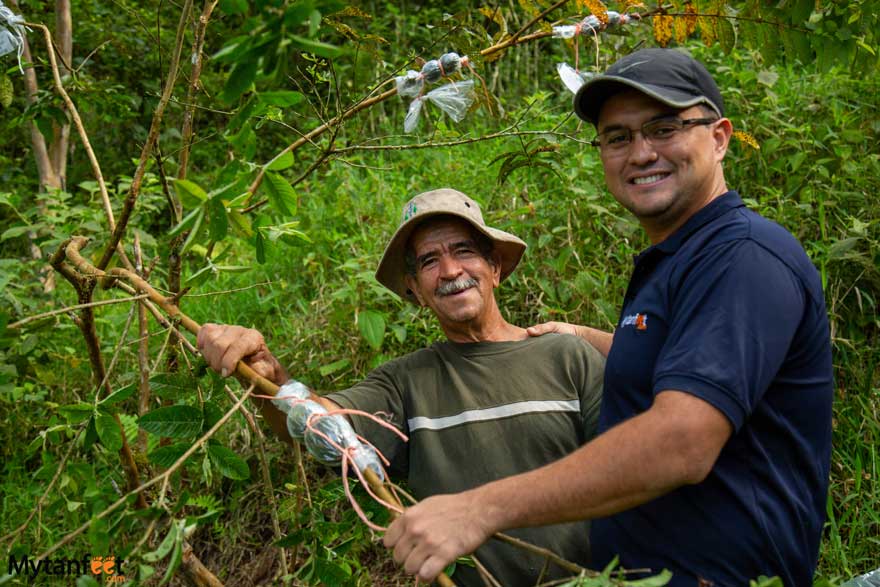 The best way to visit these rural communities is to arrange a visit or stay at a private hacienda or lodge dedicated to rural tourism like Tierra Madre Ecolodge, Armonia Natural and Hacienda Los Trapiches. Rural tourism largely consists of visiting/staying on a family run farm and there may also be some tour companies who can help arrange your visit.
You'll be helping the local communities by giving them your tourist dollars which is great since many of them were having a tough time when the border was closed.
One of our favorite rural tourism activities is the Catarata La Leona, a waterfall cave and river hike on a private farm of a local family in Guanacaste. It's also off the beaten path so it's a great place for outdoor adventure and hiking. Another one is the Heliconias rainforest reserve in Bijagua.
More Costa Rica Travel Tips
Costa Rica opened their borders completely on November 1st. They want visitors from around the world to recognize that Costa Rica is a safe and secure travel destination during the pandemic. And with many options for outdoor social distancing activities, tons of nature and beautiful, wide open spaces, Costa Rica certainly is an ideal destination to visit.
We hope these tips help but make sure to check out our Costa Rica destination map and our Costa Rica travel tips page for more information!