If you're staying in Guanacaste, I highly recommend taking the one day Nicaragua tour from Costa Rica. It's a great day trip for visitors staying in Playas del Coco, Tamarindo, Liberia or La Cruz (Dreams Las Mareas).
This is an excellent way to see another country, especially if you don't plan on visiting Nicaragua in the future. The tour company takes care of all the border fees, immigration, transportation, guiding and itinerary, making it an easy and convenient day excursion.
Unfortunately our tour operator partner no longer runs this tour.

Nicaragua Tour from Costa Rica Itinerary
The Nicaragua one day tour from Guanacaste is a full day activity starting from about 5 AM to 9 PM.
Places you visit on the Nicaragua day excursion:
Lake Nicaragua (take pictures of the Ometepe volcano)
Laguna de Apoyo
Masaya Volcano National Park
Masaya Market
Granada
We got picked up at 5:30 AM very close to our condo in Playas del Coco. Our second time at the tour we got picked up at Tamarindo at 4:45 AM.
Nicaragua one day tour pick up locations
Tour companies can pick up in:
Liberia
Las Salinas Bay (Dreams)
La Cruz
Tamarindo/Conchal/Flamingo/Portrero/Brasilito
Huacas
Playas del Coco/Ocotal/Hermosa/Panama
Andaz/Four Seasons/Occidental/Planet Hollywood/Secrets
JW Marriott
Riu Guanacaste
Border
After you get picked up, it's about a 2 hour drive from Liberia to the Penas Blanas border. When you arrive at the border, the guide will tell you what to do.
Border crossings are really easy when you're on a tour since the guide does half of it for you. You need to do the Costa Rica one yourself but the guide does the Nicaragua one. This gives you time to check out duty free and if you want to buy anything, I highly recommend getting some Nicaraguan Flor de Cana (rum).
Lake Nicaragua Breakfast and Photos
After crossing the border, they take you to breakfast at a local restaurant in Nicaragua near Lake Nicaragua. It's a typical Nicaraguan breakfast with gallo pinto (with red beans), eggs, cheese, coffee and plantains.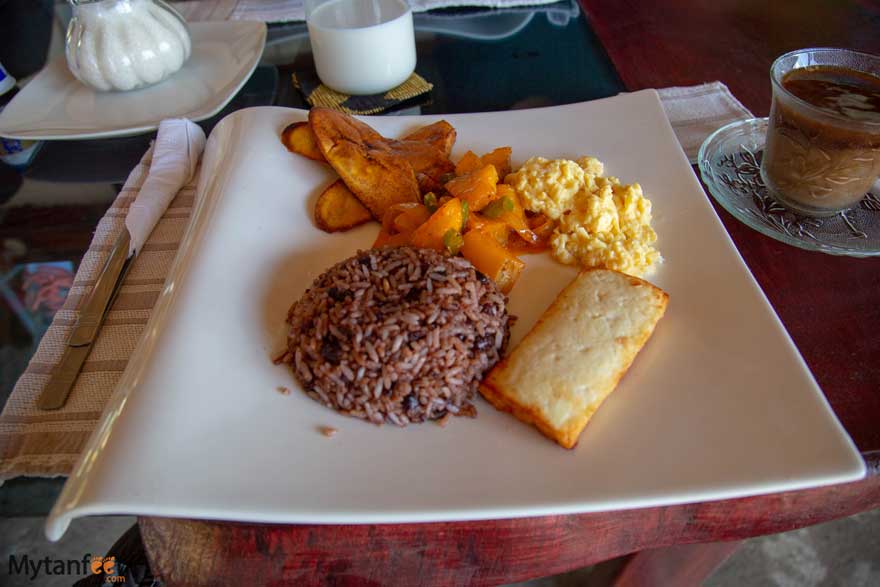 When you're done eating, you can walk around and take some photos of Lake Nicaragua. It is a huge lake with windmills all around and on a clear day, you can see the two volcano.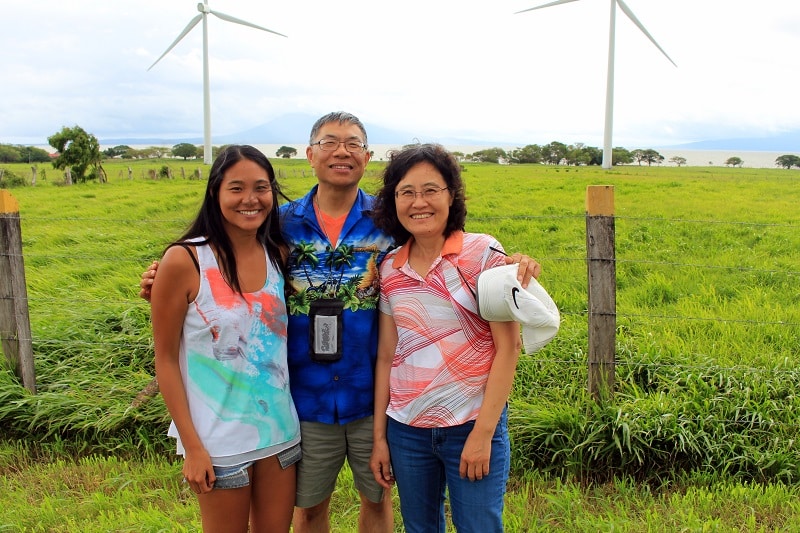 After breakfast, our next stop was Santa Catarina.
Catarina town and Laguna de Apoyo
At Catarina, a very small town in Masaya, there is a great viewpoint of Laguna de Apoyo. This volcanic lake is a nature reserve in an extinct volcano and it is just beautiful! It's one of our favorite places in Nicaragua.
We stayed for about 20 minutes and then headed off to Masaya Volcano.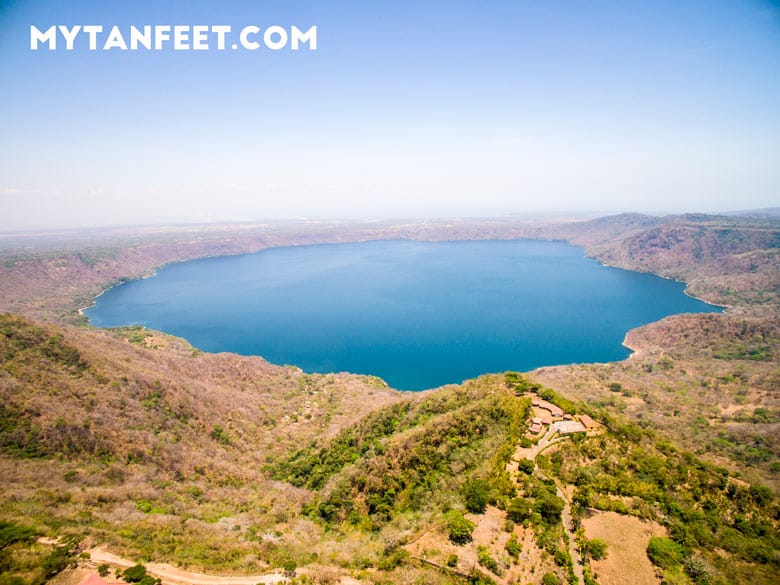 Masaya Volcano National Park
Our next stop was Masaya Volcano. Unfortunately it was a pretty rainy and cloudy day so we couldn't see the crater, but this active volcano is famous for being one of the few in the world and the only one in the western hemisphere where you can actually drive up to the center.
We got out and spent about 45 minutes walking around and taking pictures.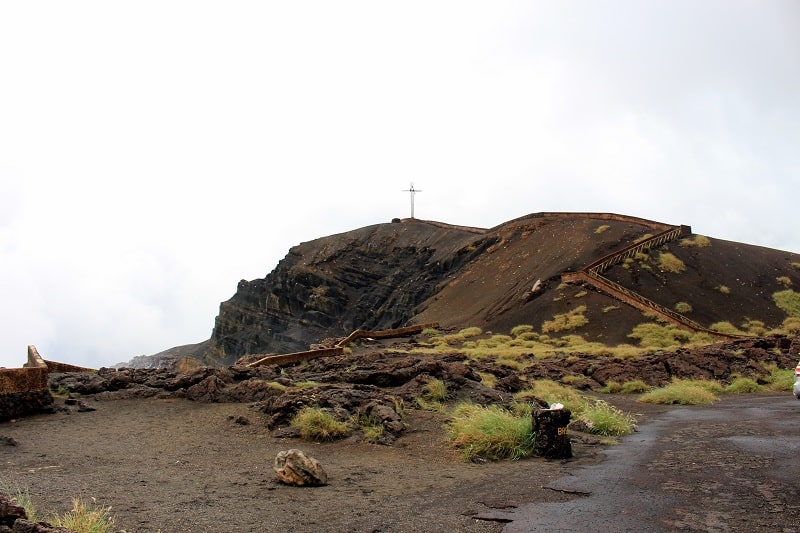 Along the way there, our guide told us some history and background about this volcano and the national park which was really interesting. The Mayans who used to live in this area would sacrifice beautiful women at the cross whenever the volcano erupted or rumbled.
To this day, this active volcano continuously spews sulfur dioxide gas. As of December 2016, there is lava flowing at the volcano!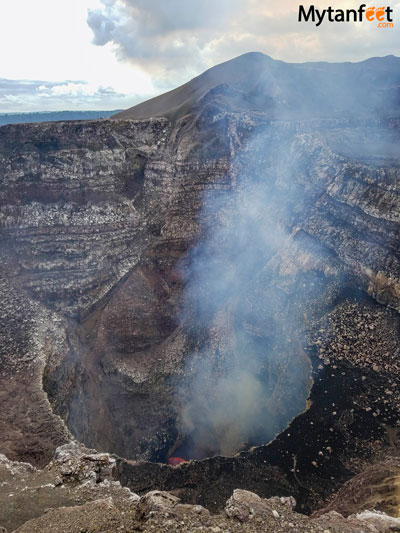 If you walk towards the entrance of the parking lot, you can get some beautiful views of Nicaragua below.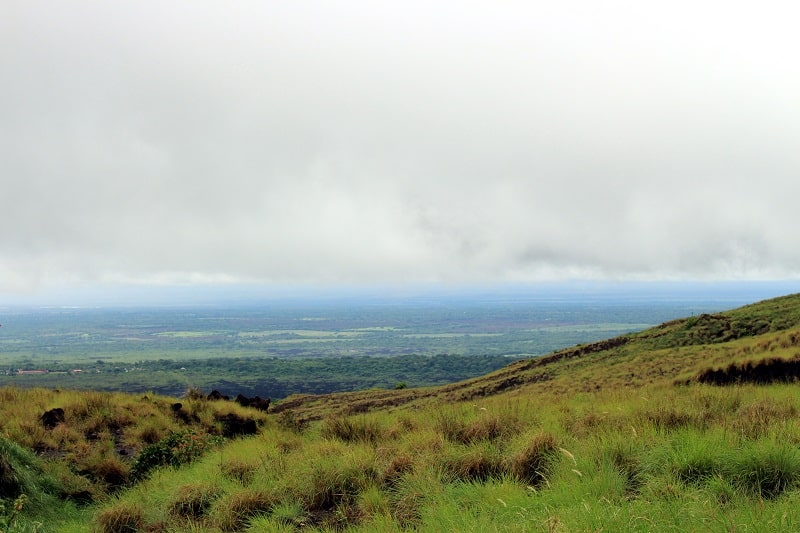 Masaya Market
Our next stop was the Masaya market, one of the most famous souvenirs stores in Central America. We first had lunch which we got to choose from a variety of dishes.
Nicaragua has excellent beef so if you like meat, this is a good place to get some. They also have kebab, vegetarian and chicken options.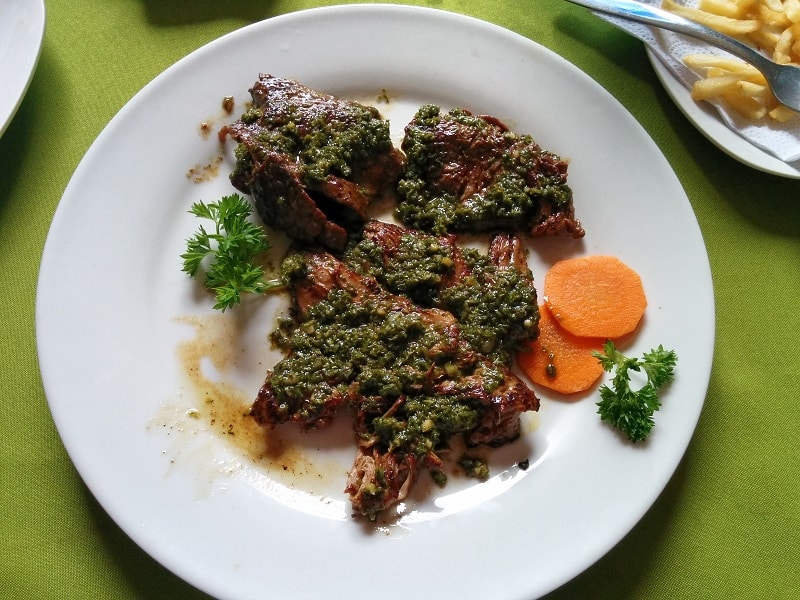 After lunch we had about 20 minutes to browse the Masaya market. If you want souvenirs, this is the best place to buy them.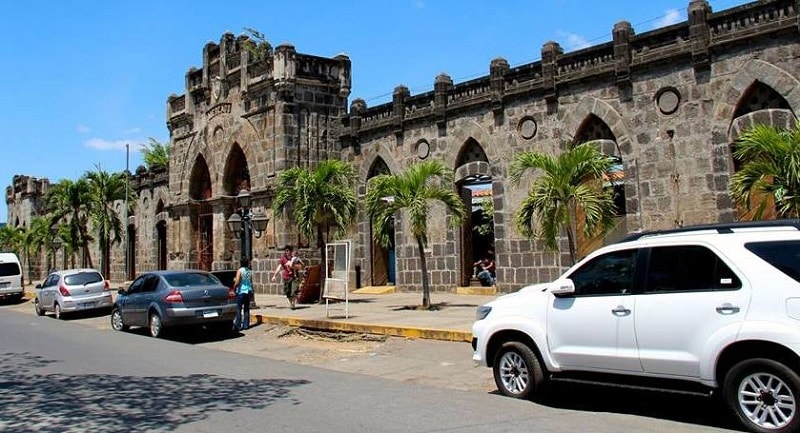 Souvenirs in Nicaragua are cheaper than Costa Rica and their leather items are top notch quality. You can find everything from leather bags and purses, shoes and belts for a good price.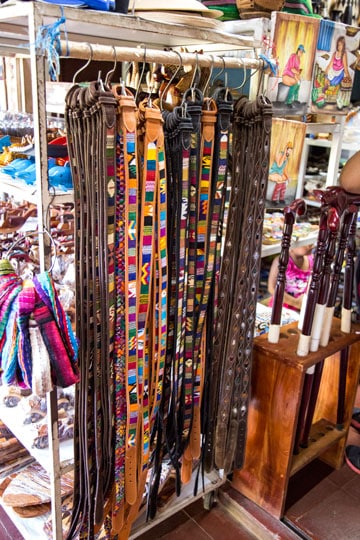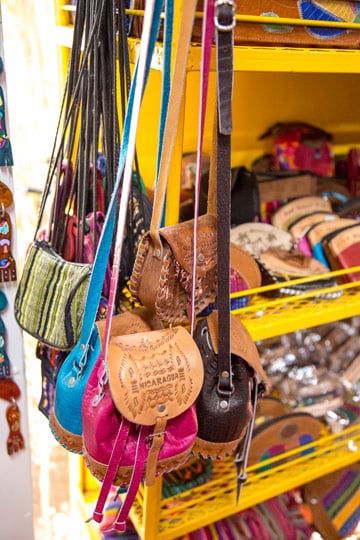 You can also get cheap shirts for $5, hammocks, cigars and other knick knacks. Remember to bargain! They'll always start high but you can negotiate down a lot. I highly recommend doing souvenir shopping here since it is so much cheaper than Costa Rica.
You can use dollars at the market but they give your change back in cordobas. Ask if you want your change in USD.
Lake Nicaragua boat ride

After Masaya, we headed to Grenada. First we passed through the city to take a boat ride on Lake Nicaragua which was my favorite part of the tour. We climbed into a boat and went off into the lake to see the thousands of little islands.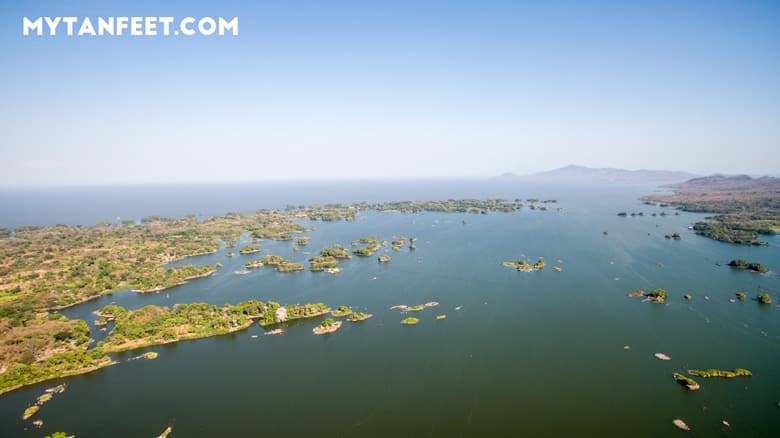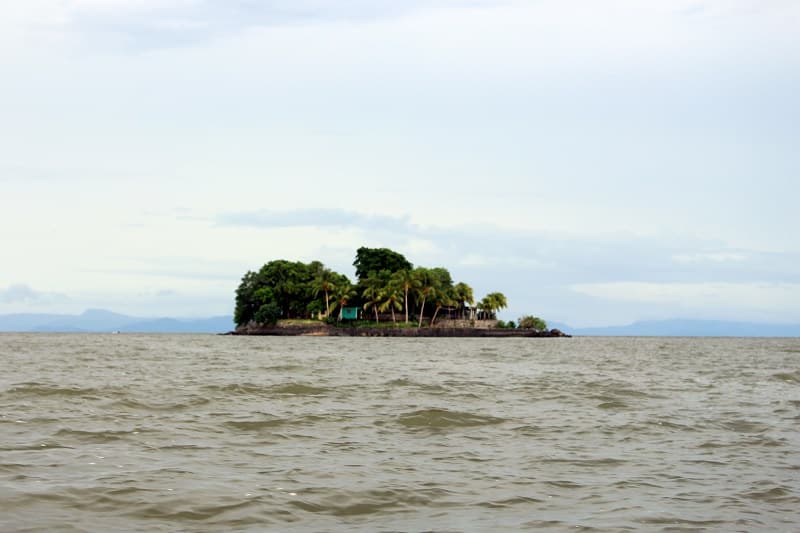 If you've ever wanted to have your own private island and build a house on it, this is a premiere place to do so! We saw a sign for a house on an island for $300k.
Granada
After the boat ride, we stopped in Granada which is one of the most important cities in Nicaragua due to its very rich colonial heritage, apparent through its architecture and city design.
You'll see colonial buildings and churches everywhere and automatically see why so many people love this little city. In fact, many foreigners who move to Nicaragua choose Granada as their new home.
We walked through town towards the main yellow church and visited a hammock making shop along the way.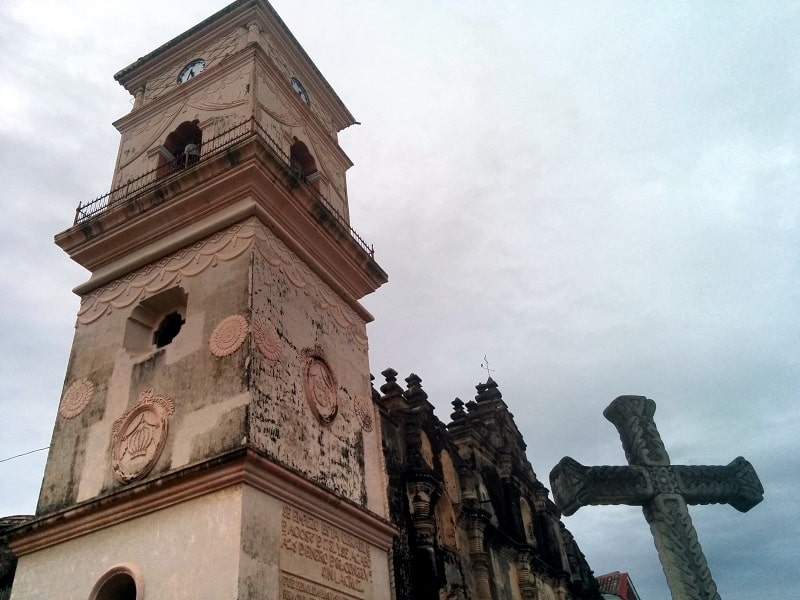 The second time we did this tour we took a horse carriage ride throughout the town and stopped at a chocolate factory. This was such a fun way to see Granada since they take you to the park, important historical buildings and plus, who doesn't love a horse ride?
The horse carriage ride now costs $10 USD per person and is optional. If you don't want to do it, you can walk around town or go up the yellow church which costs $1 USD to get a great view of the city.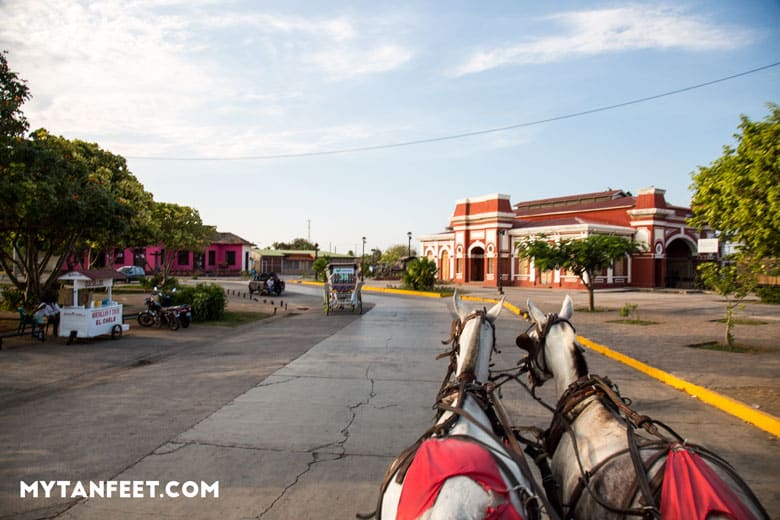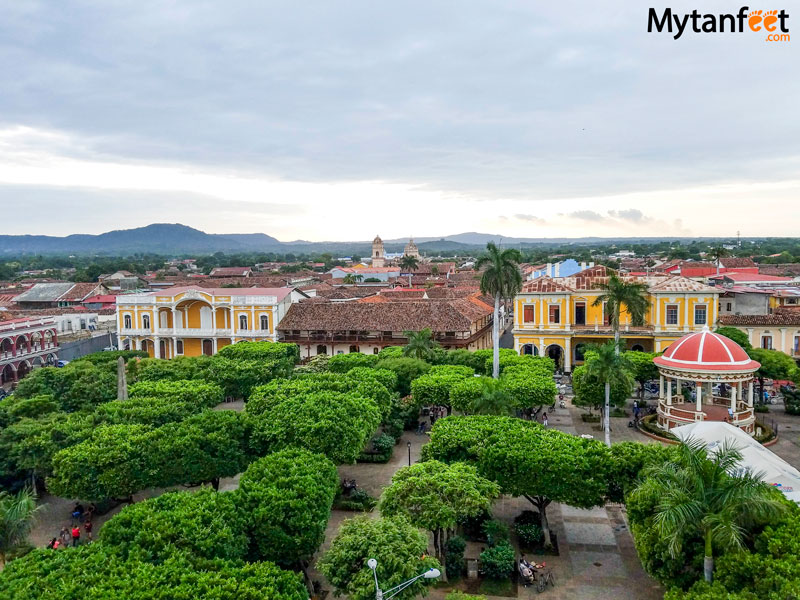 Back to Costa Rica
After Grenada, it's the end of the Nicaragua tour from Costa Rica.
We drove back to the border (about 1.5 hours) and got out to do the border crossing. Similar to what we did for entering Nicaragua, we filled out a custom form and gave that plus our passport to our tour guide to do our Nicaragua exit. Then we got out to enter Costa Rica and after that finished, they dropped us back home.
Things to Know About This Nicaragua One Day Tour
You need to bring your original passport.
The guide does the entry and exit to Nicaragua for you but not Costa Rica. You need to stand in line to exit and enter Costa Rica and the guide will help you fill out the forms.
Bring small USD bills if you want to purchase souvenirs. Nicaragua accepts USD but NOT Costa Rican colones so you do not need to exchange. They will give you your change back in cordobas (Nicaraguan currency) or you can ask them to give you dollars back.
Wear comfortable clothes and walking shoes.
The tour provides water, breakfast and lunch but not dinner so bring snacks.
The bathroom at the border on the Nicaraguan side costs a dollar. Bring toilet paper and hand sanitizer. Bathrooms are not the best at the border but they are clean at the other stops.
Bring a print out copy of your flight itinerary out of Costa Rica to present when you're entering Costa Rica (madantory)
Video
Read about other things to do in Guanacaste below!
Diamante Eco Adventure Park (get 10% off): Adventure park in Gulf of Papagayo with a zipline, animal sanctuary, local house with chocolate/coffee/sugar cane tour, botanical garden and a beach.
Hacienda Guachipelin: Adventure park next to Rincon de la Vieja National Park that has rooms, ziplining, horseback riding tours, white water tubing, mud baths, hot springs, waterfalls and an terrarium. Most popular is their one day adventure tour.
Rincon de la Vieja National Park: National park in Guanacaste with hiking trails, waterfalls, rivers, volcano and boiling mud pots.