If you're visiting Dominical, Uvita or anywhere else in the Costa Ballena area and are looking for a clean, relaxing and small beach to visit, then a visit to Playa Dominicalito is a must. It's easy to get to and absolutely worth a visit.
Plan your trip to Playa Dominicalito with our guide!
How to Get to Playa Dominicalito
Playa Dominicalito is just 3 kilometers (2 miles) from Dominical and the best way to get there is to drive. The road entrance is right off of Route 34 (Costanera Sur highway) and is accessible by a sedan, 4×2 or 4wd.
Playa Dominicalito is on Waze and Google Maps which you can use to get navigate there. Look for a bus station on the left hand side of the road right across from the entrance.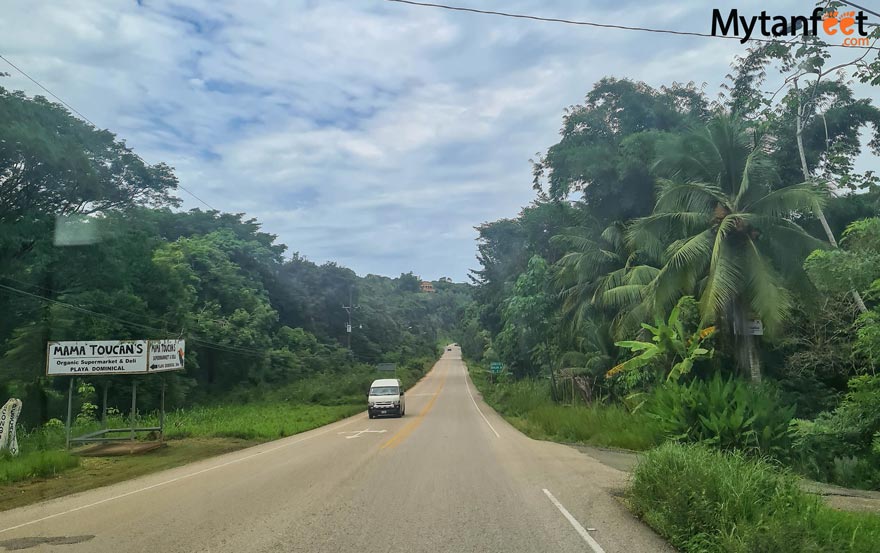 Once you turn right, the road becomes a completely dirt road with some pot holes.
4×4 Required?
A 4×4 is not absolutely required to get to Playa Dominicalito. You will need to drive slowly if you do not have a high clearance car on the road.
If you have a sedan or a low clearance car, you will need to park at the entrance near the food stand. If you have a car with higher clearance, you can turn left and drive more down that way closer to the surf break.
In peak rainy season months (Sept/Oct), a 4wd may be necessary to bypass the mud and bigger pot holes but even so, just park right where you reach the beach.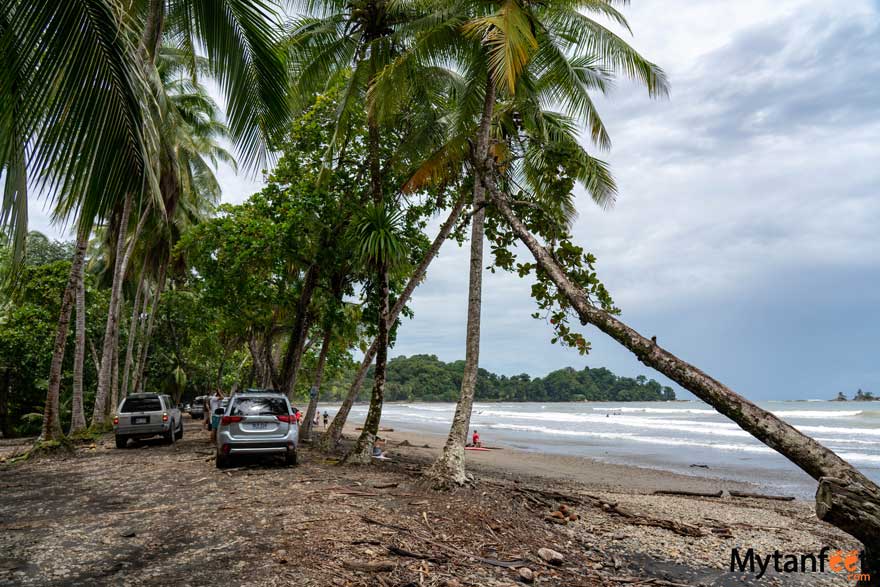 You could walk to Playa Dominicalito from Dominical but it is around 4 kilometers one way (2.5 miles) and you must wear shoes since it is very rocky with wood debris. It will take about 1 hour per way.
Playa Dominicalito: The Beach
The beach is small with calmer waves, being protected by a bay which is why it's an excellent beach for beginner surfers and surf lessons. The shore is sandy with a bit of small rocks but you can perfectly walk on it barefoot.
If you swim/surf, it is mostly a sand break but there are some big rocks further out so be careful in low tide.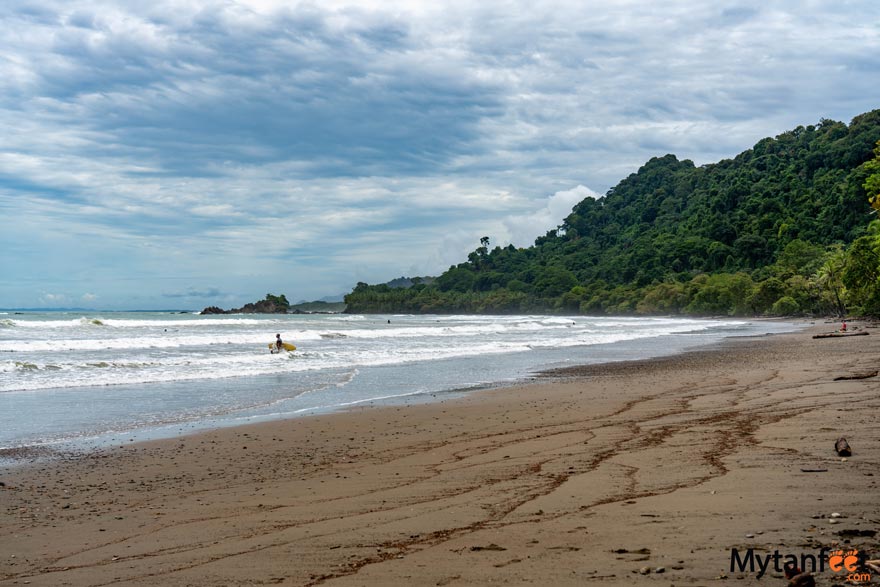 The water is a dark blue and sand is dark brown, classic characteristics of beaches on the South Pacific Coast.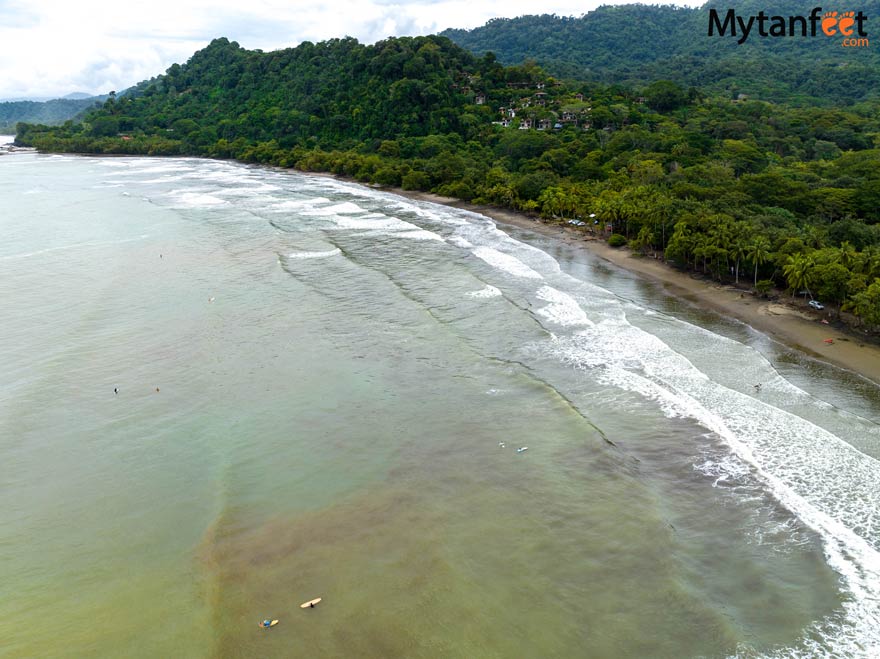 For surfing, waves break left and right and there are a few different breaks. We saw several lessons and some surfers longboarding, it looked super fun! Dominical beach gets really big waves so if you're tired of getting smashed by huge sets, Playa Dominicalito is the perfect beach to go for more chill waves.
Surfing is one of the must do things in Dominical and many lessons will come here when Dominical is too big. Another beach they go for surf lessons is Playa Linda.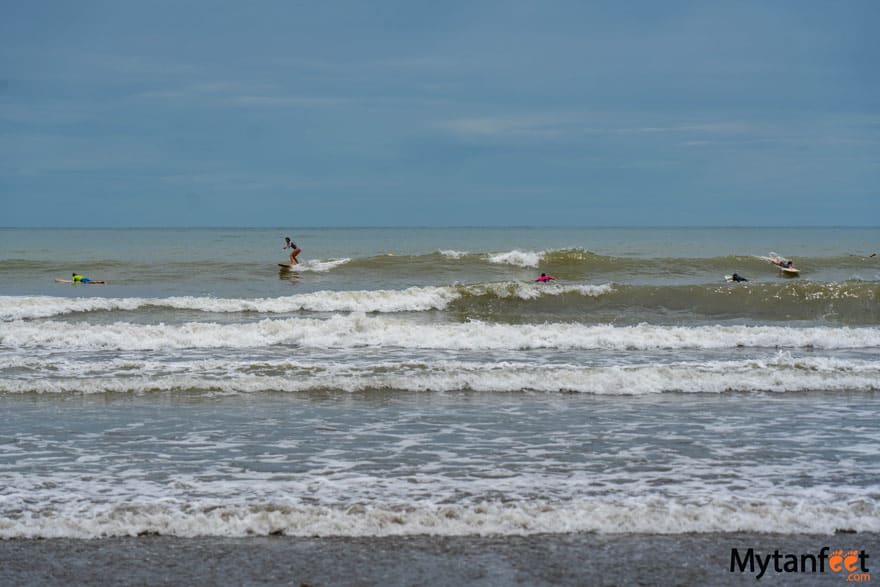 The beach is very clean and it is a fantastic place to watch the sunset. Unfortunately when we visited, it started raining as we were visiting during rainy season (end of July) so we couldn't see any sunsets there.
Further down south of the beach we saw several fishing boats. If you walk all the way down south, you'll reach Punta Dominical.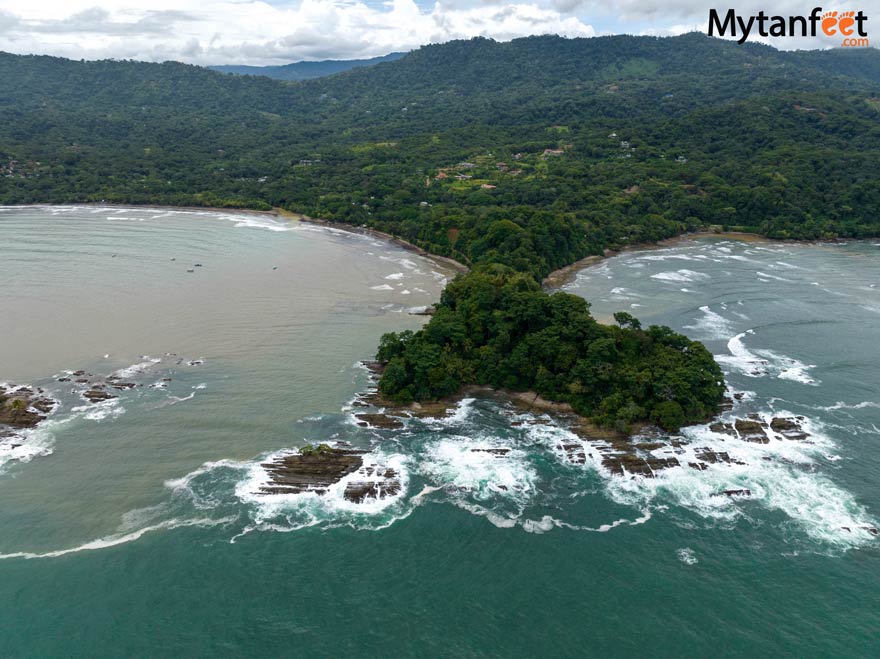 Services and Amenities
The beach and parking are free but there are no services and amenities. No bathrooms, no fresh water showers, no changing rooms, no lifeguards, no tables or picnic benches. Always make sure to lock your car and roll up your windows and keep an eye on your belongings.
There aren't any supermarkets or restaurants but there is a small vendor stand where locals sell drinks, ceviches and snacks right at the entrance.
For surfing, it is best to rent a board in Dominical or bring your own.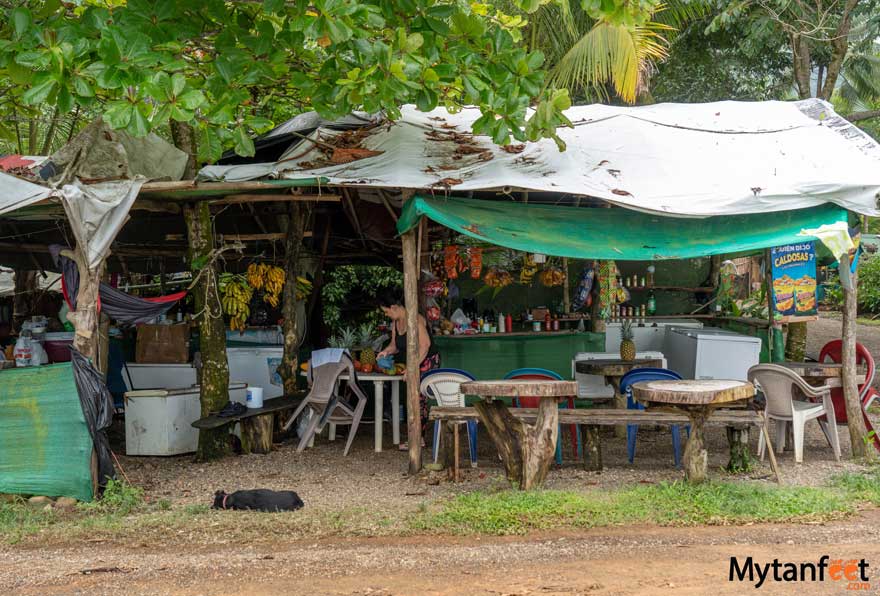 For tourists, Playa Dominicalito a really nice beach to visit for a more local vibe. It's very family friendly and we recommend it for every visitor to South Pacific Coast.
Sample Itineraries
Here are some ideas of how you can spend your days in Dominical.
Day 1: Arrive in Dominical, go to the beach, watch sunset, have dinner in town
Day 2: Visit Nauyaca Waterfalls in morning (hike, horseback ride or ride the 4×4 truck). This is around a 5 hour visit (if you're hiking/horseback riding) and we recommend to go in the morning around 8 or 9 AM. Go back to hotel, nap, rest and then have dinner at Jolly Roger (4×4 only) or in town.
Day 3: Relax and enjoy town, do some souvenir shopping, go to the pool, etc. Head to Playa Dominicalito after lunch to swim, surf, chill, enjoy the beach and watch the sunset.
Day 4: Drive to Uvita (20 minutes) and visit the Marino Ballena National Park. If you're visiting during the months of about December through March or July through September, you can go whale watching. If you like to snorkel, you can book a Caño Island snorkeling tour.
Day 5: Head to your next destination or if you're going to stay in Dominical, you can visit Hacienda Baru for hiking and wildlife watching, relax more, visit the Uvita area again or take a SUP/kayak tour down the Baru River. Another similar beach to Playa Dominicalito you can visit is Playa Hermosa near Uvita. Hermosa is bigger than Dominicalito but it is really nice and has great sunsets.
Here is a 1 week Costa Rica itinerary that goes to Jaco, Manuel Antonio and Uvita but you can substitute Dominical for Uvita. Playa Dominicalito is one of the best things to do in Dominical so don't miss this awesome beach!