If you're looking for a more "off the beaten path" place to visit in Costa Rica or if you're into the more weird and curious destinations, head to Lake Cote (Lago Cote). Not only is it the largest natural lake in Costa Rica but this place holds great culture importance, particularly to the indigenous Maleku communities who bestowed the lake its name. In Maleku, Coter or Cote means peace and love, befitting for the lush, heart shaped lake that is Lake Cote.
Nowadays, the lake sits quietly, ensconced in between the rainforests of Tenorio Volcano National Park and Lake Arenal as the one hotel in the area, Hotel Eco-Lodge Lago de Coter went out of business and so did the influx of tourists. However, this makes it the perfect spot for those looking to go on the road less traveled.
To make this lake even more magical beyond its indigenous roots, it is also the spot of the only "official" UFO sighting in Costa Rica.
If this sounds like a place you'd like to see, here is what you need to know about visiting Lake Cote (Lago Cote).
Location
Lake Cote is in the Alajuela province.
How to Get To Lake Cote (Lago Cote)

You have to drive to Lake Cote, there are no buses or anything. You have to rent a car and drive.
To get there, you have to use a GPS to get to the lake but use the phone app Waze instead of Google Maps. Waze will take you around the south end of the lake which is where we went. You can see on Waze there is a road passing by the south end of the lake, reconnecting with Route 143 and then Route 142. Google Maps does not show this road. Here is the Waze map (must download the app).
When driving on Route 142, as soon as you see the sign in the picture below, turn left. It was a bit past Hotel La Rana.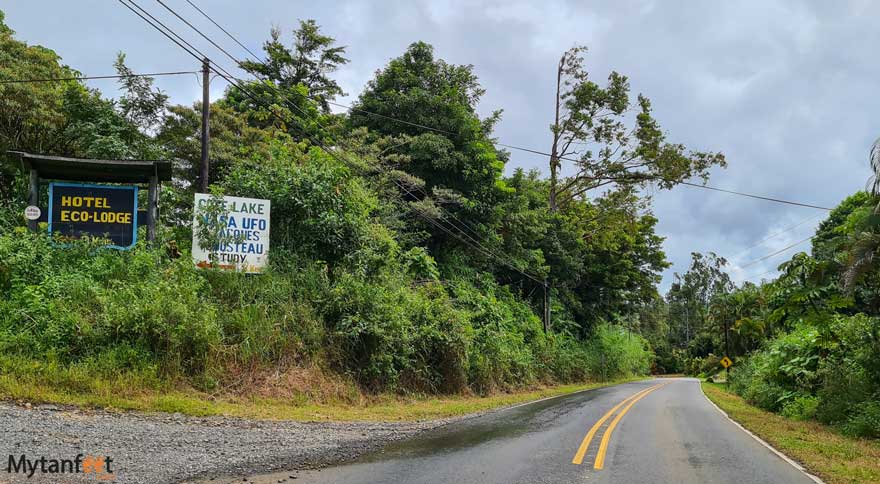 From this turn, it will take another 30 minutes or so to drive to the viewpoint we went to (more information down below on that spot). Once you get to the viewpoints or are ready to continue, you can continue on the road around the south end of the lake to reach Route 143 and then go south to get back on Route 142.
Additionally, you can backtrack if you are not continuing in that direction. Because GPS may be spotty at Lake Cote, we recommend to backtrack since you'll know where to go back rather than trying to figure out how to get to Route 142 if your GPS map and directions are not already loaded.
4×4 Required?
Yes. Route 142 is paved but as soon as you turn left off Route 142, this road turns into a very gravel road. It is a bit hilly with a lot of rocks and potholes. In rainy season, it may get very muddy.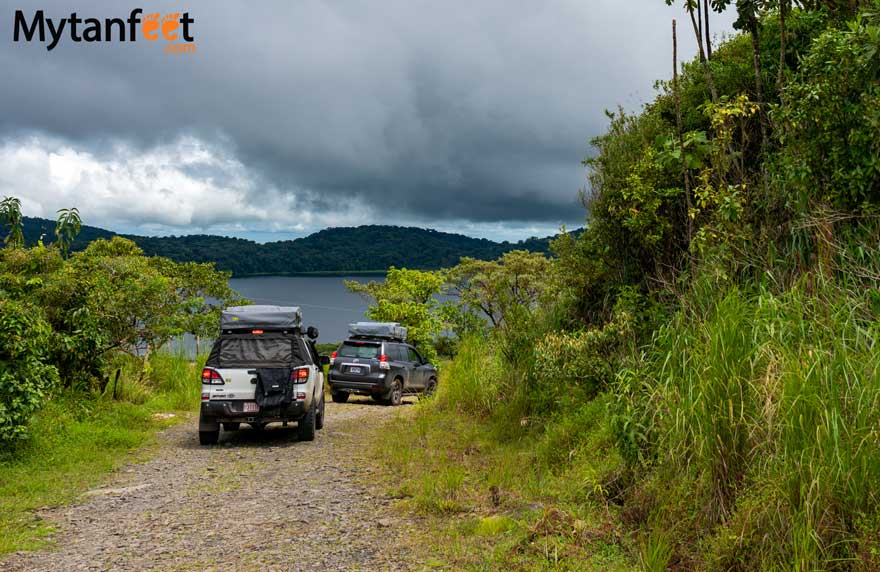 For this reason, we recommend to visit only by a 4×4 or a car with high clearance. You won't be climbing up steep mountains but a sedan is not suitable. If you continue onto Route 143, this is also an unpaved gravel farm road that requires a high car.
What is There to Do at Lake Cote?
Enjoy the view! This is more of a scenic destination as there really isn't anything to do at the lake itself. Just follow the route and drive around the lake. We stopped at a couple of view points to take pictures and soak in the view.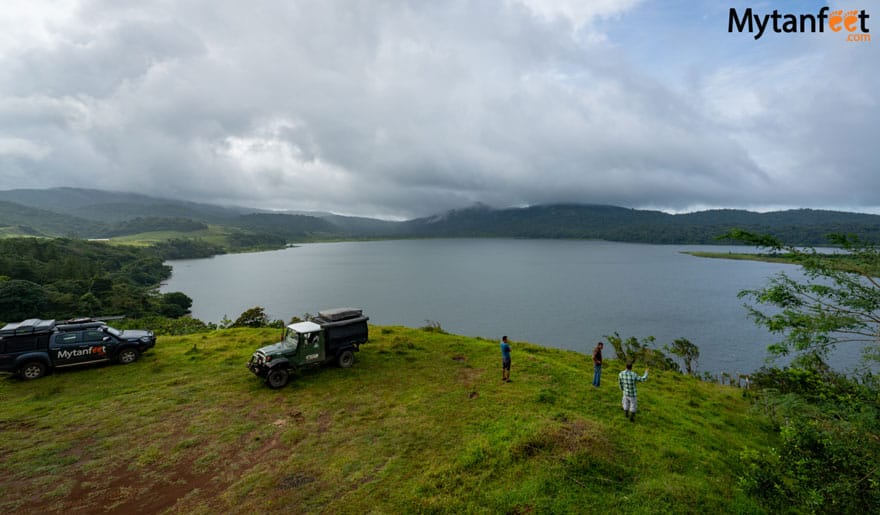 You will see a makeshift wire gate in some areas and an old sign for Lake Cote Condos. This project never panned out. You can turn left at this sign and drive down to the lake or continue up the road a bit and you will see an opening in the wire gate to the left. This is where we turned in for that viewpoint.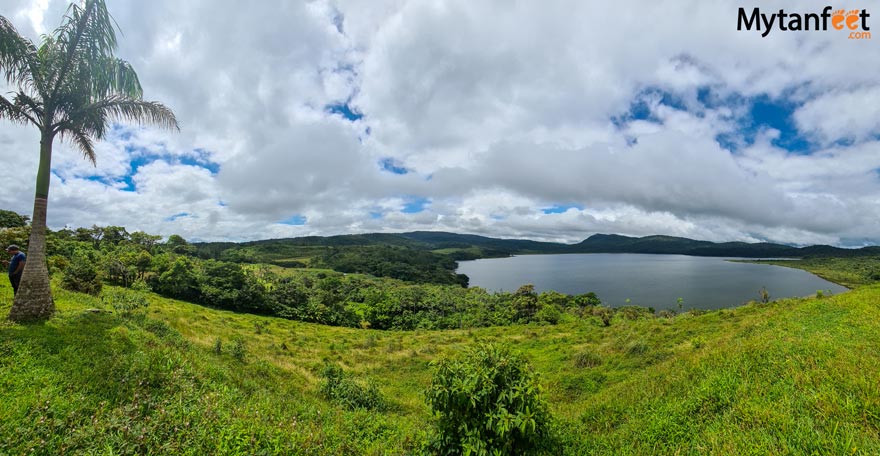 The lake is as pristine as it can be with rainforest as far as the eye can see. We stayed here for a little bit, appreciating the serenity and peacefulness of the lake. As there's nothing around, we escaped all the sounds of modern life. No honking, no cars, no trains, no artificial noise. Just the sounds of the birds and rainforest humming all around us.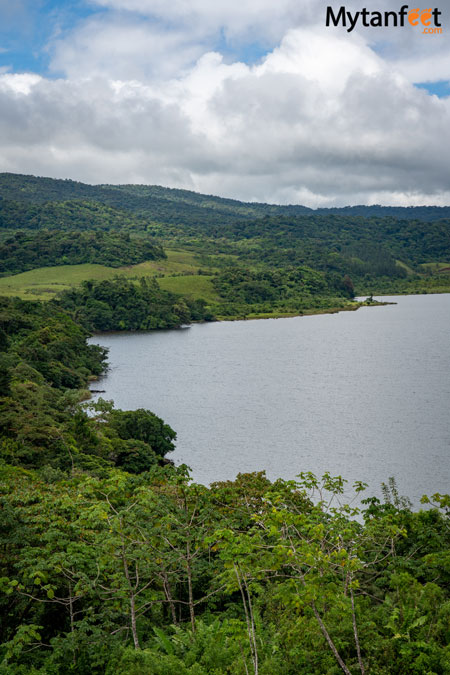 We visited in September and October which are the peak months of rainy season in Costa Rica but we didn't get rained on during our time there. We visited around 1 PM both times and it was cloudy as you can see in the pictures but not raining. I am sure it rained in the late afternoon though as it was very dark and cloudy by the time we left.
Can You Camp at Lake Cote?
You could technically since there won't be anyone there to stop you but there are no services or facilities. Cell phone service is service. We do not recommend to camp at Lake Cote because unfortunately robberies are not uncommon and there is nothing around in case of emergency.
Tips for Visiting and How to Visit Lake Cote
If you're staying in the Nuevo Arenal or Tilaran area, you can visit Lake Cote as a day trip.
You can even visit from La Fortuna as it is about a 1.5 hour drive.
You can stop by Lake Cote if you are driving from Guanacaste to La Fortuna or vice versa. Just be aware if you do, this detour will add at least an extra hour or more to your drive.
No services or facilities.
Read About Other Places Like This One in Costa Rica!
Poza Azul Waterfall in Sarapiqui: Local waterfall
Finca Sanatorio Duran in Cartago: Most haunted building in Costa Rica (used to be a sanitarium)
BriBri Indigenous Tour in Limon: Visit the indigenous community in the Talamanca Mountain Range
Lake Arenal: Biggest lake in Costa Rica
Finca 6 World Heritage Site in Palmar Sur: Museum with ancient stone spheres