Parque La Sabana, or La Sabana Park is the largest green space in the capital city of San Jose. Created in 1977, the park offers a much needed respite for the busy city residents to enjoy nature without having to leave the metropolis, garnering the nickname the "Lungs of San Jose."
We always love walking through parks in cities whenever we travel abroad. If you have a day or two in San Jose, you definitely need to visit this park! If you are looking for where to stay in San Jose for your trip, we also have recommendations for that as well in this guide.
There are affiliate links in this post.
La Sabana Park Location
La Sabana Park is 15 kilometers (~9.5 miles) from San Jose International Airport, about a 20 minute drive so it is an excellent place to stay to explore the city while still in close proximity to the international airport. There are many hotels and condo towers in and around the park.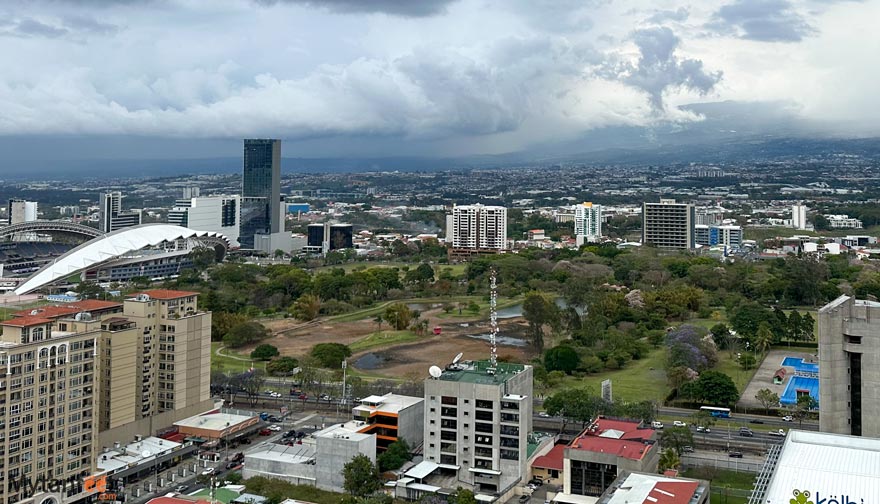 The park is situated in a strategic location in the San José Metropolitan Area. Many important government buildings and businesses are based near the park, not to mention the national stadium of Costa Rica where big concerts and national futbol matches are played.
The Park
For 44 years, La Sabana Park was actually home to Costa Rica's first international airport until 1958 when it was switched to the Aeropuerto Internacional Juan Santamaría, the international airport today.
La Sabana Park today spans an area of 72 hectares (177 acres) with trails, forests, open grassy areas, a lake, monuments, sports fields, tennis courts and running/skating tracks for families to enjoy. Weekends are very busy at the park, with tennis matches, baseball games and lots of people running, skating, walking their dogs and having a nice outdoor day with their family.
The Museum of Costa Rican Art is also inside the park.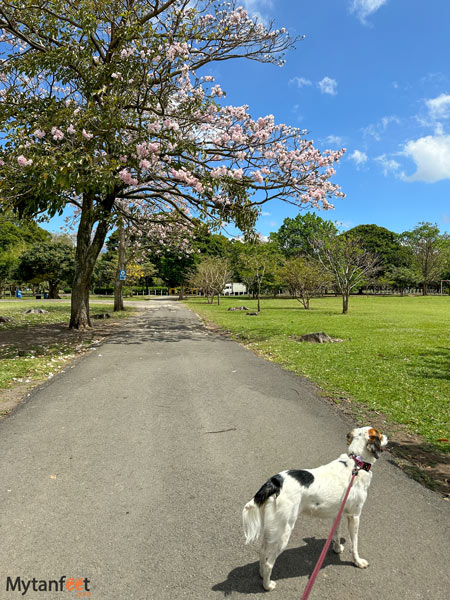 La Sabana Park was previously semi-jokingly called the "green desert" so in 2019, the city planted several thousand trees to increase the park's greenery.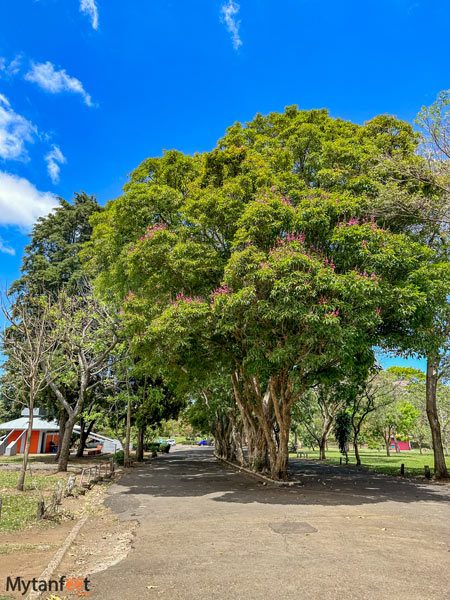 Thanks to the many new trees, many birds returned to call La Sabana Park home and it is very pleasant to walk through the new forests.
Services
There are public bathrooms (usually for a small fee like 500 CRC), picnic tables, benches and some interesting landmarks like this cross.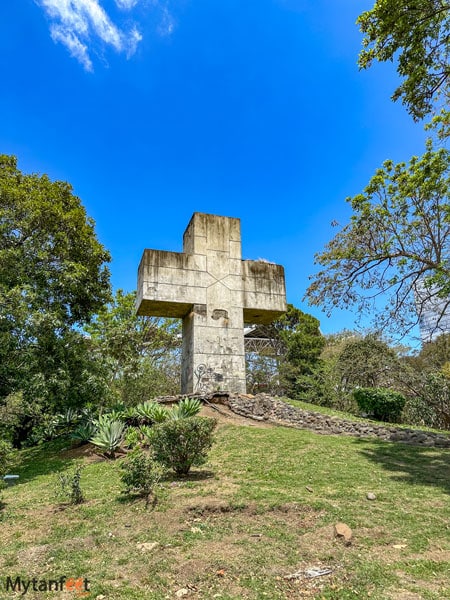 There aren't any restaurants or food in the park but you may see some locals selling shaved ice or cold coconuts here and there.
Unfortunately there aren't any lockers or public showers.
The park is open 365 days a year and is free.
You will see some police in the park on horseback.
How to Visit
For tourists, especially first time visitors to Costa Rica, La Sabana Park is a must see and you only need an hour or two to enjoy the park.
We highly recommend to walk or taxi/Uber there. Parking can be difficult, especially on weekends when it's extremely busy. You can start your visit by first going to the Museum of Costa Rican Art and then walking your way around the artificial lake, and then over to the national stadium.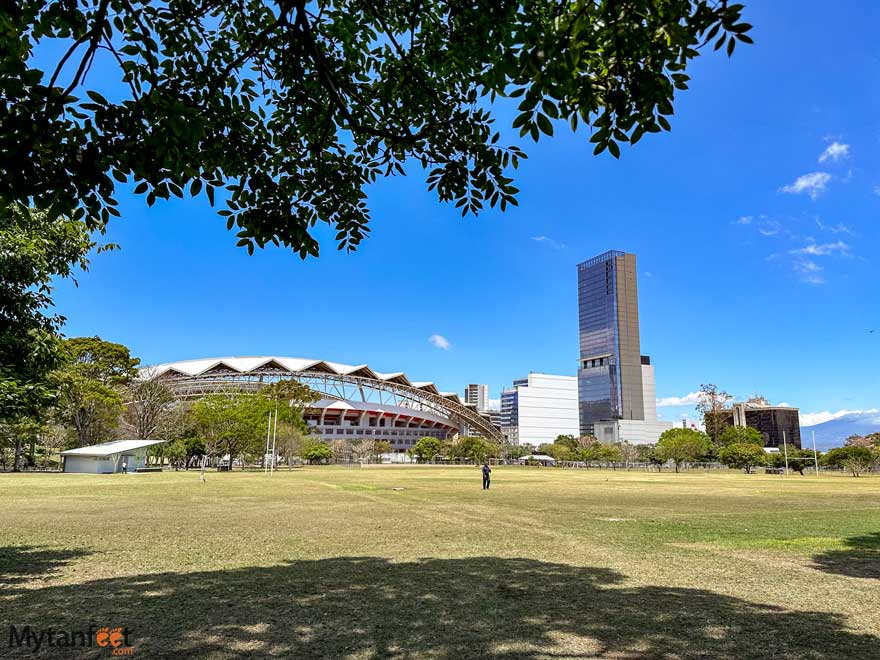 There is a road through the park but you can walk through the forests and grassy areas for a more natural experience. During holidays, they may hold events and when there is a national futbol match, the park gets very busy.
Here is a sample itinerary of how to spend 1 full day in San Jose with a visit to La Sabana.
Day 1: Visit the Museum of Costa Rican Art (closed Mondays) in the morning @ 9 AM and walk through La Sabana Park (2 hours total). Afterwards, have lunch at Soda Tapia. Then taxi to downtown to stroll through Central Market and visit a museum or the National Theater. Go back to hotel to nap and freshen up, then visit Barrio Escalante for dinner, drinks and nightlife.
La Sabana Park Hotels
The park is known as two main sections: Sabana Norte (North Sabana) and Sabana Sur (South Sabana). Northwest Sabana is a bit more of a fancier area, known as Nunciatura. Sabana Sur is growing a lot. There are many hotels and condo towers around the park.
Some popular hotels are the Hilton Garden Inn San Jose La Sabana, Hotel Parque del Lago, La Sabana Hotel Suites and Apartments, Crowne Plaza San Jose Corobici, Hotel Autentico, KC Hotel and Palma Real. Then there are a lot of condo towers on Airbnb and VRBO such as Secrt Sabana, Cosmopolitan, Torre Rohrmoser, U Nunciatura, and Torres del Lago.
If you're wondering where to stay in San Jose, La Sabana is a fantastic location. Lots of restaurants, plenty of lodging options, banks, pharmacies, supermarkets, 20 minutes from the airport, 10 minutes to downtown and tour operators will pick up at hotels around La Sabana. For those using San Jose as a homebase or staying a few days, check out our post for best day trips from San Jose and also get our San Jose day trips discount!
I actually got laser eye surgery at Clinica 20/20 which is in Sabana Norte and we stayed at a condo tower near there. Great location!
La Sabana Restaurants
There are many fantastic places to eat around La Sabana. Here are some of our favorites.
Soda Tapia
Pho Yummy
Dulce Pecado
27 d'Marzo
Sherrifs House
Republica Casa Cervecera
Bao Sabana
Tamura
O'Libano
There is also fast food and Starbucks in La Sabana.
Plan Your Visit to San Jose
Have more time in the capital city? Check out our other blog posts about San Jose!
Hacienda La Chimba (Very nice coffee farm with hiking trails)
Best hotels near SJO Airport with and without airport shuttle
Costa Rica Vacation Checklist