One of the best day trips from Playa Jaco is to Manuel Antonio National Park. It's not very far and you can have a fun day hiking, swimming in the beaches and wildlife watching. Go for a day or stay a couple nights to explore the area since Manuel Antonio is much different than Jaco. You can cure that itch for a tropical white sand beach!
To get to the park, you can go on a tour or hire a shuttle if you don't rent a car. However, the bus from Jaco to Manuel Antonio National Park is convenient, cheap and easy to do. I recently did this route by myself and it was one of the easiest trips I've ever taken using public transportation in Costa Rica.
For those of you who want to visit Manuel Antonio but don't want to go on a tour or hire a shuttle, here's our complete guide on taking the bus from Playa Jaco to Manuel Antonio National Park. *Post updated 2019*
Route
Leaving Playa Jaco
First thing you have to know about taking the bus from Playa Jaco to Manuel Antonio National Park is that you need to take 2 buses: one to Quepos, second to Manuel Antonio National Park.
Bus Stop Location
The first bus stop to Quepos in Playa Jaco is located in front of the Best Western, right across the street from where you take the Jaco bus to San Jose. There are also bus stops all the way to the south end of Jaco town.
Times
I asked the guy selling San Jose bus tickets what time is the Quepos bus and he told me 7, 9, 11, 1, 3, 4:30, 6:30 and 7:30. If you look at the official bus schedule by VisitCostaRica, you'll see the times are half an hour earlier. I arrived at 6:30 AM and the bus came at 6:45 AM, so I suggest getting there at the times for the online schedule. If I came at 7 AM like the guy told me, I would have missed it and had to wait another hour and a half.
Always arrive early when taking the bus in Costa Rica!
Price
You'll recognize the bus by the sign that says T.Q.P.(Transporte Quepos Puntarenas) and one bus ticket costs 1300 colones. You have to pay in colones and you don't need exact change.
If you take the 7 AM bus like I did, be prepared to stand for a bit. This is the bus most locals take to get to work so it was packed when I got on.
Arriving in Quepos and Getting to Manuel Antonio National Park
The bus ride from Playa Jaco to Quepos is roughly 1.5 hours, depending on traffic and how many stops it makes. You'll arrive at the Quepos bus station where you need to get off and grab a Quepos to Manuel Antonio National Park bus.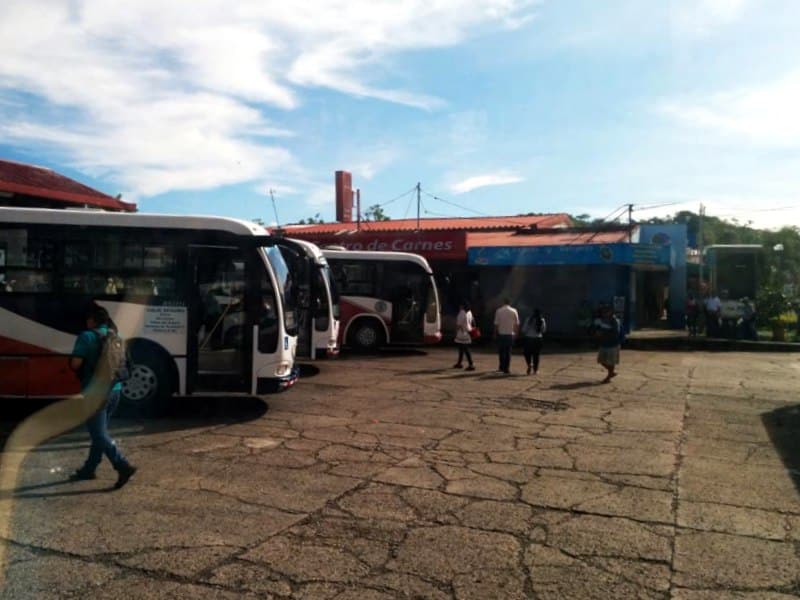 These buses are white and will say "Quepos  – Manuel Antonio National Park" on the front. The cost for this ride is 380 colones. They run roughly every half an hour (there's no set schedule) but there's several of these buses so it runs pretty frequently all day.
You want to stay on all the way until the end (it's about a 20 minute ride depending on the stops).
The last two stops will both take you to the national park entrance, so as soon as you go down the hill and see Playa Espadilla on your right side, you can get off when you see the a single sign that says "Manuel Antonio National Park 300 meters." Or you can get off at the next one that ends at the roundabout and you can walk through the path by the coconut vendor to the entrance.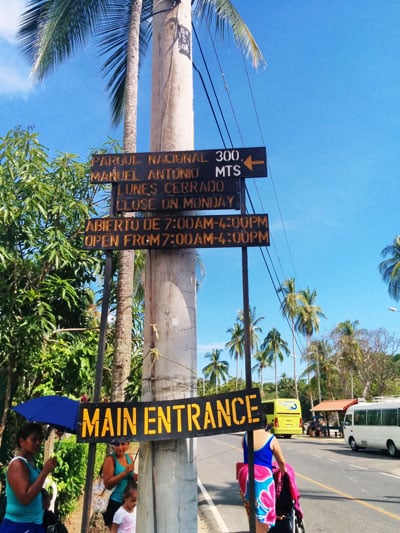 Taking the Bus Back to Quepos and Playa Jaco
To take the bus back to Quepos, you can take the bus from where it dropped you off, at the roundabout or the other entrance by the sign. The cost is the same, 380 colones and you get off at the Quepos bus station.
You need to buy your ticket to Playa Jaco before you get on so buy your ticket at the counter. This ticket costs 1255 colones (I have no idea why it's 45 colones cheaper). Keep both tickets he gives you.
Here are the bus times for Quepos to Puntarenas. Excuse the reflection!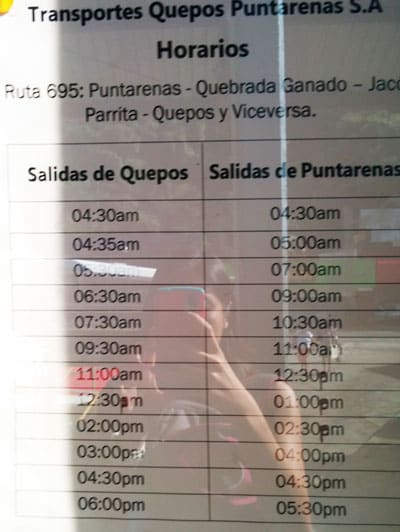 You can board the bus when you hear the driver yell "Jaco." Give him the copy of the ticket and take your seat. You can stay all the way to the Playa Jaco bus station or get off in downtown since it stops in front of the Mas X Menos supermarket.
That's it!
As you can see, taking the bus from Playa Jaco to Manuel Antonio National Park is pretty easy. Just remember that the park closes at 4 PM so you got to catch the bus back to Quepos by 4:30 PM or take the last one back to Jaco at 6 PM.
Prices
In total, I spent 3175 colones which is about $6. The entrance fee to the national park is $16 + tax for foreigners.
Thinking about visiting Playa Jaco? Read our Jaco travel tips here!
Coming to Manuel Antonio from somewhere else? Find out how to get to Manuel Antonio from San Jose, La Fortuna, Guanacaste and more.
Want more travel tips? Here you go!
Taking the bus from San Jose to Playas del Coco
Costa Rica wildlife watching guide