One of the best things about Costa Rica is that for every "touristy" beach, there are a handful of lesser known, local beaches. Playa Ventanas, Guanacaste is one of those even though it is right next to the more popular Playa Grande.
If you're staying in the Tamarindo/Conchal/Flamingo area and want to explore some hidden beaches one day, definitely check out Playa Ventanas.
To help you plan your visit, read our guide below.
This post has affiliate links.
Location
Playa Ventanas, Guanacaste map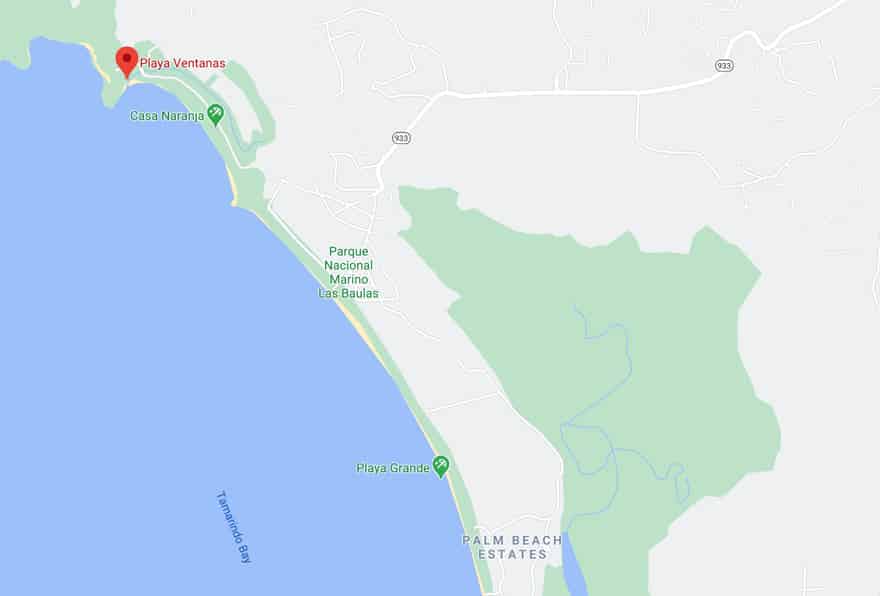 Playa Ventanas is a 1 hour 15 minute drive from Liberia Airport and 30 minutes from Tamarindo. It's part of the Marino Las Baulas National Park.
Just remember, this Playa Ventanas is in the Guanacaste province. There is another Ventanas beach in Puntarenas by Uvita.
How to Get To Playa Ventanas, Guanacaste
You have to get to Playa Ventanas by driving or walking on Playa Grande. There are no public buses.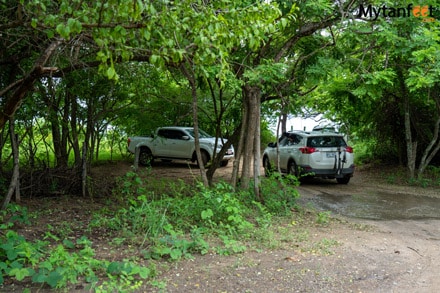 Parking
You have two options. You can park at Playa Grande and walk on the beach to get to Playa Ventanas (around 30 minute walk one way). This is a very nice beach walk albeit very hot.
The second option is to continue driving on the road parallel to Playa Grande and park at the small entrance to Playa Ventanas on the left.
Please make sure not to leave any valuables in the car, lock your doors and roll up windows. There is no security at this lot and it's very small.
On Google Maps, look for Playa Ventanas parking lot (closest Casa Paraiso and misspelled as Playa Vemtana). You can't go any further past this parking lot and there are signs.
If you go to this parking lot, be aware that the road is SUPER tight and narrow (we had tree branches hitting the car and leaves all over inside the car as our windows were down).
4×4 Required?
Highly recommended, especially in rainy season because the road is not good from Playa Grande to the Ventanas parking lot. It's unpaved with tons of pot holes and gets muddy in rainy season. It doesn't necessarily need to be 4×4 as you can get by with a higher SUV like a Hyundai Creta 4×2 in normal conditions.
Fee
None.
Facilities
None.
Playa Ventanas, Guanacaste Beach
Playa Ventanas is a long, tan sand crescent shaped beach and it gets its name from the "windows" at the outcropping of rocks on either end. If you want to visit a beach that's not quite as well known as Playa Grande or want a break from the surf, Playa Ventanas is a great beach to visit for a day.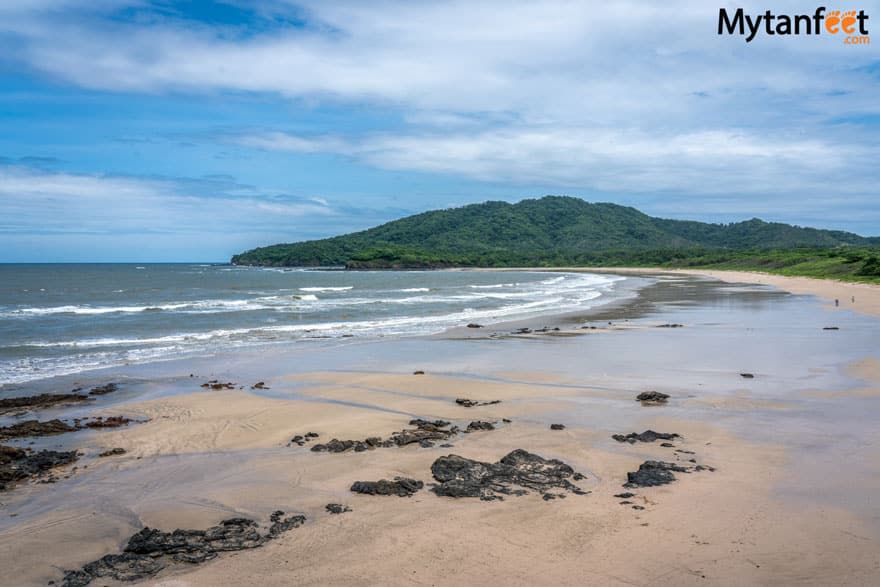 Low tide exposes many rocks and you can walk through the tide pools or dip your toes. If you are coming via walking on Playa Grande, you'll pass by a large rock called Dante's Rock. If you're daring, you can even climb up!

Playa Ventanas is popular with local visitors as it takes just a little bit more work to get there than Playa Grande. When we visited, we saw a lot of local fishermen shore fishing. There is a large estuary right behind Playa Ventanas that connects to the ocean so do be careful around the estuary as there may be crocodiles!
If you visit in the morning on a week day, you may very well be the only ones there.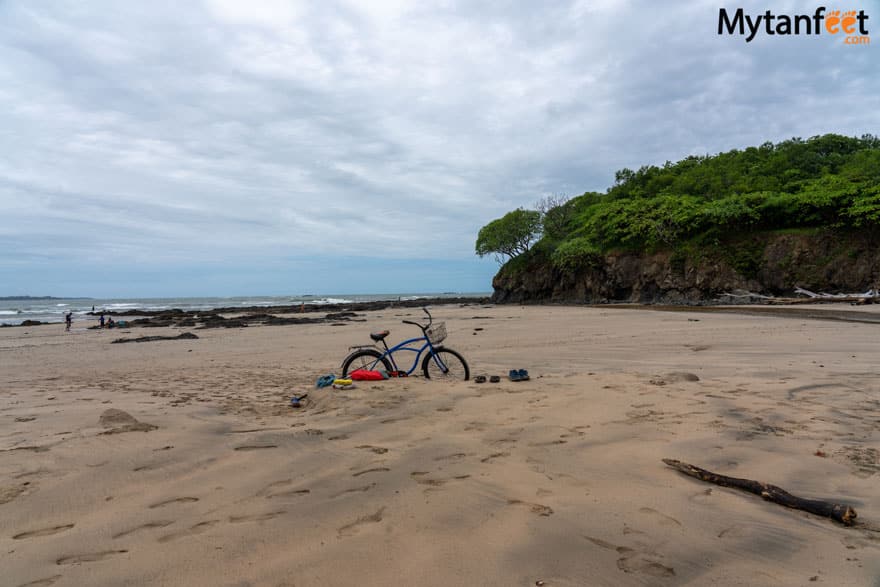 If you look towards Playa Grande from Ventanas, you will also see Tamarindo off in the distance. If you continue walking on Ventanas beach to the north, you can walk to Playa Carbon, an even more secluded little beach.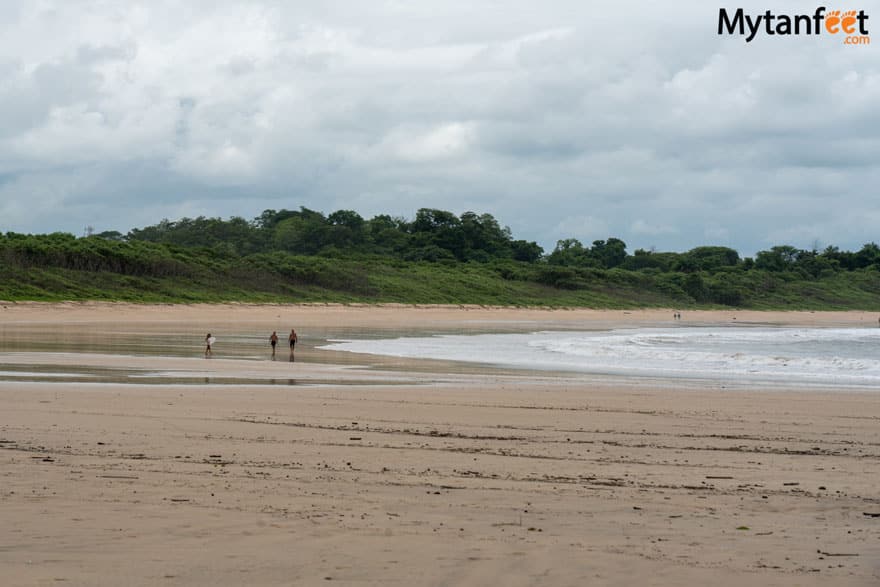 Playa Ventanas is part of the Marino Las Baulas National Park so it is an important sea turtle nesting site, especially for leatherback turtles. Unfortunately the number of nesting leatherbacks have decreased the past few years but it is still an important beach for turtles. As part of the national park, visitors cannot be on the beach after sundown.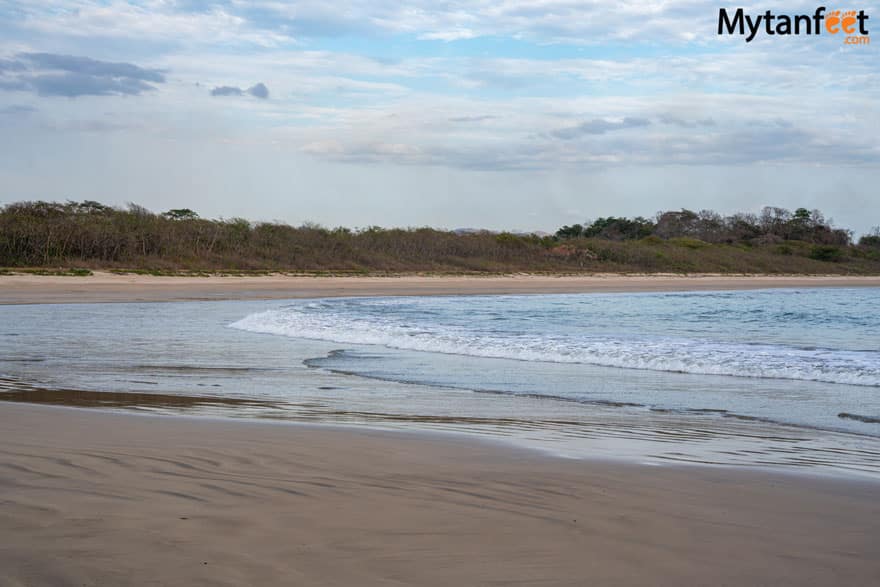 So make sure if you visit Playa Ventanas to take your garbage with you and don't disturb the environment.
Planning Your Visit: Hotels and Other Services
There aren't any hotels on Playa Ventanas, all the hotels are scattered around Playa Grande. There are some beachfront houses that you will pass if you drive to the Playa Ventanas parking lot. They're super cute, big, nice Miami-esque houses. You can rent them via Booking.com and Airbnb. These would be a nice option if you are coming in a large group or several families but there are other rentals around that are not as big if not.
Otherwise for hotels, you can check out Ripjack Inn, Flor y Bambu Glamping, Sol y Luna Lodge and Grateful Hotel, all in Playa Grande.
If you do book a vacation rental, make sure to stock up on supplies in Liberia after you land at the airport. Otherwise, there is a mid-size market called Wil-Mart on the way to Playa Grande that has all basics. For the big, full size supermarkets, you will need to go to Huacas or Tamarindo.
Restaurants
There are a small handful of restaurants in the area such as Pots and Bowls, El Huerto, Pinto Quemado, Cafe del Pueblo and Las Olas.
Shopping
As for shopping, there aren't many shops or stores in the area so you should go to Tamarindo or Brasilito for souvenir shopping. On the way to Playa Grande, there is a bikini store called Bahia Swimwear.
Getting Around the Area
We highly recommend renting a car if you are staying at Playa Grande/Ventanas. There aren't any public buses, taxis or Ubers here. It's not walking distance to anything like restaurants and markets. It will be necessary to have a car.
Surf
If you want to take a surf lesson at Playa Grande, check out Matos or Frijoles Locos. Both great surf shops. For beginners or first timers, they may take you to Tamarindo since Playa Grande can get very big and it has stronger waves. If you're an experienced surfer, you can rent boards with either shop.
Watch Our Video
We made a video about beaches to visit from Tamarindo that includes Playa Ventanas and similar beaches such as Puerto Viejo, Playa Real and Playa Mina.
Read About Other Beaches Like This One!
Avellanas: Surfing beach 20 minutes from Tamarindo. One of our favorites.
Playa Panama: Quiet, family friendly beach in the Gulf of Papagayo.
Playa Punta de Pelencho: Small, local beach in between Flamingo and Brasilito
Pelada: Beautiful white sand beach in Nosara.