Costa Rica's favorable climate and fertile soil allows all sorts of fruits and vegetables to grow plentifully. Whether the fruit you see in Costa Rica is native or exotic, they are all worth trying! You will definitely get your fill of fresh Costa Rican fruit like papaya, watermelon and mango but make sure to check out the following juicy treats for a unique gastronomic experience.
Many of these fruits you can find at Costa Rica farmers markets (feria), supermarkets or roadside stands. You'll see the typical ones like bananas, mango, watermelons, cantaloupe, pineapple and papaya and here are some more exotic Costa Rican fruit.
*Click here to read latest Costa Rica coronavirus information.*
Noni (Indian Mulberry)
This funny looking fruit from Southeastern Asia comes from a tree in the coffee family. It grows very well on the Caribbean coast. Indigenous people commonly eat noni and it is also known as starvation fruit, eaten in times of famine.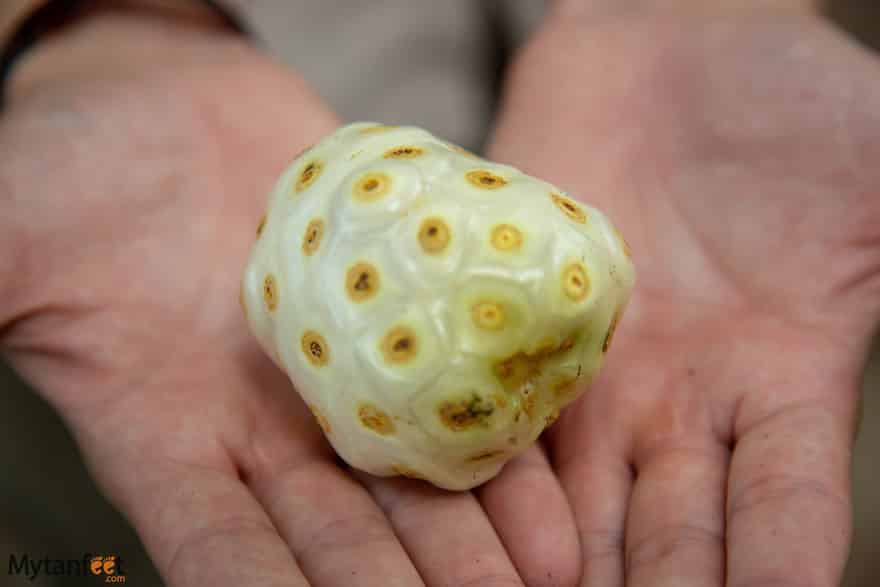 Noni is also used as a health supplement and some locals eat noni to help fight against cancer. It tastes bitter and smells pretty strong, so people will blend it with other fruit in a smoothie.
You will see this fruit everywhere in the Puerto Viejo area. It's super common there!
Jocote (Red Mombin)
This colorful fruit found in Mexico down to South America blooms in August and September. During the season, you can find them at the farmers markets and most supermarkets.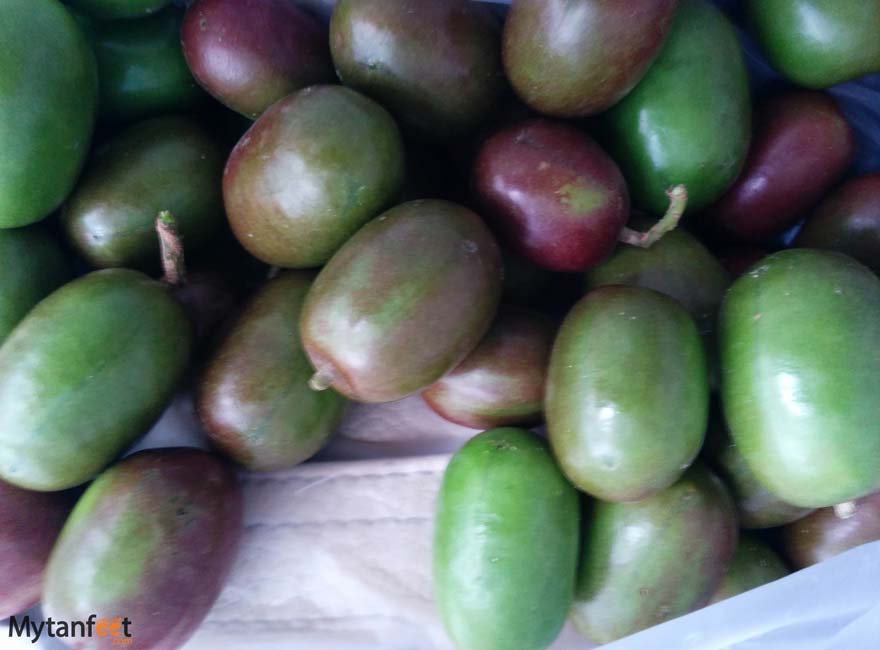 Locals like to eat jocotes with a pinch of salt. They're sweeter when more ripe and are a nice fruity snack. When my parents and I went on the Palo Verde National Park tour, a family gave us a bag of jocotes from their yard to try. It was pretty tart so I can see why they eat it with salt. Our tour guide told us he grew up eating jocotes with salt as a kid.
When they are in season, it is easy to find at local farmers markets. The best month is August.
Mamon Chino (Rambutan)
This tropical fruit, native to Southeast Asia is very popular in Costa Rica. Its season starts in during the Costa Rica rainy season, the peak of the season is around September and October.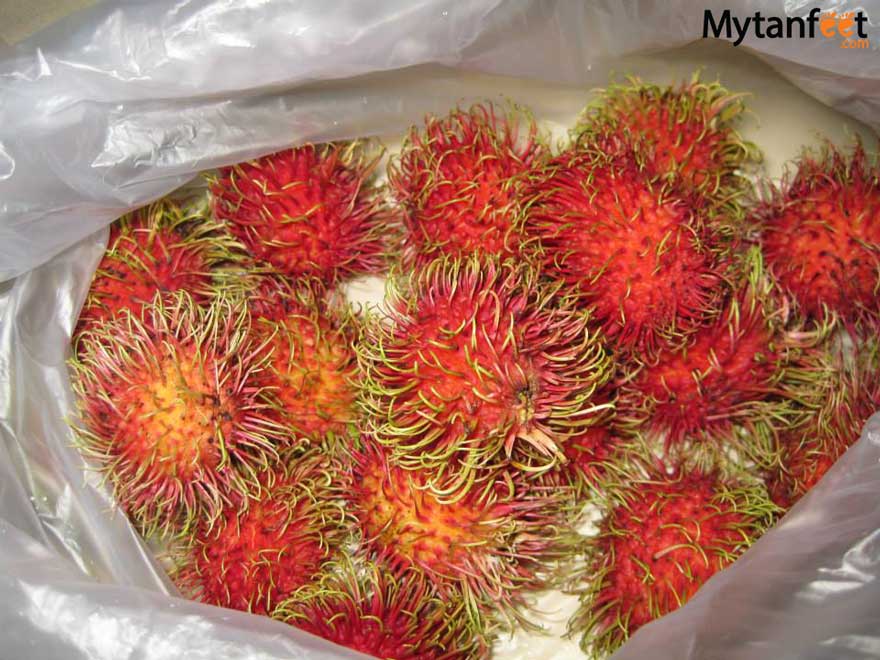 They are a very sweet fruit and one of my favorites. You have to peel them to reveal the clear colored flesh which you eat.
When the season starts, you can find rambutan stands on the street everywhere and it's so cheap! Like $2 a bag of around 15-20.
Manzana de Agua (Malay Apple)
The Malay Apple, native to Malaysia and Australian is a very juicy fruit. It grows well throughout Costa Rica (we even have a tree on our property) and locals love them.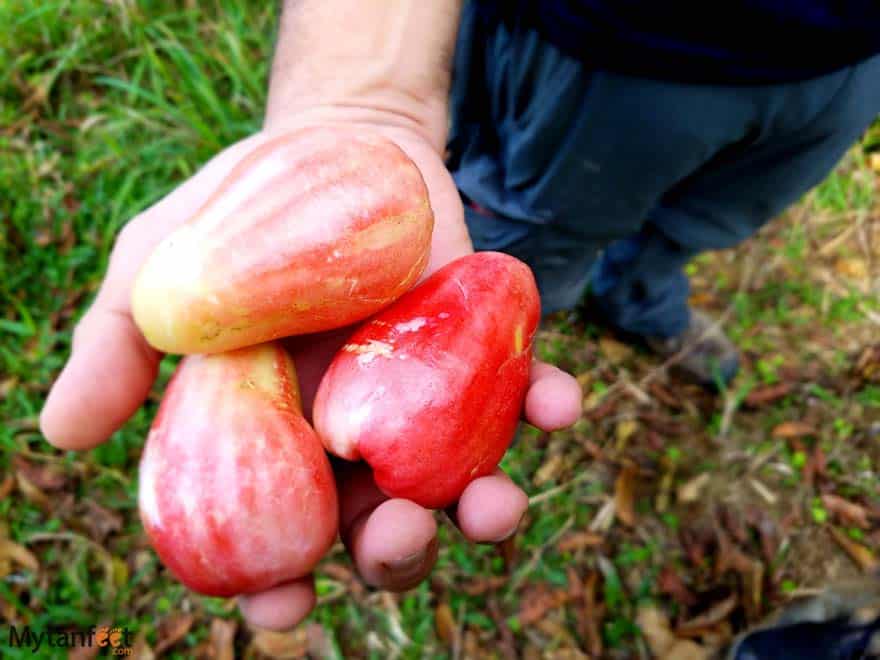 The name perfectly describes this fruit. It's sweet, more watery than an apple and crisp.
Granadilla (Sweet Passion Fruit)
If you know what passion fruit or maracuya is, then you'll be familiar with granadilla, or sweet passion fruit. Grandanilla is notably sweeter though and lacks the acidic flavor of the maracuya. This is one of my favorite Costa Rican fruit that they also use in pastries.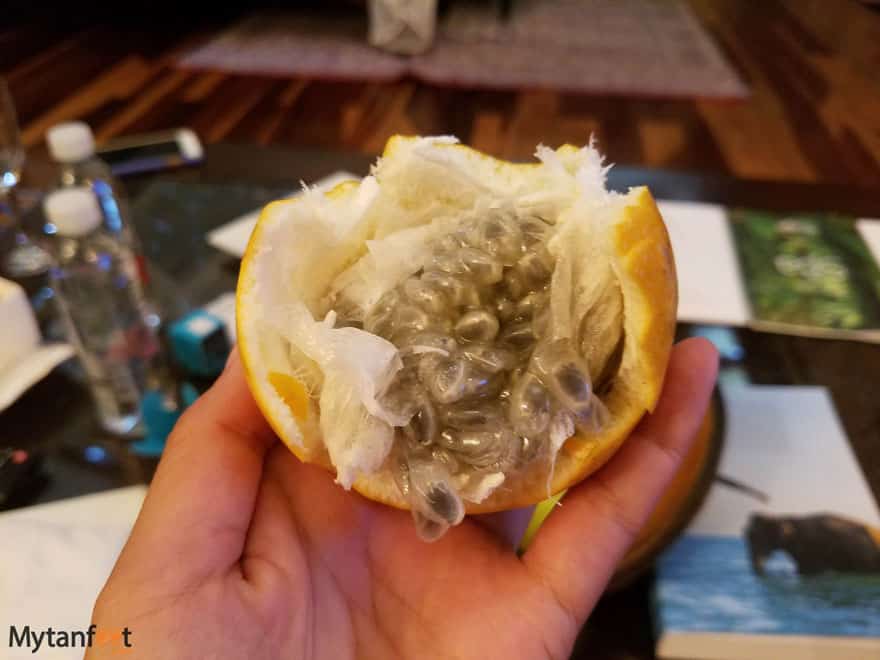 You peel the fruit and can eat the pulp and seeds. Sometimes it is made into smoothies. It is pretty popular in Peru and some places make grandilla ice cream, juice and yogurt. In Costa Rica, I've had them at some hotels that served them with breakfast.
The best time for this fruit is during the rainy season and you can find them at the market.
Carambola (Star Fruit)
Star fruit, a native fruit to Southeast Asia and grows well in Costa Rica is one of my favorite fruits to make smoothies and juices from. I'm not a huge fan of eating the whole fruit raw but they make for great decorations for tropical drinks and cocktails.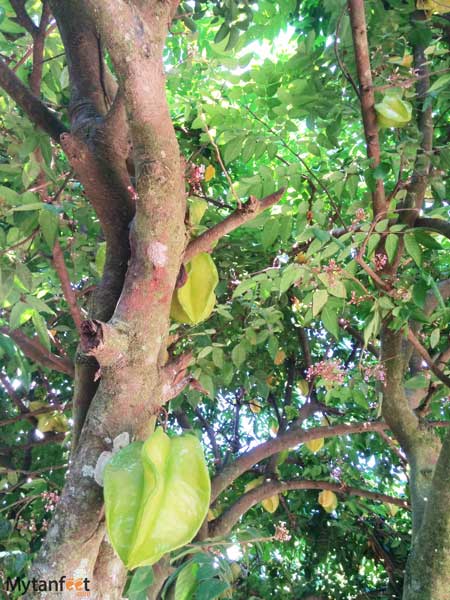 Best months are July – October, during the rainy season. Our starfruit trees overload with fruit during those months!
Guanabana (Sour Sop)
This native fruit grows big and I mean, you can find ones over 5 pounds or 2 kilos! Guanabana smoothies are one of my favorites! You can find them in most local restaurants, called sodas in Costa Rica.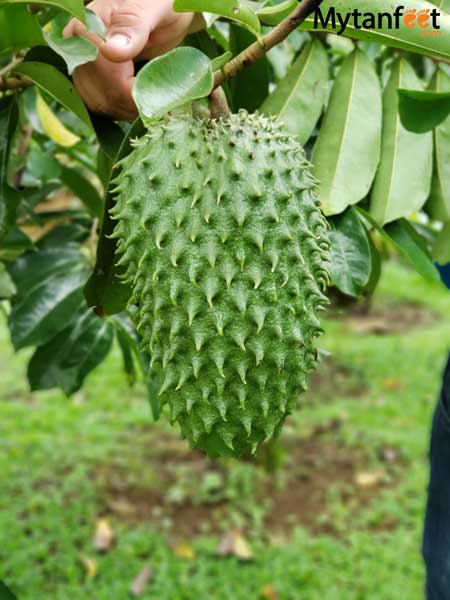 You can also eat it raw but it's a bit slimy so you'll need a spoon. It's known as "nature's ice cream" due to the texture. Soursop is also believed to have cancer fighting properties (very similar to noni).
You can find them in farmers markets and normal supermarkets. At the supermarket, they usually sell them in pieces since they're so big.
Marañon (Cashew)
Most people know cashews as a nut but they don't realize that it comes from a fruit! The marañon tree is common in Costa Rica and you can see the large yellow fruits dangling off the branches. Best months are March and April.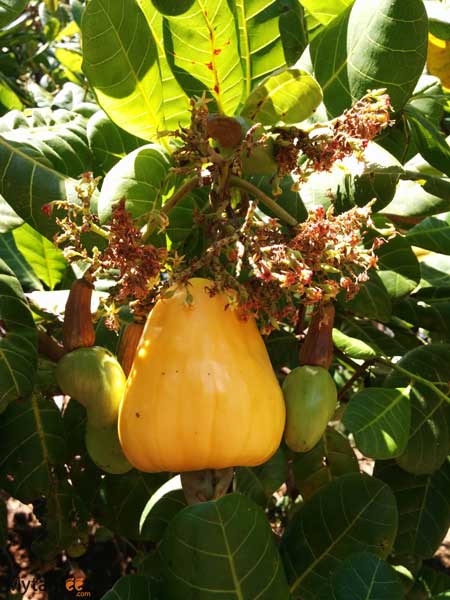 Remember that the nut has to be roasted before eating or else it's poisonous. The fruit itself can be eaten raw and it's a bit zesty and very juicy. You can make drinks and jams from it.
Pejibaye (Peach Palm Fruit)
This is a very popular fruit among locals. They boil it in water and oil, peel it and eat it with mayonnaise (sounds kinda gross but that's how they eat it). It can't be eaten raw.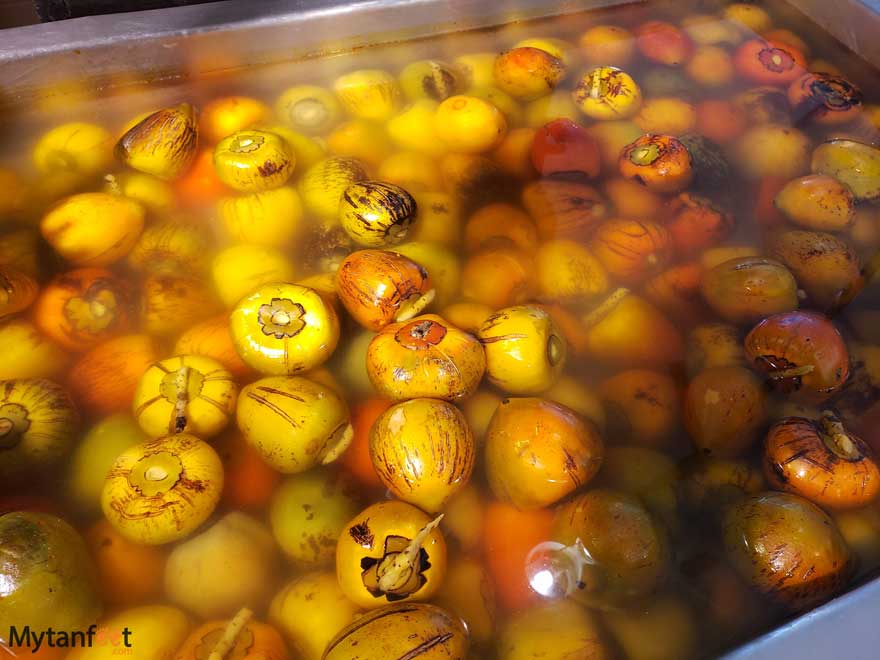 You won't really find them on the menu of most local restaurants but you can find them at the farmers markets. At Auto Mercado supermarket in Costa Rica, they always have a big cart of them, boiled, hot and ready to eat.
I've had them as soup which I like way more. It is called crema de pejibaye. Delicious!
Cas (Costa Rican guava)
This small fruit is one of my favorites for smoothies too. It has a tart, very refreshing flavor.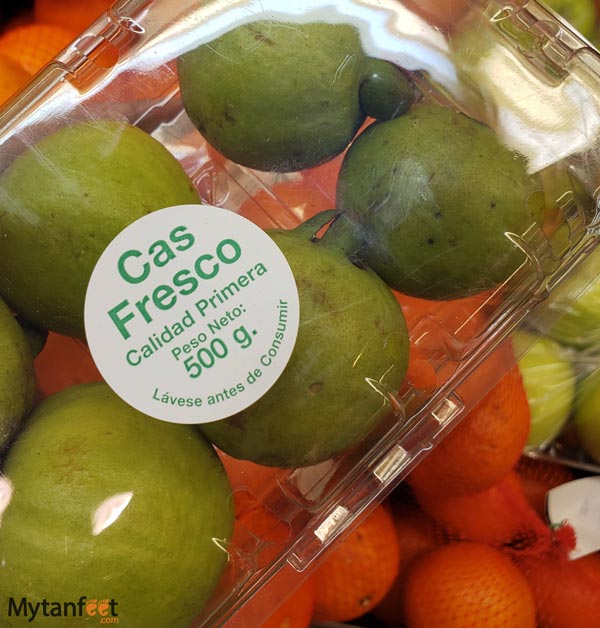 Most people don't eat the cas fruit whole since it's a lot of tartness and bitter flavor to take in. It's best in fruit smoothies and you can find them in almost all local restaurants.
You can buy the fruit at farmers markets or supermarkets. Best months are June, July and September and October but can be found all year long.
Tamarindo (Tamarind)
This small, brown fruit from tropical Africa has a very sour flavor so it is mostly used in smoothies and sauces. You will most likely see tamarind smoothies at local restaurants or dried tamarind in the supermarket.
Although it's sour, it's very refreshing in a smoothie on a hot day. You can find the dried or already processed version of tamarind in most supermarkets.
Fruta de Pan (Breadfruit)
Native to Southeast Asia, breadfruit flourishes in the Costa Rican tropical environment. These fruits are very interesting because they don't taste like a typical fruit. They taste like bread, hence where they got their name!. Very thick and not really juicy.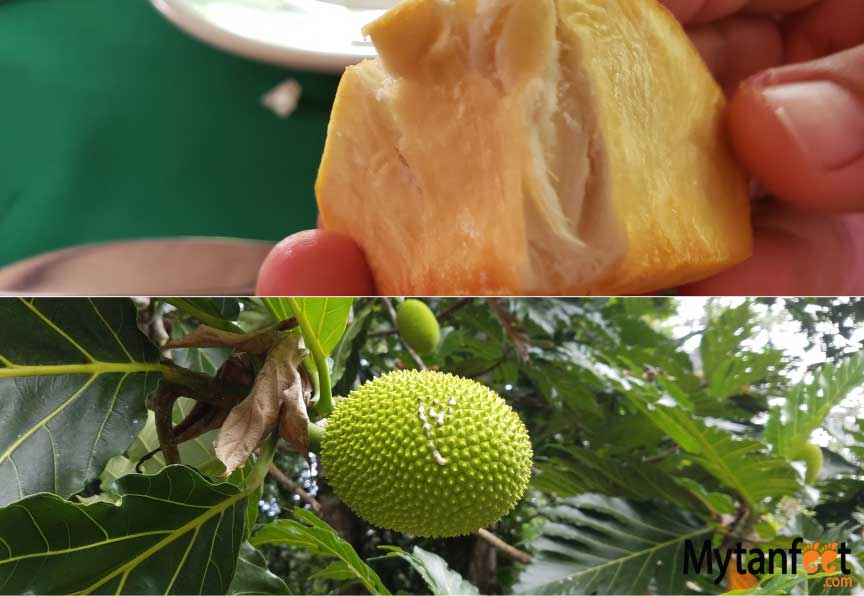 We've had them fried and it seriously tastes like potato, no sweet fruit flavor at all. They are delicious, they taste just like potato fries!
It grows mostly on the Caribbean coast and the first time I had it was in Tortuguero.
Other Popular Fruit
Some other common popular Costa Rican fruit are guava, avocado and dragonfruit. If you visit the Poas area, strawberries grow very well up there and you can buy them from the roadside fruit stands.
We hope you get to try some of the delicious Costa Rican fruit when you are here!