Welcome to another episode of Driving around Costa Rica with Mytanfeet.
The purpose of these series of videos is to show you exactly how everything looks with no editing and no cutting. I placed a Gopro 3+ Black at the top of our car to give you the best idea of what you will see and expect while you drive in Costa Rica.
Playa Brasilito and Playa Conchal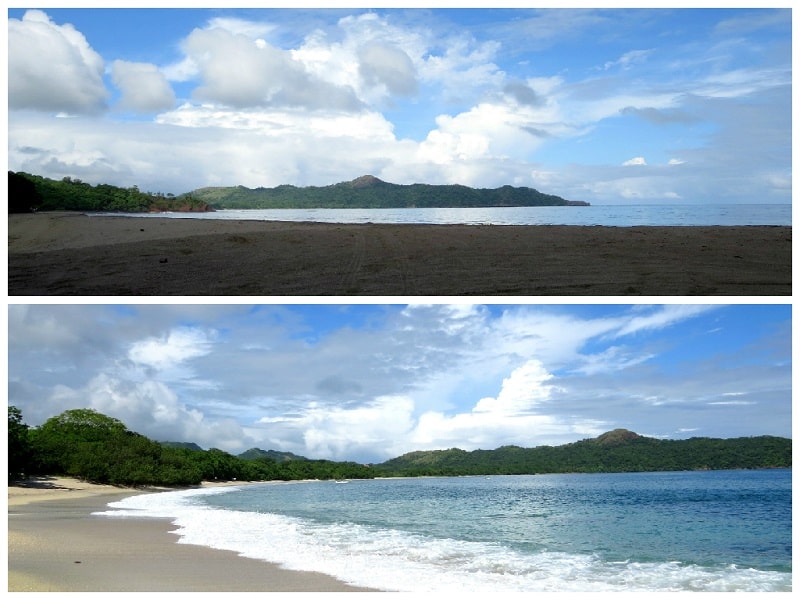 This time we visited Playa Brasilito and Playa Conchal (check out our guides to both beaches). These two beaches are next to each other and are very popular although Conchal is the most well known of the two. Due to Conchal's famous shells and beautiful turquoise water, it's hard to believe that right next door is the dark sand, dark water Brasilito. Either way, both beaches are beautiful and definitely worth a visit.
How to get to Brasilito and Conchal
If you rent a car or have your own in Costa Rica, it is very easy to get to both beaches.
Coming from San Jose: You have two options. You can drive all the way to Liberia and take the road that goes to the airport. Once you pass the airport, keep driving about 30 km until you see an intersection in a town called Belén. As soon as you turn right, follow the road to Brasilito (there are signs every where).
The other way to get there from San José is by taking the "Puente de la Amistad." Drive to a town called Limoncito and you will see signs for the "Puente de la Amistad" that is about 20 kilometers to the left. Then look for the Belen intersection and follow the signs.
Both routes are highlighted in blue and grey in the map below.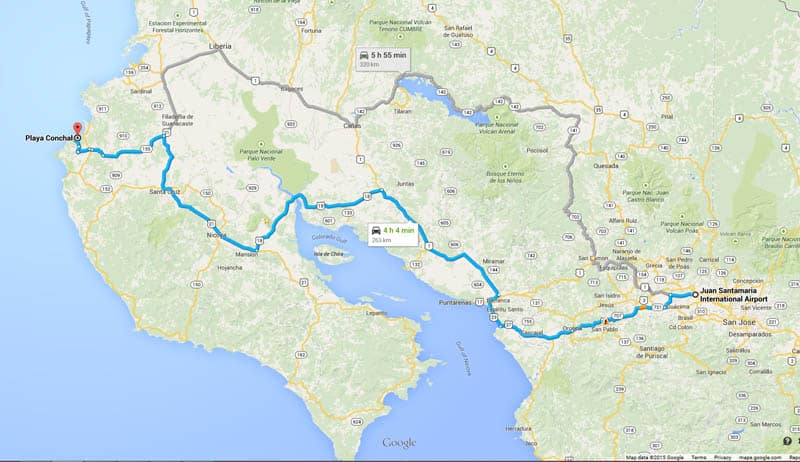 Coming from from LIR (Liberia International Airport):  Take a right onto the main road and continue 70 km from Liberia.
Follow the signs for Flamingo and Conchal until you come to an intersection in a town called San Carlos. Turn left and continue through another town, Huacas. You should see another sign for Reserva Conchal and turn right.
Driving to Playa Conchal from Brasilito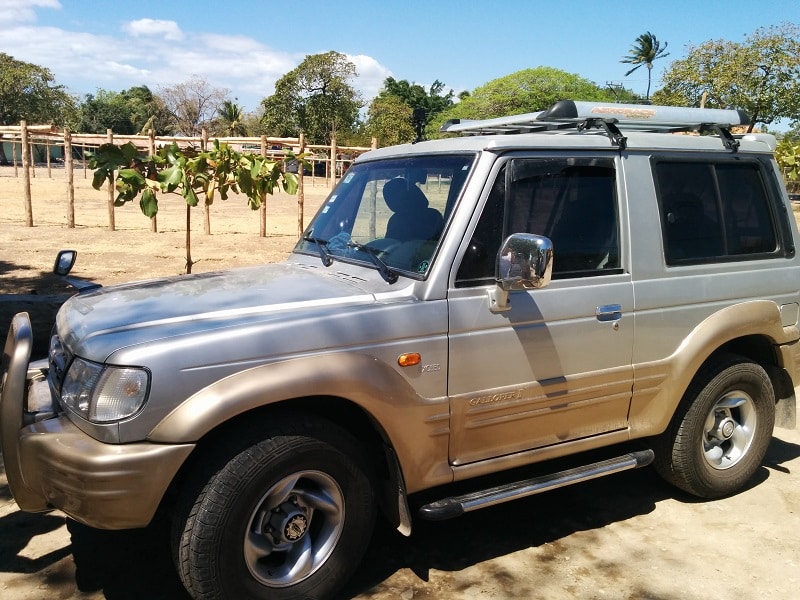 Once you get to Playa Brasilito, you must drive through the small road parallel to the beach to get to Playa Conchal. You can park your car here and walk or you can drive across the beach during low tide. Continue on the beach to a clearing in the trees and you'll come to a parking lot.
You can see what Brasilito town and beach looks like and what it's like to drive across it in this video here!
Check out our other driving around Costa Rica videos
Driving around Playa Dominical
Driving around San Isidro de General
Renting a car? We have a special discount and extra offers for you!